Verified customer reviews are powerful tools that help you convert visitors into customers. They create an aura of authenticity that gives potential customers enough confidence to purchase your products.
However, obtaining these assessments is a rather challenging task. Most customers don't come back for a review. And if you send them emails asking them to leave reviews, they'll often ignore it.
So, how can you get your customers to write honest reviews for your products and provide ratings? Take a look at Ryviu.
Ryviu makes it simple to collect customer reviews and share them with the world.
What's Ryviu?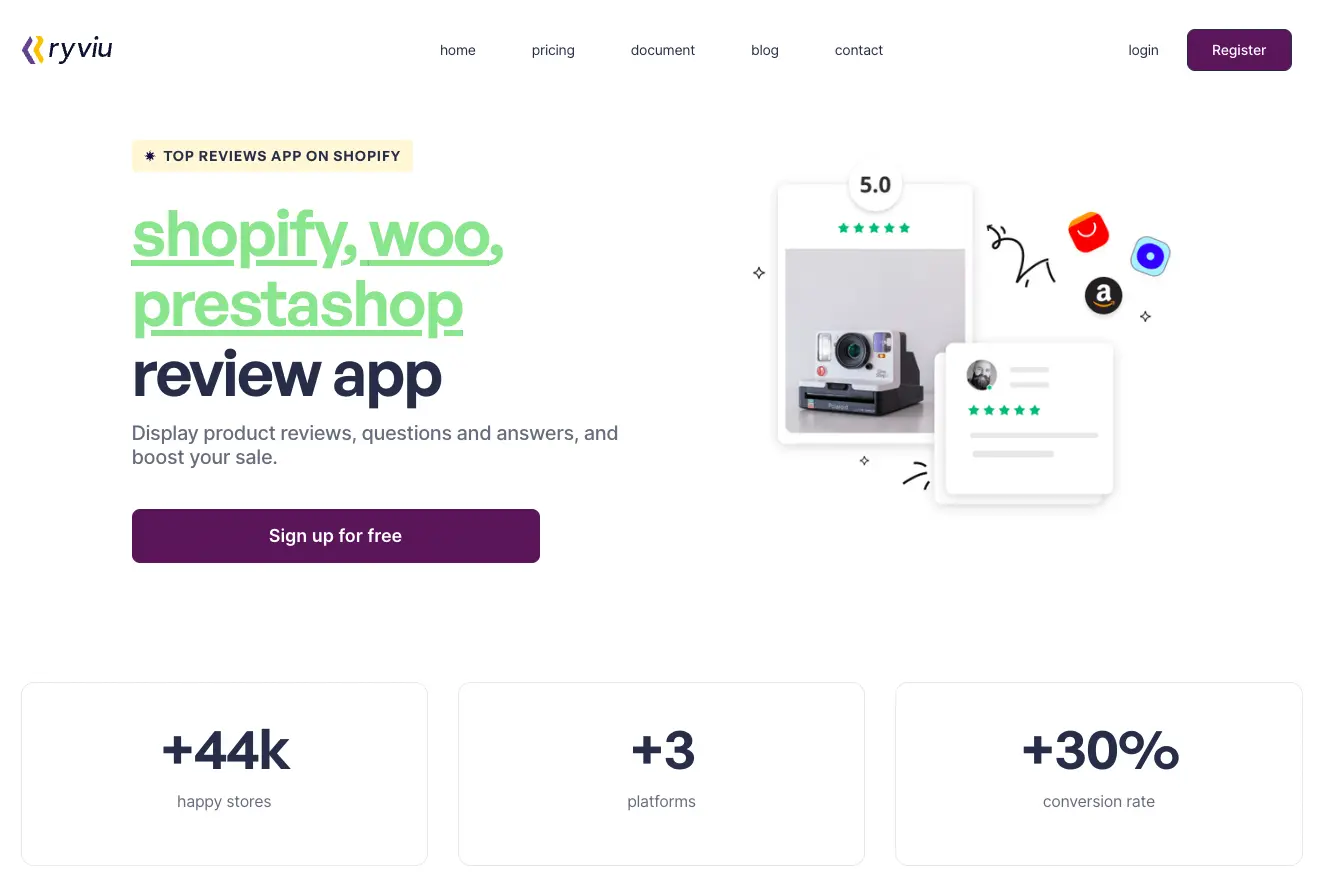 Ryviu is a review app/plugin for Shopify, WooCommerce, and PrestaShop that helps you collect user-generated reviews and photos from your customers.
Seeing actual people using your company's items can help persuade visitors to buy your products better. In addition to a simple product star rating, people who have purchased from your online store can also provide photos of them using your products.
It also helps you import reviews from many sources available on the web: AliExpress, Amazon, Etsy, DHgate, etc.
In addition, you can add a Q&A section. So, your customers can ask about your products and vote on other questions.
Now, let's take a closer look at what Ryviu offers.
Ryviu's Most Outstanding Features
Use Ryviu to Import Reviews to Shopify and PrestaShop
With Ryviu's free Chrome extension, you can import reviews from Aliexpress, Amazon, .csv files, etc., to Shopify and Prestashop with just a few clicks.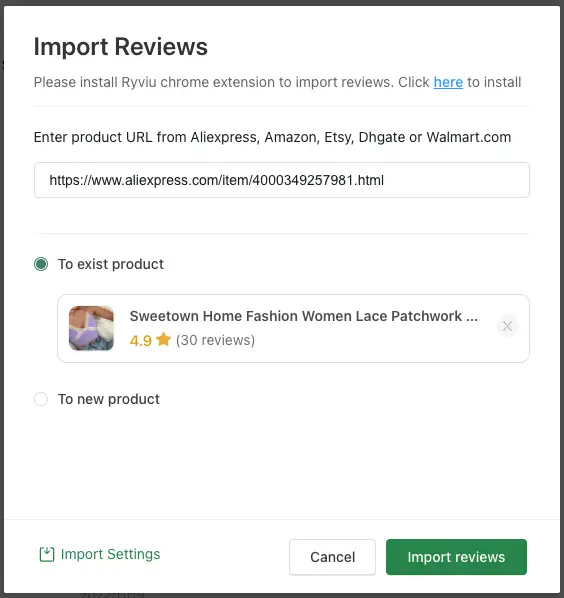 Nagative to Ryviu's document page to find out more details.
Product Review Widgets
You can display customer reviews on your product pages with product review widgets. They include many useful features, such as like buttons, dislike buttons, etc.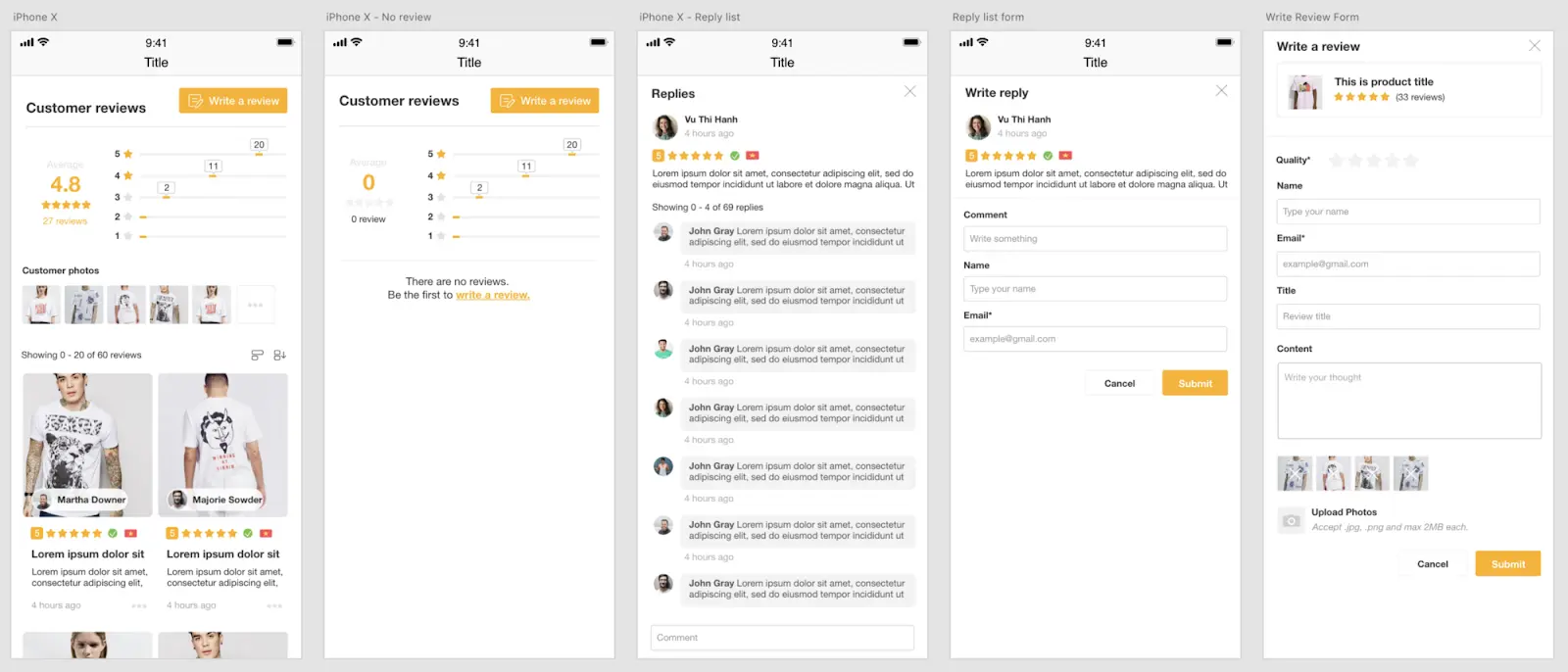 Knowing that the majority of traffic comes from mobile, the developer team has been paying great attention to optimizing the interface for mobile devices.
Featured Review Page
Featured reviews are the most prominent responses on your online store.
There's no easier way to increase your online store's credibility rather than display your entire store's featured rating on a dedicated page.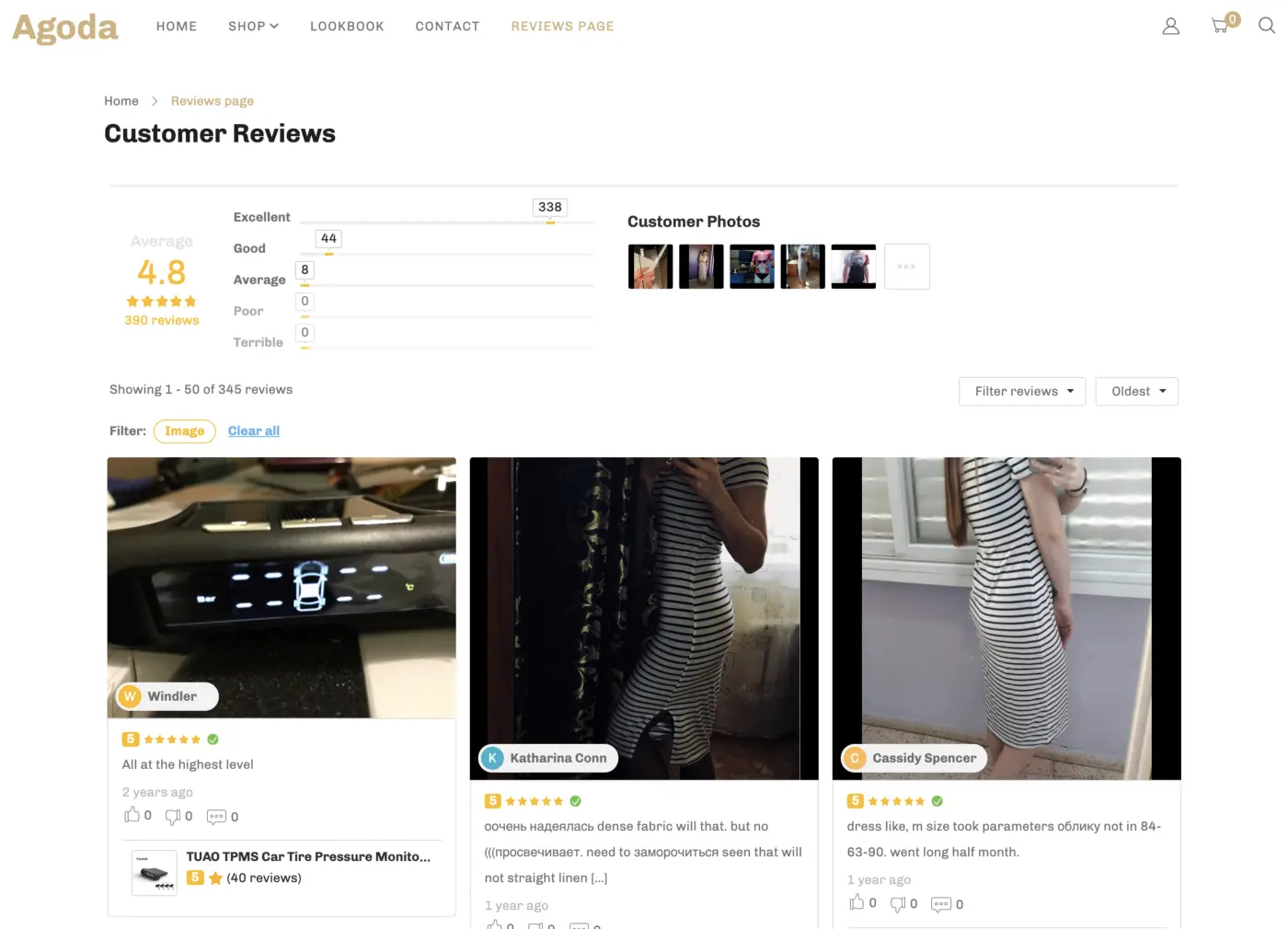 Manage All the Reviews from One Place
There's a review section that includes all the details of the reviews like product lists, review dates, search boxes, etc.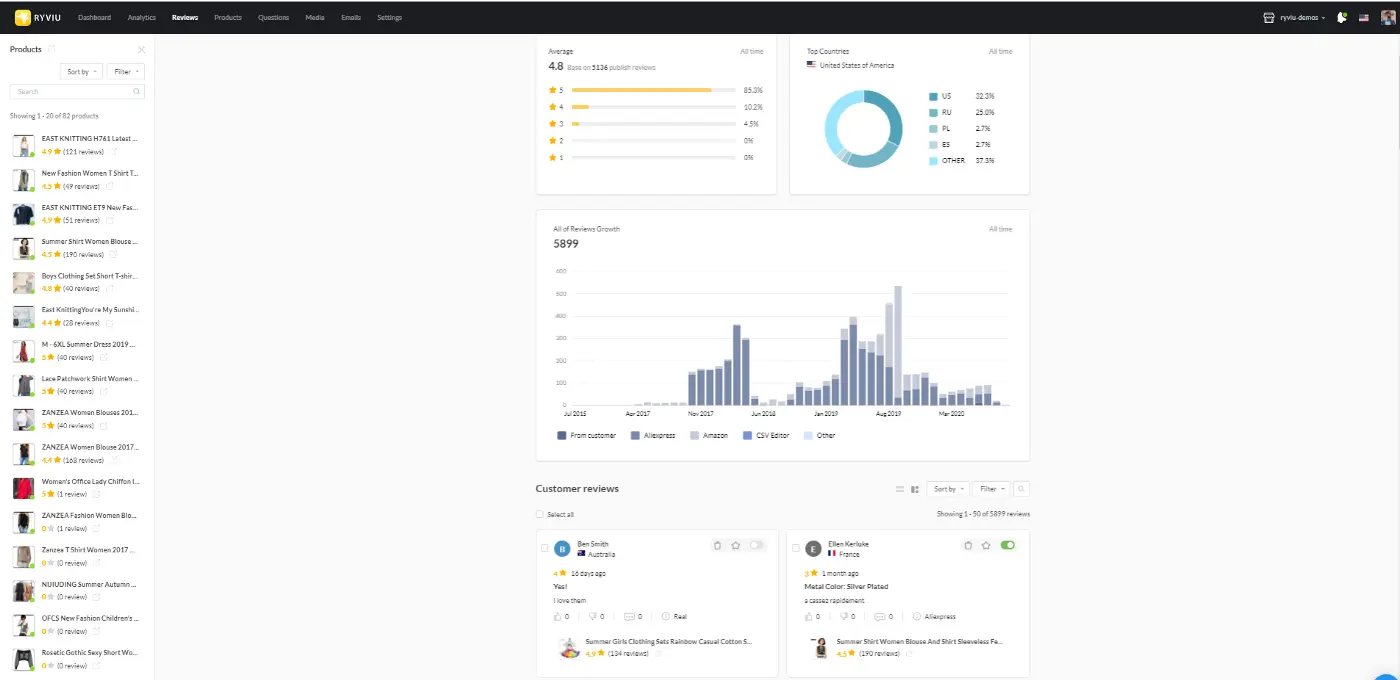 The interface is user-friendly and easy to use. So you can easily manage, filter, and customize any review you want.
Questions and Answers (Q&A) Section
Sometimes, customers will have some questions. Unfortunately, you might have gone away and left the customer waiting. If they have to wait for too long, they'll leave. With the Ryviu app, you'll no longer have to worry about this situation.
You can display frequently asked questions by customers and your responses. Therefore, they can quickly find answers to their questions without reaching you.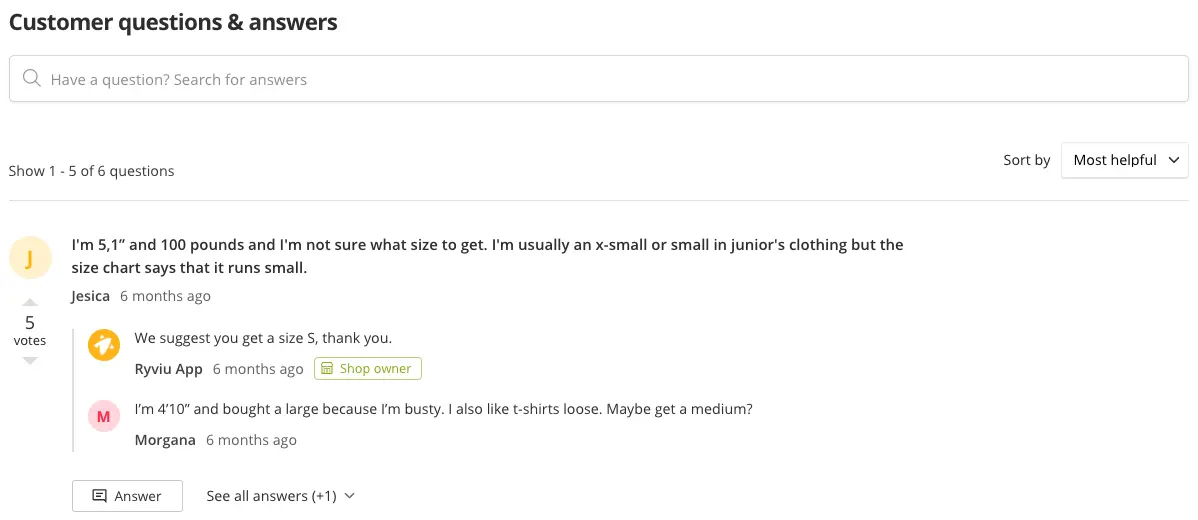 If there's no answer to satisfying your customers. They can quickly leave their questions on your website. When you reply to them, Ryviu will inform them via email.
Also, there will be a Q&A section on your dashboard. In other words, you can quickly manage, answer, and customize all questions in one place.
Add Google Review Snippets
With the Ryviu app, you can easily add review snippets to your product pages, helping you show star ratings on Google search result pages.

In case you don't know, review snippets (Google structured data) are an excellent way to show your credibility on Google search result pages. They will help you attract more guests and increase sales.
Send Review Request Email
Another top feature that Ryviu offers is to email your customers to request reviews of your products after purchases are completed.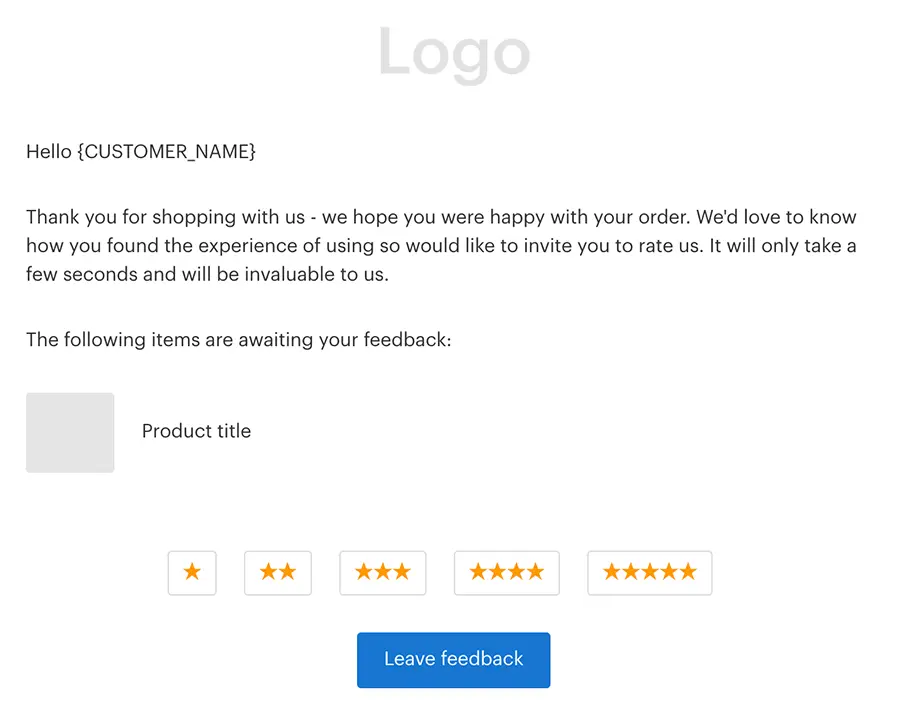 After setting everything up, Ryviu's system automatically sends a request to review the product the customer has bought.
Also, you can easily manage your email list in the Ryviu dashboard and encourage your customers to leave reviews by offering discount codes.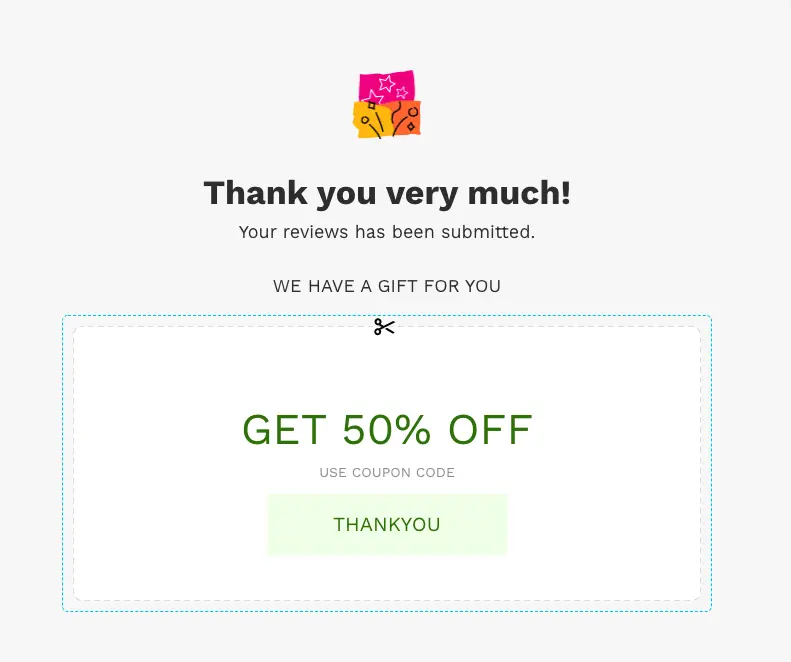 How Exactly Can Ryviu Help Your Business?
Ryviu can increase sales of your online store in many ways. It does its magic by driving website visitors.
By leveraging the already established trust (in reviews), you can bypass the old methods of relying on product quality. New buyers will see good reviews and can base on them to quickly make decisions.
And if you use Google-rich snippets, your website will stand out from your competitors, thus generating more traffic.
Ryviu is extremely helpful if you're a new seller. As you can see, new stores don't have many customers. Therefore, it's challenging to collect helpful reviews.
Ryviu can help you in that situation by importing existing reviews on big eCommerce websites, such as AliExpress, Amazon, etc.
Finally, you can use Ryviu to send review request emails with coupon codes. By doing so, you have genuine reviews and encourage your customers to buy your products again.
Ryviu Pricing
Ryviu offers a free plan for anyone who wants to try it. There are also three paid plans: Basic, Advanced, and Unlimited, which cost $6.99/month, $9.99/month, and $19.99/month, respectively.
The main difference is how many reviews you can import. The more reviews you need to import, the higher the price.
Once your online store makes a healthy profit, it's time to choose a paid plan based on your needs. That said, the free plan is pretty great in itself.
Here's what you'll get with $0/month:
Import 20 reviews for every 50 products
Product review widgets
Google Rich Snippets
Import source: only AliExpress
If you subscribe to the Basic plan, here's what you'll get besides all the features above:
Import 200 reviews for every 400 products
Q&A widgets
Request review email
Import source: + Amazon and .csv files
If you subscribe to the Advanced plan, you also get these additional features:
Import 500 reviews for every 1000 products
Unlimited request review emails
Input source:+ Etsy and DHgate
And finally, you'll get everything above plus the below features if you subscribe to the Unlimited plan:
Import unlimited reviews
Bulk import reviews from DSers
Import reviews from numerous sources into a product
Is Ryviu Worth the Price?
The verdict on Ryviu is that it's well worth the price. There are several reasons for saying so.
The team came up with a unique product to solve many business challenges. Specifically, it attracts new customers to your online store and helps bring satisfied customers back. That's one of the keys to becoming a successful business.
The free plan is an intelligent way for eCommerce owners to try Ryviu and see if they like it. If it seems to be doing the trick, you may want to upgrade to a paid plan.
Overall, the Ryviu app has proven to be a success and has garnered thousands of satisfied users.