How to Dropship on Shopify with Alibaba?
Dropshipping is an ideal business model for those who do not want to keep the products they sell in stock.  If you want to start a successful dropshipping business, you need to know how to find and partner with effective, reliable suppliers. There are many reputable marketplaces for you to find reliable suppliers such as Amazon, Alibaba, AliExpress, etc.
In particular, Alibaba is chosen by many business people because of its outstanding advantages. Today's article presents you the guide on how to dropship on Shopify with Alibaba.
What is Alibaba?
The Alibaba Group is the world's largest eCommerce business, and it controls Alibaba.com, AliExpress, Taobao, and Tmall, among other Chinese online marketplaces.
Alibaba.com (which we'll refer to as 'Alibaba' from now on) is an excellent place to start if you're shopping for products from other nations. Why? In a word, the platform is extensive, allowing you to find almost any type of product.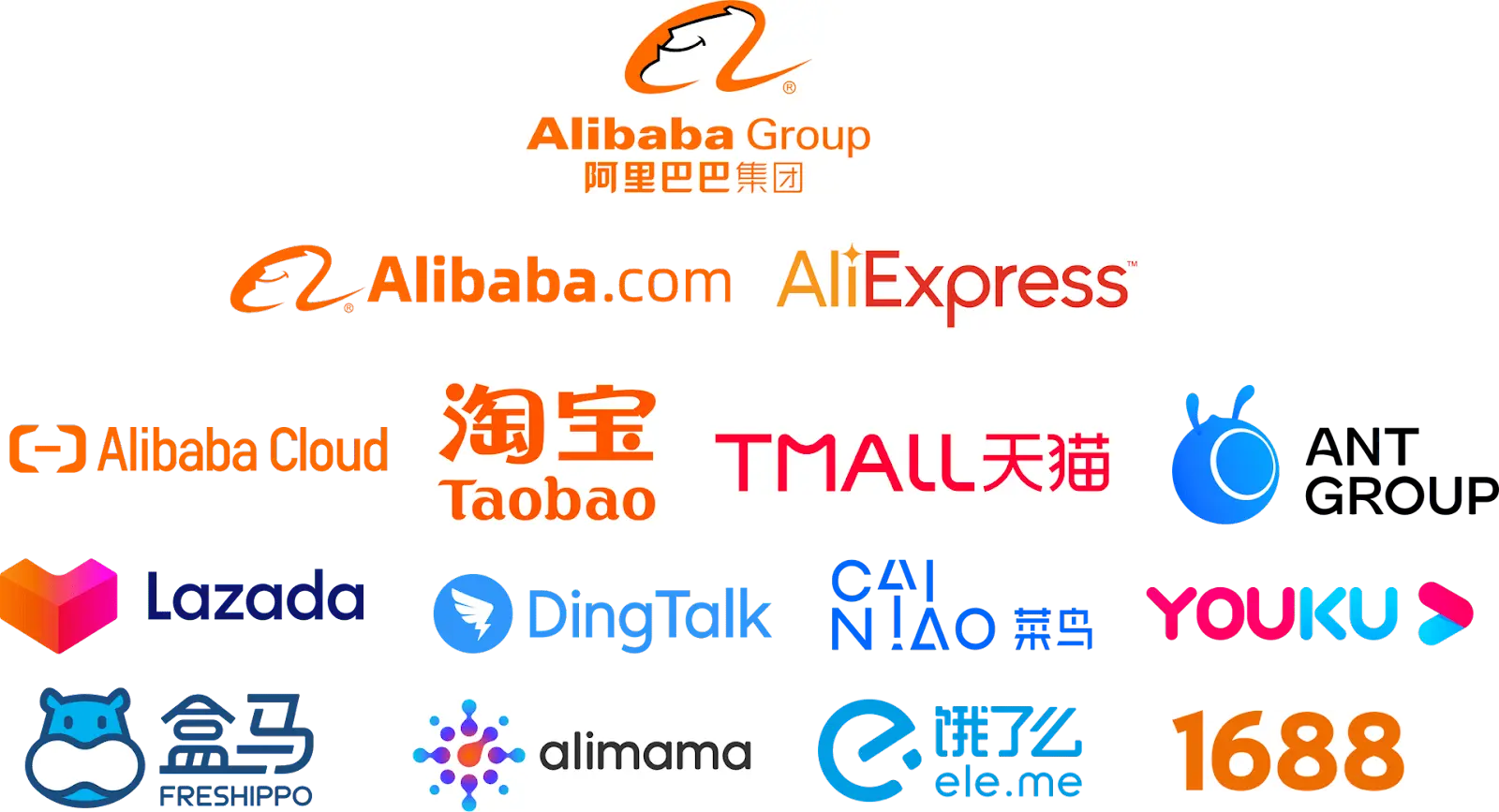 How Much Does It Cost to Start Dropshipping on Alibaba?
Here's a breakdown of the initial investment. Some of these charges are per month, while others are one-time, annual, or usage-based. The descriptions below provide more information.
What Makes Alibaba Good for Dropshippers?
Alibaba is an ideal marketplace for you to do dropshipping. It offers a lot of benefits, including:
Ready to Ship Products
'Ready to Ship' products are a collection of ready-to-ship items. You can buy things with set prices and shipping fees in this instance. Within 15 days following the 'Order Date,' these products are available to ship.
Trade Show by Alibaba
Before buying, vendors and buyers can have a one-on-one talk and negotiate at a trade exhibition. On the one hand, it allows retailers to show off their wares. On the other hand, it enables purchasers to assess the legitimacy of these merchants.
Because the epidemic makes in-person gatherings difficult, Alibaba has chosen to conduct a Virtual Trade Show. The distinctive characteristic of this trade fair is that it is an invitation-only event aimed at American manufacturers.
Personal Protective Equipment from Alibaba
Alibaba had gathered a group of high-quality mask vendors under which shops could get their PPE from a single source. In reality, during Covid-19, Alibaba collaborated with appropriate government authorities around the world, making it feasible to bulk order PPE during times when supply was limited and demand was high.
Is it a Good Idea to Dropship Alibaba Items on Shopify?
Alibaba is an excellent alternative for taking your Shopify dropshipping efforts to the next level, based on my own experience and analysis. Everything hinges on your ability to manage risks and optimize revenues.
Shopify enables you to get the most out of Alibaba. Buyer protection is also available. This will assist you in lowering your dangers.
More over Shopify is offering the Basic Plan with the price of $1 per each month for the first 3 months. Don't miss this opportunity!
How Do I Choose a Good Alibaba Dropshipping Product?
Dropshipping's fundamentals are critical. Let's get started with the fundamentals of dropshipping. Please keep in mind that there are numerous goods from which to choose. Don't be fooled by this. By conducting rigorous research and analyzing your target audience, you can select the best product.
Start Searching
For bulk purchases, Alibaba provides two options: supplier search and product search. The first is searching for a product directly. The second is utilized to locate a vendor.
Product Search:

The search result I got: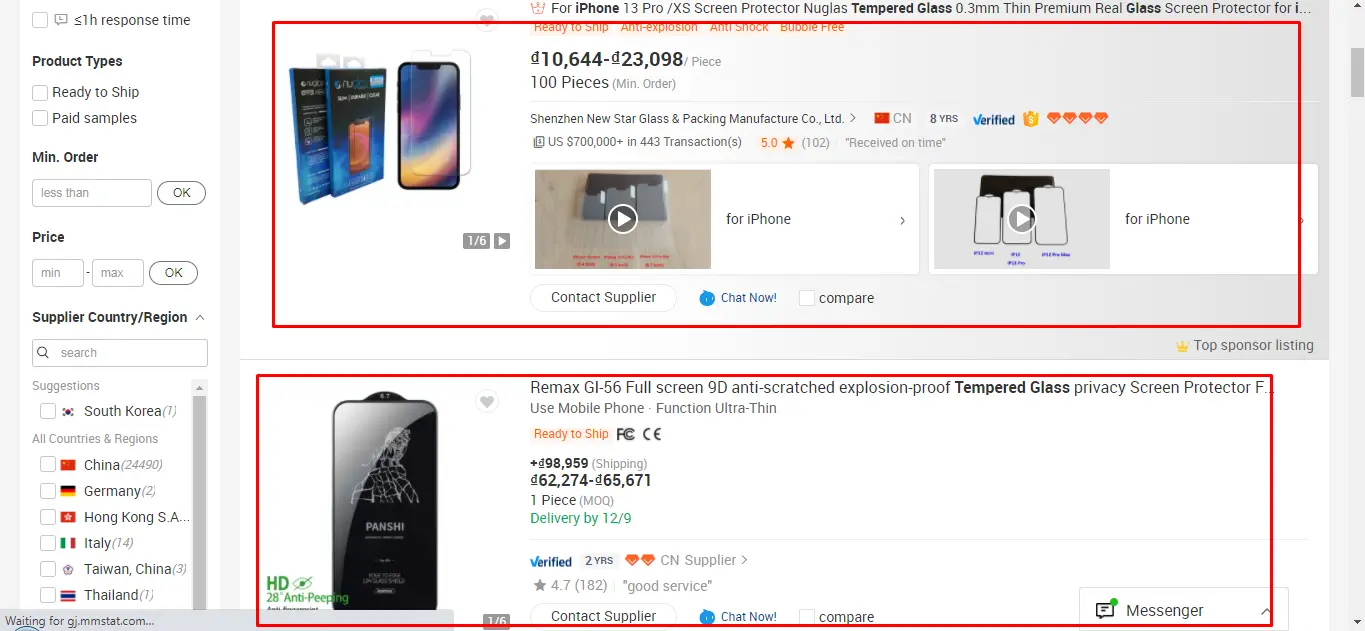 The search result shows you a variety of products from various vendors.
Now that we've found some great products, the next step is to find a great provider. To do so, use the Supplier Search method, which is the second search method.
Supplier Search:

Search Result: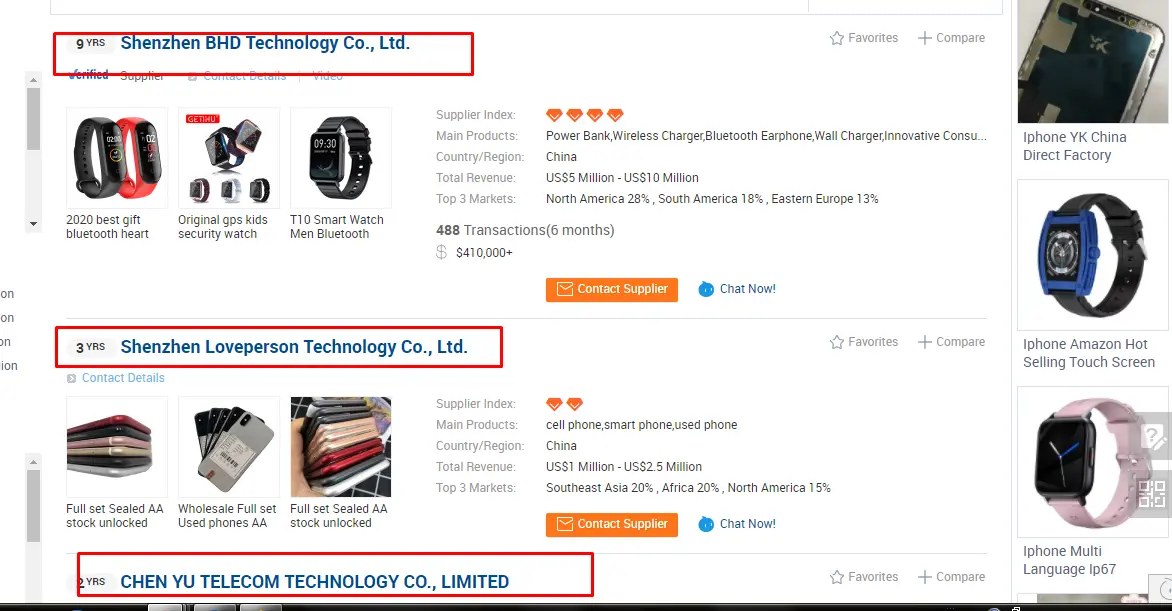 The different providers for the product category you're looking for are listed in this search result.
Some helpful hints can be found on Alibaba's product page.
Price per unit and FOB (Free on Board)
The unit pricing is plainly visible on the product description page. A unit is the cost of an object, as you may have learned in school. It makes no difference if you already know; I merely said it because some people don't.
Minimum Order Quantity (MOQ)
The minimum order quantity is straightforward to comprehend. Simply put, in order to be qualified for a purchase, you must order a certain amount of products. I'll lash out if you ask me to ship just one pen from China to Australia. This is why some providers have a minimum order quantity requirement.
There are a few factors to keep in mind while choosing your suppliers.
"Self-help" is the best form of help. This is not an inspiring article. This is my point: no one can help you match until you stop falling for scams yourself. This is possible by playing fair.
Look for verified suppliers and trade assurance options
Make sure the Trade Assurance and Verified Supplier categories in the search bar are checked when you make your final product purchase. When selecting high-risk, high-budget products, this is very critical.
Get in touch with the supplier
Alibaba chat is an excellent way to communicate with vendors. If that fails, or if you're unsure how to contact a provider, you can schedule a Skype meeting.
A heads-up: Customer service can be slow. You may need to wait for several hours or even a whole day. It takes from 24-48 hours to receive a response at the most.
How to Integrate Alibaba with Shopify for Dropshipping?
Do you want to be able to quickly dropship Alibaba products on Shopify? Importify can assist you with transferring items from Alibaba to Shopify. This is how it functions.
Step 1: Go ahead to Alibaba.com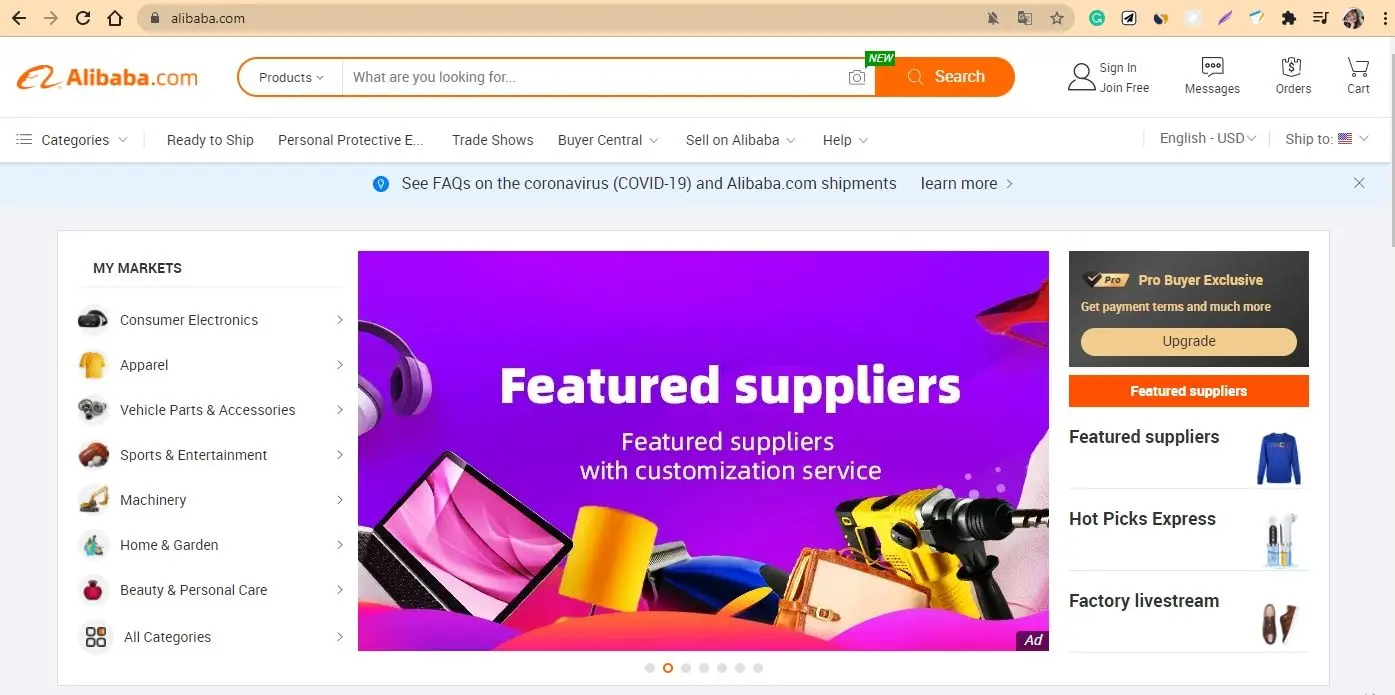 Step 2: Select the product you want to sell, then select it again for more details.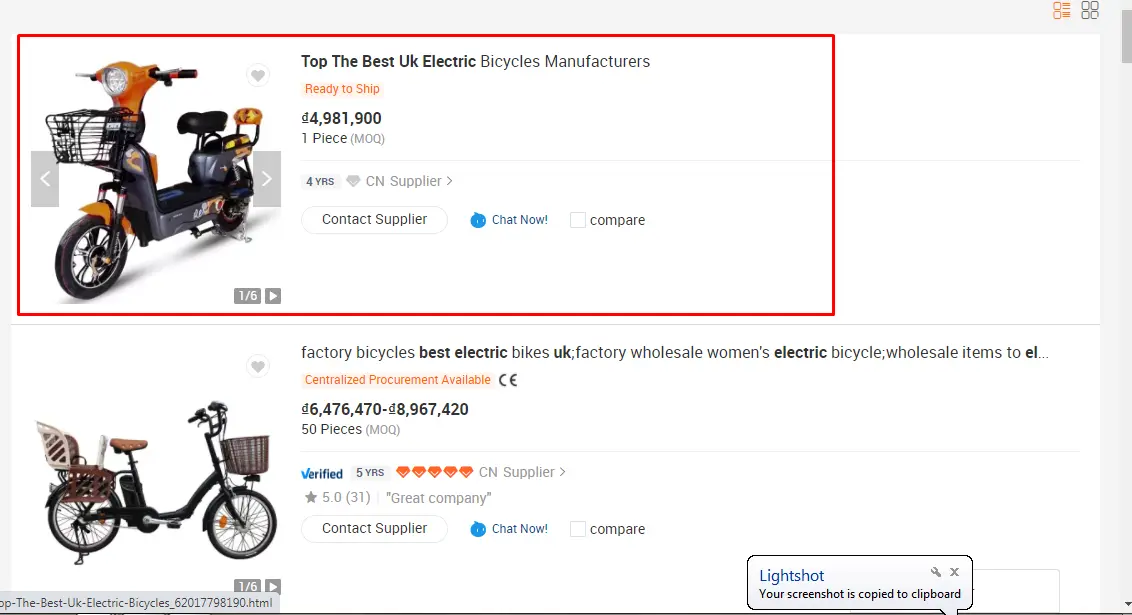 Step 3: On the left side of the product page, click the red add button.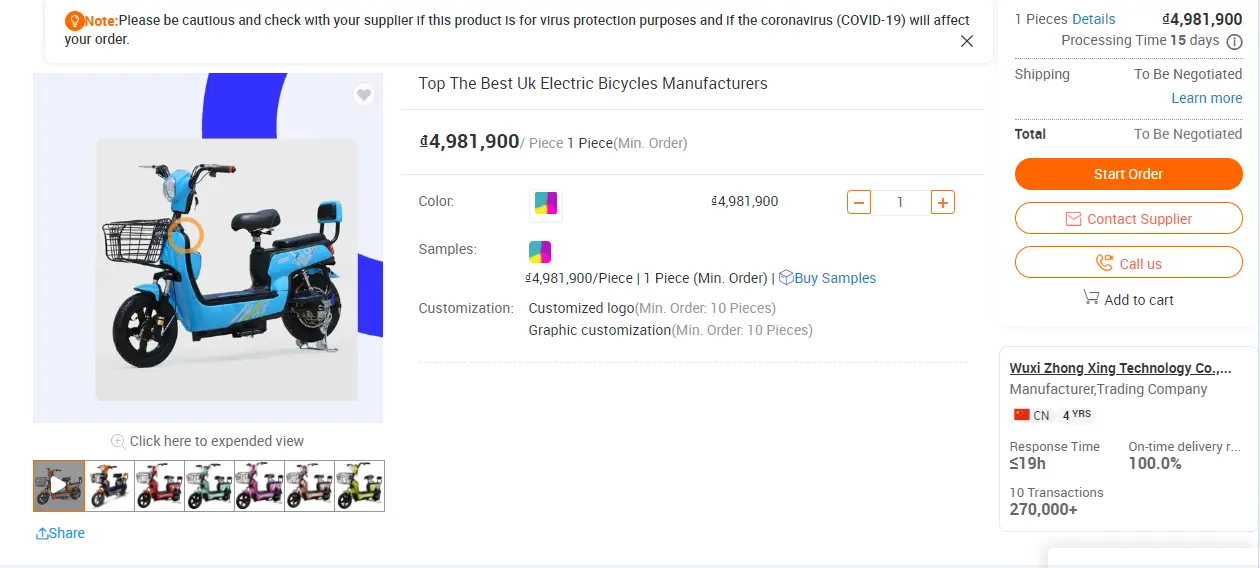 Step 4: You'll see all of your product's customizable details. You can change your product's title and description, as well as the photos that appear on your Shopify product pages.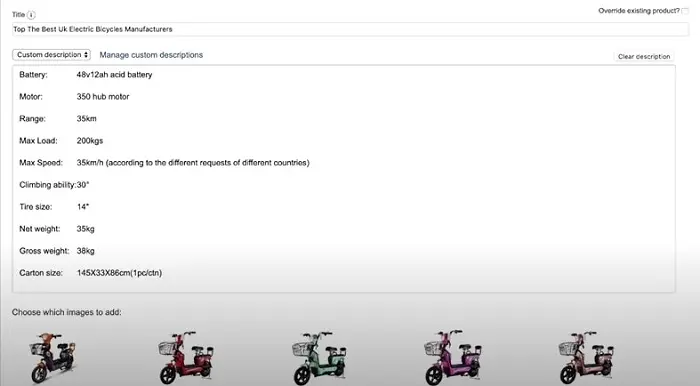 Step 5: You may also adjust the cost, variations, and organization information as you go down. Some individuals don't provide information about their company, but I recommend doing so since it adds credibility.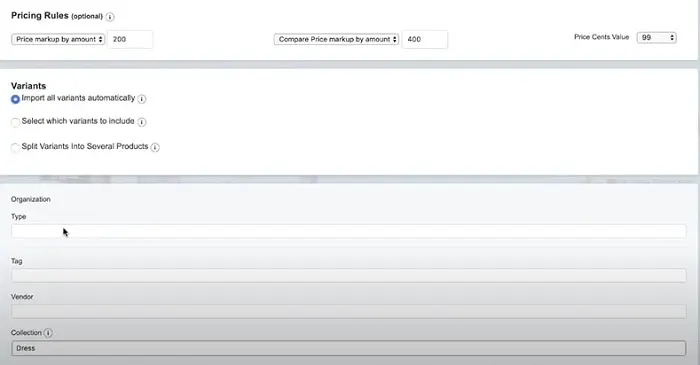 Step 6: When you're finished, select Add to your Shopify from the drop-down menu.

Step 7: You'll receive confirmation that the product was successfully added, which will look like this:

To see the product, go to your Shopify import list or click the view option in the image above. Simply click the edit button if you want to make more changes to the product.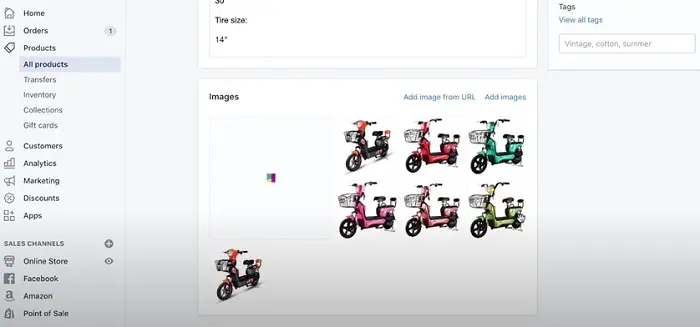 Alibaba Dropshipping Shopify: FAQs
Can I dropship from Alibaba on Shopify?
Yes, you can dropship products from Alibaba on Shopify. However, you need to be aware of the potential challenges such as longer shipping times and communication issues with suppliers.
Is Alibaba good for dropshipping?
Alibaba can be a good option for dropshipping, as it offers a vast selection of products at competitive prices. However, it's important to thoroughly research and vet potential suppliers to ensure they are reliable and offer quality products.
Can I import from Alibaba to Shopify?
Yes, you can import products from Alibaba to Shopify by using a third-party app or tool that can help you transfer product information and images.
Does Shopify use Alibaba or AliExpress?
Shopify doesn't use Alibaba or AliExpress directly, but it integrates with these platforms through various third-party apps and tools that allow you to source and import products to your store.
Conclusion
Doing business with the Dropshipping model combined with Alibaba is a great startup idea. You will succeed early if you do this with seriousness and learn from each failure.