Top 5 Best Shopify Subscription Apps
Instead of focusing too much work on seeking new consumers, the quickest approach to increase sales is to focus on existing customers. Setting up a subscription service is the quickest approach to increase your repeat conversion rate from the old customers. Subscriptions are fantastic since they automate customer purchases by establishing repeating payments on a regular basis. This business strategy decreases one-time purchases, promotes client retention, makes it easier for customers to acquire things they like, and helps your store create predictable revenue.
In this article, we will list of top 5 best Shopify subscription apps that help you set up a subscription service on your Shopify store.
4 Factors to evaluate a Shopify Subscription App
Rating

Rating is one of the most crucial elements to consider when selecting an app. Nothing could be more accurate than the feedback from users of the app. Here you'll find all of our customer reviews for the best Shopify subscription apps. Of course, no software is perfect, but all of these apps have at least 100 customer reviews and a 4-star rating. These are the best and most popular ones, according to us.
Ranking

We rank these apps based on the search page's rating in addition to customer feedback. In fact, to get high ranks on the Shopify Appstore, an application must meet a number of criteria, including not just a high rating but also features, content, and the number of installations.
Price & Feature

You're undoubtedly curious about how the app may benefit your Shopify store. That's why we choose the apps with the most complete and strong subscription features with great consideration. The applications' most noteworthy features include:
Increase the amount of people who register.
Build customer confidence.
Customization is powerful.
Other advanced capabilities include email and customer notifications, A/B testing campaigns, automation and synchronization, and more.
Furthermore, you should think about your finances before using any premium apps. We researched the applications below and discovered that they all offered free trials and that the monthly fee is well worth the features they provide. So, depending on your needs, you should select the appropriate application for your online store.
Reputation of Provider

This, along with the other three variables, is an important consideration. When it comes to selecting programs, many individuals are unconcerned about the supplier. However, the supplier's reputation should be considered when minimizing dangers during use. Furthermore, by determining the provider, you may determine whether the application's customer care is adequate.
How Can Shopify Subscription Apps Benefit Your Business?

We all know that having a subscription model is one of the most successful strategies to retain clients. Shopify, on the other hand, lacks the functionality to handle recurring charges. When it comes to developing frequent customers in a Shopify business, the major issue is that Shopify does not automatically keep client billing information. Each purchase requires the customer to re-enter their information, which is inconvenient for even the most patient customers. However, using the subscription apps listed below will solve all of these issues.
These applications, in particular, assist your customers in quickly signing up while also measuring sales performance and automating some procedures to save you time and effort. To put it another way, it is a win-win situation for both you and the buyer. These apps also allow clients to enter payment information and have it saved for future payments.
In brief, instead of being limited to selling physical products and items that can be downloaded immediately, using a Shopify subscription app allows you to provide subscription packages to your users. You may utilize a Shopify subscription app to offer a variety of paid memberships with recurring payments, automatic payment reminders, and detailed statistics to better understand your user and consumer base.
Top 5 best Shopify subscription apps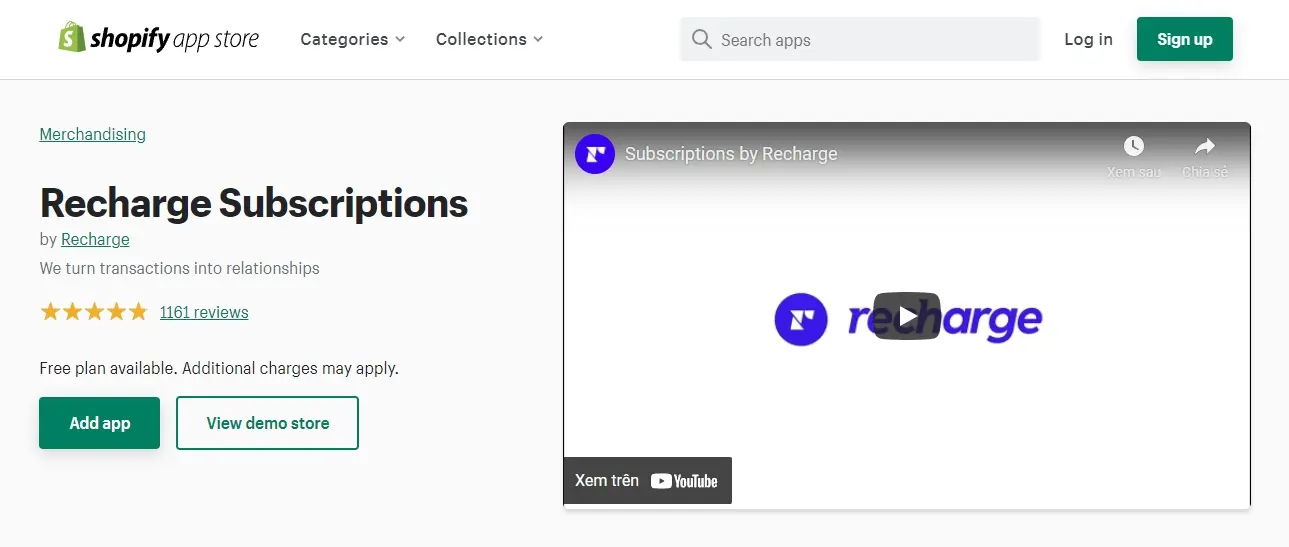 ReCharge is one of the best Shopify subscription apps that can be used by any Shopify store, large or small. ReCharge gives you access to a unique dashboard and platform, as well as a number of tools that can help you encourage and boost overall customer involvement on your website and Shopify business.
ReCharge is more than just a Shopify subscription service. ReCharge, on the other hand, offers a variety of products and features that can assist users to attract subscribers while also motivating them to stay active while browsing and shopping in their Shopify eCommerce store.
Key Features:
Some of the elements that make ReCharge distinguish out in today's industry competition include:
From one area, manage all of your subscription plans and packages. Create, amend, and manage all of the subscription packages you want to provide to your Shopify customers from a single dashboard.
Use the subscription workflows included into ReCharge to learn more about which subscription model and package works best for your target audience.
Take advantage of mobile-friendly resources and solutions to expand your online reach and exposure using smartphones and other mobile devices.
In-depth analytics and real-time statistics are included in customer engagement solutions to assist you in keeping track of visitors and determining which consumers are most likely to acquire subscription plans you are selling and promoting.
ReCharge also offers developer assistance, which is very valuable for individuals who want to contribute to ReCharge's development or make changes to the original software that you use on your Shopify store.
Rating: 4.8/5 (1161 reviews)
Pricing:
Free trial for 60 days.
Standard: $60 per month plus 1% + $5 each transaction. This plan includes services including subscription payment, order management, and merchant support.
Pro: $300 per month plus 1% + 19 per transaction. Standard functionality are included, as well as enhanced analytics and a client portal.

Seal Subscriptions is one of the most popular Shopify subscription apps, and it's simple to integrate with any size Shopify company. Implementing your own subscription business model has never been easier than with Seal Subscriptions, whether you're running a small niche online store or rapidly developing and scaling your eCommerce presence.
Seal Subscriptions is one of the most popular and well-known Shopify subscription apps on the market today.
Key Features:
While fleshing out your own website's subscription packages and plans, you can use Seal Subscriptions to take use of the following features:
To appeal to a broader audience and a variety of demographics, create multiple tiers of ticket kinds and subscription packages.
Include a recurring payment option to assist create continuous secondary revenue from frequent subscribers.
Remind clients on a frequent basis of their current subscriptions as well as when their next payment for the service(s) they are utilizing is due.
Initial savings can also be advertised to encourage consumers to choose a subscription plan when registering or checking out.
Add a 'Subscription' widget next to your Shopify store's own 'Add to Cart' button to encourage users to learn more about your subscription services and packages.
Rating: 4.9/5 (453 reviews)
Pricing:
Free plan: Automatic charge, automatic recurring billing, no transaction costs, and 100 subscriptions per month are all included in the.
Premium Tier 1: $17.99/month, has all the features of the free plan plus the ability to edit subscriptions and a monthly limit of 1000 subscriptions.
Plan Premium Tier 2: $29.99/month contains the above two tiers' features as well as 10,000 memberships.
Premium Tier 3: $59.99/month entitles you to 50,000 monthly memberships. For more information on more comprehensive plans, please contact customer support.

Bold Subscriptions is a popular Shopify software that allows seamless integration of checking out and finishing payments. With a built-in subscription-based strategy, you may utilize Bold Subscriptions to encourage people to subscribe to various plans and packages based on your desired model.
It's critical to examine the characteristics of each Shopify subscription app before deciding which is best for your store.
Key features:
When you sign up for a free trial account with Bold Subscriptions, you'll have immediate access to the following features:
Create subscription plans and bundles with multiple pricing tiers for your consumers with ease. Use several levels of packages and subscriptions, depending on the audiences you want to attract and any initial prices or discounts you're offering.
Set subscription intervals or allow clients to pay manually based on their preferences for subscription intervals.
Custom emails: You can also use Bold Subscriptions to send personalized emails to your current subscribers, keeping them up to date on any website changes or improvements.
Customer management: Customers have more control over their subscriptions and the bundle or plan they are currently utilizing with Bold Subscriptions.
Sign-up incentives: One of Bold Subscriptions' noteworthy features is the ability to give incentives and prizes to consumers who are joining up for the first time and selecting a subscription plan. Sign-up incentives can also prevent customers from quickly deleting their account and chosen bundle after finishing the registration procedure.
Rating: 4.⅘ (260 reviews)
Pricing:
Free trial for 60 days.
Monthly fee: $49.99.
Premium customers should contact Bold Subscription (include advanced customization).

Look no farther than PayWhirl Recurring Payments if you're looking for a Shopify subscription app that will integrate with any existing Shopify template or theme. When it comes to integrating subscriptions into any Shopify site, the PayWhirl Recurring Payments software is clean, fluid, and stylish, independent of the theme and template you're using or have built.
PayWhirl Recurring Payments has a lot of features that make it stand out on this list.
Key features:
PayWhirl Recurring Payments has a number of features that make it a good choice for Shopify subscription apps:
With the flexibility to change the positioning and look of your subscription packages, seamlessly integrating your current Shopify theme with PayWhirl Recurring Payments has never been easier.
Protection: PayWhirl Recurring Payments takes pleasure in providing additional security and encryption to all customers, including free trial users and paid and premium subscribers.
Automate recurrent billing: PayWhirl Recurring Payments provides an automatic recurring billing option for your users and ongoing subscribers.
Manage subscriptions with ease: With a built-in dashboard, you can easily manage the subscriptions you already provide on your shop, as well as the types of packages and pricing tiers you use.
Rating: 4.9/5 (165 reviews)
Pricing:
Free for 14 days trial.
Starter: Installation is free, however there is a 3% transaction cost.
Pro: $9 per month plus a 2% transaction fee.
Plus: $49 per month; 1% transaction fee
Ultimate: $249/month with a 0.5 percent transaction fee.

Another option in the list of top best Shopify subscription apps is Subscription & Recurring Order that is also absolutely free to use for all users. The Subscription & Recurring Order app can make it easier for customers to check out and choose a subscription plan without having to think about it.
It's simple, easy, and best of all, free to use Subscription & Recurring Order.
Key features:
Once you've had Subscription & Recurring Order up and running, you can start using the Shopify app's other features:
Easily manage subscriptions: With the Subscription & Recurring Order app, you can easily manage your site's subscriptions, plans, and customer data from one central area.
Payment options include: Allow users to select a subscription plan from a variety of payment sources. This can help boost client satisfaction while also encouraging them to finish their purchases.
In-depth analytics: The Subscription & Recurring Order software can help you collect data and statistics on your users, which is a vital part of running a business. Manage subscription data and analytical insights to see what is working for your company and what might be altered or improved in the future.
Selling multiple subscriptions: The Subscription & Recurring Order supports multiple subscriptions, allowing your customers to purchase various subscriptions or subscription types at the same time without any effort.
Rating: 4.5/5 (144 reviews)
Pricing:
Free Plan: all features included, Unlimited subscriptions, Auto-charge & recurring invoices, 24/7 support. Any order including a subscription item is subject to a 3% transaction fee.
Basic Plan: $9/month. This subscription includes all features of the Free Plan. Any order including a subscription item is subject to a 1% transaction fee.
Plus Plan: $29/month. This package contains all Free plan features plus priority support. Any order including a subscription item is subject to a 0.5% transaction fee.
Pro Plan: $99/month. This package offers all features of the Plus Plan, in addition with the dedicated support manager. Any order including a subscription item is subject to a 0.25% transaction fee.

Providing great features, tools, and reliable customer support, Subify is one of the best Subscriptions apps on Shopify. With this app, subscriptions for your products can be easily created and managed!
Whether you're running a small business or a big one, Subify provides you with a set of tools that allows you to create as many subscription rules as you like.
Your dashboard gives you easy access to all your products and allows you to set different rules for them. It also allows you to monitor your orders, and contact customer support for any questions you may have.
Key features:
Subify has got a dedicated team working on maintaining and creating features that make it unique:
The app panel allows you to create different rules for as many products as you have, each with different discounts or delivery frequencies.
Subify has a great UX design which makes it easy to use. A clear and easy-to-follow order has been established to make everything accessible .
Subify provides four different widget templates, and all of them are compatible with Shopify themes. Making your subscription offer bolder and more user-friendly is going to be easier, thanks to their simple yet user-friendly designs.
Subify allows you to have migrated users from other apps too! You will be able to import all your previous customers into your new app and continue the business without losing a single sale.
Subify also offers dedicated customer success and support teams. As well as being available to answer any concerns or questions you may have, they also have customer success managers who can help you maintain your customers or acquire new users.
Rating: 5/5 (23 reviews)
Pricing:
14 days free trial.
Essential: Free to use, only 1% transaction fee, unlimited subscriptions + orders, automatic payments, widget customization, subscription management (Skip, Pause, Payment update).
Pro (49$/month): all the essential features, more widget options, remove branding, personalized recommendations, advanced CSS, personalized landing page + widget design, super fast support (less than a minute)
Ultimate (299$/month): all the Pro features, custom feature development, custom subscription flows, APIs & webhooks support.
Conclusion,
Finally, each subscription solution includes all you need to get product subscriptions added to your Shopify site. The decision ultimately comes down to which of the extra features is most suited to your objectives and how the pricing affects that value.
These apps can help you create recurring revenue while also providing tremendous value to your customers by consistently bringing them the products they want.
We chose the best Shopify subscription apps by looking at the app store rating, the amount of reviews, the app's top features, and other subjective characteristics. We hope that this information will aid you in your search for the finest app for your store.