How to Start Drop Surfing eCommerce?
If you've lately been exploring the advantages and cons of launching a drop shipping business, you've probably come across a new word that's been bandied about in the industry: Drop Surfing. Yes, you've probably seen drop surfing vs dropshipping comparisons or read drop surfing reviews where people discussed what makes it such a promising new venture for entrepreneurs and businesses.
What is Drop Surfing eCommerce?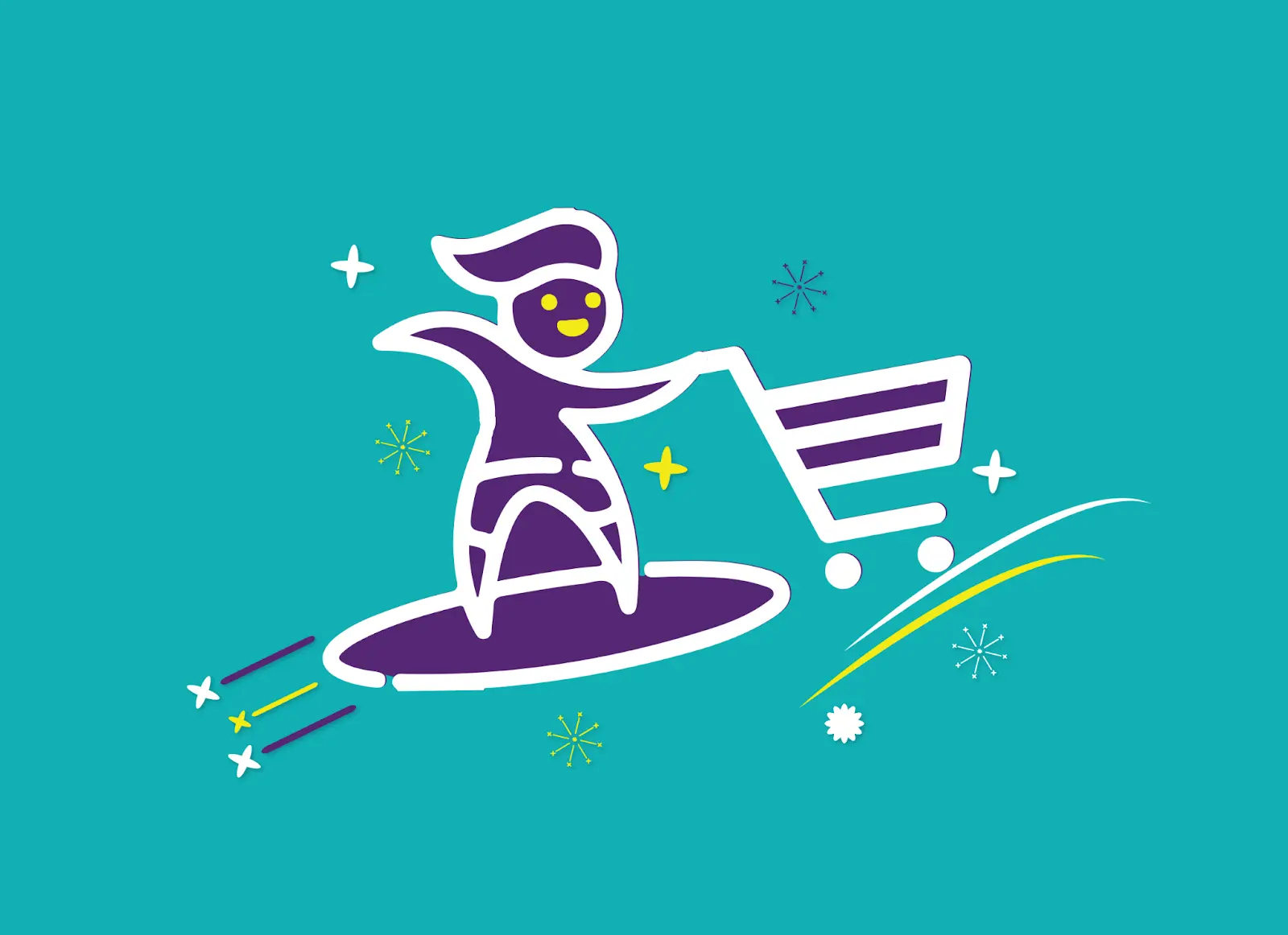 Drop surfing is the process of scouring the internet for the greatest pricing on a drop shipping order in order to maximize your profit. Let's use an example to demonstrate drop surfing. Assume you're a dropshipper who receives a request for jeans.
Now that you've got your order, you may begin looking for identical jeans on the internet. You might want to look about on several websites, such as AliExpress or Amazon, to see where you can get the best deal on the same clothing.
You just drop ship the order with that source once you've located the lowest pricing given by that supplier, allowing you to optimize your profit margin. The higher the profit margins on orders you can maintain, the more money you'll make from your dropshipping business.
So, if you save $4 on the jeans sale and sell 250 things in a month, you're basically making $1000 per month from just one product. When you put in more goods, the figures start to mount up quickly.
Differences Between Drop Surfing and Dropshipping
They're pretty similar, and many people mistakenly believe they're the same thing. Even though they have similar characteristics, this does not imply that they are identical. In reality, they're diametrically opposed. Let's look at some of the most notable distinctions between the two.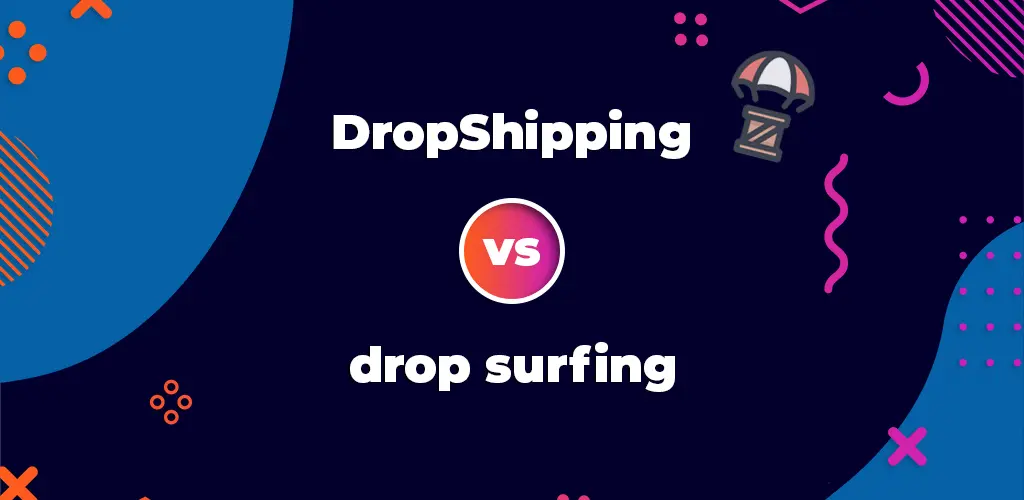 The quantity of Suppliers
The one obvious difference between dropshipping and drop surfing is that dropshippers typically use only one supplier, while drop surfers use multiple suppliers at the same time.
When it comes to drop surfing, you'll need to be able to work in a fast-paced setting since you'll be scouring many suppliers' websites for the best bargain that will offer you the most profit margin.
The Software That's Being Used
Both dropshippers and drop surfers, of course, construct and launch their websites utilizing an eCommerce platform like Shopify or WooCommerce.
Drop surfers, on the other hand, utilize software to travel through multiple vendors in order to locate the best offer, as previously mentioned. They operate with a large number of suppliers, which would be impossible to manage without the use of software.
Drop Surfing eCommerce Pros and Cons
Drop surfing, like any other company, has its advantages and disadvantages. And the goal of this comprehensive drop surfing eCommerce tutorial is to help you understand the entire process so you can choose the best path for you.
The following are some of the advantages and disadvantages of the drop surfing business: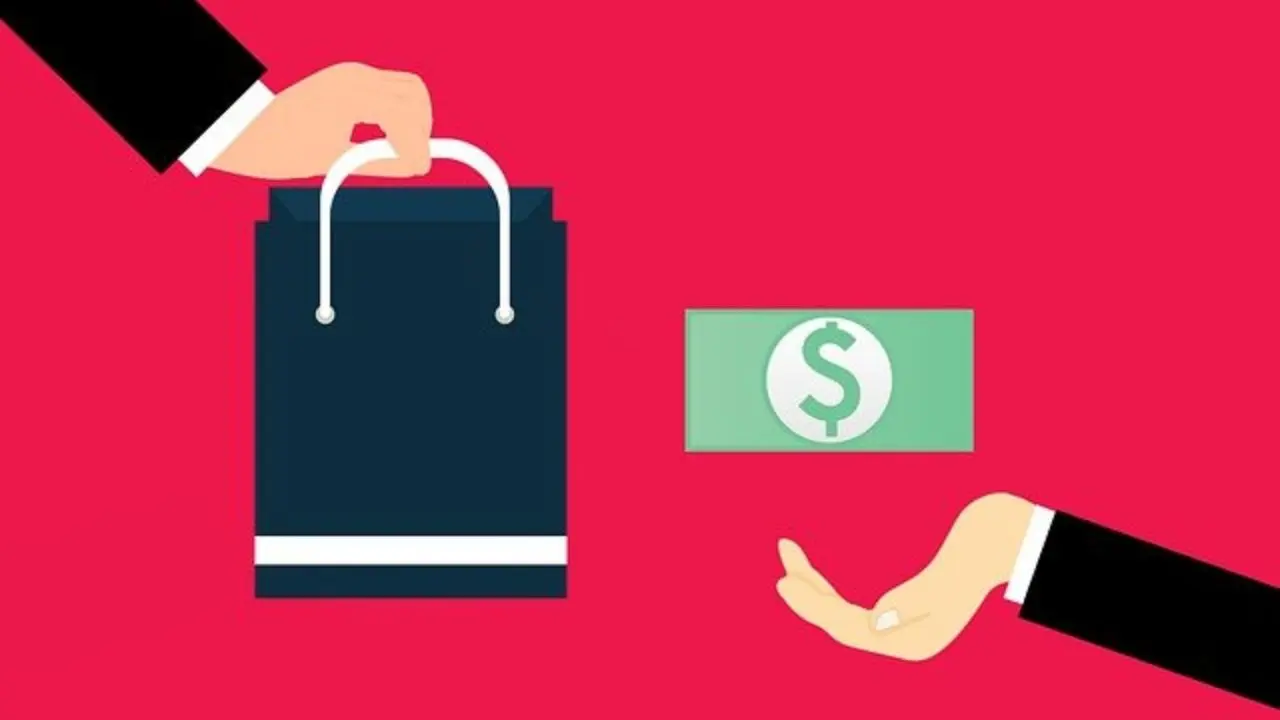 Drop Surfing eCommerce Pros
It's simple to establish a business with a cheap entrance fee.
Choose from a variety of suppliers/vendors to maximize profits by selecting the cheapest deal.
You may automate order fulfillment without having to search for the lowest items with the correct drop surfing software.
Search among hundreds of manufacturers and suppliers from across the world using automated technologies to dropship the order.
Keep your concentration on marketing rather than worrying about stock, packaging, or delivery.
Drop Surfing eCommerce Cons
It may be a disaster and very difficult to expand the drop surfing business without the software.
When wanting to grow, you may need to subscribe to a monthly premium plan for the drop surfing software.
It's possible that the Drop Surfing app won't function with all websites.
How to Start Drop Surfing eCommerce?
Follow these easy steps to establish a drop-surfing eCommerce business:
Step 1: The first step is to choose an eCommerce platform, and create an online store. You should go for the most popular platform such as WooCommerce, Shopify, etc.
Step 2: Then, you need to begin browsing the marketplace. Find what's selling well, where it can be purchased, and what a good profit is. Once you've chosen your stock, you can begin listing it. Without having to make any initial purchases.
Step 3: To assist you with shop administration, get a drop surfing software/tool (free plan for beginners). Some of the best tools for you to do drop surfing on Shopify will be mentioned below.
Step 4: You're ready to launch your surfing-shipping eCommerce business.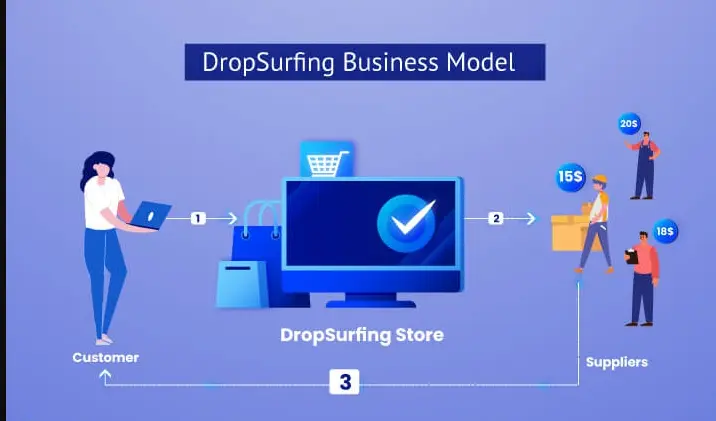 Why you should use a drop surfing software
Aside from reducing your business's operational time, drop surfing software may also allow you to:
Guaranteed shipping and timelines
You'll be engaging with a variety of merchants and providers for order delivery while drop surfing. This places you at their mercy, and every hiccup in the delivery process will simply serve to degrade your company's reputation.
You can trust the trustworthiness of vendors/suppliers and know that orders will be delivered on time if you use the right drop surfing tools.
Notifications if product prices change

Another significant advantage of using a dependable and powerful drop surfing program is that it will automatically deliver price changes for the listed items.
Most drop surfers find it incredibly aggravating when suppliers alter prices suddenly and without warning. That makes it difficult for sellers to offer the correct price to buyers, perhaps resulting in a loss of earnings or even having to pay out of pocket.
A drop surfing program allows you the peace of mind to stay on top of your business at all times with automatic notifications for price changes.
Fulfill orders manually
At the start of your business, when you may receive 10 or more orders, you may be able to manually complete the orders from the file. What if, on the other hand, you begin to receive more than 100 orders every day? How would you manually search the internet for the best pricing and then complete the order? Isn't recruiting people going to be expensive?
You can automate the processing of orders by using a robust drop surfing program that keeps you up to date with price comparisons from many platforms and providers. This saves you time and works as your business grows.
Top 3 best drop surfing software for Shopify

You might guess that DSers - Aliexpress Dropshipping features will focus around the Aliexpress platform based on the app's name. This tool, in particular, allows you to add proucts from AliExpress and have orders processed automatically and swiftly. In addition, Chrome is linked inside the app to make it easier to use, such as importing and modifying goods while browsing.
What makes this software unique is that it has several automated capabilities that make getting items to the shop quick and simple. This app also updates pricing levels and inventory on a daily basis. Check out DSers review for further details.
Key features:
Find products with a single click.
The entire sales process is automated.
Every day, make changes to the product information.
Chrome integration is available.
Make changes to the product's information and photos.
Invoices and package labels should both have your brand on them.
When you import items or the prices change, the bulk pricing can be changed.

Spocket is a dropshipping software that excels in terms of supplier quality and customer service. This software checks suppliers in-depth to verify that a market has the greatest items. Because the majority of these suppliers are located in North America and Europe, shipping to clients in these areas will be substantially quicker.
The intermediary also negotiates with merchants for trustworthy discount coupons that may save you up to 45 percent. Furthermore, Spocket guarantees a 30% profit margin on all transactions.

Alibaba.com's dropshipping technology partner is Syncee. It provides the greatest B2B dropshipping solutions, with millions of items from trusted sellers and an easy one-click purchasing process.
The order process is totally automated with Syncee, making it easy to operate your store. You may also pay the supplier directly with PayPal or a credit card using this app.
Key features:
Syncee has a number of noteworthy characteristics, including:
Find products and providers in a trustworthy and timely way all across the world.
DataFeed Manager may be used to provide product and inventory management features.
Products are automatically downloaded and updated.
On Syncee Marketplace, you may help others locate items and suppliers.
Search for AI-based goods.
SFTP, Dropbox, Google Drive, and other services are all supported.
Drop Surfing eCommerce: FAQs
What is the difference between dropshipping and drop surfing?
Dropshipping is a retail fulfillment method where a store doesn't keep the products it sells in stock. Instead, when a store sells a product, it purchases the item from a third party and has it shipped directly to the customer. Drop surfing, on the other hand, is a variation of dropshipping where the retailer constantly searches for products that are trending or in demand and then quickly adds those products to their online store to capitalize on the trend.
What is the catch to dropshipping?
The catch to dropshipping is that it can be difficult to maintain consistent profits due to the competition in the market, high advertising costs, and low profit margins. Additionally, you have little control over the shipping process and the quality of the products, which can lead to customer complaints.
What is the hardest part of dropshipping?
The hardest part of dropshipping is finding profitable products to sell and marketing them effectively to attract customers. There is a lot of competition in the market, and it can be challenging to stand out and attract customers to your store. Additionally, managing customer service and dealing with product returns can also be difficult.
What is eCommerce vs dropshipping?
Ecommerce refers to the buying and selling of products or services over the internet. Dropshipping is a fulfillment method used by some ecommerce stores, where the store doesn't keep the products it sells in stock but instead purchases them from a third-party supplier who ships the products directly to the customer. So, dropshipping is a type of ecommerce, but not all ecommerce stores use dropshipping as their fulfillment method.
Conclusion
As you can see, drop surfing is a fantastic technique to make money without having to invest a lot of money. Furthermore, you may accomplish it from the comfort of your own home and you will not require additional personnel to complete jobs. You can accomplish anything on your own with the correct software.