Dropified vs Oberlo: Which is better to create a dropshipping store?
Dropshipping has become something that has become ubiquitous since e-commerce unquestionably started to explode today. In fact, both millennials and gen X love to shop online, with 67% and 56% of them buying from online stores.
E-commerce stores and shipping providers like Oberlo and Dropified go hand in hand. It is no surprise that dropshipping is the business most prone to getting started online.
But, which one is specifically suitable for your needs? Find out the answer in this Dropified vs Oberlo comparison.
Oberlo vs Dropified: Oberlo's Standout Features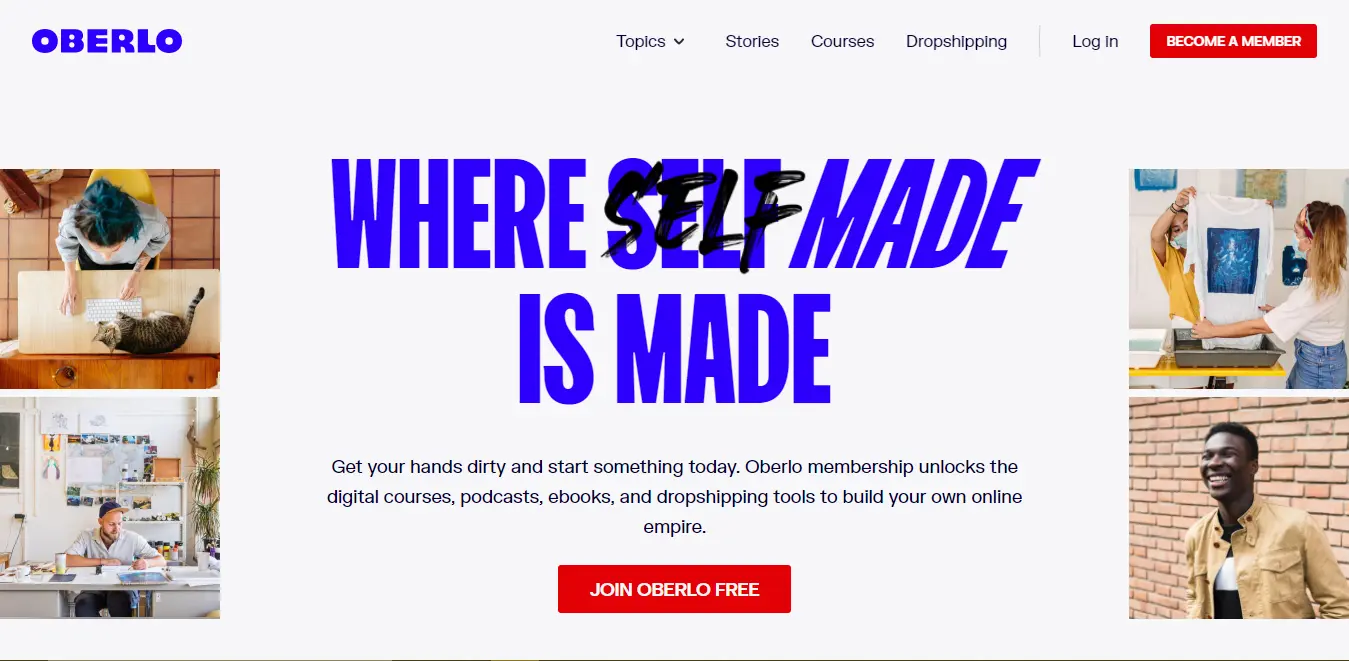 Founded in 2015, Oberlo is one of the pioneering dropshipping apps on the market. With this, you can rest assured that it is one of the complete and full-featured apps in the industry. Furthermore, it is available worldwide.
You can start selling thousands of products with Oberlo, allowing you to export products from AliExpress and import them directly into your Shopify store.
Here are some of Oberlo's products and features that let you ship your orders directly to your customers with just a few clicks.
Import Easily From Aliexpress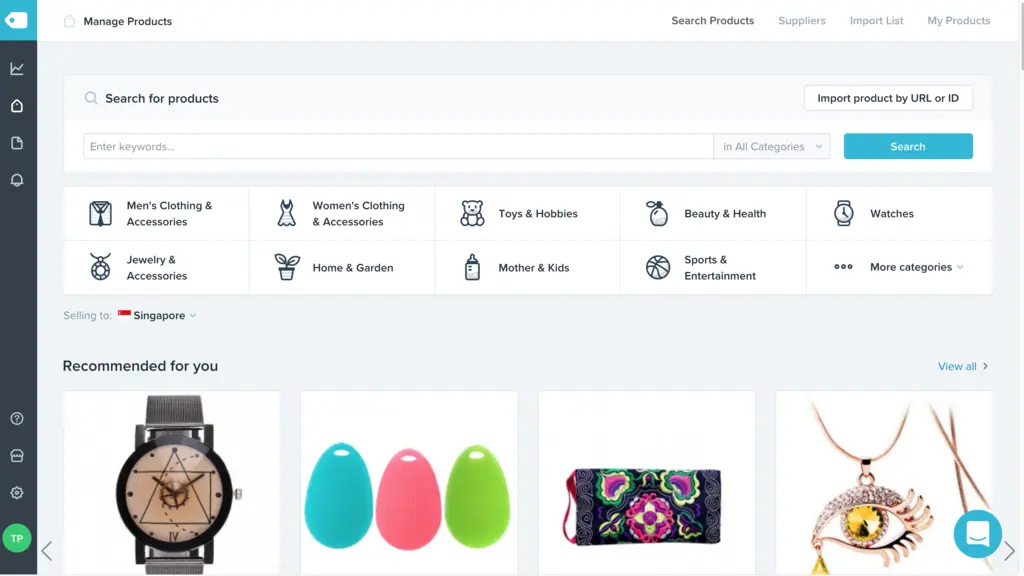 As soon as you start using Oberlo, the main feature you get is shipping from AliExpress. It only needs one click to do so, too!
After selecting the products you want to import, simply click the Oberlo button to import that product automatically into your Shopify store.
Clean Interface for Product Management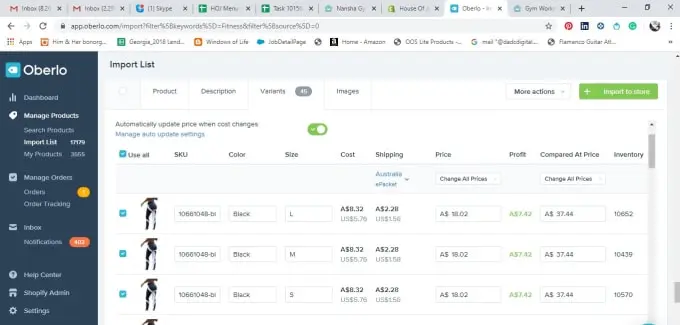 Oberlo has a neatly and hassle-free designed interface for managing your products. You can see all the most necessary things in the upper left corner of the screen, where you can search for products, enter product listings, track orders, and more.
Easy product customization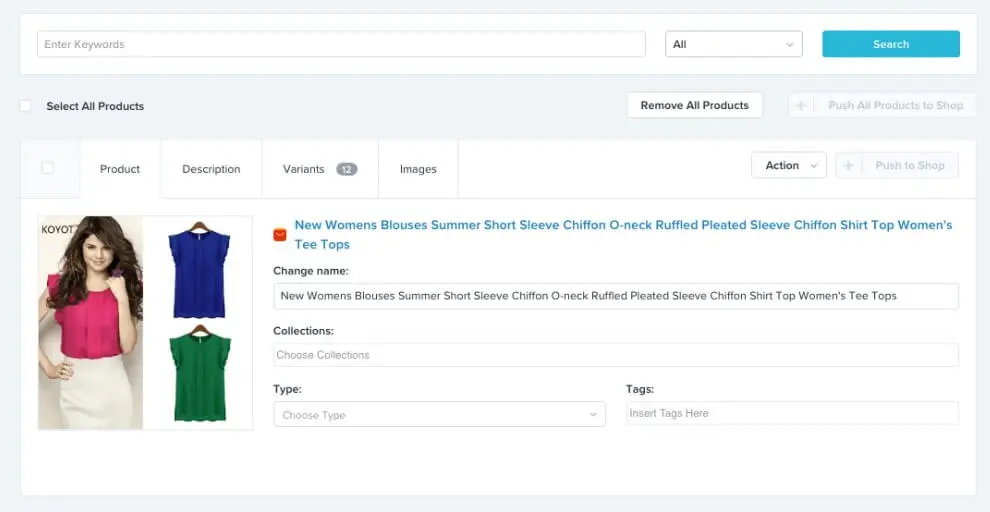 You can easily edit existing products with just one click. You can customize your display by changing the product image and edit product titles and descriptions with SEO keywords to maximize your reach.
Automated Fulfillment of Orders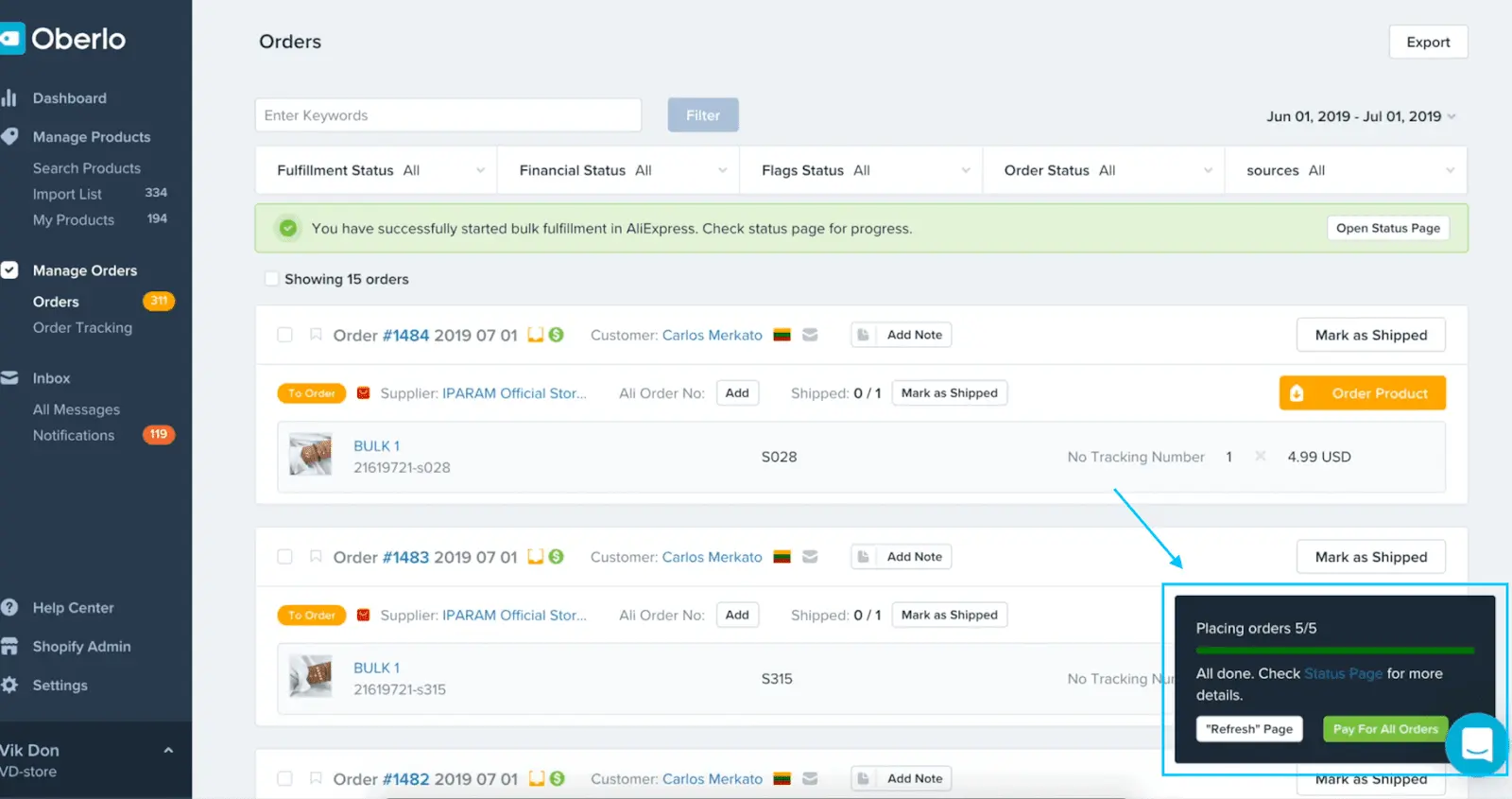 This is where most of the dropshipping magic happens. When your store has a new order, all you need to do is click the "Order Product" button. Oberlo will take care of the rest, from product creation to shipping to customers.
Automatically Update Prices and Inventory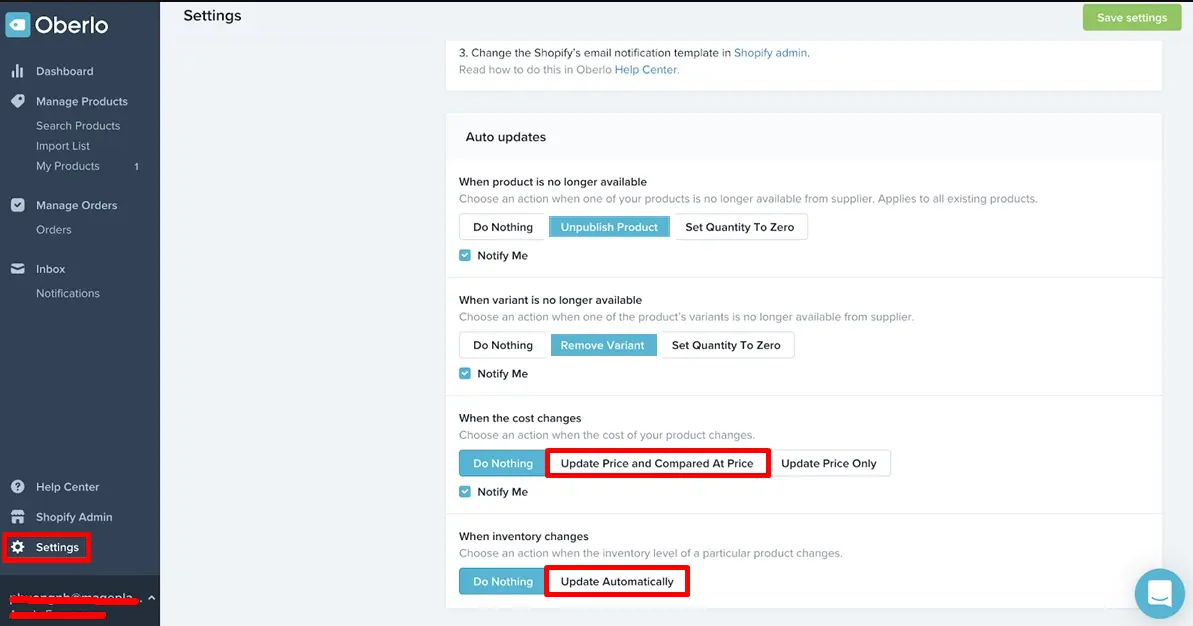 Oberlo updates your inventory automatically, so you will never sell a product that is out of stock. It also updates your product prices and notifies you of them at the same time. Therefore, you will not miss a thing.
Track Sales and Shipment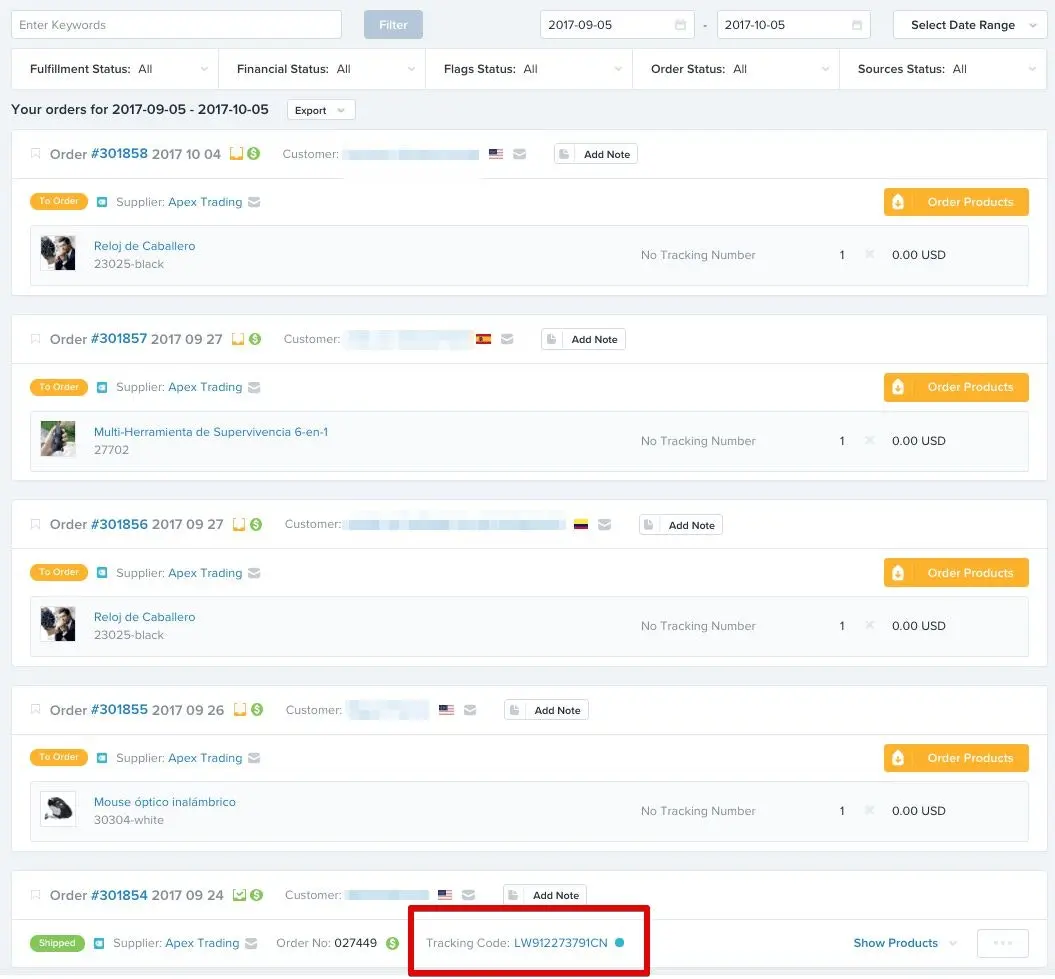 With built-in order tracking, Oberlo lets you know where your orders are. Besides, you can also see how much money you are making and spending.
ePacket filters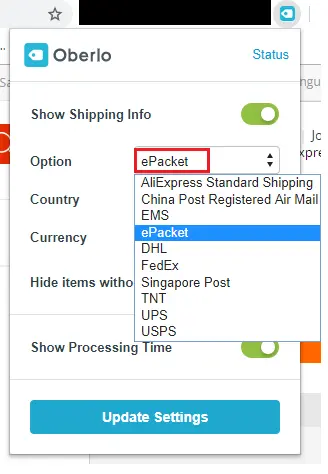 This is another excellent feature that comes with Oberlo. E-Packet helps you locate products with the fastest delivery time. You can use this feature to find products with the shortest shipping times and the lowest prices.
Dropified vs Oberlo: Dropified's Standout Features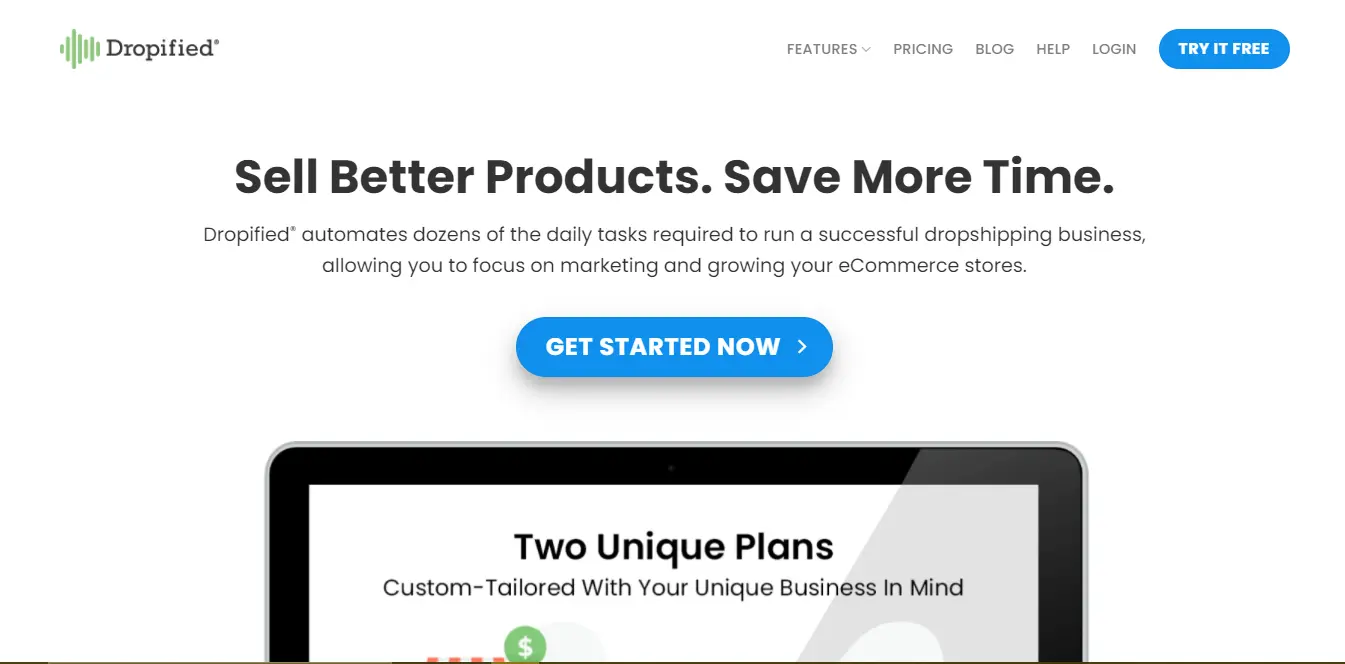 Dropified is one of the leading dropshipping apps on the market. It was also established in 2015 like Oberlo.
Dropified considers the most cost-effective shipping process to load products into your store. You can easily do this in just a few clicks. Here are the tools that are worth mentioning from Dropified.
Zapier Integration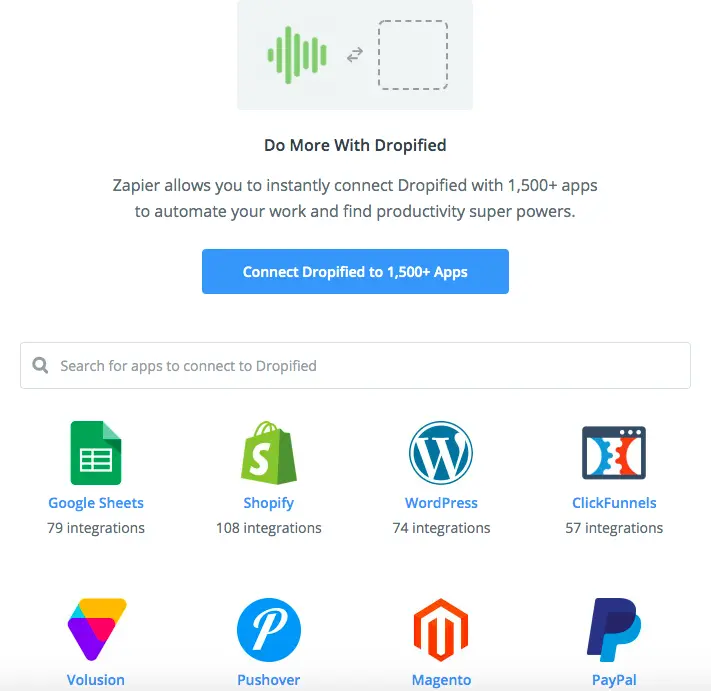 Zapier is an online app that lets your store connect with various software, apps, and tools that you may use on a day-to-day basis for business or personal tasks.
Dropified integrates easily with Zapier, helping you improve your productivity and efficiency in running your online store.
Quick Profit Statistics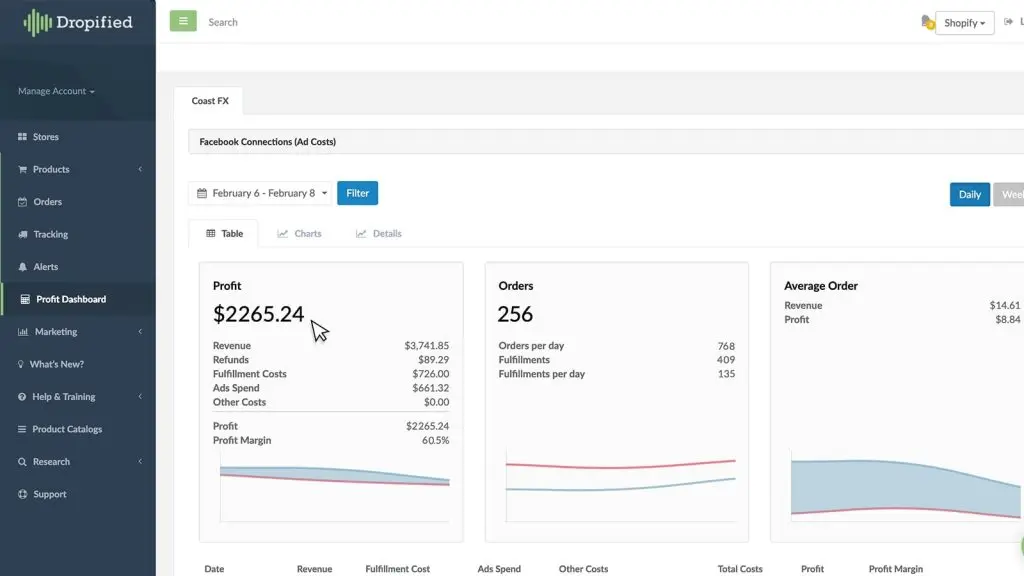 Dropified gives you great statistics and reports to see your profits and understand how much money you are making. The reports are pretty simple, so you can easily understand them.
ePacket Filter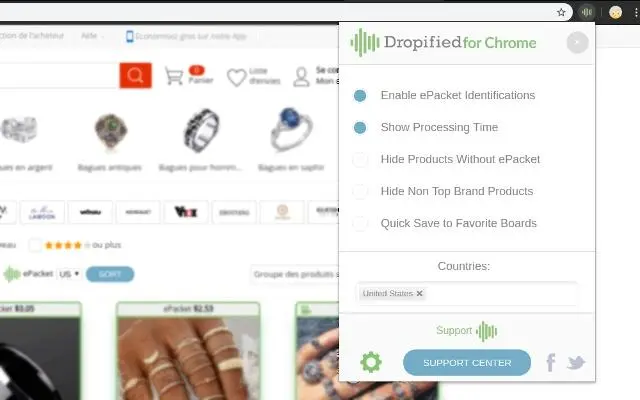 Just like Oberlo, Dropified also works with ePackets. It allows you to keep international shipping costs low, makes international shipments a bit faster, and you even get some tracking information.
ePacket is a perfect tool if your product is shipped from other countries. That is because it offers greater security than services like USPS or FedEx.
1-click Save for later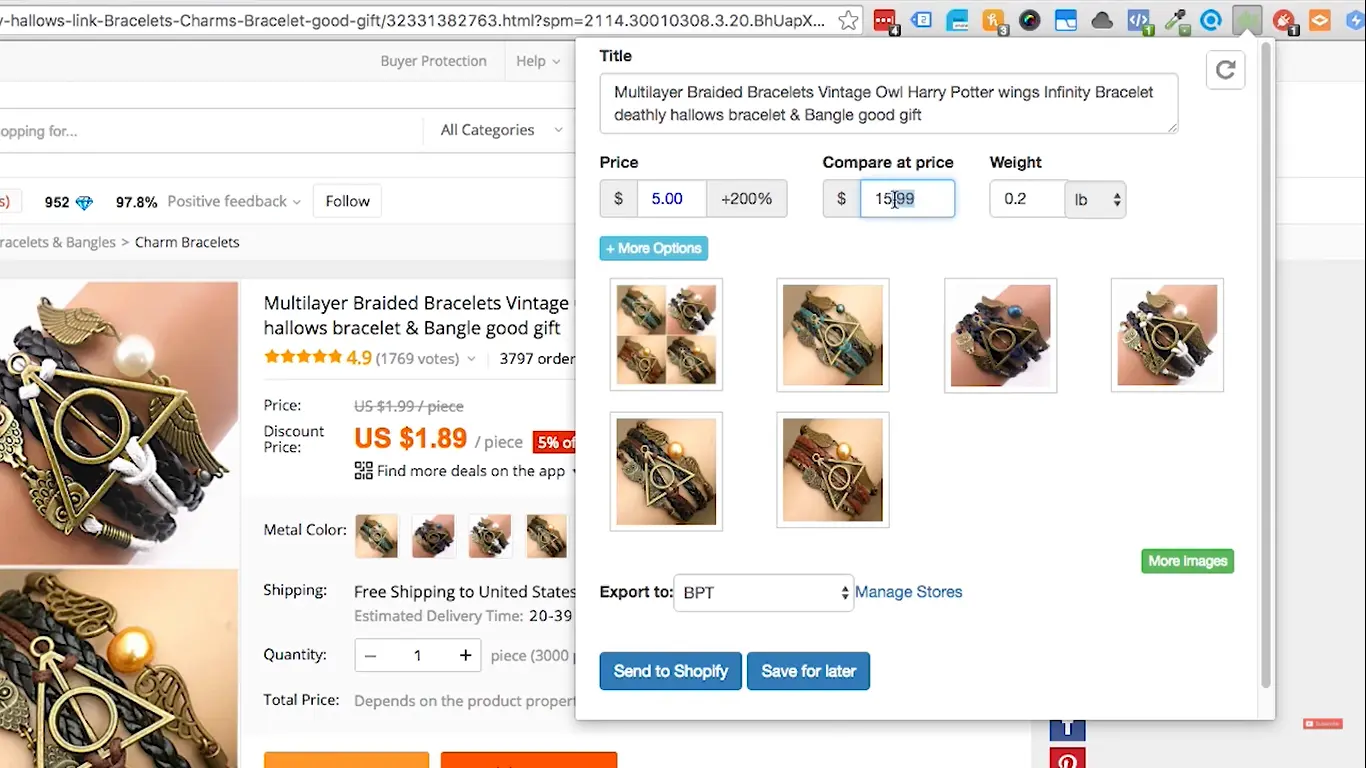 It gathers product boards together to discover trending products for each of your stores or prepare in advance for holiday sales or special promotional events. You can edit and upload them to your store and start selling!
Import Product Reviews from Vendors

We all know that buyers tend to buy products that have great reviews about them. With Dropified, you don't have to start over as you can easily import reviews from your vendors.
Easy Carrier Change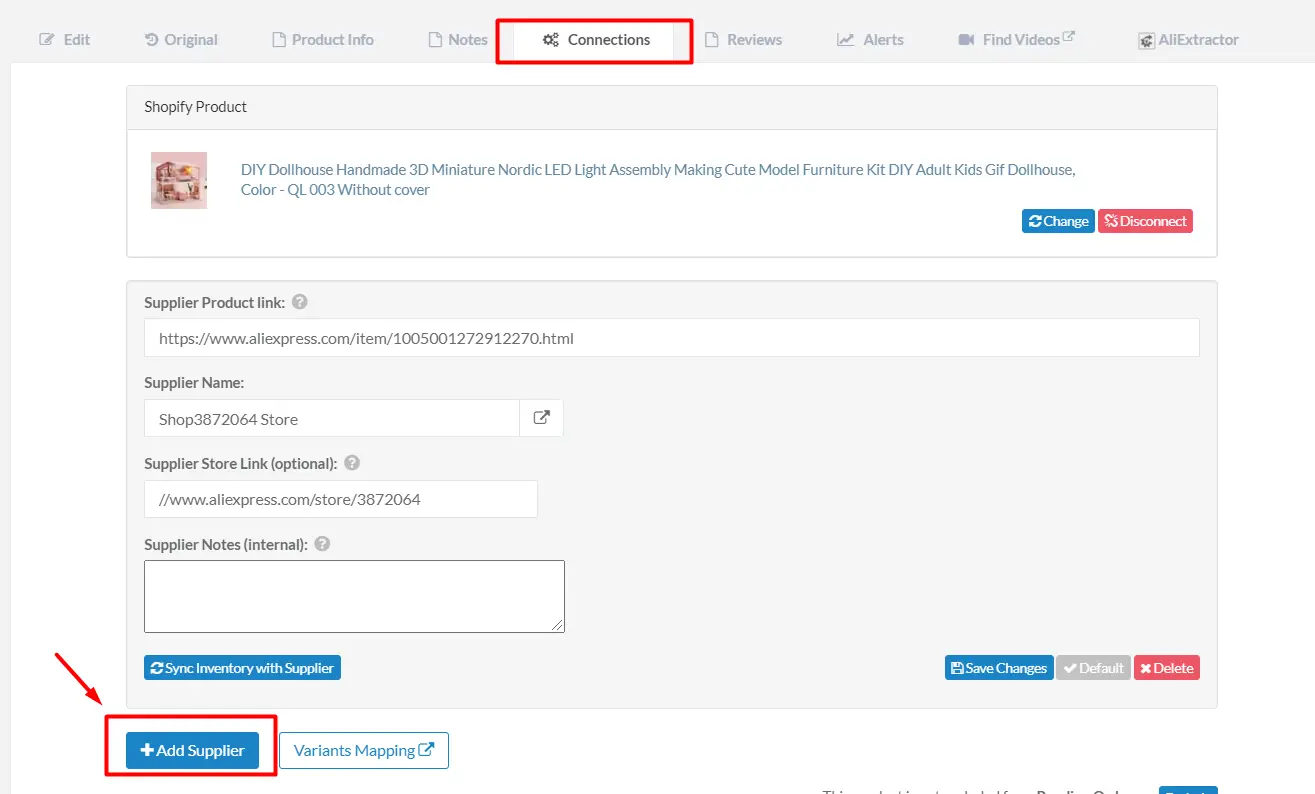 It takes a lot to establish a good business relationship with your supplier.
If you run into problems when doing so, you can easily research similar e-commerce products from other suppliers. After that, you can connect them to your order fulfillment process on your online store with just some clicks.
1-click Auto Fulfillment

This feature will help you save time, increase accuracy, and avoid errors by automating order details. There is no need to set up orders in Aliexpress or eBay.
Supervising Order Fulfillment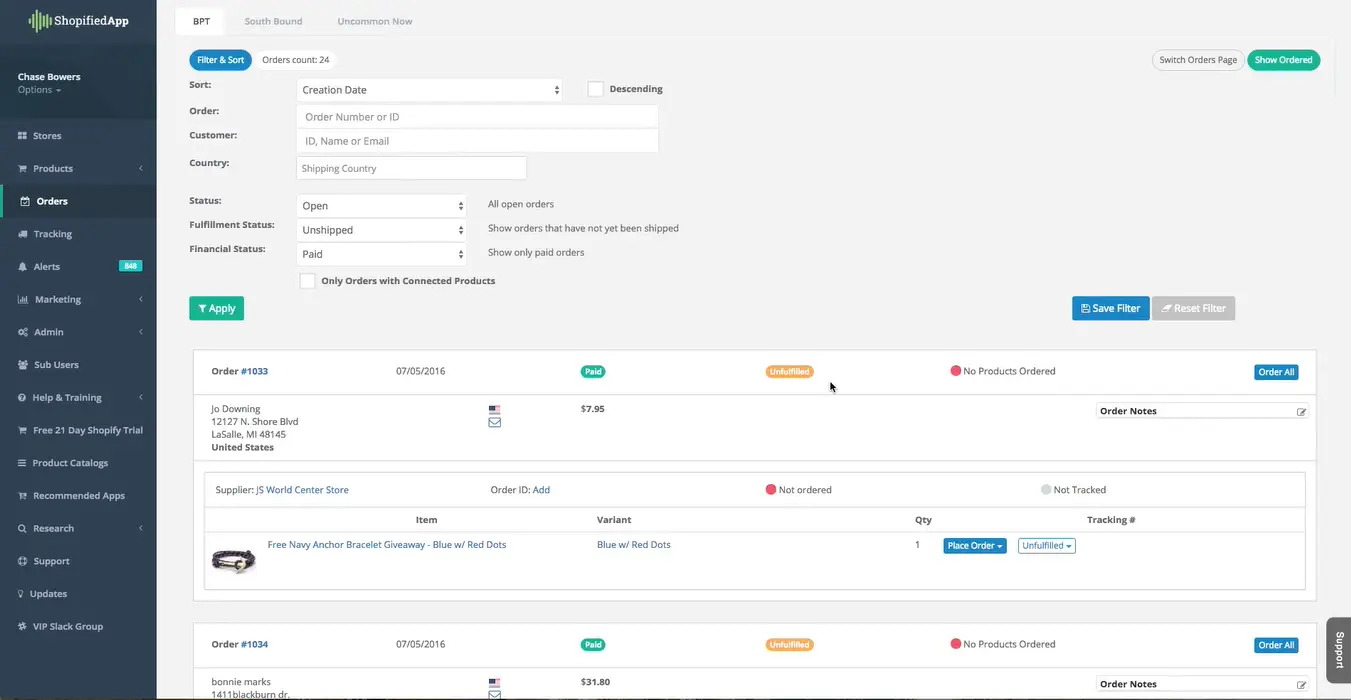 As the saying goes: work smart, not hard. With Dropified, you can easily track product order status. You can even use Captcha Solver to allow Dropified to process your order in the background and automate your order fulfillment and.
Free support and advanced training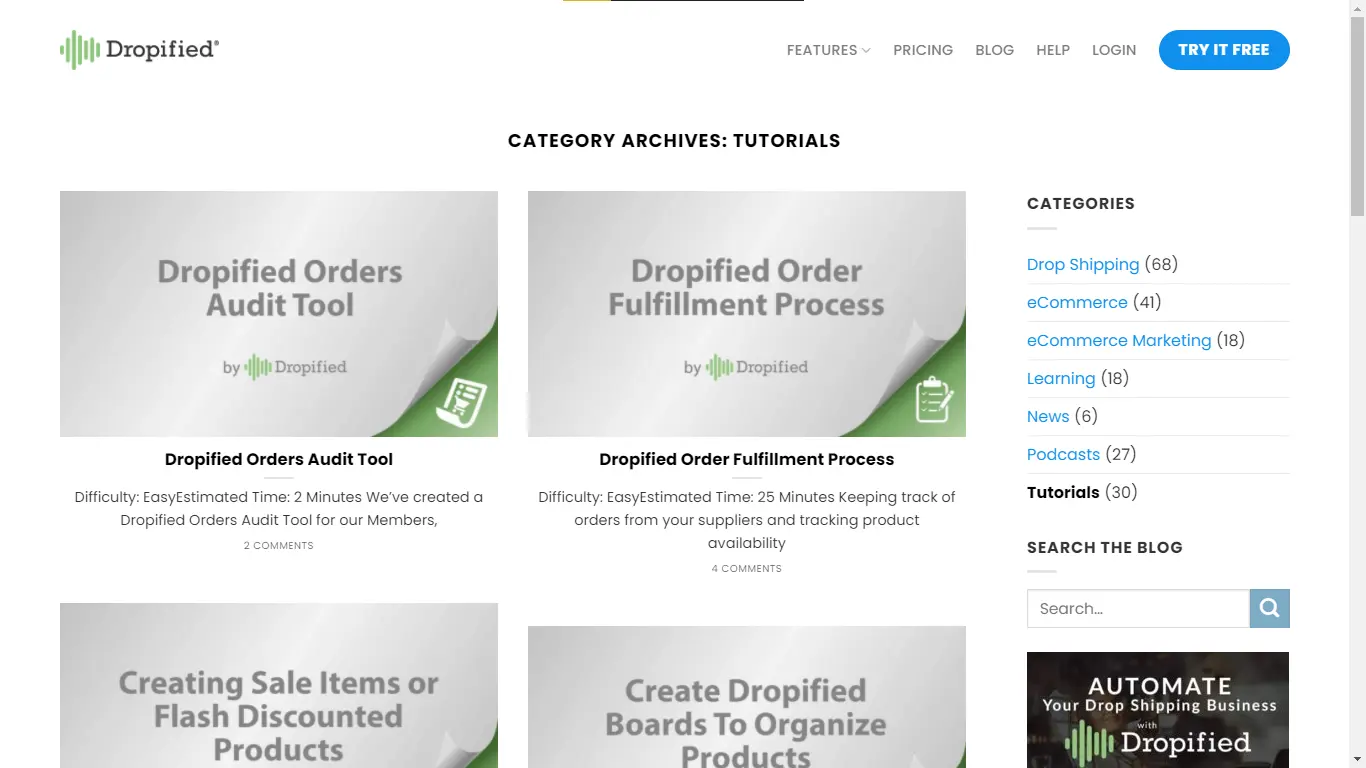 Dropified offers a free library of training videos of all the great features that it has to offer. It also has a customer support team that can be reached easily via Slack through their ticketing system and live chat on their website.
They also have a dedicated and global community of entrepreneurs helping new members discover, launch and grow their e-commerce stores.
Dropified vs Oberlo: Which One is Best for You?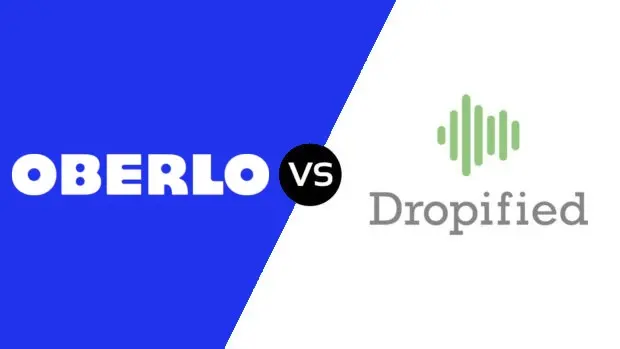 As you can see, both Oberlo and Dropified have specific features that make your work easier. However, which one is better for your needs? Here are some of our advice in choosing which dropshipping app you should use for your e-commerce business.
If you are looking for the most convenient option, Oberlo may be the best option as you do not have to go through the process of browsing Aliexpress to find products. It provides instant access to hundreds of products from verified vendors in their dashboard.
What is the difference between Premier Packages and Options between Dropified vs Oberlo? Oberlo is the cheapest option between the two, with a free plan. Also, their paid plans are much lower cost than the paid ones from Dropified.
Specifically, Dropified premium plans cost from $47/month, while Oberlo premium plans are only from $29.90/month.
However, Dropified beats Oberlo in terms of the number of features. Dropified is intended to make dropshipping more automated, saving you effort and time from doing manual tasks.
It is best to evaluate your own business and the products/services you offer as well.
Suppose you understand both freight rates, declining freight rates as well as industry indicators. In that case, you can make a great deal of ease for your e-commerce. And in some cases, using both of them can be hugely beneficial.
Boost your sale conversion even more with Ryviu app
In case you do not know, Ryviu is a great app that allows you to import and collect reviews for your online store. After that, Ryviu will display all the reviews in the most attractive way, which in turn helps increase your online store's conversion rates.
Like we said above, buyers tend to buy products that have great reviews about them. So Ryviu is undoubtedly an indispensable app in your online store.
Ryviu is integrated deeply with both Dropified and Oberlo. You can get product reviews imported from Aliexpress by Dropified/Oberlo app to Ryviu with just one click away.
If you use Dropified, find out more in this article. Or, read this article if you use Oberlo.
Wrapping up
Hopefully, after reading the Dropified vs Oberlo comparison above, you can choose the most suitable dropshipping platform and make your business thrive.
If you have any problems, feel free to put your questions in the comment section below. We always listen!
NOTE: Currently, Oberlo is not existing anymore. It is integrated with DSers to enables Shopify eCommerce merchants to enjoy an improved dropshipping experience with DSers in a matter of minutes.
So if you are running your dropshipping store with Oberlo, you have to migrate all data from Oberlo to DSers. If not, you need to choose other Oberlo alternatives.