Etsy Shopify Integration: A Complete Guide
Expanding your Business's reach has been made easy with the launch of several promising eCommerce Platforms like Shopify, Etsy, eBay, and Amazon. Recently, the sale of your Products on Multiple Platforms is booming, commonly known as Omnichannel eCommerce and Business Owners are actively looking for new Channels to expand and improve their Business.
In this post, we'll look at the advantages of Etsy Shopify Integration, as well as methods on how to do it. Here is a quick outline to help you navigate better.
What is Etsy?
Etsy is an online marketplace where independent artists and craftspeople may sell their unique products, such as handcrafted products, antique items, custom goods, and creative products. According to Statista, 54 million users have joined Etsy since 2005, with 81.9 million active buyers and 4.1 million sellers.
Small business owners and creators can list their products in an online store and sell them to customers more easily thanks to Etsy. Contrary to Amazon, it offers high-quality and valuable goods with full control in the hands of a Seller, allowing them to determine their own price, choosing their terms, shipping carriers, and even third-party payment options. It is very limited to a unique set of Products like Jewelry, Clothes, or Handmade Articles.Etsy provides a variety of Product Categories along with in-depth product descriptions, images, and customer reviews, which makes the purchasing process incredibly simple. Customers can also opt to message the seller directly, giving them the opportunity to get personal, direct responses to all of their inquiries.
Why should you consider Etsy Shopify integration?
There are 3 reasons to consider Etsy Shopify integration:
Different online businesses
First off, the control systems for these two sales channels could not be more dissimilar. Etsy is a marketplace where you must register in order to begin selling. Without creating a website or product page, you can put your products for sale there. On the other hand, Shopify is an eCommerce platform that requires you to handle every aspect on your own. There are almost no constraints or limitations on having your own domain. Additionally, you can fully specify the structure of your website or use the design. Working with each of them is the ideal technique to assess and comprehend how various sales channel types operate.
Bigger reach
Since these two markets are very distinct from one another, as was already established, they may also attract a wide range of diverse clients. Etsy was initially intended for designers, craftspeople, and artists. They sell mostly handmade or vintage items. This additionally draws a particular demographic. However, because it offers a wider range of products, Shopify attracts a wider range of clients. This is why using Shopify to sell your Etsy goods enables you to reach a larger market.
Memorable brand
You will undoubtedly strengthen your brand thanks to the Etsy and Shopify integration. First off, if you just sell on Etsy, your consumers will probably refer to your product simply as one of Etsy's offerings. In other words, restricting your sales to online markets will not benefit your branding. Shopify, on the other hand, necessitates the creation of a custom store, which aids in building a distinctive brand.
How to complete Etsy Shopify integration?
There are 4 ways you can integrate Shopify with Etsy:
Method 1: Connect Shopify Etsy Data using APIs
Method 2: Using a CSV file to export Etsy products to a Shopify store
Method 3: Using a native marketplace app.
Method 4: Using Third-Party Integration Software for Shopify Etsy Data Integration
Let's examine them to see which one best suits you.
Method 1: Connect Shopify Etsy Data using APIs
An Application Programming Interface or API is a middleware between 2 Applications that allows to retrieve, add, delete and synchronize data. This is a system that eliminates the need for Developers to code themselves, allowing for fast and reliable back-and-forth communication.
Developers can use Shopify's admin API to integrate Apps and Services like Etsy. One way to go ahead is to take the Etsy API and extract, produce the data, and inline it with the Shopify Admin API to reflect the individual Product details. This will facilitate duplication of the individual Product catalog available on your Etsy Marketplace, which is also mapped to your Shopify Store.
You can find the documentation for Shopify's Admin API here — Shopify's Admin API.
Documentation for the Etsy API can be found here - Etsy API Documentation.
Although the API Integration technique is difficult and time-consuming, we also have alternative possibilities, listed in the methods below.
Method 2: Using a CSV file to export Etsy products to a Shopify store
Through the somewhat time-consuming CSV export feature in your Etsy Dashboard, you can export your Etsy Marketplace Products to Shopify Online Store. The fact that it only syncs data for the current instance is the only drawback. You will have to manually carry out the same set of activities again if the requirement arises in the future because Real-time Data Update is not offered.
To export your Etsy Marketplace Products:
Step 1: Go to your Shop Manager Dashboard Settings and select the " Download CSV" action button under the " Download Data" tab.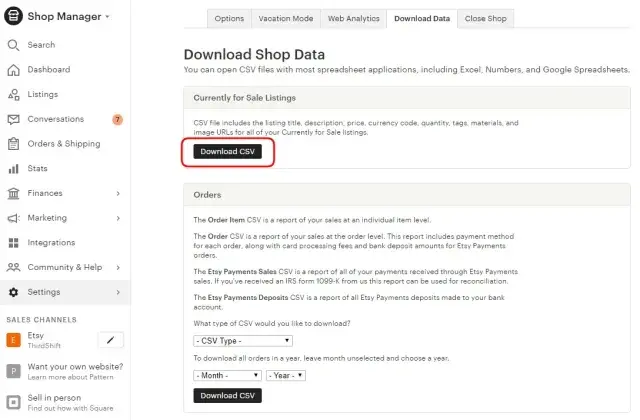 Step 2: After clicking it, save the CSV file to your computer.
Step 3: Access the Shopify Dashboard. The "Import" button is located under the Products Menu when you go to Products.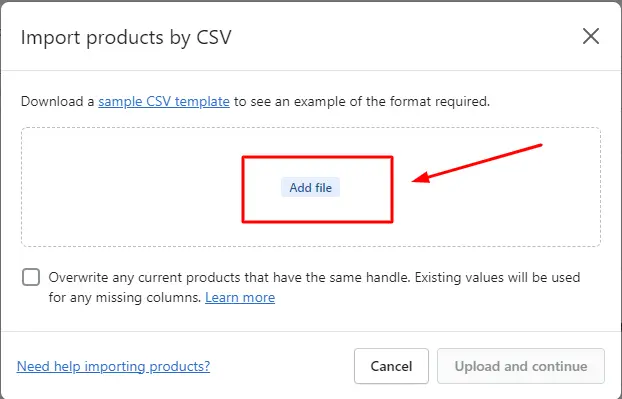 Step 4: To open the import window, click on it. You will be prompted to import products using CSV in this new pop-up window.
Step 5: Upload your CSV file.
Step 6: Your Products' preview will be shown. To begin the import, click the "Import Products" button. You may also check out how your Shopify Store would display them.
You can start selling your products in your online store once they have been transferred from the Etsy Marketplace to the Shopify Store.
Method 3: Native marketplace integrations
Native marketplace integrations are features and applications that are directly available on the Shopify and Etsy app marketplaces. There are two subtypes of native market integrations:
Apps that let you manage Etsy and Shopify simultaneously

Integrations that allow you to migrate from one platform to the other
Here are some wise options for you to think about: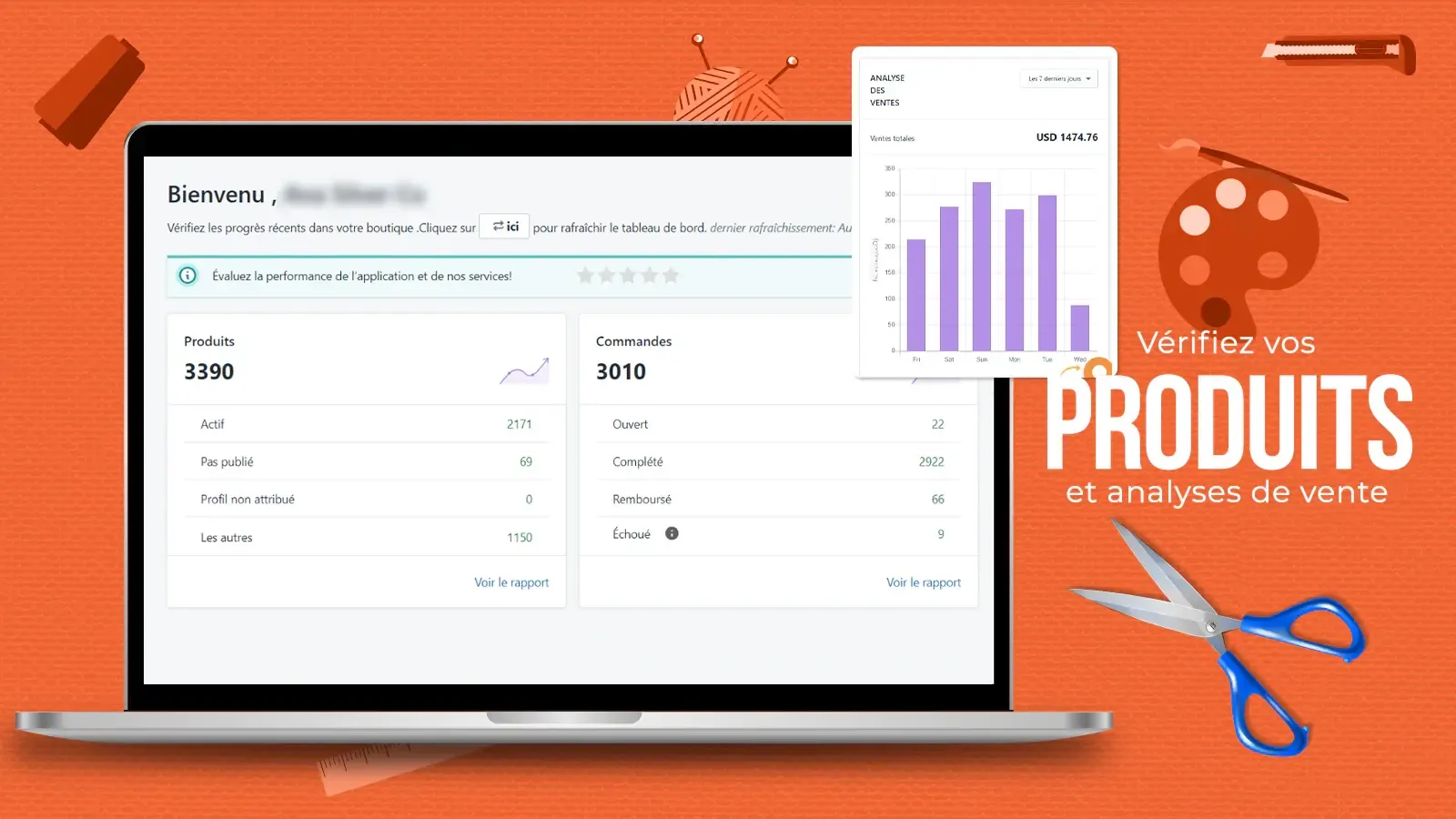 When you want to manage Etsy and Shopify simultaneously, you can think about the Etsy Marketplace Integration. It functions with the least amount of manual work and the most amount of automation. This Shopify integration allows advanced order management with a customized user experience for your customers and enables real-time sync on product parameters like inventory, price, and availability.
Key Features of Etsy Marketplace Integration
Provides an improved dashboard with detailed information and product management insights.
Supports conversion of currencies.
Reports issues when the inventory on an Etsy marketplace or Shopify store fails to update, or when a customer order fails.
Includes templates for shipping, inventory, and price that are friendly to sellers.
Extends assistance from a committed team available around the clock.
Pricing
Installing Etsy Marketplace is free, and it supports managing up to 10 Orders at once. You could also move up to.
Starter Pack, which costs $24.92 per month or $39 per month, is invoiced annually at $299.
Basic Plan, which costs $69/month or $41.58/month and is paid annually at $499;
Lite Pack, which costs $59/month or $33.25/month and is billed annually at $399.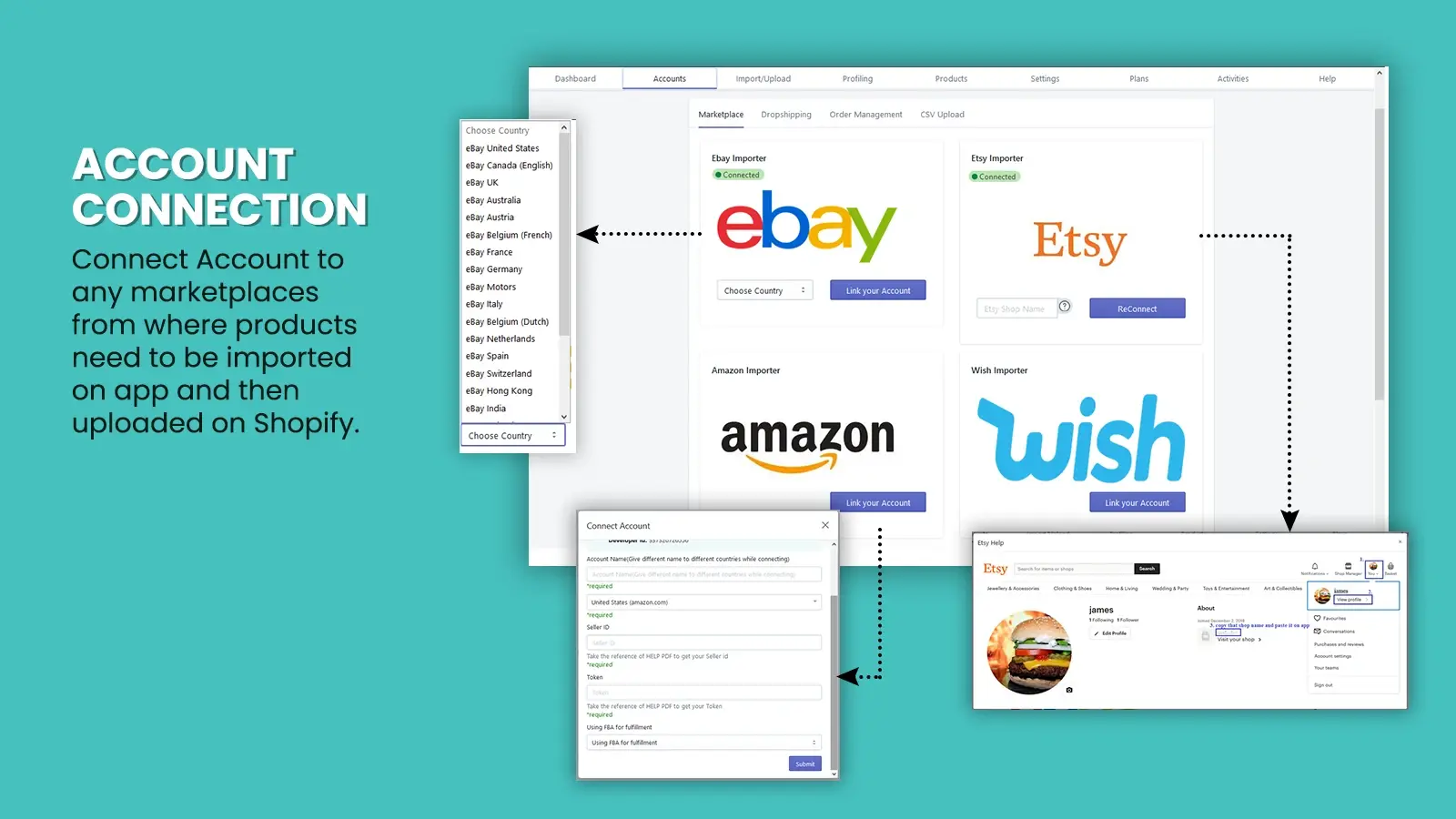 This app also allows you to manage Etsy and Shopify simultaneously. In order to succeed in the online eCommerce industry, merchants must be able to sell on a variety of platforms and marketplaces. This is known as multichannel eCommerce, and it aids in expanding their customer base and brand exposure.
While having your products available on several channels is beneficial, it can be challenging to manage, upload, or update inventory for each channel separately. One of the such helpful solution that enables you to integrate not only Shopify and Etsy Marketplace but also other well-known eCommerce Platforms like eBay, Amazon, Wish, Walmart, AliExpress, etc. is the Multi-channel Import Shopify Etsy Integration.
Key Features of Multichannel Importer
Without any effort, import your products or those of other sellers (dropshipping) from Amazon, eBay, Wish, Etsy, AliExpress, or Walmart to your Shopify store.
Enables the synchronizing of prices and inventory across all the marketplace platforms you have chosen.
Get all of your product's photographs from the marketplace seller center on eBay, Amazon, Walmart, Wish, or Etsy, and upload them to your Shopify store.
Manage your Shopify orders with full tracking information through FBA, eBay, or AliExpress.
Connect to other Shopify integrations, such as those for Amazon, eBay, Etsy, FBA, AliExpress, and file import and editing.
Pricing
You can import all of your products into Multi-channel Importer for free, but the free plan only allows you to publish 10 products to your Shopify store. You can sign up for one of their other plans, such as the One-Time Plan, which costs $10 per month and allows you to submit up to 65 products to Shopify, to have additional access. A specific Amazon FBA Plan is available for FBA users; it costs $25/month or $20.75/month when billed once per year at $249.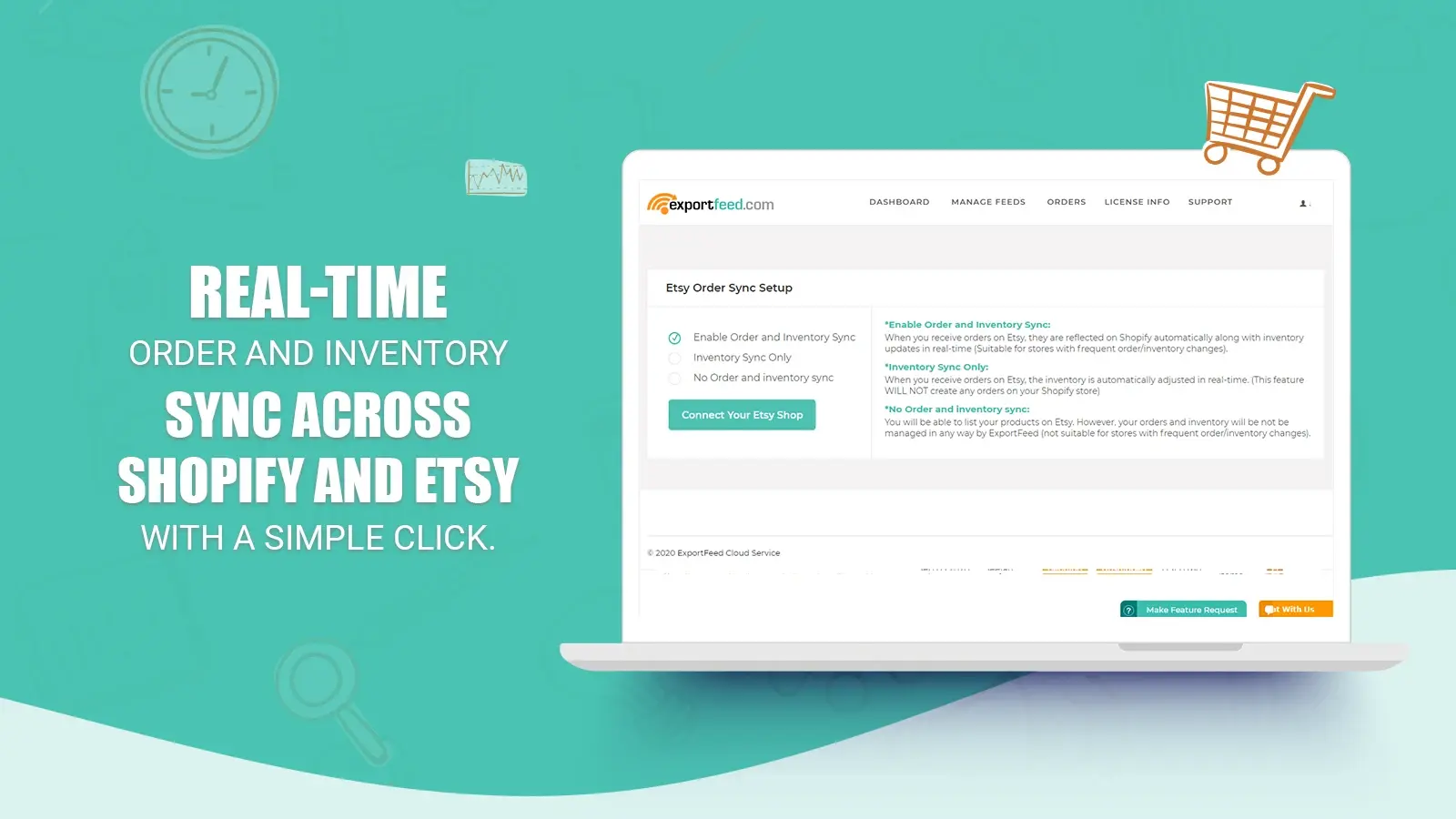 This App allows you to List, Manage, and Sync Products and is yet another fantastic Shopify Etsy Integration Tool. You can quickly sync all of your current Etsy Products, Orders, and Inventory to the Etsy Integration & Sync dashboard using its "Sync previously existing Etsy products" option. Additionally, you may customize the Product Attributes like the Title and Price.
Using this application makes it simpler to track order information, Shipping progress, and Fulfillment. With a single centralized system, handling objects becomes incredibly simple and quick.
Key Features Etsy integration And Sync

Within a few minutes, there is a one-step sync process from the Etsy Marketplace to the Shopify store.
Create a custom title and pricing on Etsy to account for factors like tax and other expenses in advance.
Implement Shopify Store-synced Product Titles on Etsy that are optimized for SEO.
A dedicated account manager is there to assist you at every turn.
Obtain further Shopify integrations, such as Etsy, ShareASale, and Awin.
Pricing
There are 4 price tiers available for the Shopify Etsy Integration & Sync.
The $29.99/month Basic Seller Plan supports 5000 SKUs and has a 3000 order limit on Etsy.
The $39.99/month Intermediate Seller Plan supports 20,000 SKUs and has a 9000 order limit on Etsy.
The Advanced Seller Plan, which costs $59.99 a month, supports 100,000 SKUs and has a 14,000-item limit on orders placed on Etsy.
Super Seller Plan, which costs $89.99 per month, supports 100,000 SKUs and has a 20,000-item Etsy order cap.
With Shopify App Marketplace Integrations, managing Shopify and Etsy together is simple. A considerable variety of third-party Shopify Integrations are available in the Shopify App Store to help you connect your Shopify Store with Etsy Marketplace easily.
With Shopify App Marketplace Integrations, managing Shopify and Etsy together is simple. A considerable variety of third-party Shopify Integrations are available in the Shopify App Store to help you connect your Shopify Store with Etsy Marketplace easily. However, using this application for market integration is quite costly. If you do not want to spend extravagantly, refer to method 4 right below.
Method 4: Third-party integrations
Applications for integrating Shopify with Etsy Marketplace are available on the market with a wide range of options and support. Third-party Applications are an option for retailers looking for robust support, individualized attention, and better control on Shopify Etsy.
Multi orders, Mesa, LitExtension, and ExportFeed are some of the companies that provide tools on the market. With the use of these tools, you may sign up as a user, connect your Shopify and Etsy marketplaces, and begin the integration process by selecting the entities you want to move from Shopify to Etsy or Etsy to Shopify.
I will detail How to integrate Etsy with Shopify with LitCommerce, so you can understand better.
#Step 1: Connect Etsy to Shopify
First, search the Shopify App Store for the LitCommerce Etsy Plus app. Then, to connect with Shopify, click on Add App.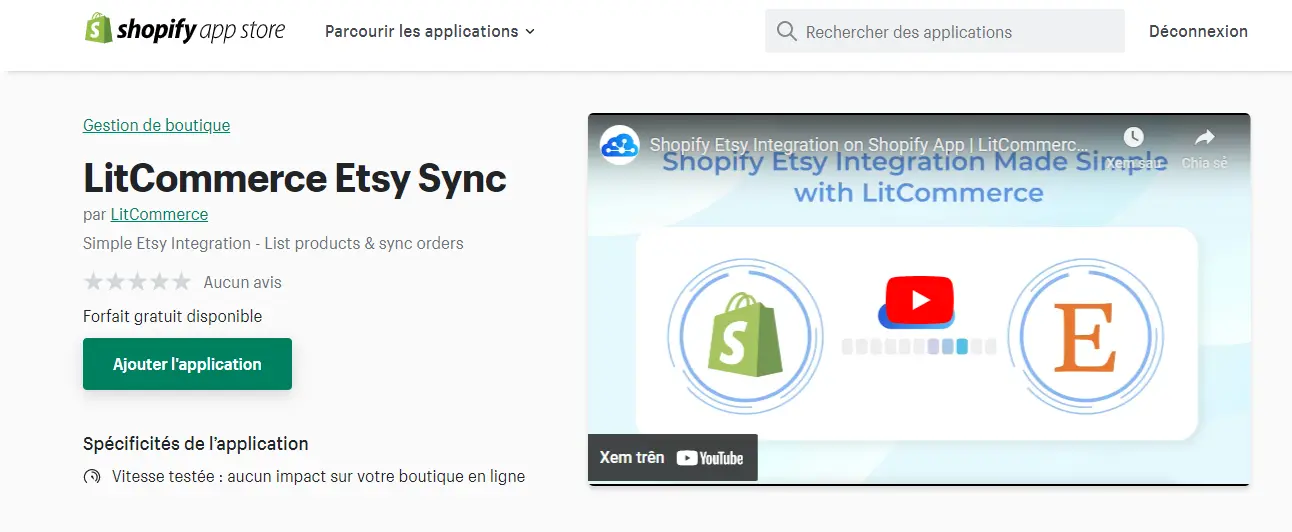 Then, connect into your Shopify account and click on Install App, and you're all set!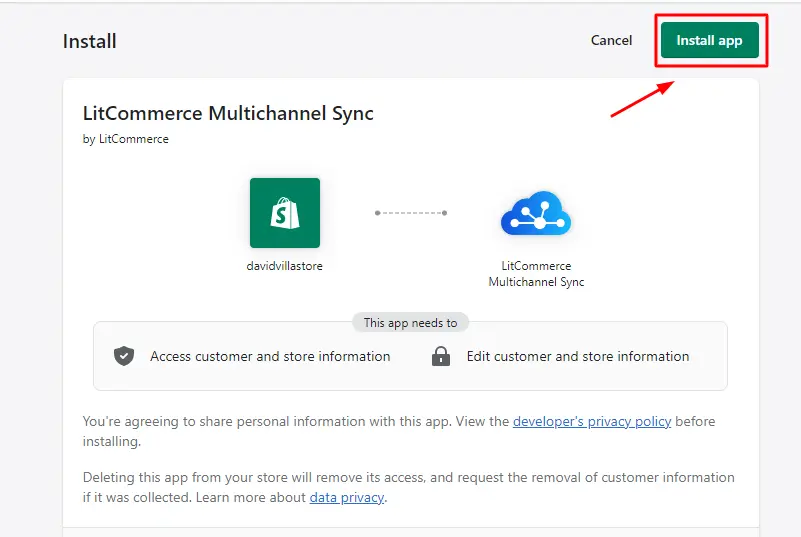 Before clicking the Connect your account button, give your channel a name. Prior to connecting, make sure you have a business account on Etsy.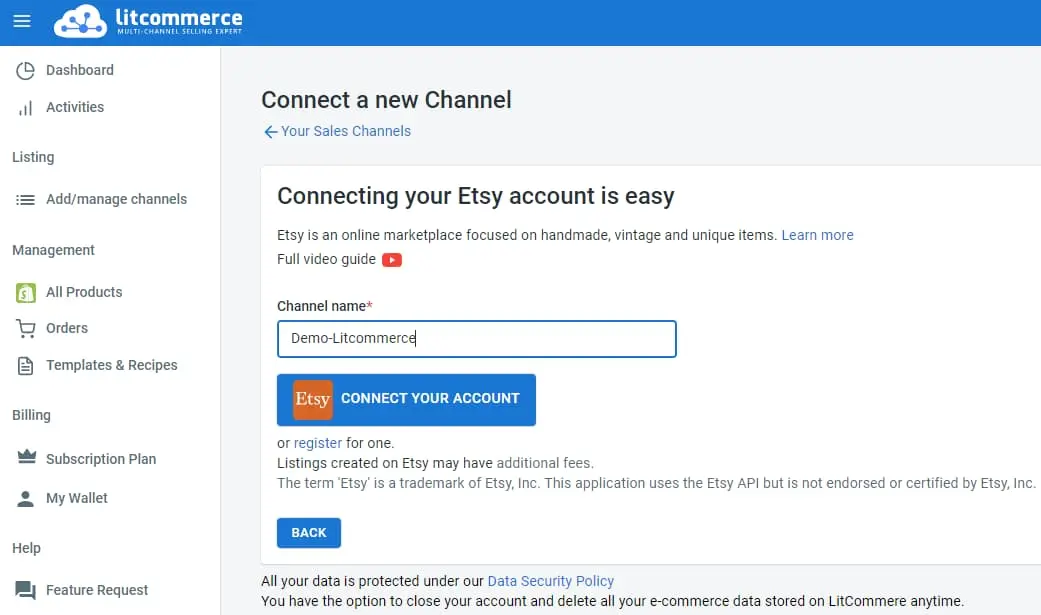 A pop-up will then appear asking you to log into your Etsy account and authorize LitCommerce access.
You can then add other sales channels from the LitCommerce dashboard if you want to integrate with other marketplaces.
Finally, you have reached your dashboard. Now you can work from here. Here are detailed instructions on how to connect to your Etsy store using the LitCommerce app.
#Step 2: Import and connect Shopify and Etsy products.
Second, you have to import products from Shopify to Etsy or vice versa. On the main sidebar menu of the LitCommerce dashboard, go to All Products and click Import from Shopify, so you will push all existing Shopify listings to LitCommerce.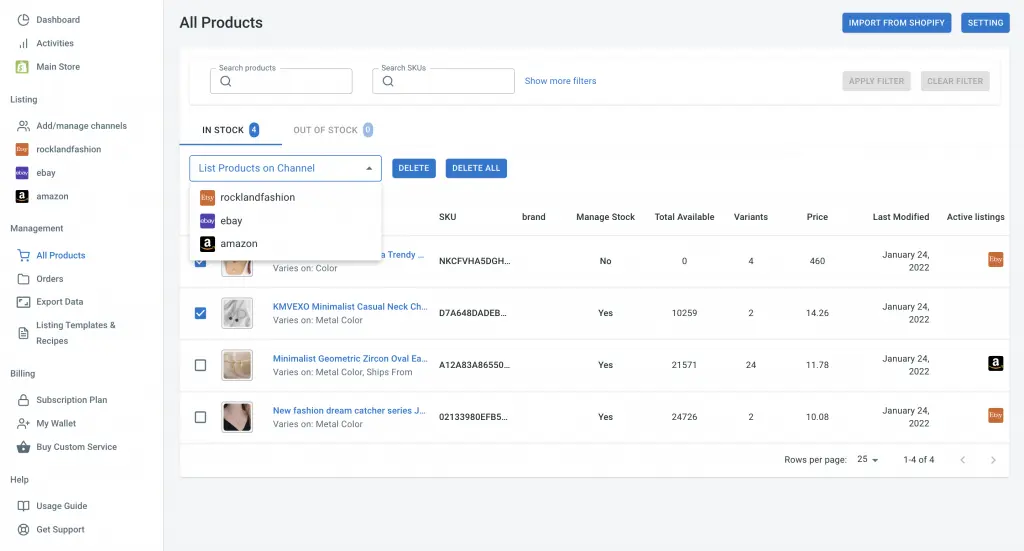 You also need to automatically link existing products from your imported list with the same SKU in your LitCommerce catalog.
After importing products, select all products or some products you want to list on the market. Then select Etsy from the Product List on the Channel dropdown menu.

#Step 3: Enable Shopify Etsy sync
LitCommerce also allows you to set up price and inventory quantity synchronization. When you enable the sync feature, any pricing adjustments you make in your Shopify store will be mirrored on Etsy. Inventory sync alters the inventory quantity for all channels to match when an order is placed.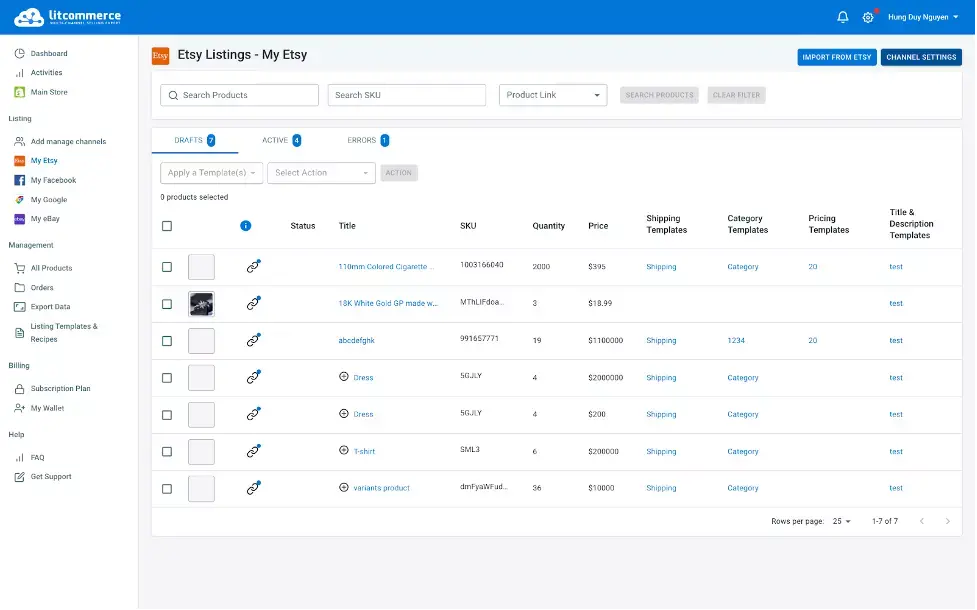 To begin syncing, go to the main dashboard and select Etsy, then click Channel Settings in the top right corner.
There will be three sections: Pricing, Inventory, and Order. To enable these capabilities, click the switches next to all the Sync settings and confirm.
You can make your own guidelines for how your items should be presented on your Etsy store. Price rules enable you to change the price of all Etsy listings by a fixed amount or a percentage. When you set the rule, it will apply to all Etsy items.

Inventory synchronization
Establish inventory rules by specifying the percentage of available inventory or the minimum and maximum amounts to be displayed on Etsy.

Once Inventory Synchronization is enabled, LitCommerce will update modifications in the central catalog to reflect your Shopify catalog. The inventory quantity on Etsy will then be changed by default to correspond with that on your LitCommerce account. The inventory sync, on the other hand, only works if you alter the quantity on your Shopify Main Store rather than the other way around.
By displaying the right number for each product, this functionality can also assist you avoid overselling. If you receive orders via a channel, for example, the product quantity in the LitCommerce central catalog will decrease by the same amount.

You will be able to access your Shopify store and fulfill orders from Etsy if you enable this functionality. LitCommerce inserts new Etsy orders into Shopify, allowing you to manage orders from your Shopify dashboard.
Deactivate this option if you want to manage orders across many channels. When you're finished, go to the bottom of the page and click Save Setting to save any changes you've just made.
#Step 4: Manage Etsy Orders
Begin by importing all of your items and listings from Shopify and Etsy into the LitCommerce dashboard. Following that, you may start listing your products on Etsy or making Shopify products based on your Etsy listings.

To list products on Etsy, go to the left-side menu bar and select All products, then select one or more products and click List products on Etsy.
Based on the products you've selected, LitCommerce will generate draft listings. To view your listings, go to your Etsy listing page and choose the Drafts tab. You can change and apply templates to your listings before they go live on Etsy.
When the listing is finished, the products will be moved from the Draft tab to the Activetab.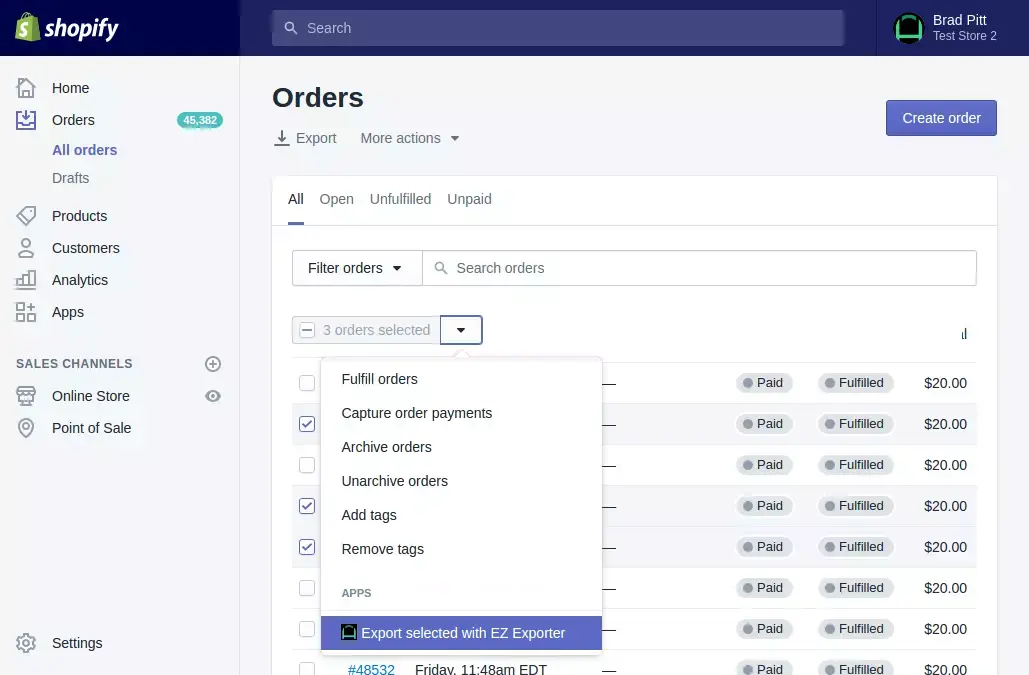 Following the product listing, order management and fulfillment are among the post-sales tasks. Next, go to your Shopify store's Order area. You can use the order fulfillment mechanisms built into Shopify.
Conclusion
Etsy Shopify integration allows Online Retailers to build and manage a Business in the Etsy community and grow and promote their own Brand with the help of Shopify.
Now Small Businesses and Independent Artists have the opportunity to travel the world with their Amazing Products while not having to worry about converting currencies, designing Templates, or providing Customer Support. Everything can be managed from a single centralized location easily and quickly.