Top 10 Home Decor Dropshipping Suppliers
By implementing effective strategies and collaborating with reliable suppliers, you can establish a prosperous online store focused on home decor and even expand it into a seven-figure business.
In this article, we will delve into the most advantageous methods and introduce you to the top 10 dropshipping home decor suppliers. This information equips you with the essential insights and tools required to excel in this highly competitive market.
So, let's begin this journey to success!
Why Should You Do Home Decor Dropshipping?
In my view, there are 4 main reasons to consider dropshipping home decor industry as a savvy approach for commencing or expanding your business.
1. Ease of entry
Dropshipping home decor offers a straightforward path to generating profits. Creating an online store and partnering with reliable suppliers can be accomplished swiftly and without substantial initial investments. This simplicity enables you to embark on your business journey without encountering excessive barriers.
2. Enduring market demand
The home decor market maintains a consistent demand, making it a perennially sought-after niche. As people continuously seek to enhance their living spaces, the need for home decor products remains steady. This enduring appeal positions home decor wholesale dropshipping as a sound long-term business strategy.
3. Product diversity and broad markets
The home decor market boasts a wide array of products and styles, catering to diverse tastes and preferences. From minimalistic designs to lavish and opulent pieces, there's something for every customer. This diversity provides ample opportunities to carve out a unique niche, allowing you to establish a distinctive brand and customer base.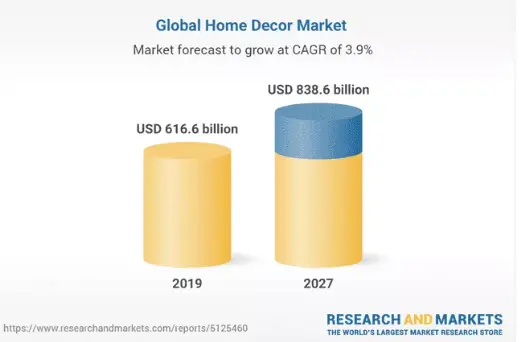 4. Low competition
While the home decor sector is expansive and perennially in demand, it is relatively niche compared to other retail segments like fashion or electronics. This lower level of competition enables you to differentiate yourself and specialize within the market. By identifying a specific niche or product category within home decor, you can forge a robust brand identity and target a loyal customer following.
In summary, delving into home decor dropshipping presents a compelling proposition for launching your business. With its ease of entry, sustained market demand, product diversity, and limited competition, it offers a strategic entry point into the world of eCommerce.
If you're determined to embark on your home decor dropshipping venture, we're here to guide you through the process in a well-informed manner.
How to Dropship Home Decor to Maximize Profits?
To maximize your profits while dropshipping home decor, follow 3 steps:
#Step 1: Comprehensive market research
Begin by immersing yourself in the world of home decor. Once you've made the decision to become a home decor dropshipper, the first crucial task is to select your specific niche within this field.
It's essential to dedicate time to meticulous market research. Stay updated with the latest industry reports and keep an eye out for trending home decor products. This comprehensive understanding of the market will be invaluable as you embark on your journey.
#Step 2: Select trending home decor products to sell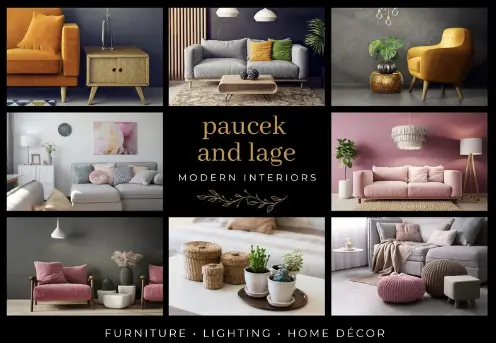 When embarking on your journey of dropshipping home decor, it's crucial to carefully curate the products you'll offer in your online store. Here's some guidance on this crucial step:
Emphasize trending products:
To excel in the world of home decor dropshipping, keep a keen eye on the latest trends in the industry. Stay attuned to what's popular and in demand among consumers. By offering trending home decor products, you can capture the attention of your target audience and drive sales.
Cater to your customers' diverse tastes:
Recognize that your customer base will encompass individuals with varying preferences in home decor. Tailor your product selection to meet the diverse tastes of your audience. This customer-centric approach is pivotal for building a loyal and satisfied customer base.
Prioritize durability over fragility:
Especially when you're just starting out, exercise caution when considering delicate home decor items like glassware. These products can be susceptible to damage during transit, leading to customer dissatisfaction and financial setbacks. Instead, consider focusing on durable materials like plastic, which align better with the dropshipping model. However, be mindful of the size and weight of these items; opt for small to medium-sized plastic decor products to minimize transportation-related risks.
#Step 3: Selecting the right home decor dropshipping suppliers
Choosing the right suppliers is the backbone of your business's success, influencing its overall operations. But where can you discover reliable suppliers that meet your needs?
Fret not, as we've compiled a list of the top 10 trusted suppliers for you to explore. Keep scrolling to find your ideal partner!
Top home decor dropshipping products in 2023
The home decor market holds substantial promise for dropshipping businesses. By the close of 2027, this market segment is projected to generate over $800 billion in revenue. This signifies that, if you offer high-quality products, you stand to achieve significant financial success.
Here are some of the top home decor dropship items worth considering for this year:
Clocks walls
Lamps
Wall decals
Flooring mats
Pillows
Candles
Blinds
….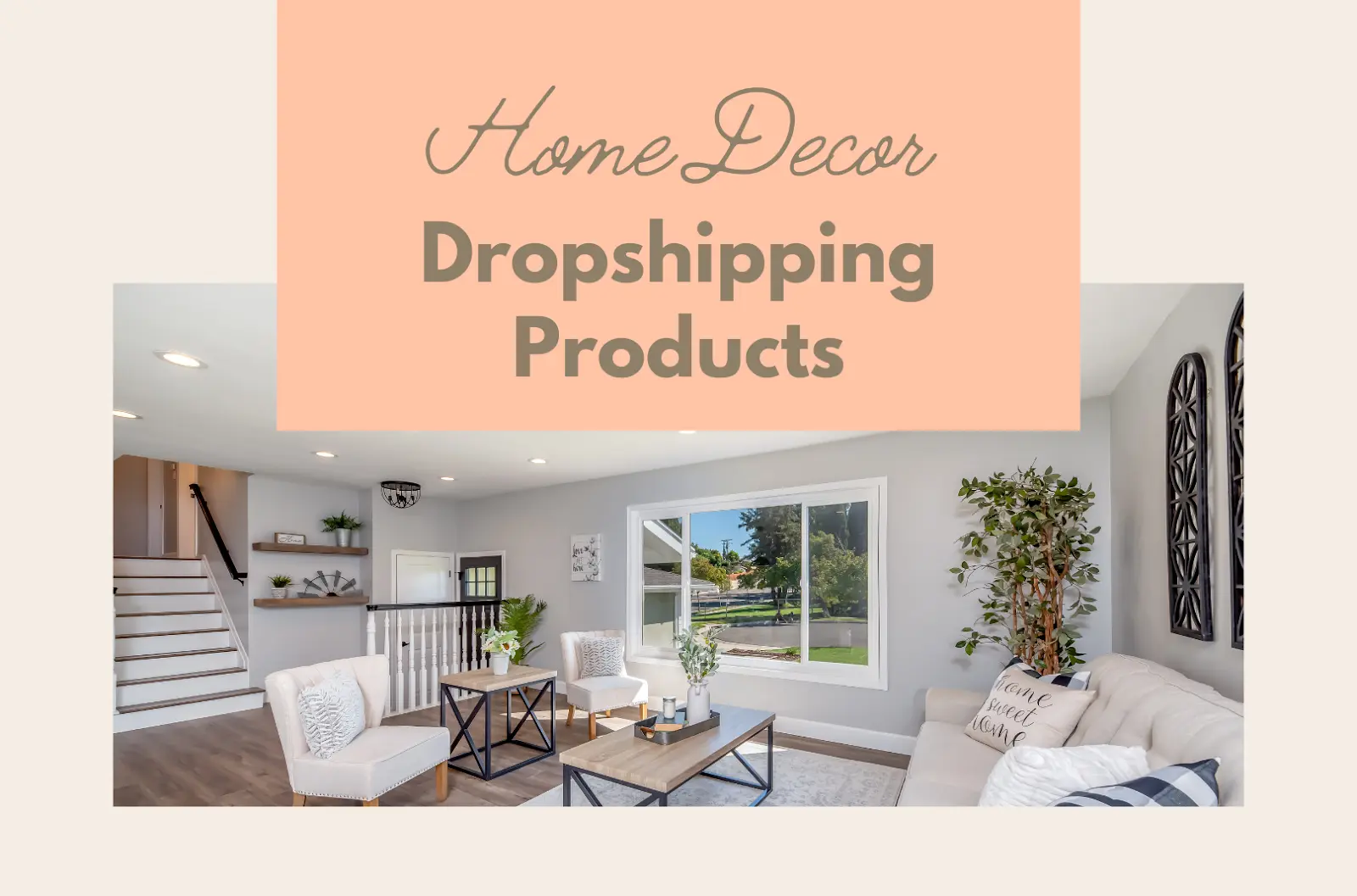 Top 10 Home Decor Dropshipping Suppliers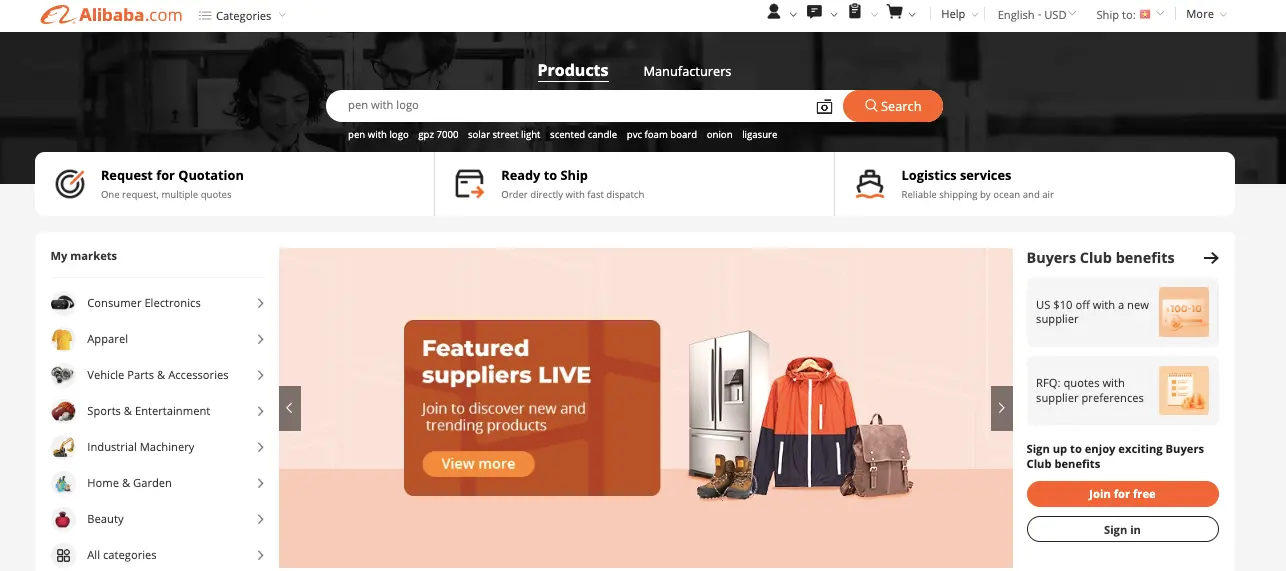 Alibaba, one of the world's largest online marketplaces, serves as a meeting point for customers and sellers worldwide. This expansive platform offers a wide array of products, ranging from home decor items like shutters to decorative figurines.
Pros:
Product variety: Alibaba boasts a diverse range of home decor products sourced from numerous suppliers, providing customers with ample choices.
Competitive pricing: The platform often features competitive pricing options, making it appealing for budget-conscious shoppers.
Direct supplier connection: Alibaba facilitates direct communication between customers and suppliers, enabling inquiries, negotiations, and personalized interactions.
Quality assurance: The platform maintains rigorous quality control processes, ensuring that products adhere to specific standards.
Cons:
Potential for scams and quality issues: While Alibaba offers a vast selection, some suppliers may not uphold trustworthy practices, leading to potential scams or quality concerns.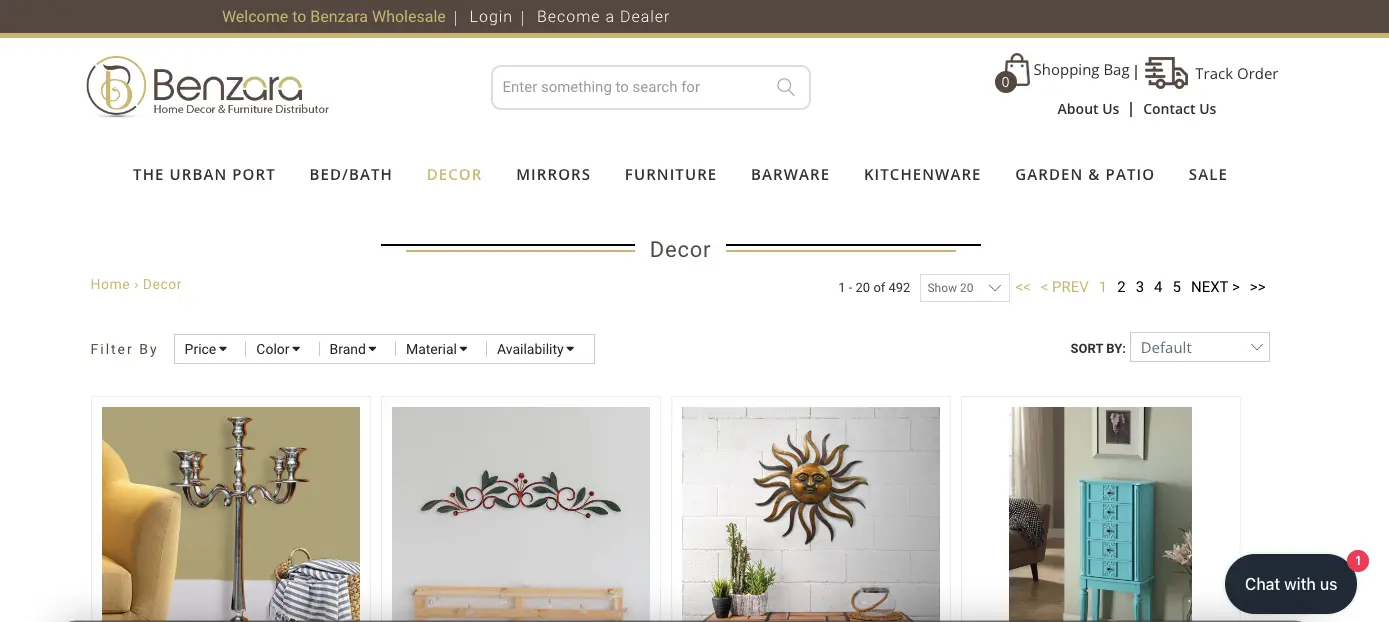 Benzara Inc., a leading player in the wholesale home decor industry, holds a prominent position in the field of home decor.
Benzara boasts a well-structured team dedicated to maintaining high-quality standards and offers a wide range of top-quality home decor products, including planters, linens, accent pillows, wall art, mirrors, and more.
Pros:
Efficient order processing with an average turnaround time of 1-2 business days.
Free delivery available to the US.
Extensive product selection across various home decor categories.
Multiple payment options, including PayPal and major credit cards, among others.
A transparent shipping, order, and return policy for customer convenience.
Cons:
Product prices are only accessible after signing in, which may inconvenience some users.
The minimum order requirement could pose a challenge for newcomers without an established customer base.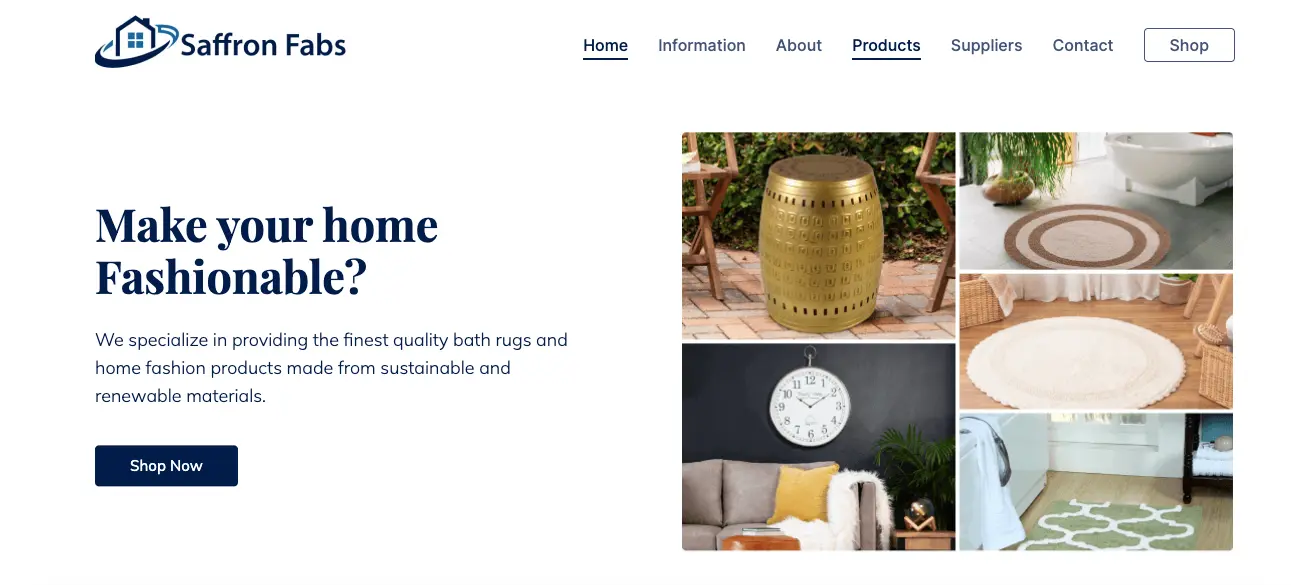 Saffron Fabs Corporation, a US-based manufacturer, supplier, and distributor of superior home decor.
Saffron Fabs streamlines its internal processes encompassing product design, sustainable raw material sourcing, rigorous quality control, efficient warehousing and distribution, shipping, and logistics.
Pros:
Comprehensive internal manages: Saffron Fabs manages all aspects internally, including logistics, warehousing, importing, shipping, and distribution, ensuring control and efficiency.
Quick wholesale catalog request: Customers can easily request a wholesale catalog through a user-friendly form.
Free shipping for orders over $19.
Clear 30-day return policy
Cons:
Limited dropshipping information: The website lacks comprehensive information regarding its dropshipping services, providing minimal insights into this aspect of the business.
Absence of minimum order quantities
Consumer-facing online store: Saffron Fabs operates a consumer-focused online store, which may affect the exclusivity of their products for dropshippers.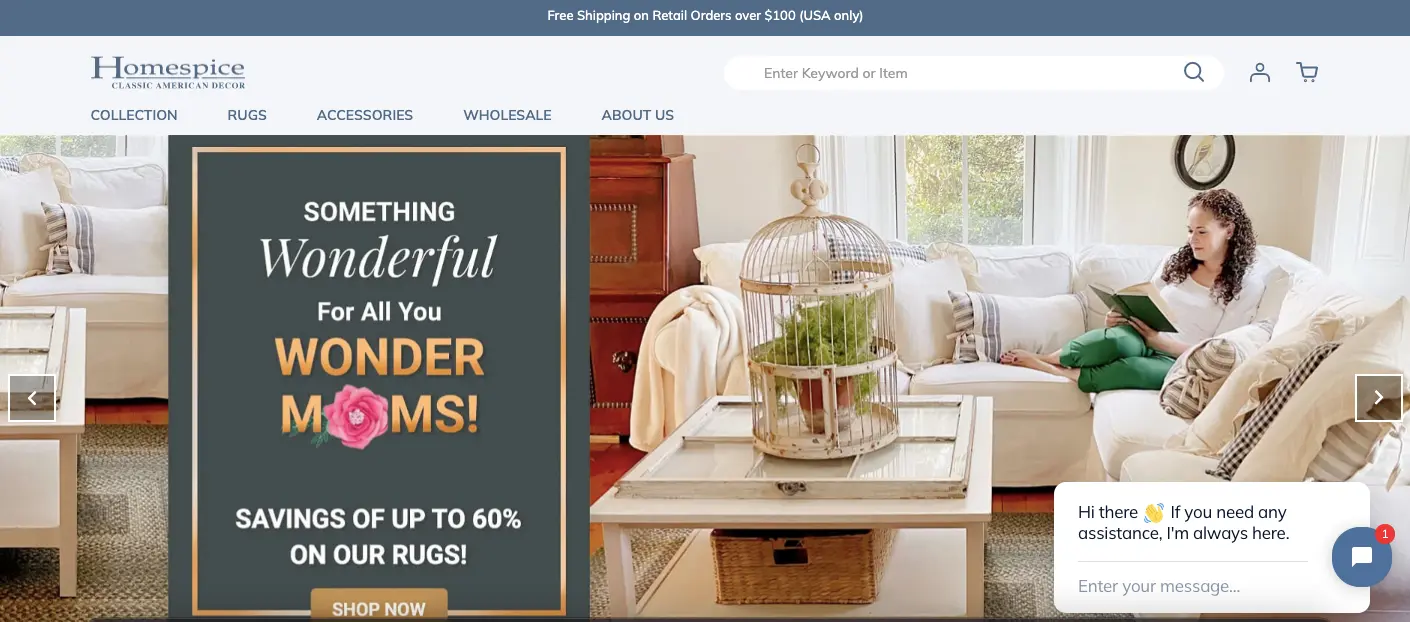 Homespice Decor operates as a wholesale distributor and dropshipping supplier in the home decor industry, offering a diverse range of products that include braided carpets, handcrafted quilts, stair treads, and braided tabletops.
Pros:
Getting started with selling Homespice Decor products is remarkably straightforward, simplifying the process for entrepreneurs.
The specialization of Homespice Decor makes it an ideal choice for those focusing on the niche of "rugs and related accessories."
Sellers can primarily focus on exporting the company's best-selling rugs and home decor items.
The company provides clear return policies, FAQs, warranty information, and instructions for tracking orders.
Cons:
FedEx imposes address correction fees ranging from $18 to $199, which can impact shipping costs.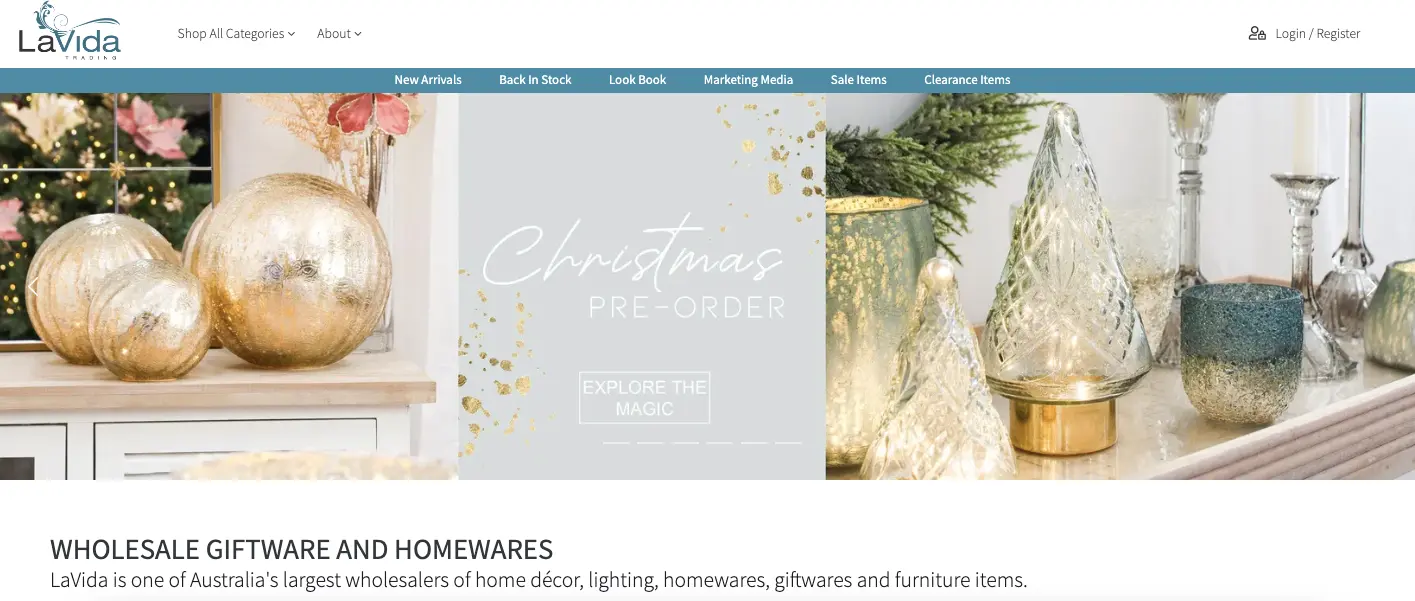 Lavida, a prominent player in the Australian dropshipping industry, commenced its operations in 2001. Lavida specializes in an extensive range of aesthetically pleasing home decor products, encompassing everything from artwork to garden ornaments.
Pros:
A diverse and visually appealing product catalogue
Comprehensive package solutions for customers
Cons:
Users are required to apply for membership prior to gaining access to Lavida's inventory.
The minimum purchase requirement is $300.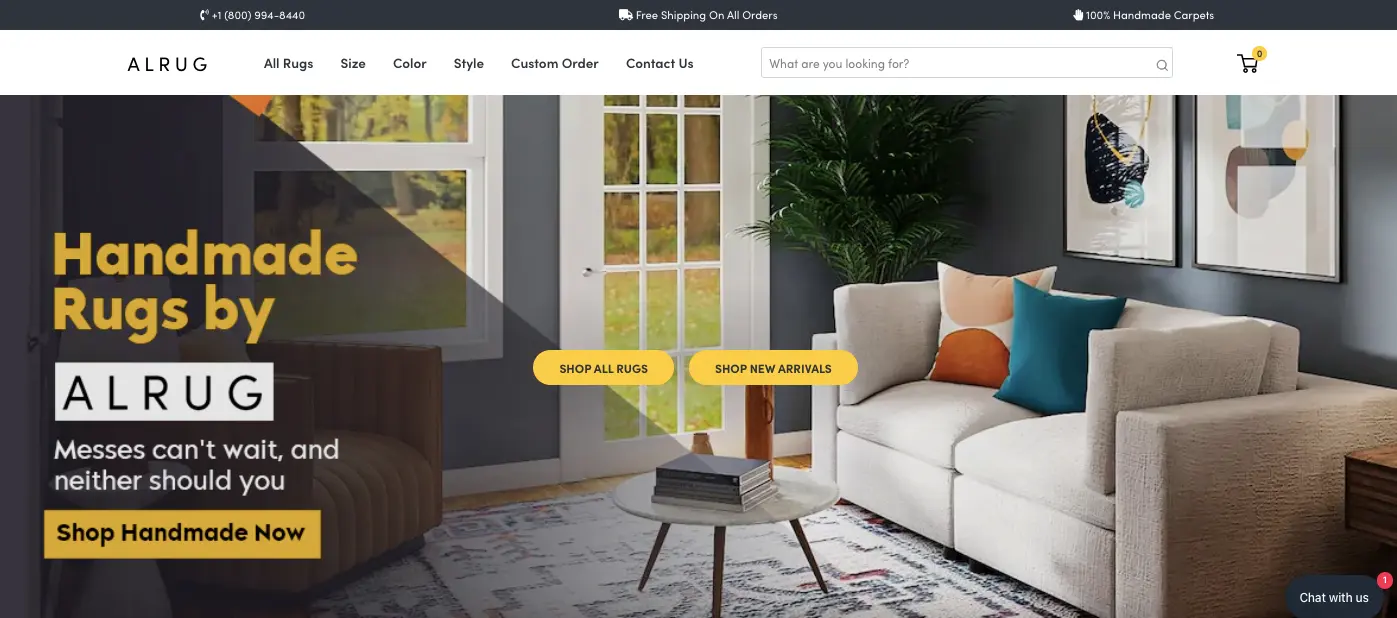 Alrug stands as an established leader among wholesale dropship suppliers, specializing in handcrafted carpets and rugs with oriental and Persian influences, tailored for home decor. Their global reach extends to over 50 countries.
Pros:
A user-friendly website and dedicated customer support.
A vast product range, encompassing over 15,000 rug variations.
Offers free shipping to the US and various other countries.
Features visually captivating, top-quality products that are competitively priced.
Cons:
Selling rugs directly to end customers can be more challenging, as compared to reselling goods.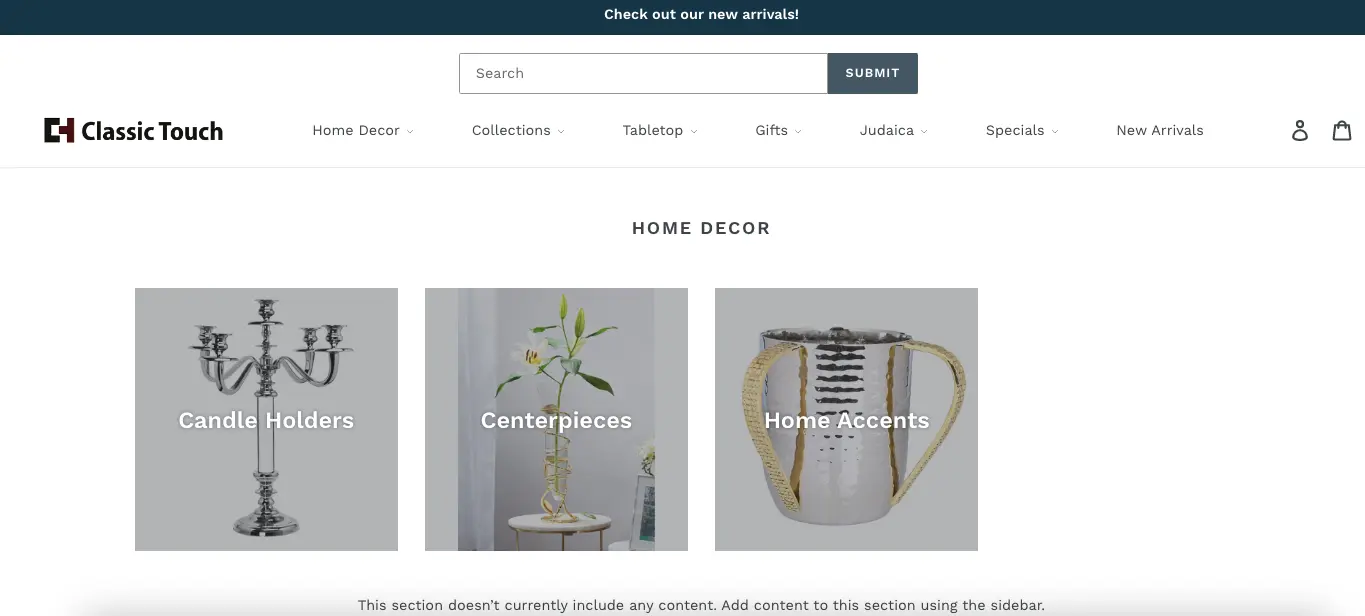 Classic Touch Decor stands out as a premier wholesale supplier of home decor products and accessories. Their product range includes an array of items such as candleholders, centerpieces, bathroom accessories, clocks, decorative accents, and picture frames.
Pros:
An exceptionally extensive and user-friendly product catalog with diverse categories.
A comprehensive 14-day return policy that offers clear guidelines on the return process and refund timelines.
Convenient pricing filters for sorting products based on price tags.
Cons:
The website also allows direct sales to customers, making it possible for clients to purchase directly from the online store, bypassing intermediary sellers.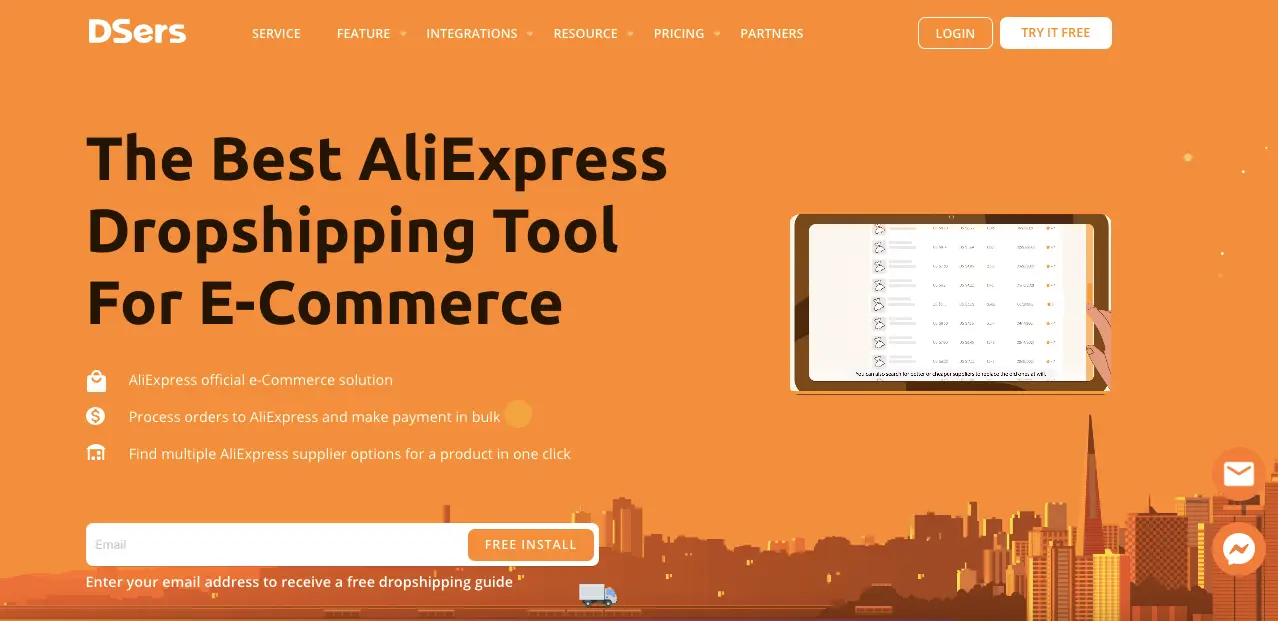 When it comes to dropshipping home decor items from AliExpress, DSers emerges as a top choice. This company, an official partner of AliExpress, provides home decor brands with extensive access to a wide range of product options.
Pros:
A diverse range of home decor products sourced from AliExpress.
Abundant inventory management tools for efficient operations.
Compatibility with various eCommerce platforms, including Shopify, WooCommerce, and Wix.
Automatic updates and notifications for streamlined order management.
Cons:
The free plan comes with several limitations that may impact functionality.
Quality variations in the products sourced from AliExpress can be a concern.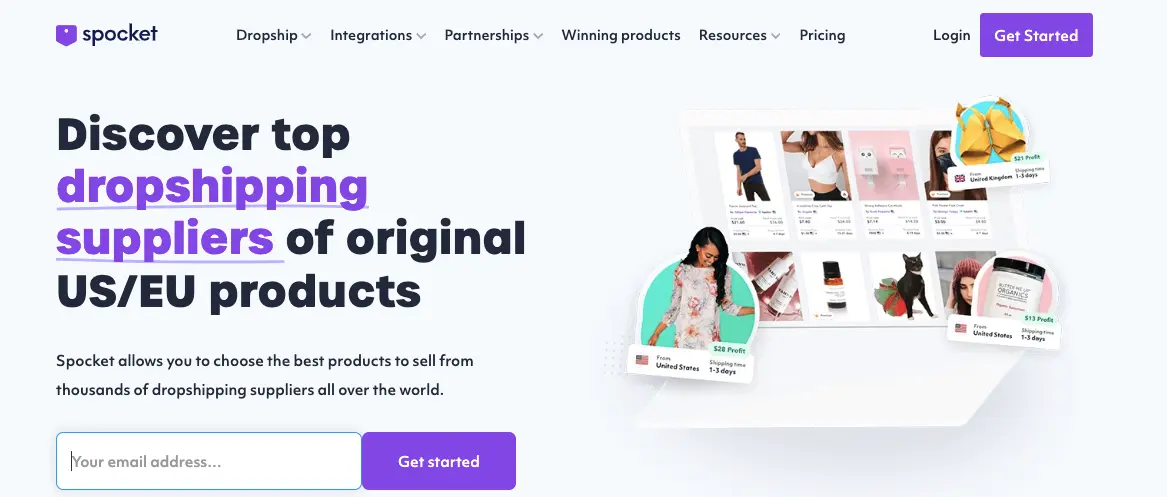 Spocket is a cutting-edge online platform designed for seamless dropshipping, connecting retailers with high-quality American suppliers. Spocket provides a diverse range of home goods suitable for dropshipping, such as wall art, ornaments, linens, figurines, and picture frames. Additionally, it offers integration with more than seven leading eCommerce systems, including Shopify, WooCommerce, BigCommerce, and Ecwid, among others.
Pros:
Widely recognized as a reputable dropshipping marketplace, especially for B2B vendors.
Offers a vast selection of home decoration items, catering to various tastes and preferences.
Seamless integration with over seven top eCommerce platforms, simplifying the import of products from the Spocket marketplace.
Cons: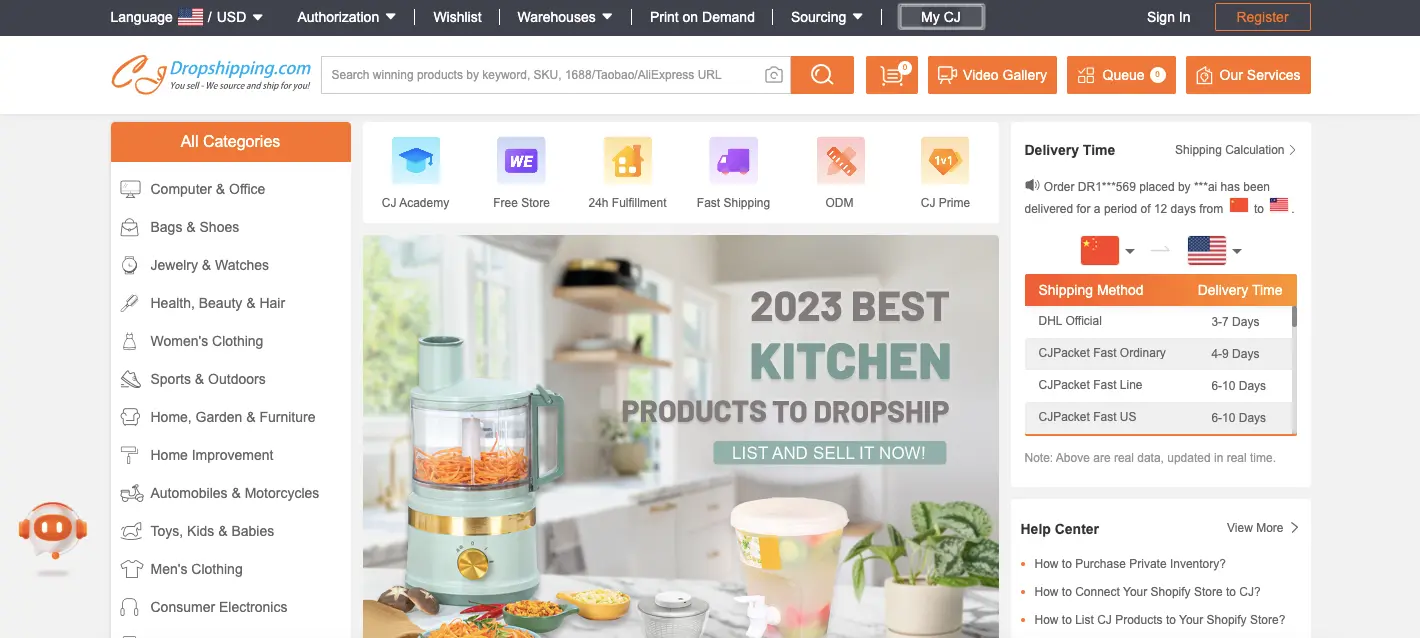 CJDropshipping is an excellent choice for dropshipping vendors aiming to offer unique home decor products on a global scale. The platform allows you to explore popular items or categorize them based on your preferences. Furthermore, CJDropshipping seamlessly integrates with other platforms such as eBay and Etsy.
Pros:
Competitive basic product pricing
A user-friendly interface that simplifies the process of finding products.
A wide range of customization options for a personalized shopping experience.
A global network of vendors, facilitating international sales.
Expedited delivery options and a variety of shipping choices.
Availability of promotions and coupons to enhance savings.
Cons:
Fewer product options compared to some alternative platforms.
Home Decor Dropshipping Suppliers - FAQs
What is the hardest thing about dropshipping?
Challenges in Dropshipping:
Locating a dependable source
Gain the trust of your customers with superior goods.
Shipping and processing time management
Managing customer returns
Adapting to the ban on PayPal, Shopify, and Facebook
Stock running out
Is home decor dropshipping worth it?
Is becoming a dropshipper for home decor profitable? The most crucial factor you should consider when starting a business is undoubtedly your business idea. Determining whether dropshipping home decor is profitable is therefore important. We can confidently state that the response is yes!
What is illegal in dropshipping?
Even if your dropshipping business is successful, you will still need to incorporate, handle your taxes, and go by the same regulations as other companies. Additionally, selling fake items, engaging in deceptive advertising, or flouting consumer protection rules are all illegal, just as in other companies.
Final Thoughts
If you want to make a lot of money using the dropshipping business strategy, dropshipping home decor is worth trying. Furthermore, dropshipping home decor is also regarded as a smart choice if you are considering opening your own business.
Updimes believes that, along with a list of 10 home decor dropshipping suppliers, are listed with distinguishing traits, and tips. Depending on the products you select, your ideal source should guarantee a unique blend of quality and ease; you will have a favorable and successful start in a dropshipping home decor business.