How to Print Shipping Labels on Shopify?
Printing accurate and professional shipping labels is essential for any Shopify store owner looking to streamline their shipping process and provide excellent customer service. Shopify, a popular eCommerce platform, offers a range of integrated tools and features to simplify label generation and printing.
In this article, we will guide step-by-step details on how to print shipping labels on Shopify, from selecting the right app to customizing label settings and ensuring smooth label printing. In order to manage your shipping operations effectively and give your clients a seamless experience, we will arm you with the most necessary knowledge.
This article includes 3 main sections:
What is a shipping label?
How to print shipping labels on Shopify?
Top 3 Shopify shipping label apps
What Is A Shipping Label?
What is a shipping label?
A shipping label is a document that contains essential information about a package or shipment, such as the sender's and recipient's addresses, tracking numbers, and barcodes. It serves to identify and track the package throughout the shipping process. Shipping labels are typically attached to the outer packaging of the item being shipped and are crucial for ensuring accurate delivery and efficient logistics management.
Why is it necessary to print shipping labels?
Printing shipping labels is crucial for several reasons:
Firstly, it allows for efficient and accurate identification of packages, ensuring that they are correctly sorted and directed to suitable destinations.
Secondly, shipping labels provide essential information to carriers and logistics providers, enabling them to track and manage the package's journey.
Additionally, printing shipping labels helps streamline the shipping process, reducing the likelihood of errors and delays.
It also enhances professionalism, as clear and professional labels contribute to a positive customer experience and reflects a well-organized and reliable business.
How to Print Shipping Labels on Shopify?
Method 1: Print shipping documents separately
From the page for an order, you can print your shipping labels, packing slips, and customs forms separately. Your shipping documentation can only be printed individually; they can't be combined.
Purchasing Shopify Shipping labels is the first step in printing shipping labels on Shopify.
Follow these steps to purchase a shipping label for your Shopify store:

Log in to Shopify admin > go to the Orders.

On the Orders page, click the order you want to buy a shipping label.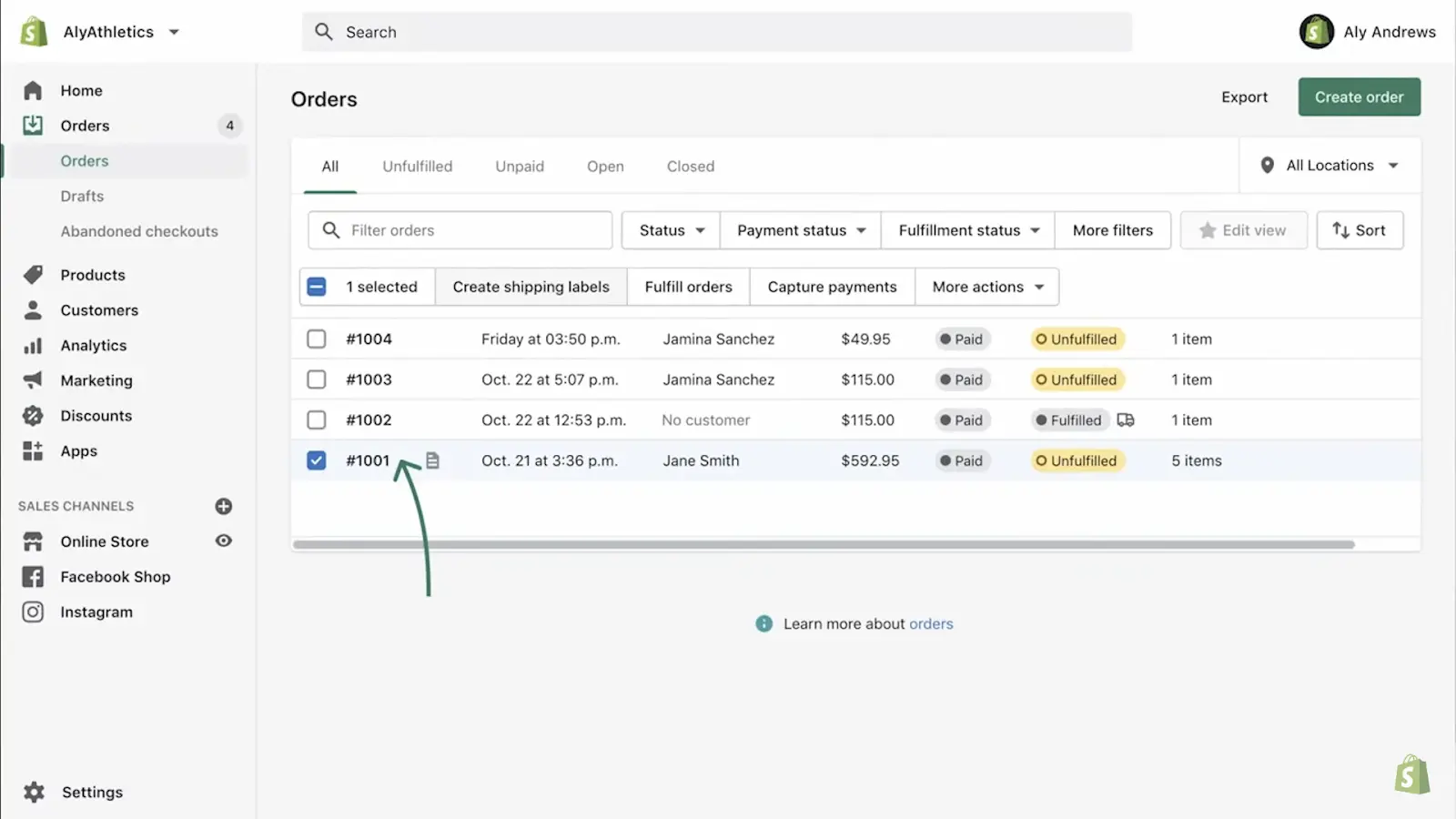 When printing multiple shipping labels, Shopify, select all the items you want to purchase shipping labels for, and then click the Create shipping labels button.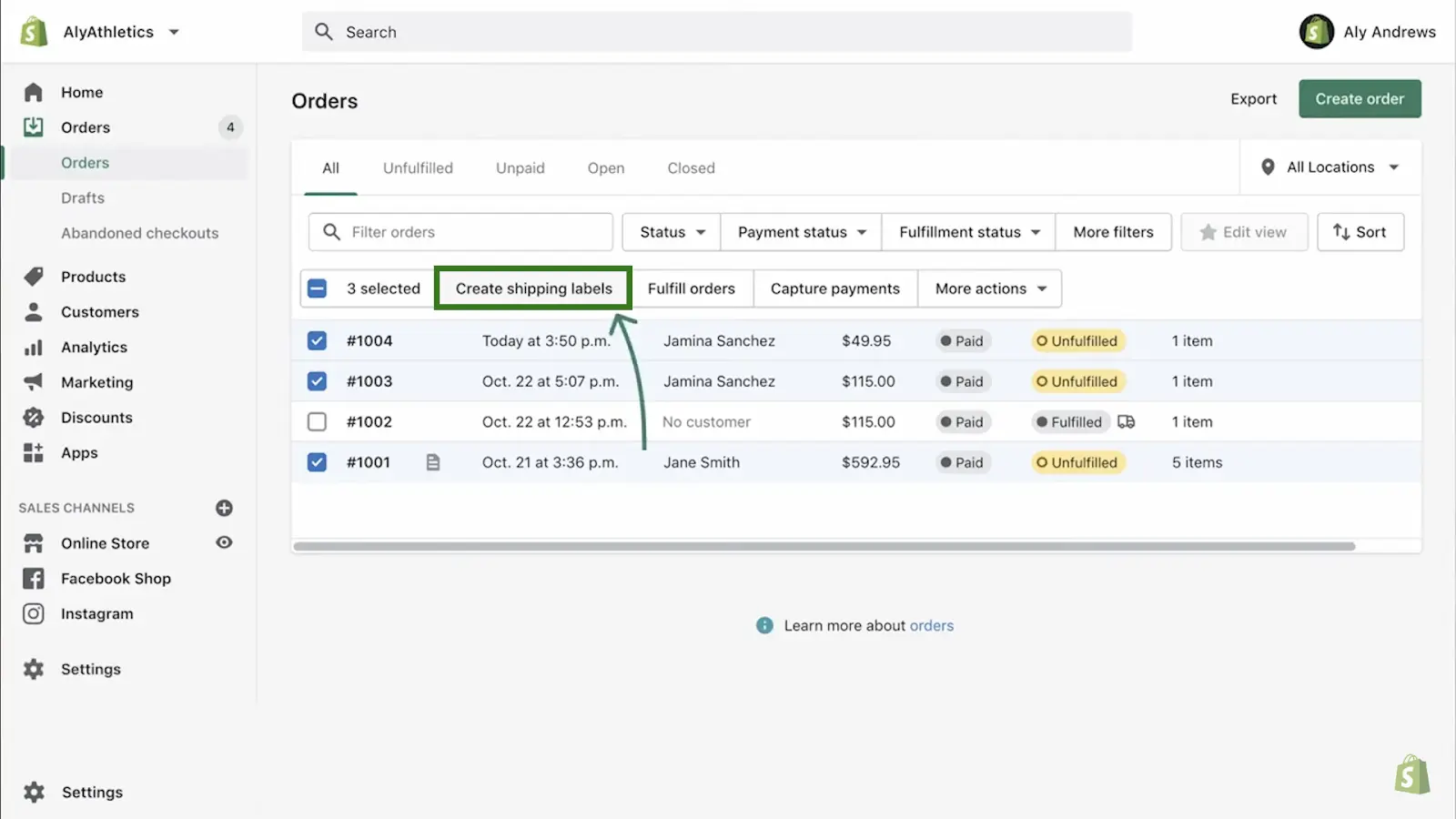 On the order details page, select on the Create Shipping Label button.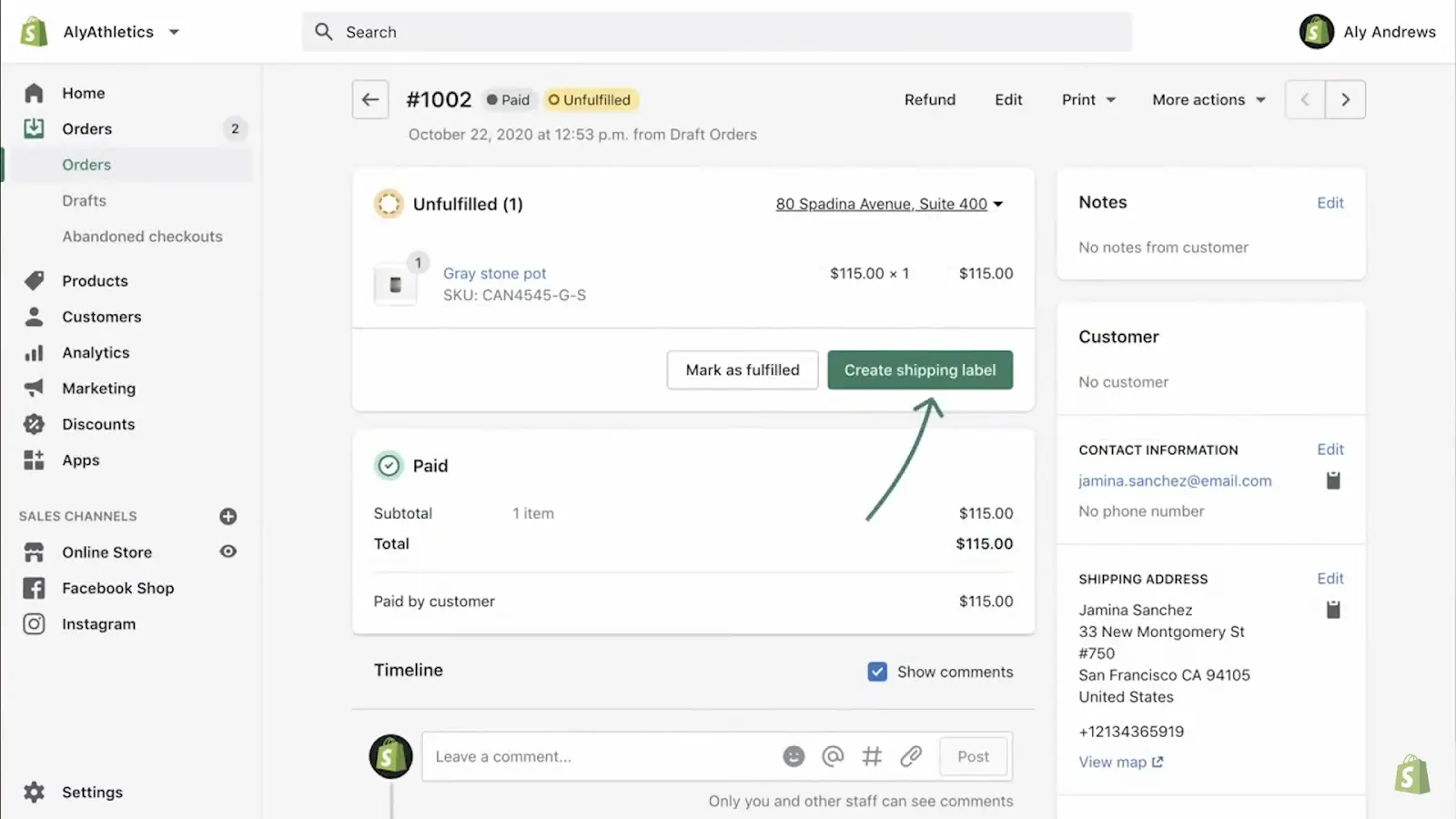 Pick the shipping company and carrier you want to use for this consignment.
Now you can edit Shopify shipping label and fill in the relevant information for the delivery, including the weight, dimensions, and other necessary information.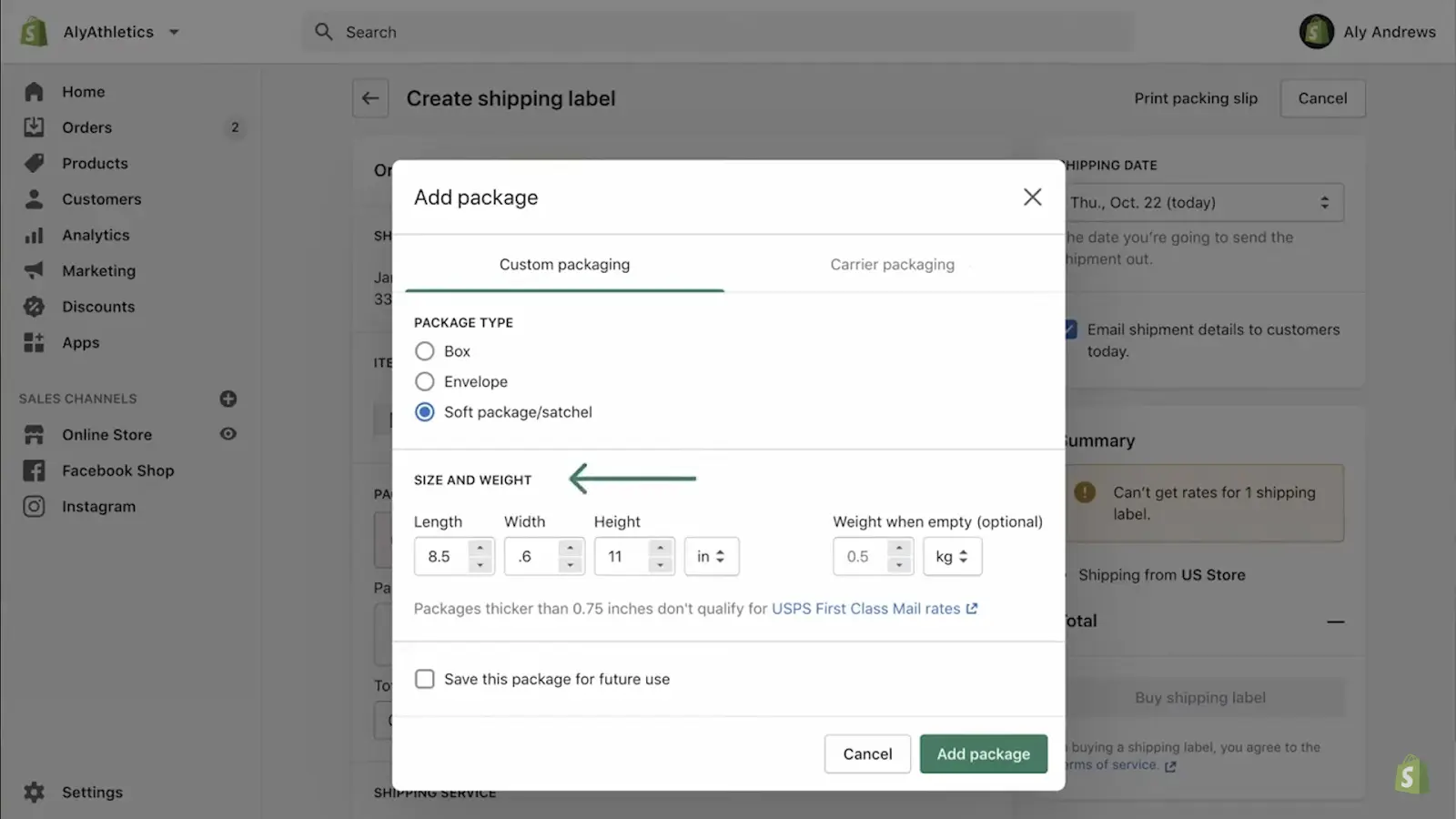 Display options the shipping label: service details and corresponding cost.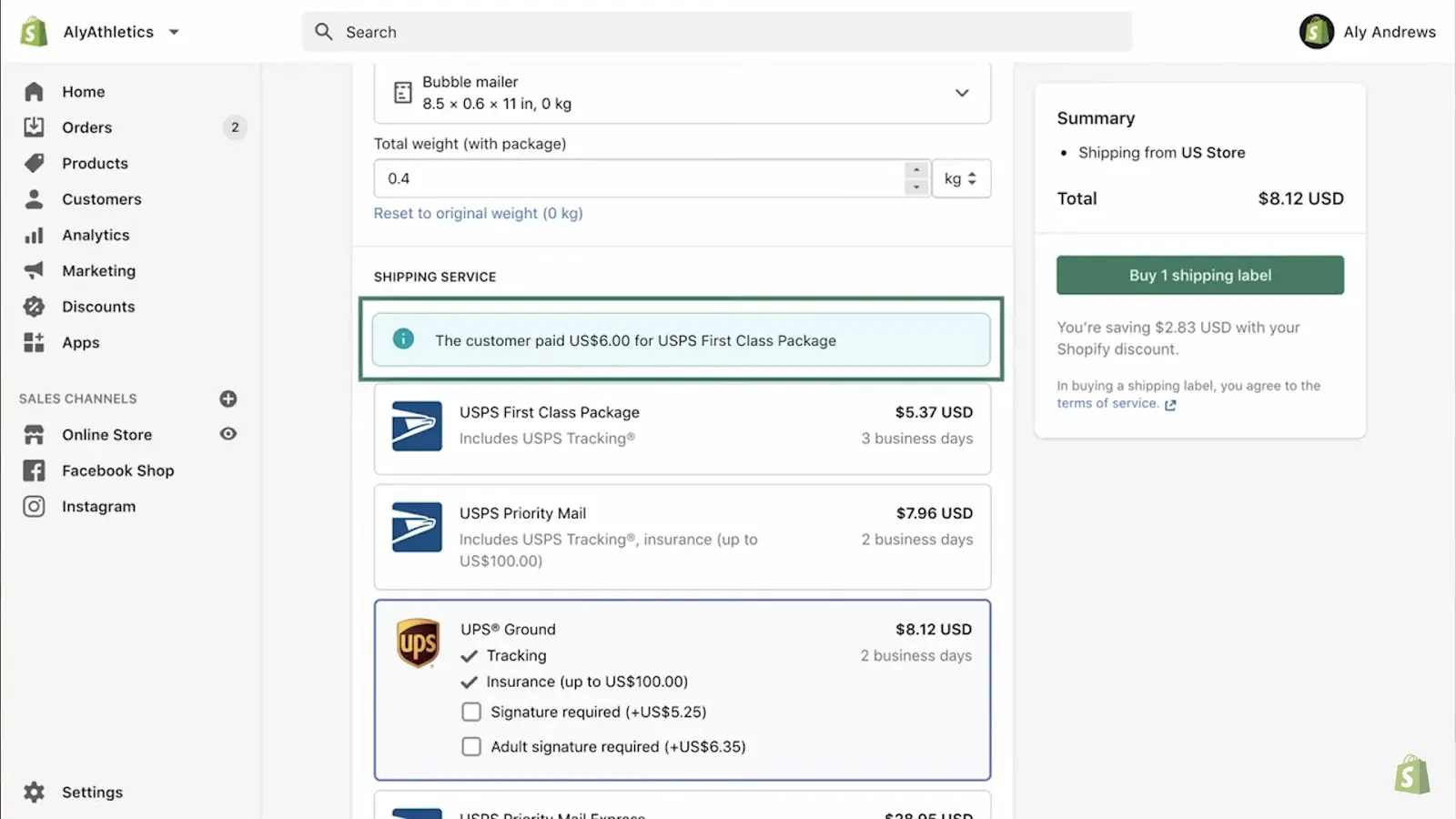 Click the Buy 1 Shipping Label button once everything is in order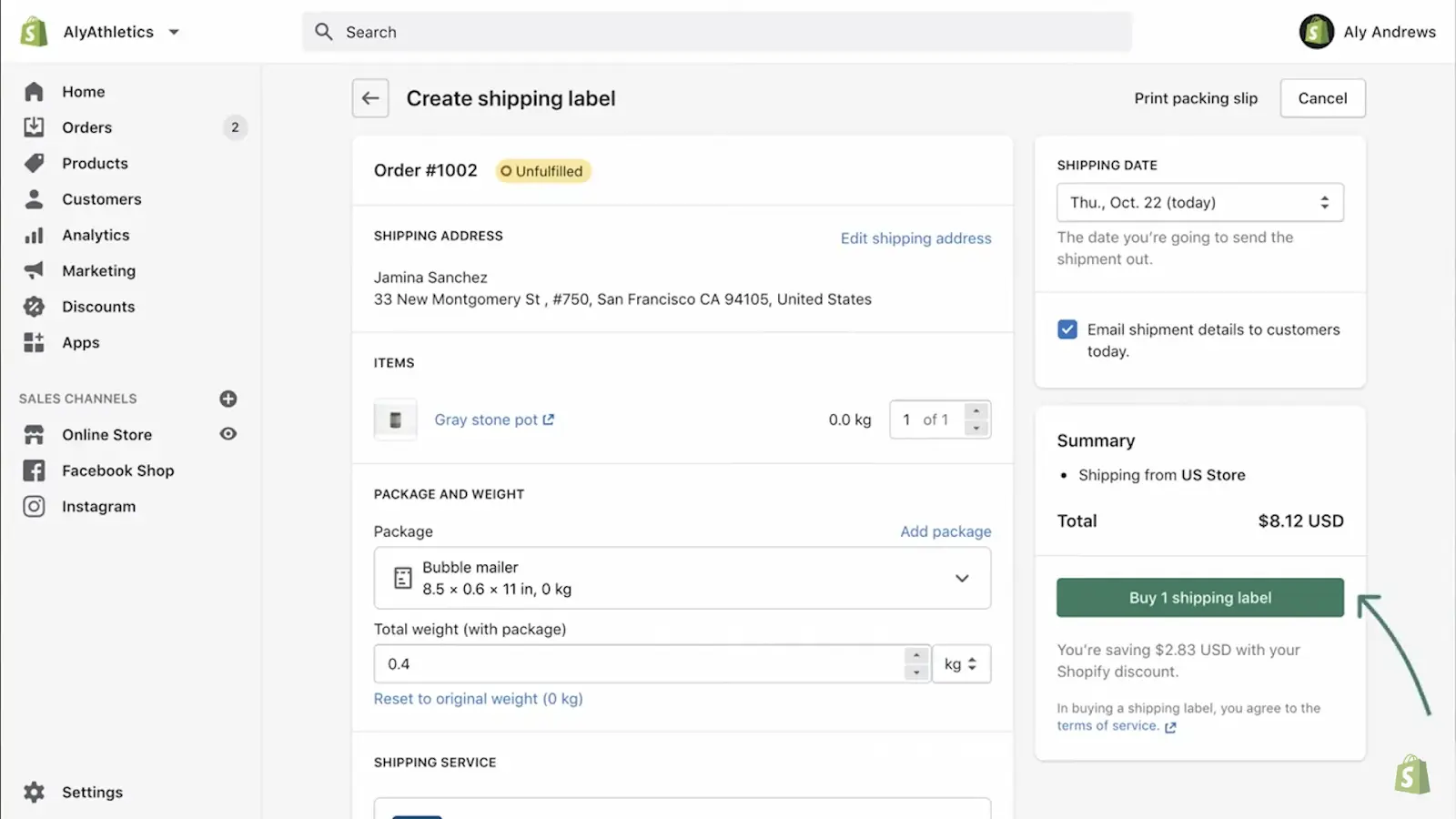 Then, print shipping label on separate paper after purchasing Shopify shipping labels.
By selecting your preferred payment method and label format, you can finish purchasing your labels by clicking the Print shipping label button.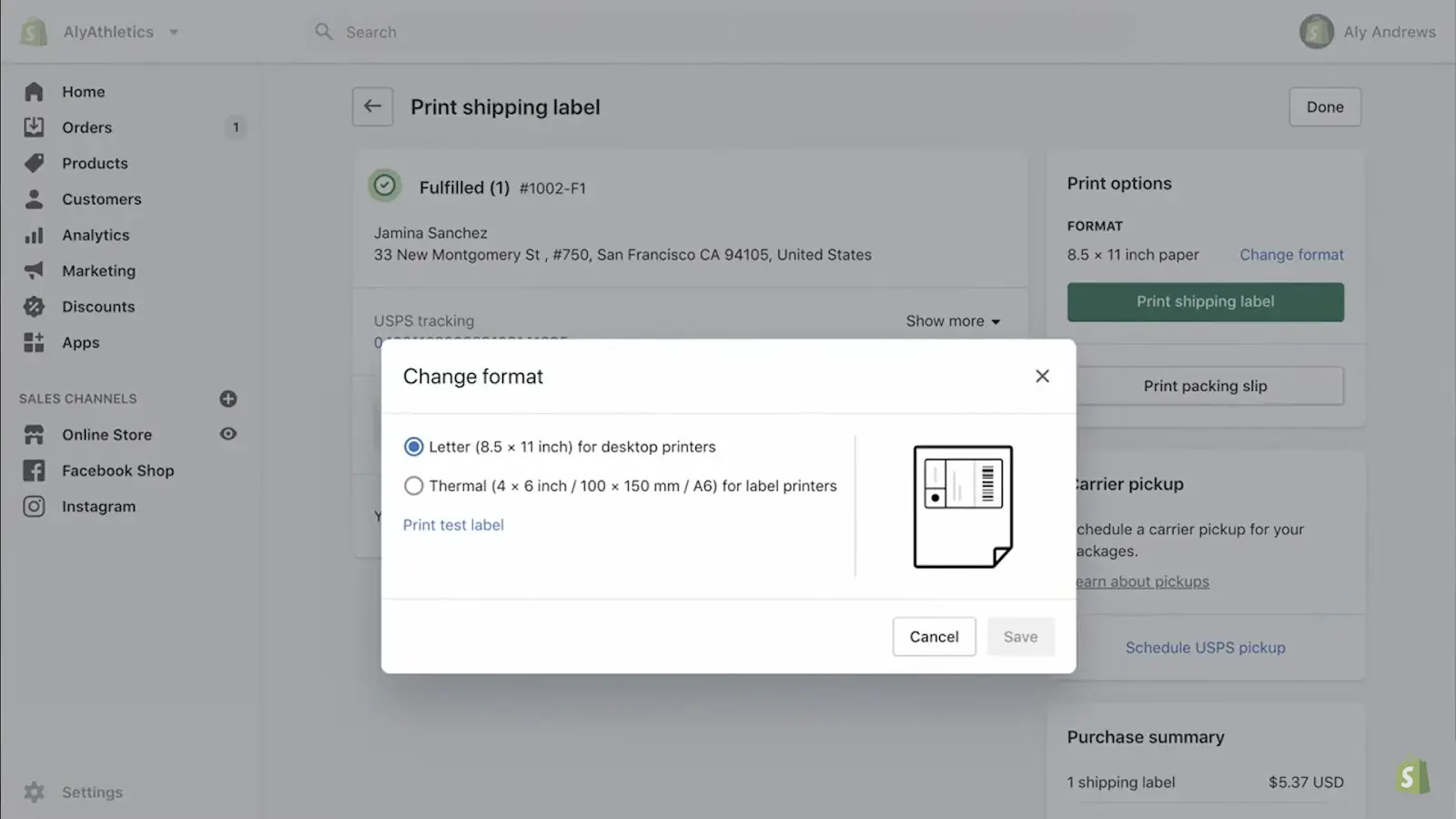 In the output, you can see the Shopify shipping label template: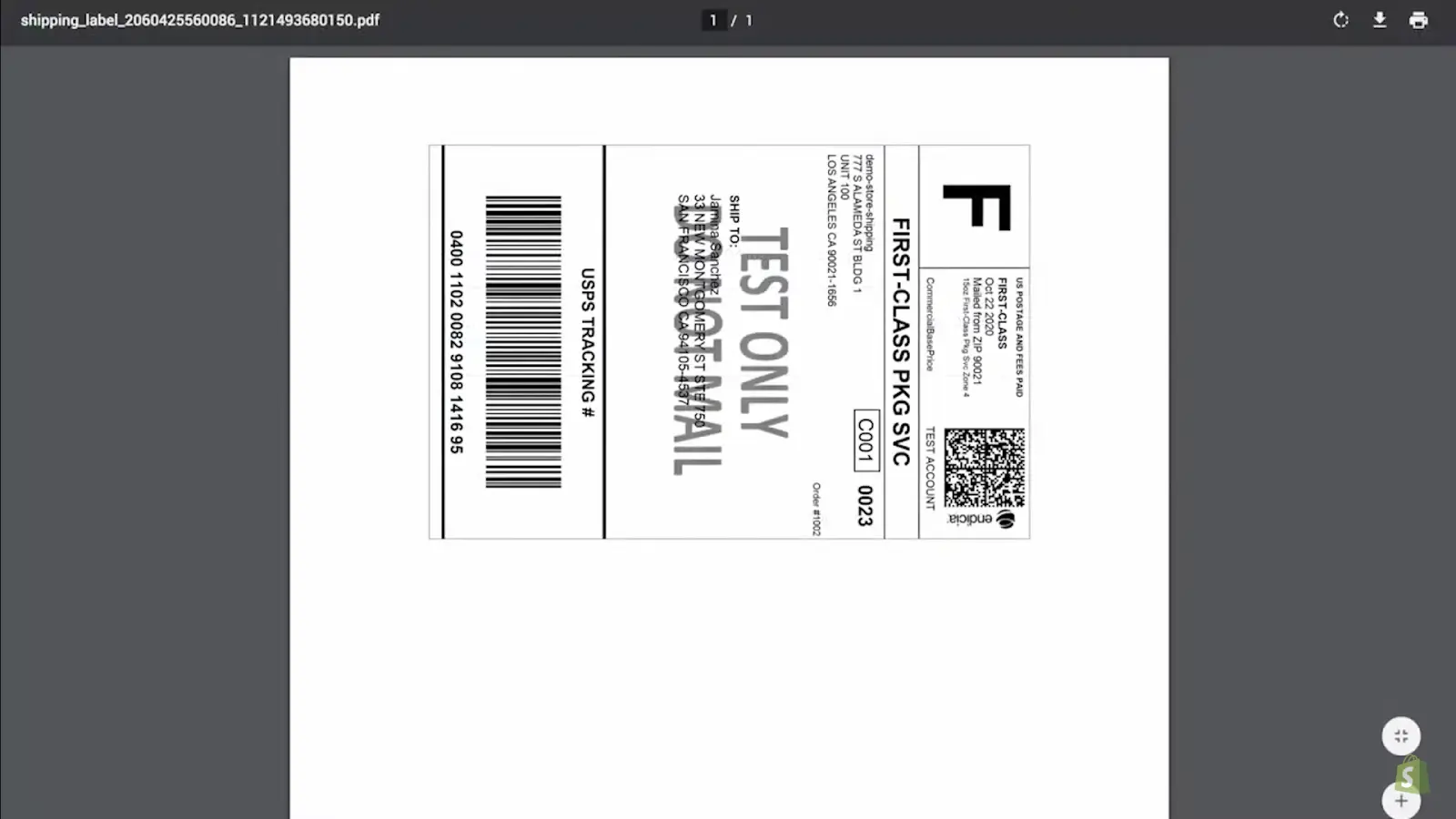 You can print and affix shipping labels to your packages after you buy shipping labels. Information on the status of shipments will also be immediately updated on the order details page.
Method 2: Print shipping labels with customs forms and packing slips
With this technique, you may print your shipping labels individually or combine them and resize them to fit on the printing paper format you've chosen.
For instance, the packing slip will be resized to fit on the same page as the shipping label if you print your shipping label and packing slip using the A4 printing format.
To print your shipping labels, choose one of the following paper formats:
Thermal format: 4 x 6 inch / 100 x 150 mm/ A6
Letter format: 8.5 x 11 inch / 216 x 279 mm
A4 format: 8.3 x 11.7 inch / 210 x 297 mm
Look at the following illustration of a shipping label and packing slip written on letter format paper.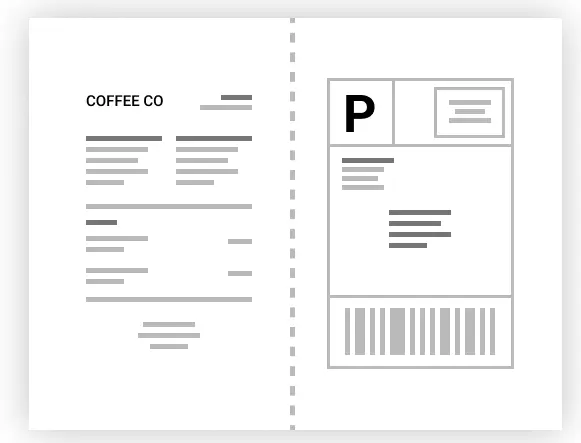 Top 3 Shopify Shipping Label Apps
Even though Shopify can print shipping labels, you might still need to use a different shipping app to conduct the entire delivery procedure.
The best 3 Shopify apps for printing shipping labels are as follows:

You can compare international shipping rates for businesses like DHL, FedEx, UPS, or JapanPost to decide which carrier best suits your needs. You can use the Shipping Label Tool, part of the Shipandco software. Using this app might cut the time and work required to manage and ship orders by up to 80%. Additionally, thanks to this software, you may register and manage several warehouse addresses from a single account.
Features:
Simple shipping label process.
Allow for managing multiple accounts through the same carrier
Obtain quotes for international Shipping from various carriers.
Create a lot of warehouses and storefronts on Shopify and maintain them.
Make and print in bulk, exporting internationally.
Pricing:
Installation is cost-free, but there are extra fees for other features.

ReadyToShip can assist you in managing your store's shipping-related elements. Sendle, Startrack, and Australia Post are the Australian shipping firms it incorporates. The program is a huge help to you throughout the shipping process. It connects to your Shopify store and imports every order that needs to be filled. It helps in handling errors, managing packages, and managing dimensions. Additionally, the software simplifies printing shipping labels and submitting tracking information to Shopify rapidly.
Features:
Import orders from Shopify automatically.
Give live shipping costs.
Check for and fix the majority of address problems.
Control the packages' dimensions.
Print shipping labels only takes one easy step.
Pricing:
Free to install
However, there may be further fees.

You may connect your Shopify company to over 250 international shipping businesses with the Easyship app. This software also allows you to sync orders and quickly print shipping labels. You may easily handle the intricate nature of customs documents with the help of this app. The checkout process includes multiple delivery alternatives, giving your customers a greater choice.
Features:
Print all of your labels and quickly sync orders.
Keep track of your product's dimensions, category, and weight to speed up processing and guarantee accurate shipping costs.
Update to fulfilled orders with tracking information details
Automate shipping and customs document creation and download.
Clear fees: import tax, VAT, GST, and other fees
Pricing:
Installation is free, but some features come at an extra cost.
How to Print Shipping Labels on Shopify: FAQs
How can I create a shipping label on Shopify?
The free shipping label template from Shopify is quick and simple to create with only 5 steps:
Go to shipping-label-template.shopify.com.
Give your details information on the online form.
Select "Create shipping label."
Keep an eye out for an email from Shopify in your inbox that contains the shipping label.
Click "Get your shipping label now."
How to change your shipping label printer settings on Shopify?
Step 1: Log into Shopify admin. For the Shopify admin login, use your email and password.
Step 2: Select Settings > Shipping from the Shopify admin.
Step 3: Change the printing options for your shipping labels.
Wrap Up
Start leveraging the power of Shopify to simplify your label printing process today! Learning how to print shipping labels on Shopify can significantly streamline your eCommerce business's shipping operations. By following the procedure mentioned in this article, you can efficiently generate and print accurate shipping labels, ensuring smooth package handling and timely deliveries, enhancing professionalism, and maintaining excellent logistics management for your online store.