How to Import AliExpress Reviews to WooCommerce?
Customer reviews are a powerful tool for you to build trust and credibility in your eCommerce store. AliExpress, with its vast marketplace and numerous product reviews, offers a wealth of valuable feedback that can enhance your WooCommerce product pages.  
In this article, we'll walk you through the process of how to import AliExpress reviews to WooCommerce store, helping you leverage the benefits of social proof and boost your sales and customer satisfaction. Let's get started!
Why should You Import AliExpress products to WooCommerce?
Importing AliExpress product reviews to WooCommerce can offer several benefits to your eCommerce store, enhancing credibility and customer trust:
Social Proof: Displaying real customer reviews from AliExpress on your WooCommerce store provides social proof, assuring potential buyers about the product's quality and legitimacy.
Increased Conversions: Positive reviews influence purchase decisions, increasing the likelihood of conversions as customers are more likely to trust products with positive feedback.
Rich Content: AliExpress reviews often include images and detailed descriptions, enriching your product pages and providing valuable insights to potential buyers.
Time-Saving: Importing reviews from AliExpress saves you time and effort, as manually collecting customer feedback can be time-consuming.
SEO Benefits: User-generated content, like reviews, can boost SEO efforts by providing fresh, relevant content for search engines to index.
Better Customer Experience: Transparently sharing reviews helps customers make informed choices, leading to higher satisfaction and reduced returns.
Competitive Advantage: Many WooCommerce stores may lack reviews initially, so importing AliExpress reviews gives you a competitive edge in the early stages.
Establish Trust: Authentic reviews build trust and credibility for your store, encouraging repeat purchases and fostering long-term customer relationships.
However, ensure that the imported reviews are relevant and applicable to your WooCommerce products, and consider filtering out irrelevant or low-quality feedback to maintain the integrity of your store's reputation.
How to Import AliExpress Reviews to WooCommerce with Ryviu?
There are a lot of WooCommerce plugins helping you transfer reviews from AliExpress to WooCommerce. In this tutorial, I will show you how to import product reviews from AliExpress to WooCommerce with Ryviu plugin, thanks to its ease of use.
Step 1: Register a Ryviu account
First and foremost, you need to sign up for a Ryviu account. On the register page, fill in your Username, Email, Password, and click the Sign up button.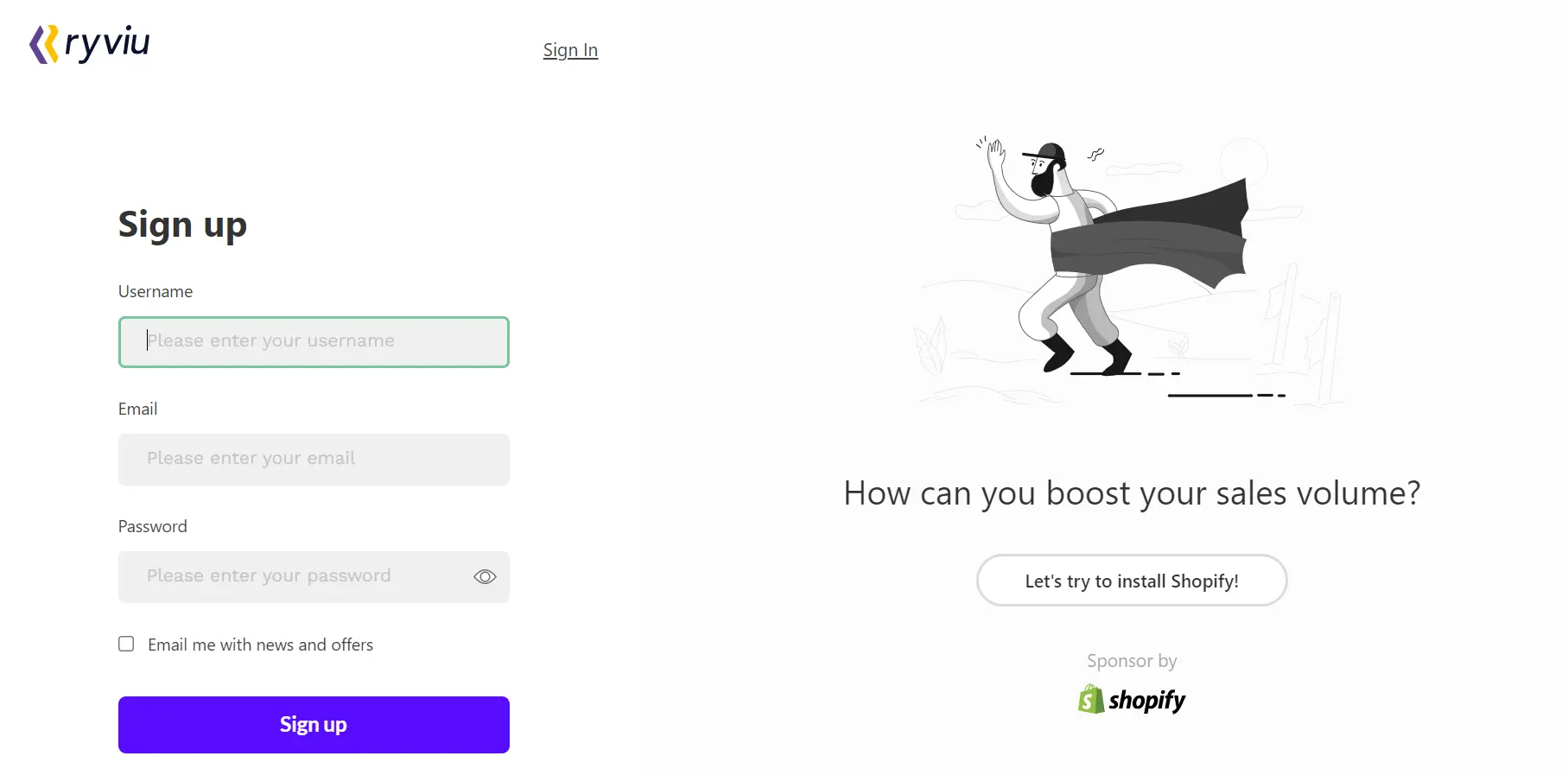 Once successfully registering, you now can sign in Ryviu with your account. All you need to do is enter your Username, Password, and hit the Sign in button.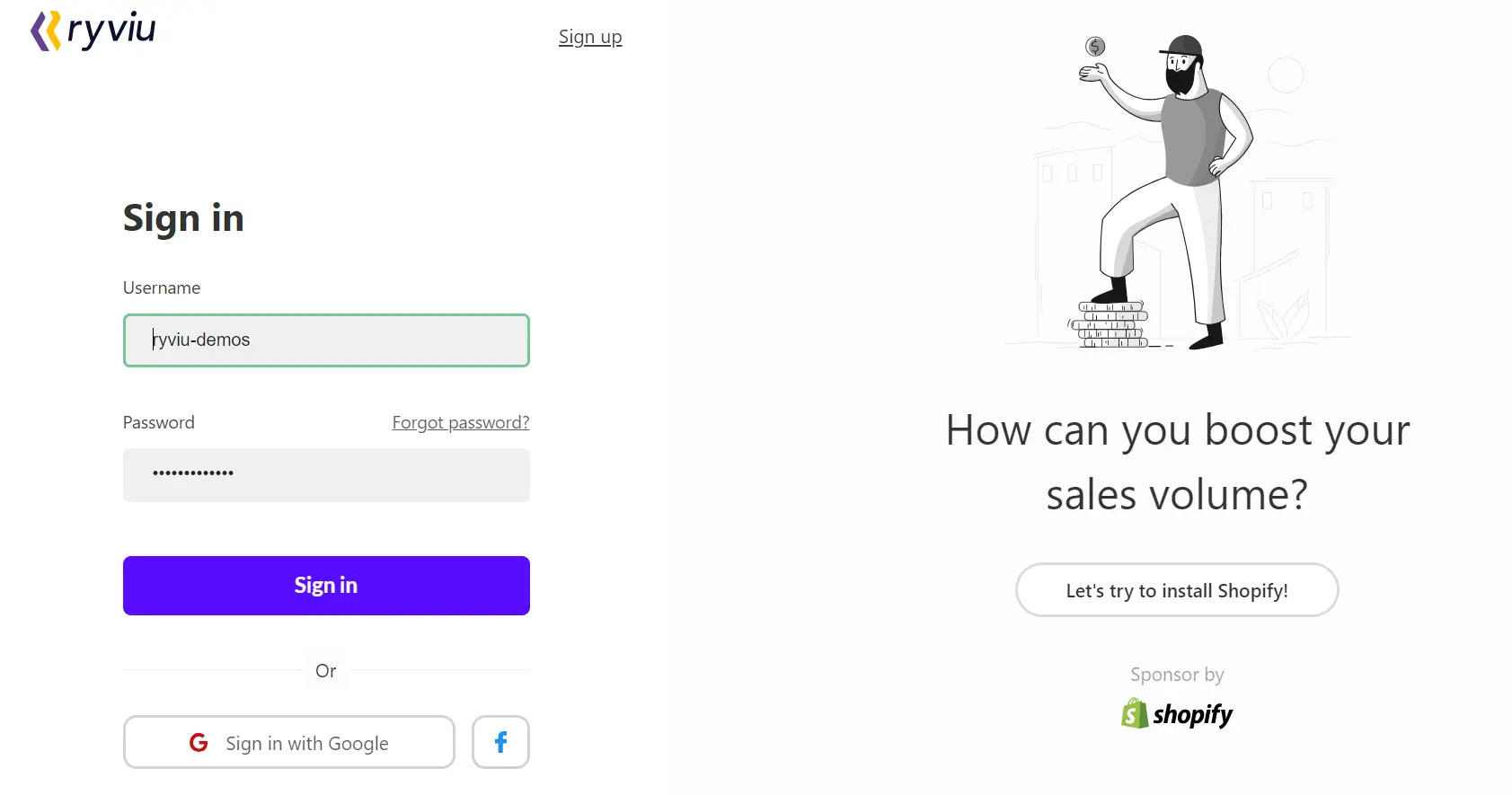 Step 2: Download Ryviu chrome extension
The next step is to download Ryviu chrome extension and add it to your toolbar.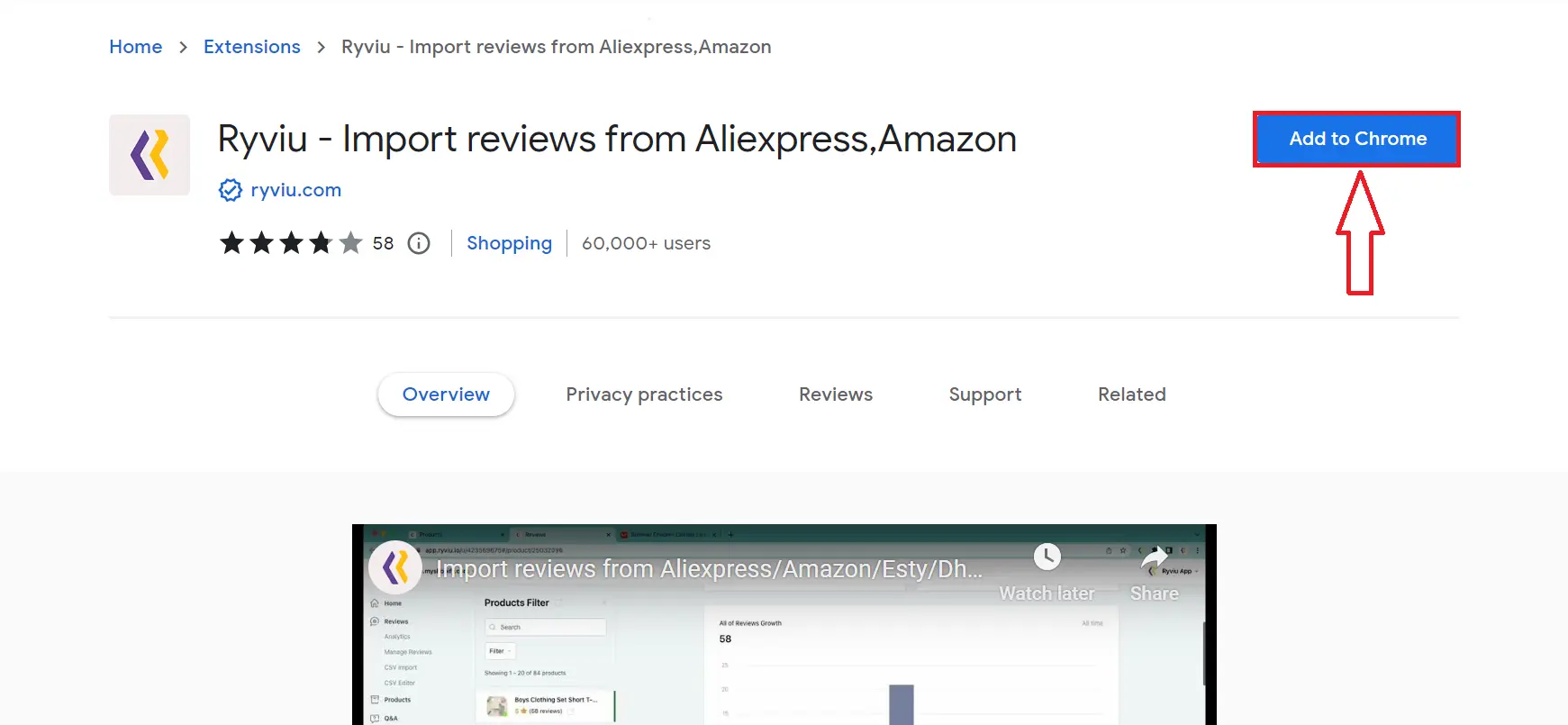 Step 3: Connect your WooCommerce store to your Ryviu account
Now, it's time to connect your Ryviu account to WooCommerce store.
1. From your WordPress dashboard, navigate to Settings > General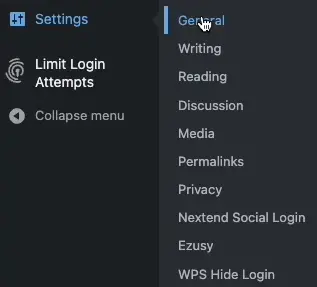 2. In the General settings page, find the WordPress address (URL) and copy it.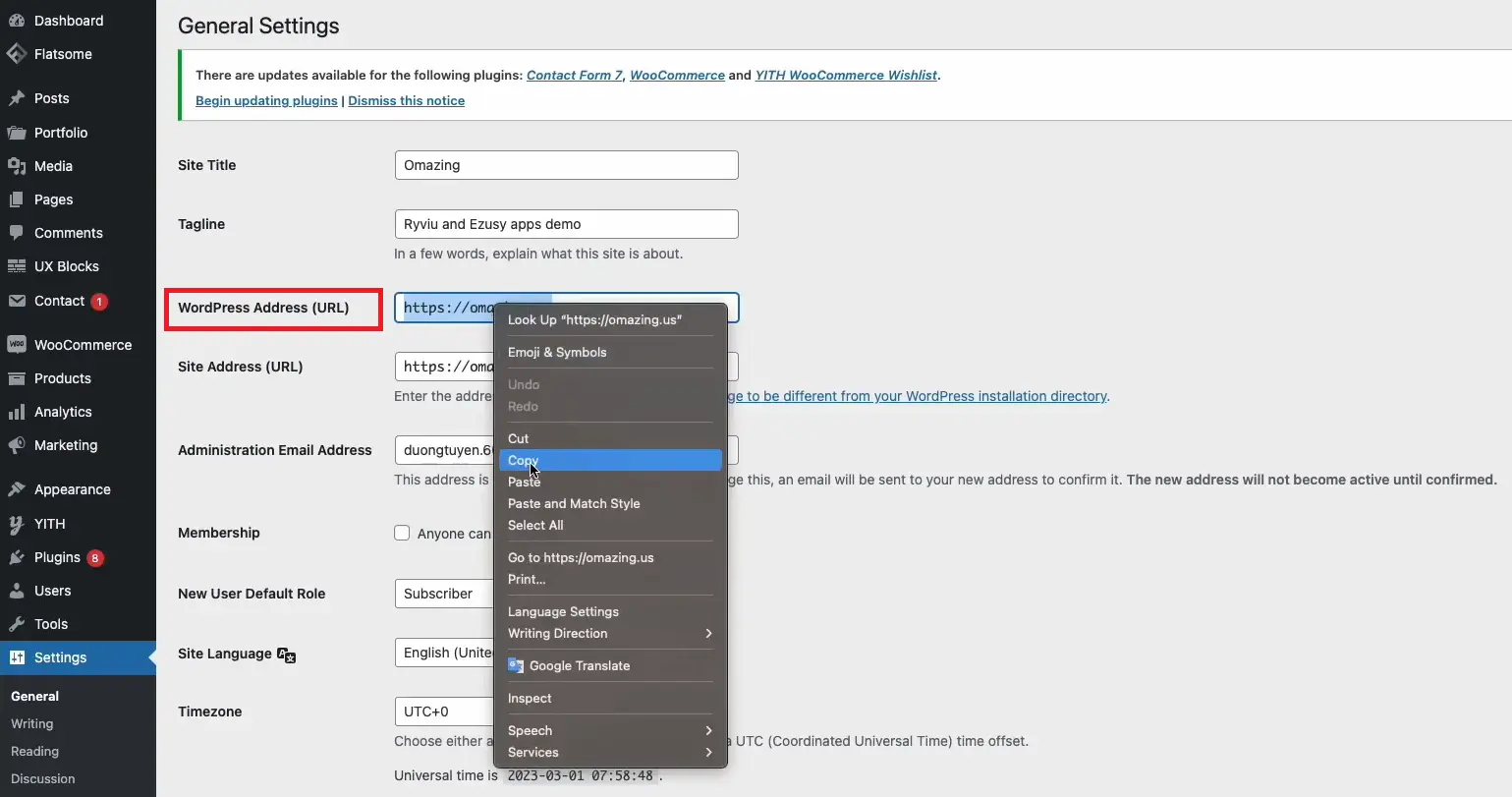 3. Open your Ryviu dashboard, click Setting at the bottom left of the page, navigate to the General section, and click Connect now button in the Store area.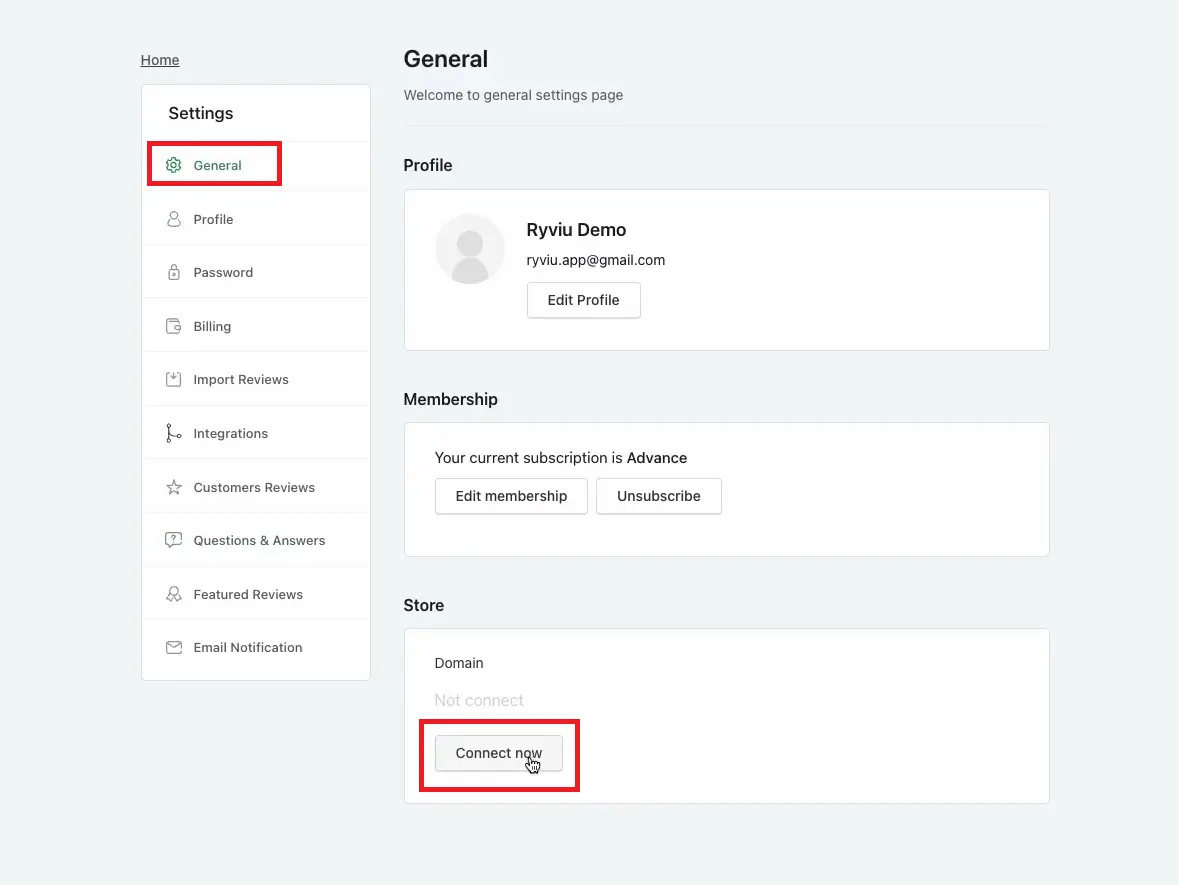 4. In the new popup, set Platform as WooCommerce, and paste the URL (you have copied above) in the Store URL section. After that, hit the Install now button.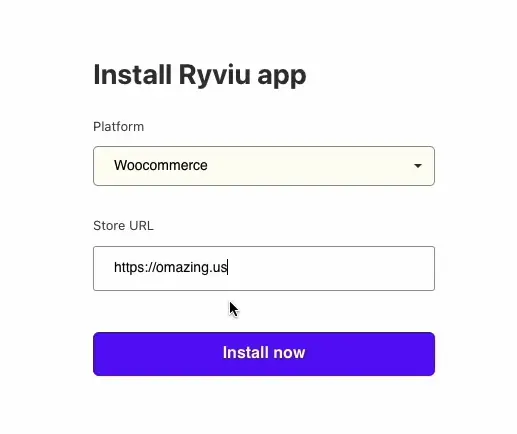 5. Finally, click Approve to complete this step.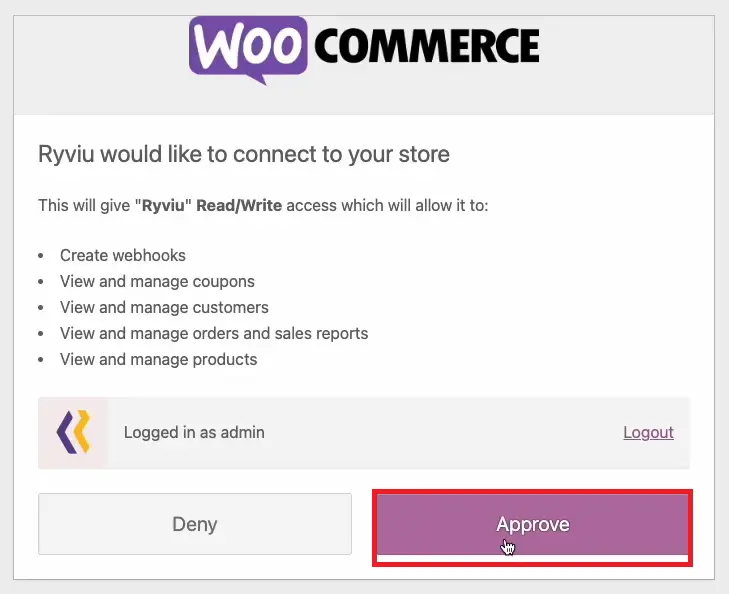 Step 4: Install Ryviu WordPress plugin
Once connecting your WooCommerce store with Ryviu account, you need to install and activate Ryviu plugin in your WooCommerce store.
1. From your WordPress admin, go to Plugins > Add New


Enter "ryviu" in the search bar, find Ryviu plugin and click Install Now > Activate.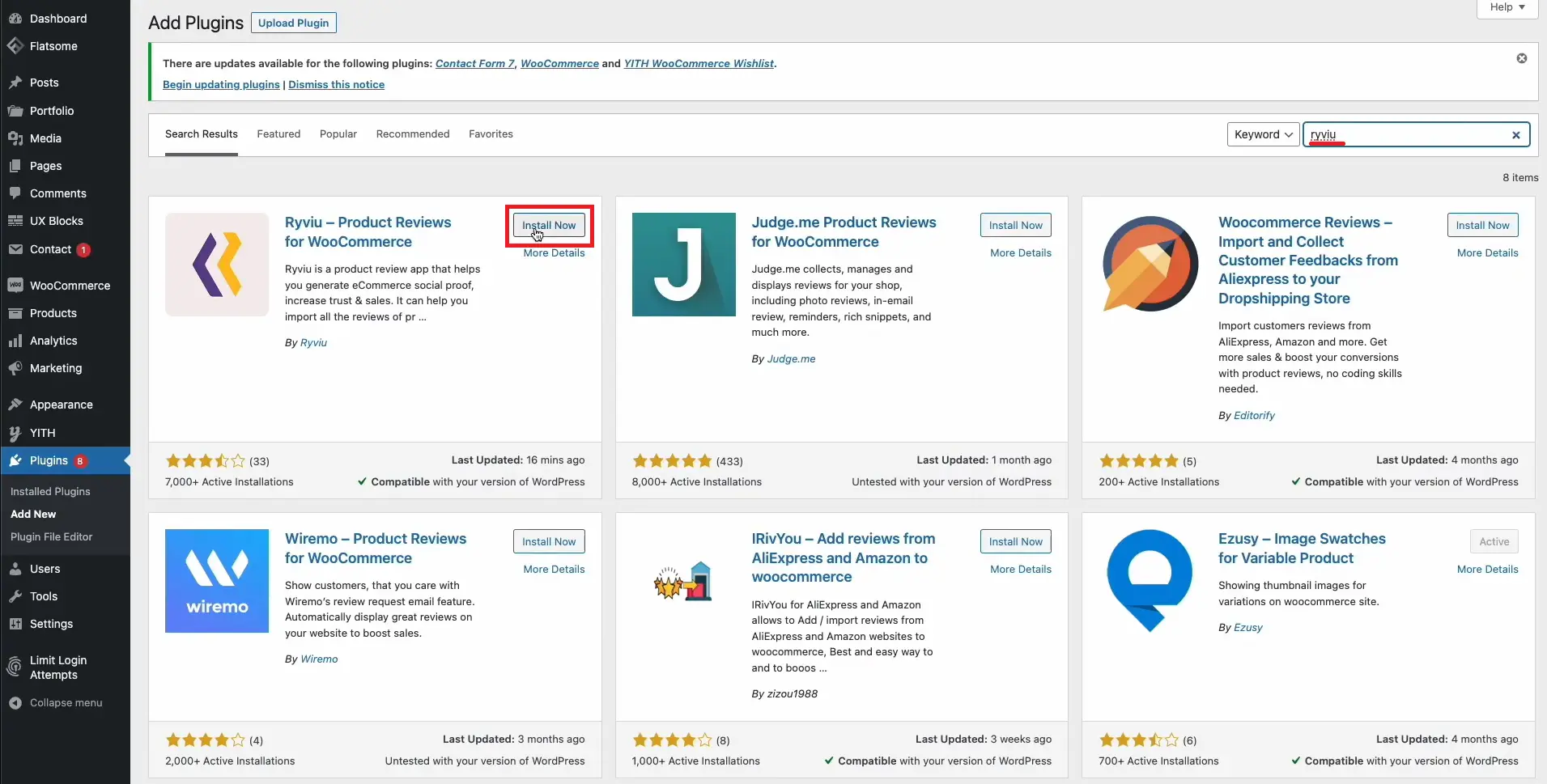 That's all. Now, your WooCommerce store has been connected to Ryviu and installed Ryviu plugin. If you want to do further customization, you can follow this guide.
Step 5: Import AliExpress reviews to WooCommerce
1. From your Ryviu dashboard, go to Products section in the left menu sidebar: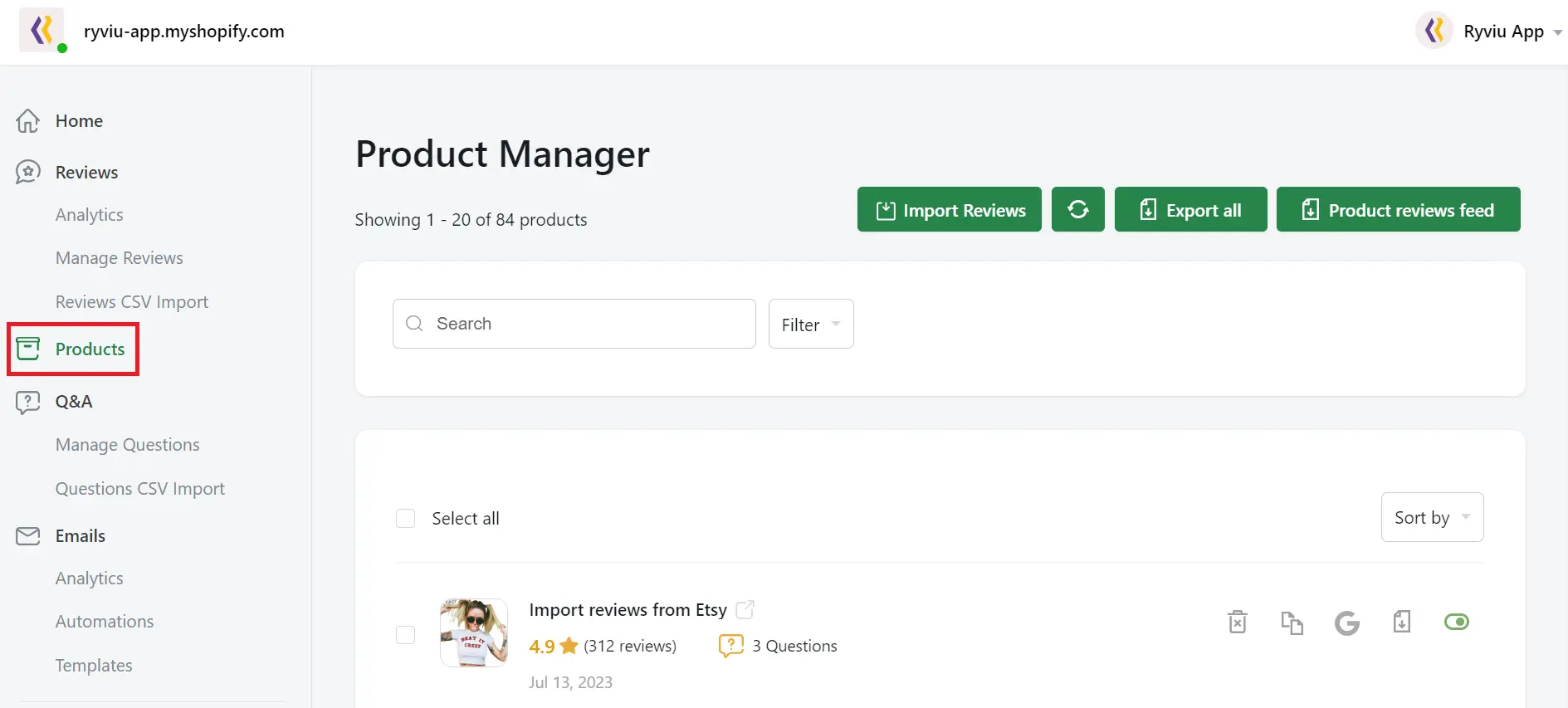 2. Press the Import Reviews tab.


3. In the new popup window, type in the product review link that you want to import reviews.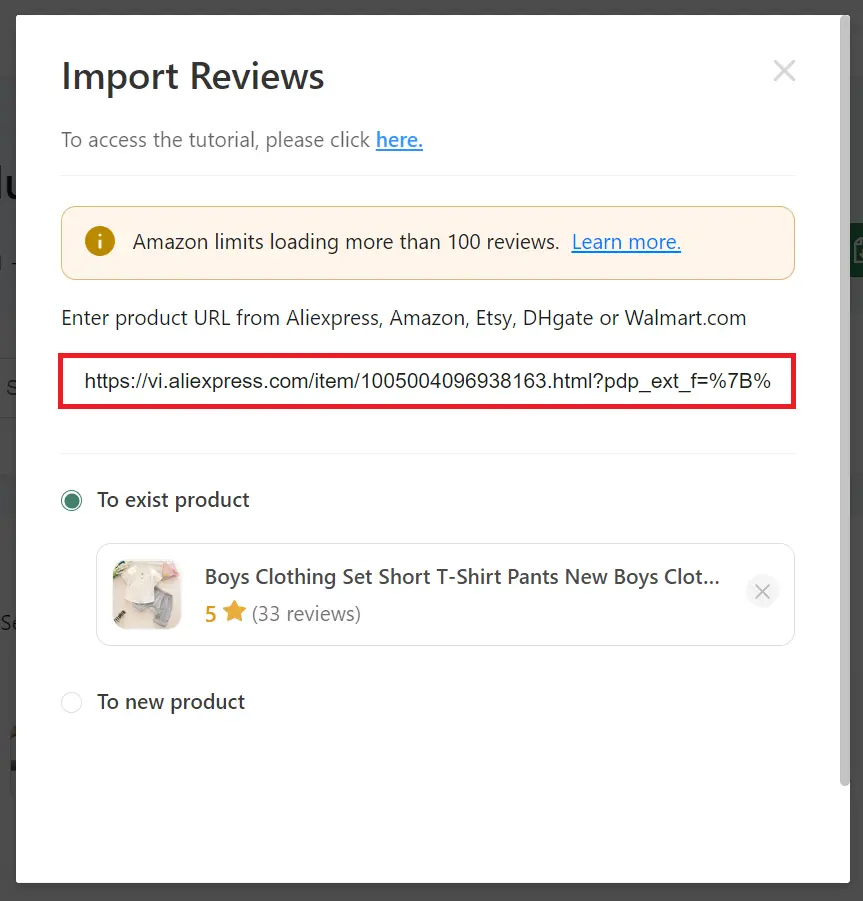 Now, you have 2 options:
Select To exist product option if you want to add AliExpress products reviews to the existing product in your WooCommerce store. By choosing this option, you will see a dropdown list of products. You can also enter the keyword to find the product you wish. Next, click on the Import reviews button.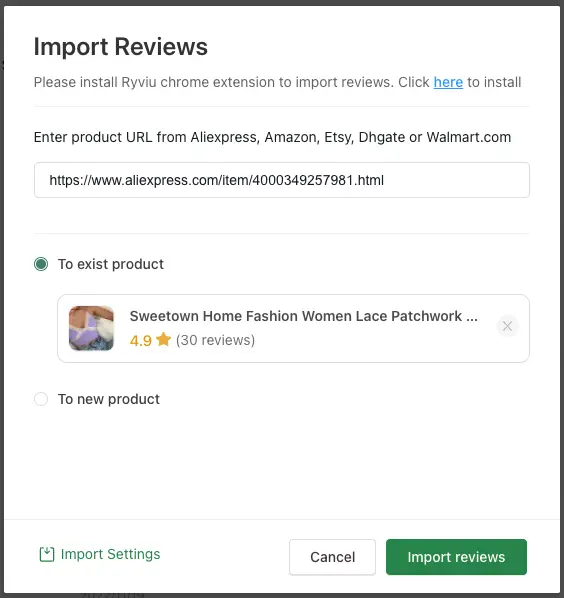 Select To new product if you desire to import AliExpress reviews to WooCommerce new product. In this case, you must provide your product slug in the Enter product handle section. After that, click Import reviews button.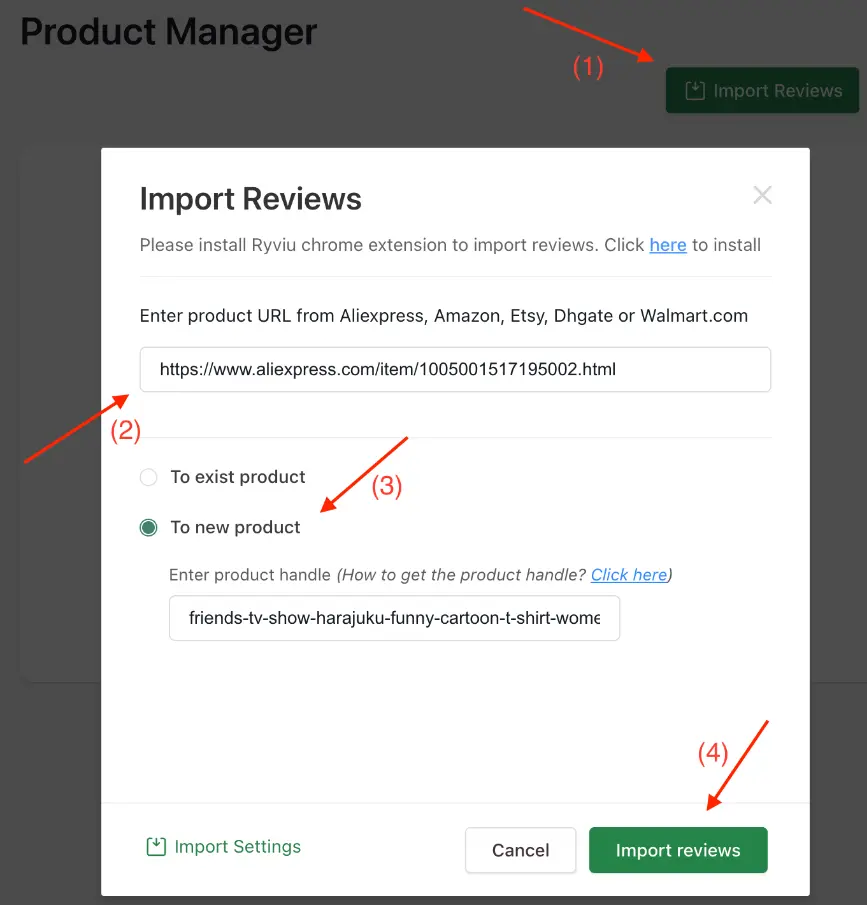 Now, select Merger to import new reviews, and ignore duplicate reviews or hit the Replace button to replace the existing reviews in your store with AliExpress reviews in the product link.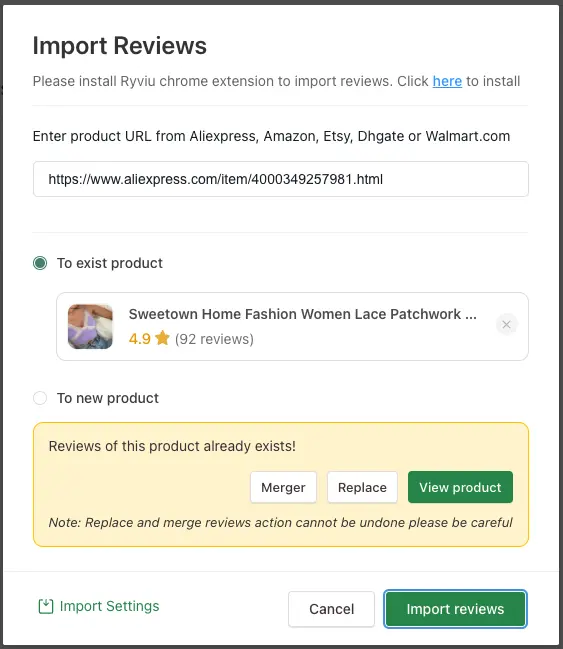 4. Then, you can check the importing process status. You can enable or disable the product reviews by clicking on Edit Now when finishing this process.

Import AliExpress Reviews to WooCommerce: FAQs
Can you import AliExpress reviews?
Yes, you can import AliExpress reviews to WooCommerce using a review import plugin that supports CSV files and follows WooCommerce's review structure.
How do I import reviews into WooCommerce?
To import reviews into WooCommerce, follow the steps below:
Install and activate a review plugin in your WooCommerce store
Format your review data into a CSV file and upload it
Map the fields (if needed)
Check the import setup
Start the import process to add the reviews to your WooCommerce store.
Conclusion
Incorporating genuine AliExpress reviews into your WooCommerce store can significantly impact your business's success. The power of social proof cannot be underestimated, as it instills confidence in potential buyers and strengthens your brand's reputation. I hope that with this tutorial, you can seamlessly import AliExpress reviews, providing valuable insights to customers and driving your eCommerce venture to new heights. Happy selling!