Top 10+ Best Shipping Policy Templates for Shopify Store
As a store owner, one of the most frequently asked inquiries will surely be about shipping.
A well-thought-out Shopify shipping policy not only assists you in proactively setting the proper expectations regarding delivery times and costs, but it also serves as an advantage when consumers contact you with issues about their orders.
Your Shopify shipping policy is a dynamic document for your company that you update and amend as your business and conditions change, especially when the unexpected occurs.
Whether you're building a new shipping policy from scratch or modifying an existing policy to reduce customer support queries, we've put together this guide to assist you to cover and clarify the correct information a sample to get you begun, and samples you can take inspiration from.
What is a Shopify Shipping Policy?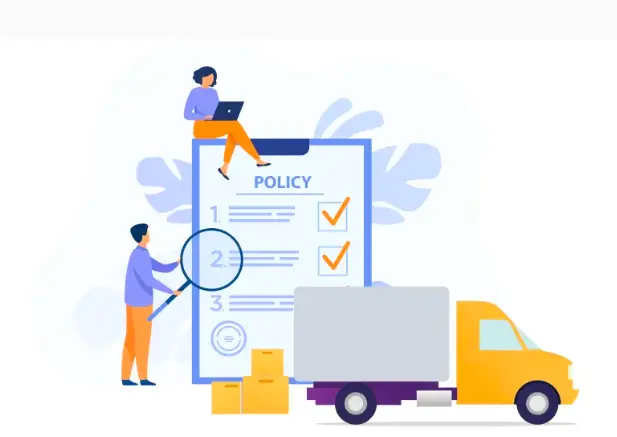 If you have a Shopify website or do trade through a Shopify Marketplace, you must create a shipping policy for your clients. This provides customers with the conditions and terms for their shipments and creates a transparent atmosphere that enhances and promotes a healthy purchasing experience. Shopify needs you to create a shipping policy in accordance with their policies, including numerous elements and terms for deliveries. You must publish these policies on your website and request that users accept them when placing an order or signing up for your platform. This can help you avoid the difficulties and problems that come with a delivery delay or exception.
A shipping policy is a legally binding statement that explains the terms and conditions set by the seller/shipper to deliver the items to the clients as well as the requirements that must be met if the order is to be returned. The shipping policy generally includes the delivery time and return date, as well as any additional expenses, and the party is responsible for these charges. The shipping policy also includes a procedure for dealing with damaged or lost shipments.
Because shipping policies encompass important facts regarding the delivery and return process, the policy must be precise and straightforward. It is crucial to emphasize critical characteristics and facilitate open dialogue between customers and the organization. Although most shipping policies provide delivery-related information, you may also add a return and exchange policy within the shipping policy to create more vast quantities on your Shopify website.
What to include in a Shopify Shipping Policy?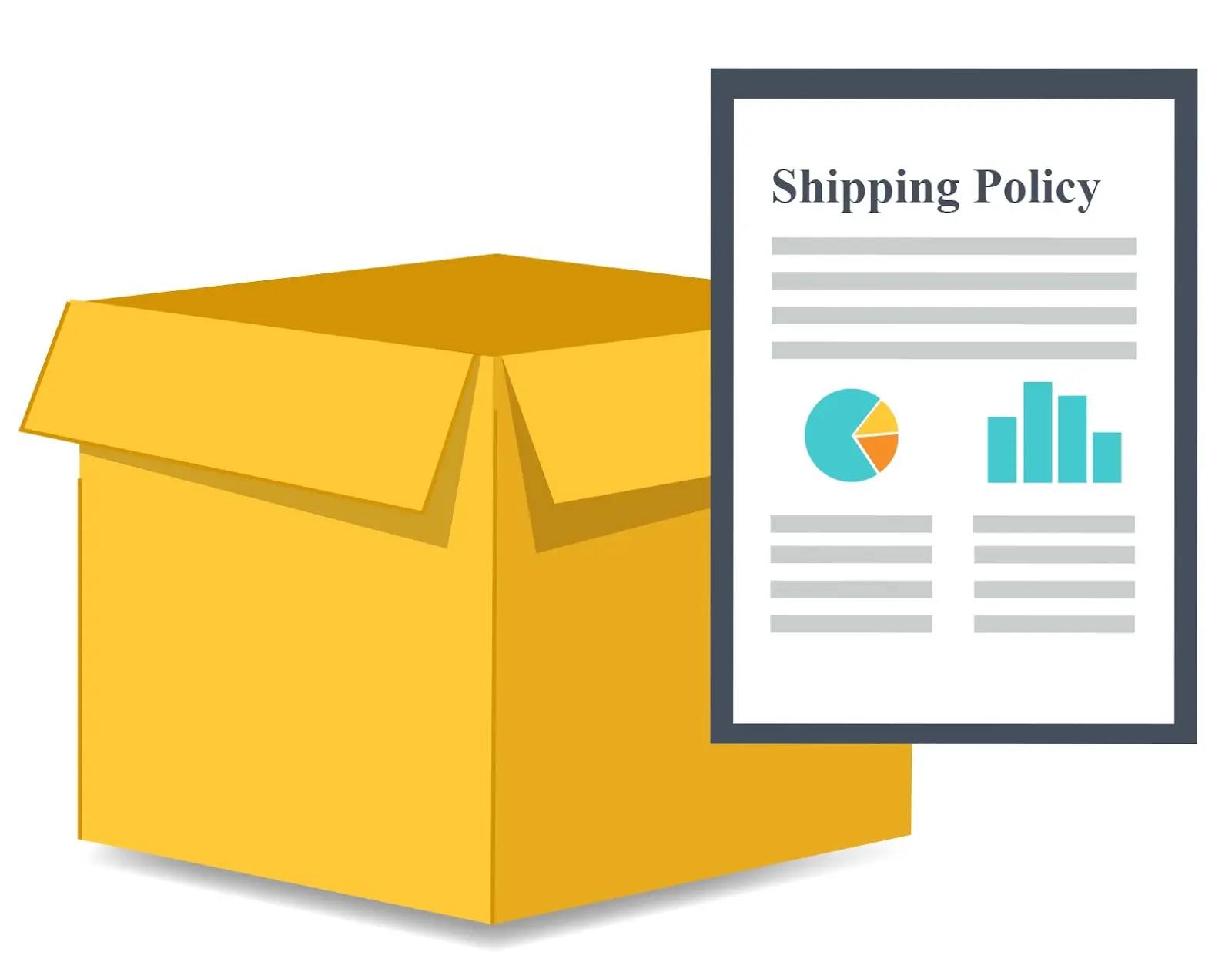 A Shopify shipping policy template that covers all of the relevant terms and conditions for order shipping and delivery will help you develop confidence with your consumers. Because the Shopify shipping policy will serve as a legal notification for your Shopify website, it must include critical information. Here are a few items that your shipping policy must include.
1. Shipping Prices
Customers can compute the total price they will pay for the product by outlining and showing expected shipping fees in your Shopify Shipping Policy. If you offer free delivery on your goods, the Shipping Policy should establish a minimum cart value for which free shipping is provided. Because shipping costs vary, make certain that you account for all uncommon circumstances and their associated costs.
2. Shipping Methods And Delivery Times
If you choose among different delivery methods and time constraints, it is best to specify the charges and variations in these ways in the shipping policy. It is simpler to use a tabular format to represent the differences in delivery times and costs between different shipping options. Clients can understand the distinction easier.
3. Restrictions
In the Shopify Shipping Policy, you must identify any shipping restrictions you could have. Your carrier partners may refuse to deliver to particular zip codes or nations, or they may require the address in a specific format in order to execute the purchase. This is common when you have a limited amount of carrier partners. If your consumer encounters these issues frequently, it may have a detrimental influence on your sales and earnings. To avoid them, most eCommerce businesses employ logistics systems like ClickPost, which provide them with access to a large number of carriers as well as additional services to improve their customers' experiences.
4. Damaged or lost shipments
The logistic supply chain includes shipping and delays. Utilize your shipping policies to inform customers about how to get in touch with you and to promptly update them on their purchases. You provide the criteria for the cargo to be labeled as broken in the case of damaged deliveries. Declare the procedures customers must take to obtain an exchange or refund.
5. International Shipping Regulations
If you serve a global clientele, it's critical to include the pertinent information and guidelines for importing your goods into the most well-liked nations. The responsibility for customs taxes and fees should be explained to help buyers grasp the intricate details of international shipment.
6. Return And Exchange Information
If you have a return or exchange facility on your platform, it is better to address the terms and conditions associated with the return and exchange of your products. In the return policy, you have to cover various bases like eligibility and time frame for the return/ exchange, the cost of reverse logistics, etc. It is preferable to add this to the Shopify Shipping Policy in order to have a thorough document including all aspects of shipping and customer service.
Why is it necessary for your eCommerce store to have a shipping policy?
But first, let's look at why an eCommerce shipping policy can be extremely beneficial to your Shopify business: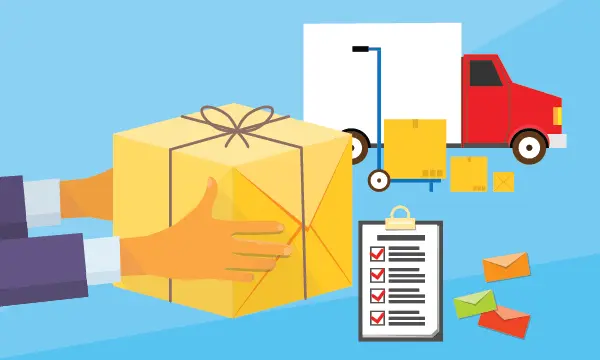 Provide critical shipping details
Most online customers require vital shipping details on your store, and they frequently search for a shipping policy to learn more about the price. As a result, it is vital to give them a well-developed buying policy so that they can determine how much it will cost them based on their location. Your consumers can also learn about the shipping choices that are presently available before placing a purchase.
This means that it is more probable that you can prevent your consumers from complaining about the unplanned charge they must make when you list your shipping charges and the current delivery options. Additionally, you can save some time by not having to respond to inquiries from clients about your shipping details as they can locate them themselves.
Provide the policies of other stores
A store's policy typically covers more than just delivery information; it also covers things like expectations for foreign shipment, refund and exchange policies, and product damage policies. As a result, using Shopify's shipping policy is a terrific method to let your customers know about the specific policies that apply to your company.
Inform delivery time
Online buyers always desire faster delivery. So, when customers pay a fee, they have a right to know where their orders are and when they will be delivered. So, the shipping policy presents your delivery alternatives and notifies your clients whether there are any shipping cutoff times, transit times, and so on.
How to add a shipping policy on the Shopify store?
Step 1: Open Policies
To begin, ensure that you are logged into your Shopify admin. Click the Settings option on the main page, then choose Policies.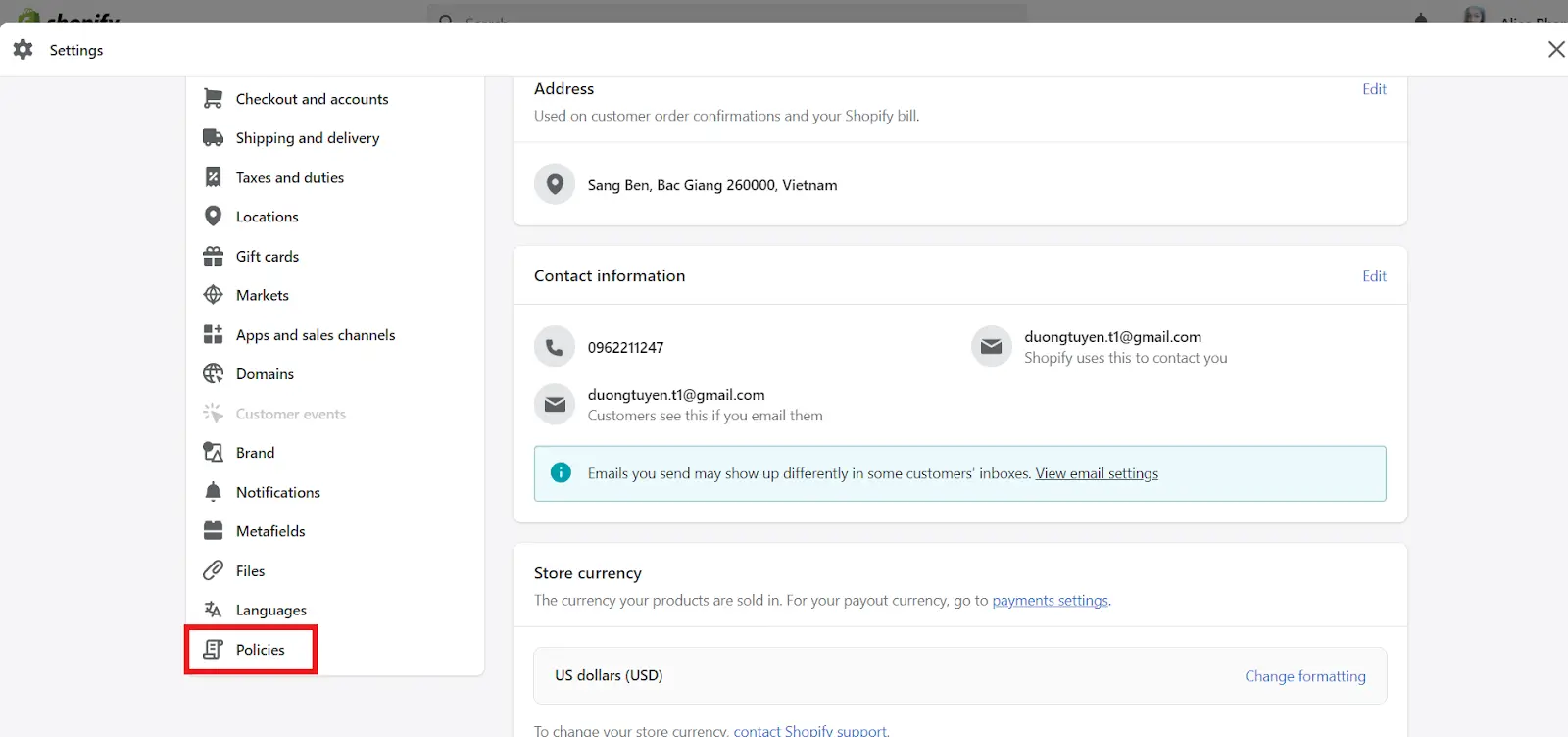 Step 2: Create Your Policies
The Policies option takes you to a screen where you may input your store policies directly or select to construct using a template (if you already have one). Remember to personalize and customize the template copy to represent the ideas of your online store. Furthermore, the content editing tool on this page includes extra formatting options to allow you to set up your regulations in the way you see appropriate.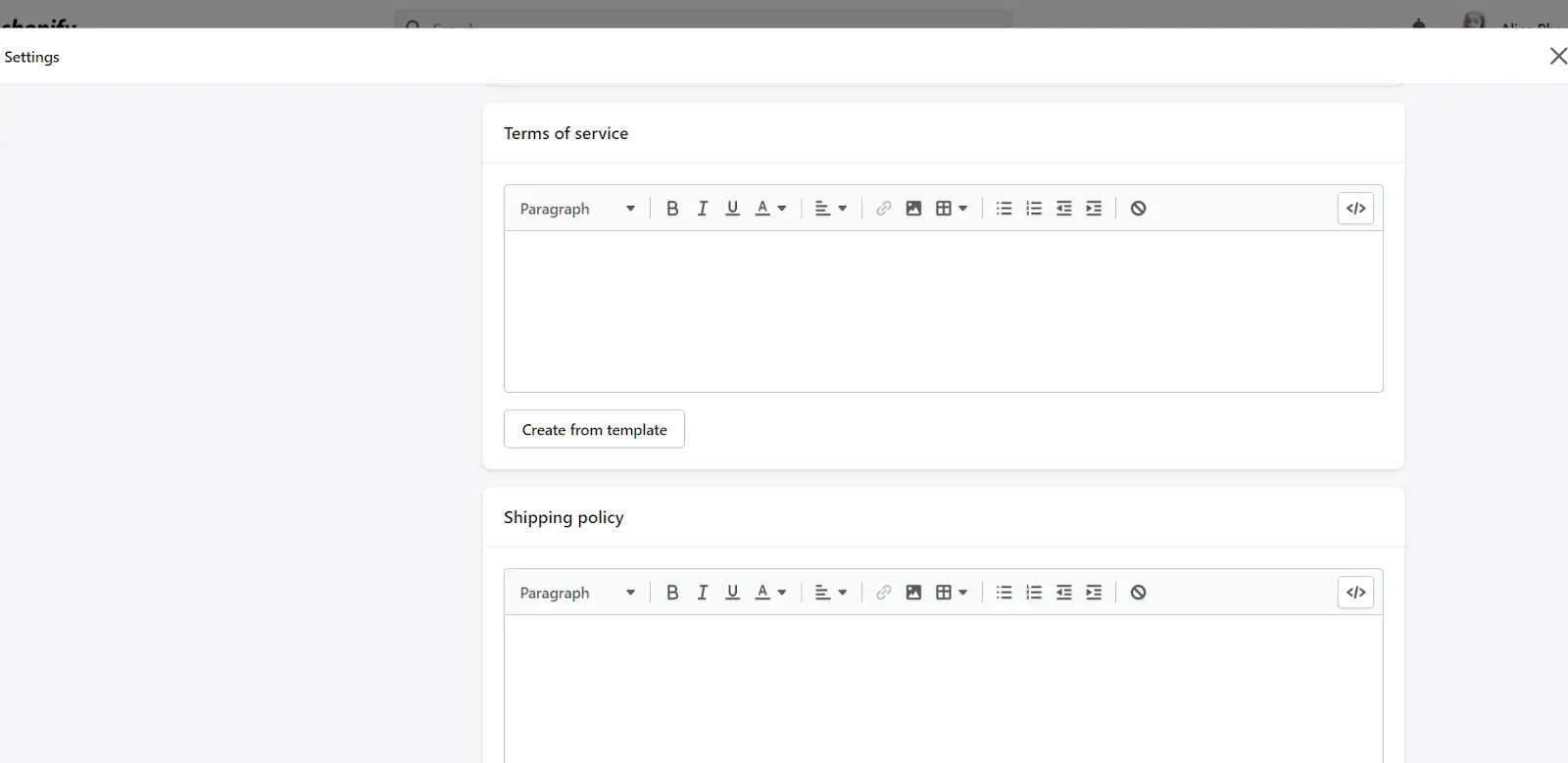 Step 3: Review and Save Your Policies
After establishing your policies, it is recommended that you carefully review them to verify that they are perfect and consistent. Assessing your shipping policy template Shopify allows you to discover and correct any potential problems that could lead to misunderstandings later on. Only click the Save button once everything is checked out to add the policies to your shop checkouts immediately.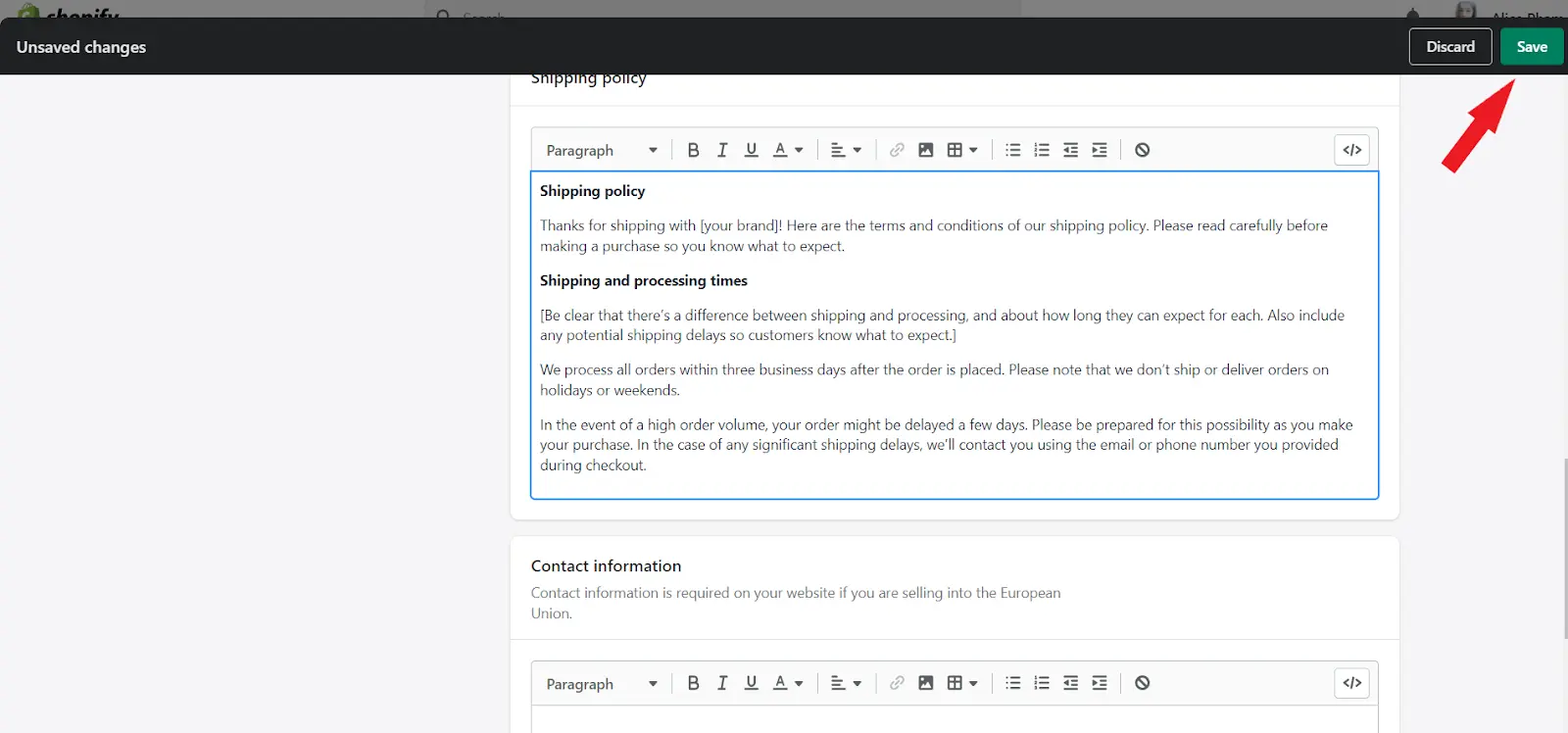 Top 10+ Best Shipping Policy Templates for Shopify Store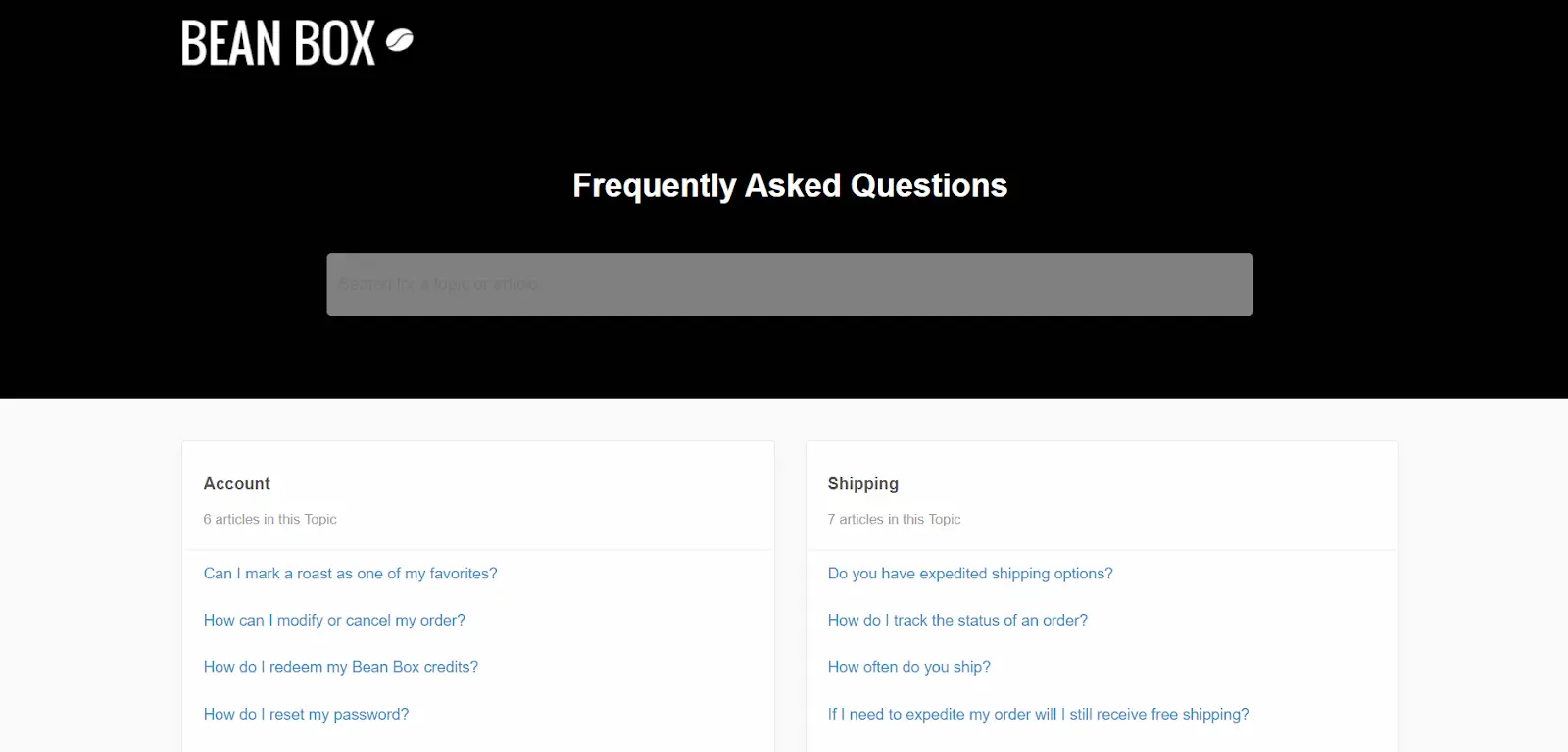 The greatest independent coffee roasters in Seattle collaborate with each other through the Bean Box website. Customers will receive carefully curated, recently roasted coffee from the brand. Regarding inquiries concerning their international delivery and the duration of local delivery, they have a section in their FAQs that addresses these issues. Furthermore, this part includes a supplemental FAQ that explains this to their clients.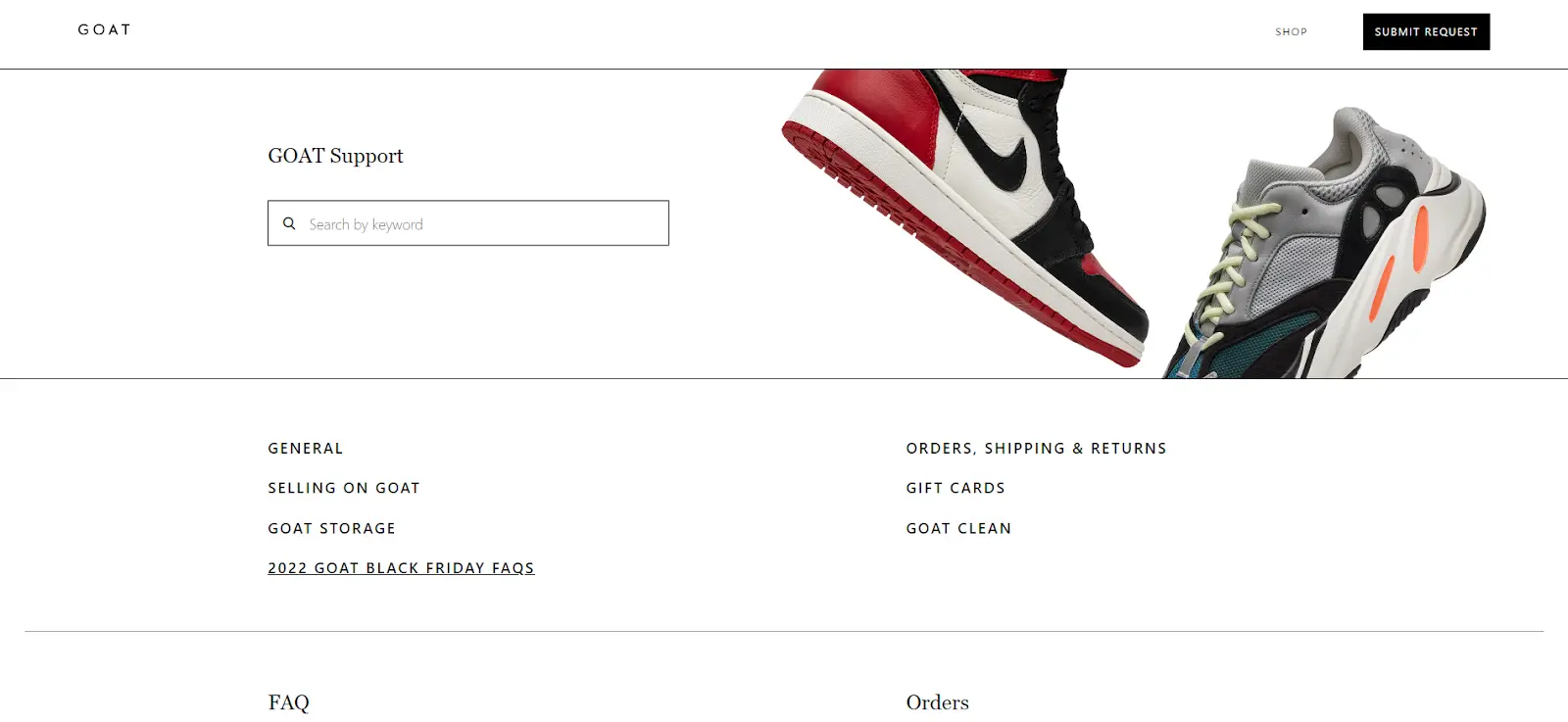 Consumers can buy and trade sneakers on the GOAT website. Its goal is to authenticate each pair of sneakers by checking them out. The obligation for vendors to ship products to GOAT warehouses before they are sent to buyers during their verification process gives GOAT its own distinctive shipping experience. Additionally, the entire procedure is fully outlined in GOAT's FAQs for the issues with the slower delivery times. Additionally, GOAT offers a fixed shipping charge based on your location.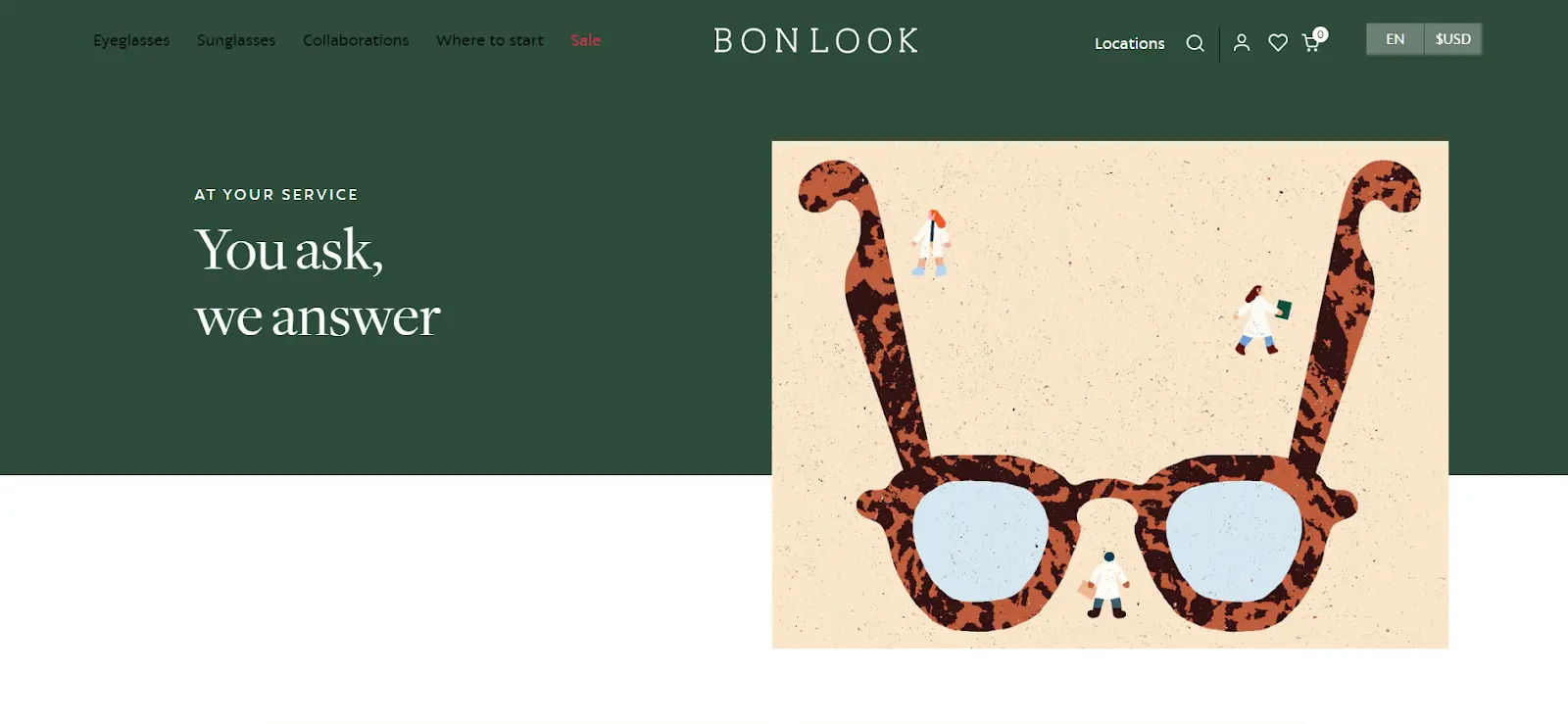 Fashionable eyewear is created, produced, and distributed by the brand BONLOOK. Each detail about its worldwide shipment and shipping costs for various purchases and orders can be found on its FAQs page and shared in the simple-to-read chart listing formats.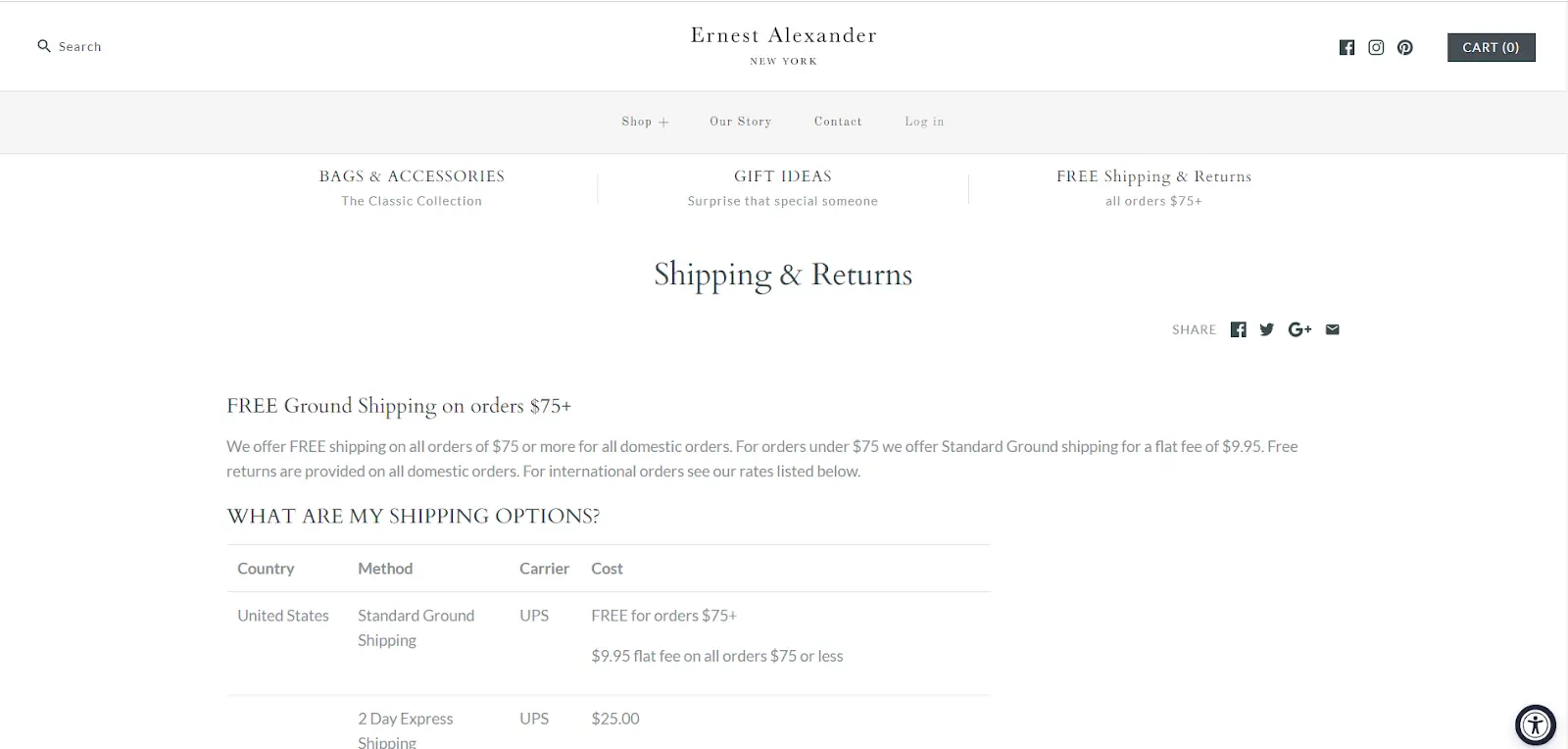 On its website, the Men's brand Ernest Alexander offers customers an easy-to-find shipping and returns page. Shipment options, shipping deadlines, and even ground shipment transit durations are listed on the FAQs page with the help of a straightforward picture for more clarity.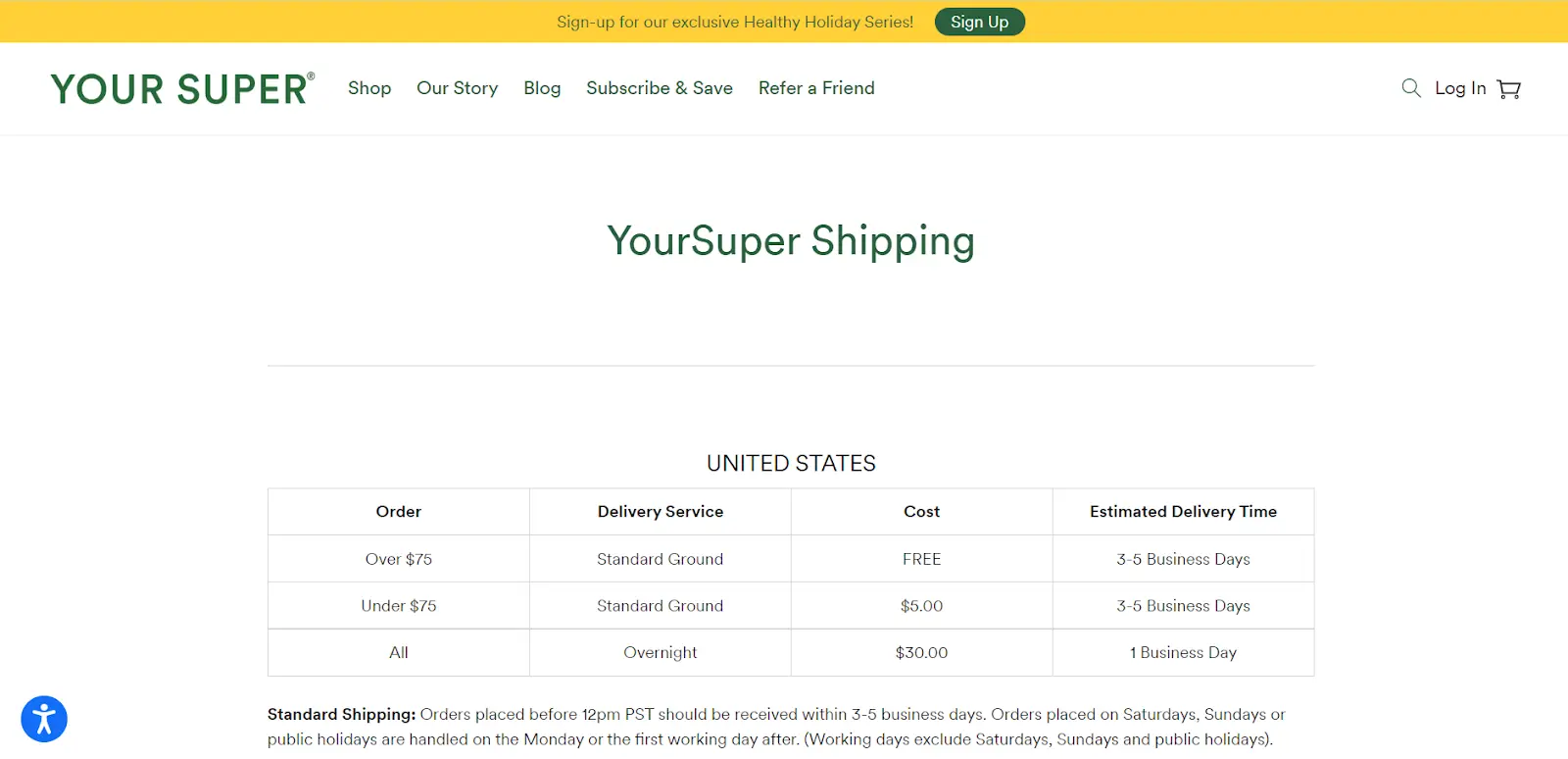 Your Super has the Superfood eCommerce brand, which is intended to clearly disclose local and international shipping charges and projected time frames for clients to see. Furthermore, readers can quickly access the FAQs section via a drop-down FAQ box or look for answers in the sidebar.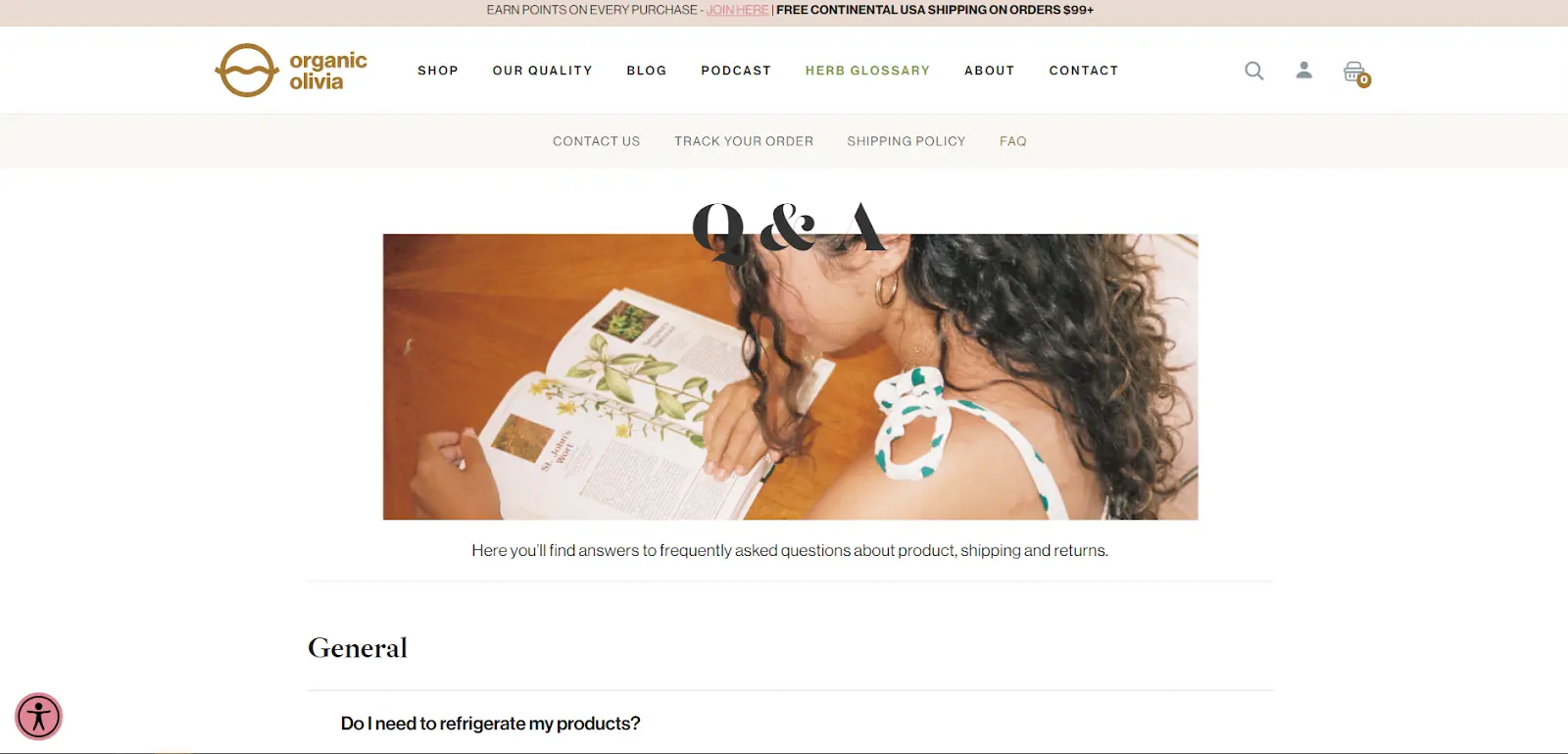 Organic Olivia, a herbal medicine brand, shows its shipping policy in the form of inquiries. Customers may quickly browse through this to locate the answers they need, even if they are in a rush.
If a client hovers over a particular question, the option to click appears, which expands the section to reveal the answer. An accordion is a web design component that may be used to present information in a clear and concise manner.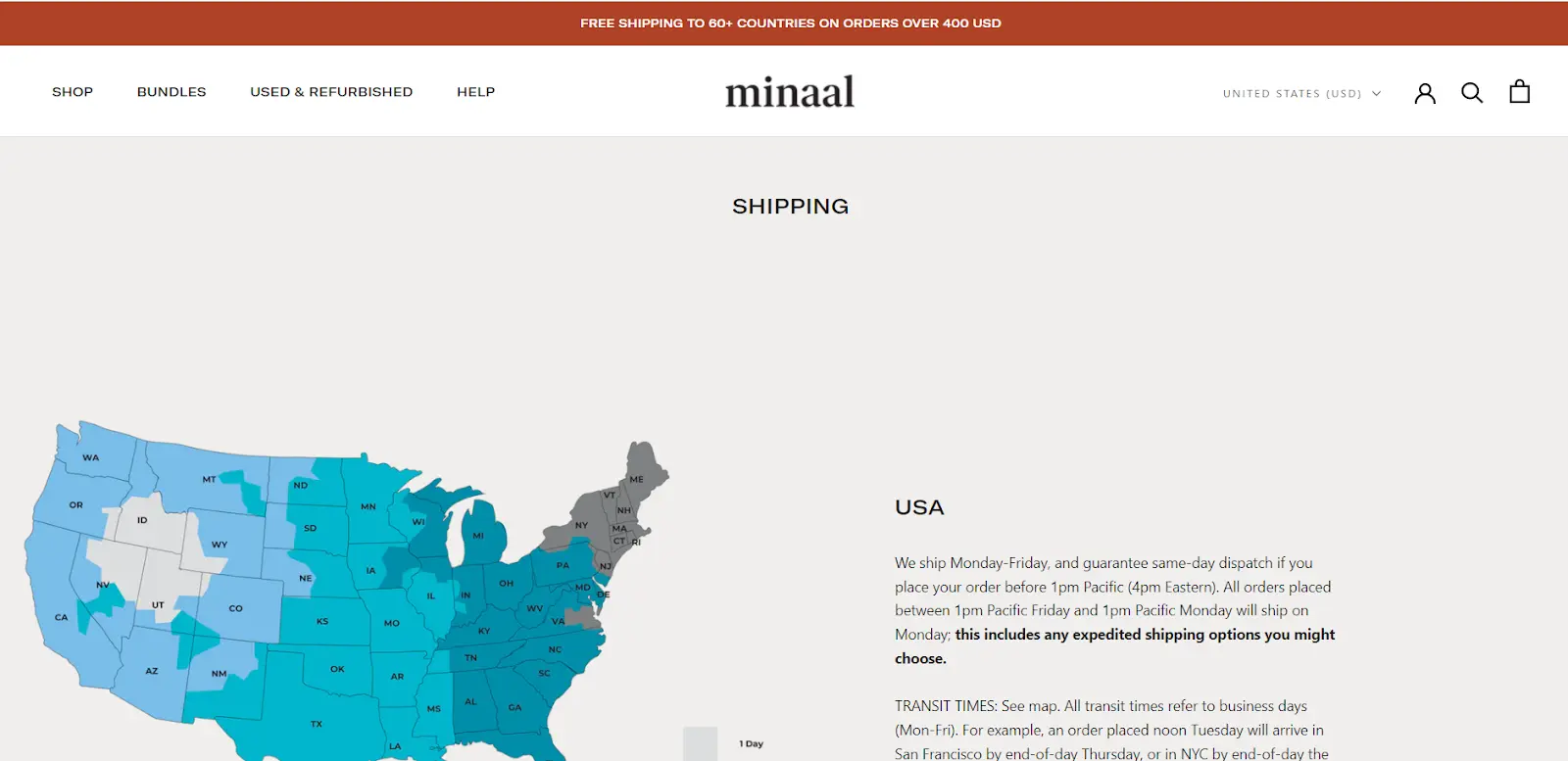 Minaal, a bag and accessory manufacturer, has a lovely shipping policy page that employs a color-coded map to swiftly and effectively display to customers how long shipment will take based on the location of their orders.
Instead of clients having to navigate through data or calculate times based on shipping destinations, this is an innovative method to get your word through quickly.
Minaal also reveals vital information such as which overseas destinations they deliver to and how they manage customs concerns.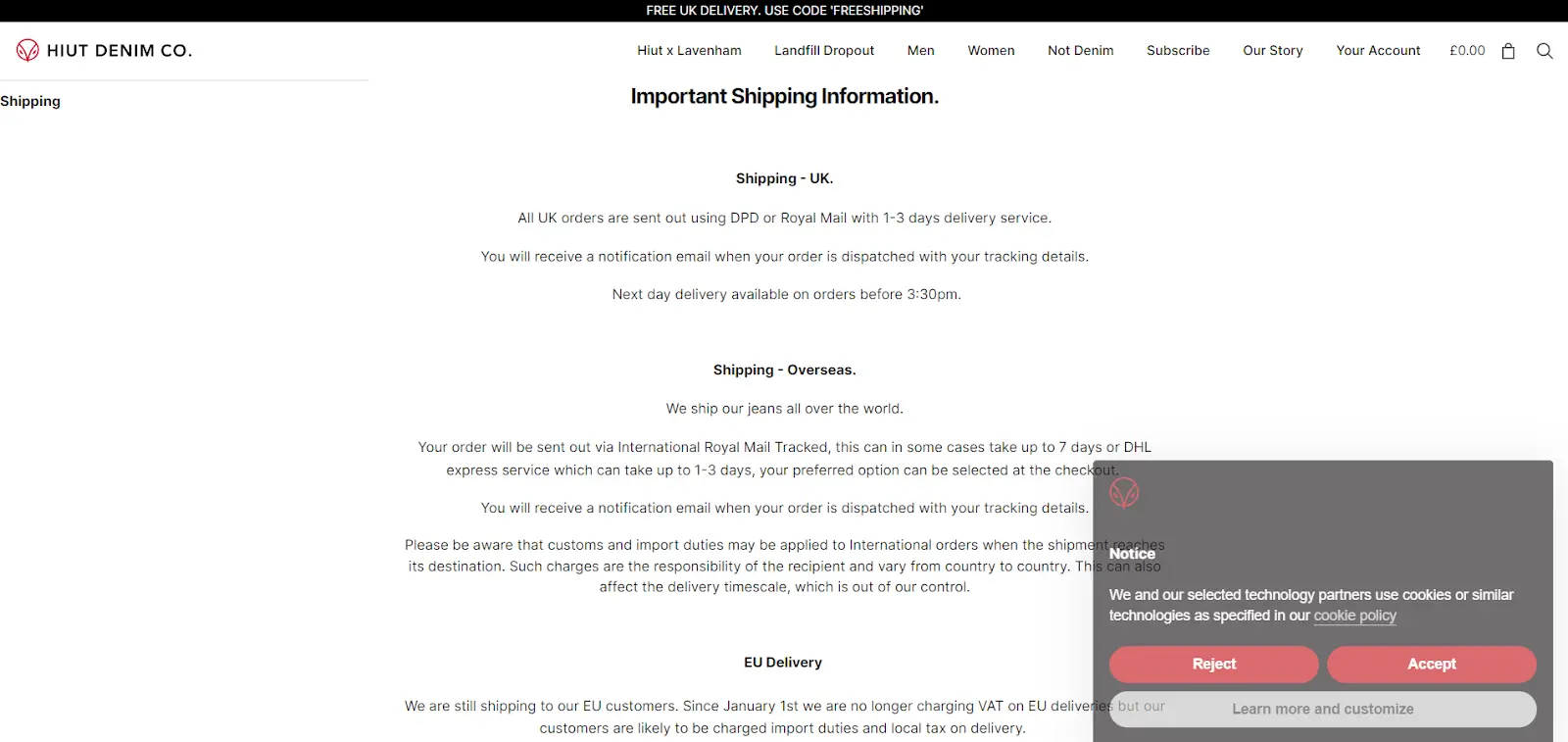 The Hiut Denim is an online store established in the United Kingdom that sends jeans all over the world. Their shipping information page is simple to find, follow, and comprehend. This page covers some of the most important aspects, such as accessible delivery options, shipment timescales, registration periods, returns, and refunds.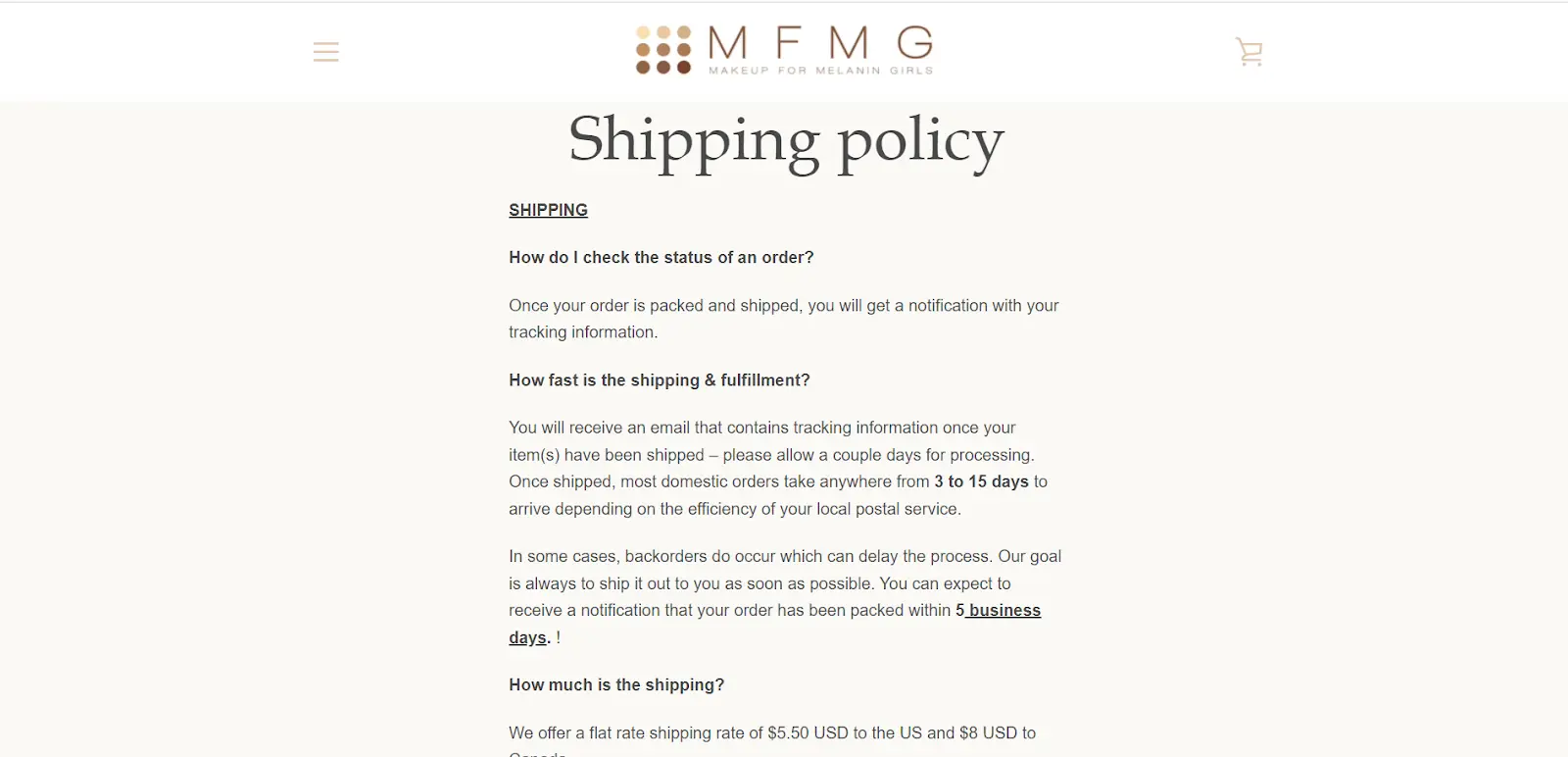 Makeup For Melanin Females (MFMG) is a cosmetics brand that advocates for the inclusion of girls with darker skin tones. The MFMG shipping policy page adopts an overall FAQ approach and answers questions concerning shipment timelines, processing, charges, refunds, and payment information.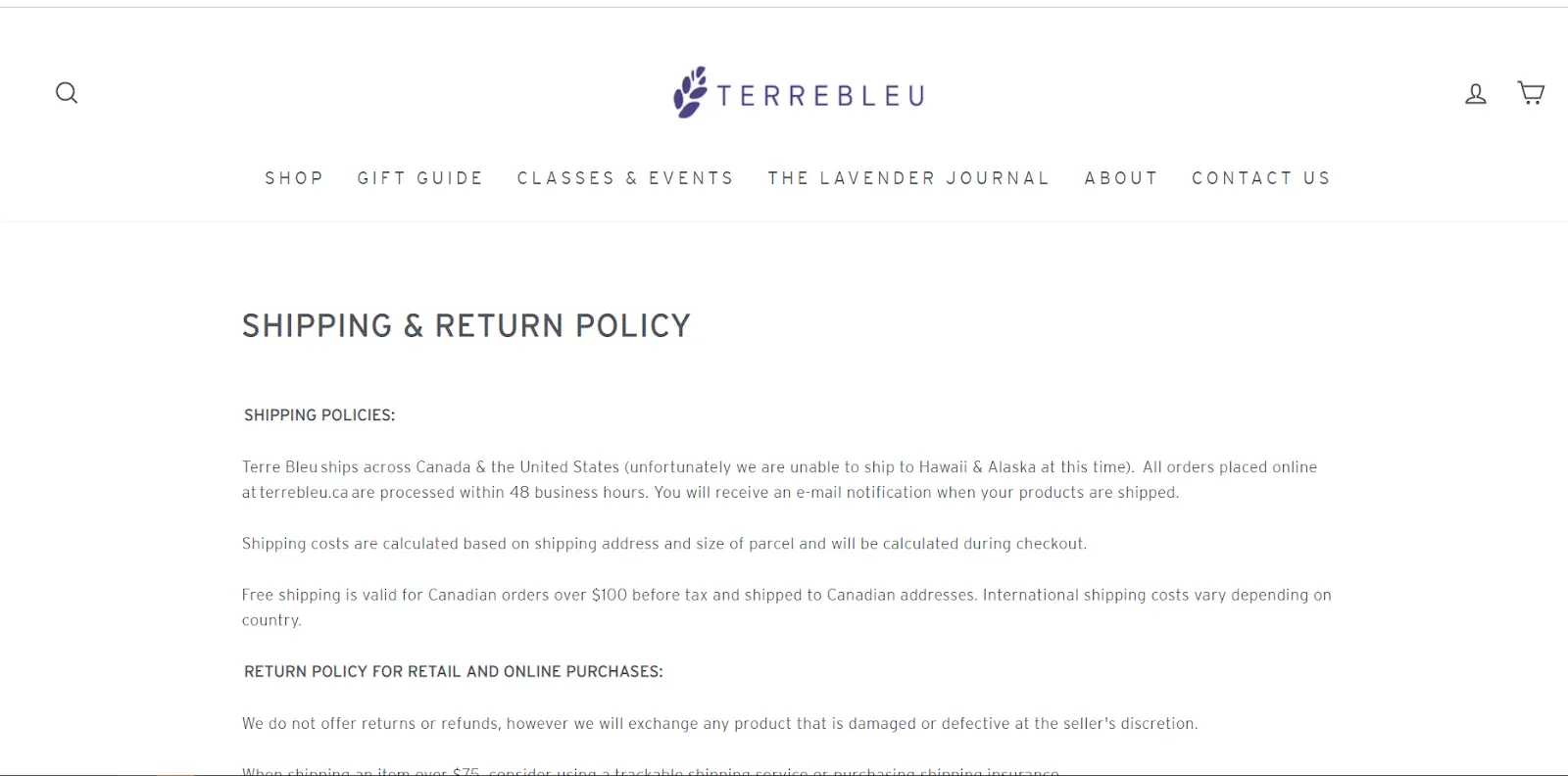 Terre Bleu is a lavender-infused products-only eCommerce shop situated in Ontario. Their shipping and return policy is straightforward, providing clients with vital information such as current shipping limits, processing time, and directions for returning an item.
Conclusion
Overall, having your shipping policy developed and ready to publish is critical before establishing any online store on Shopify, since a clear shipping policy template Shopify is a great method for Shopify eCommerce businesses. With a well-designed and simple shipping policy template Shopify can greatly assist companies in informing customers and developing brand loyalty.
All I want you to know about Shipping policies and inspiring shipping policy template Shopify is covered in the post above. I hope the Shopify shipping policy template can assist you with your Shopify shop.