Top 7+ Best Shopify Affiliate Marketing App
Affiliate marketing can be a terrific method to get the proper kind of traffic to your website if you currently have a Shopify store set up or are considering doing so soon.
So read on. In this article,  Updimes is unpacking everything you need to know about setting up and choosing the best Shopify affiliate marketing app for your Shopify store!
What Is Affiliate Marketing?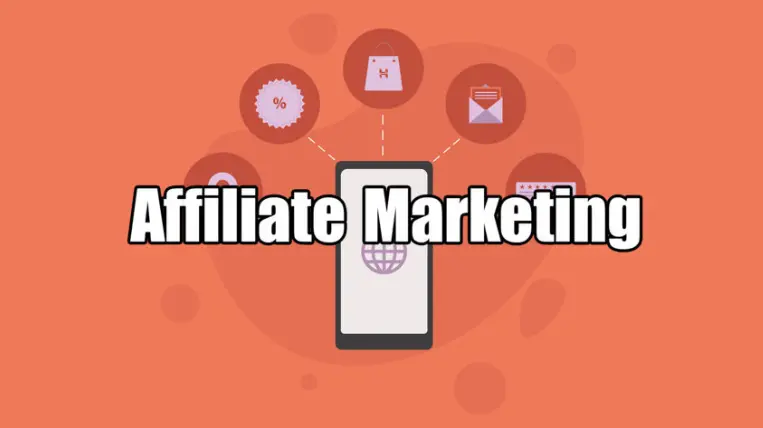 Affiliate marketing is a reward-based marketing strategy that motivates marketers to help spread the word about the goods of other people or businesses in exchange for a commission. Since consumers tend to trust recommendations that previous clients or acquaintances write, this tactic has been successful for many years.
Shopify affiliate marketing is among the simplest forms of affiliate marketing now practiced.
Transactions are recorded successfully using the strategy:
On your Shopify website, you use a specific link to display the affiliate product.
After clicking the link, a potential customer purchases the affiliate product.
The product manufacturer confirms the purchase after the transaction is logged.
Let's evaluate whether Shopify affiliate marketing is worthwhile.
Is Shopify Affiliate Marketing Worth a Shot?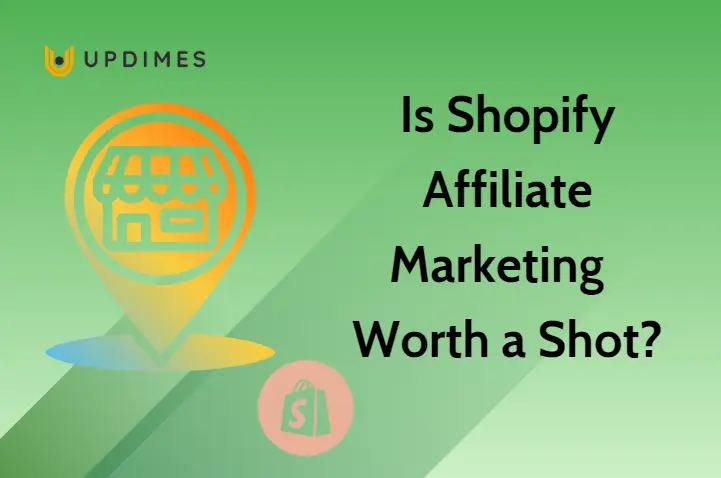 Up to 30% of online sales were attributed to affiliate marketing in 2020, with an estimated $8.5 billion spent on affiliate advertising in the United States alone. In addition to having a market share of roughly $12 billion worldwide, Shopify is an excellent platform for affiliate marketing for the following reasons:
Selling affiliate products has little risk: Because there are no up-front expenses. This reduces hazards and facilitates beginning.
Easy to scale up: After establishing a successful affiliate marketing business, it's simple to add new goods, create campaigns, and maximize your profits while continuing to do your current job.
Extremely executable: as an affiliate, your sole responsibility is to market the affiliate goods you are promoting. This makes it much simpler to run your company and concentrate on finding quick-growth strategies.
Excellent income: ZipRecruiter's yearly salary estimate for affiliate marketers in the US was between $62,000 and $400,000 when this article was revised (March 2023), so it's worth a shot.
7 Best Shopify Affiliate Marketing Apps Examples
Using the affiliate marketing technique, you may increase the visibility and sales of your goods. In exchange, you give them commissions on any sales they bring in for you.
We have selected the best affiliate software for Shopify by considering the app store rating, the number of reviews, the program's top features, and other arbitrary criteria. This information should be helpful to you as you choose the ideal app for your store.

Refersion is one of the leading players in affiliate marketing, and its end-to-end Shopify affiliate marketing software combines all those top-notch capabilities into one powerful solution.
The app allows you access a customized dashboard to hire, oversee, and compensate your affiliates. You may automatically generate unique promo codes with their Shopify connections to track sales from every channel.
Pros:
Marketing for Shopify from beginning to end
No coding is necessary
Simple to launch
Affiliate commissions that can be changed at the product level
Cons:
Many small enterprises are unable to access the lowest tier.
Only records 130 affiliate orders per month.
Solely US-based support
Price:
14-Day Free Trial
$99/month for a Paid Plan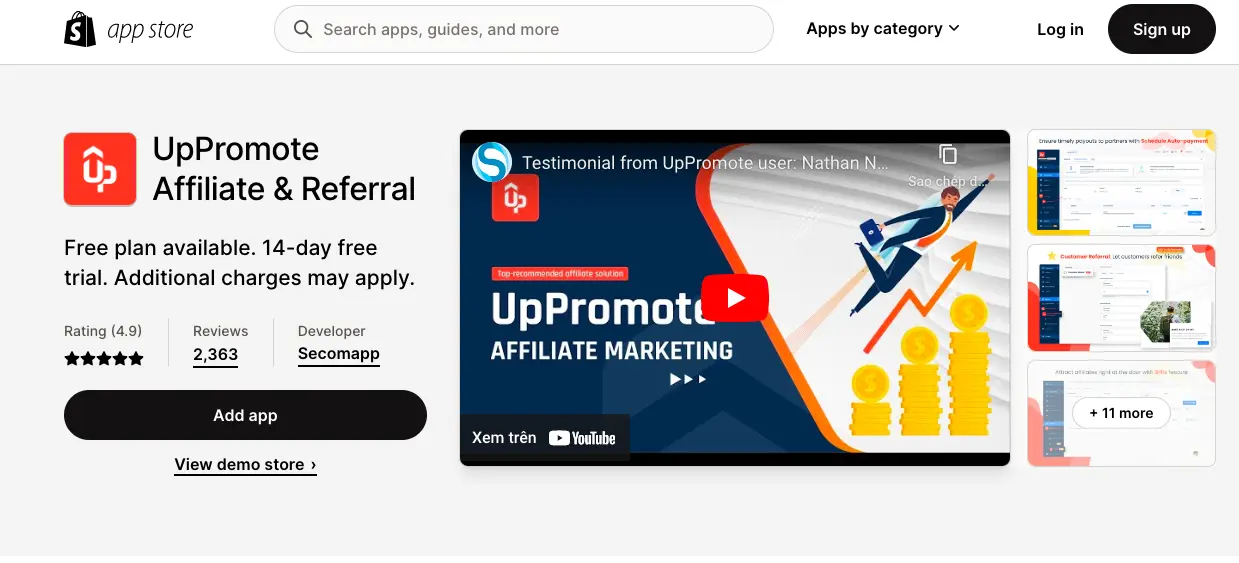 An excellent choice for organizations of all sizes is UpPromote: Affiliate & Referral. The software offers a free plan to launch your Shopify affiliate marketing strategy without paying anything upfront.
Your affiliates can be conveniently grouped into programs with a particular commission structure. You may also set up a lifetime and auto-tier commissions to motivate your team.
UpPromote differs from other applications in that you can list your offer there to contact more ambassadors. On all tiers, the app allows you to create an affiliate team with infinite affiliates. Moreover, you can use a post-purchase popup to turn clients into companions or an MLM tool to allow affiliates to invite others.
Pros:
Available free plan
Simple to erect
There's no need to code.
Gaining access to the UpPromote marketplace to reach even more prospective affiliates
Provide a range of commission options, including lifetime and auto-tier commissions.
By integrating PayPal, you can automatically pay your affiliates. You may also use store credits to pay affiliate coupons.
Cons:
Limit how many referral orders for the free plan you approve or reject.
Price:
14-Day Free Trial
Grow Affiliate: $29.99 per month
Professional: $89.99 per month
Enterprise: $199.99 per month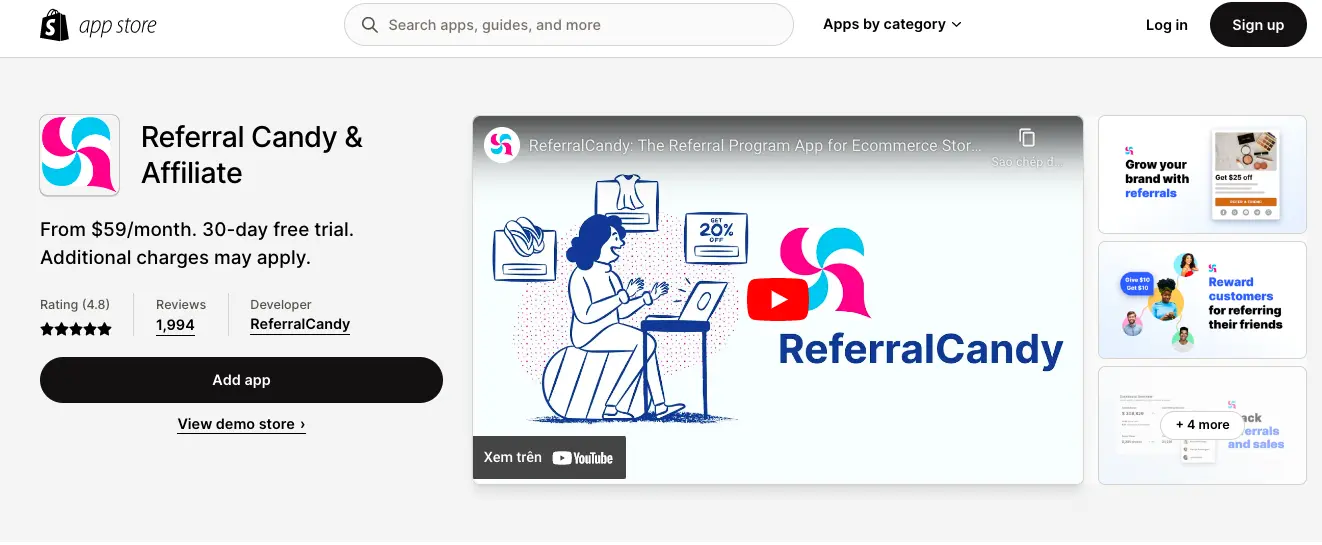 A pioneer in the affiliate marketing industry, ReferralCandy is one of the most well-liked options for Shopify users. If you're searching for a "Super app," this is one of them because they've produced millions of dollars in referral sales to this point.
Pros:
Effective end-to-end affiliate marketing capabilities
Emails with pre-designed templates and full customization
Automatic payments
Individualized rewards (discounts, cash payouts, gifts, etc.)
Deep, specific analysis
No coding is needed.
Affiliates built-in How to approach influencers
Cons:
Smaller businesses may need help paying the high starting charge.
It needs some technical know-how and may need to be more user-friendly to customize some templates.
Price:
30-Day Free Trial
$59 per month for premium
Plus: $299 per month

To assist you in managing your affiliate marketing activities, Shopify developed the GrowthHero app. Creating a solid network of affiliates who promote your software in a more natural digital setting helps boost conversions and broaden brand exposure.
Pros:
Variety of methods to find affiliates
Customized marketing materials for partners are a possibility.
Including integration with external solutions like Zapier
Several options for performance monitoring
Cons:
Several business owners gripe that creating affiliate campaigns takes a lot of work.
There is no fee structure for using additional features, even if you don't need them.
Pricing:
The app costs $49/month as of the end of the 14-day free trial.

Users of Simple Affiliate unanimously deem it to be one of the top Shopify affiliate marketing tools. This platform, which has 5.0 ratings, is easy to use, and you can start your campaign in a few minutes. The features and customer service are both top-notch. This platform is entirely internal, so you may manage your affiliates without using other websites.
Pros:
Using and navigating this software is simple.
Customer service that is incredibly cordial and helpful
You can easily customize this app.
Cons:
Price:
Free Trial: 14 Days
Basic: $14 /month
Professional: $29 /month
Enterprise: $249 /month

BixGrow is a Shopify app that lets you hire affiliates, track their performance, and set up several commission models.
Pros:
Every feature is available for free.
Simple dashboards for affiliates and merchants
Fraud prevention through fraud detection
Affiliate tiers and various commission structures
Cons:
Bugs in the app were reported by some retailers (although they quickly fixed them)
The app is designed for small to medium enterprises, but it may need help to keep up with the needs of larger businesses.
Pricing
Fees range from 0 to $10 for the Pro plan for this app.

Because their Shopify affiliate marketing tool offers a sizable free plan, GoaffPro is a fantastic option if you're starting. Via a customized interface, you can turn current clients into affiliates, set up commissions at the product level, monitor sales using a variety of tools, create coupons, and control payments through PayPal.
Pros:
You can conduct a complete affiliate program thanks to the generous free tier.
There are no restrictions on affiliates or revenue.
Make and send greetings emails.
No coding is necessary.
Cons:
A few clients complained about sluggish query response times.
For some, upgrading from the free plan to the paid one may be expensive.
Price:
15-day free trial
Premium: $24 /month
How to Choose the Shopify App for You?
Many Shopify affiliate marketing apps are available, each with unique capabilities and advantages. How can you decide which is best for you?
While selecting an affiliate marketing app for Shopify, keep the following in mind:
The commission system for the app: Choose an app whose commission structure matches your objectives. While other apps give a commission based on a percentage, some applications offer a flat rate commission.
The tracking capabilities of the app: To effectively measure your revenue, ensure the app can track sales generated by your affiliate links.
Payment methods for the app: While some applications only give monthly commission payments, some offer more frequent ones. Choose an app that provides a payment schedule that suits your needs.
Support settings for the app: It's crucial to access customer assistance if you experience any issues using the app. Be sure the app you choose has top-notch customer care if you require assistance.
5 steps to launch your Shopify affiliate program.
It's getting even simpler to start using Shopify's affiliate marketing features now that so many apps provide "one-click" solutions. But before you can fully utilize your marketing tools, some preparation must be made.
When developing an affiliate program, bear the following stages in mind.
1.Outline The Operation of Your Affiliate Marketing Program.
Decide what kind of affiliate commission you are willing to offer and your sales and marketing goals. This can include rebates, gifts, coupons, or other rewards.
Consider your financial situation next, as well as the characteristics that are most important to you.
A simple affiliate marketing platform may be all that some organizations need, while others may need extra communication capabilities like mass emailing, automatic payouts, personalized dashboards, and so forth.
Finding the ideal app for you will be possible once you have compiled a wish list of features and decided on your commission structure.
2. Choose the appropriate affiliate management tool.
It's time to identify the best marketing instrument now that you've described your fundamental affiliate approach. You can start your investigation in one of the following ways:
Observe the tools that your rivals are employing.
Examine ratings and reviews online.
Sign up for trials and demos to better understand how the tools function and determine your degree of comfort.
When you're ready to test or buy an app, all you need to do is sign into your Shopify account, go to the app's listing page, and click "Add app"; then, just follow the setup instructions.
3. Make a communication plan.
Establish your communication strategy with your affiliates, including how and why.
The most excellent method for onboarding new affiliates and maintaining contact with them throughout the campaign is typically email correspondence.
Using your Shopify affiliate marketing software, you may automate certain emails while adding a more personal touch to others (such as onboarding emails, customer support, payment queries, and so on).
You can advertise your affiliate program on social media, your website, or other marketing methods.
Pooch Perks advertises their affiliate program on their website.
4. Get Your Affiliates Involved.
You can begin finding your perfect affiliates if you have the appropriate tool.
You can begin finding your perfect affiliates if you have the appropriate tool.
You must specify your criteria, spending limits, and the specific outcomes you aim to achieve, such as sales, clicks, leads, and other works.
You can start with your client base or use your affiliate marketing tool to find affiliates on their owned networks (as with referral marketing).
5. Monitor, evaluate, manage, and improve.
Using the dashboard offered by your affiliate marketing solution, you can easily monitor performance and manage your affiliate program.
You can further refine your affiliate program by using the metrics and insights you get from the app.
The Refersion merchant dashboard via Shopify, the image
Shopify Affiliate Marketing: FAQ
Does Shopify allow affiliate marketing?
The Shopify Affiliate Program brings together business owners, instructors, thought leaders, and content producers who motivate and instruct their audience about starting a business with Shopify. You may monetize your audience through the program and receive money for referring new Shopify merchants. It's free to sign up for.
How much do Shopify affiliates make?
A recurring commission of 20% of the billing store's monthly base platform charge for any net new merchant recommended by the Partner who joins a Shopify Plus agreement. As part of a Shopify Plus subscription, you can create a development store for a retailer. For further information, see Shopify Plus referrals.
How do I get affiliate marketing on Shopify?
To apply, you must:
Own and manage a functional website.
The audience is well-established.
Produce unique material, such as videos, blog entries, seminars, or online courses.
Know something about Shopify or other e-commerce systems.
The Shopify Partner Program Agreement has been read and accepted.
How do I get affiliate links?
By enrolling in an affiliate scheme, affiliates can acquire links. Then they can enter their dashboard to go through the affiliate links after being approved. By including it in their article, affiliates can advertise the link on their website.
Conclusion
When choosing an affiliate marketing app to start your business, you should be interested in the features, ease of use, and price. With so many options available, from the list of best Shopify affiliate marketing apps in the article, you should find an app that meets your needs and budget.