10 Best Shopify Blog Examples
Shopify, one of the most popular eCommerce platforms, offers a robust framework for selling products and provides a powerful blogging feature to engage and inform your audience.
We've curated a list of the 10 best Shopify blog examples to inspire and guide you in creating compelling Shopify blogs. From creative storytelling to informative product guides, these examples showcase the diverse possibilities of Shopify's blogging capabilities, helping you unlock your brand's full potential.
The Advantages of Having a Shopify Blog
Having a blog for your Shopify store offers many benefits to your eCommerce success.
Here are some of the key advantages:
Increase organic traffic
A consistently updated blog containing relevant, high-quality content can drive organic traffic to your Shopify store. When you continuously post helpful information on your blog, it is more likely to appear in search engine results, directing potential buyers to your website.
Build trust as a leader.
Blogging allows you to demonstrate your expertise in your business. You may position yourself as a trusted leader in your profession by publishing informative articles, tips, and how-tos. This increases your audience's credibility and trust, making them more likely to choose your items or services.
Increase brand recognition and personality.
A blog is a wonderful venue for expressing the personality and values of your brand. You can communicate your brand's narrative, engage with your audience personally, and develop a memorable brand identity with blog postings. This can help you stand out from the crowd and make your business more relatable.
Boosting search engine optimization (SEO)
Fresh and relevant content is a vital component of SEO. Blogging allows you to continuously add new content to your website, which search engines favor. Increase organic traffic to your store by optimizing your blog entries with relevant keywords and backlinks.
Building relationships
Blogs are two-way streets. You can interact with your audience via comments and social media, creating a sense of community around your brand. Responding to comments and communicating with your readers allows you to develop long-term relationships, converting casual visitors into loyal consumers.
Showcasing products and promotions
Blogs provide a platform to showcase your products or services in a less sales and more informative manner. You can create product guides, reviews, or tutorials that help customers make informed purchasing decisions. Additionally, you may utilize your blog to promote special deals, discounts, and promotions, increasing sales.
A Shopify blog is a powerful tool for enhancing your store's online presence. It drives organic traffic, improves SEO, and helps you establish trust, build brand awareness, and engage with your audience more deeply. By consistently delivering valuable content, you can leverage the full potential of blogging to boost your success.
10 Best Shopify Blog Examples to Get You Inspired
Industry: Pet products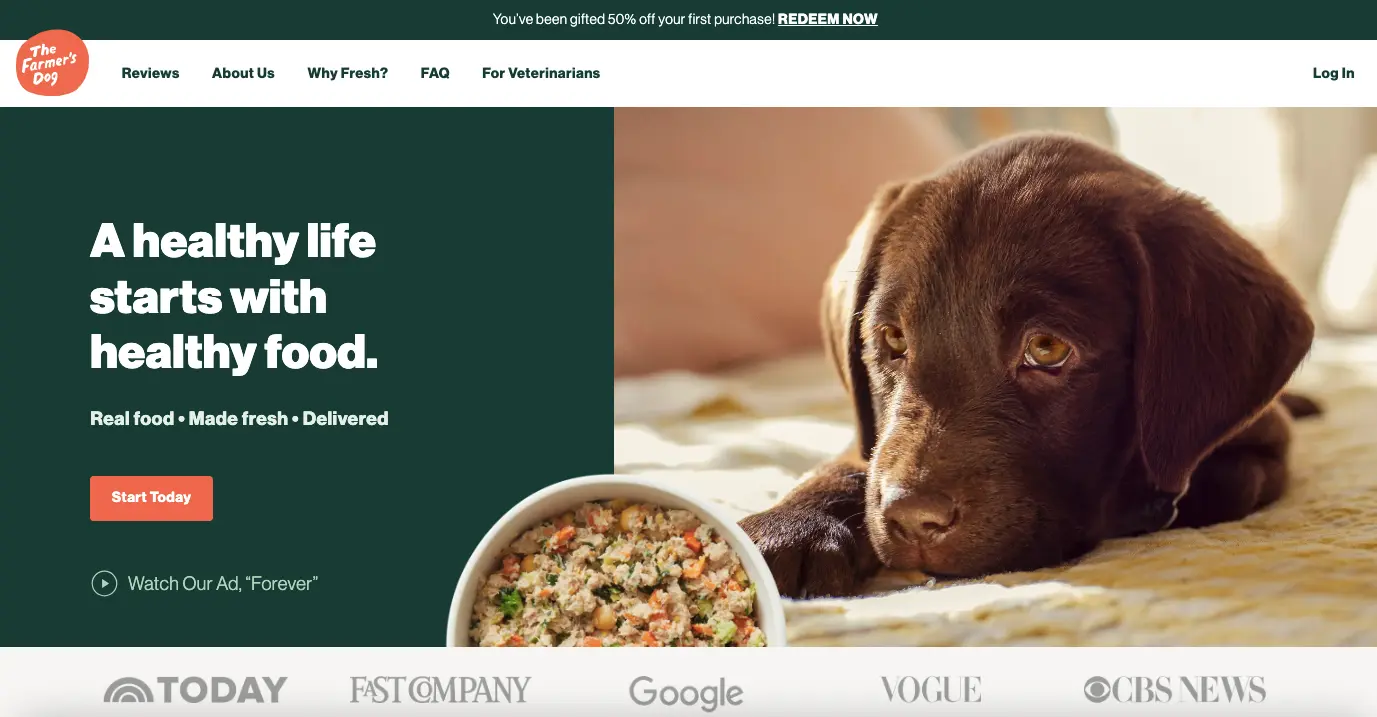 The Farmer's Dog sets a partitive example in the pet product industry with their blog. As a company dedicated to providing fresh, nutritious meals for furry companions, its blog extends its commitment to pet health and happiness.
Here, you'll find expert advice on pet nutrition, stories of successful pet transformations, and insightful articles that address common pet-related concerns.
The Farmer's Dog blog is a must-visit for pet owners seeking guidance on providing the best for their four-legged friends.
Industry: Travel, adventure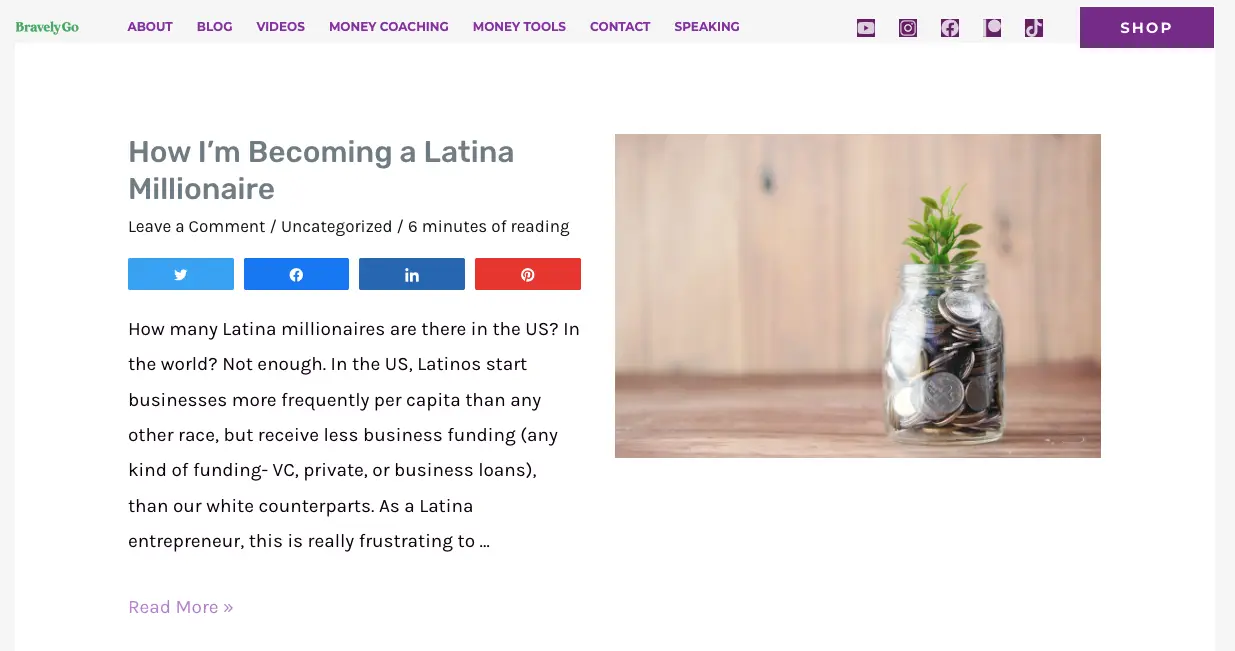 Bravely Go takes us on a journey through the world of travel accessories. Their blog is a globetrotter's dream, featuring travel guides, packing tips, and product spotlights.
With a focus on practicality and style, Bravely Go's blog equips travelers with the knowledge and tools they need to embark on their adventures confidently and in style.
Industry: Furniture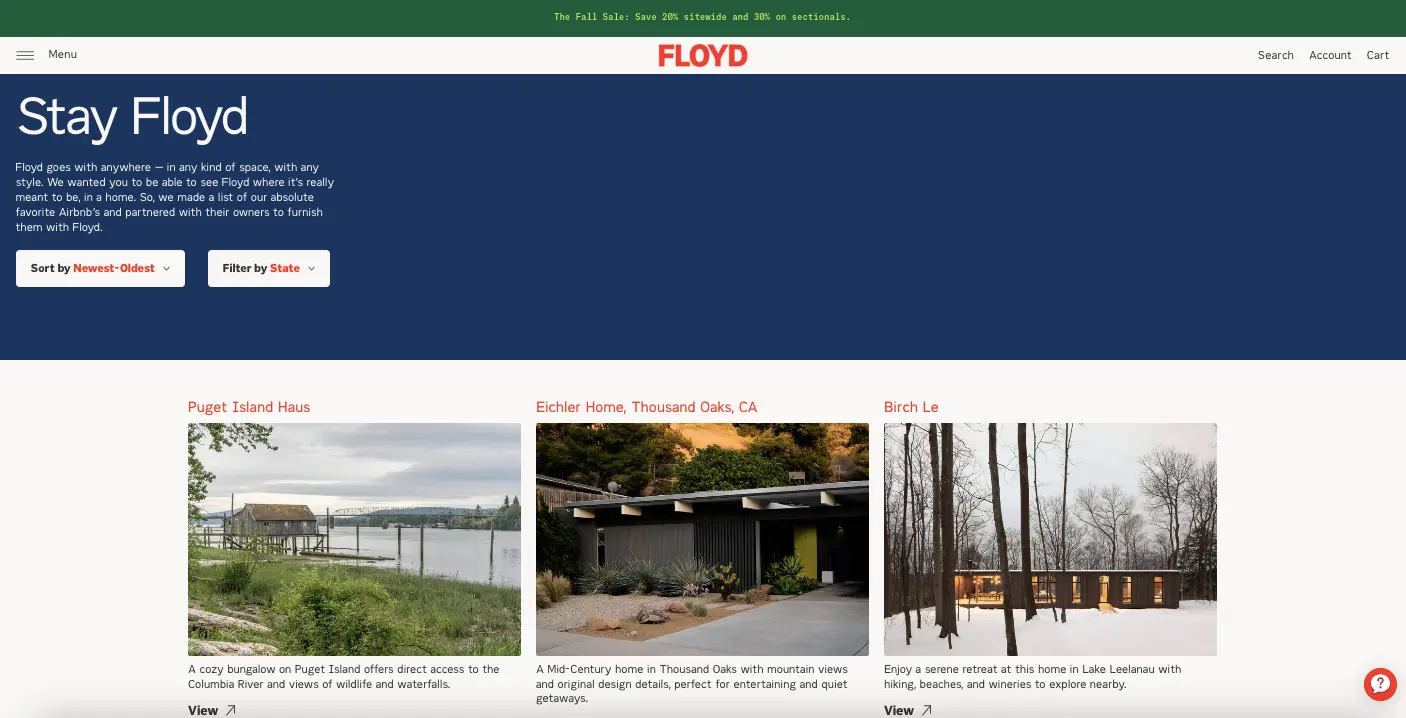 Floyd Home's blog invites us into modern furniture design and living spaces. Their articles explore interior design trends, furniture care tips, and the art of creating a cozy and functional home.
Whether you're furnishing your first apartment or looking to revamp your living space, Floyd Home's blog offers valuable insights and inspiration.
Industry: Skincare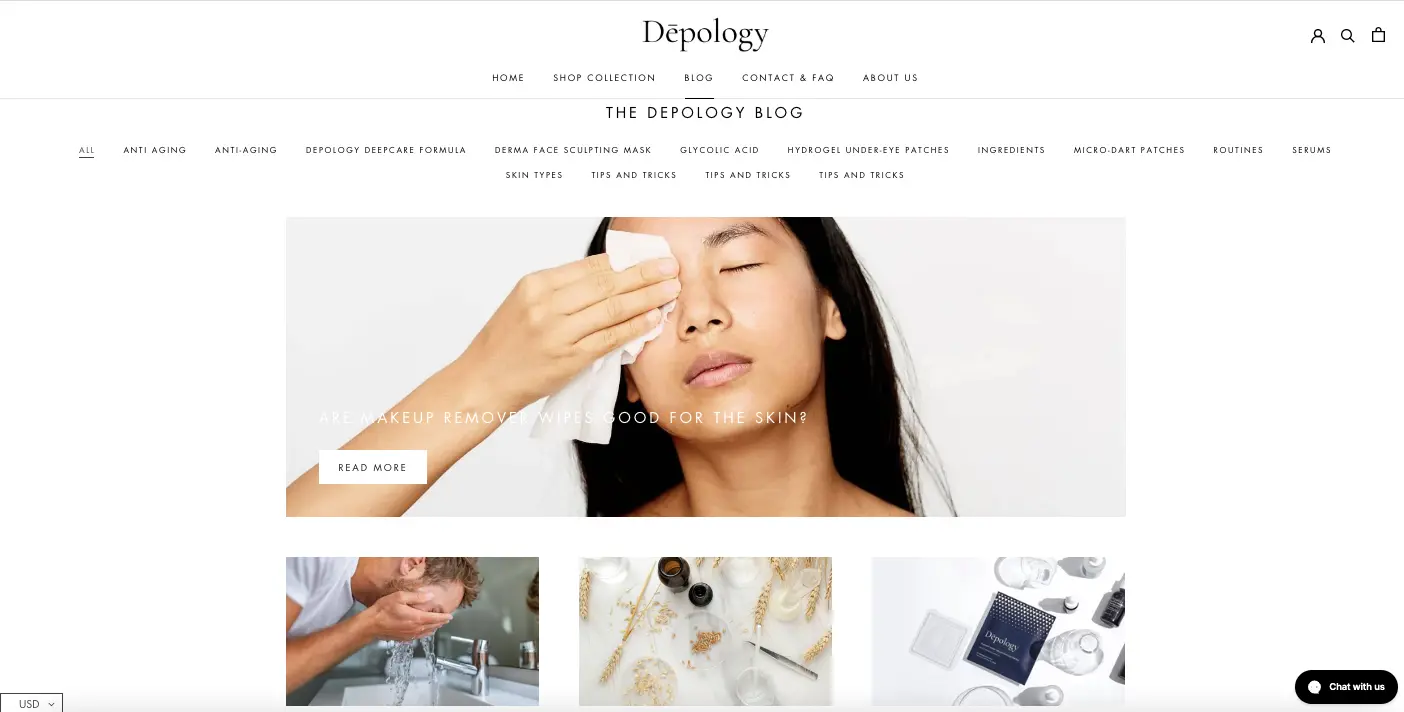 Dēpology dives deep into skincare with its informative and educational blog. From skincare routines to ingredient breakdowns and myth-busting, this blog is a valuable resource for anyone seeking to understand and improve their skincare regimen.
With a focus on transparency and science-backed advice, Dēpology's blog empowers readers to make informed choices for their skin health.
Industry: Luxury bedding
Peacock Alley's blog envelops us in the world of luxury bedding and linens. Here, you'll find a wealth of information on creating the perfect sleep environment, caring for your linens, and discovering the latest bedding trends.
With a commitment to quality and comfort, Peacock Alley's blog helps you transform your bedroom into a haven of relaxation and style.
Industry: Furniture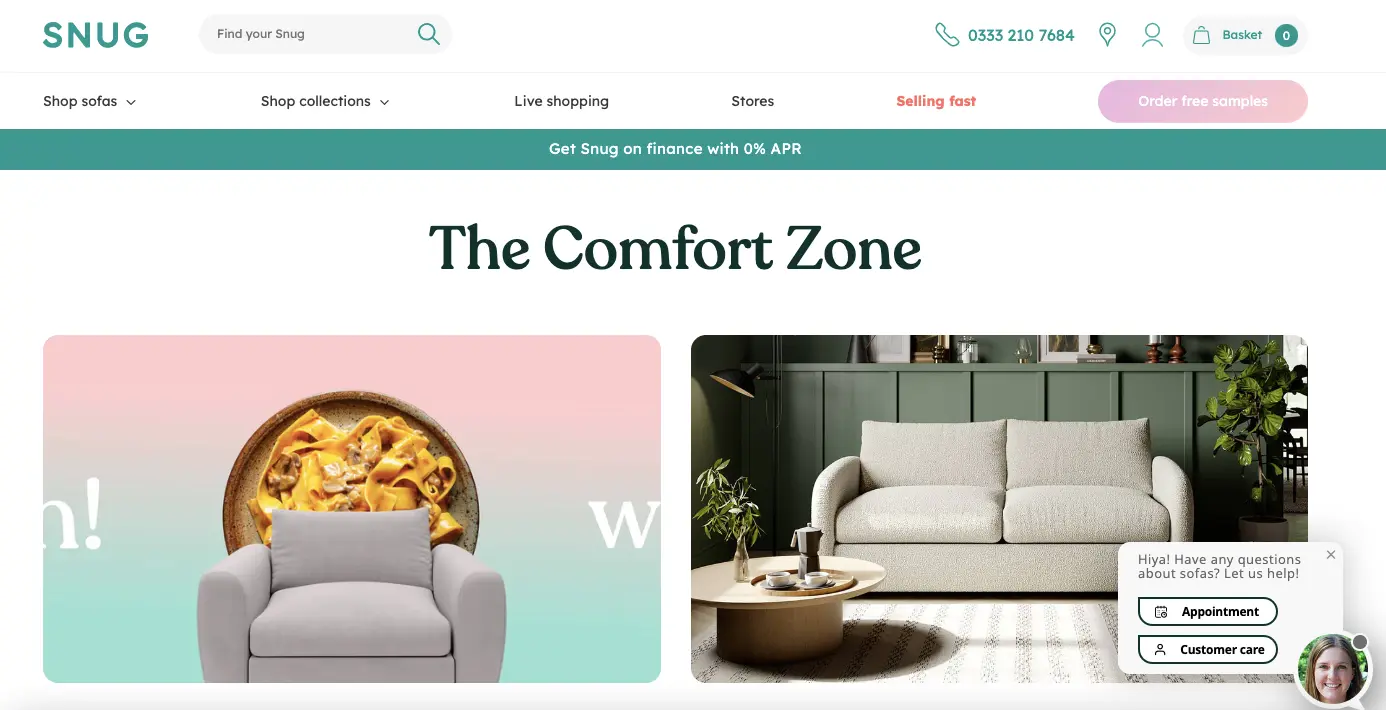 Snug Sofa's blog is a cozy corner of the internet dedicated to the art of lounging and living room aesthetics. Their blog provides information for those seeking comfort and style in their homes, from sofa-buying guides to interior design tips.
Snug Sofa's blog is a go-to destination for anyone looking to curate a comfortable and inviting living space.
Industry: Kitchenware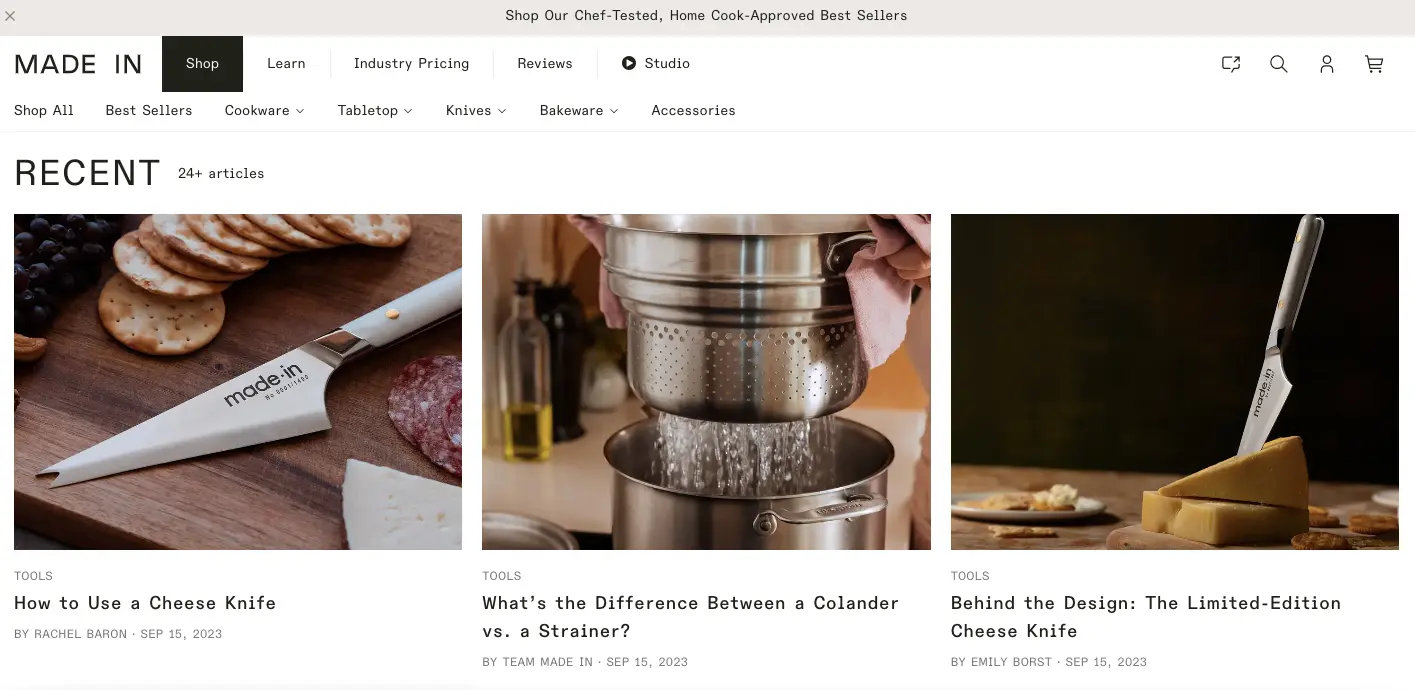 Made in Cookware's blog sizzles with culinary inspiration and kitchen expertise. As purveyors of high-quality kitchenware, their blog offers cooking tips, recipes, and product highlights catering to novice and seasoned chefs.
Whether you want to elevate your cooking skills or upgrade your kitchen arsenal, Made in Cookware's blog offers a delectable array of resources.
Industry: Beauty and skincare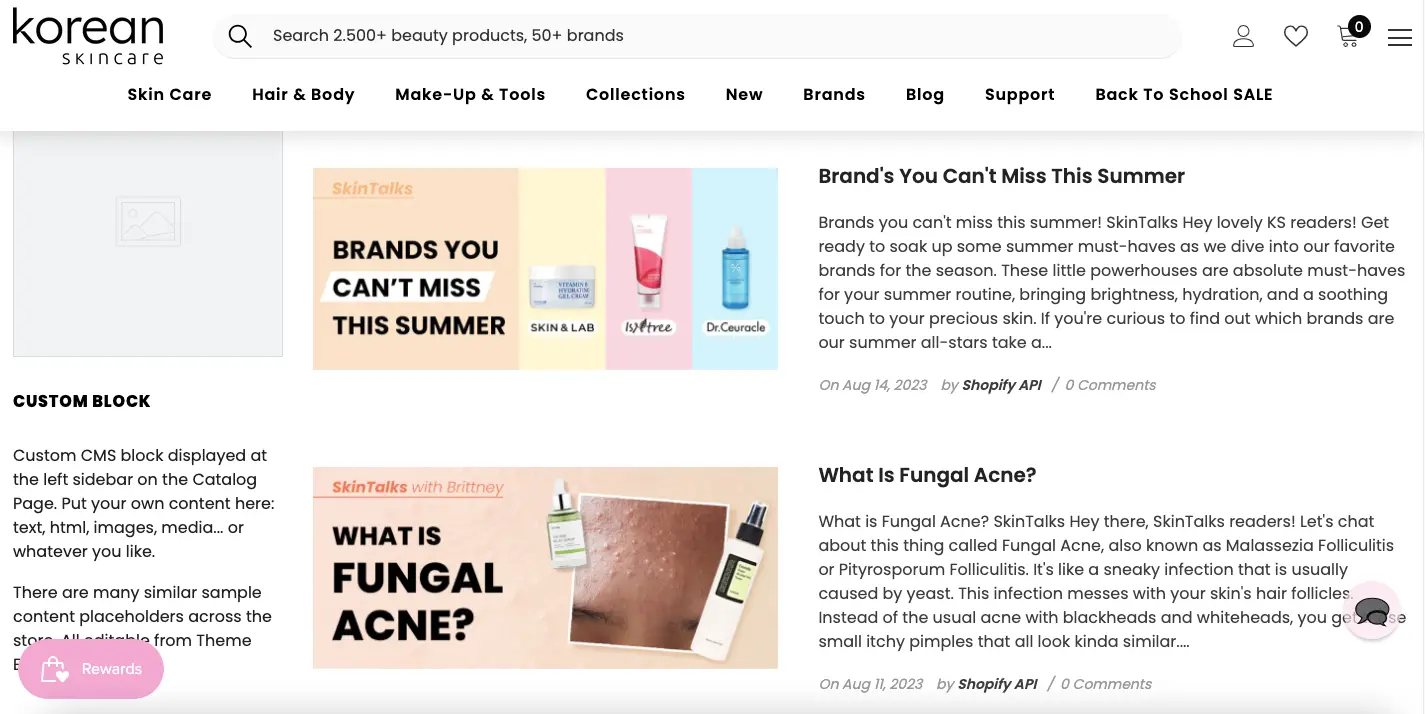 The Korean Skincare blog mentions the world of K-beauty with a focus on skincare rituals and product recommendations. With a cult-like following around the globe, Korean skincare has garnered attention for its innovative products and multistep routines.
This blog guides readers through the intricacies of Korean skincare, helping them achieve radiant and healthy skin.
Industry: Fashion and lifestyle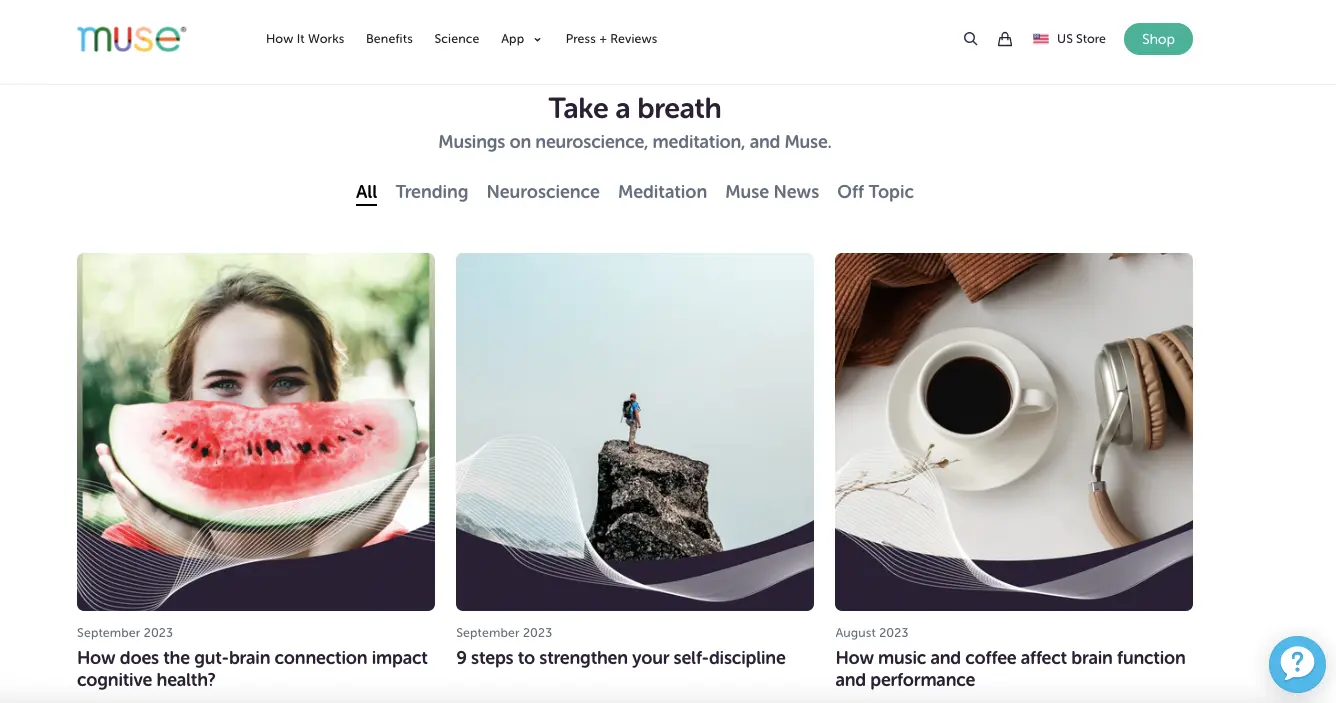 Muse Blog is a stylish destination for those seeking fashion inspiration and lifestyle insights. With a finger on the pulse of the latest fashion trends, beauty tips, and lifestyle hacks, Muse Blog is your go-to source for staying chic and informed.
Whether revamping your wardrobe or exploring new ways to elevate your lifestyle, this blog is your muse for all things stylish and sophisticated.
These Shopify blog examples showcase the diversity of industries and exemplify how effective blogging can be in engaging and informing visitors, from pet care to craft beer skincare to furniture. Whether you're a business owner or a curious consumer, these Shopify blogs inspire and inform.
7 Tips Behind The Best Shopify Blog Examples
Creating a successful Shopify blog that emulates the best examples requires a strategic approach and a commitment to delivering value to your visitors.
Here are seven tips to help you achieve just that:
Build a smart content strategy.
Start by defining your blog's goals, target audience, and the topics you want to cover. Develop a content calendar to ensure consistency and plan your posts around important events, holidays, or industry trends. A well-thought-out strategy will keep your blog on track and focused.
Take off your sales hat.
While your blog is a part of your eCommerce platform, don't make it all about selling. Focus on providing valuable and informative content rather than pushing products. This builds trust and credibility with your readers, making them more likely to consider your offerings when the time is right.
Integrate unique angles.
Differentiate your blog by offering unique perspectives or angles on topics relevant to your industry. Share personal stories, expert insights, or industry-specific data that others might not have access to. Originality can set your blog apart and make it more appealing to readers.
Write for your human audience.
While SEO is essential, prioritize writing for your human audience first. Ensure that your content is clear, engaging, and easy to read. Address your readers' pain points, answer their questions, and provide actionable advice they can apply to their lives or businesses.
Add engaging visual elements.
Make your content more engaging and shareable by incorporating photographs, infographics, videos, and other visual elements. Visual content may be used to break up text, demonstrate points, and make your blog entries more appealing to the audience.
Leverage all distribution channels.
Don't limit the reach of your blog by keeping it confined to your website. Share your blog posts on social media, email newsletters, and other relevant platforms. To develop a sense of community, encourage your viewers to share your content and interact with them in the comments section.
Measure and adapt
Let's analyze the performance of your blog entries regularly. Metrics such as page views, time spent on the page, and conversion rates should be tracked. Use this data to optimize your content strategy, concentrating on what works best for your audience. Adapt and update your strategy to maximize the impact of your blog.
Remember that blogging is an ongoing process, and the more you invest in it, the greater the rewards for your Shopify store.
Conclusion
In eCommerce, a well-crafted blog can be a powerful tool, and the 10 Shopify blog examples showcased here exemplify the diverse possibilities this platform offers.
Whether you seek inspiration, information, or a sense of community, these blogs provide valuable insights and unique perspectives across various industries. By taking a cue from these successful Shopify blogs, you can embark on your journey to create a blog that drives traffic and nurtures trust, loyalty, and lasting connections with your audience.