How to Use Shopify Bulk Editor?
Shopify is a popular eCommerce platform that offers shop owners a lot of awesome features to make changes in their shop. One of these useful functions is the ability to bulk edit in Shopify. In this article, we would like to present you with a particular tutorial about Shopify bulk editor.
If you only have a few products in your store, that is not much of a problem. You can edit them one by one. It gets more difficult as you add more products or variations, though.
If you know the right way to batch-edit your items, you will be able to save a lot of your time and effort when building your store.
There are three different ways to edit multiple products at once:
Use the bulk product editor Shopify
Use Shopify's CSV product import/export tool
Use a third-party app
Now, follow this detailed guide to know how to do them.
What is the Shopify Bulk Editor?
This feature allows you to edit multiple weights and prices of your products on Shopify simultaneously. What is more, you can set up your shipping rules for various items at once.
You will be surprised to know that you can also use the Shopify bulk editor to batch-edit customers, galleries, inventory, pages, and blog posts.
Therefore, it will become your efficacious tool and give you a great experience when running a shop on Shopify.
A small tip: Use popular web browsers such as Safari, Chrome, Firefox to get the best compatibility. Thanks to this, you can use the bulk edit products shopify feature smoothly.
How to Use Shopify Bulk Editor
Step 1: Select the products you want to edit
Before starting, you should be in the Products section. You will then see a complete list of all the products of your online store.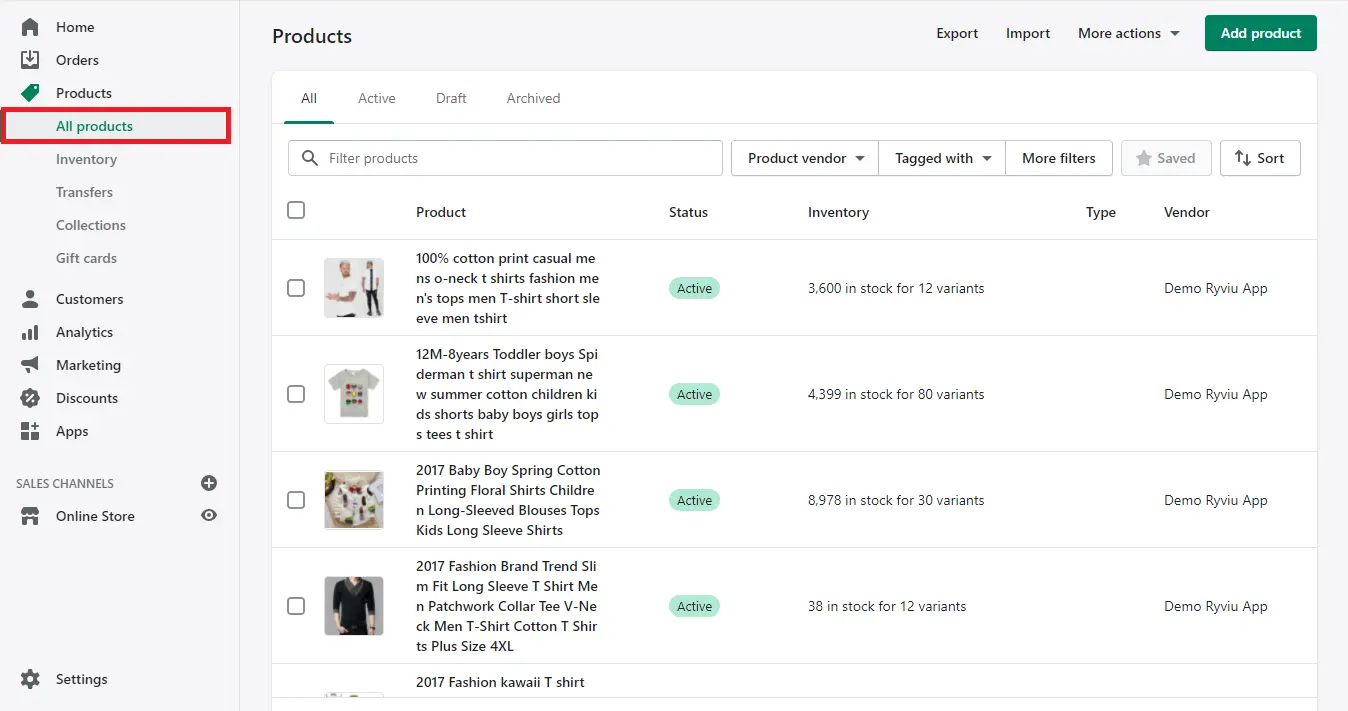 Make sure to check the checkbox we have marked in the below image to select all of them. Therefore, you can edit all of your items at once.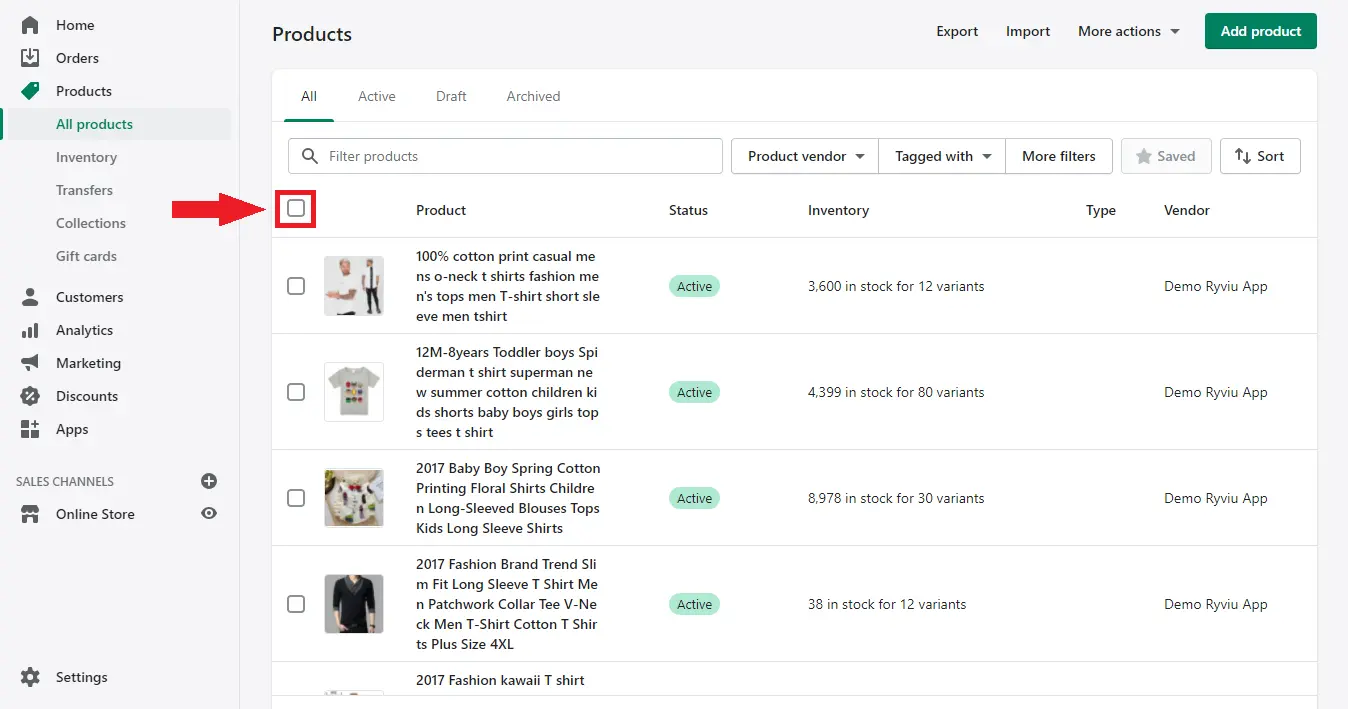 Step 2: Click on the 'Edit Product' button
When you clicked the checkbox, it would be highlighted and displayed a sentence to inform you how many products are selected.
Next to this field is a button named 'Edit product'. Click on this button to use the bulk product editor Shopify feature.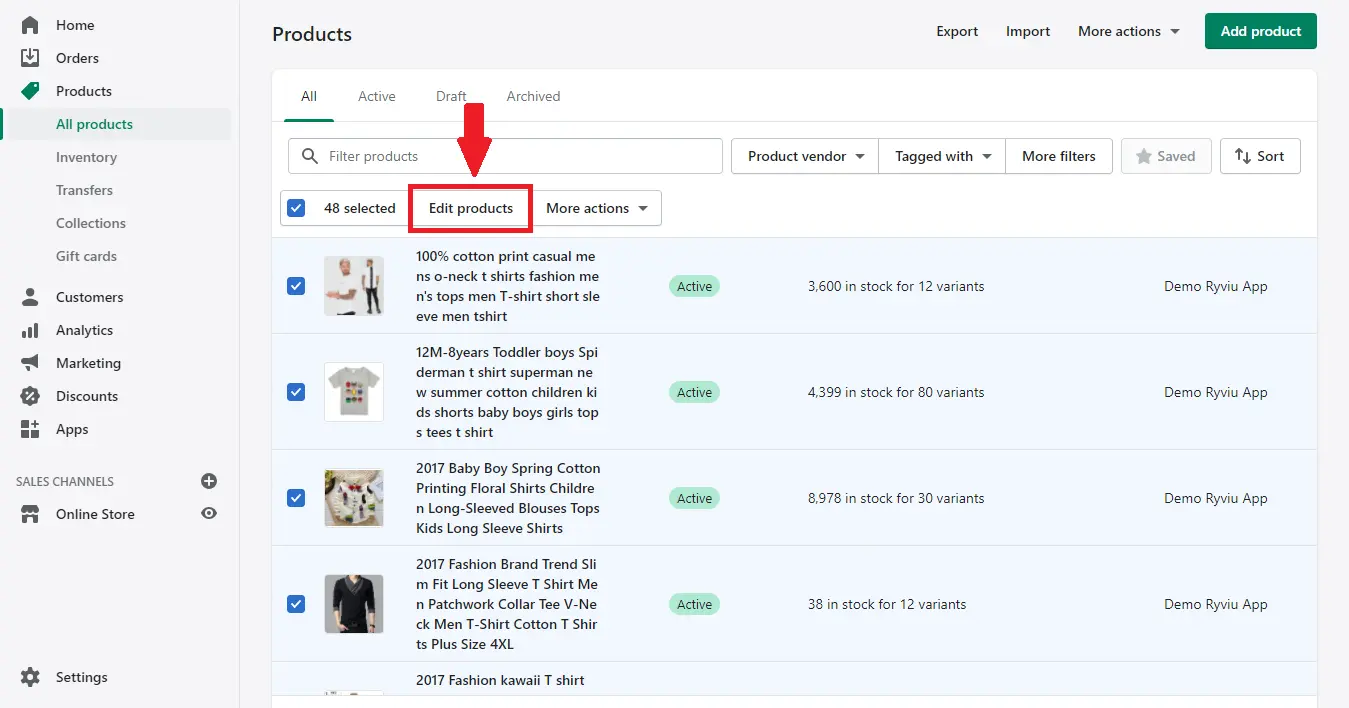 Step 3: Batch-edit products or items
Now, you can customize your products about their prices, weights, sizes, colors, and more. To do this, click in the textbox corresponding to each product and enter your desired corrections.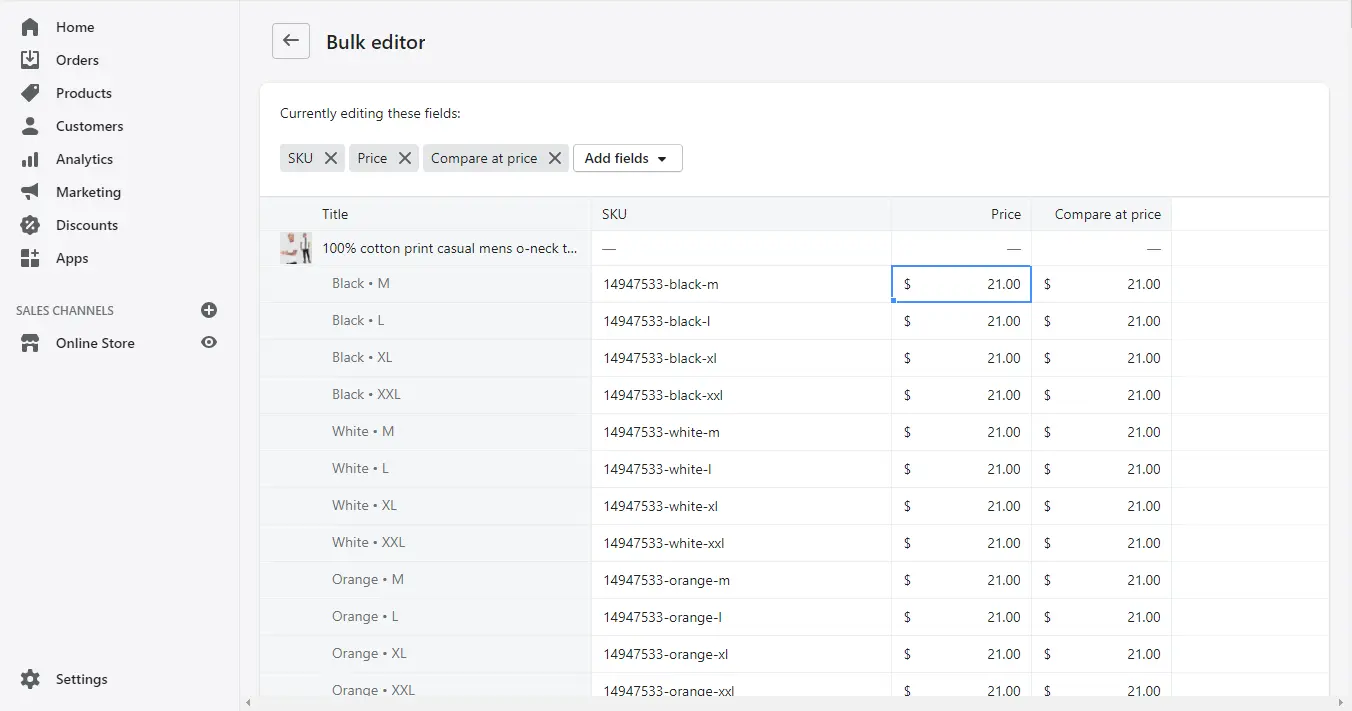 If the fields you need to edit are not presented here, click on 'Add fields'. Next, choose the ones that you need.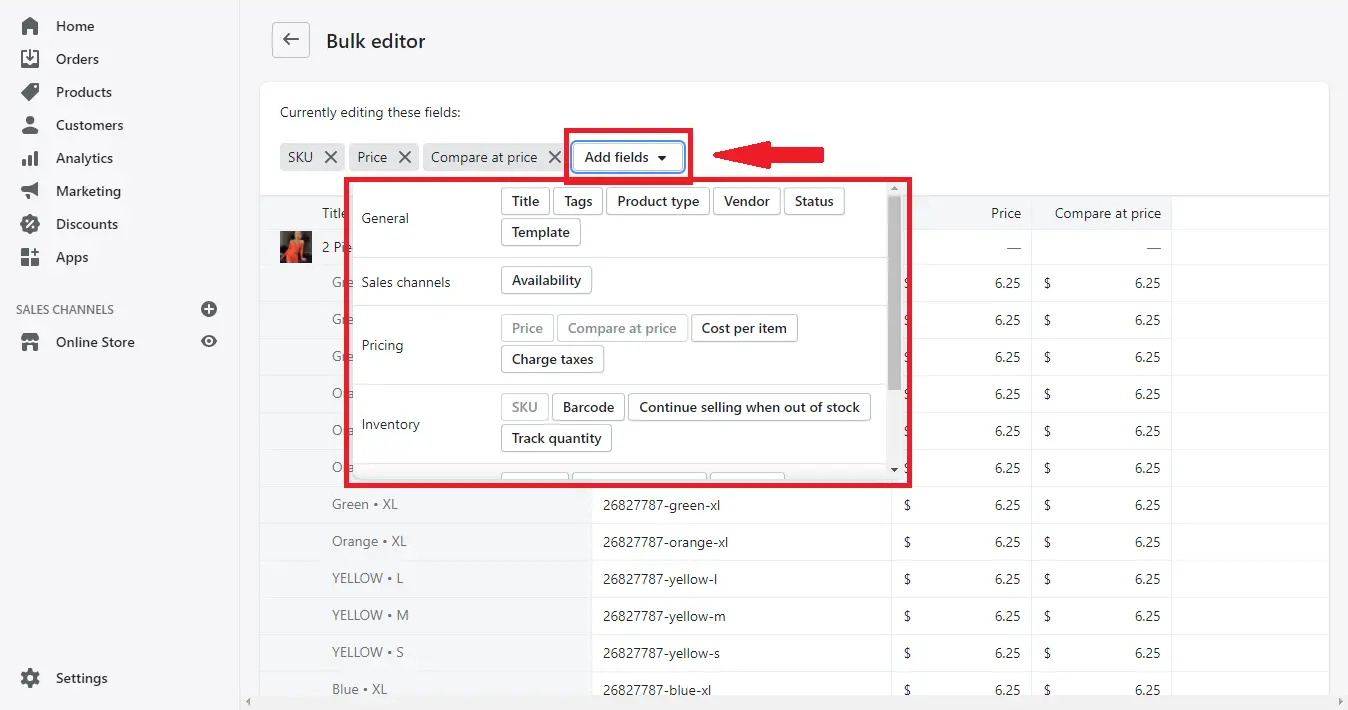 Currently, you can use bulk product editor Shopify to:
Bulk edit tags Shopify
Bulk edit prices Shopify
Bulk edit compare at price shopify
Bulk edit inventory shopify
Shopify bulk edit weight
And many more...
This method is faster than editing individual products. However, it is still slow if there are a lot of products that need updating.
How to Use Shopify's CSV Product Import / Export Tool?
Another workaround in Shopify's admin panel is to use its CSV import and export tool. This will provide you a spreadsheet of almost all the data in your Shopify shop. To do this, click the 'Export' button on the Product admin page.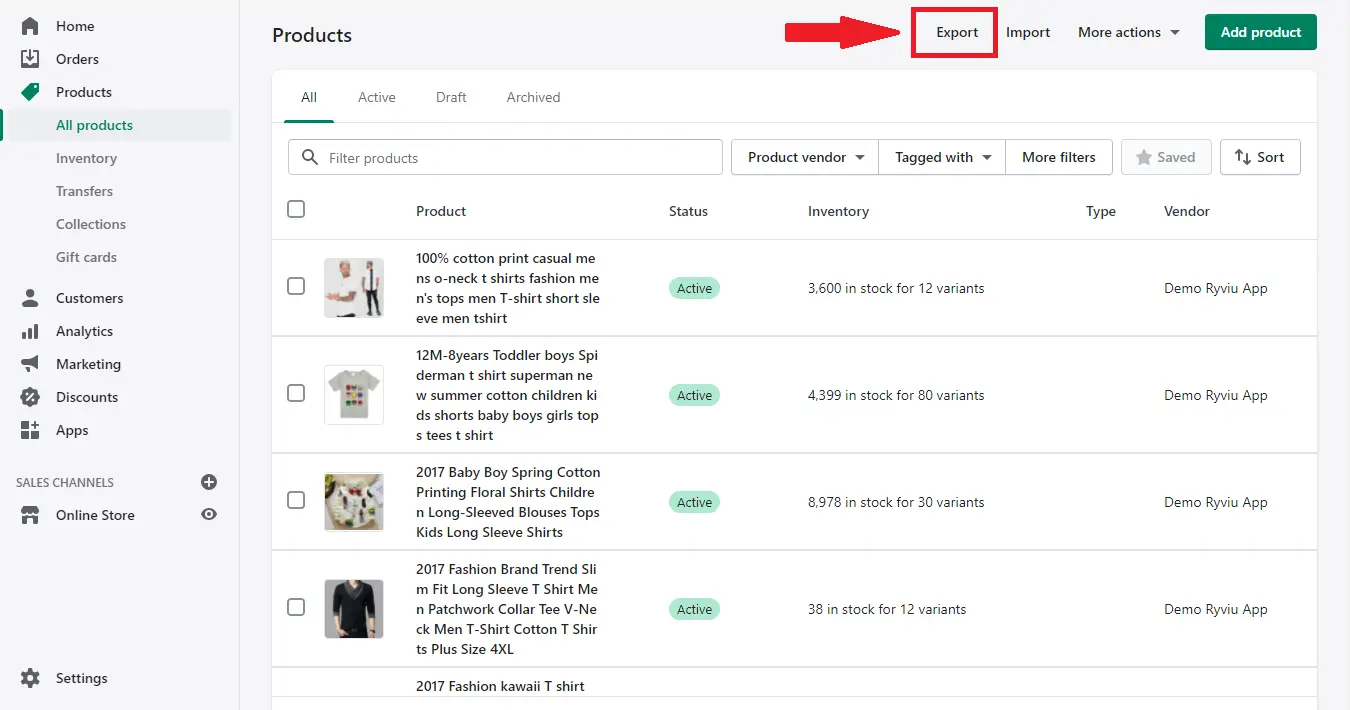 A popup will appear. Choose the options as the image has shown below. Then, click on the 'Export products' to download the CSV file.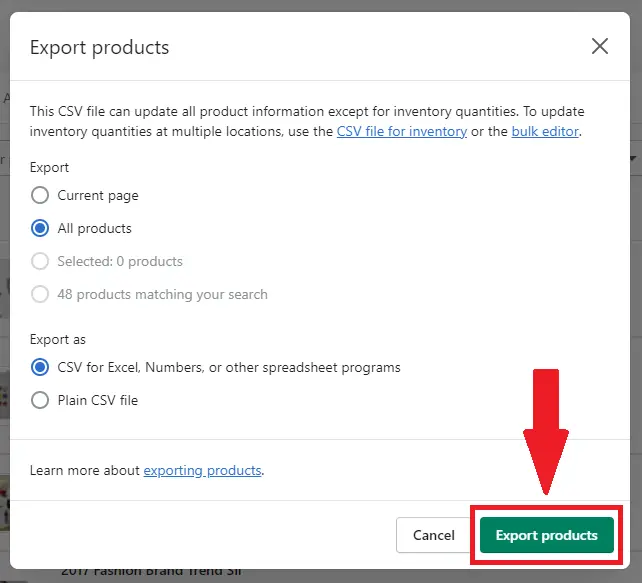 You can then open the CSV file in Microsoft Excel or Google Sheets and make the edits you need.
Once you are happy, you can import it again to your shop, and Shopify will update your products automatically.
This method is helpful if you have a lot of products that need updating, but it also has some limitations:
Any product changes that occur while you edit the spreadsheet are overwritten. This problem can happen when someone buys your product and the stock changes. Later, when you re-import the products, the old inventory level is added again.
You cannot update just one field. You need to re-import all the product data.
Although you can export almost all the products' data with this method, the reviews are the exception.
Suppose you want to export reviews and batch edit them. In that case, you can use the CSV import/export review feature of Ryviu if you are using it.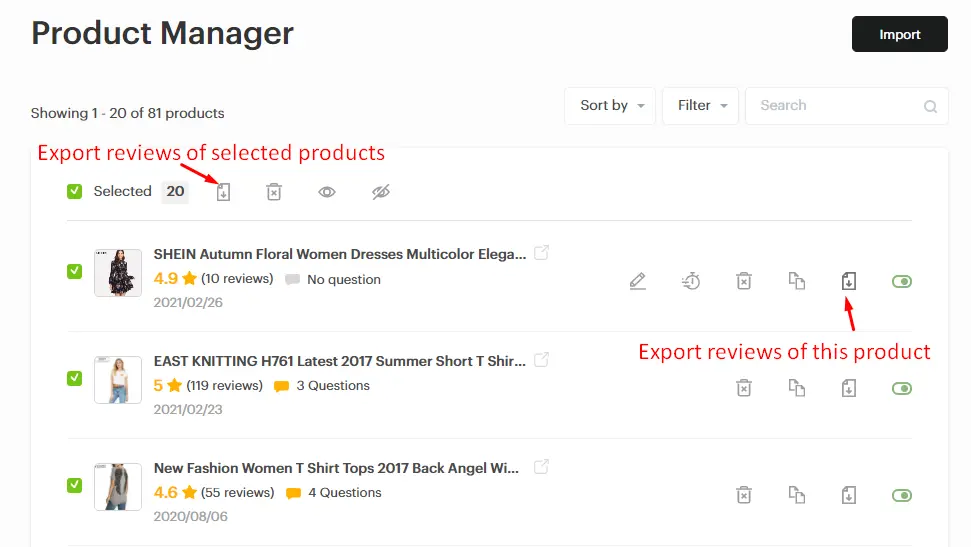 Use a Third-party Free Bulk Product Editor Shopify app
If your shop has hundreds or thousands of products, then managing and editing them will become extremely difficult.
You can choose to do it manually, as we have shown above. However, this takes lots of effort and time.
As a store owner, you will be extremely busy and have a lot of work to do. Hence, for this batch editing not to be a hindrance, we highly recommend installing a third-party free bulk product editor Shopify app.
An ideal app will give you a lot of benefits. When you try one out, you will find it essential to your store and be satisfied with what it offers.
There are many good third-party free bulk product editor Shopify apps that you can pick. Here, we would like to show you the best one in our opinion, along with its helpful features.
From there, you can have a better understanding of what a free bulk product editor Shopify app is and how to choose one intelligently and quickly.
The app we are talking about is called Bulk Product Edit & CSV import, created by Hextom.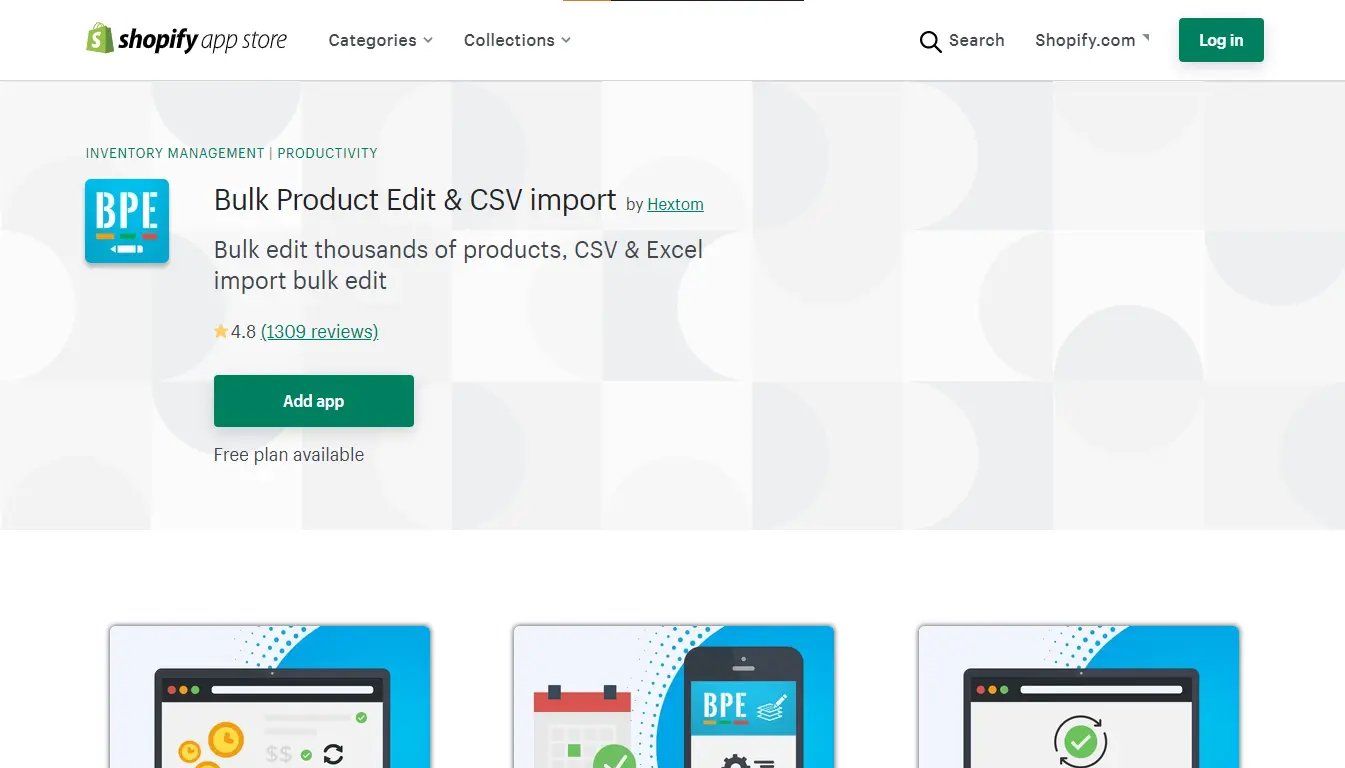 The reason we chose it is because it has over 1000 reviews. It is a lot more than the others. By reading them, you can understand more about this app.
As for the standout feature, it can support both CSV and Excel formats. In addition, it allows you to provide a link to a CSV or Excel file.
You will be comfortable and satisfied as it will not require a fixed column format. You only need a column to define variation and another to edit a specific part of the variation. This feature makes it easy to batch-edit without worrying about formatting.
There are five different price tiers for you to choose from. With the free tier, you can batch-edit or export to CSV up to 10 products at once. At a reasonable price, Bulk Product Edit & CSV import is a good choice for almost everyone.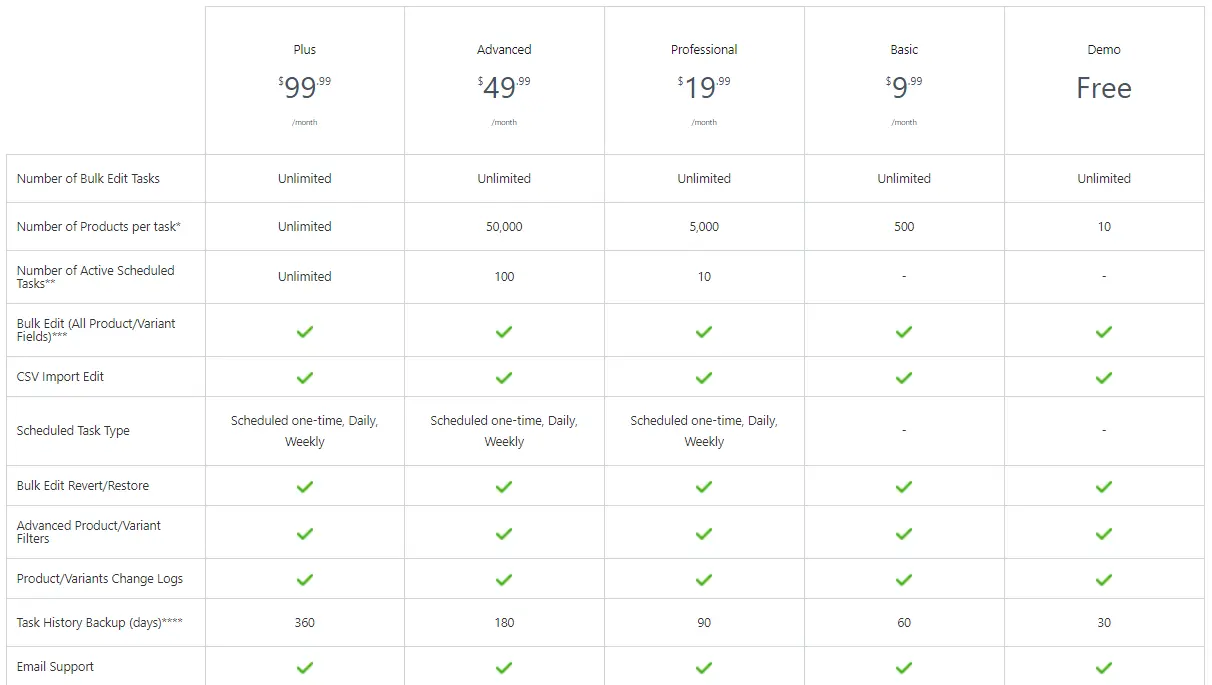 Summary
In short, we have shown you how to use the Shopify bulk editor quickly and effectively. With just a few simple clicks, you can do it successfully in a blink of an eye.
Moreover, it will be very time-consuming if you do manual batch editing. Hence, we hope that the CSV exporting section and third-party section can be helpful for you.