5 Best Shopify Gift Card Apps You Should Use
The customer experience has been significantly altered in this "new normal" era. Stores that bustled in the past, delighting shopaholics with unique products, are now uncertain when customers come through their doors next time.
Applicable to both offline and online businesses, using Shopify gift card apps can help boost overall performance in the long run.
For brick-and-mortar stores, Shopify gift cards help address temporary outages and delight customers when they reopen. For online businesses, they're seen as a reward and motivation for the customers' next shopping experience.
How can this method be persuasive and uncomplicated at the same time? Let's dig deeper to find out!
What are Shopify Gift Cards?
Shopify gift cards (or Shopify gift vouchers) are prepaid stored-value money cards, typically issued by a retailer or bank. They're used as an alternative to cash for purchases in a particular business.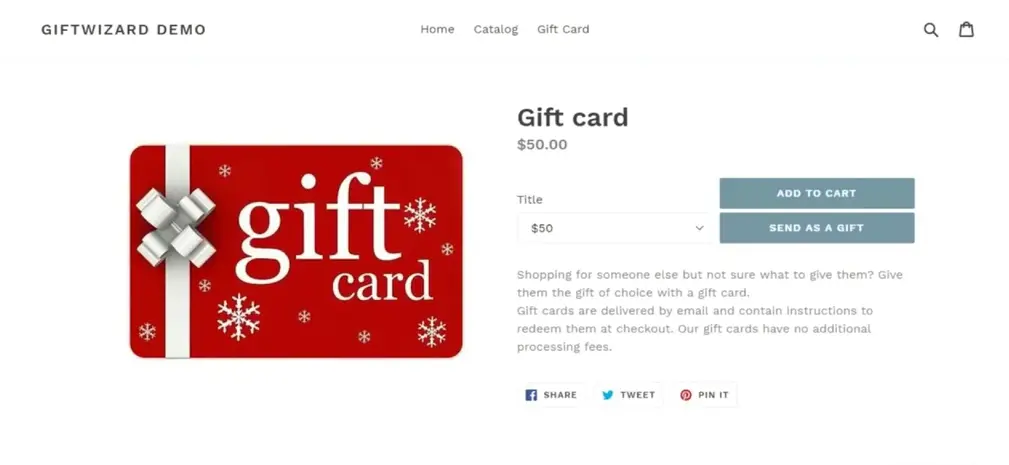 Remember how happy you were when you went to a computer store with a coupon? It's bundle sales, loyal customer treatment, and all the stuff of macro knowledge. In essence, that's how gift cards in Shopify work.
Shopify gift cards are made online by store owners and distributed to their customers as an incentive. They're also a special type of product your customers can purchase and use to pay for future orders.
Why Should You Use Gift Cards in Shopify?
You can manage your store's gift cards on a level that other systems can't be, using one of the Shopify gift card apps.
For example, some receivers can't find everything they want in one visit. Therefore, they may want to save some of their credit for another purchase.
Gift cards allow them to do just that. Furthermore, you can display your brand on Shopify gift cards, whether physical or digital, for marketing purposes.
Plus, it allows you to view the quantity and usage of your store's gift cards. This is an effective way to manage them.
Finally, gift cards are also great for building loyalty with your customers. Many brands use them as a rewards system. They give away gift cards as promotional items in contests, in promotions when customers spend beyond a certain amount, and as a way to apologize for making a mistake.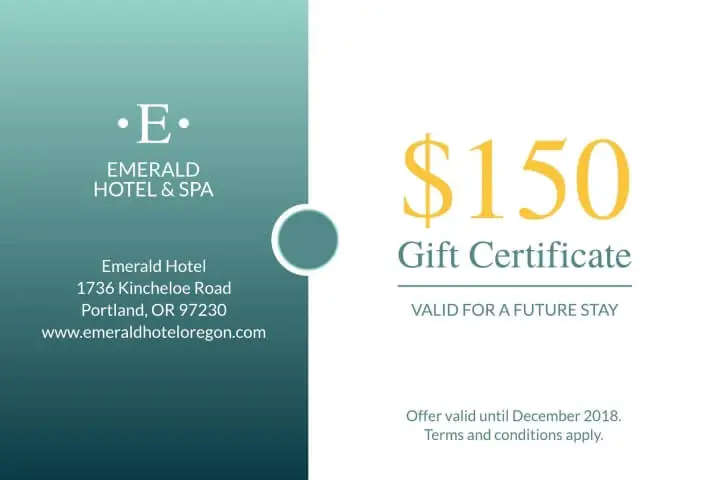 When Should You Use Gift Cards in Shopify?
You should use a Shopify gift card app when you want to:
Build Brand Awareness
Since gift cards can be branded with your business name, logo, and message, they act as an advertisement for your company.
As a result, gift cards are one of the most cost-effective ways of marketing, as they provide a compelling incentive to visit your online store.
Additionally, the person who purchased a gift card acts as your brand ambassador. Their purchase represents a positive introduction to the receiver.
Improve Cash Flow
When a customer buys a gift card, you acquire the money immediately. You don't have to wait until the receiver's birthday or holiday to obtain that revenue.
In addition, your business generally has a lower cost of goods if the person doesn't redeem their Shopify gift card or uses only a portion of the balance.
Attract Young Consumers
According to InComm's Consumer Pulse study, millennials purchase the most gift cards, accounting for 37% of gift card buyers. Gen X makes up the other 28%.
Plus, if your potential customers are married and childless women, you're in luck. Half of gift card shoppers meet this depiction.
Expand Your Customer Base
The receivers of gift cards may not have heard of your business before. Receiving a gift card increases the chance that they'll shop at your online store.
If you offer Shopify digital gift cards, capturing the receiver's email lets you send them advertisements and promotions.
Note: Send promotional emails only to people who have opted into your marketing campaigns. Otherwise, you may face legal issues.
Enter the Corporate Gift Market
Gift cards are a great choice as presents from business owners to top employees and customers. They have a high perceived value, but leave a gift choice for the receivers.
Increase Sales During Holiday Seasons
Even if your products can't be wrapped readily, you can still boost your holiday sales by offering gift cards.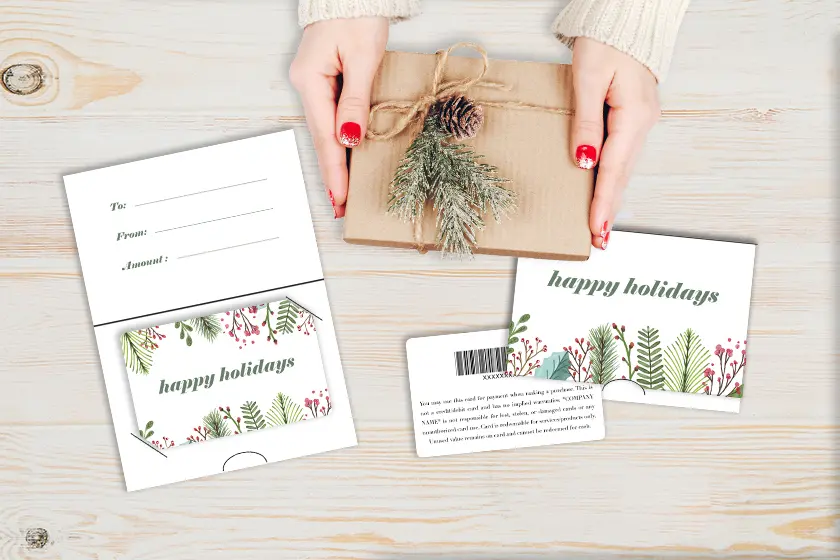 Gift cards are a boon for all types of service businesses, such as beauty salons, gyms, fast-food stores, etc. In fact, DealDrop found out that gift cards ranked 3rd among the most desired holiday gifts, with 17% of customers saying they'd like to receive one.
Top 5 Best Shopify Gift Card Apps
Price: $19.99/month (7-day free trial available)
Rating: 4.8/5 (879 reviews)

With this simple-to-use app, you can build an exceptional gift card solution that can be used to give store credit or as a way for customers to gift others.
Customers can send Shopify gift cards to recipients, such as their friends and family, with just a few clicks via email.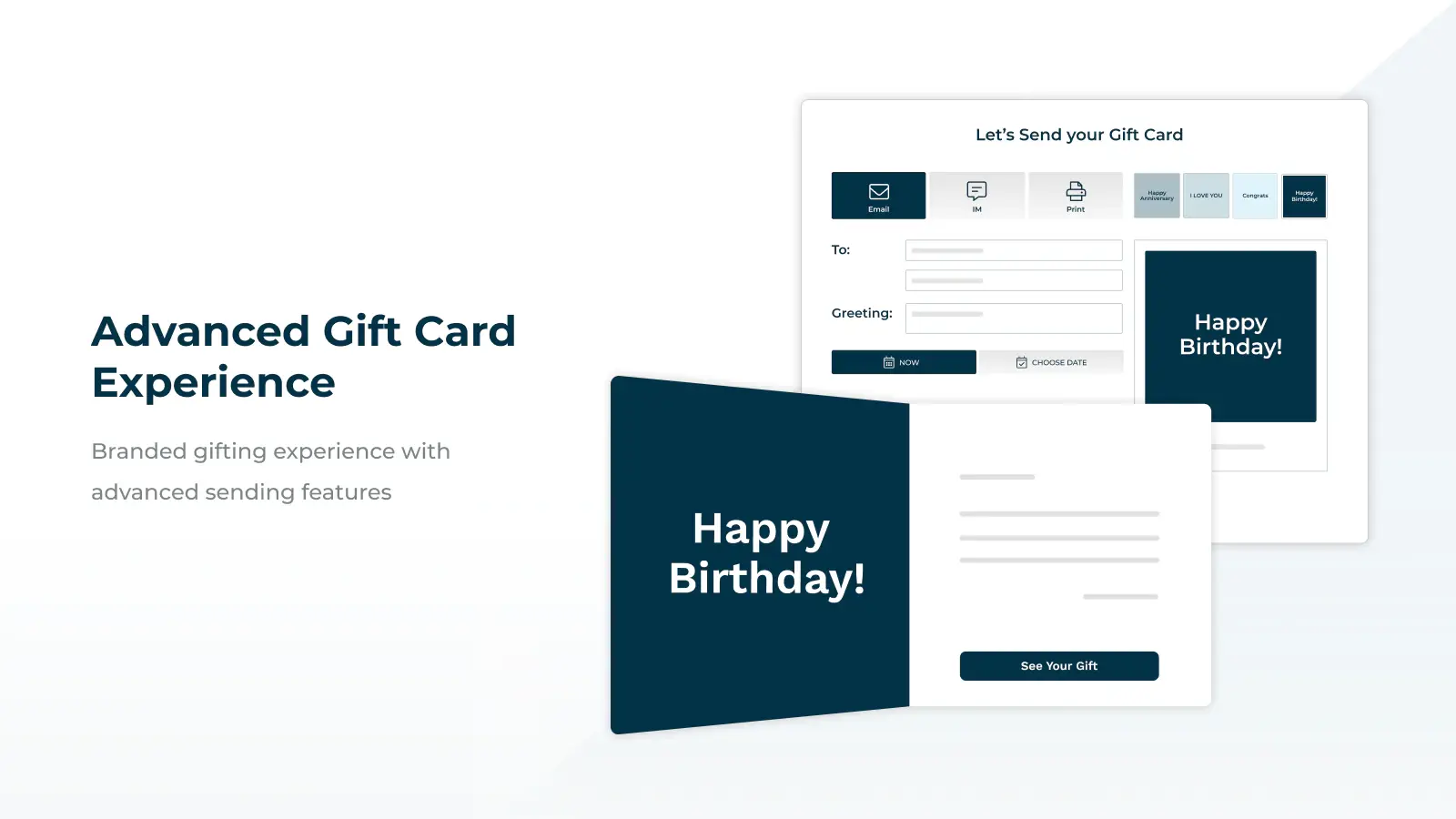 These gift cards are branded. Therefore, new customers can be introduced to you effectively. And receivers can even redeem Shopify gift cards at both your online and offline stores.
You can set up the app to automatically generate gift cards for customers who have shopped with you. For example, you can give customers 5% gift cards when they spend more than $150 and $10 gift cards for the second purchase.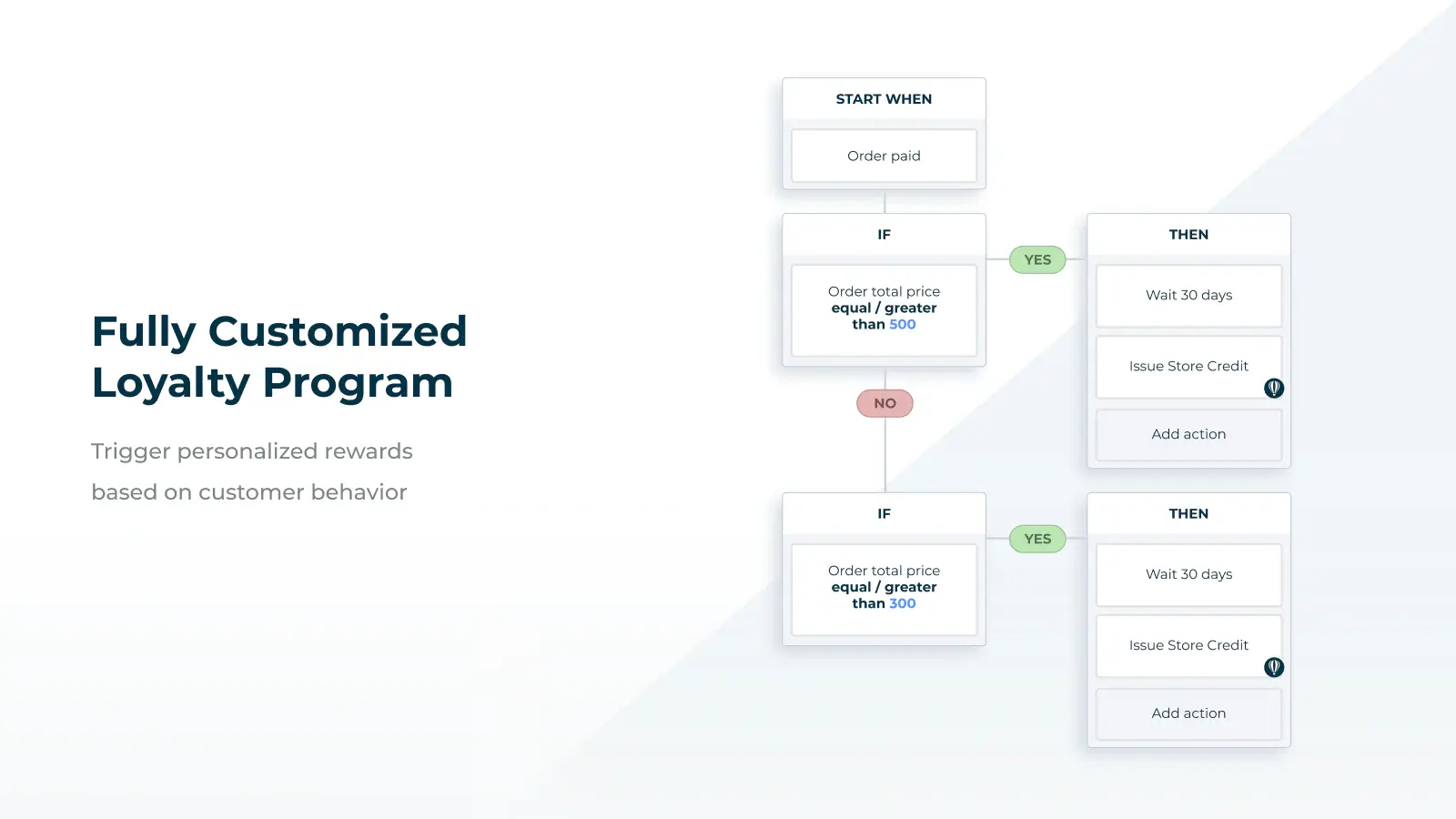 Therefore, the potential to use gift cards in Shopify as a loyalty program and a way to increase conversions is very high.
Price: Start from $49.99/month, FREE Plan Available
Rating: 4.9/5 (18 Reviews)

iziGift is the easiest way to get started with improving your gift card purchasing experience.
This app allows you to sell customized gift cards, enables your customers to send gift cards by email to loved ones and allows you to issue gift cards to people for returns and/or for giveaways.
Once you download the app, you will go through a very 2-minute onboarding process, and then you are up and running. The support provided by the iziGift team is second to none and is evident in the many reviews they have on their listing.
You can learn more about iziGift on their website.
Price: $19.99/month (3-day free trial available)
Rating: 4.8/5 (95 reviews)

This app allows you to offer free presents, like gift cards, when a customer spends more than a certain amount on your Shopify store.
This is a great way to improve customer loyalty and order values without any extra work.
The app lets you choose any product from your store as a gift, including gift cards. You're also entitled to offer free shipping, gift wrapping, and a small present.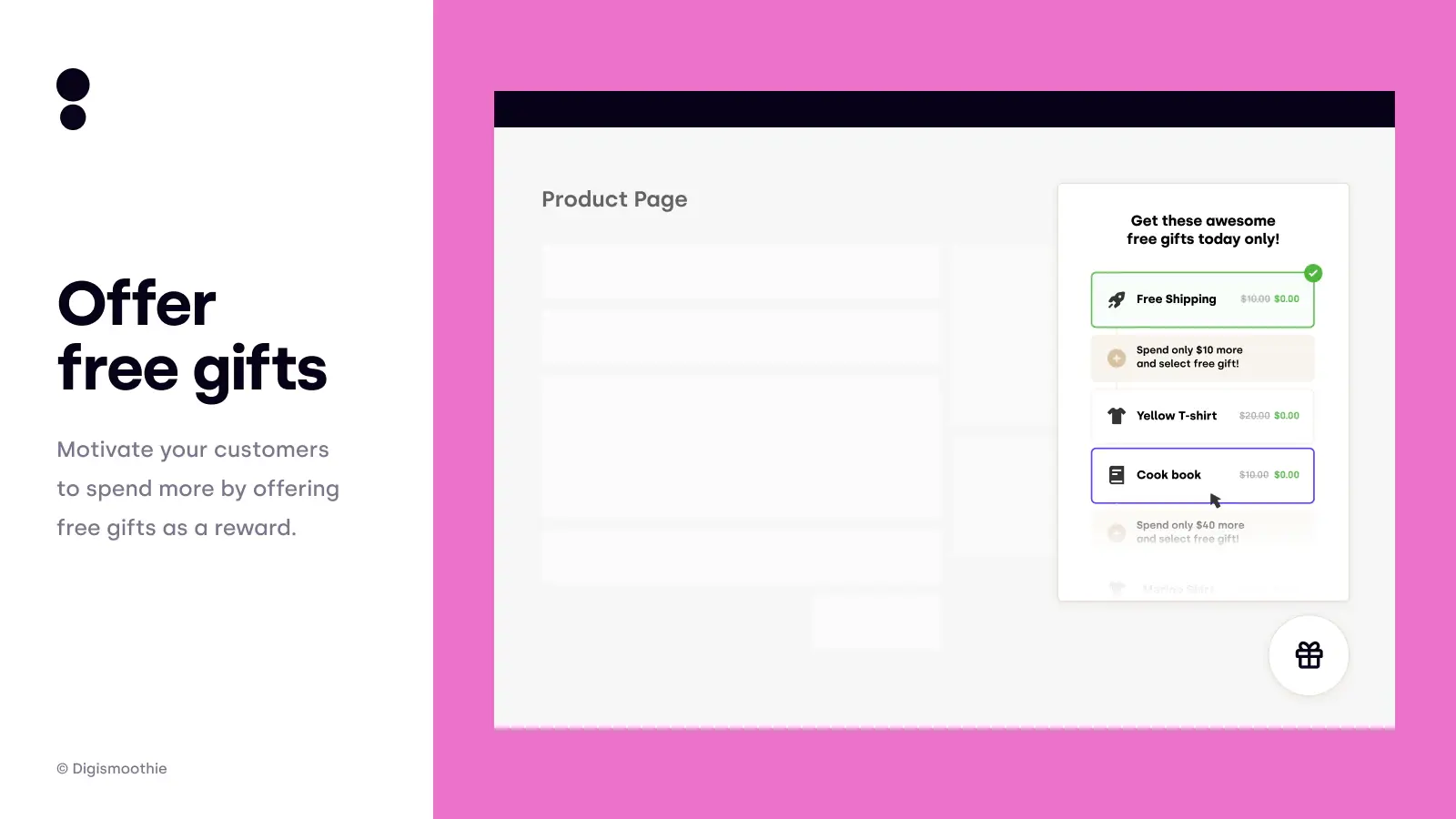 There is also an unlimited number of rules you can set. For example, you can offer a gift card when they spend $100 and another when they spend $200.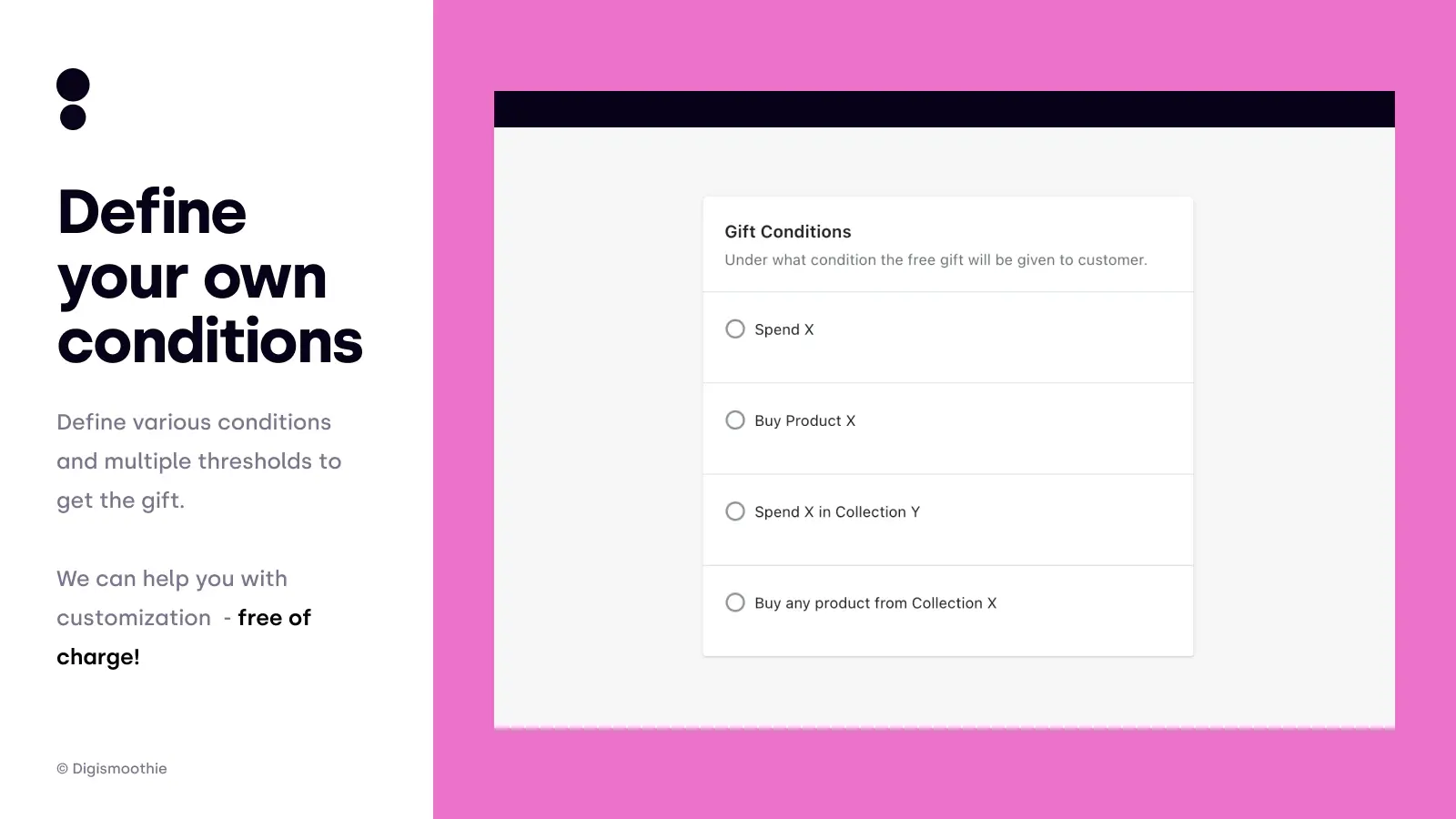 Price: from $9.99/month (10-day free trial available)
Rating: 4.9/5 (12 reviews)

This is another Shopify gift card app that lets you take your branded gift cards to the next level for your marketing success.
The professionally designed gift cards included with the app are easy on the eye, allowing customers to send them to loved ones knowing that the cards look meaningful.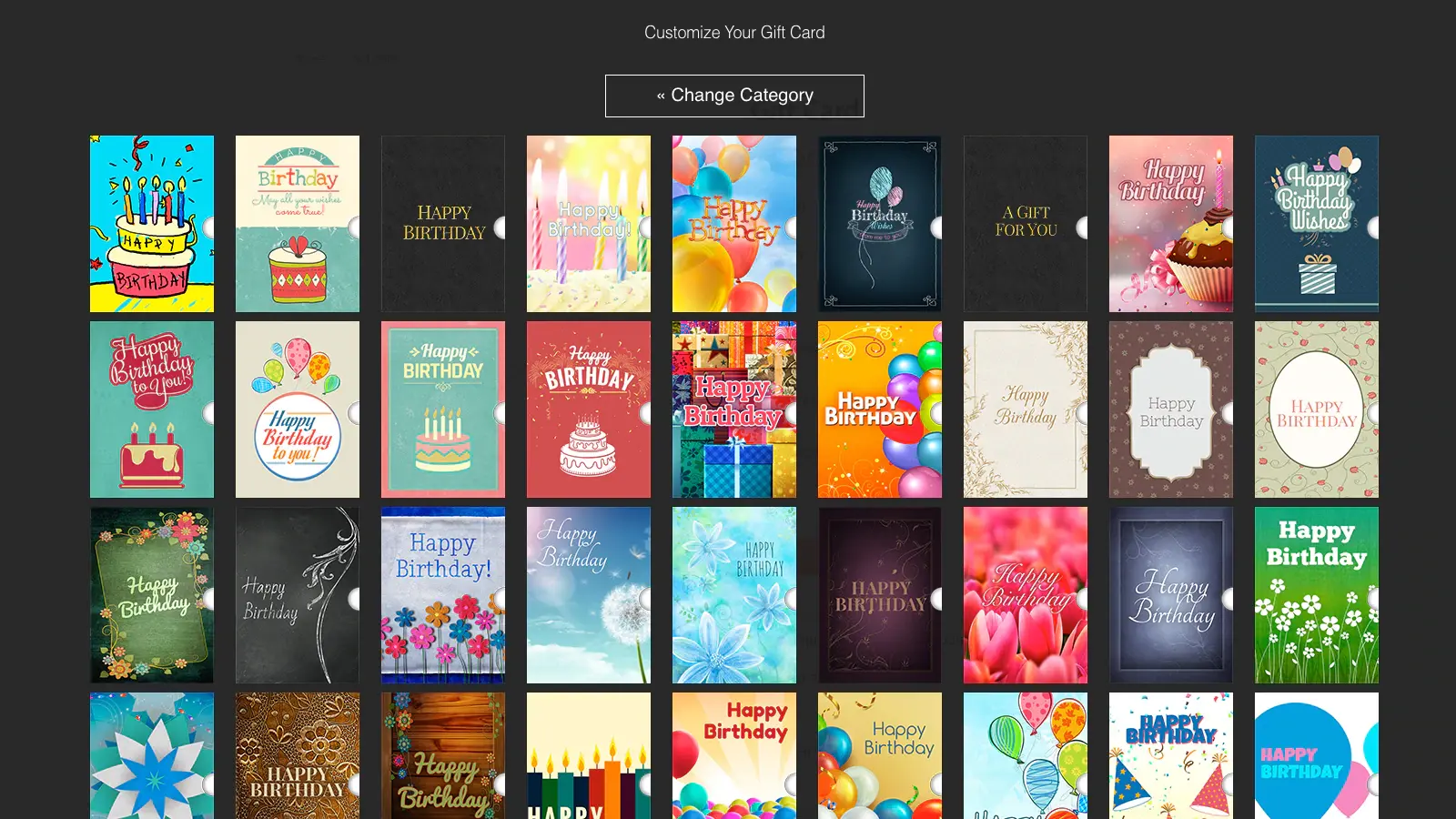 You get complete control over the gift card's cover, background, and other elements. You can add logos, store visuals, and product images to brand your gift cards. Furthermore, you can also add extra textures to make them look unique.
Buyers can also customize their Shopify gift cards with their message and add "to" and "from" names to their gift cards.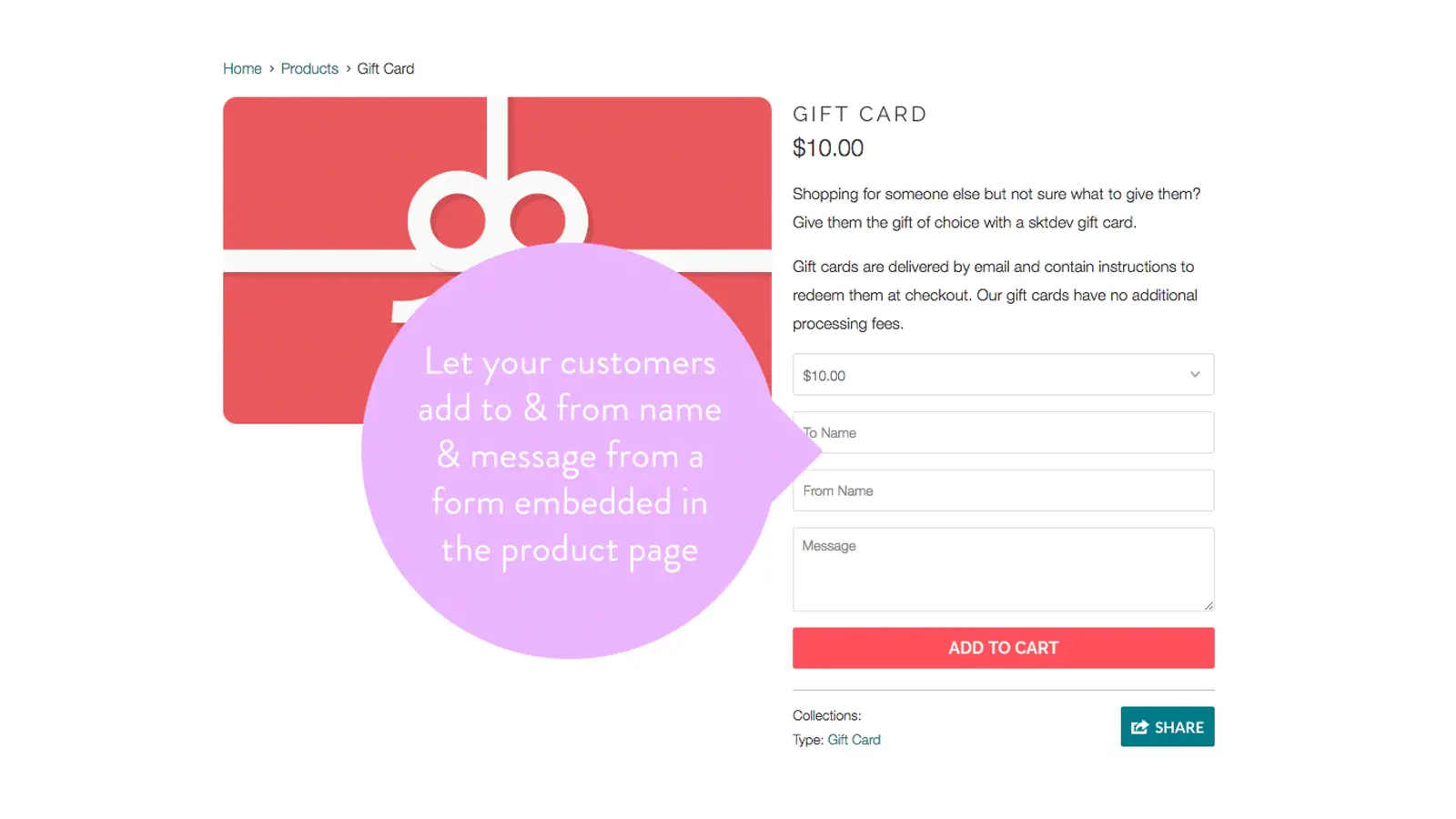 Price: $14.99/month (10-day free trial available)
Rating: 4.9/5 (9 reviews)

One of the tough spots with Shopify gift cards is making sure the receiver gets them at the right time.
Sometimes, people forget the existence of gift cards because senders pre-purchased them or sent them too far in advance, causing the gift card to be overlooked.
This is where the app comes in. It allows buyers to schedule when the recipient receives the card.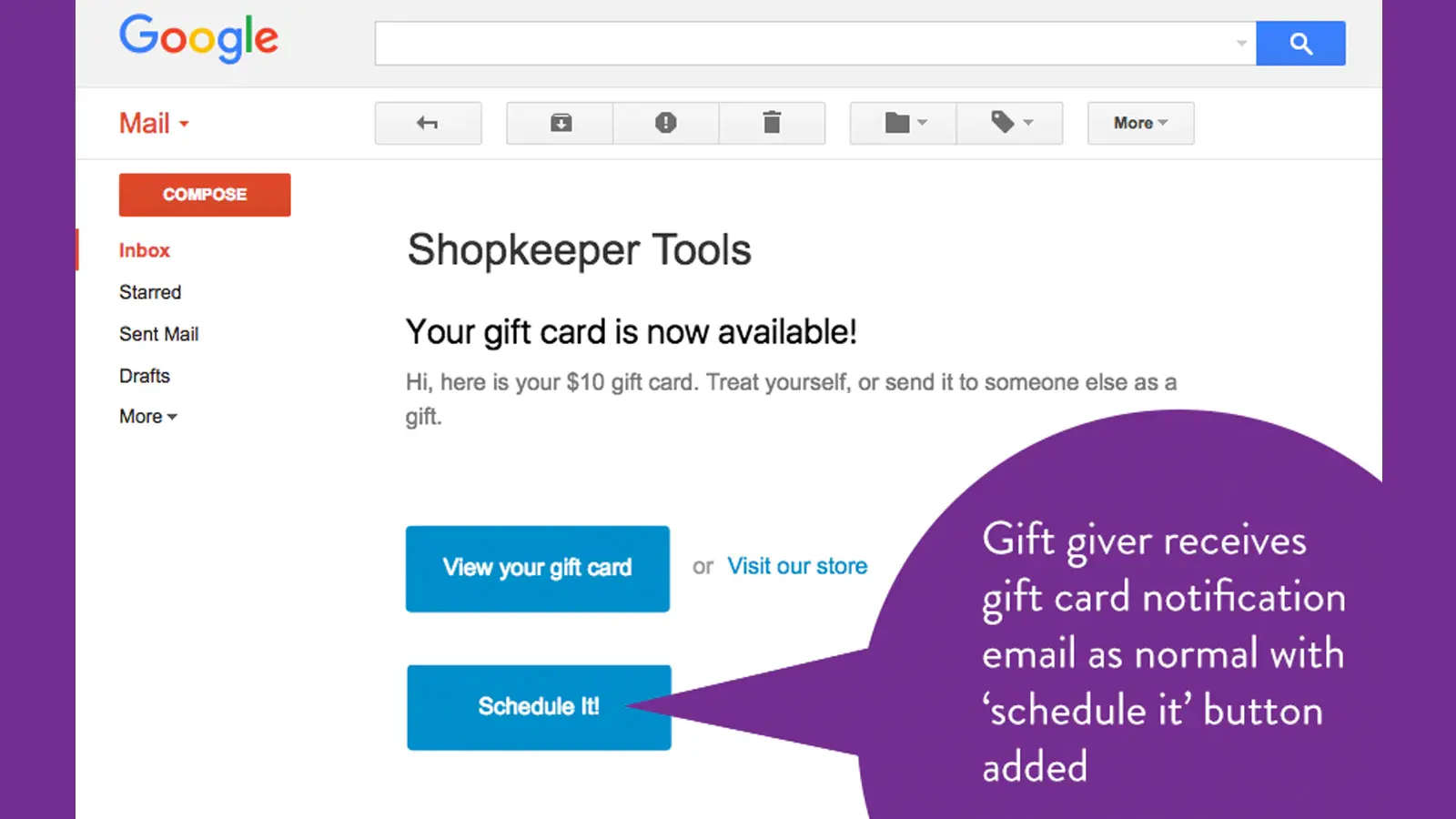 It works by sending an email to the buyer. In that email is a link to a page where they can enter the receiver's email address and choose the time they receive the gift card. This can be any time within a year.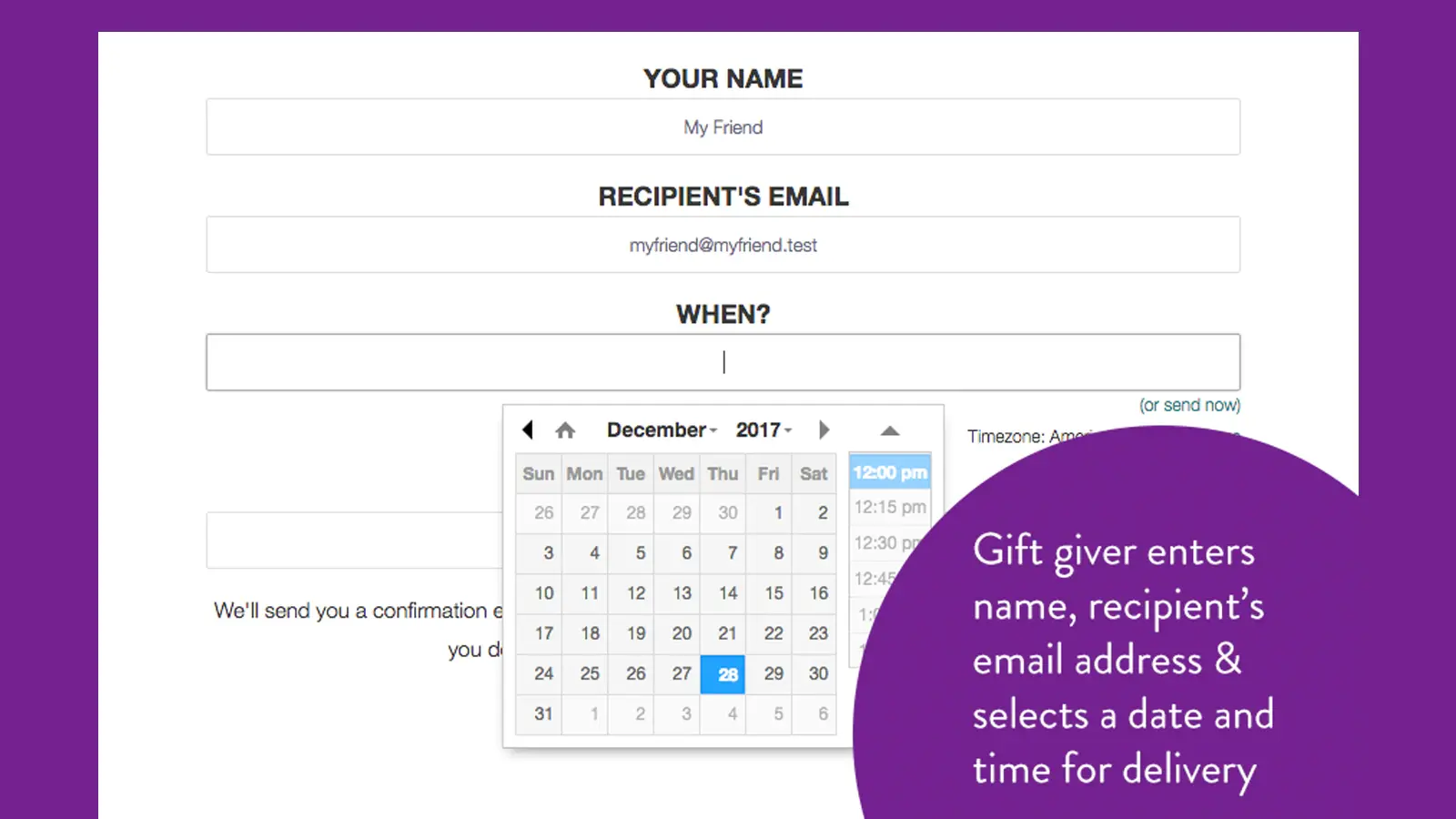 Also, if the receiver doesn't want to redeem the Shopify gift card (or loses the email), the buyer can still exchange it for money. And if the gift card is a last-minute purchase, it can be sent immediately.
Price: from $19/month (14-day free trial available)
Rating: 4.9/5 (1622 reviews)

Growave is a solution that adds a lot of functionality to your Shopify store in one neat package. This speeds up your site and adds functionality you might not have thought of.
All of its functions can help build trust and convert customers, including offering gift cards.
With this app, your Shopify store will automatically give away gift cards for anyone that meets specific conditions. For example, you can offer a gift card when they leave reviews, follow you on social media, spend a certain amount of money, etc.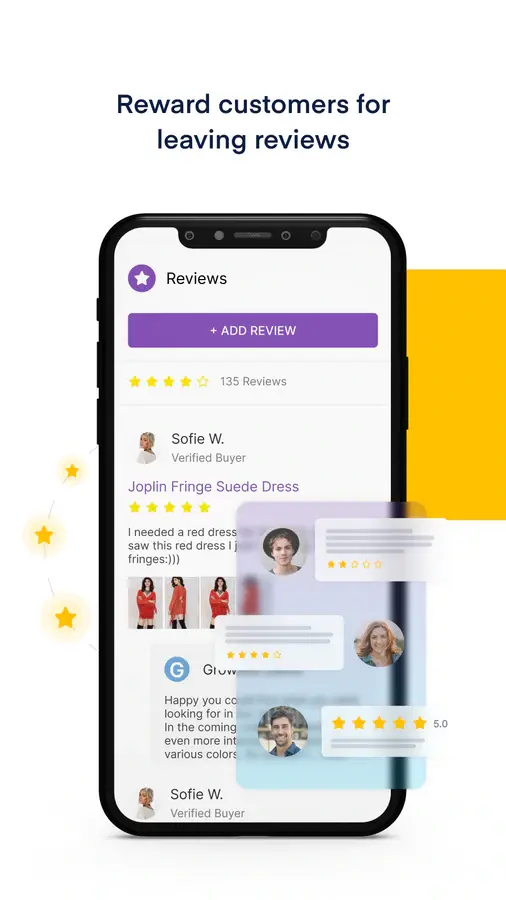 You can also configure it to send gift cards to your customers on their birthday.
Instead of gift cards, your customers can choose to get free shipping, discounts, free products, and in-store cash.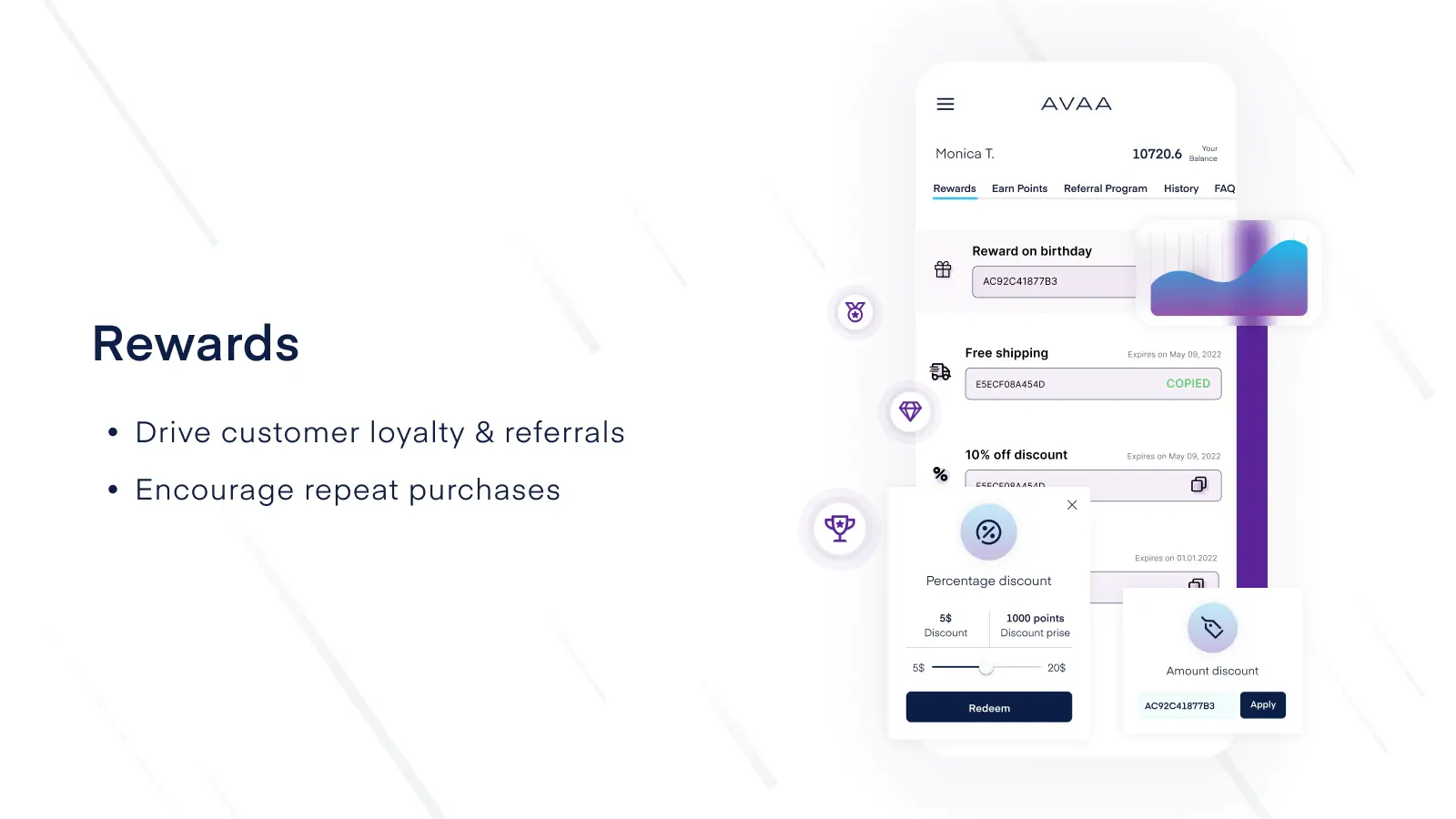 There are many other functions that are unrelated to gift cards waiting for you to explore.
Final Words
When it comes to promoting online shoppers to buy presents, nothing works better than gift cards in Shopify. They're also helpful to create more loyalty by offering them as rewards for customers who spend a lot on an order.
Use one of the Shopify gift card apps listed above right now to add this functionality to your online store and see sales increasing.