Shopify Partner Login: A Complete Guide For Beginners
Unlock the doors to endless opportunities in eCommerce by becoming a Shopify Partner! With the Shopify Partner login, you gain access to many benefits that can kick-start your journey toward success. This comprehensive guide helps you navigate the Shopify Partner login process.  
If you're a newbie, let us help you have a better grasp of what Shopify Partner is, how to create a Shopify Partner account, and the benefits of being a Shopify Partner!
Let's dive in!
What is Shopify Partner?
The Shopify Partner is a broad community of designers, developers, marketers, and affiliates who create eCommerce websites, themes, and apps on the Shopify platform. Shopify Partner Program provides three excellent opportunities for the partners to expand their businesses and receive recurring monthly revenue by referring customers to Shopify.
For example, Updimes is a Shopify partner. We introduce Shopify to new users and produce articles guide them to use Shopify in building their online stores. You can try using Shopify by using our Shopify partner link without any extra cost.
Benefits of Becoming a Shopify Partner
By becoming a Shopify Partner, you can unlock a range of benefits that enable you to generate revenue, access valuable resources, and collaborate with merchants. This partnership offers a pathway to success in the eCommerce industry, empowering you to build a thriving business and deliver exceptional results for your clients.
#1. Revenue Generation through various channels:
Referral Program: Earn a recurring commission for each client you refer to Shopify. You receive a percentage of the monthly subscription fees as long as the client remains active.
Theme Development: Create and sell custom themes in the Shopify Theme Store. Earn revenue every time a merchant purchases and uses your theme for their online store.
App Development: Build and sell apps on the Shopify App Store. Generate revenue through app sales, subscription fees, or in-app purchases.
#2. Access to Resources and Tools:
Partner Dashboard: Gain access to a dedicated dashboard with a centralized hub for managing your clients, themes, apps, and earnings. It also offers resources like documentation, guides, and forums.
Partner Academy: Access educational resources, tutorials, and webinars to enhance your skills, stay updated with the latest industry trends, and improve your ability to deliver exceptional services to clients.
Shopify Experts Community: Join a global network of experts, developers, and agencies to collaborate, seek advice, and exchange ideas with like-minded professionals.
#3. Collaboration and Exposure:
Collaborate with Merchants: Work closely with Shopify merchants to provide specialized services, including store setup, design customization, marketing strategies, and ongoing support. Build long-term relationships and establish yourself as a trusted partner in their eCommerce journey.
Listing in the Partner Directory: Gain visibility by listing your services in the Shopify Partner Directory, where merchants can find and hire experts for their specific needs.
Partner-Exclusive Opportunities: Access exclusive events, workshops, and partner-only resources. This provides valuable networking opportunities, knowledge sharing, and exposure within the Shopify ecosystem.
Early Access to Features: Shopify often releases new features and updates to Partners before they are available to the public. This early access allows you to stay ahead of the curve, experiment with new functionalities, and provide valuable feedback to Shopify.
How to Create a Shopify Partner Account?
Go to the Shopify Partners website > hit the Join now button in the top-right corner.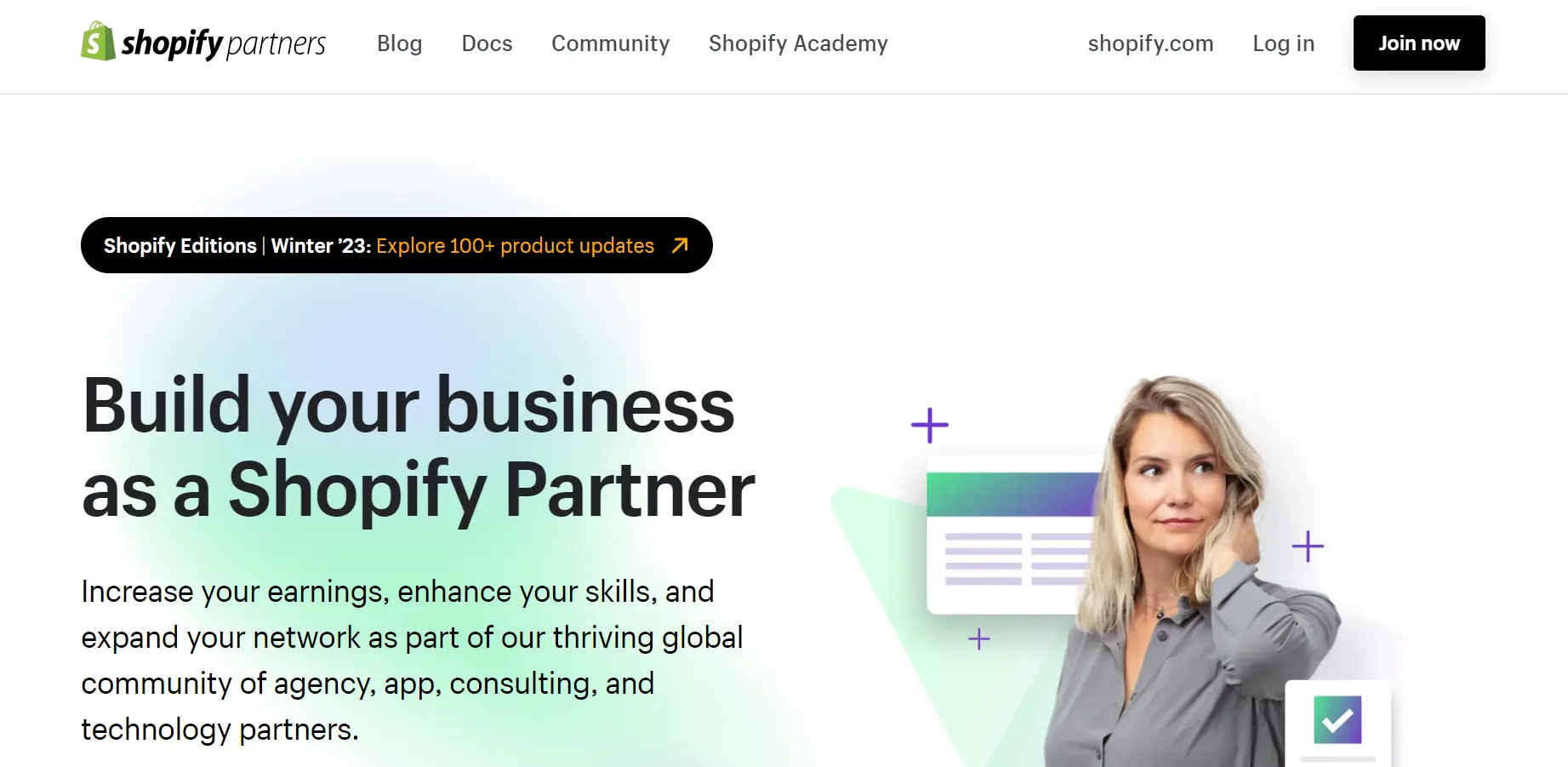 After that, you will be driven to create an account. There are 4 ways for you to create a Shopify partner account, such as using your email address, using Apple account, using your Google account or your Facebook account.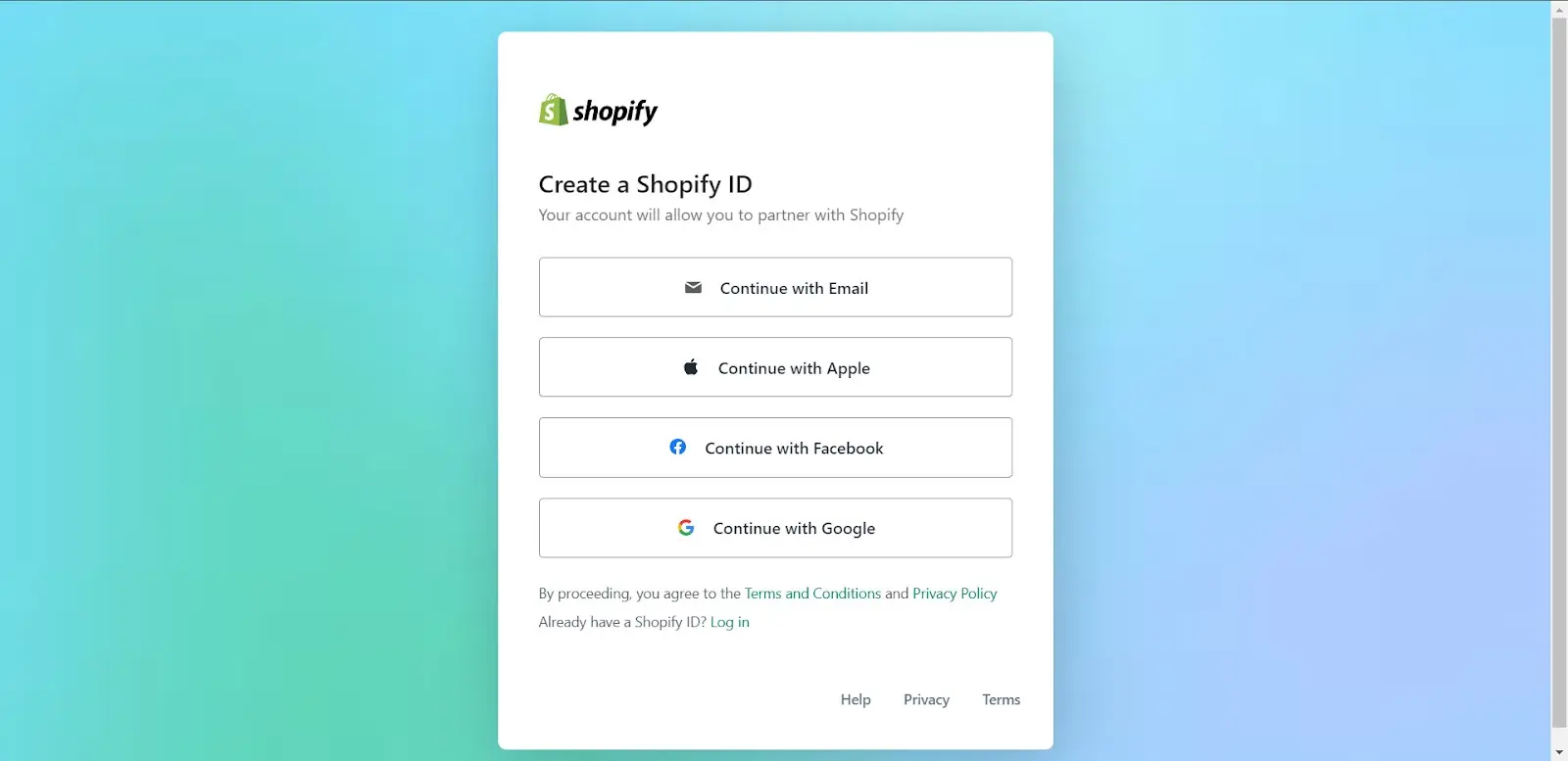 If you choose to sign up using your email address, enter your email address, name, and password. Then, click on the Create Shopify ID button.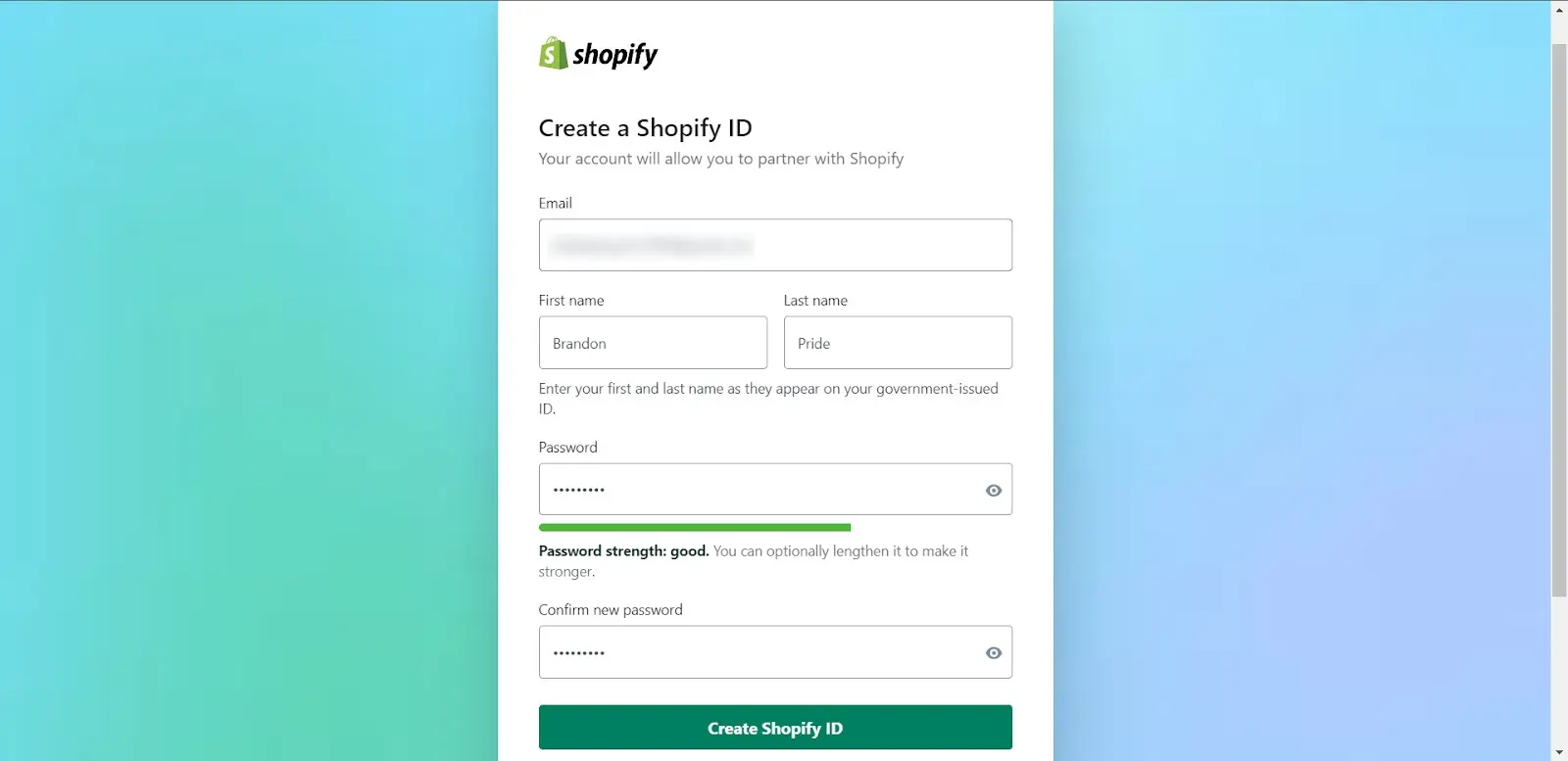 Then pick the main reason why you would love to create a Shopify partner account > Click Next.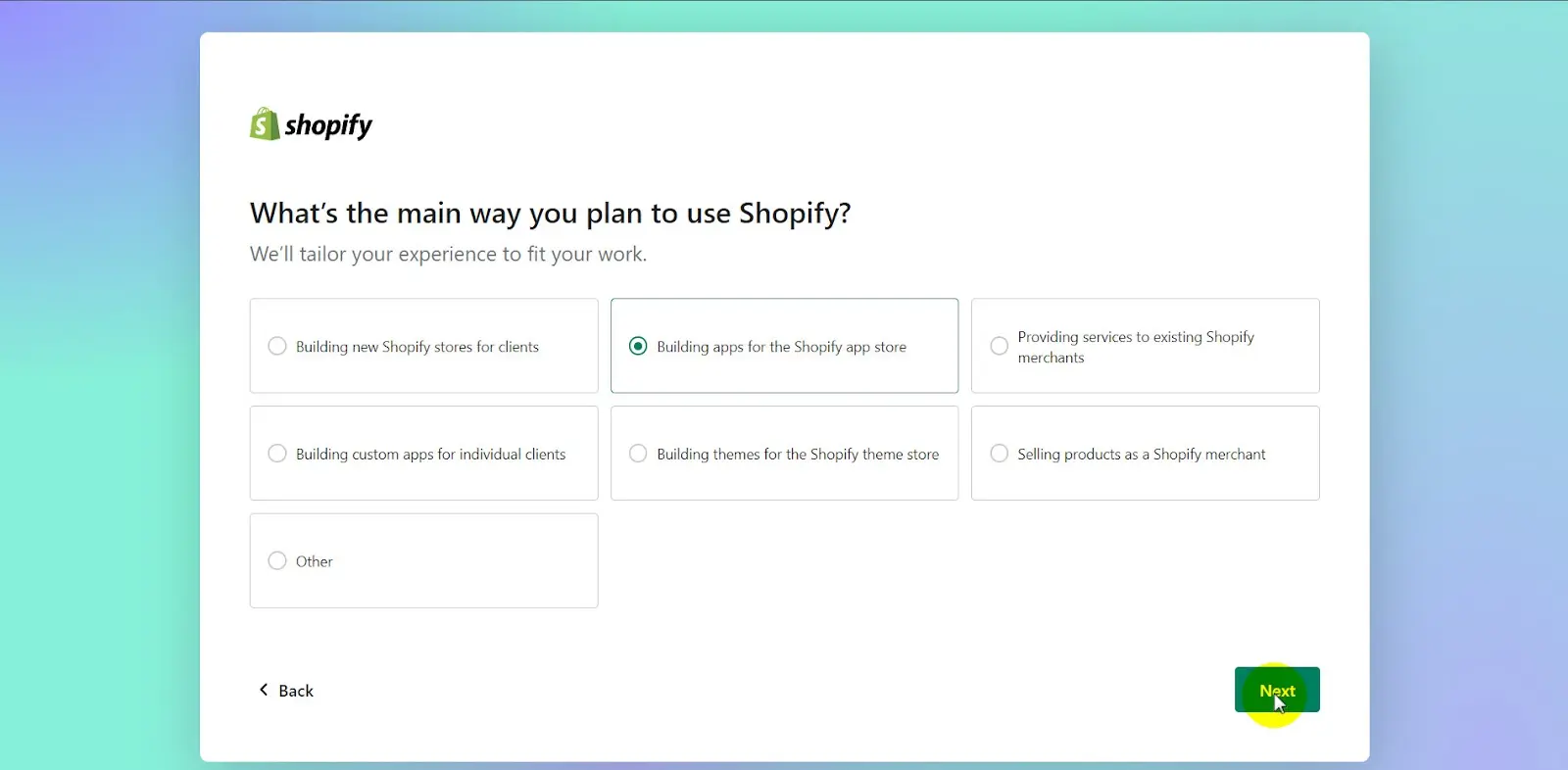 Select your location including country and exact region > Click Next.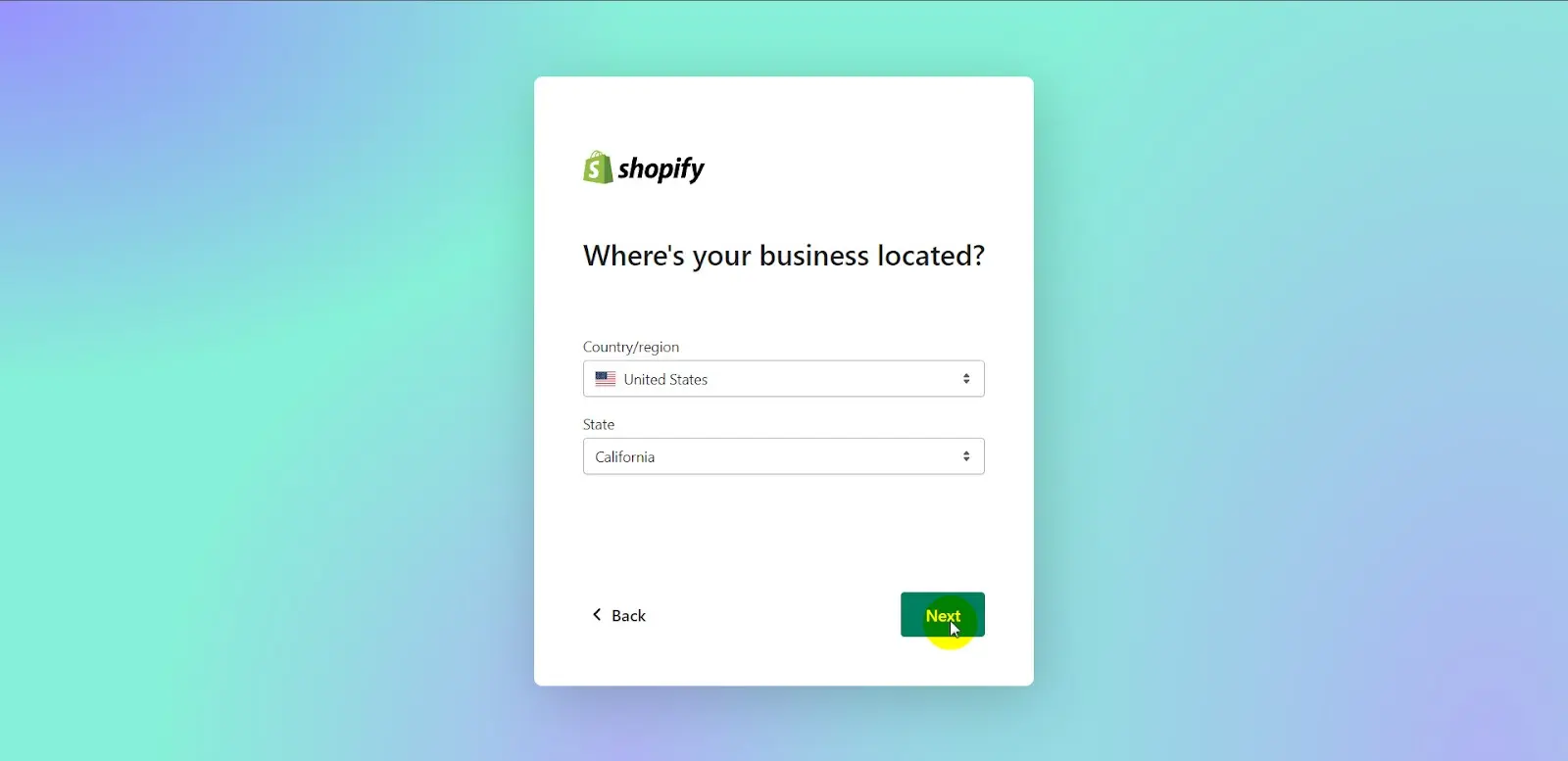 Then type in your business' basic contact information > Click Next to continue.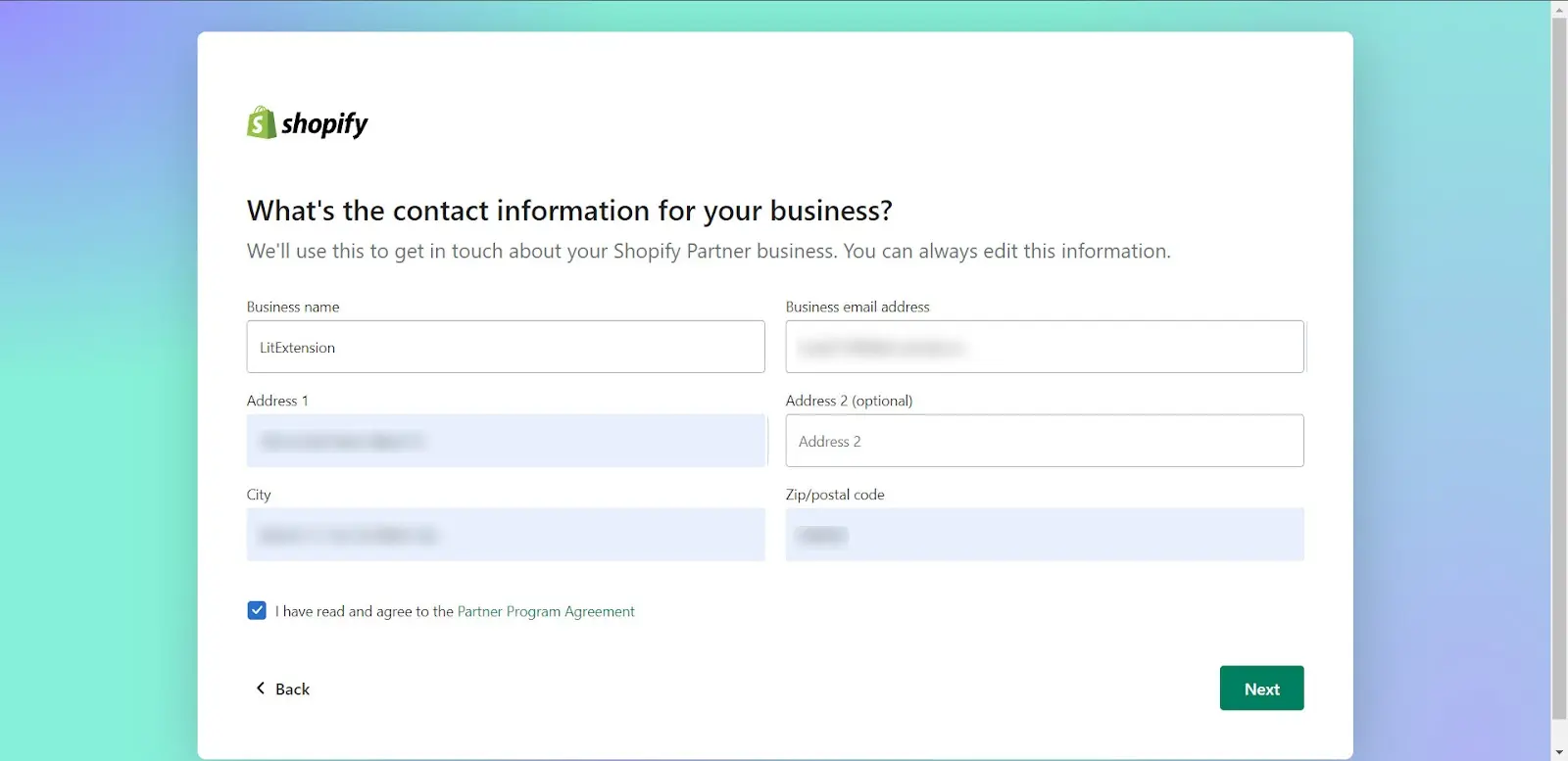 And here you go, after successfully creating your account, you'll gain access to your Shopify admin page for partners as below: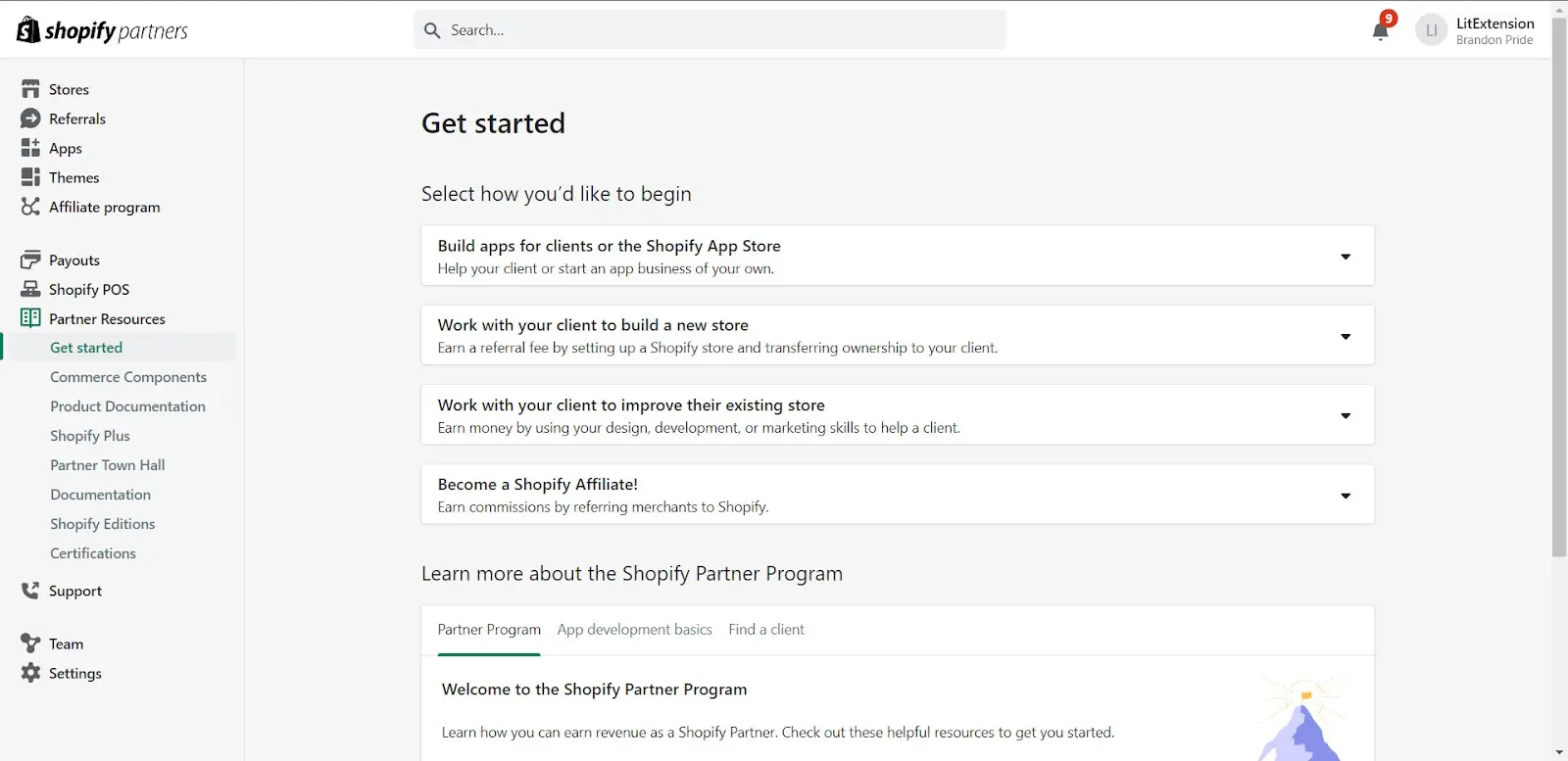 How to Login to Shopify Partner Dashbroad?
Shopify partner login is easy peasy as long as you follow the simple steps below: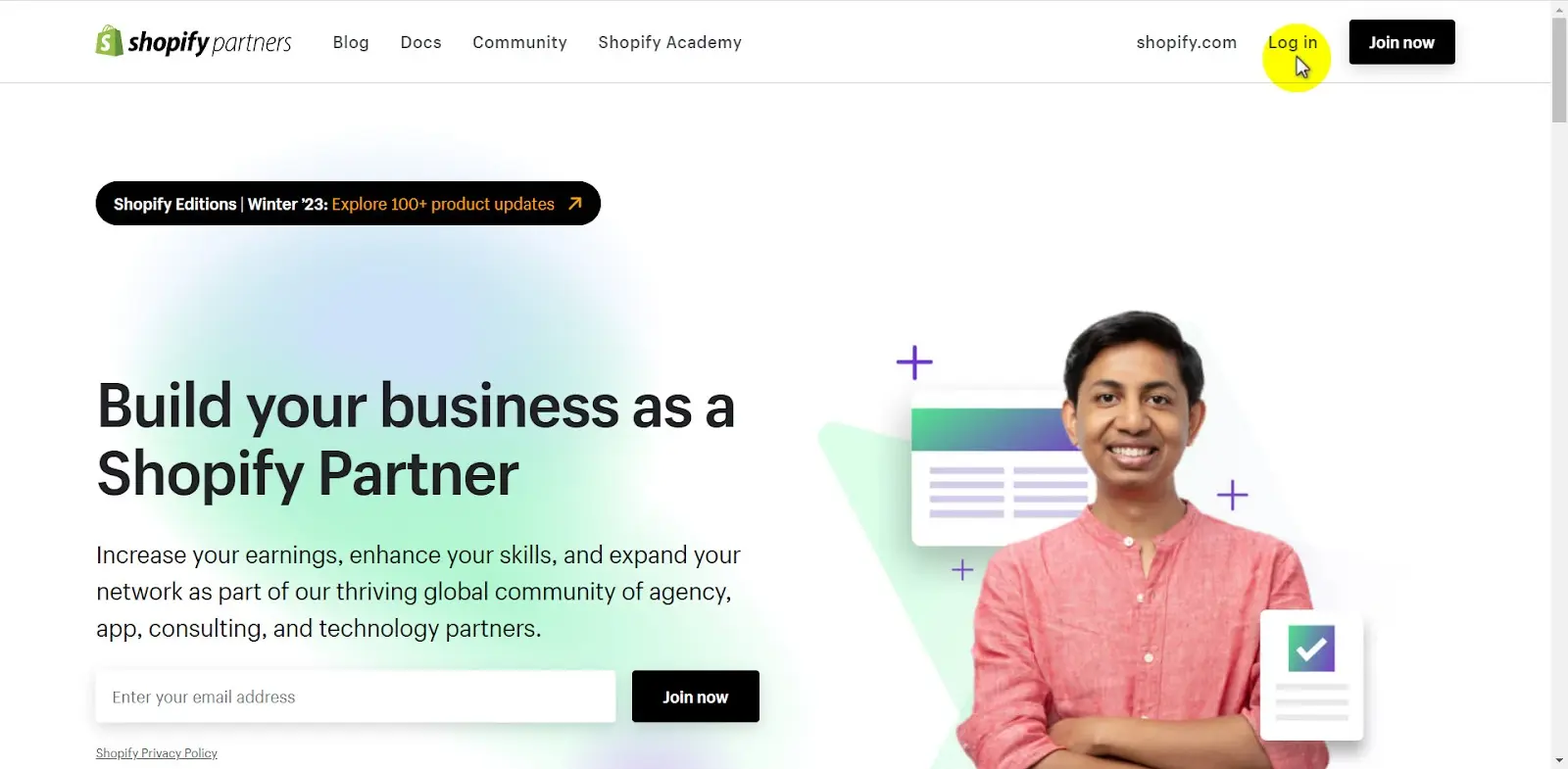 If you've logged in previously to your Shopify partner account, your Shopify partner login information will be automatically saved as shown. Otherwise, click Add account to continue if you haven't logged in to the Shopify partner account before.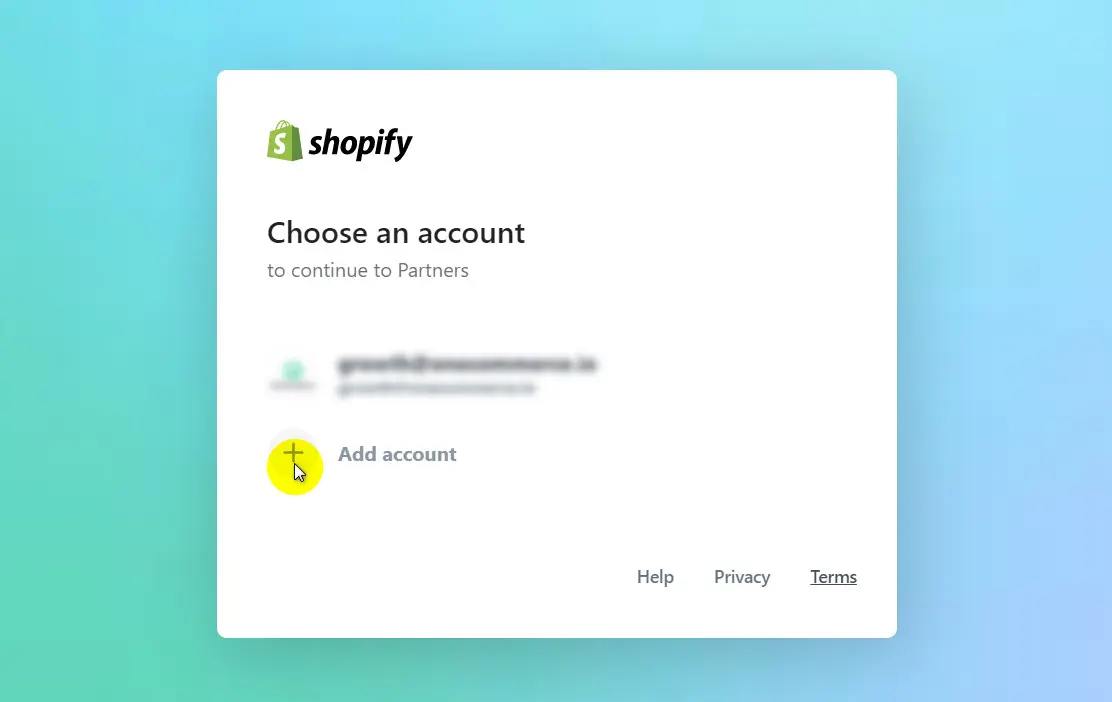 Afterward, type in your email address and click Continue with email. But you can also log in to Shopify partner account with Apple, Google, or Facebook as well.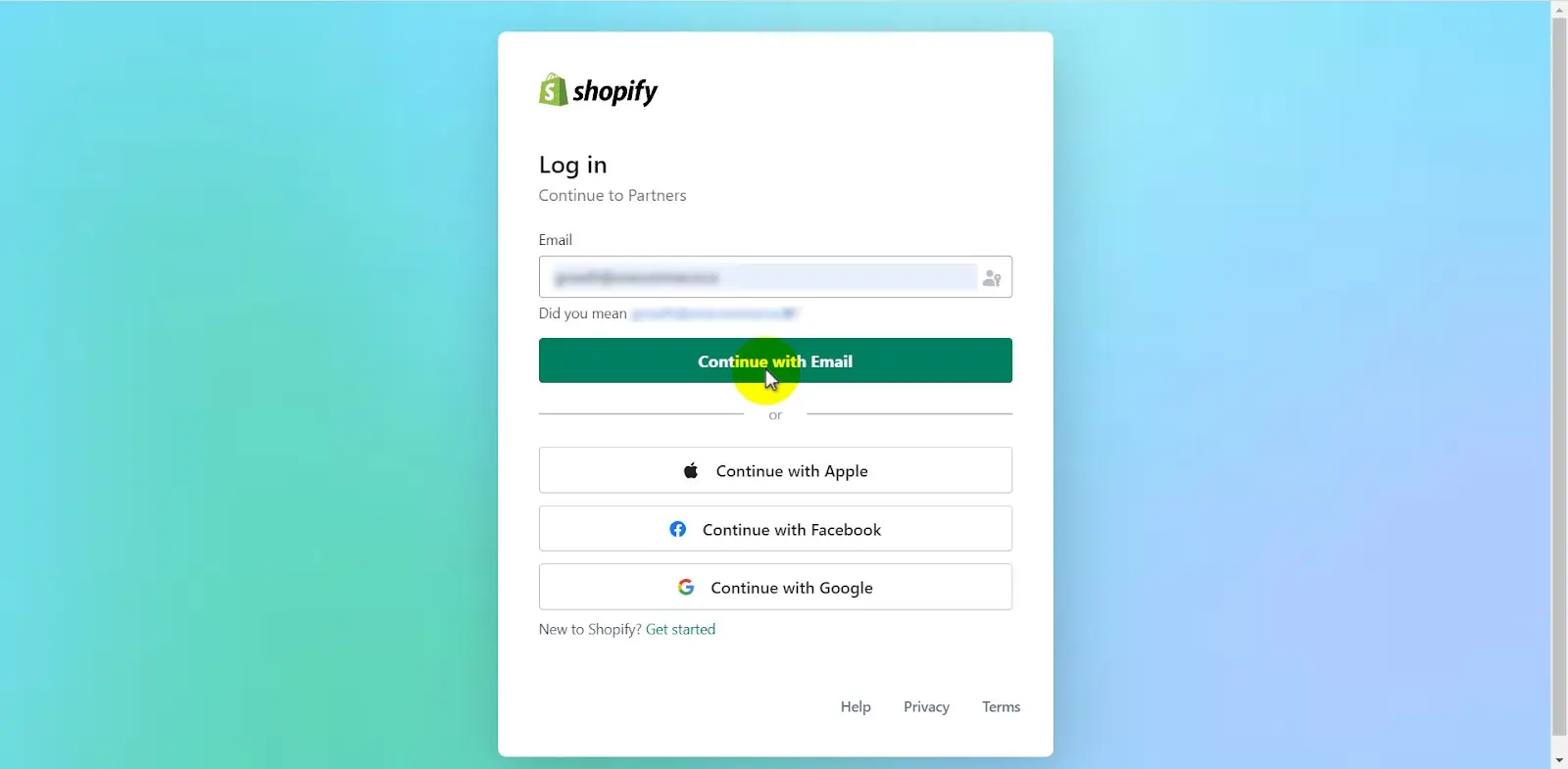 Then enter your password and press Log in button. If you don't remember your password, click "Forgot password?" under the login button.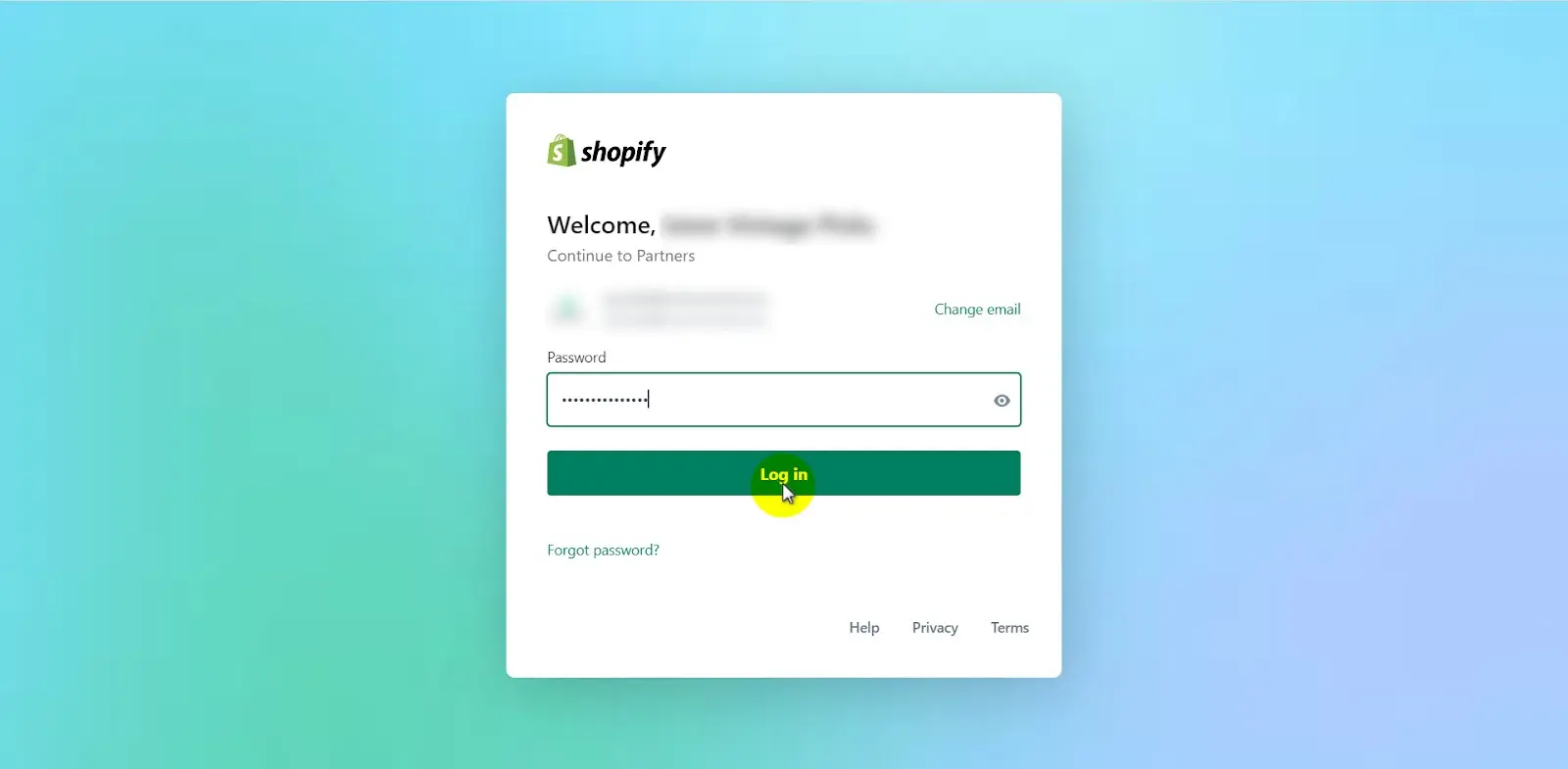 Select the Shopify partner account login you want.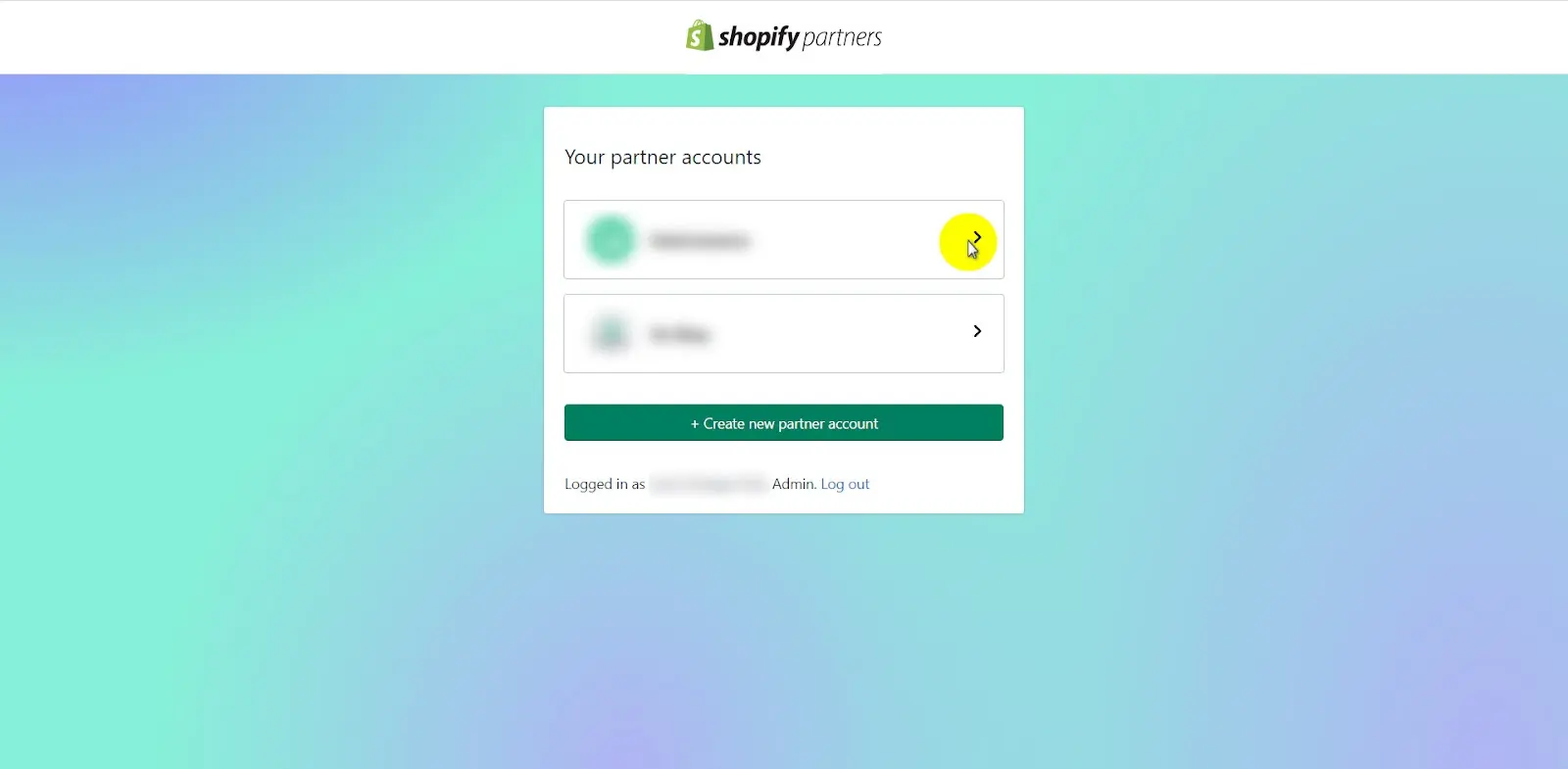 With a successful Shopify partner login, you will access your Shopify partners dashboard. Here, you can manage your apps, store tests, and more as below.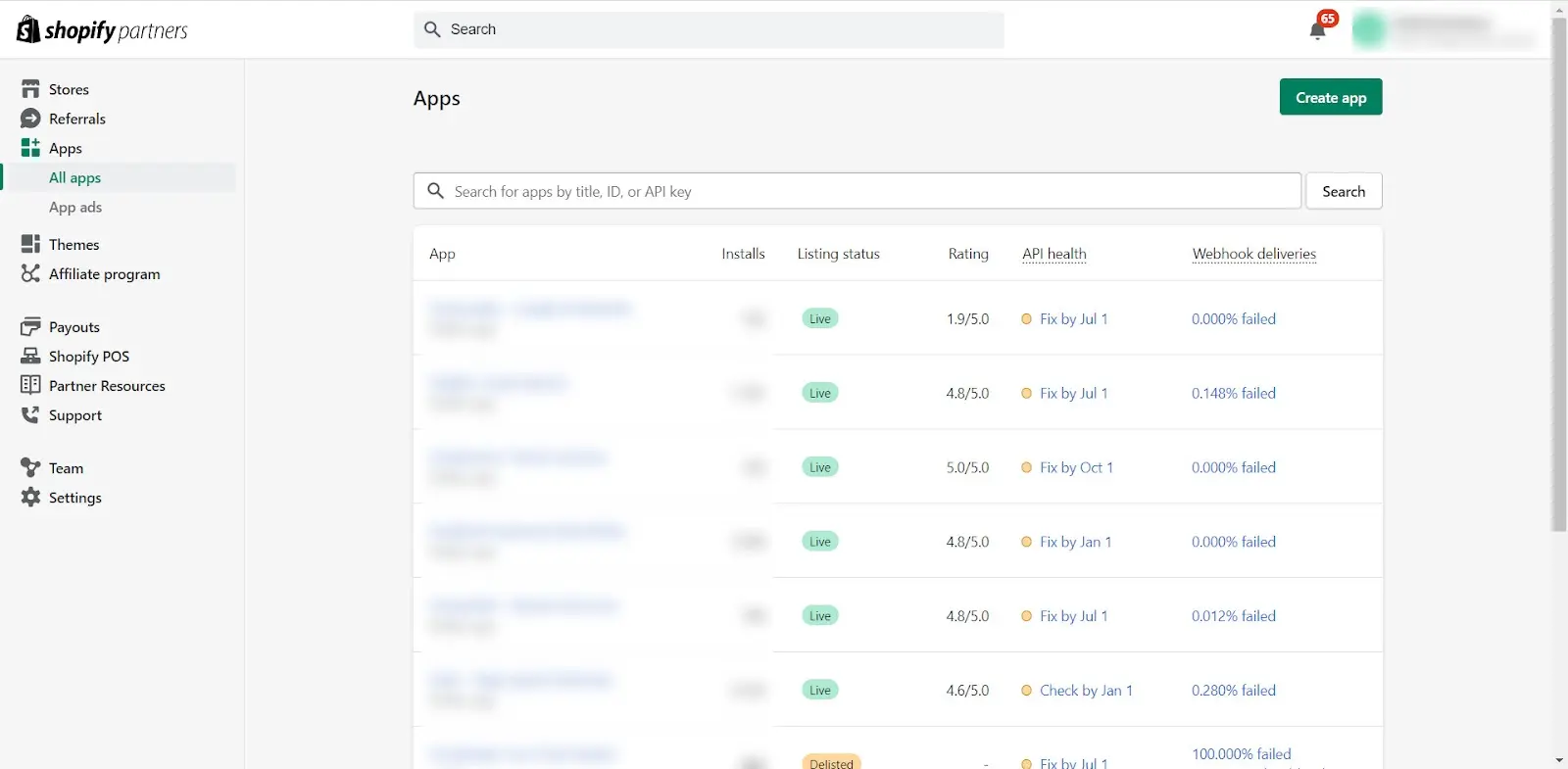 Shopify Partner Login - FAQs

How do I log into my Shopify Partners account?
To log into your Shopify Partners account, follow the steps below:
Visit Shopify website login for partners
Type in your email address and password
Select the Shopify partner account you prefer to log in to (if there is more than one account).
What is my Shopify partner ID?
Your Shopify partner ID is a unique identifier assigned to you when you sign up as a Shopify Partner. It is used to track your activity, referrals, and earnings within the Shopify Partners program. You can find your partner ID by logging into your Shopify Partners account and navigating to the Account Settings or Profile section.
Is it free to be a Shopify partner?
Yes, it is absolutely free to become a Shopify Partner. You can sign up and access the resources, tools, and benefits of being a Shopify Partner at no cost. However, remember that there may be fees associated with specific services or features you offer to your clients, such as app development or premium themes.
Can anyone be a Shopify partner?
Yes, anyone can become a Shopify Partner. Whether you are an individual, a freelancer, a web developer, a design agency, or a marketing professional, you can apply to become a Shopify Partner and take advantage of the program's benefits.
Shopify Partners are diverse professionals collaborating with Shopify to support merchants in building and growing successful online businesses. Simply sign up on the Shopify Partners website and start your journey as a Shopify Partner.
Conclusion on Shopify Partner Login
Embrace the benefits of Shopify partner program and embark on a thrilling journey to build and grow remarkable online businesses. Shopify partner login is an easy process. Follow the steps Updimes gave above, and you'll be doing just fine! If you're wondering what Shopify partner is and what benefits the Shopify Partner Program brings, I hope you find this article helpful too.