Top 5 Shopify Print on Demand Apps
In recent years, Print on Demand or POD is becoming one of the most upward trends in eCommerce dropshipping. As more and more POD stores choose to start their businesses on Shopify platform, it is no surprise that the number of Shopify apps for Print on Demand has massively increased as well.
If you are about to begin a Shopify dropshipping and warehousing business selling t-shirts, hoodies, shoes, cards or posters, you need an app to help you do that. Here are the top 5 Shopify print on demand apps which you should choose.
What is Print on Demand (POD)?
Print on demand, or POD, is a process in which you engage with a third-party provider to modify white label products with your own designs. Print on demand services involve selling products on a per-item basis with your own brand name or customized design printed on the items you've sold through your website.
You won't have to pay for a product until you place an order and the third-party supplier prints it. When a customer places an order with you, your print on demand provider will handle everything from printing to shipping.
How Does The Print On Demand Business Work?
Print on demand is a simple system to grasp. Using this type of fulfillment service, your store accepts orders for specific products. Once an order, such as a personalized t-shirt, is placed with your store, the task is handed over to a third-party provider, who prints each product to order, packages the goods. And then it goes into shipping mode and into the hands of the consumer.
The ecommerce corporation handles the beginning of the transaction in this form of fulfillment services arrangement offering print on demand. The print on demand provider takes care of the rest after the initial sale is made.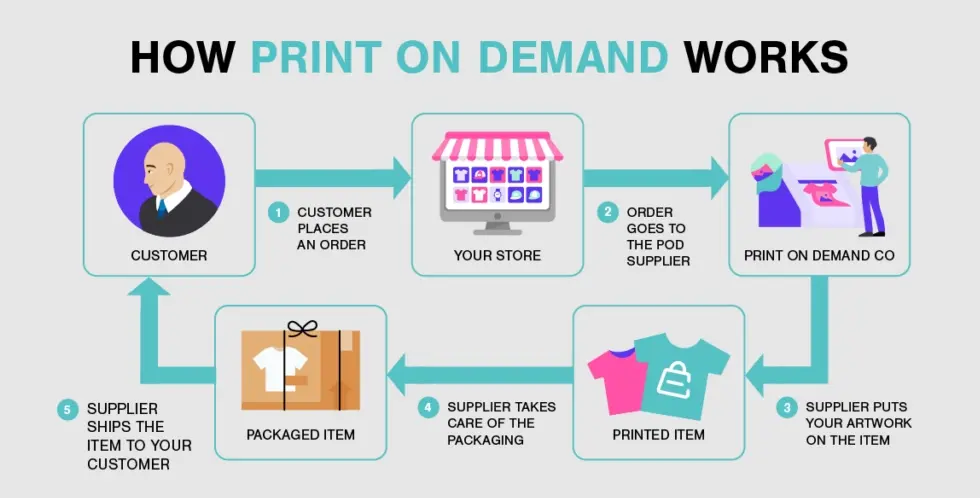 When starting a firm, you should constantly think about the base cost, inventory requirements, target market, and profit margins. Furthermore, when determining which business model will work best for your store, you should constantly analyze the advantages and disadvantages of each option.
Why do you need a Print on Demand app?
POD apps for Shopify offer a complete Print on Demand service for your company. Your sole responsibility is to produce eye-catching designs, incorporate them into high-quality products, and sell them through your Shopify store. Shopify's POD service will handle the rest, including printing, storage, and shipping. With Shopify apps for Print on Demand, you can cut upfront expenses and unneeded labor while increasing sales and controlling profitability based on your own calculations.


Top 5 best Shopify Print on Demand Apps
Printful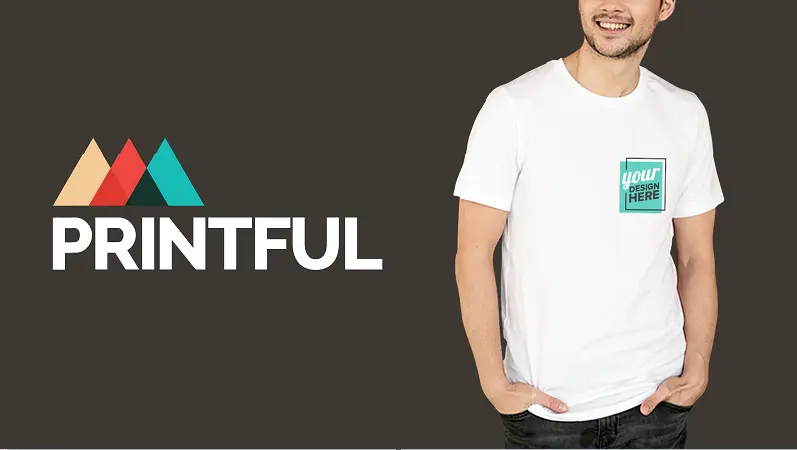 Printful is a common selection among print on demand sites owing to its wide choice of high-quality products and brands (Gildan, American Apparel, etc.). It is easy to use the mockup generators and also has a variety of options for adding your own branding to the unboxing experience.
Printful provides some excellent printing techniques that you would have interest:
Direct to Garment – This technique allows you to print directly into clothing – mainly able for simple designs. Only certain parts of the product can be printed on.
Embroidered products – This is a quite difficult printing technique because it requires a 3D effect on finished goods. It is suitable for uncomplicated products like simple embroidery on T-shirts.
Cut and sew printing – This function allows you to create a better product than using sublimation printing while the base costs may be higher.
Also offering other handmade products like mugs, bedding, pillows, framed posters, beach towels, aprons, and more.
Printful helps to develop your brand with Printful's mockup images and product videos, and lets shoppers create unique products right in your store with their product personalization tool. Besides, its Shopify is quick and easy to set up and built in hosting solutions, making the perfect eCommerce platform for your business.
Teelaunch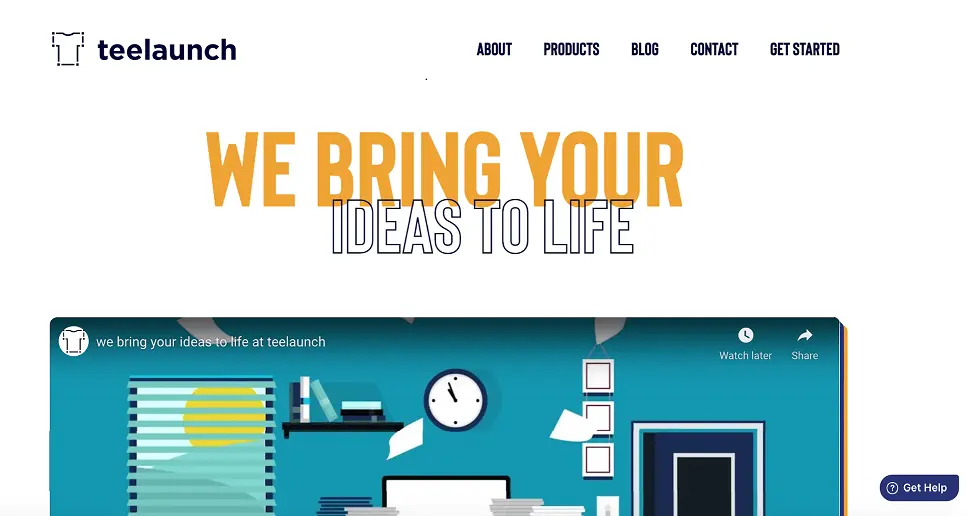 Teelaunch offers good quality printing with great and quick customer service. This is the reason this app gets so many good reviews. Since being founded in 2015, teelaunch has built up more than 170,000 POD production facilities all over the world with perfect level of quality and performance.
Key features of the app:
Best printing quality for all products which helps you to create premium products.
Large product range: Clothing, dinnerware, drinkware, household products, and workplace accessories are all available.
Variety kind of products: clothing, dinnerware, drinkware, home goods, and office accessories,
Sale everywhere: Teelaunch can manage product delivery everywhere around the world with a fast delivery time within 3-6 business days at a competitive shipping price compared to other Shopify POD services.
Moreover, teelaunch also provides a personalization tool where customers can insert their name or photo into a product. Bringing to you a lot of wonderful benefits, this app is truly an ideal option for Shopify store owners selling homeware.
SPOD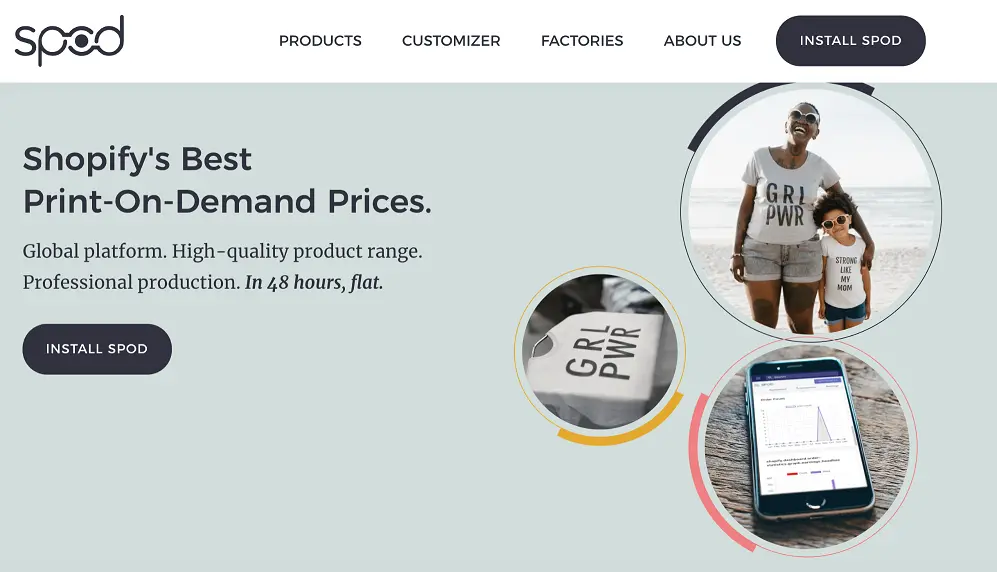 SPOD is always on top 5 of the best POD services for your Shopify store. This brand gains a good reputation for the fastest Print on Demand dropshipping in the US and EU thanks to their quick production in 48-hours or less. This is an excellent feature because 44% of customers often do not order products because of slow delivery times.
Best features of the app:
Supporting your creativity: This app has a library of 50,000 free designs for inspiration. You can pick one of them to design your product.
Tempting discount: SPOD offers 20% discounts on each sample order which helps customers to save on costs.
Easy for beginners: SPOD provides simple product customizer tools for users to see designs before manufacturing. This function helps you to easily design your product and save a lot of time.
Rapid production: fast product fulfillment (about 50% of orders get delivered within 48 hours).
Fair prices: SPOD offers to their customers reasonable prices with quality products.
More than just a normal Print on Demand service, SPOD provides a customizer tool for customers to customize their own designs from more than 150 available products. Thanks to high quality products and excellent delivery time, SPOD receives many good reviews from users, so you do not have to worry about unsatisfied customers and other problems at your Shopify store.
Printify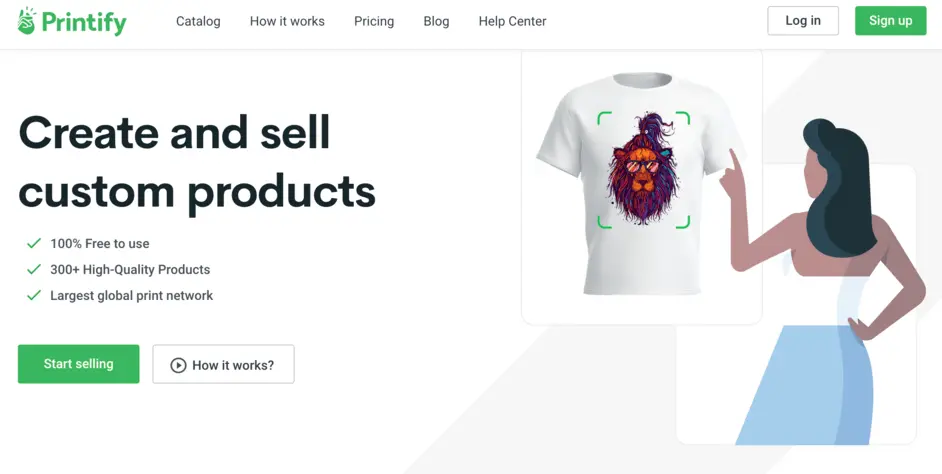 Another popular Print on Demand platform on Shopify for you to choose is Printify. It operates a Shopify store within a minute and gives you a variety of clothing products to sell. The shipping cost and time will adjust based on provider and shipping location.
Notable features of the app:
Having a variety catalog: Its library consists of 250 products which brings to you a lot of options to choose from.
Best Product Costs on the Market: You can use Printify for free for five stores with all features. The premium plan costs $29/month is for large dropshipping businesses operating 10+ eCommerce stores.
90+ printer locations across the world: This app offers you all the best printing partners network from 90 locations, including the US, UK and China to ensure a seamless and faster fulfillment.
Providing white-label: Printify has an international vendor network that enables a number of unique white-label products you're not likely to find elsewhere, such as jewelry, clocks, shoes, and water bottles.
More than 500,000 merchants use Printify's services to operate their POD businesses because it is an ideal Print on Demand option for both new and seasoned sellers. This app brings to you good quality printing and  straightforward mockup generator.
AOP+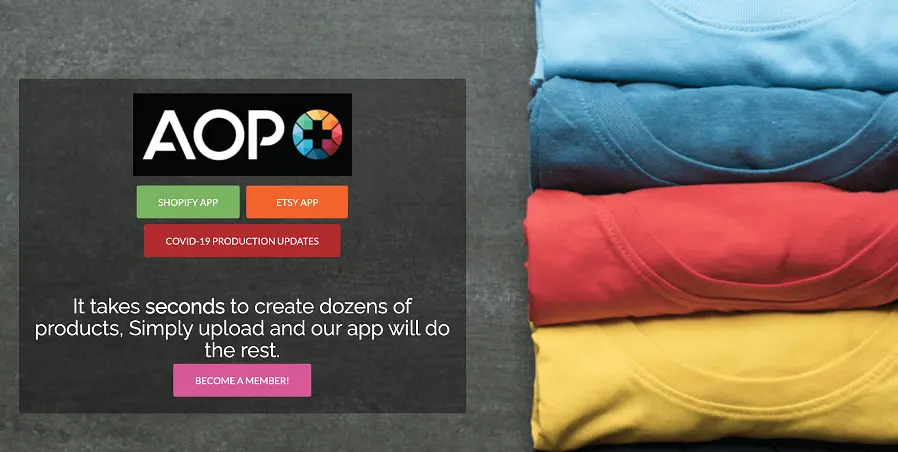 AOP+ is a good print on demand Shopify app which gains 4.2 rating. AOP+ provides an easy way for eCommerce store owners to sell custom print on demand products anywhere in the world. This is a wonderful start-up friendly tool for any artists, designers, and photographers who would like to start a POD business and run their own online stores.
Best features of the app:
Bring your ideas to life with our catalog of 120+ classic, premium, and organic product variations.
Time saving: Fully automated system, takes only 30 seconds to create a product with your design.
Save on costs: Up to 10% discount on all prices in premium plans.
Reasonable product pricing: With the manufacturing centers in London, AOP+ is proud to have the most competitive prices compared to all print-on-demand services in the UK, EU and US.
You won't have to bother about stock, equipment, or printing because they'll take care of everything. This app also has an intuitive image editor that gives you a good sense of what your final product will look like. AOP+ is really a good Shopify print on demand app to create a dropshipping business with numerous product categories.
Shopify Print on Demand Apps: FAQs
Is print-on-demand profitable on Shopify?
Yes, print-on-demand can be profitable on Shopify if done correctly. Print-on-demand allows you to sell custom-designed products without the need to hold inventory or invest in equipment, making it a low-risk and cost-effective way to start an online business. However, profitability depends on several factors such as product selection, pricing, marketing, and customer service.
Is Shopify a print-on-demand platform?
Shopify is not a print-on-demand platform in itself, but it does offer integrations with various print-on-demand apps and services, allowing you to add custom-designed products to your Shopify store. Some popular print-on-demand apps for Shopify include Printful, Gooten, and Printify.
How much does it cost to start a Shopify print-on-demand?
The cost to start a Shopify print-on-demand business varies depending on several factors such as the products you plan to sell, the print-on-demand app or service you choose, and your marketing budget. Shopify offers various pricing plans starting from $29 per month, and print-on-demand apps typically charge for the product and shipping costs, leaving you with a profit margin on each sale.
Can I integrate Printful with Shopify?
Yes, Printful can be easily integrated with Shopify. You can install the Printful app from the Shopify app store and connect it to your Shopify store. Once connected, you can start designing and selling custom products on your store. Printful offers a wide range of products, including apparel, accessories, and home decor items that you can customize with your own designs.
Conclusion
Now that you have a better idea of what print on demand is, you might be ready to establish a business and start selling. Whether you are a sole proprietor or run a huge firm, starting a print on demand product business is a fantastic option to consider.
The five Shopify print on demand apps discussed above will assist you in getting started without a huge investment. These are the top apps we discovered during our investigation, and we sincerely hope that one of them is appropriate for your store. Because each app has a wide range of features and rates, it is up to you to determine which one is appropriate for your current experience and ability.