Shopify Product Feed: All you need to know
In recent years, online shopping has become a fast-growing trend all over the world. A series of online sales websites were born, helping store owners do business more easily, the most special of which is Shopify.
Along with its outstanding advantages, Shopify is trusted and chosen by many online stores in many countries. However, not everyone knows how to make the most of its features. When using Shopify, users are familiar with the phrase "Shopify product feed". So what is it, how it works, let's find out below!
What is Shopify Product Feed?
These shopping feeds in Shopify are basically a file of CSV, XML, TXT, or other file types that contain formatted and explicit data on the products you wish to put on the external marketplace. This file then is being exported to the marketplace. as an example, you'll be able to export Shopify to google shopping feed.
The importance of Shopify product feed
Why is product feed so important to eCommerce marketers?
In general, the main purpose of product feed is to help users increase revenue through their own tools. Specifically, it provides 5 main advantages:
• Detailed and accurate product data: Not only show customers the product's image, name, and price, this setting will help them dig deeper and have a more accurate assessment before making a purchase. This will create a high level of credibility for your stores.
• Greater exposure and visibility: With a diverse design and high aesthetic, it easily attracts the attention of many customers. It also has a scientific arrangement to make shopping easier, stimulating shopping demand
• All product listings approved: Not only accept a few products with a strict testing process, many applications now support all products on other platforms.
• Better conversion rate and ROI: Optimizing your Shopify product feed will help your conversion rate become better, from which the business will grow.
• Compelling ads: not only encapsulated in boring ads, but it also allows sellers to install much more effective and interesting ads.
When should you optimize your product feed?
There are many users who think that optimizing Shopify Product Feed is expensive and unnecessary, while it is a great tool to help them drive sales. In particular, in some cases, Shopify Product Feed optimization is not only optional but also mandatory.
·       When your advertising campaign is in trouble: sometimes, the money you spend on advertising does not bring much effect to the sale. At this point, optimizing Shopify Product Feed will help you improve that.
Only at a cheaper cost, even for free, your business is significantly more effective than spending a lot of money on advertising.
·       When you are looking to expand sales on many other channels: The more you expand the market, the higher the opportunity for growth. By linking with other marketing channels, the number of customers reaching the product will increase rapidly, helping your revenue increase higher.
When starting to develop a new channel, pay attention to product information. It should be legit, accurate, and consistent across sales channels.
How to Optimize Your Shopify Product Feed to Boost Sales?
Keyword research: in addition to manual keyword research like searching on google, there are now a number of other tools that support keyword research such as Ahrefs, Keywordtool.io The introduction of relevant and popular keywords Variable is very important because it will help push your product to the top when customers search for information.
Posting quality images: it is undeniable that images play an important role in stimulating consumers' shopping. An attractive and well-groomed image is much better than blurry, unclear images. The images should show many aspects of the item such as use, life application, not just the standard design.
Be careful with out-of-stock products: Pay attention to products that are almost out of stock to ensure your store's profitability. The appearance of out-of-stock products will make the product feed less effective.
Focus on best-selling products: Contrary to the above, focusing on your store's top-selling items will make your Shopify product feed much better. Those quality products will appear first, with the highest user attraction rate.
How to create Shopify Product Feed
It's now much easier to create Shopify Product Feeds through marketing channels. Not only 1 way, but Shopify also has 3 different ways to create Shopify Product Feed: Using API connection, shopping feed exporting, and using external services for data feeds.
The first option is using API connection that is the most popular method because it is supported by many marketplaces. Prominent among them is Google Merchant Center – a tool to help create a Shopify google shopping feed.
This method is generally quite easy to use, allowing users to constantly update information and change products, but you have to be careful because this method sometimes will not be optimized.
You can also choose the second way to create Shopify Product Feed: shopping feed exporting. In Shopify's app store, you should choose an app that supports the creation of Shopify Product Feed. Because they are built together on the same platform, these apps will surely help you better optimize your options for creating Shopify Product Feed.
In this tutorial, I will show you how to create and optimize a Shopify product feed by using shopping feed exporting with the Google Shopping app.
Step 1: Log in to Shopify
The first step is logging in to your Shopify account. If you don't have a Shopify account before, create a new one. Registration is very simple, you just need to fill in basic personal information about yourself and your store.
Step 2: Install Google Shopping app
From your Shopify dashboard, go to Apps > Customize your store

On the searching box, typing "Google Shopping" to find out the app.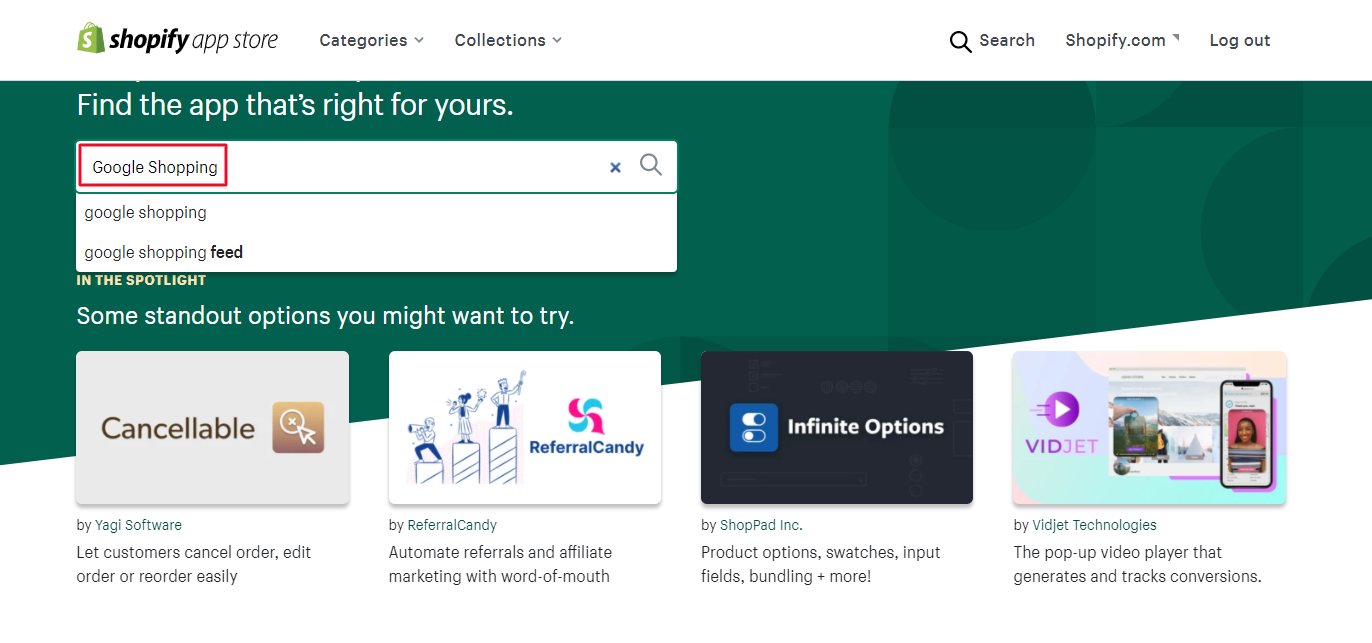 Once you see the app, click on the Add app button to install it in your Shopify store.
Step 3: Agree to provide store information for the app to connect a Google account
Step 4: Create a new Google Merchant Center ID.
Fill in all the information corresponding to your Shopify store. If you already have a Shopify shopping feed before, you should delete the old products before setting up the new one to avoid errors.
Step 5: Wait for Google to index the Shoppy product feed.
It usually takes 3-5 days for Google to accept the pinning product, after which you will see the status of the products: All products / Not approved / Pending / Approved
Step 6: Edit Google shopping fields.
where you can add in all of your categorization and customization to connect it with google.
The third way you can try to build your own Shopify Product Feed is to use external services for data feeds. Using tools that collect data and information, will provide personalized rates and the necessary functions to set up, help your store fit, and adapt to the tools that support it on Shopify. Let's take a look at the list of best Shopify Product Feed apps below and choose the most suitable one you need to create a shopping feed on your Shopify store.
3 Best Shopify Product Feed Apps
There are tons of apps on the Shopify site that help make up the Shopify Product Feed. In which, the 3 apps mentioned below are the 3 best-rated apps, let's find out!
Rate: 4.9/5 (3032 reviews)
Price: From $4.99/month. 21-day free trial.
Currently, this app has supported over 50k accounts for their Various Feeding and Campaign needs via API for marketing. It is widely used in many countries with multi-language settings and high accuracy.
Not only does it organize the product feed with all products, but the app also allows you to select just one or a few special products. You can customize, Product Title, Product Description, and Product Type values to optimize your feed beyond the standard values you use in your Store.
This application also supports SKU as a product ID format like other platforms. It is rated as a user-friendly application because the app's support team always quickly solves the problems users are facing.
Especially, Support from the Simprosys team is exceptional! It is able to resolve the problem immediately. Navigating in this e-commerce world has its difficulties, but Simprosys makes it 100% easier.
Rate: 4.9/5 (287 reviews)
Price: From $4.99/month. 21-day free trial. Additional charges may apply.
Unlike some other apps, this App for Bing Shopping Campaigns can cover product attributes (Google Shopping Categories / Variant Images / Product Conditions / Price / Sale Price / Age Group / Custom Product Details / Shipping Information and Cost / ... )
It provides quite a good customer service that makes users happy, solves problems quickly and conveniently. The apps fed all your products into Bing and Google ads platforms.
There is one small problem, that is App works and does send your product information to Microsoft, but Microsoft is difficult to work with. So if you are familiar with Microsoft, do not hesitate to install this application.
Rate: 5/5 (272 reviews)
Price: $7/month. 14-day free trial. Additional charges may apply.
Although the price of this app is more expensive than other apps, according to customer reviews, it is worth the money to use this app. It has more special features than other similar-purpose apps.
Generate a feed for each currency. This way you can advertise the original price and currency of the target country. This will allow you to show the exact price as you have set it in your store and not the converted price which is shown by Google (additional fees apply - contact support to get it activated).
In addition, titles will be extended with options, like color and size. This will ensure that the correct product variation is shown within Google Shopping. Also, each variation will get a unique image.
Conclusion
Above is an overview of building and optimizing your Shopify product feed, compiled based on the most frequently asked questions. We are sure that setting up this product feed will greatly assist your business. Let's experience it!
Disclosure: When you purchase a service or a product through our links, we sometimes earn a commission.