How to Create Shopify QR Code: 2 Methods
In the ever-growth world of eCommerce, staying ahead of the competition is crucial. One effective way to engage customers and enhance their shopping experience is by leveraging QR codes. Shopify, a leading e-commerce platform, allows you to create and manage your online stores seamlessly. By incorporating Shopify QR code into your store, you can unlock a multitude of benefits, from improved marketing campaigns to simplified checkout processes.
In this article, we will guide you through the process of creating Shopify QR codes-a simple strategy that has a big effect your store's development.
Let's explore right in!
What Is a Shopify QR Code & Why Use It?
Before we show you how to create Shopify QR code, let's take a moment to discuss what a Shopify QR code is and why you should use one.
What is a Shopify QR code?
To increase website traffic and increase conversions, if you operate a Shopify store, think about implementing Shopify QR codes.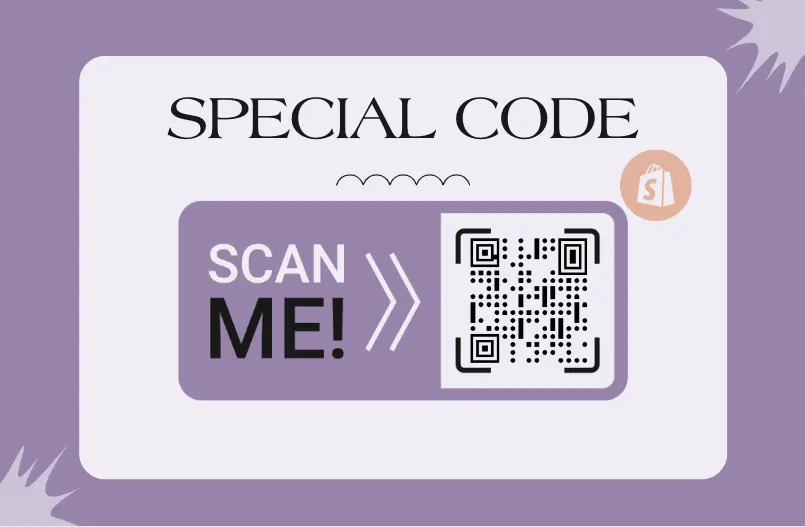 The QR code Shopify- two-dimensional barcode that points to a specific page on your Shopify store, such as a product page, category page, or even your homepage.
It will automatically redirect users to the website you want them to see when they use their smartphone or tablet to scan the code. Customers using mobile devices to browse your store may find this especially helpful because it makes it simple to access particular pages without having to type in any URLs or search phrases.
Why do you need to use Shopify QR code?
Using Shopify QR codes is advantageous because they're a great way to improve audience engagement. You can assist potential clients in finding the goods or information they're looking for quickly and conveniently by linking directly to relevant pages of your website. This can enhance your users' overall experience and increase revenue for your company.
How to Generate a Shopify QR Code?
Currently, there were two ways to make a Shopify QR code for your store. You may do this using the free QR code generator Shopify or an app for more intricate setups and customizations.
Method 1: Use Shopify free QR code generator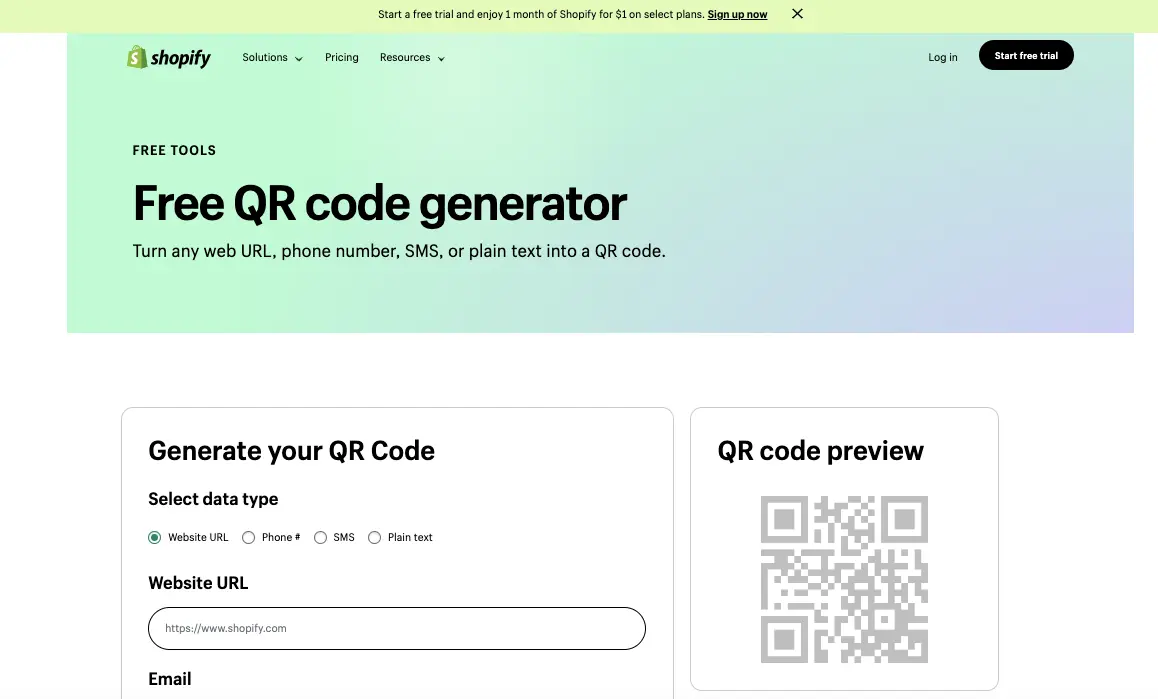 To create your own QR code, scroll down. In Generate your QR Code section, choose the data type for which you wish to generate a QR code > Fill your URL site and email address> Select Create QR Code.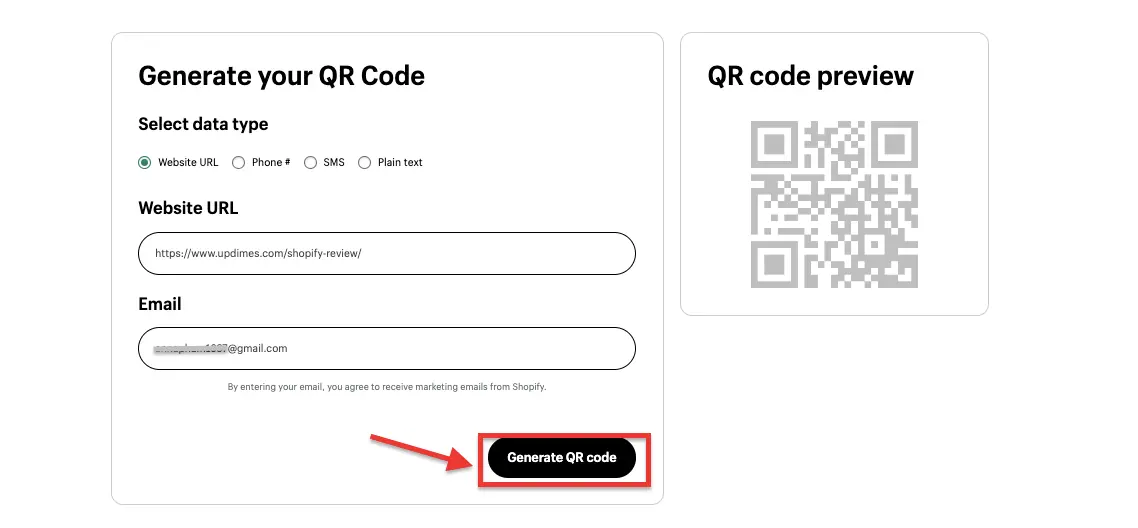 After that, log in to use your email account, this email address you previously gave Shopify. Your Shopify QR code should appear in an email that looks like this:

Let open the email and scroll down, you can find your QR code below. You have the option to Download, Add to Drive, or Save to Photos there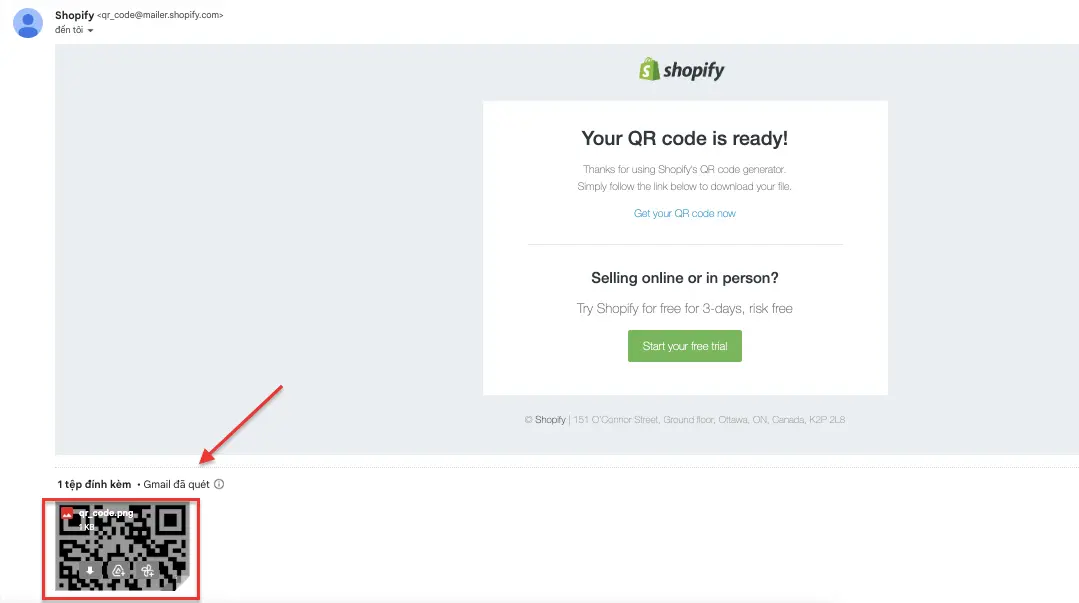 Method 2: Use a Shopify Code Generator App
For this way, we'll use with the Shopcodes app that Shopify created themselves (we'll talk about it below along with other apps).
Log in to your account on Shopify. Visit the Shopcode app on Shopify app store > Select Add app.

Then, click Install app button to complete the installation process.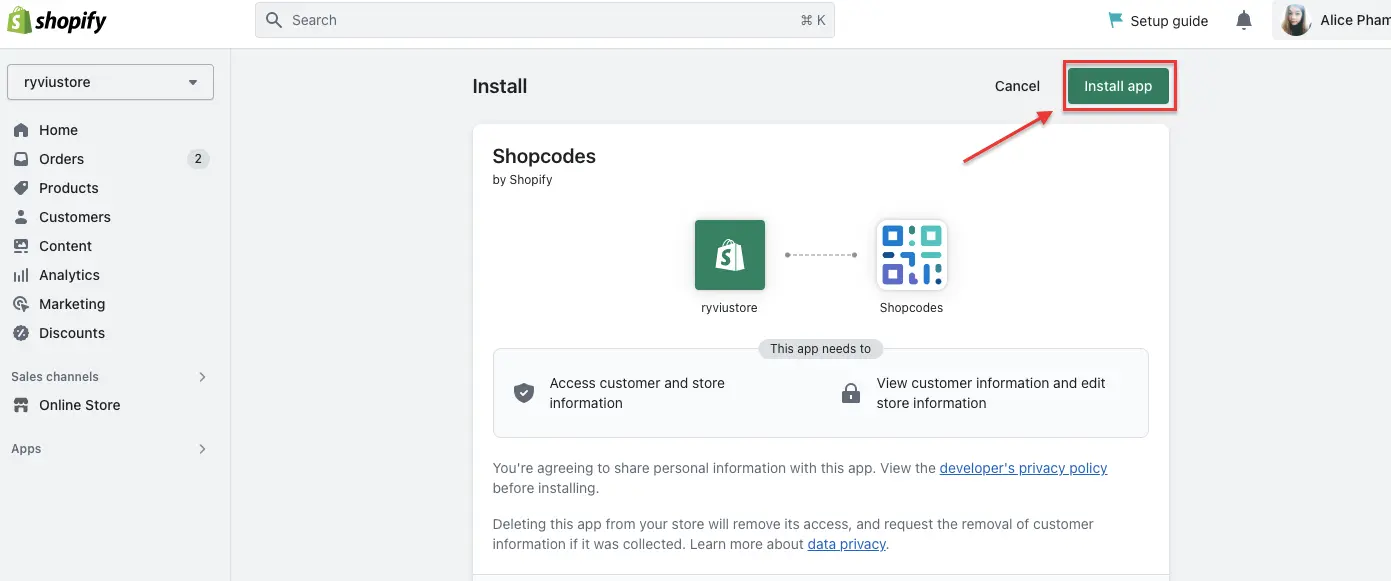 Next, click Create Shopcode button.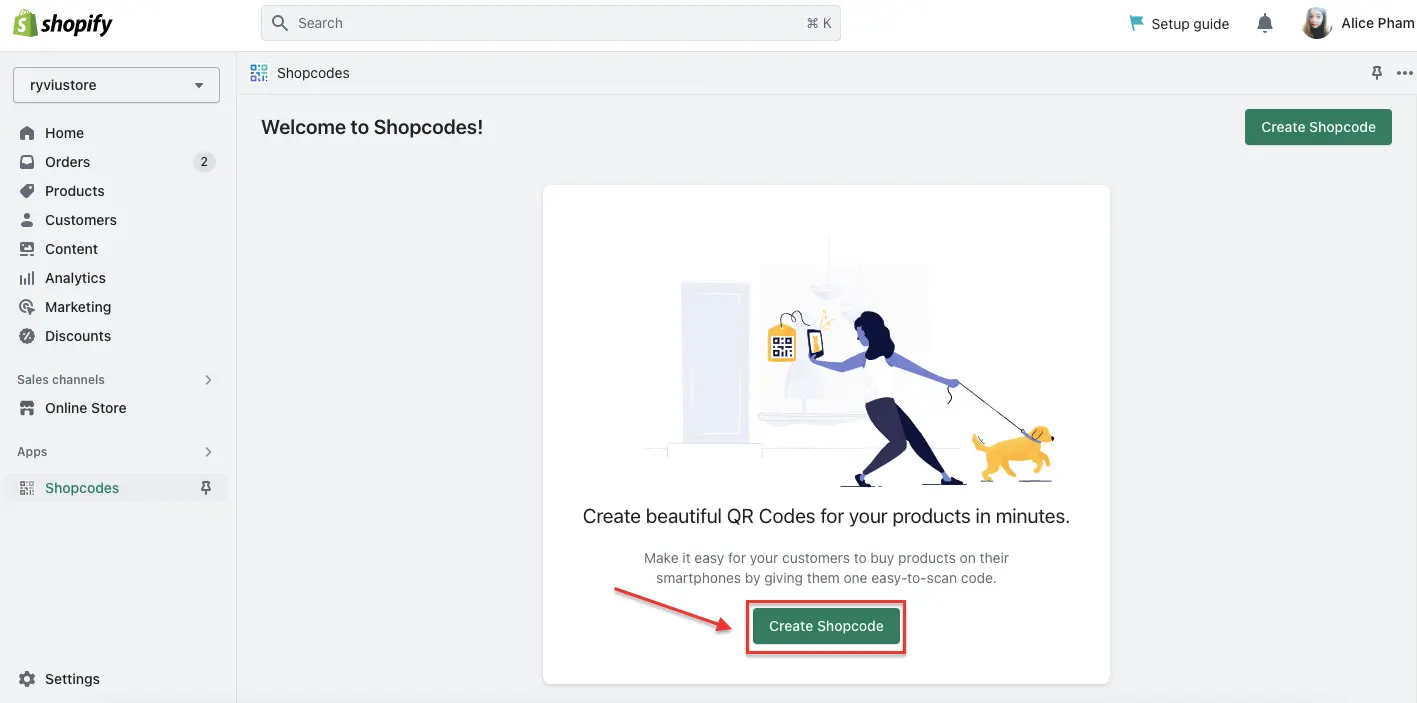 Enter info in your QR code generator. Any option is acceptable. To make tracking easier, we advise giving the name code as product title or SKU
Next, tick the product you want to create a QR code > Click Add.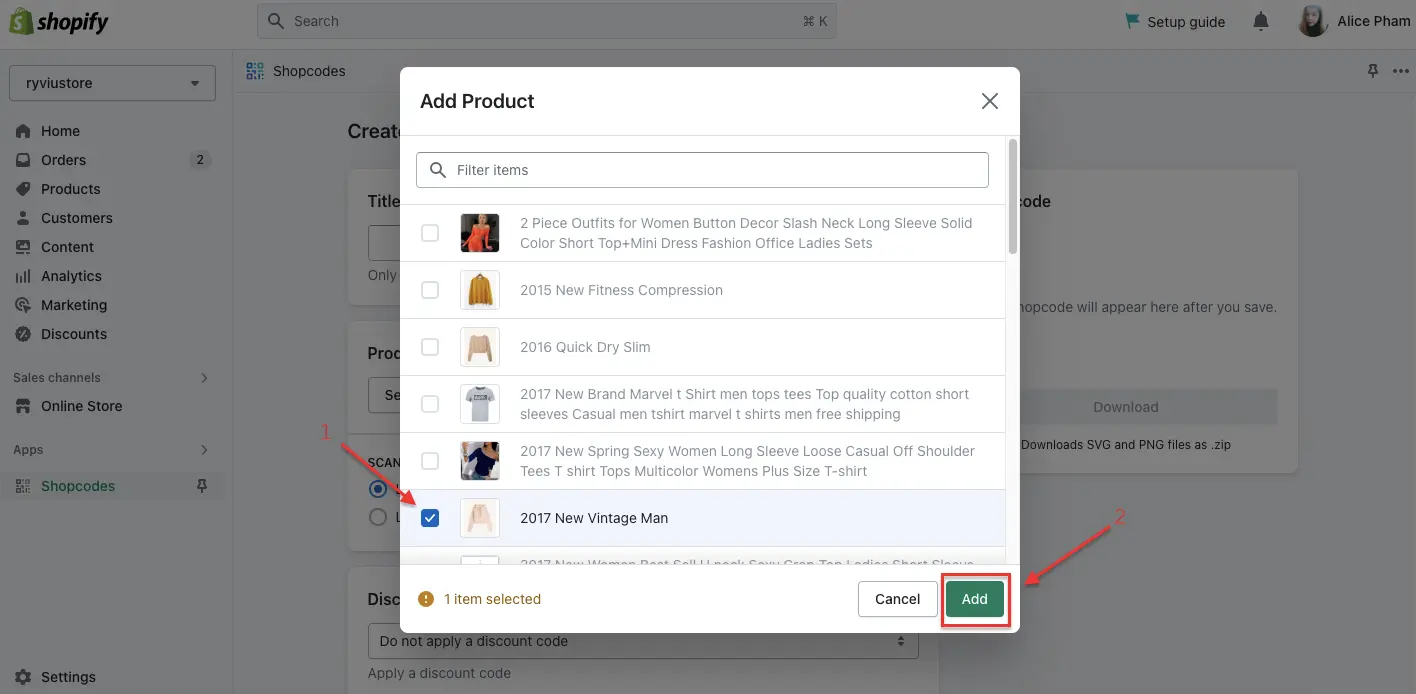 Right now, let decide where you want to direct your customers to after they scan the code. To minimize the number of steps your consumers must take to complete their purchases, we highly recommend the Link to checkout page with product in cart option.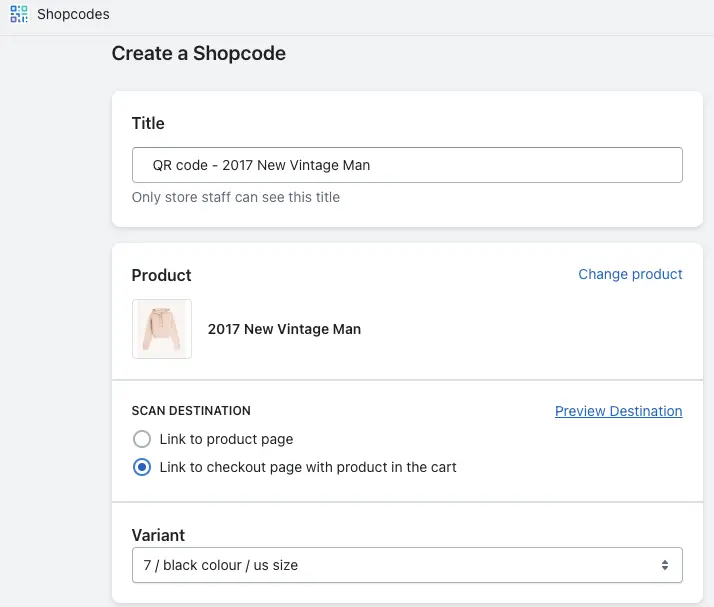 Finally, click Save to creat your QR code.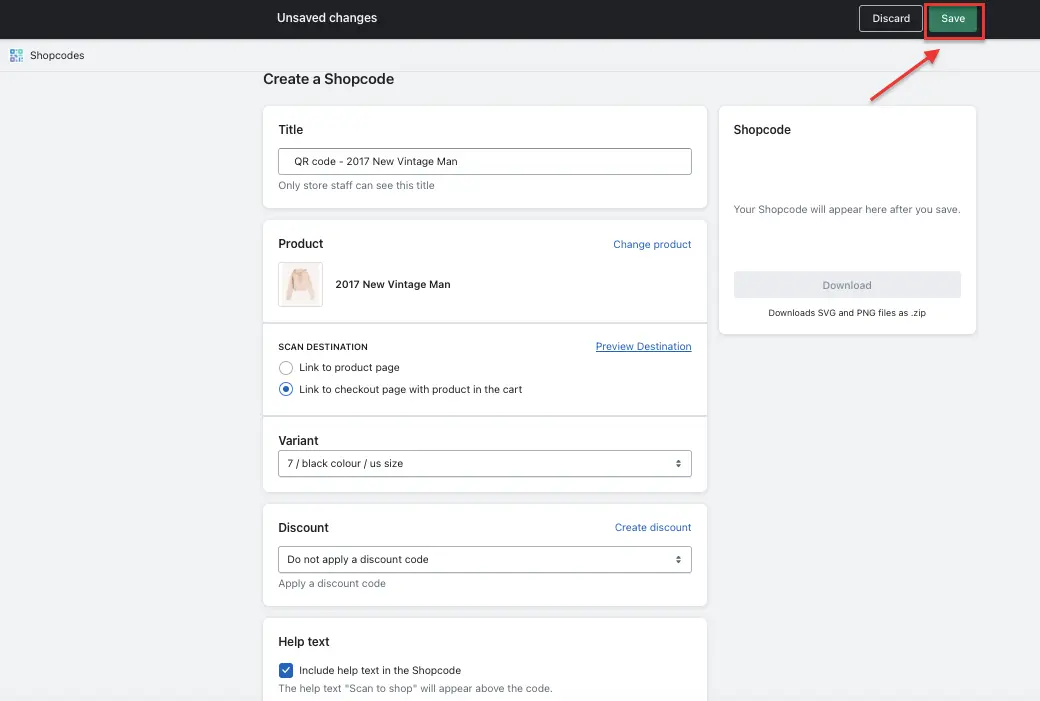 Then, on your screen's right corner, the Shopify QR code for the chosen product will then appear as follows: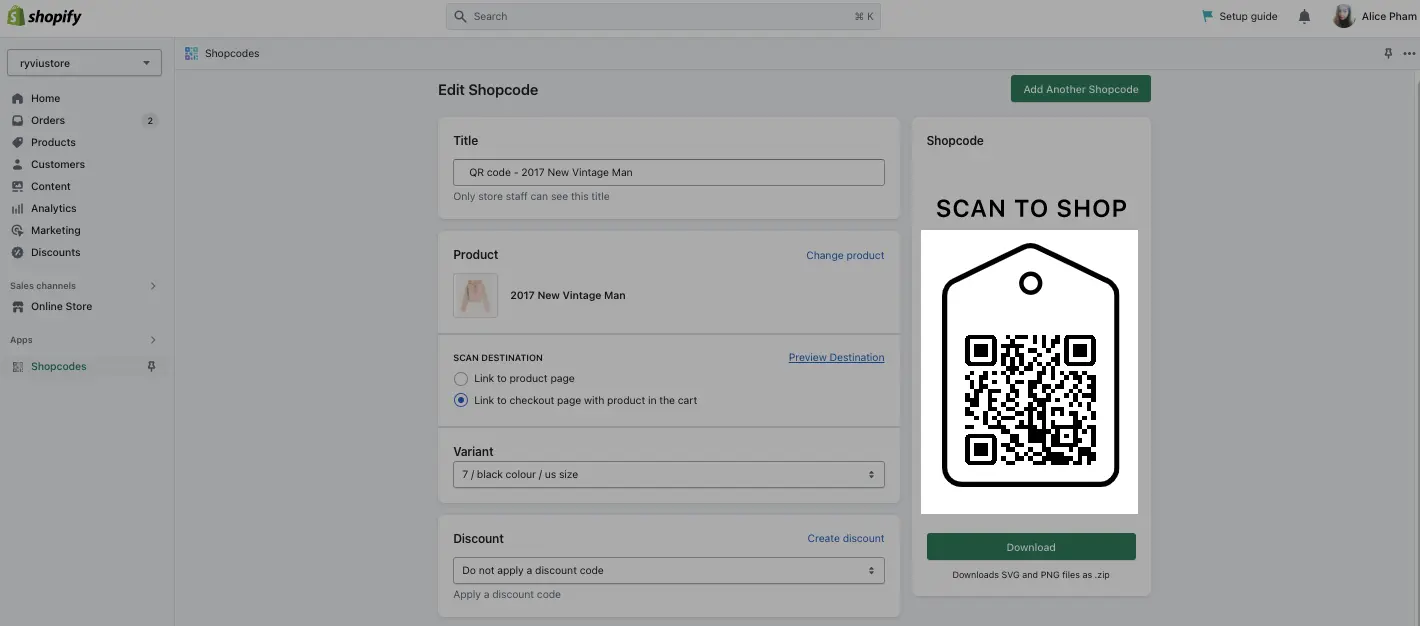 Because you don't have to continuously check your email anytime you create a Shopify QR code, this method 2 is more convenient than the first one, but it has two draws:
You are unable to alter the QR code.
Shopify QR codes can't be created in bulk. You'll need to repeat the aforementioned procedure 1,000 times if you want to create 1,000 QR codes for 1,000 different products.
This indicates that you require a Shopify QR code generator app with more power. So let's look at the list of the top 5 Shopify QR code generators we've put together based on our evaluates in the next section.
4 Best Shopify QR Code Generator Apps
Shopcodes is the application we utilize for the second method, as was already described. Let us now elaborate on it for you. Give Shopcodes a try if you're searching for a quick and efficient way to engage with customers and increase sales.
Your consumers may easily and quickly make purchases with Shopcodes by using a few taps on their smartphone. Additionally, Shopify Analytics allows you to track conversions and traffic, providing you with useful information about the success of your marketing initiatives.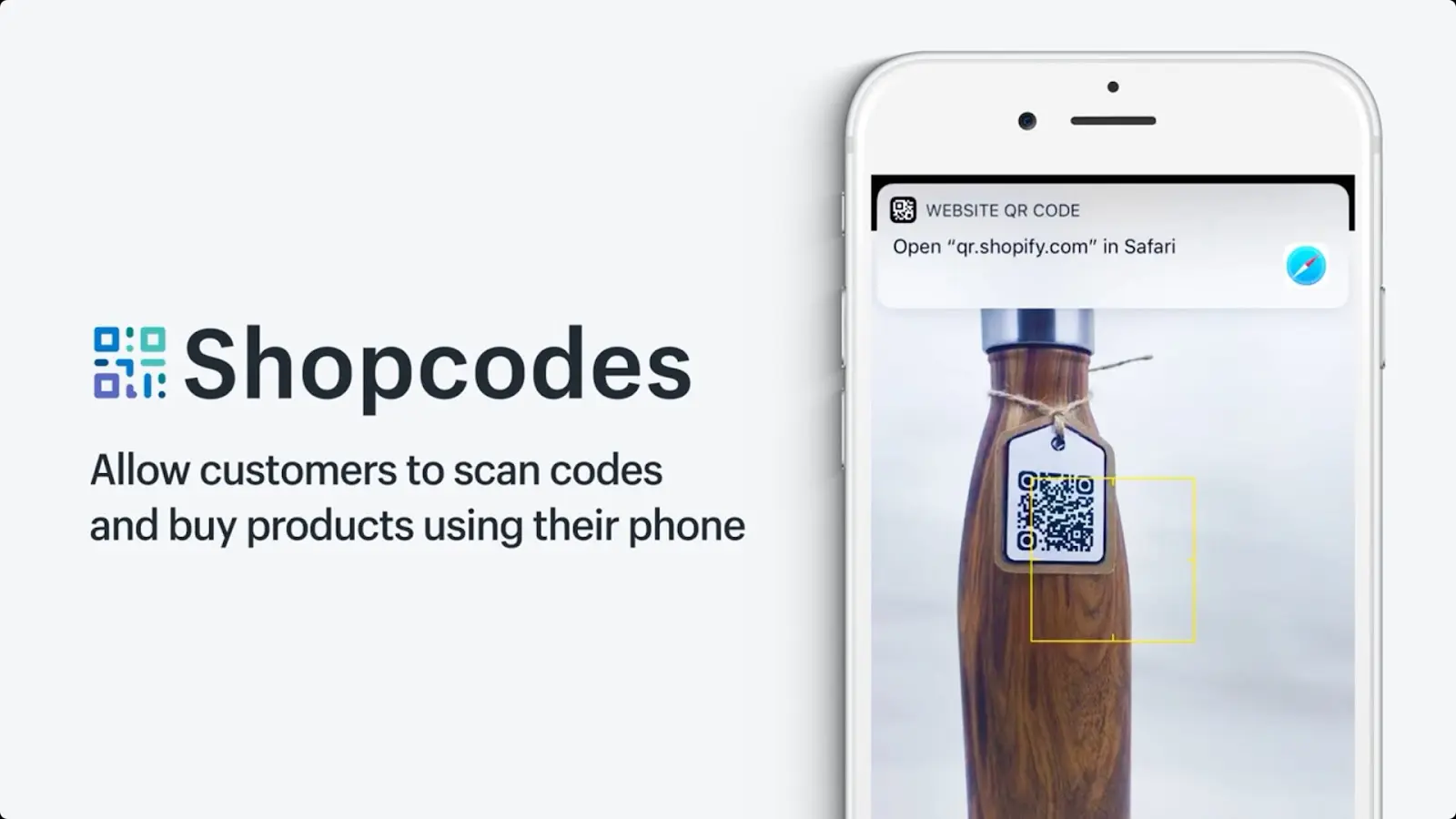 However, as we already noted, this app doesn't offer bulk QR code creation, and you can't edit the code. Nevertheless, it is a fantastic tool for any store wishing to easily and cost-free create Shopify QR code.
Pricing: Free plan available | $9.95 - $19.95
The QR Code Generator Hub app should be your first pick if you're looking for a powerful Shopify QR code generator. The amazing thing about this app is that it gives you the ability to make QR codes in bulk for various things, such as collections or all products.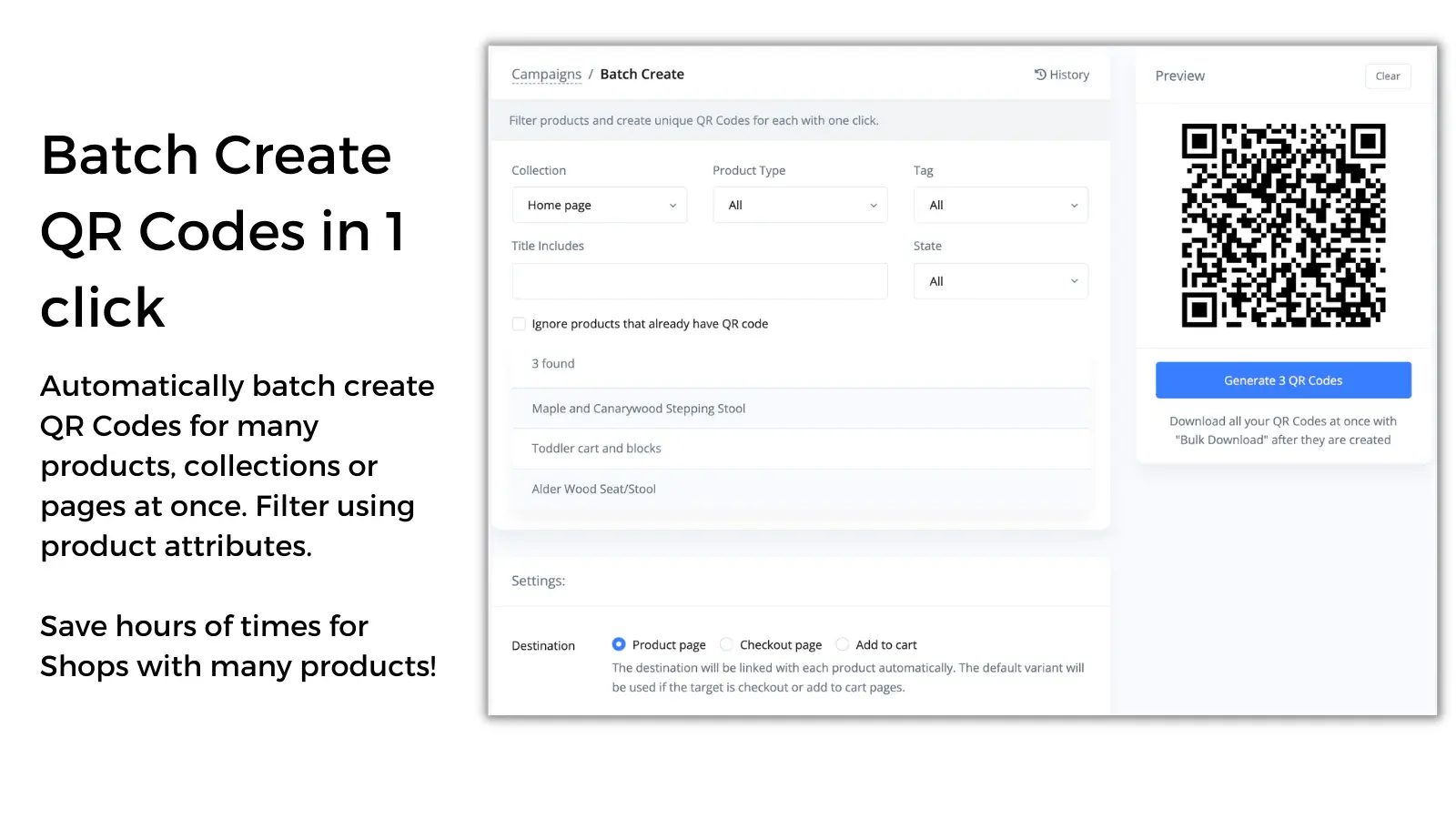 This app is seamless integration with Google Analytics to display analytic metrics for your QR code is one of our favorite features. Additionally, you may completely personalize the look and feel of your QR code using this app, and it will automatically apply discounts.
Pricing: Free plan available | $8.99 - $69.99
Next, we highly recommend Retail Barcode Label, QR code app. You don't have to sweat while using this program to create and print barcode labels for your products. Additionally, you are free to freely alter the structure and style of your label in order to conform to your branding and usage target.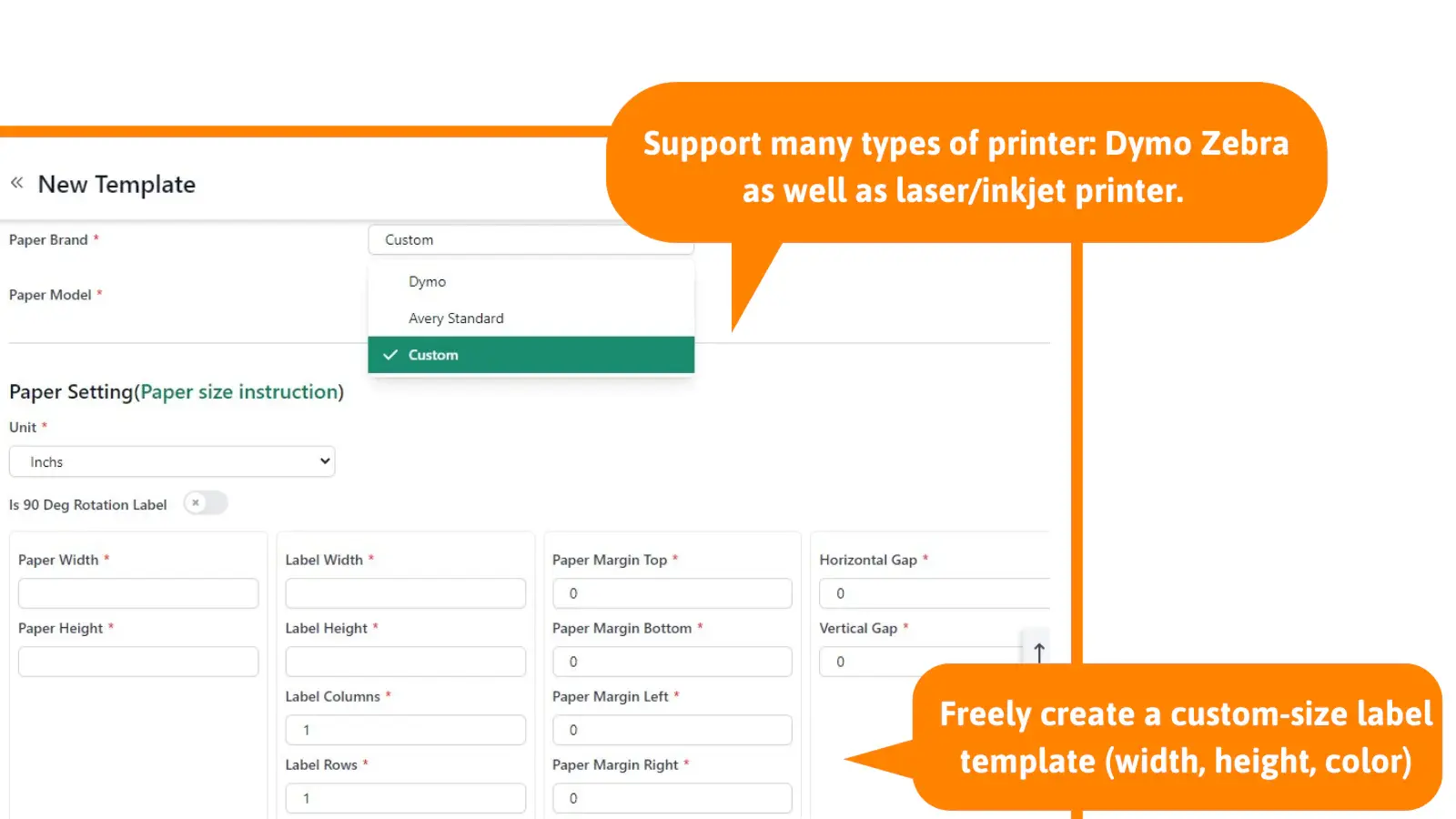 The ability to build a label template without any coding is one of the nicest aspects of this QR app. You may easily configure any label size that your label printer supports and check the label before printing.
Additionally, the program enables bulk printing of QR code labels for numerous products using multiple selections or a CSV file. Even better, you can design a unique barcode format on your own!
Last but not least, Brij- QR Code Experiences is the most potent Shopify QR code generating app on the list right now. With just a few clicks, the app allows you to create eye-catching QR codes. It's wonderful that you can create mobile app pages to route clients to after they scan the code.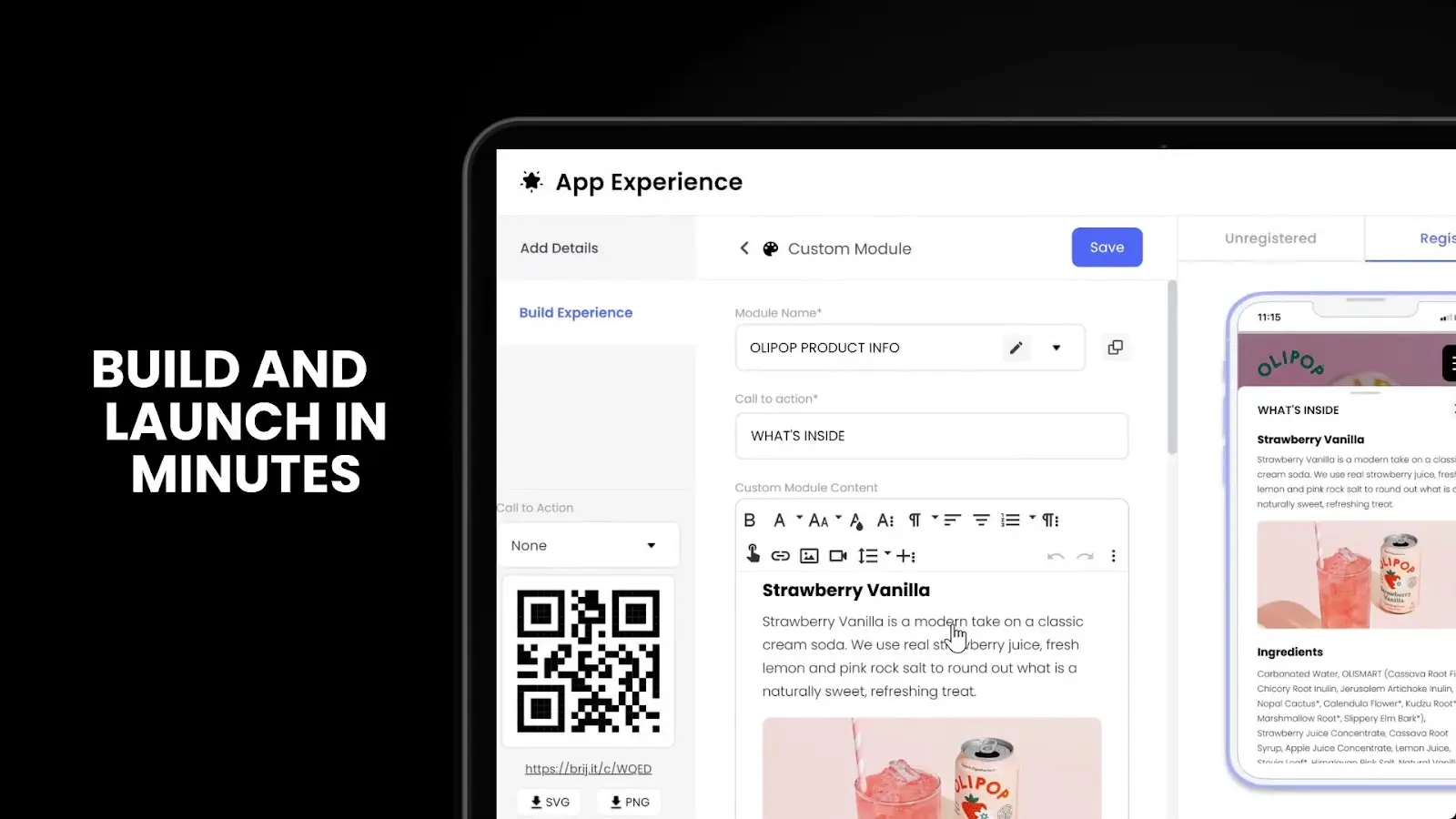 Additionally, Brij is much more sensible if you provide your goods via subscriptions. Customers may easily order your products or subscribe to new ones with only a few clicks. Burst is a wonderful option if you're growing and want to fully integrate QR codes into your web business.
Final Thoughts
Incorporating QR codes into your Shopify store can be a game-changer for your online business. By understanding the fundamentals and following the step-by-step process outlined in this article, Updimes believes that you will create and implement Shopify QR code effectively fuel your sales growth.