Shopify Streamline Theme: Everything You Should Know
Because they are brimming with gorgeous page design layouts and numerous other features, Shopify themes are an effective tool for online businesses. Many business owners and Shopify experts have fallen in love with the theme store Streamline.
The Streamline Theme is unquestionably worthwhile to look at if you want a premium theme that will make your store appear fantastic without the trouble of building it yourself.
Updimes is sharing all with you in this essay. Before buying the Shopify Streamline Theme for your theme store, you can learn everything you need about them from this article.
What is the Shopify Streamline Theme?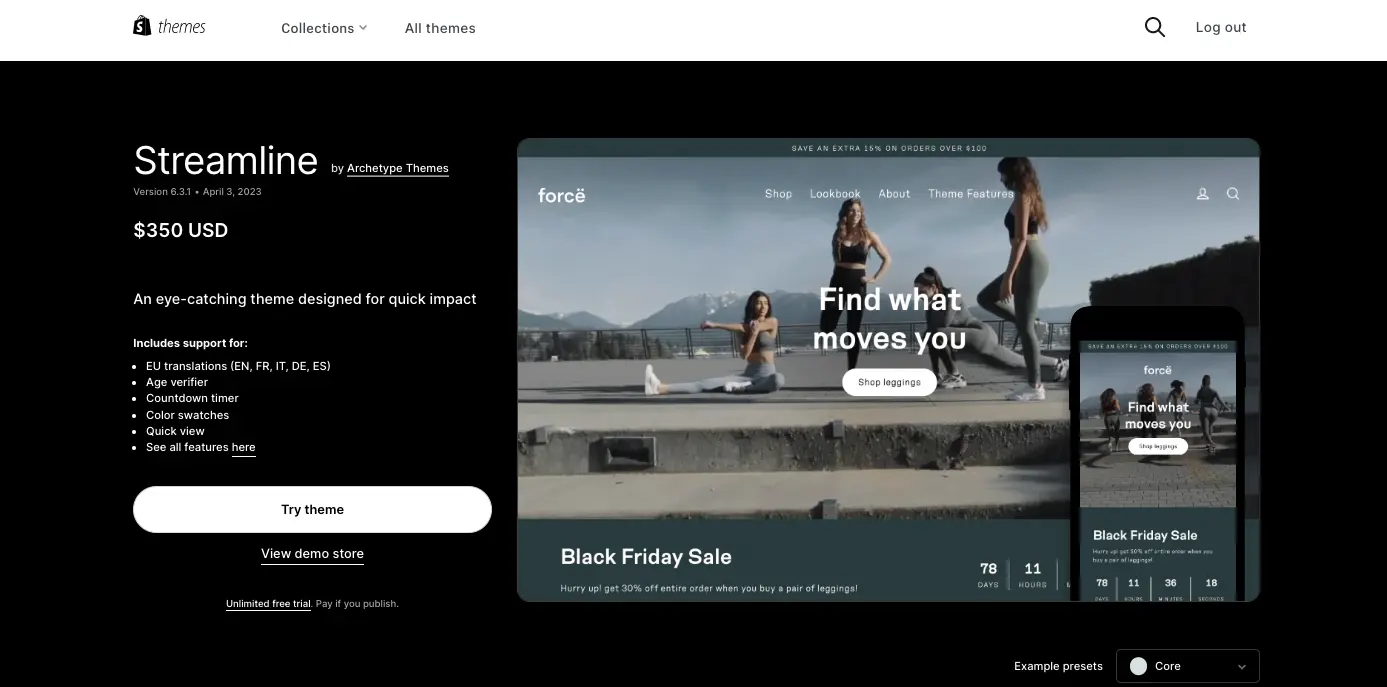 A well-known theme created and built by Archetype Themes is the Shopify Streamline Theme. It is the best option for businesses that cater to today's millennial consumers, use attention-grabbing animations, and megastores that want top-notch aesthetics.
Created explicitly for Shopify merchants, the Shopify Streamline Theme is responsive and attractive. It features an easy drag-and-drop page builder, a clean, contemporary style, and SEO friendliness. The critical functions of this mobile-first Shopify theme are easily accessible, facilitating browsing and checkout for everyone, everywhere.
Shopify Streamline Theme Styles
Streamline has a multitude of "pre-set" design options, just like many of the premium Shopify theme options. It encourages the use of attention-grabbing imagery that sticks in people's minds. Additionally, you can use the animations to set yourself apart from the competition.
You have the following choices:
Luxe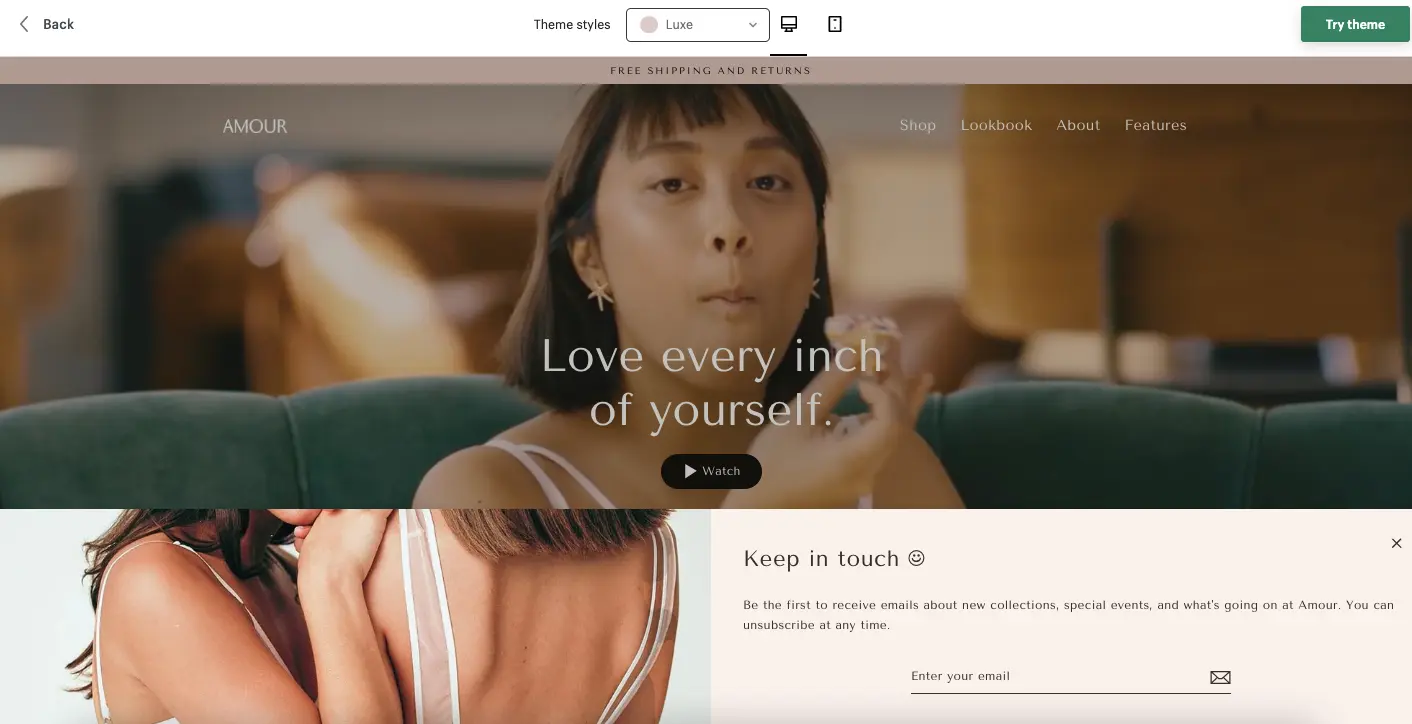 The Luxe pre-set perfect for fashion and beauty brands since it features soft hues and huge picture blocks that are perfect for exhibiting your expert brand photography. The style is simple and minimalistic, with lots of white space to maintain a modern, sleek feel.
Hype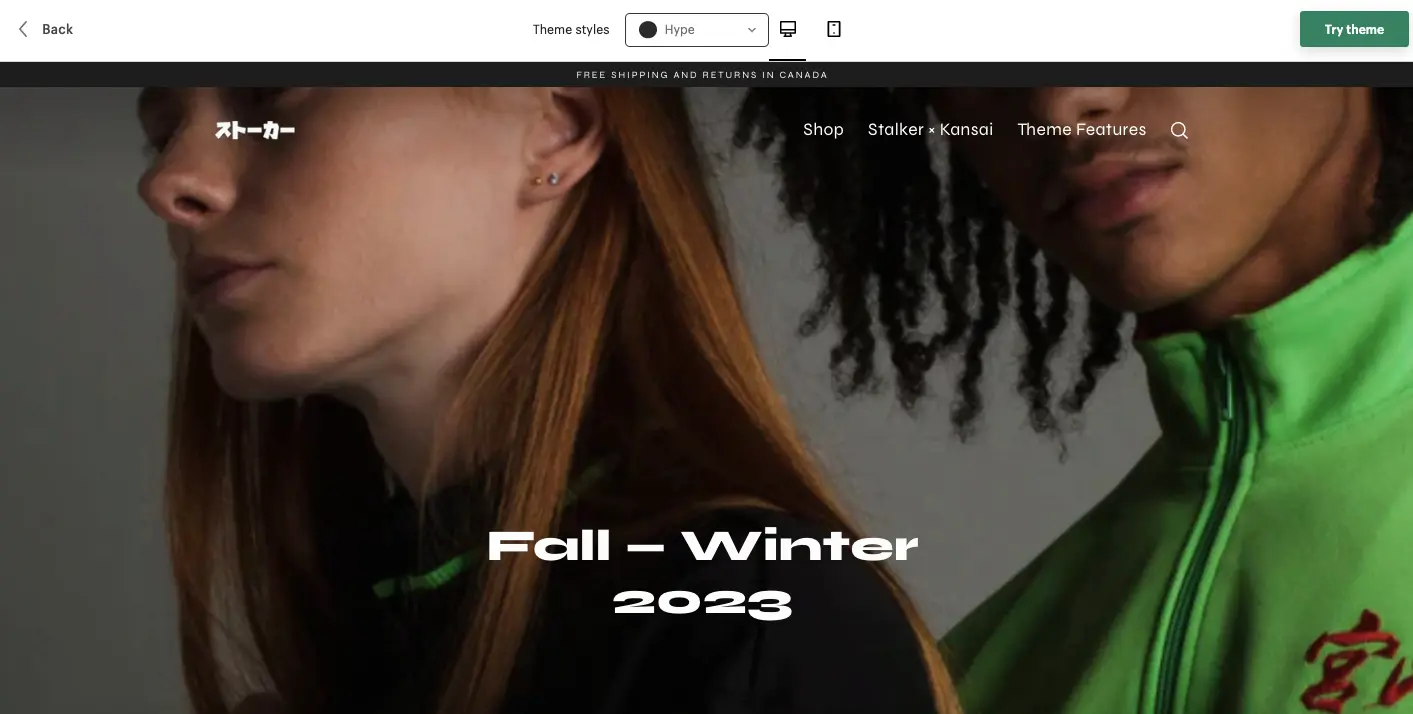 The Hype style, which combines bold fonts with darker hues, is appealing to fashion and apparel companies in the sports sector. As the other Streamline pre-sets, this choice grabs clients' attention with sizable, striking photos and strategically placed text blocks. It also gains from a menu that is easier to navigate.
Core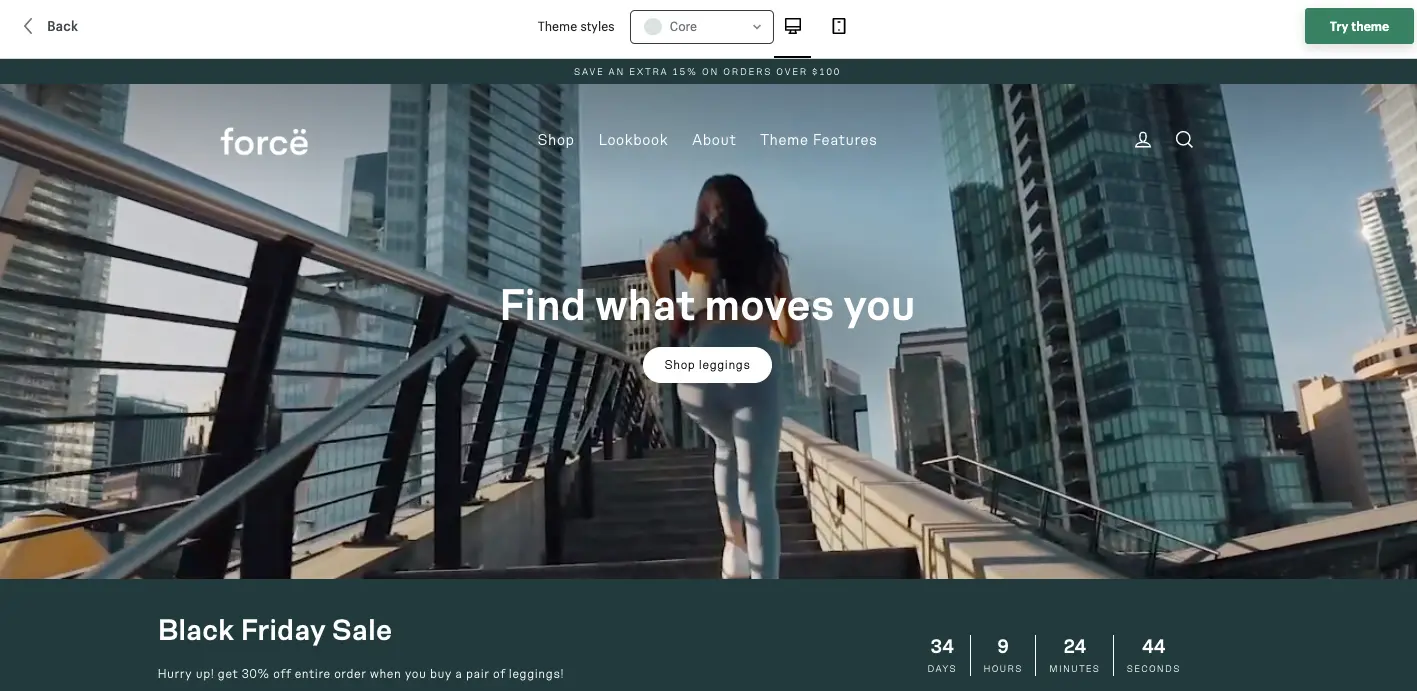 The Core pre-set will appeal to businesses from various industries because it has enormous hero photos to draw in clients and exquisitely created color palettes. Pre-set basic typography and organized picture sections work together to provide any online business with a polished appearance.
Streamline Shopify Theme: The Features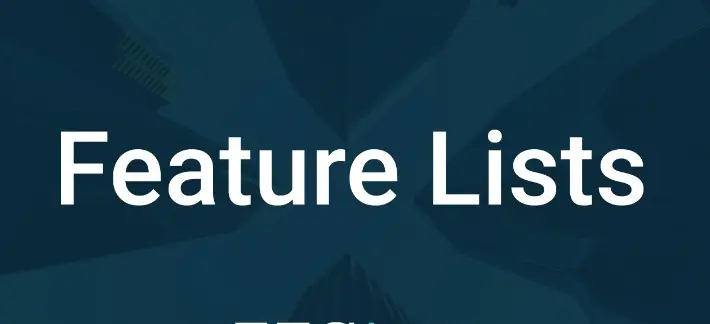 Overall, the Streamline theme is a classy, top-notch option for company owners seeking to draw attention to gorgeous product photographs. Along with some extras not present in Shopify's free Online Store 2.0 themes, the solution includes everything you need to launch a storefront with a professional appearance.
According to Archetype, this Theme is a fantastic choice for physical and online retailers. The solution strongly emphasizes visual storytelling and includes various tools to boost sales, like stock counts and countdown timers.
The Streamline theme's key characteristics include some of the following:
Cart and checkout features:
With the Streamline theme, tailoring the checkout process for customers using any device is simple. Customers can immediately check the items they have in their basket without leaving a specific page on your store, thanks to a built-in "slide-out cart" solution. Additional tools include sticky cart features, cart notes, and quick buy buttons. Support is also available for in-store pickups.
Marketing and conversion:
The Streamline theme has built-in options for cross-selling and upselling to increase your chances of making sales. To draw customers from different parts of Europe, you can automatically change the language of your store. You can combine it with promotional banners and pop-up windows to increase conversions. Furthermore, stock counters and countdown timers ensure you can capitalize on FOMO. You may benefit from social proof using the Streamline theme, which supports trust badges and product reviews.
Visual storytelling:
With various features to assist you in highlighting product images, Streamline is all about visual storytelling. You may display high-resolution photographs on your product pages and make visual galleries. The solution also enables product films, lookbooks, size charts, slideshows, and picture hotspots with rollover and zoom options.
Product discovery:
When you use this Theme, customers should be able to find new products in your store easily. The solution has comprehensive search features and a sticky header for simple navigation. Utilizing the ability to sort and filter effects, you can recommend products to customers as they browse. Furthermore, age verification buttons make it simple to ensure you reach the right audience and adhere to industry standards.
Mobile-friendly layout:
Although most paid and free Shopify themes are responsive, Streamline is excellent for mobile stores. When visitors view your website from any device, the Streamline theme puts the focal points of your storefront in the foreground. Even GIFs and scrolling text can enhance the mobile shopper's browsing experience.
Other features include:
Support for content marketing and SEO on blogs
Press coverage sections for highlighting recent reports
Choices for quick views to make browsing easier
FAQs for self-service
Carousels and sections with suggested products
Forms of contact that are customizable
Support for color swatches (when selling product variants)
Units that provide details on how to use a product
Sliders for before-and-after pictures
Areas including shipping and delivery details
Shopify Streamline Theme:  Pros and Cons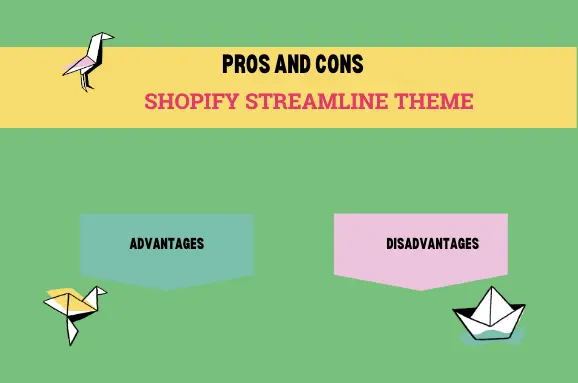 Pros:
Design that is mobile-friendly: Mobile users can easily use the Streamline Theme.
Options for customization: There are several ways to modify the visual aspect of Streamline Theme. You can completely change the design, fonts, and colors.
Well-structured files: The Streamline Theme files are organized and simple to find. This makes customization and installation simple.
Lots of features: Numerous features are available with the Streamline Theme, such as portfolio pages, social media integration, unique headers and footers, and others.
Unlimited free trials: Before purchasing, you can test the Theme for free with different goods, brand colors, and customizations. You only have to pay if the Theme is available in your store.
Free updates: You will receive free lifetime updates with every theme purchase. Theme frequently releases updates that bring additional functionality, bug fixes, and new features. You can depend on your Theme to be current with Shopify's latest features and e-commerce trends.
Continuity of license: You have the right to use the Theme on one store for as long as you wish after making a payment.
Speed enhanced: The high-performance requirements of Shopify are met by lightning-quick themes. They use less code to ensure quick page loads and a quicker shopping experience because they were designed with modern browsers and mobile devices in mind, all without sacrificing style or features.
Cons:
The Shopify Streamline Theme has documentation on the developer's website. However, live chat is not accessible.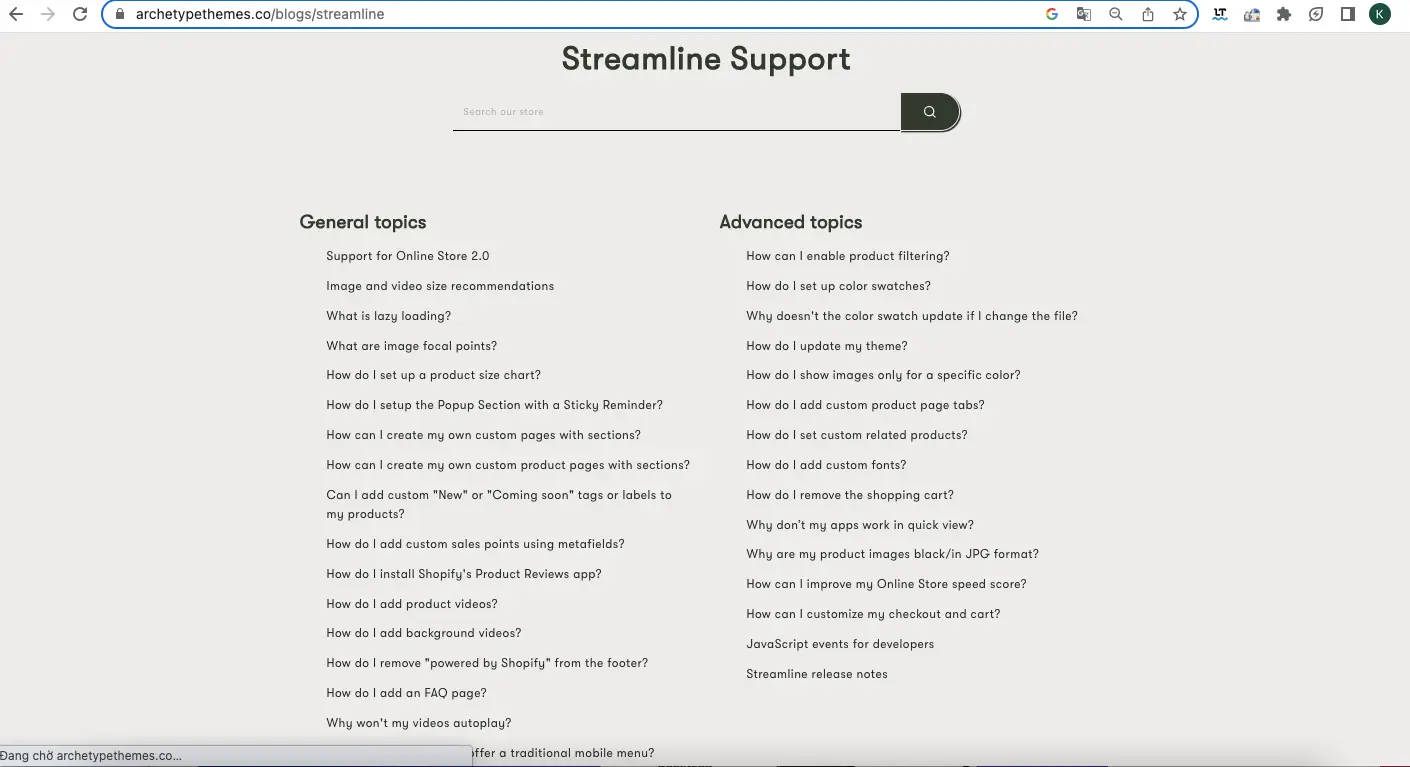 Shopify Streamline Theme: Pricing
A free trial lasts indefinitely. If you publish, you must pay $350.
You must include it in your budget because it is a paid theme.
How can I set up a Shopify store using the Streamline theme?
You must sign into your store admin to use the Streamline Shopify theme. From there, navigate to the Themes section.
You must add the Streamline theme to your admin to utilize and configure it on your Shopify store. To accomplish so, take the following steps:
Look for the Streamline Theme on the Shopify theme store.
If you want to view the Theme, click "View demo store."
To add a theme to your store, click "Try theme" if you like what you see.
Click:  Admin Shopify > Online Store > Themes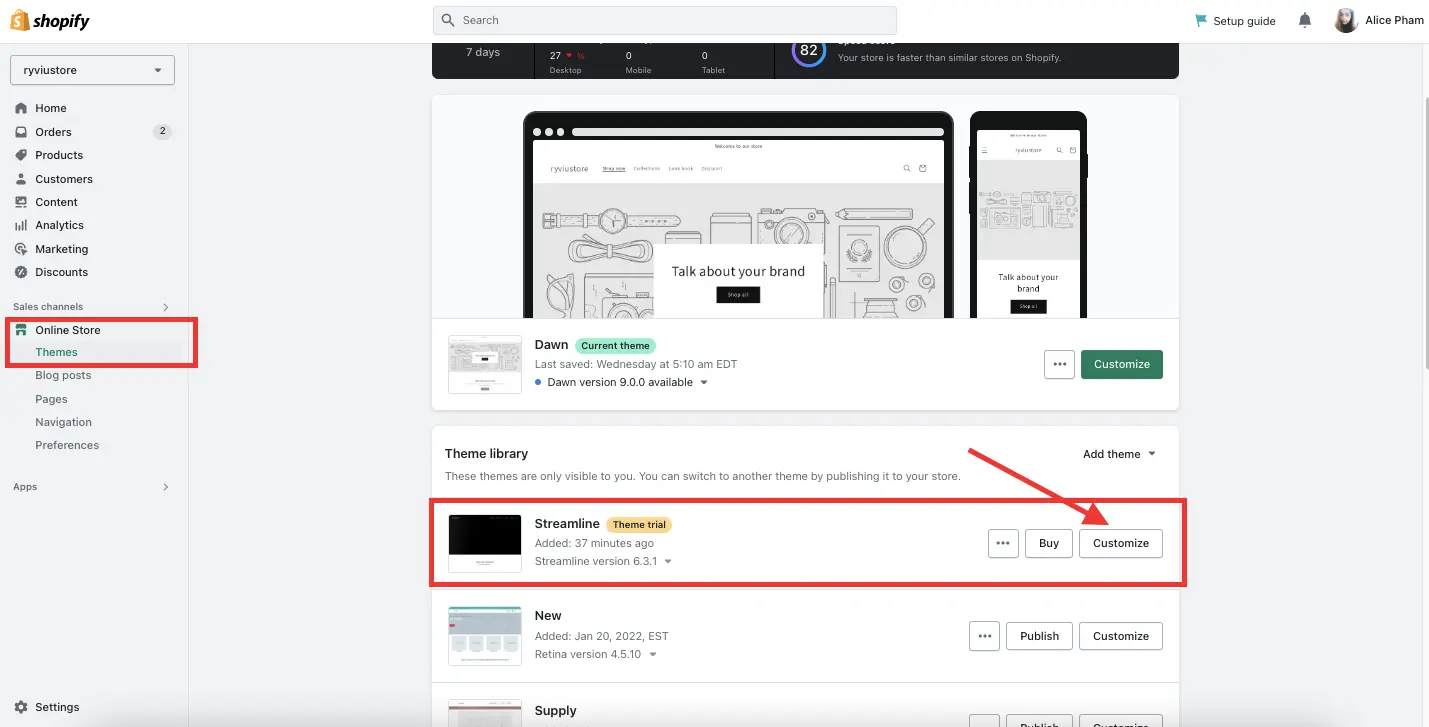 You can preview and customize the theme by choosing an action you want to perform with it.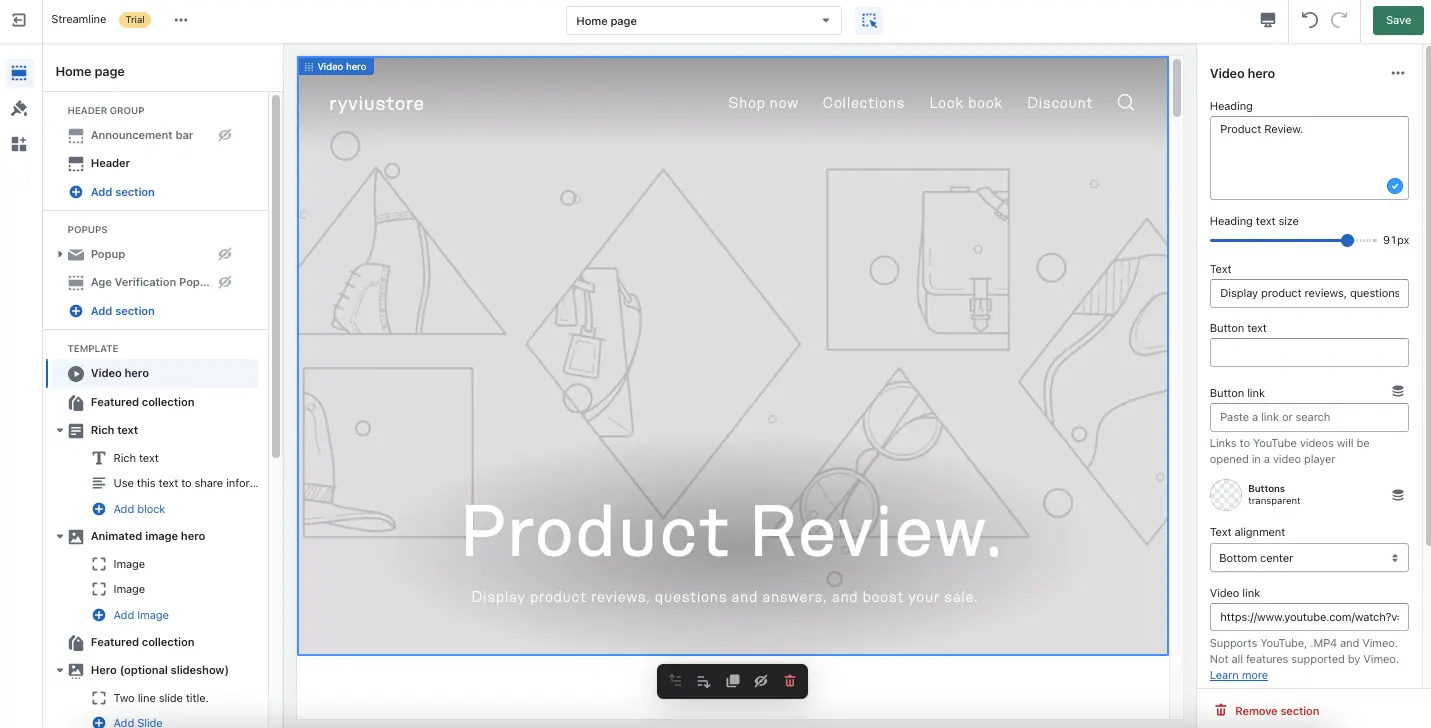 If you don't have a Shopify store, take advantage of this opportunity! Shopify has a promotion with only $1/month for the first three months.
TOP 3 Live Stores for Streamline Shopify Theme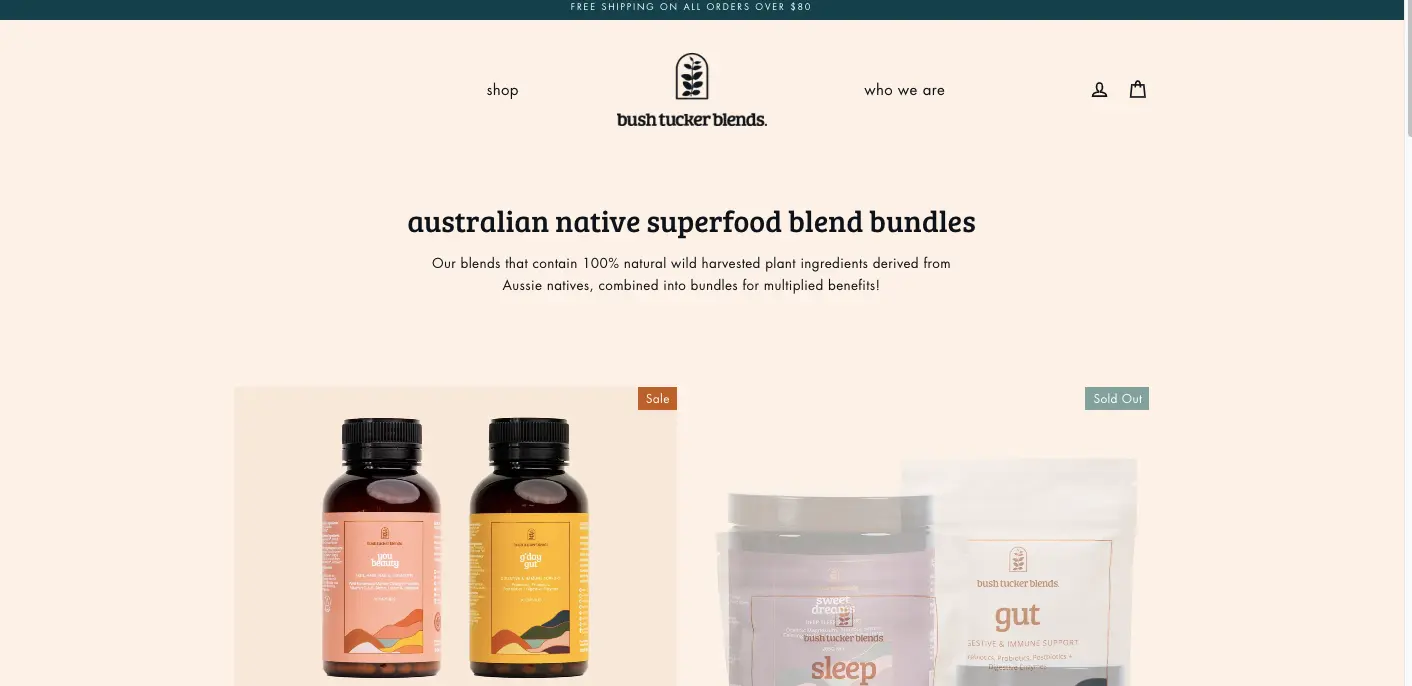 Bush Tucker Blends, a well-known company that sells whole foods in unique blends online, uses most features in the Streamline Shopify theme. You may observe all this in the store, including product videos, high-definition photos, and slideshows.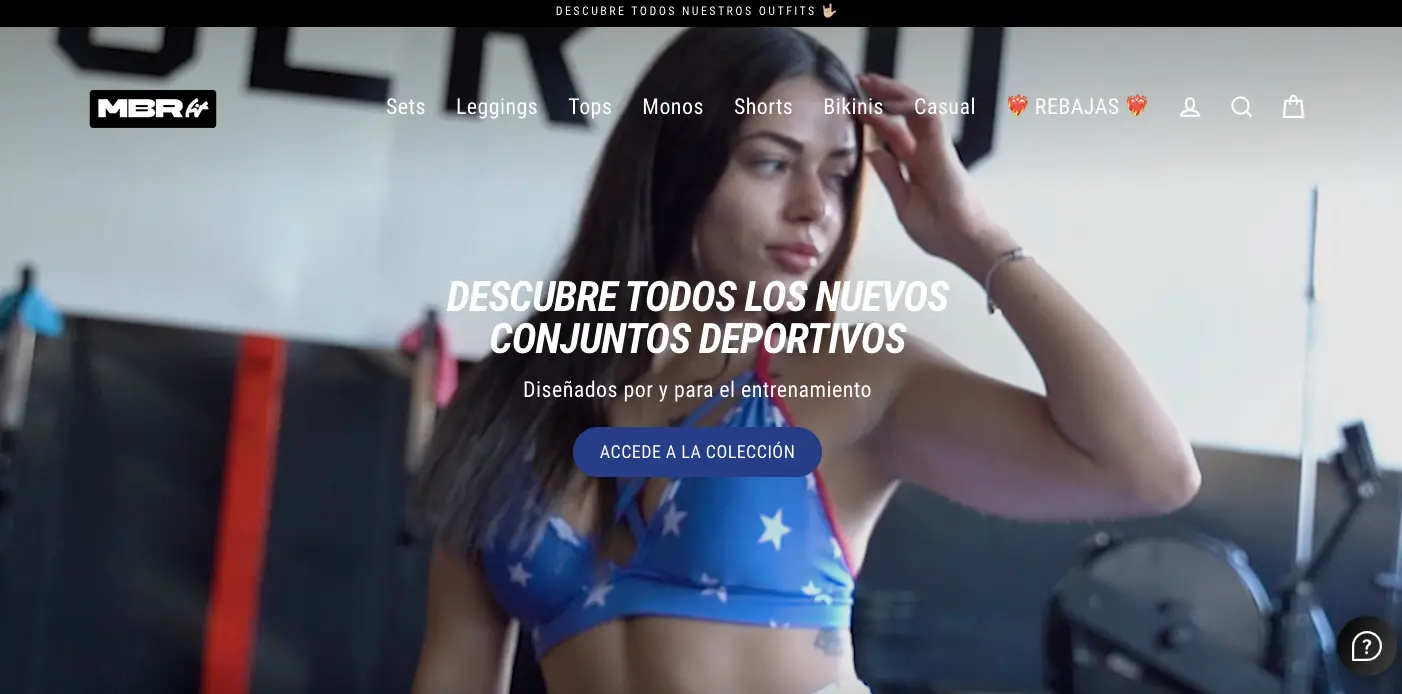 Made in Brazil Fit, a fitness apparel company, employs the Streamline motif to highlight the agility their goods add to exercises and sports. On their store, they use high-resolution images, product videos, collection tabs, and more.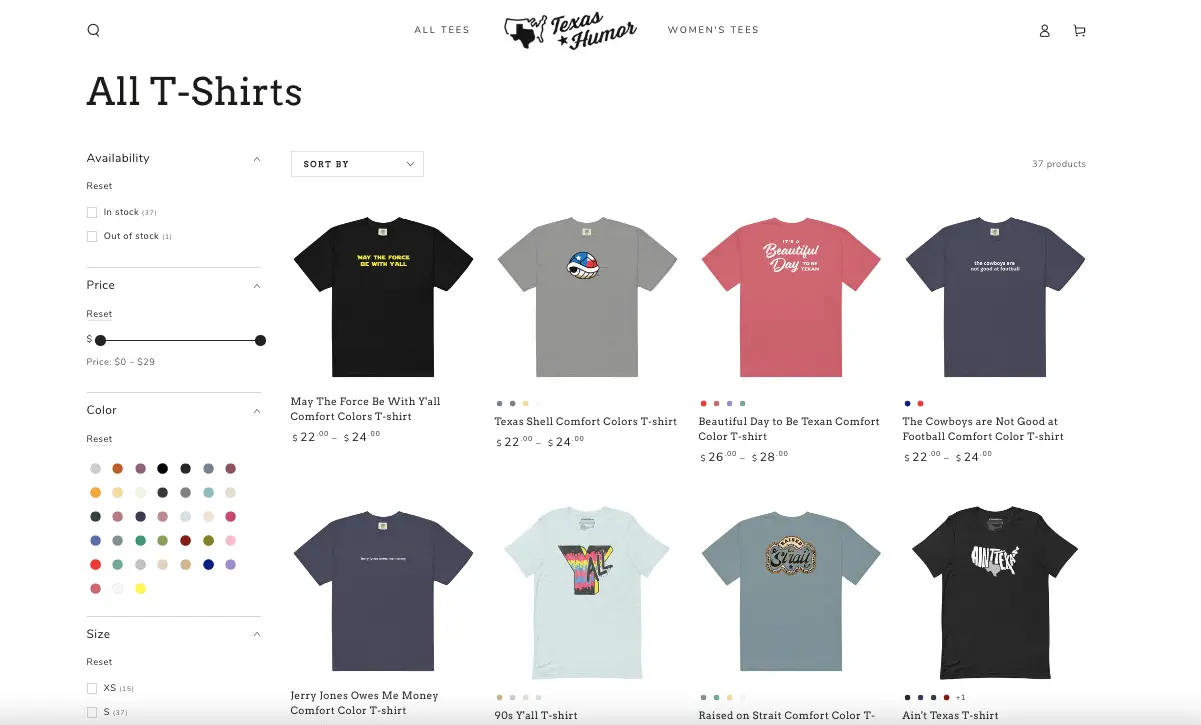 A fashion and apparel industry brand called Texas Humor sells various products that target millennials with witty quotes and snarky humor. Their store makes use of high-resolution images online to advertise multiple things.
Shopify Streamline Theme: FAQ
Is Streamline a good Shopify theme?
Streamline Shopify Theme - a theme that is appealing and built for mobile commerce. One of the fastest and most mobile-friendly themes out there is this one. With a Shopify theme designed with mobile users in mind, browsing and checking out are simple for anybody, anywhere.
What type of brands can use the Shopify Streamline theme?
Streamline can be used by any business or industry, much like the other themes developed by Archetype Themes. The layouts can be modified to meet your needs, thanks to the modifications!
The Shopify Streamline theme, however, is particularly suitable for companies in the fashion and accessory, health and beauty, and sports and leisure sectors, based on our expertise.
Also, noteworthy is that the Streamline theme is ideal for high-volume stores and is optimized for them.
Conclusion
Your online store needs the beautiful original features that the Shopify Streamline Theme offers. The Theme uses a variety of visual narrative elements to ensure that your collection pages, the home page, and products consistently draw the attention of your intended market.
As a result, your Shopify store can connect with these contemporary customers and turn them into a source of rapid growth for your business.