Wokiee Shopify Theme - Is Theme Worth It?
A strong online presence is critical in eCommerce, picking the correct theme may make all the difference.
In this article, we'll explore about Wokiee Shopify theme, dissecting its features, design capabilities, and user experience. Thereby, our review aims to provide valuable insights into whether Wokiee aligns with your brand's aspirations and requirements.
Whether you're a longtime retailer or a newbie, join us as we navigate the facets of Wokiee to determine if it's the perfect fit for your online retail journey.
Wokiee Shopify Theme Overview
Wokiee is an excellent Shopify theme that provides a wide range of options on the design and aesthetic side of a Shopify site, as well as many features that can help you raise the profit of your Shopify store.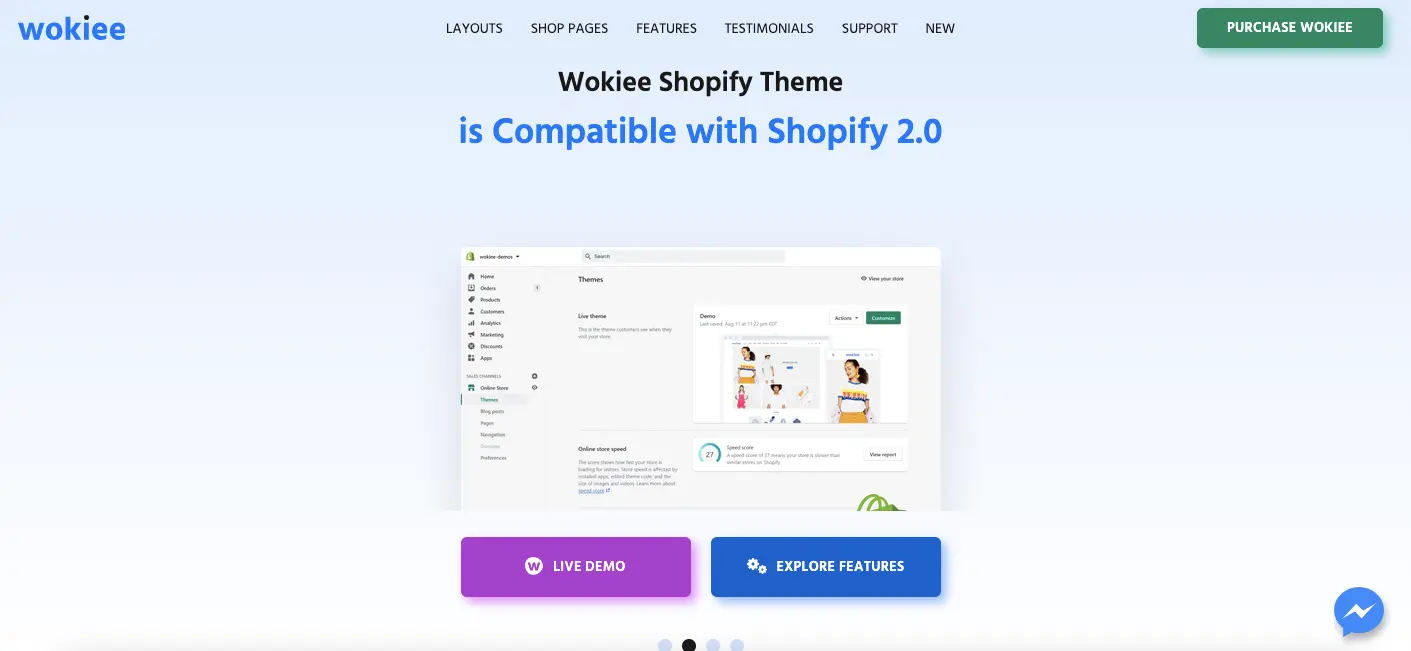 The eye-catching design offers a variety of designs for the inside pages, each designed to highlight your products to their greatest advantage. Wokiee has it all, from appealing category pages that assist customers in navigating your inventory to specific product displays that highlight product attributes.
It's a terrific solution for eCommerce owners requiring smooth, professional site design without outsourcing - whether in fashion, furniture, or electronics.
Pros and Cons of Wokiee Shopify theme
There are many pros and cons of the Wokiee Shopify theme. However, the following are the most notable:
Pros:
Easily customizable to your brand and sector
Many built-in layouts and skins can save you time and work.
Good price
Many handy features that can boost sales.
Many positive ratings from actual users
One of the theme Forest's best-selling Shopify theme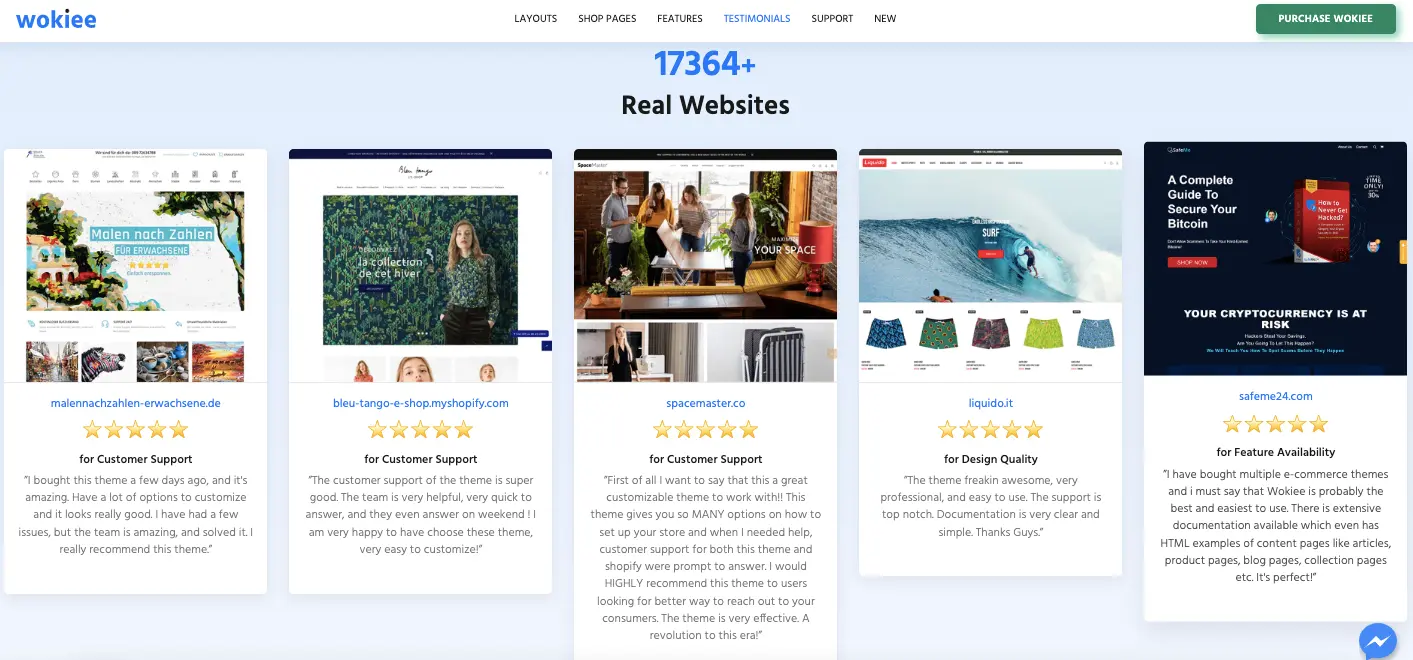 Cons:
No free plan
Support is only provided for six months, after which you must pay for additional assistance.
When you purchase a layout, it comes without the photos.
Some features, such as location maps, which are essential for local firms, are missing.
Pricing Plan of Wokiee Shopify theme
The Shopify Wokiee theme costs $79 one-time and includes six months of support.
You can pay an additional $24, totaling $103, to receive support for a year instead of six months.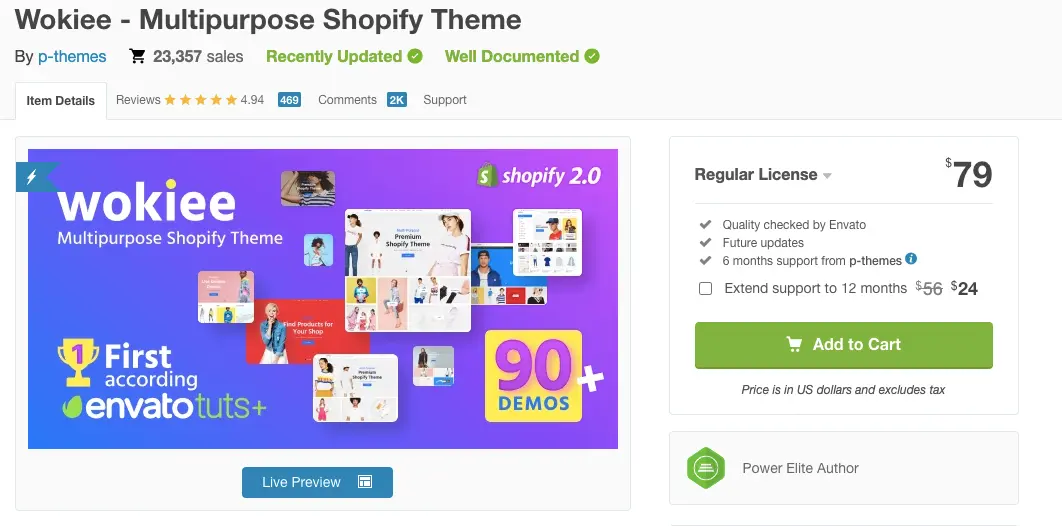 Key Features of the Wokiee Shopify Theme
Choosing a suitable theme for your online store is pivotal because first impressions of your store can make or break a customer's engagement. The Wokiee Shopify theme, renowned for its versatile features and dynamic design elements, has emerged as a compelling choice for businesses seeking to establish a powerful online presence.
Let's delve into the key features that set Wokiee apart and contribute to its popularity among entrepreneurs and retailers.
#1. Smart image scaling
Visual appeal is paramount in the online shopping experience, and Wokiee excels in this regard with its smart image scaling feature.
Regardless of the device customers use to access your store—be it a desktop, tablet, or smartphone—Wokiee ensures that images are scaled and optimized to retain their quality and proportions. Your products will appear equally enticing and professional, no matter the screen size.
#2. Mobile-friendly design
With most online traffic from mobile devices, a responsive design is no longer an option. It's a necessity.
Wokiee's mobile-friendly design goes beyond mere responsiveness. It adjusts to different screen sizes, providing customers with a seamless and engaging experience. This feature is not just about aesthetics. It directly impacts user satisfaction and conversion rates.
#3. Versatile color customization
Branding is a critical aspect of any business, and Wokiee recognizes this by offering versatile color customization options.
Tailor your store's color scheme to align with your brand's identity and evoke the desired emotional response from your audience. Whether aiming for a minimalistic look or a vibrant and bold palette, Wokiee's color customization empowers you to create a cohesive and memorable brand image.
#4. Right-to-left (RTL) support
Expanding your business into markets that read from right to left, such as Arabic and Hebrew, necessitates careful design and layout considerations.
Wokiee's RTL support feature makes this process easier, guaranteeing that your store retains its aesthetic integrity and readability for people worldwide.
#5. The power of the slider revolution
User engagement can be dramatically increased by displaying interesting visuals and interactive components on your store's homepage.
Wokiee includes the Slider Revolution plugin, which allows you to create eye-catching sliders, carousels, and banners that exhibit your products in compelling ways. Slider Revolution enables you to create an immersive and unforgettable purchasing experience by offering a variety of animation effects and customization possibilities.
#6. Multilingual capabilities
In a globalized marketplace, reaching international customers often requires presenting your store in multiple languages.
Wokiee has multilingual capabilities, allowing you to offer an optimal experience to customers of all language backgrounds. Wokiee's multilingual capabilities allow successful communication, whether you're translating product descriptions or designing language-specific landing pages.
#7. Integrated email marketing
Building and nurturing a customer base is critical to eCommerce business, and email marketing remains a powerful tool.
Wokiee integrates seamlessly with email marketing systems, allowing you to acquire leads, run targeted campaigns, and keep customers updated on deals and new arrivals. This integration improves customer retention by streamlining your marketing activities.
With a compelling set of features designed to improve the looks, functionality, and user experience of your online business. Wokiee theme establishes itself as a viable candidate for crafting your eCommerce success story.
How to Add Wokiee Shopify Theme to Your Shopify Store Quickly?
Even if you are not tech-savvy, adding the Wokiee Shopify Theme to your store is simple. Assuming you have the Wokiee Shopify Theme ZIP file on your computer, here's how to get started.
Step 1: Navigate to your Shopify admin dashboard > Select "Online Store"> "Themes"
Step 2: Look for the "Theme library" option > Click "Add theme"> Scroll down to select "Upload zip file"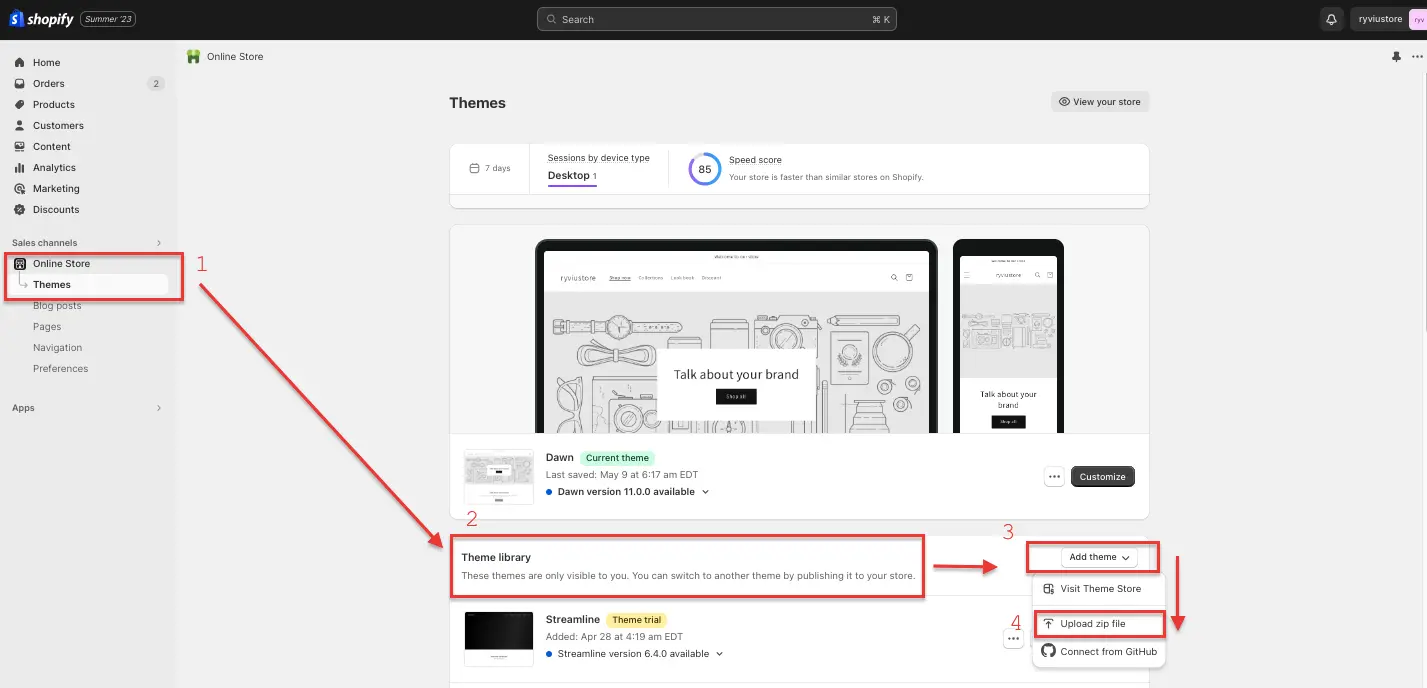 Step 3: A new "Upload theme" window will appear > Click "Add file" and navigate to the Wokiee Shopify Theme ZIP file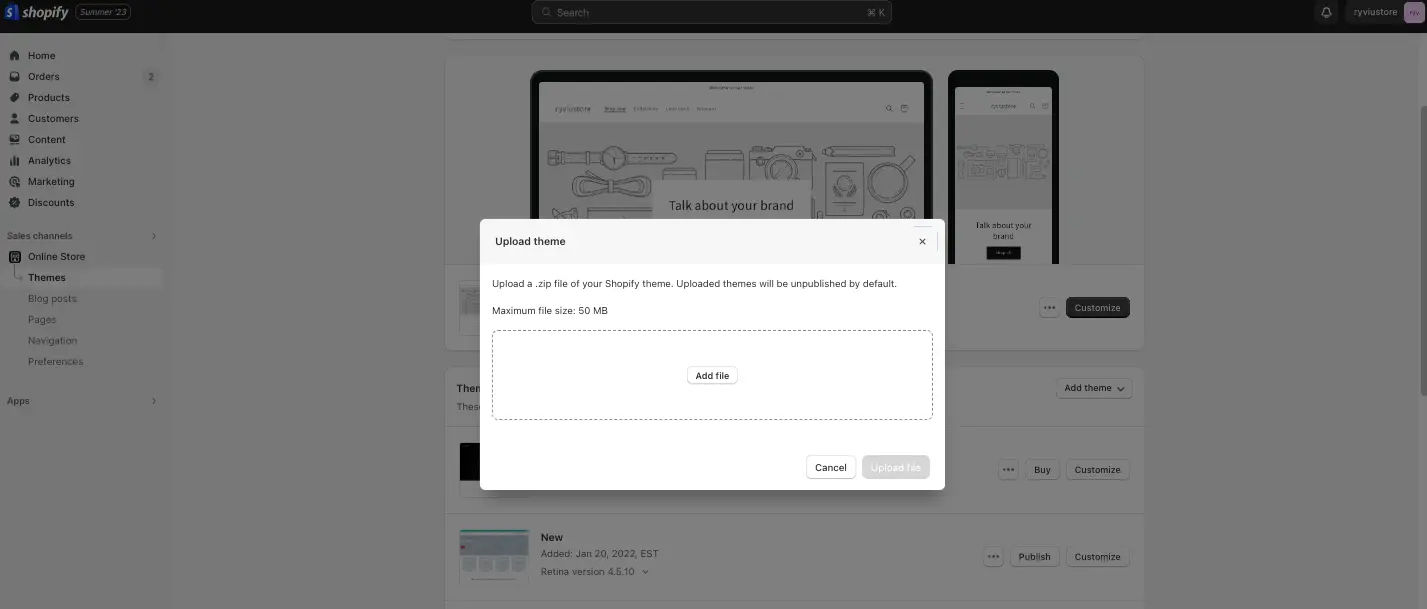 Step 4: Finish by clicking "Upload file"
You have successfully added the Wokiee Theme to your Shopify store.
*Note: Ensure all your theme files are in a single ZIP file.
Conclusion - Is Wokiee Theme Worth it?
With a comprehensive suite of features, ranging from intelligent image scaling and mobile-friendly design to multilingual capabilities and integrated marketing tools, the Wokiee Shopify theme offers a well-rounded package for businesses aiming to excel online. Its user-friendly design and versatility make it suitable for both beginners and specialists.
Ultimately, the Wokiee theme is more than a worth investment. It's a catalyst for creating visually captivating, functionally efficient, and customer-centric online stores.