How to Write Amazon Product Dimensions Correctly?
Although there is a significant increase in the number of consumers turning to online shopping, purchasing products online still comes with its drawbacks. Buyers cannot touch or see products in person while browsing online.
Shopping in a physical store allows customers to hold products, see them up close, and get a feel for their size and texture. All of these are more difficult to do by simply looking at them via a screen.
This fact means that you have to be really specific when explaining what your products look like, and size plays a significant part in this.
That said, listing Amazon product dimensions comes with many benefits. The first is that they set clear expectations, so buyers are not disappointed. Not only that, they also help you stand out from competitors that do not display exact sizes (or not at all).
All of this means that Amazon product size is a crucial part of your product listing. You definitely should not overlook it.
What are Amazon Product Dimensions?
Amazon product dimensions are a formula of numbers that give buyers a solid understanding of the sizes of a product.
This is especially important for products where dimensions matter, like furniture and accessories complementing another item.
The standard Amazon dimensions format is length x width x height.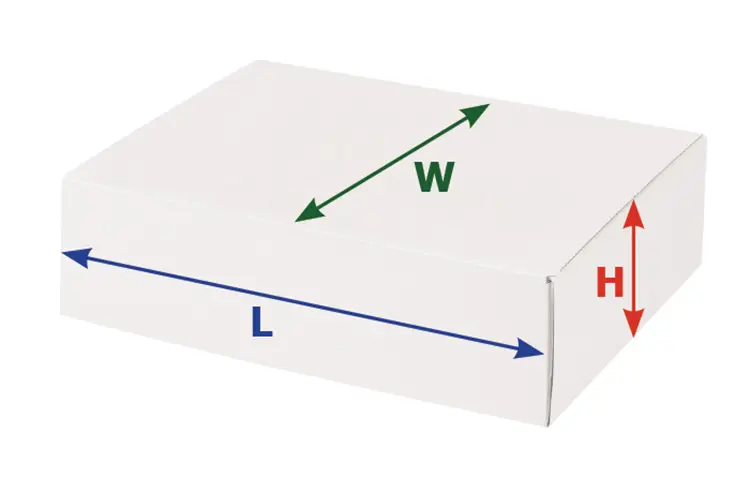 This is a general formula for sizes for anything on most websites. So it makes sense for Amazon to follow this.
The Importance of Amazon Product Dimensions
Although customers may not care about the size of the Amazon FBA package size you ship your products in, Amazon does.
The total dimensions of the product (including the packaging and add-ons) are used to charge for shelf space.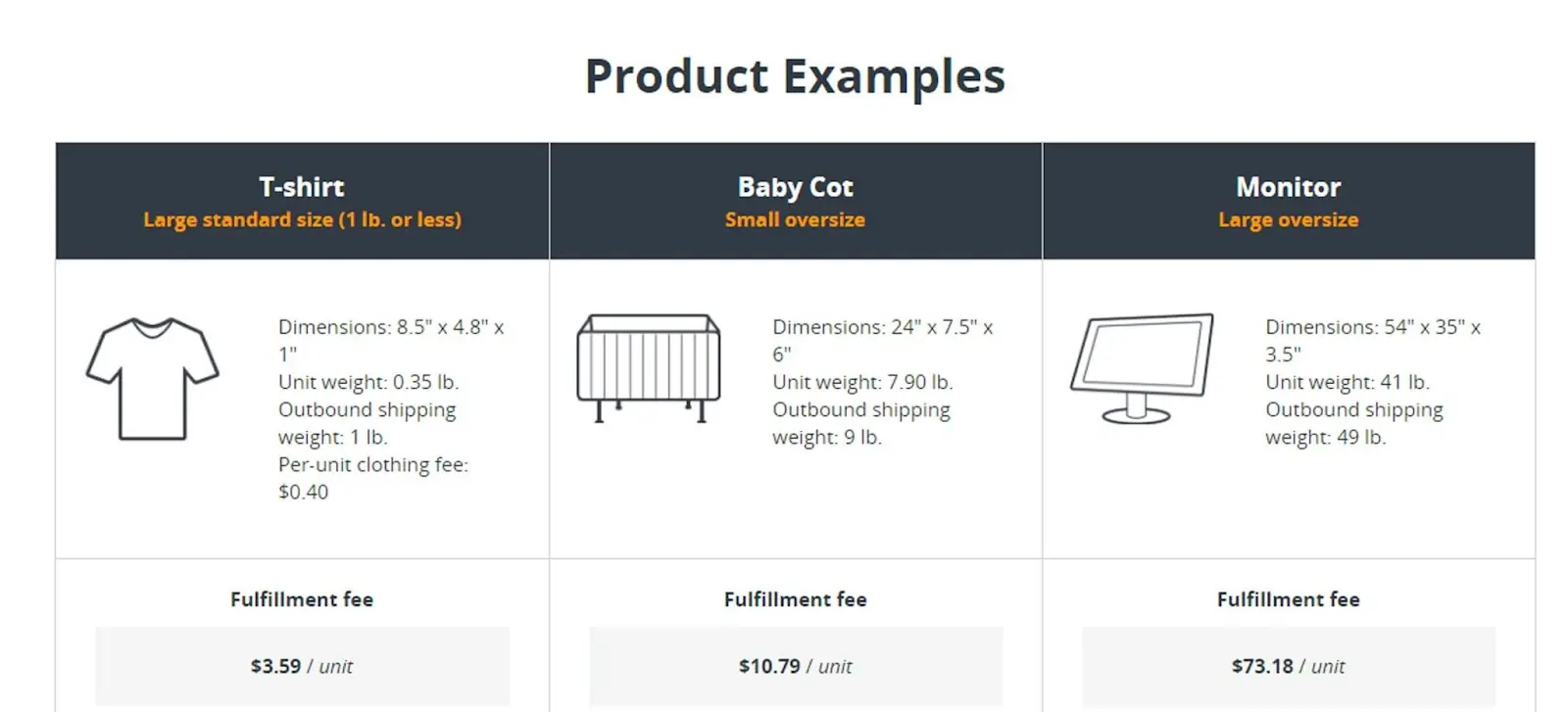 Amazon groups products based on their size. Then it charges sellers accordingly. For instance, Amazon small standard-size products (including packaging) can measure up to 0.75" on the shortest side, 12" on the medium side, and 15" on the longest side.
Size increases in structured steps until the Amazon oversize dimensions category is reserved for products over 108" in length.

Amazon uses this information to calculate the appropriate monthly storage fee, shipping fee, and any long-term storage fees.
For instance, small products are charged $2.41 per unit per month, while extra-large products are charged $137.32 per unit per month.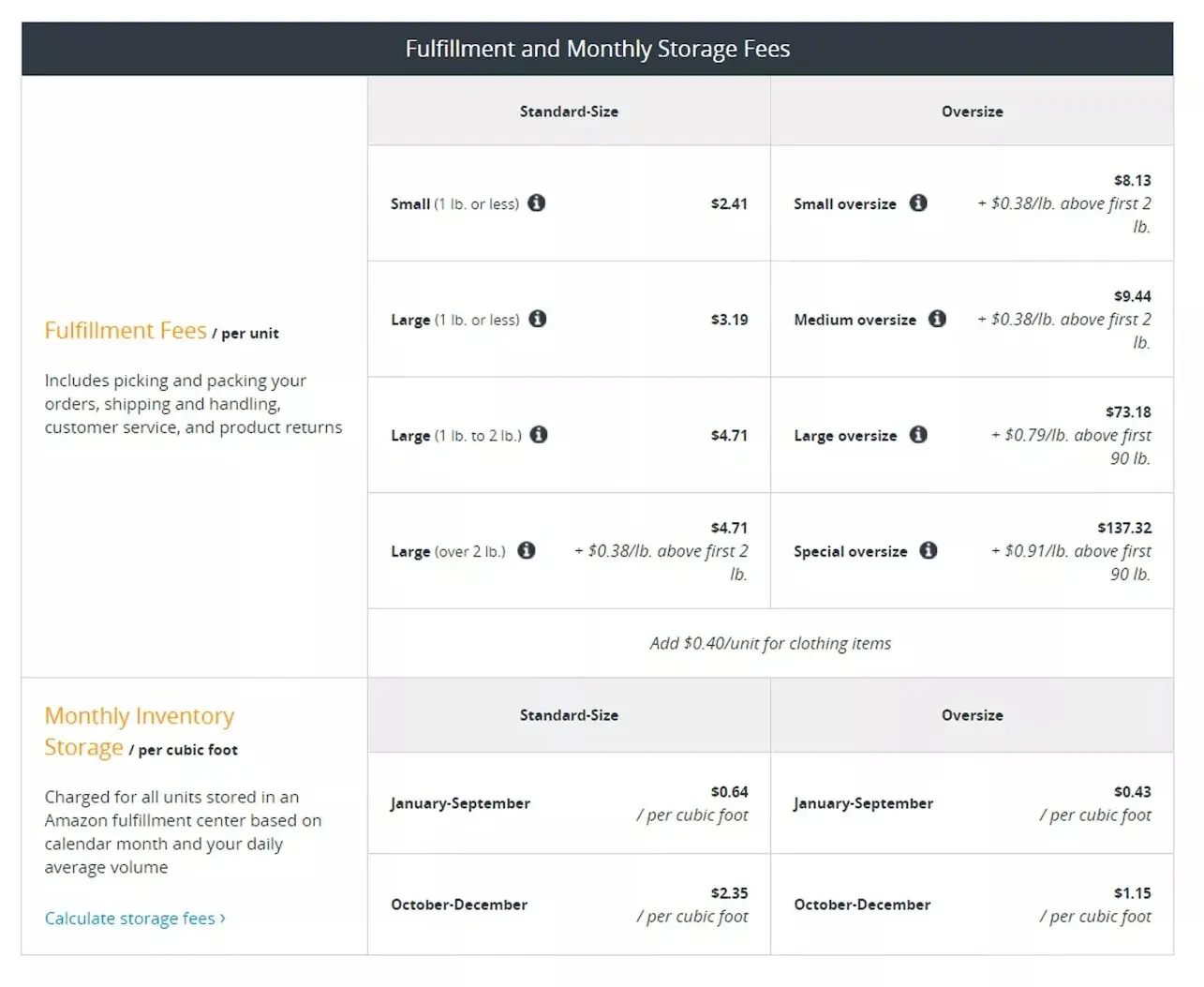 What Do Amazon Product Dimensions Include?
Amazon product dimensions are listed in the "technical details" section of the product page. But do these numbers refer to Amazon package dimensions?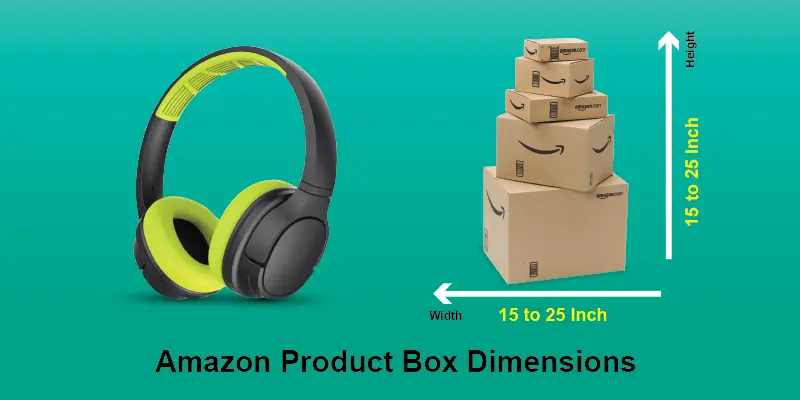 There is a common misconception that these dimensions are related to packaging, but it is not entirely true.
The sizes listed on product pages should only include the size of the products themselves without the packaging. This is because buyers are only interested in the size of actual products yet of the boxes they will be delivered in.
You can list Amazon package size separately if needed, though usually, it does not matter at all.
Where Can You Read Product Dimensions?
There are two main places on a product page where you can find out the size of a product.
First, you can look at the bulleted feature list.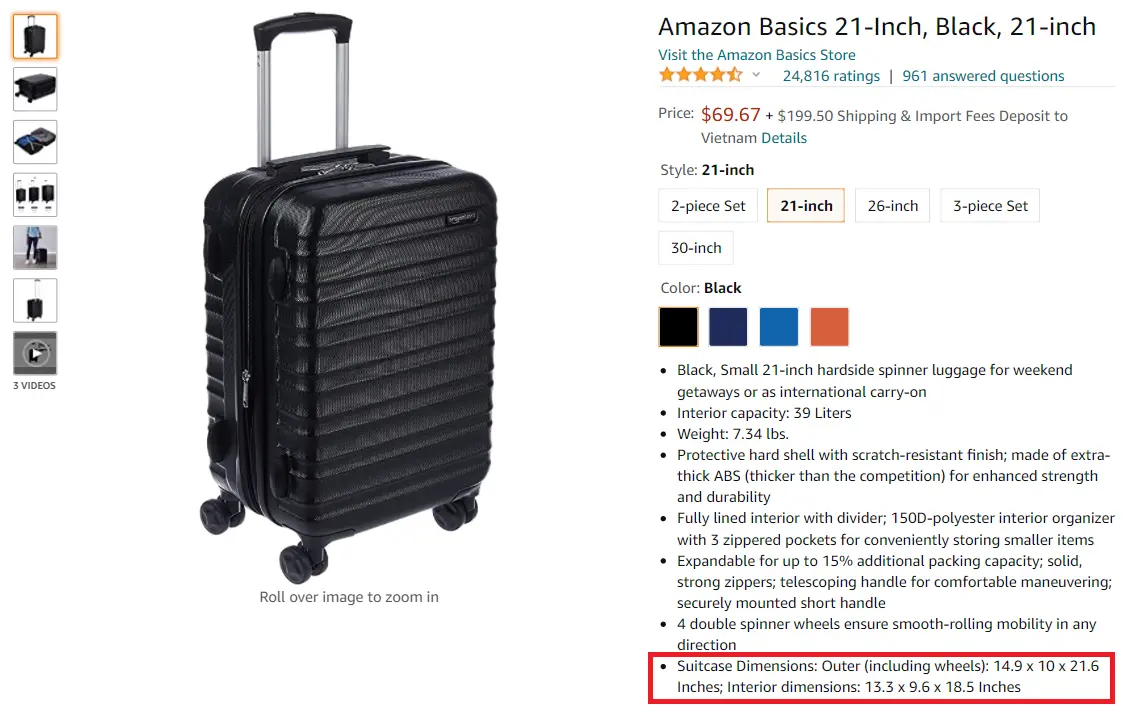 If you do not find them there, you can scroll down to look at the "Product Information" section.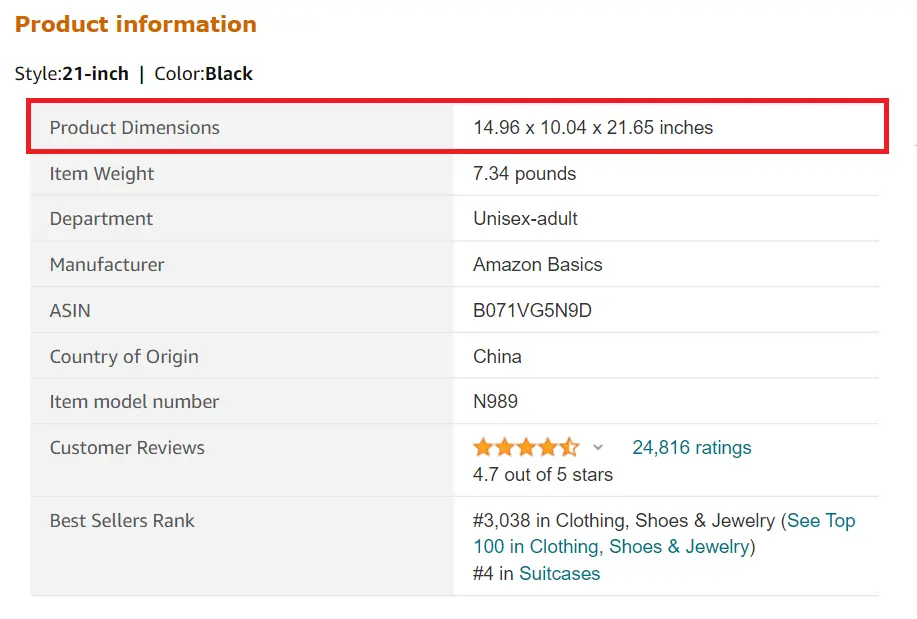 How to Find the Dimensions of Products?
If you are thinking of selling a product and want to see what the average size of your competitors is, you can use a tool to do so.
This is also a necessary activity if you are selling through FBA or a method that you cannot see products in person before selling them, such as dropshipping.
If the product size is listed on product detail pages, you can use a free tool to get it:
CamelCamelCamel is an Amazon price tracker that provides historical charts of prices and average product sizes for any product you want.
Keepa does a similar thing for free. It generates a history of price charts and aggregates the most valuable information about best-selling products, including their size.
Or you can use a paid tool that has more features. These not only track the prices of best-selling products in your chosen categories but also provide a lot of other information, such as sales data, product analysis, most profitable keywords, etc.
Where and How to Fill in Product Dimensions?
You need to add product sizes when you upload a new product listing to Amazon.
When clicking "Add Product", you will be taken to a form that you can fill in all the necessary information and any additional details about your product that you think might be helpful for the buyers.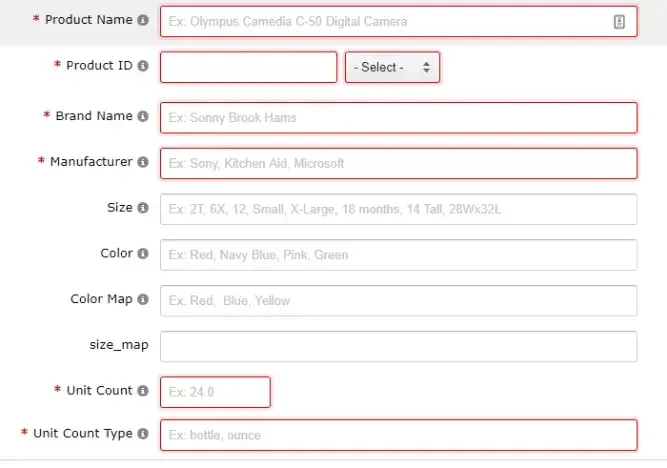 Here, Amazon requires merchants to enter product dimensions and packing dimensions in separate fields. It calculates the overall size to determine the FBA fee.
However, the Amazon FBA package dimensions will not be displayed on product listing pages because it is pointless to the buyer.

How to Write Amazon Product Size Correctly?
In reality, it does not matter in which order you list the product sizes. Length does not have to come first, as long as it is clear which dimension refers to which part of a product.
Besides, it is usually easy for shoppers to know which measurement should go where depending on the general shape and size of the item they are buying.
Although using the standard format is not entirely compulsory, it improves the customer experience. Your customer does not have to do the basic geometries themselves.
And it also avoids frustration if the customer cannot determine which measurement is relevant for which part of a product.
You can make the process smoother by adding identifiers when enumerating dimensions.
For example, you can write 15L x 10W x 50H. These letters refer to length, width, and height. They directly tell shoppers what measurements they are looking at.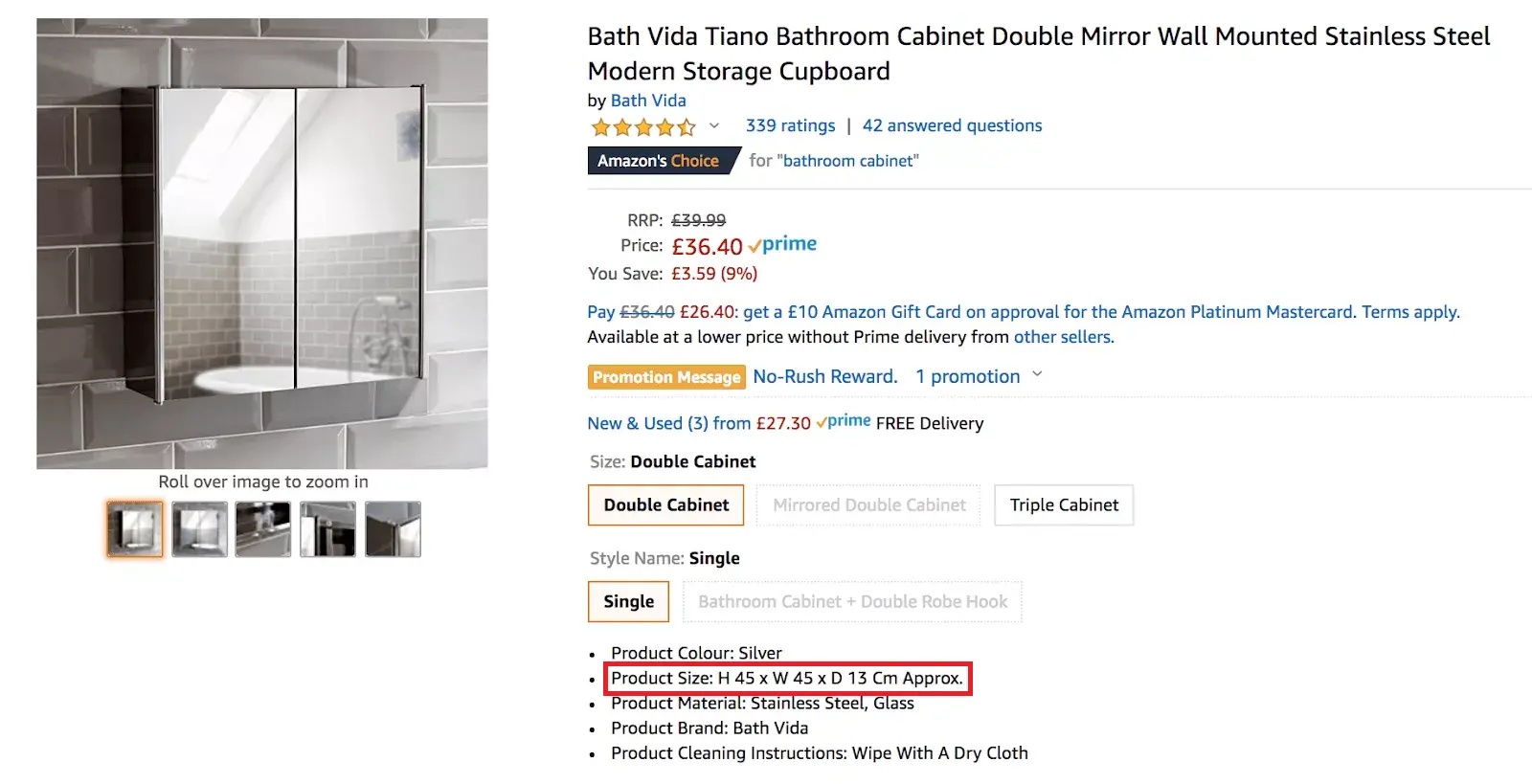 Final Thoughts
Amazon product dimensions may seem like a small part of your strategy. However, they are crucial to maintaining customer expectations and ensuring they are not disappointed when your products get to the customers.
The sizes shown on product pages are not necessarily in any specific order, but we recommend using the standard format (length x width x height).
Although Amazon FBA package sizes are not listed on product pages by default, you will be asked to provide this information when filling out your product information on Amazon.
That is because it uses this information to calculate FBA fees, such as monthly storage costs and shipping fee.
Listing incorrect product sizes can ruin the customer experience, encourage negative reviews, and lose potential long-term customers. It sounds simple, but you must get it right.
Ensure you upload the correct product sizes and show them where customers search: bulleted feature lists and "product information" sections.
If you find it too difficult to sell on Amazon, you can run a dropshipping business on Shopify, and import Amazon products to your Shopify store for selling.
Disclosure: When you purchase a service or a product through our links, we sometimes earn a commission.