10 Best POS for WooCommerce
In the world of commerce, blending online and in-store sales is essential. Let's explore top 10 Best POS for WooCommerce which can cater to businesses of all sizes. Whether you're a small boutique owner, a bustling brick-and-mortar enterprise, or an eCommerce entrepreneur with dreams of expanding your reach to physical locations, selecting the right POS solution is pivotal. These systems bridge digital and physical retail seamlessly, enhancing operations and customer experiences.
What is a WooCommerce POS Plugin?
A WooCommerce POS (Point of Sale) plugin is a software extension that integrates with WooCommerce, a popular e-commerce platform for WordPress, to enable businesses to sell products and manage transactions in physical retail locations. This type of plugin bridges the gap between your online store and your brick-and-mortar store, providing a seamless and unified system for inventory management, sales processing, and customer data synchronization.
By using a WooCommerce POS plugin, you can streamline your operations, reduce manual data entry errors, maintain a consistent customer experience, and gain a holistic view of their sales performance across both online and offline channels. This integration can be particularly beneficial for you with both physical stores and an online presence, helping you manage your business more efficiently.
10 Best POS for WooCommerce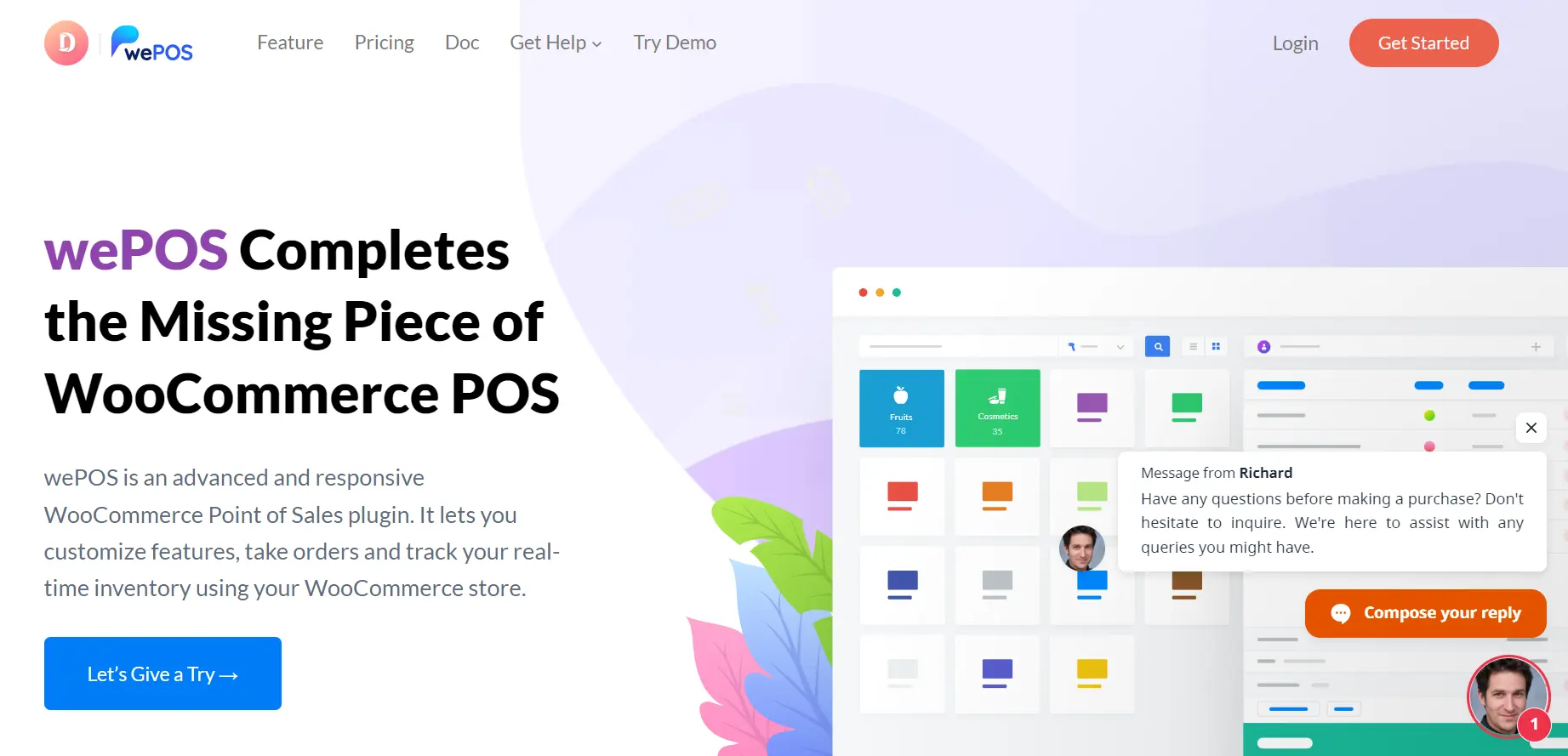 wePOS stands out as a popular WooCommerce POS plugin, offering both a free version and feature-rich premium options. With the premium version, you gain the flexibility to incorporate unlimited physical locations, each equipped with multiple counters, akin to separate checkout stations or devices.
Upon logging in, cashiers can easily select their designated location and counter. The user interface is intuitively designed, featuring a grid layout and a swift Ajax search function to expedite product retrieval. Notably, wePOS seamlessly handles variable products, allowing cashiers to choose specific variations during selection.
One of its standout features is the ability for cashiers to efficiently manage multiple carts concurrently, facilitated by a convenient tab-based cart management system. Transactions can be processed via both cash and credit card payments. Additionally, wePOS enables you to generate physical receipts, providing an option for customization to suit your business's unique branding and style. This comprehensive set of features makes wePOS a robust solution for businesses looking to streamline their point-of-sale operations within the WooCommerce ecosystem.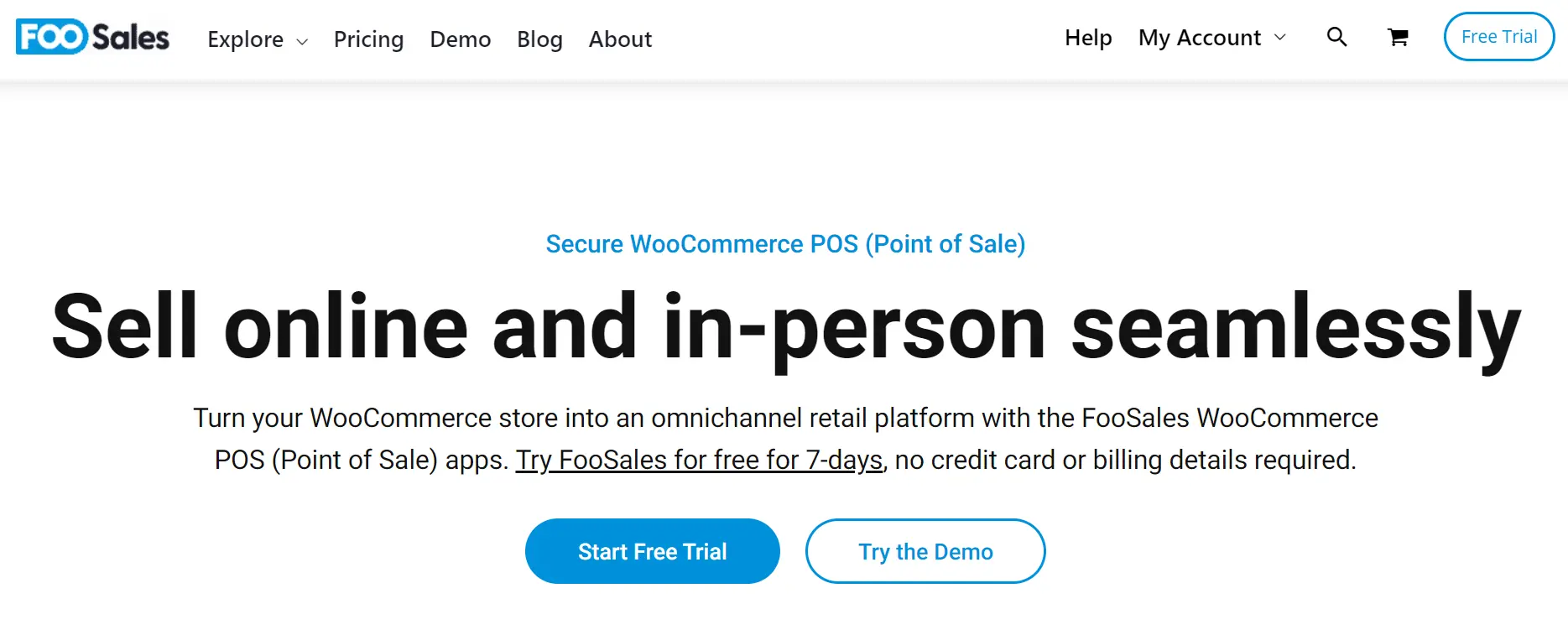 FooSales is a versatile WooCommerce POS plugin that caters to a wide range of needs, offering both a web-based version and dedicated tablet apps for iOS and Android devices.
What sets FooSales apart is its robust tablet app functionality, making it an excellent choice for businesses looking to utilize tablets as their point-of-sale devices. The availability of an offline mode ensures uninterrupted sales operations, even in areas with limited internet connectivity.
Cashiers using FooSales can effortlessly add products to transactions by either searching for them or utilizing a barcode scanner. Managing customer details directly from the POS interface and syncing them with WooCommerce simplifies customer relationship management.
Payment processing is flexible, accommodating cash, credit cards, debit cards, and various other methods. Cashiers can apply coupons to orders and calculate taxes with ease. Additionally, you can send WooCommerce receipts to customers via email, or if you have the necessary hardware, print physical receipts directly from the tablet apps.
Another standout feature is FooSales' compatibility with the separate FooEvents plugin for WooCommerce, facilitating the sale and management of event tickets—an excellent option for businesses involved in event planning.
FooSales offers a 30-day free trial, allowing users to explore its full range of features without requiring a credit card. Following the trial period, paid plans begin at $15 per month, making it a slightly more expensive option than some of the one-time payment plugins. However, its feature set and tablet app functionality may justify the investment for businesses seeking a comprehensive POS solution.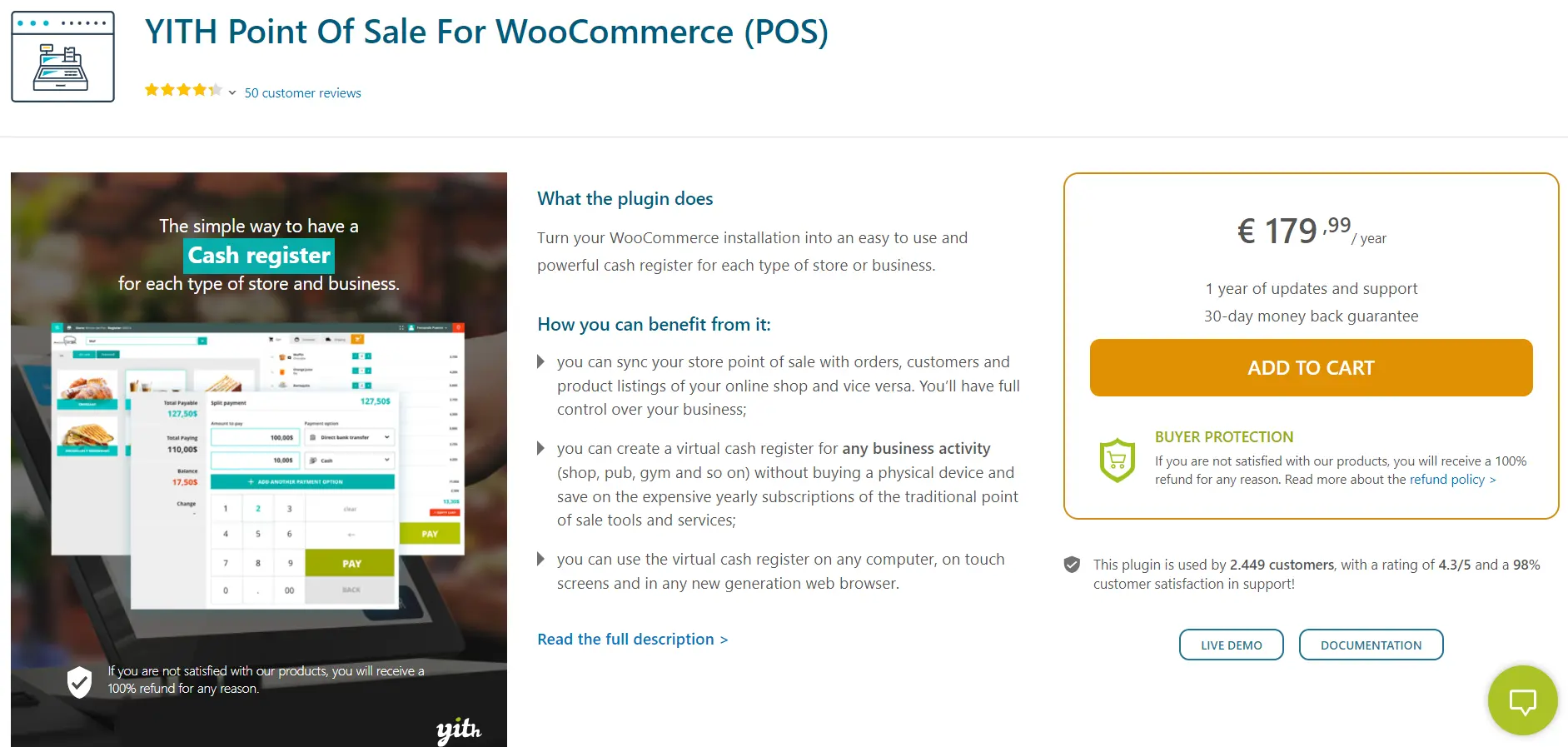 YITH Point of Sale for WooCommerce stands as a powerful tool capable of seamlessly transforming your WooCommerce setup into a fully operational cash register, catering to a diverse range of business types.
What sets YITH apart is its mobile compatibility, allowing you to conduct business on-the-go using your mobile device, a significant advantage in today's fast-paced market.
The flexibility of YITH is remarkable, as it enables you to establish an unlimited number of virtual cash registers. This feature proves particularly valuable for small businesses, such as food trucks, where multiple units can operate with separate yet interconnected cash registers.
YITH offers all the essential features expected from a POS system, including product management, receipt printing, support for various payment gateways, and more. Notably, there is a free version of YITH available; however, it comes with limitations, primarily restricting you to cash payments.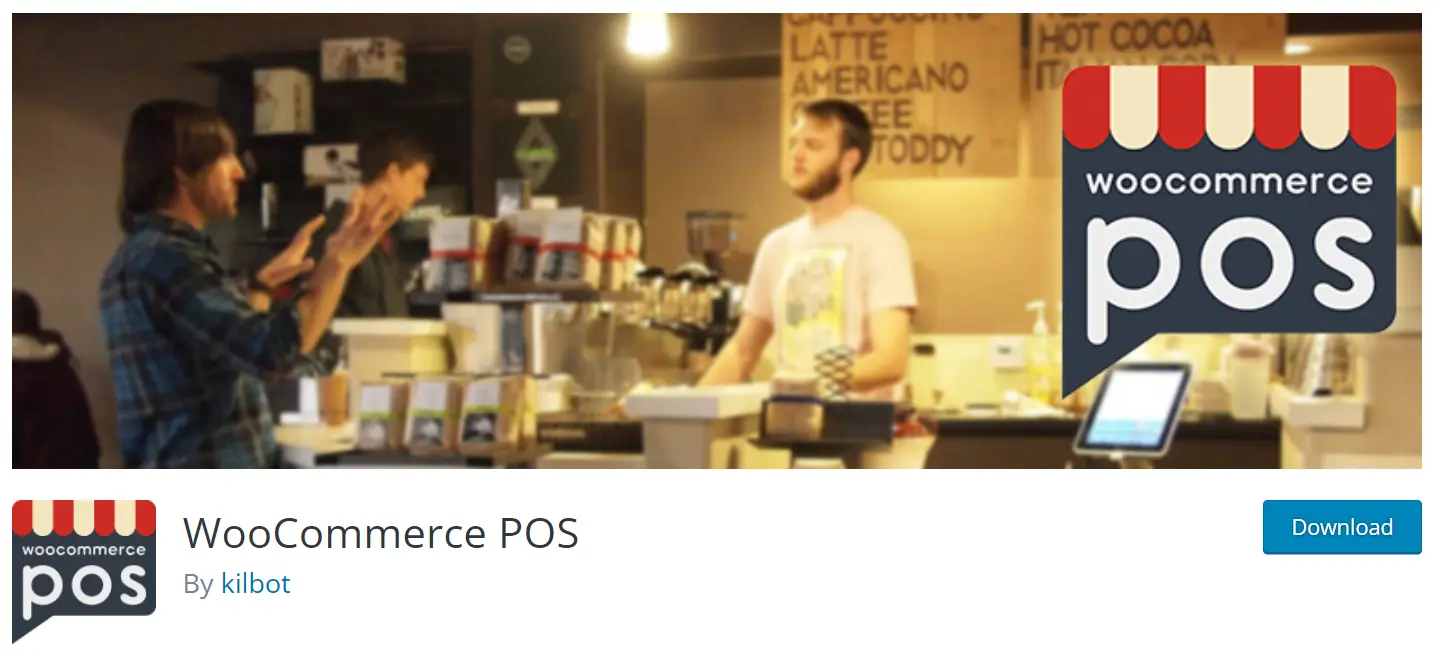 WooCommerce POS is a valuable free point-of-sale plugin tailored for WordPress sites. What sets it apart is its ability to store your product inventory locally, sharing the same database as your WooCommerce data, resulting in optimized performance.
This plugin serves as a bridge, facilitating seamless synchronization of product and sales data between your online store and physical retail location. With this capability, you can maintain a consistent and up-to-date inventory, whether transactions occur in your physical store or online.
Furthermore, the WooCommerce POS plugin's translation-ready nature ensures accessibility for a global audience, allowing businesses to customize and adapt the system to meet their language and localization requirements. This feature enhances its appeal and usability for a diverse range of users, making it a valuable addition to the WordPress and WooCommerce ecosystem.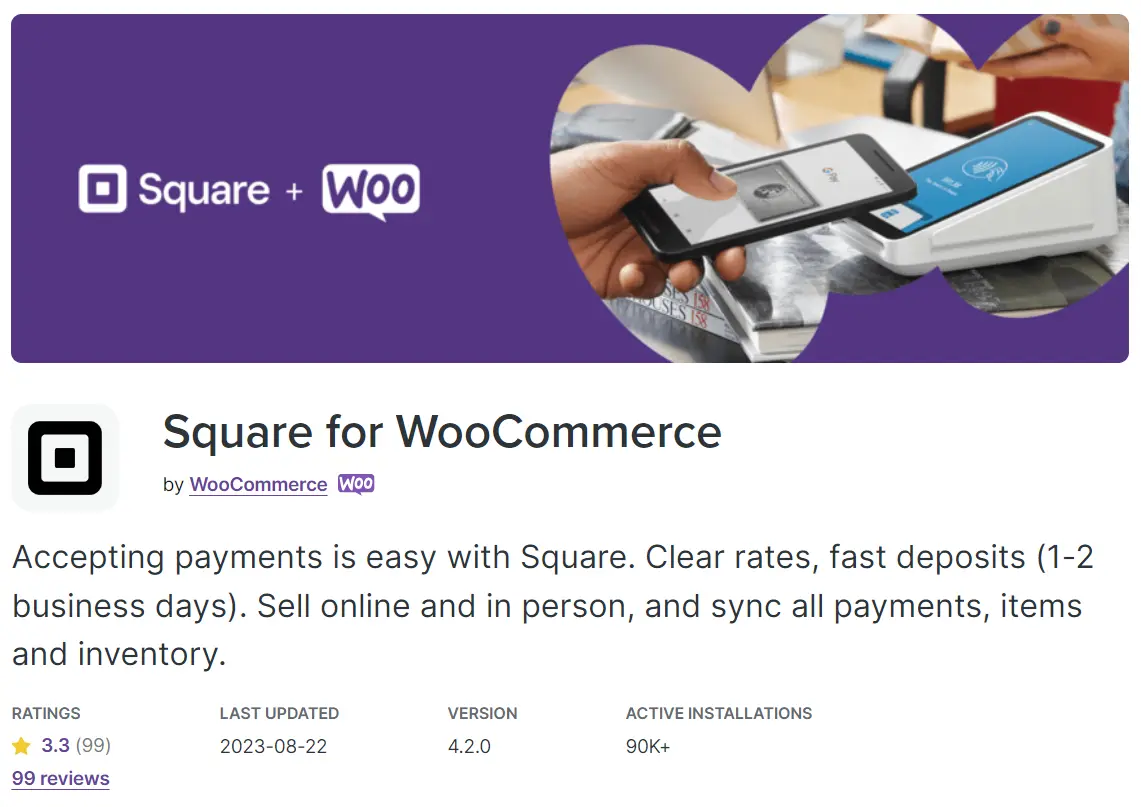 Square for WooCommerce stands out as a versatile POS system that can enhance the operations of businesses across various industries. What sets it apart is its unique pricing model—there's no initial cost; you only pay when you make a sale. While this is appealing for startups, it's essential to note that in more active stores, the costs can accumulate.
Square's payment processing capabilities are comprehensive, offering support for all major credit and debit card types, as well as digital wallets like Google Pay and Apple Pay. This versatility ensures that customers have multiple payment options, increasing the likelihood of successful sales.
The plugin is feature-rich, covering a wide range of essential business functions. Inventory management, for instance, seamlessly synchronizes your Square account with WooCommerce and vice versa, ensuring consistent and up-to-date product information across both platforms. This feature integration simplifies operations and contributes to the overall efficiency of your business.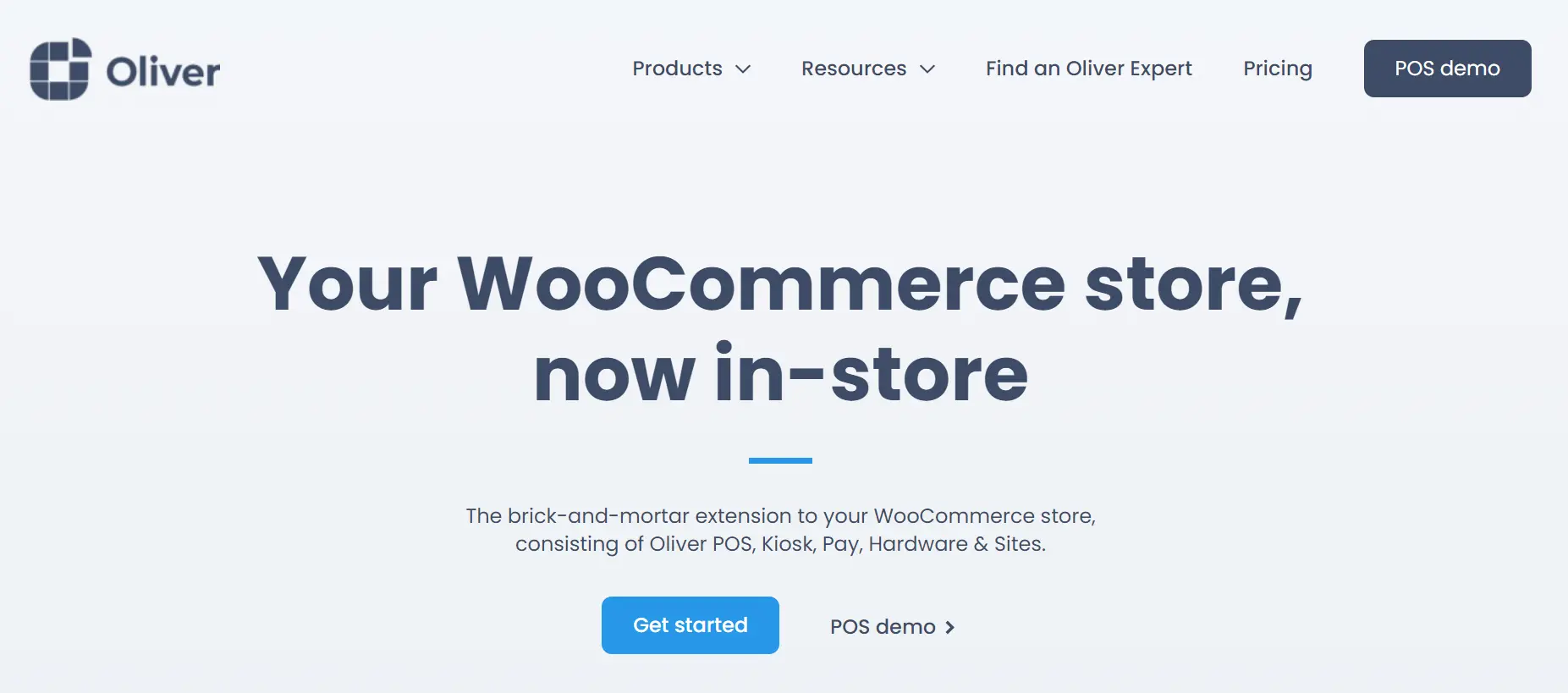 Oliver POS is a powerful WooCommerce POS plugin designed to simplify the management of omnichannel retail operations. This cloud-based POS solution seamlessly syncs with your WooCommerce store, providing a unified platform for both online and physical retail stores.
With Oliver POS, businesses can effortlessly operate their online and physical stores in tandem. Once the plugin is installed and configured, you gain access to customer data, online orders, and inventory management on your existing devices. This convenience makes it exceptionally easy to synchronize product inventory and efficiently manage your products across your online store, physical store, and warehouse.
Furthermore, Oliver POS offers a robust suite of reporting tools to help you track performance and optimize your business operations. These built-in reports encompass customer data, payment details, sales insights, inventory status, and more, providing valuable insights into your business's health and growth opportunities.
Oliver POS offers a free Starter plan, which supports one employee, one register, and one location. For more comprehensive features and capabilities, paid plans start at $19.99 per month when billed annually. Whether you're a small retailer or a growing enterprise, Oliver POS offers an accessible and versatile solution to streamline your omnichannel retail business.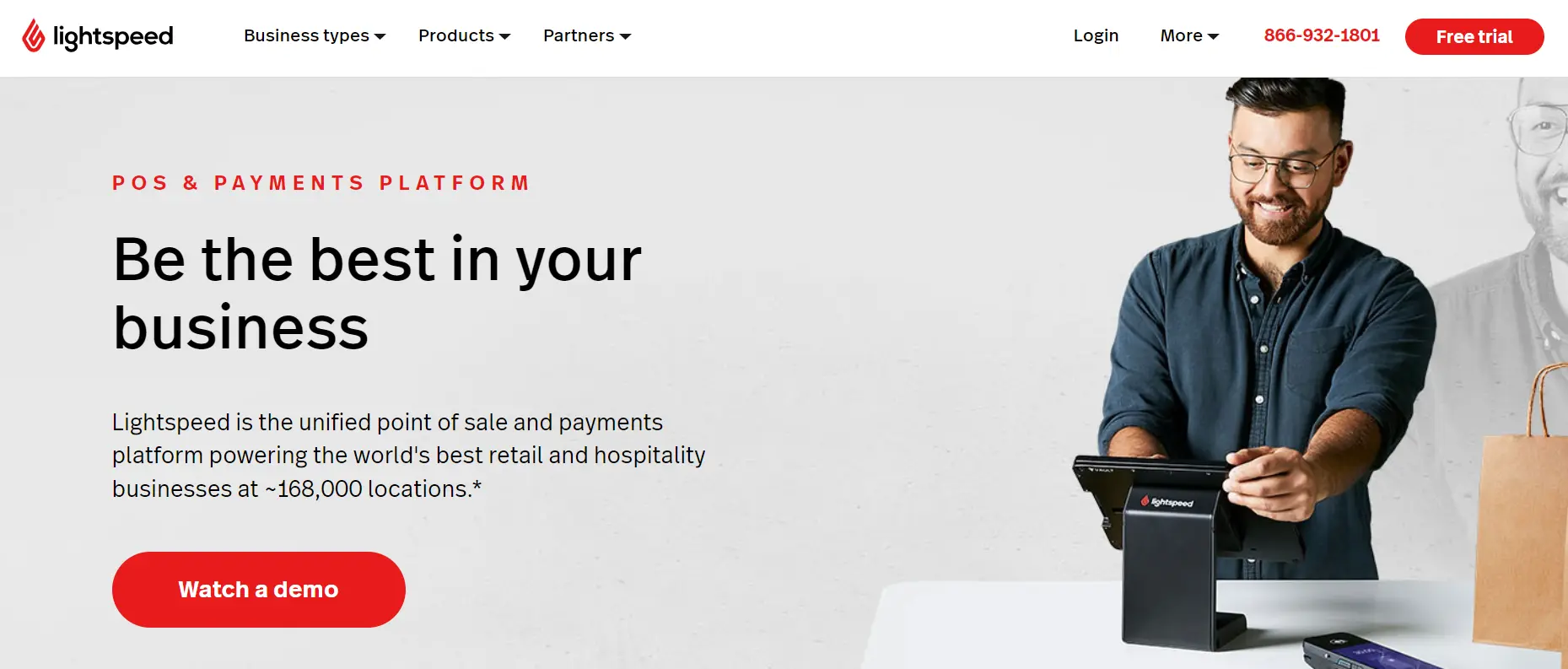 Integrating Lightspeed Retail Point of Sale with WooCommerce becomes effortlessly achievable with the Lightspeed POS Integration plugin, requiring just a few straightforward steps. What's particularly convenient is the account sync feature, simplifying adding your store information to WooCommerce.
This integration unlocks many key features, including robust inventory management, customer relationship data, comprehensive sales analytics, essentials that every POS system should offer, and more. However, it's essential to note that this integration is tailored specifically for Lightspeed Retail and is incompatible with Lightspeed.
One standout aspect of this system is its user-friendliness, making it accessible to beginners. It goes the extra mile by offering live support through phone, email, and chat. Moreover, it boasts an extensive FAQ section and even provides an introductory webinar to guide you through the initial setup.
The Point of Sale for WooCommerce is an official extension that seamlessly links your online store to brick-and-mortar sales, transforming your web browser into a fully-equipped cash register.
This extension provides robust security features, allowing you to establish cashier restrictions, enhancing control over business operations. It includes built-in options to switch between cashiers or automatically log them out after each transaction.
Furthermore, the Point of Sale for WooCommerce empowers you to efficiently manage multiple outlets and registers within each location. It offers the flexibility to implement discounts and fees, contributing to improved customer retention.
In terms of usability, this extension boasts an intuitive interface that's quick to get started with. It allows you to tailor product grids for each store department and provides various viewing options. Additionally, you can effortlessly add products on the fly, complete with their specific attributes.
For its value, the Point of Sale for WooCommerce extension is available at a reasonable cost of $16.59 per month. This investment grants you access to a powerful tool that seamlessly integrates your online and offline sales channels, providing a comprehensive solution for your retail operations.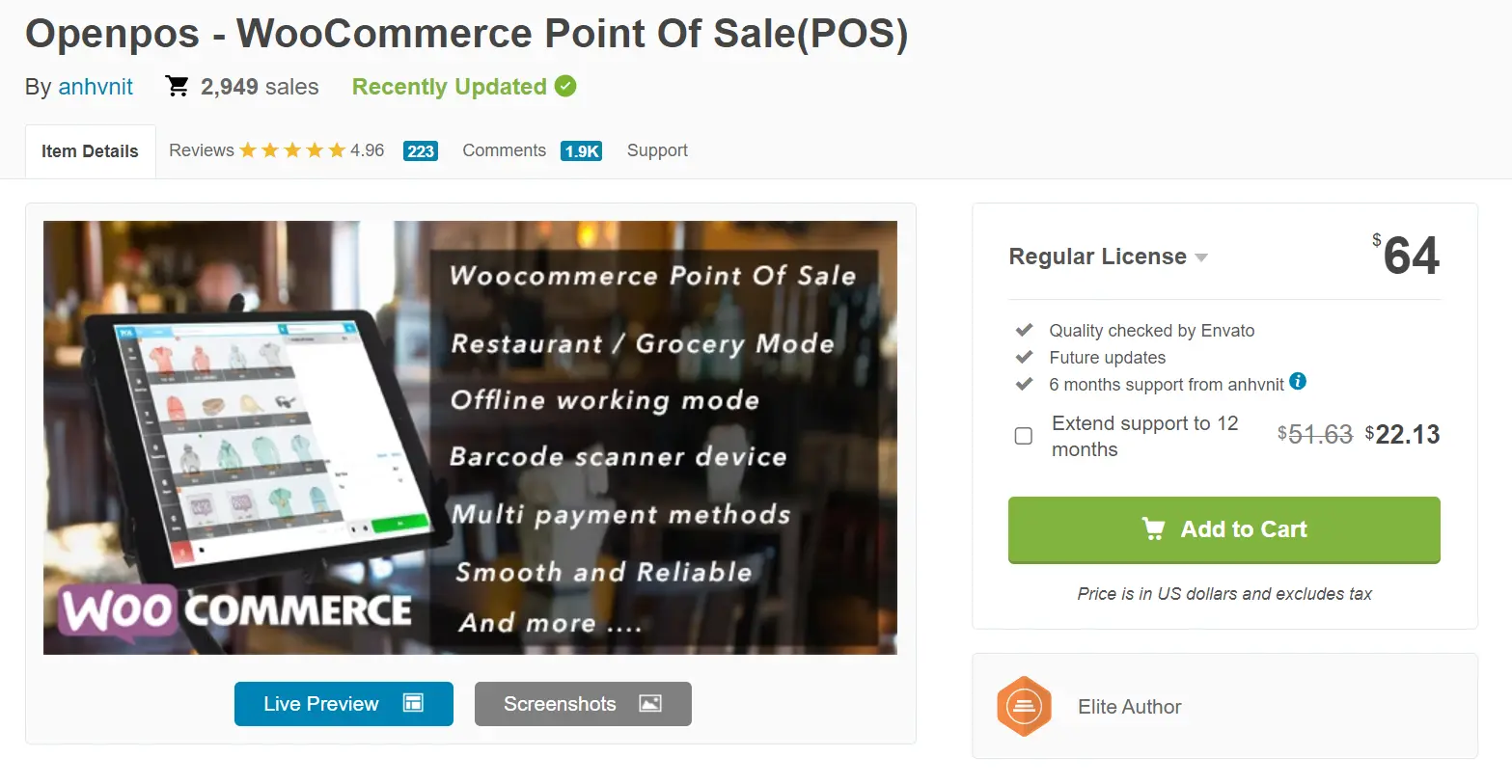 OpenPOS is a highly regarded WooCommerce POS plugin that facilitates seamless data synchronization between your eCommerce website and physical store. It offers extensive support for multiple outlets, registers, and barcode scanner devices.
Cashiers using OpenPOS can streamline the checkout process by scanning product barcodes or manually entering product details, such as names or SKUs. The plugin also accommodates weight-based pricing and the application of coupons and discounts, ensuring flexibility in pricing strategies.
OpenPOS is a versatile solution that caters to many businesses, including retail stores, cafes, gyms, pubs, hospitals, and supermarkets. The plugin includes different modes tailored to specific business types to enhance its adaptability. For instance, the Cafe/Restaurant Mode offers features like table management and a kitchen view screen, making it ideal for food service establishments.
One of OpenPOS's latest innovations is its progressive web app for desktops, simplifying the POS system's usage for service workers. This forward-thinking feature improves accessibility and usability, enhancing the overall experience for businesses that rely on it.
With its extensive features and adaptability, OpenPOS emerges as a valuable asset for businesses seeking to integrate their online and offline sales channels effectively within the WooCommerce ecosystem.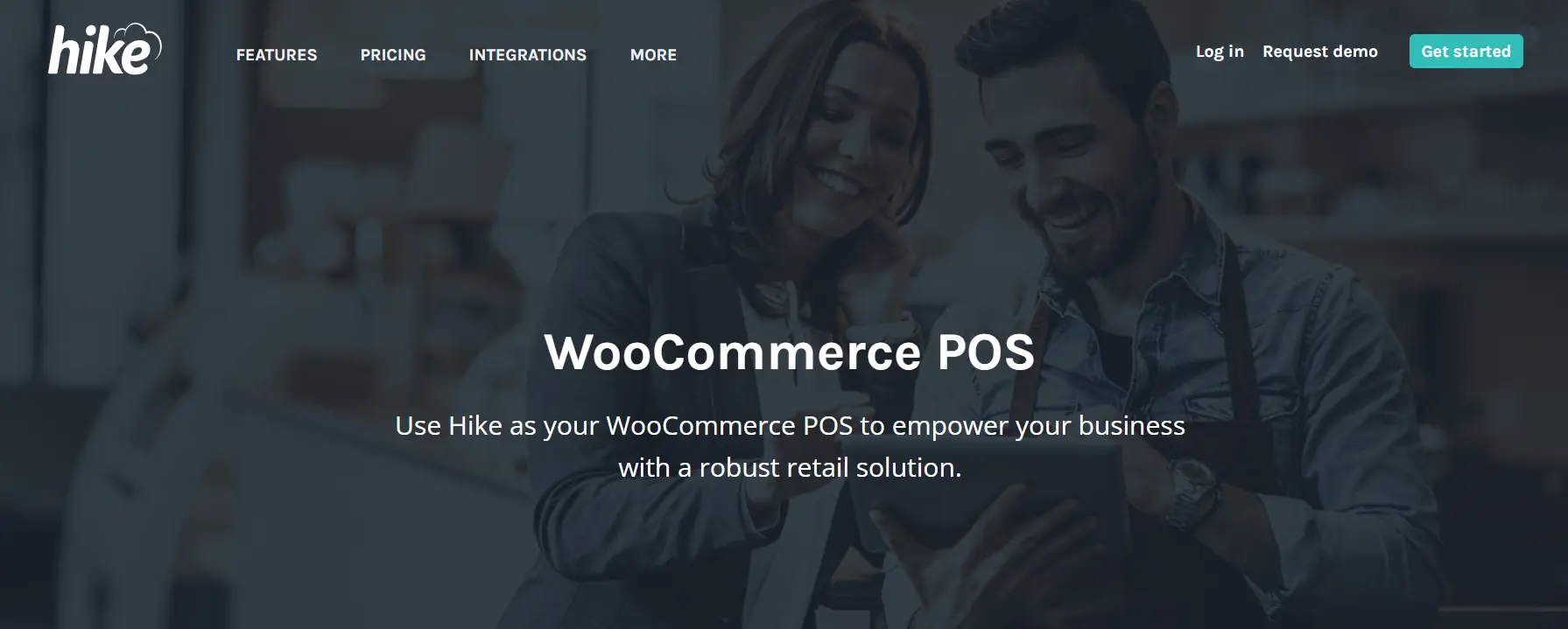 Unlike some previous plugins discussed, Hike POS takes a different approach—it's not exclusively a WooCommerce POS plugin but a standalone POS service that offers seamless integration with WooCommerce.
This integration brings several advantages, including synchronizing product catalogs, inventory, orders, and customer profiles between your physical and WooCommerce online stores. This ensures consistency and efficiency across both sales channels.
Hike POS is versatile and compatible with iPad, PC, and Mac (although it lacks an Android tablet app). Its user-friendly interface works online and offline smoothly, facilitating uninterrupted sales operations. Barcode scanning support enhances product management and checkout processes.
Cashiers using Hike POS can easily apply discounts and process credit card payments, streamlining transactions. An interesting feature is the ability to offer gift cards, providing a unique and flexible option for customer engagement and loyalty-building. With its blend of standalone functionality and WooCommerce integration, Hike POS presents an appealing choice for businesses seeking a comprehensive point-of-sale solution.
Conclusion
Selecting the ideal Point of Sale (POS) solution is pivotal in today's dynamic e-commerce landscape. From dedicated plugins like wePOS and YITH Point of Sale to versatile platforms like Square and Oliver POS, businesses have a diverse array of tools to seamlessly integrate online and offline operations. These solutions empower growth, streamline processes, and enhance customer experiences, ensuring your WooCommerce store thrives in a rapidly evolving and competitive market.