5 Best Inventory Management Software for eCommerce
You can better track and organise your warehouse with the use of eCommerce inventory management software, and you can also save your hardware costs by using it. The program allows businesses to easily handle orders, sales, and deliveries while handling issues like product overstocking or outages.
However, it could be time-consuming to compare all the available inventory management software. To that end, we have gathered some of the best choices and offered our top five choices.
You may learn all there is to know about the best inventory solutions in this article, including their benefits and cost structures.
What is eCommerce Inventory Management Software?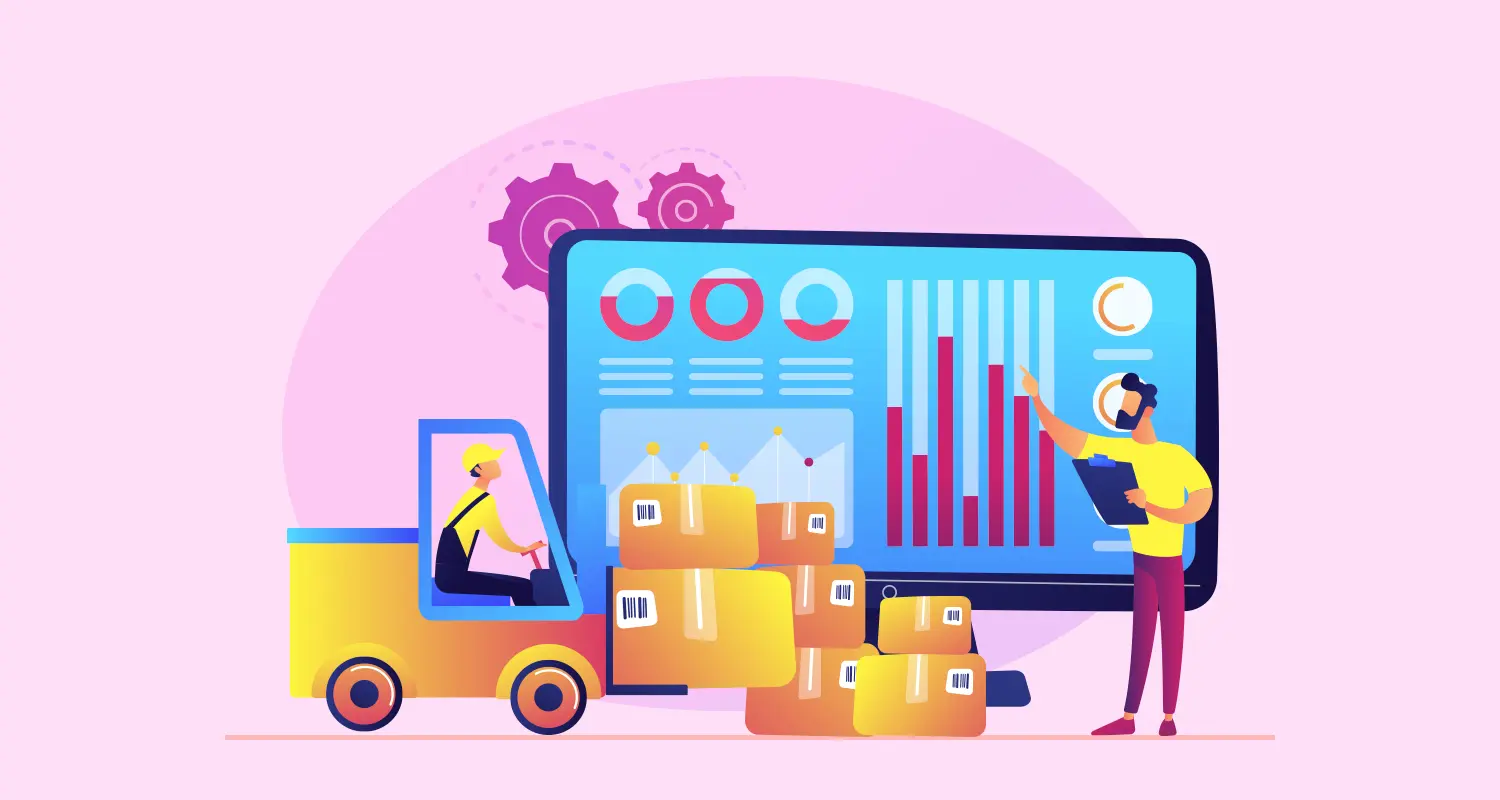 For several company owners, inventory management is frequently a time-consuming and laborious procedure. To cope with some of the hassles and stress that inventory management can cause, a software application with the correct capabilities can be helpful.
There will always be a need for a method to manage your inventory, whether you run an eCommerce website, a physical store, or a grocery store. With the help of eCommerce inventory management software, you may learn about every facet of your items. Furthermore, keeping track of how your inventory is moving will help you gain a better understanding of your clients and what they expect from your company.
eCommerce Inventory Management Software may include a variety of features, such as:
Barcode scanners: for tracking and managing your products
Inventory optimization: ensuring that you always have the right amount of each product available for your customers.
Stock alerts: Alerts that notify you when you are over or under-stocking on a particular piece based on predefined thresholds.
Multi-location management: The ability to manage multiple storage facilities and point-of-sale systems at once.
Material grouping: Sort inventory into predefined classes so you can see which products are in high demand.
Tracking system: Perceive a history of your revenues, monitor your most successful product, and manage inventory items that do not meet expected sales levels.
Sales order records: Keep track of the items you stock and how you obtained them.
Finally, eCommerce Inventory Management Software will enable you to track goods throughout your business's supply chain, allowing you to track everything from sales orders to your particular company requirements. Some software solutions even include integrations that hook up to your offline barcoding strategy, accounting system, and other systems.
Why Should You Consider Using Inventory Management Software?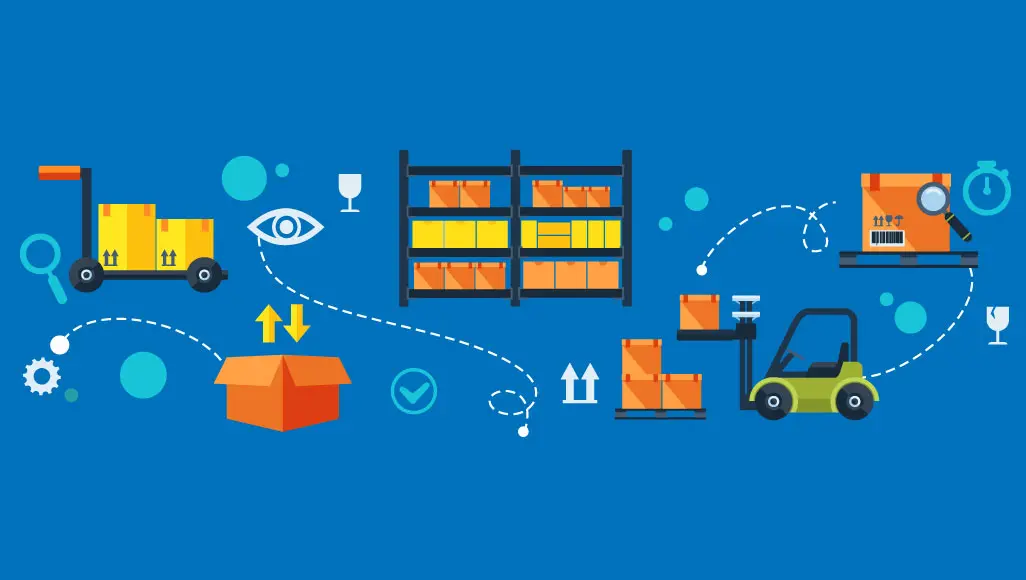 There has been much discussion regarding how large eCommerce titans use inventory management software in their operations. Here are a few arguments in favor of employing the inventory system if you are still on the fence about it.
Acknowledges Productivity and Efficiency
The fact that an inventory management system streamlines and automates operations is by far its biggest benefit. It handles everything, including inventory management, order fulfillment, and product delivery.
Furthermore, eCommerce inventory management software assists in getting rid of manual processes so that your staff can concentrate on more important company responsibilities. As a result, efficiency and production are boosted.
Maximizes Profit through Increased Sales
Some businesses claim that their ability to close deals significantly improved when the inventory system was installed. This is necessary since having a correct inventory keeps you from losing any clients. It prevents you from running out of stock and reduces human mistakes when reporting out-of-stock items. Hence, it increases your profit by raising your sales productivity.
Boosts Client Satisfaction
Utilizing eCommerce inventory management software has the fundamental advantage of enhancing client satisfaction. You are always available to offer individualized assistance and precise solutions. Your customers will be happy and more satisfied than ever because of your access to real-time data, which you can get at any moment. Customers may check the status of their shipping items at any time, and some systems even allow you to let your customers know when an item is restocked.
Integrated Storage
All the data pertaining to your stock is saved in a single database that serves as the inventory management system. This implies that you can easily handle all of your orders from a single location and deliver goods to the appropriate clients. Also, you can precisely track the availability of all your goods and services if you have a suitable warehouse technology in place. Hence, swiftly update your consumers on the status of their orders.
Considering Back-Office Systems in Integration
Back-office tools that handle stock-related data, such as billing software and ERP systems, are smoothly integrated with quality inventory management. By purchasing an open-source system, you can connect to any service provider on your own terms. Moreover, the greatest technical assistance is typically included.
5 best inventory management software for eCommerce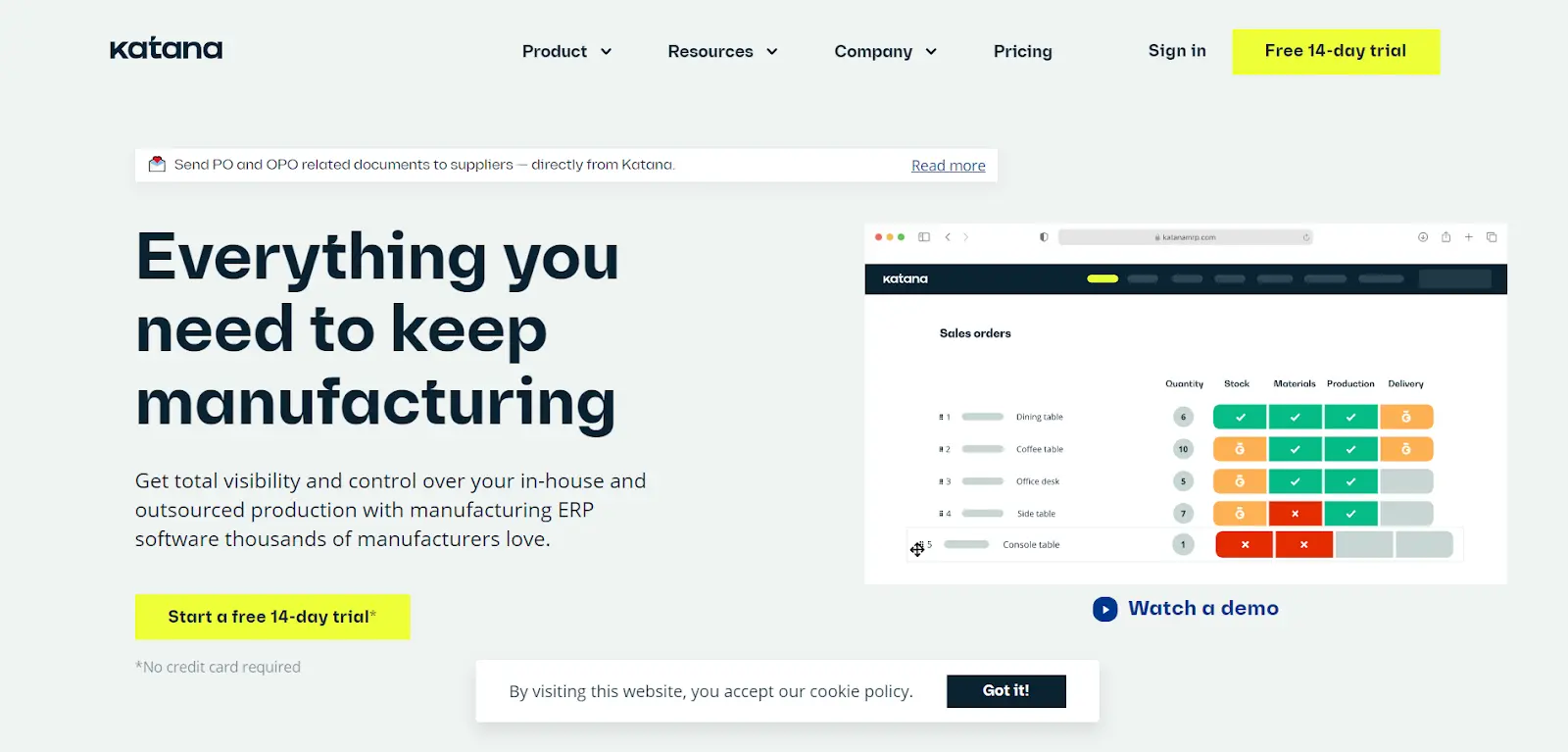 Katana tends to concentrate solely on smaller companies, in contrast to most of the eCommerce inventory management software we've already examined. Small and medium-sized manufacturers can use this dynamic online-based program for controlling their operations through comprehensive inventory control, production scheduling, and planning.
Nevertheless, the main task at hand is the intelligent management of both raw materials and completed commodities. And to help with that, Katana gathers information on product recipes, sales and sales orders, inventory statuses, product operations, manufacturing orders, and supplies through an intuitive dashboard for simple and convenient tracking of all the crucial processes.
You'd especially appreciate the smooth changes between data spreadsheets and the interfaces with a variety of business systems. For instance, you can easily integrate your Katana system with platforms like WooCommerce and Shopify when it comes to online retailing. But when you need to keep track of your payment details, stock, purchase orders, and accounting, QuickBooks and Xero connectors come in handy.
Pricing
With Katana, businesses have a wonderful, inexpensive option to streamline their production and sales. Although there isn't a free version of this software, you can start with a trial. The starting price is roughly $99 per month.
Pros
Excellent for streamlining manufacturing, inventory, and invoicing
Value for the money
The use of Katana MRP is indeed very simple.
Knowledgebase is beneficial for new clients.
Superb support group
Cons
Complicated for newbies
Orders are difficult to organize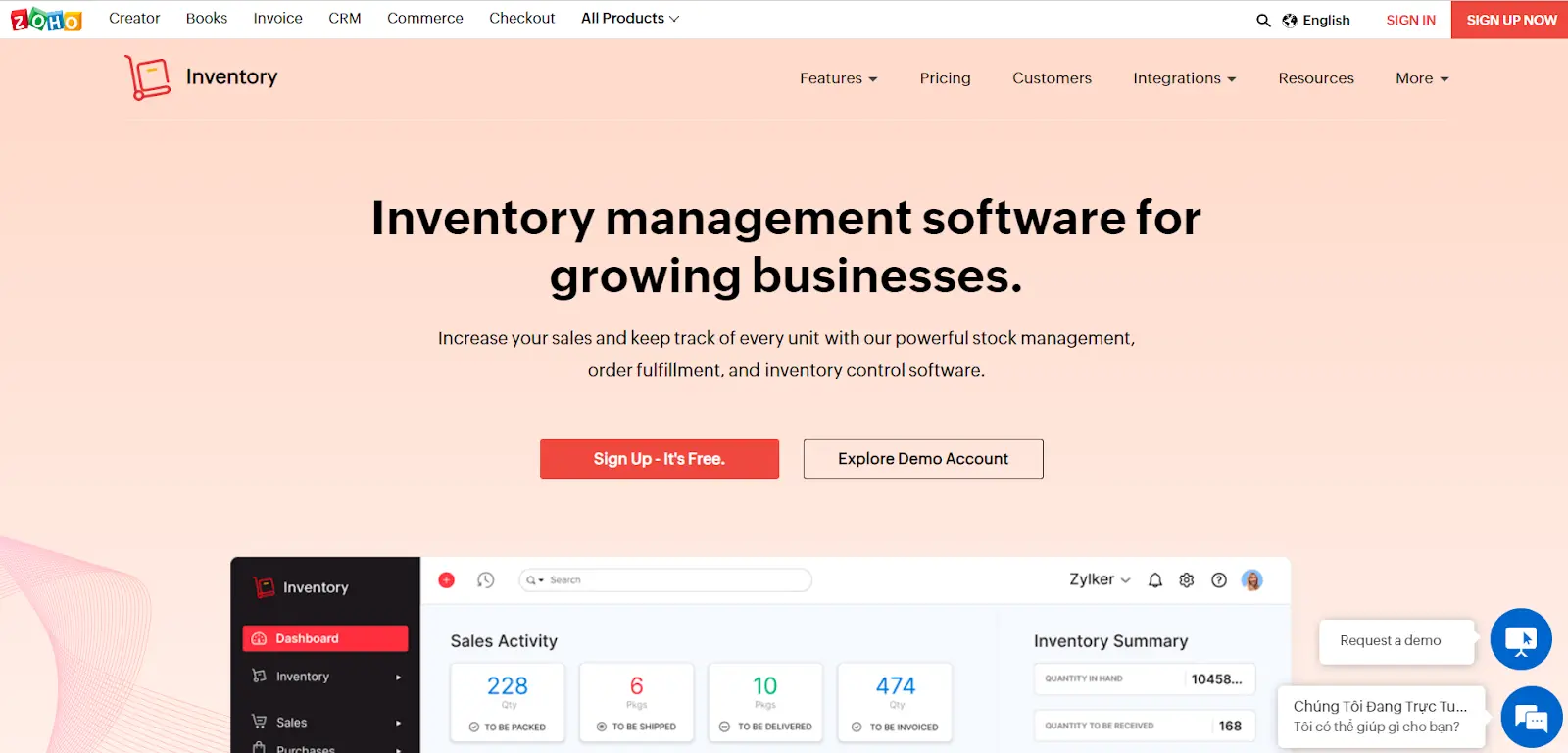 One of the most well-known products on the market, Zoho Inventory Management is made to assist businesses with various tasks, including boosting sales and expanding their operational capabilities. In addition to assisting with tasks like maintaining your offline orders, Zoho Inventory may also be integrated with other tools in your sales strategy.
From a single application, you can connect Zoho to your Shopify, eBay, and Amazon accounts, create purchase orders, handle drop shipments, and more. Furthermore, each item in your inventory has end-to-end tracking with batch tracking and serial number functionality. To ensure that your products reach your clients as soon as possible, you may even select from a variety of shipping options.
Even more sophisticated inventory management capabilities are included with Zoho Inventory, like access to accounting software and asset management solutions, to assist you in making better business decisions. This may be the comprehensive software solution you're seeking if you're a modern business owner.
Pricing
Although Zoho Inventory has a free version, it has extremely few capabilities. A free trial is available to try out the capabilities before purchasing the paid edition, which starts at $49.00.
Pros
Integration with a certain CRM
Great for monitoring client satisfaction and inventory
Connections to a range of top tools
Workflow instruments for marketing and human resources
User-friendly interface
Works with accounts from Shopify, eBay, and Amazon
Cons
Tutorials are just marginally useful.
Instead of being per group, subscriptions are per user.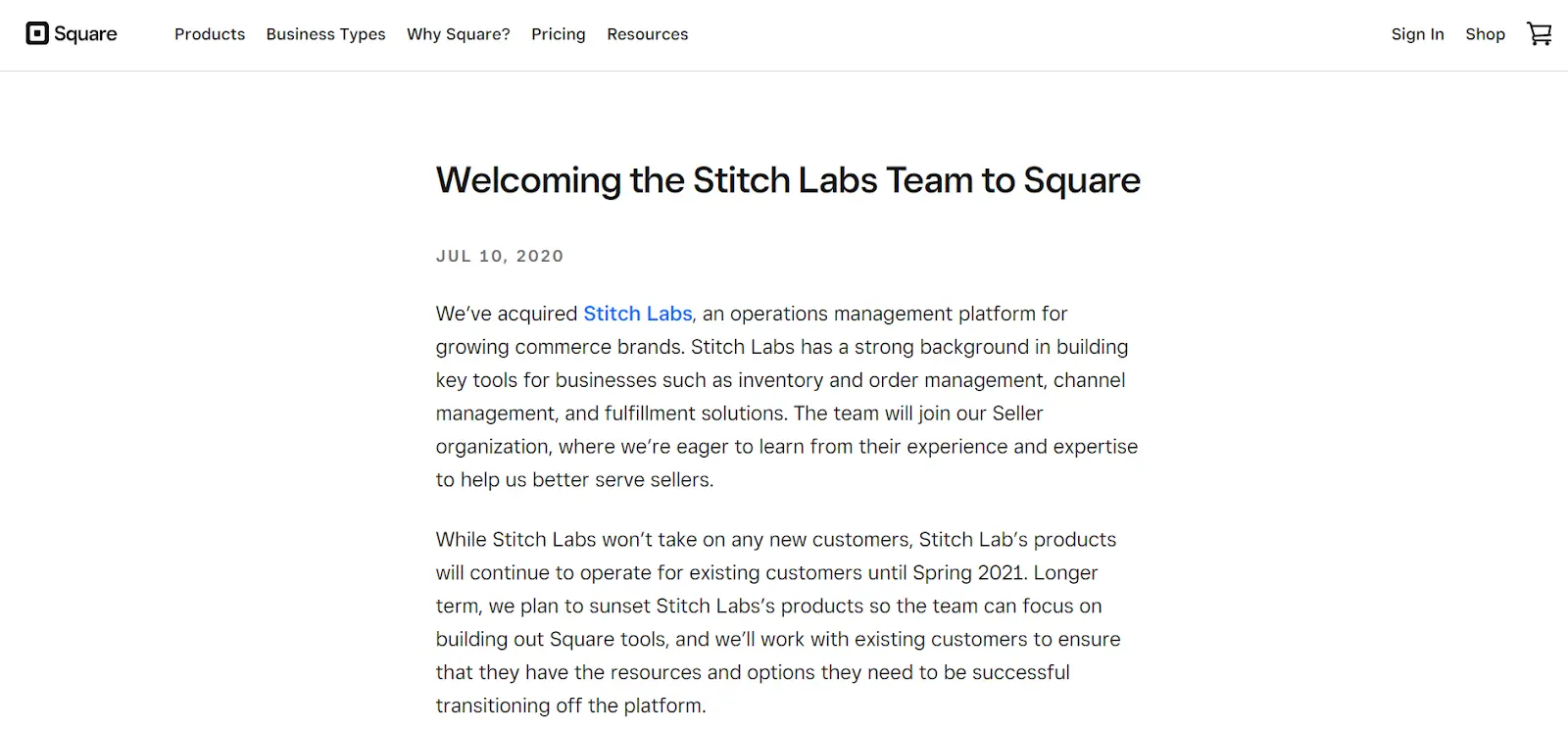 The StitchLabs inventory software includes a solid collection of basic functions in addition to interfaces with systems like Magento, WooCommerce, Shopify, and Amazon. For instance, complete inventory control is provided together with a lovely dashboard and excellent insights. Your team can work together thanks to the cross-departmental unification, and the multi-channel inventory module is fully automated.
With the aid of this inventory management software, you can predict demand changes correctly and take appropriate action. We also appreciate that it interacts with QuickBooks because the real-time inventory control will make your books pleased at the end of the year.
Pricing
One of the more pricey items on the market is Stitch Labs. This is a fantastic piece of technology with multi-channel inventory models and a ton of possibilities to explore. However, Stitch Labs has a monthly fee of about $799, which will be prohibitive for many businesses.
Pros
An excellent choice for data centralization
Outstanding client service
Great for teams that must work together
Automated multi-channel inventory module
Free trial is offered
Cons
Incredibly costly
You might have to pay extra support fees.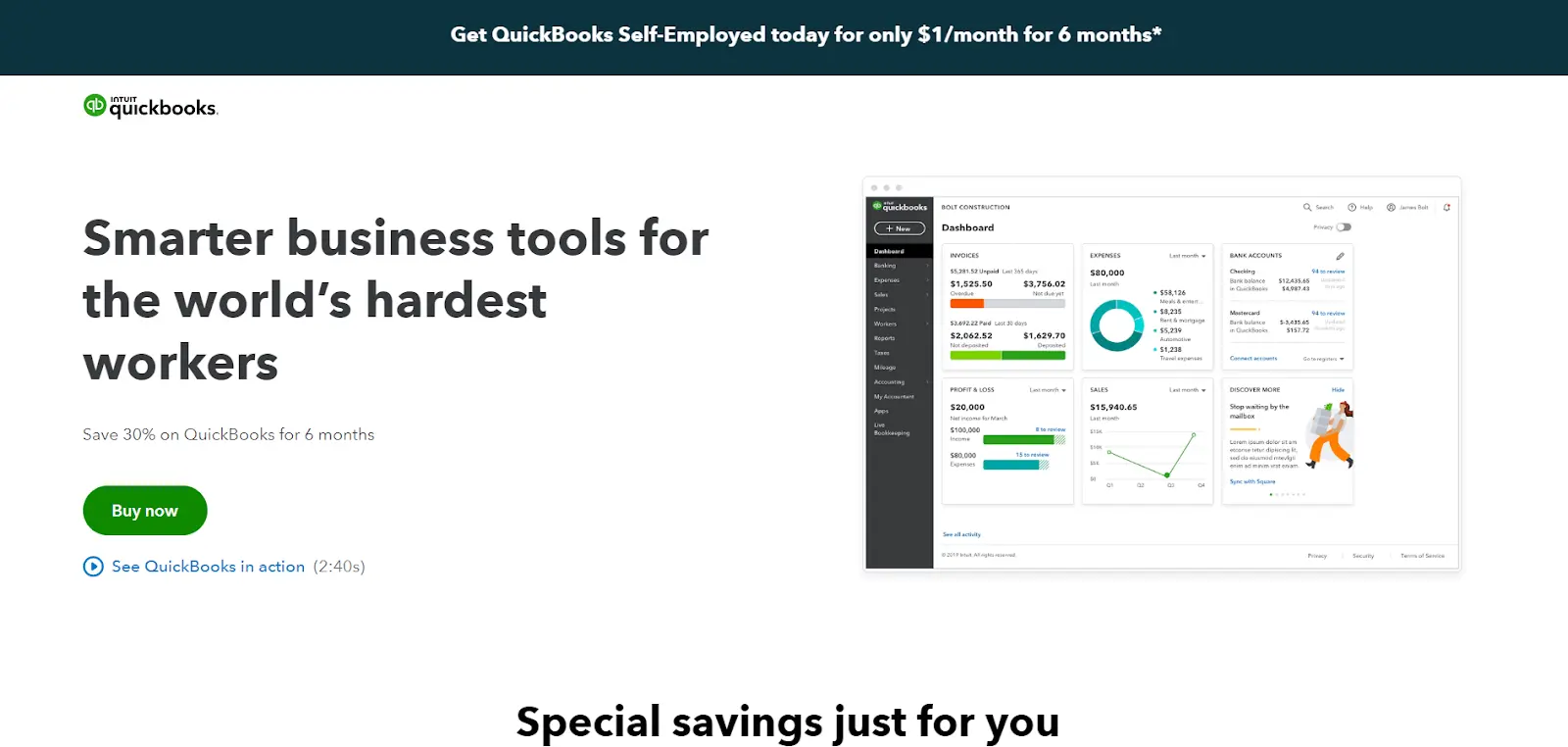 With the assistance of the QuickBooks Commerce Platform, business entities may control their apps and retail and wholesale operations from a single, centralized location. By quickly automating order operations, businesses may enhance operational effectiveness and customer happiness thanks to its fundamental strengths and wide-ranging app ecosystem. It enables you to automate the connection between systems across many channels efficiently, handle several sales channels and fulfillment sites (such as Shopify, Amazon, WooCommerce, Wayfair, and others), speed up payments, and provide private B2B eCommerce experiences for customers.
For management, eCommerce, and supply chain professionals seeking to automate their businesses and free up their time from monotonous, low-level processes that are prone to human error and inefficiency, QuickBooks Commerce was created. You can spend more time cultivating client relationships and expanding your business.
The Founder plan of QuickBooks Commerce, which is ideal for small and medium-sized businesses, costs just $39 per month.
Pricing
The Founder package, which supports 1 user and 10 sales orders each month, costs about $35 per month for QuickBooks Commerce. A small company version costs $169 per month, a business version costs $459 per month, and a lite version is available for $69 per month. More features and more users are accessing the more money you spend. For individuals with more complex requirements, there are also some premium alternatives available, like the Premium and Enterprise programs.
Pros
Great for all sizes of businesses
Numerous sales channels are supported
User-friendly interface
For supply chain specialists only.
Value for the money
Cons
A few software problem issues
Customer service might be better.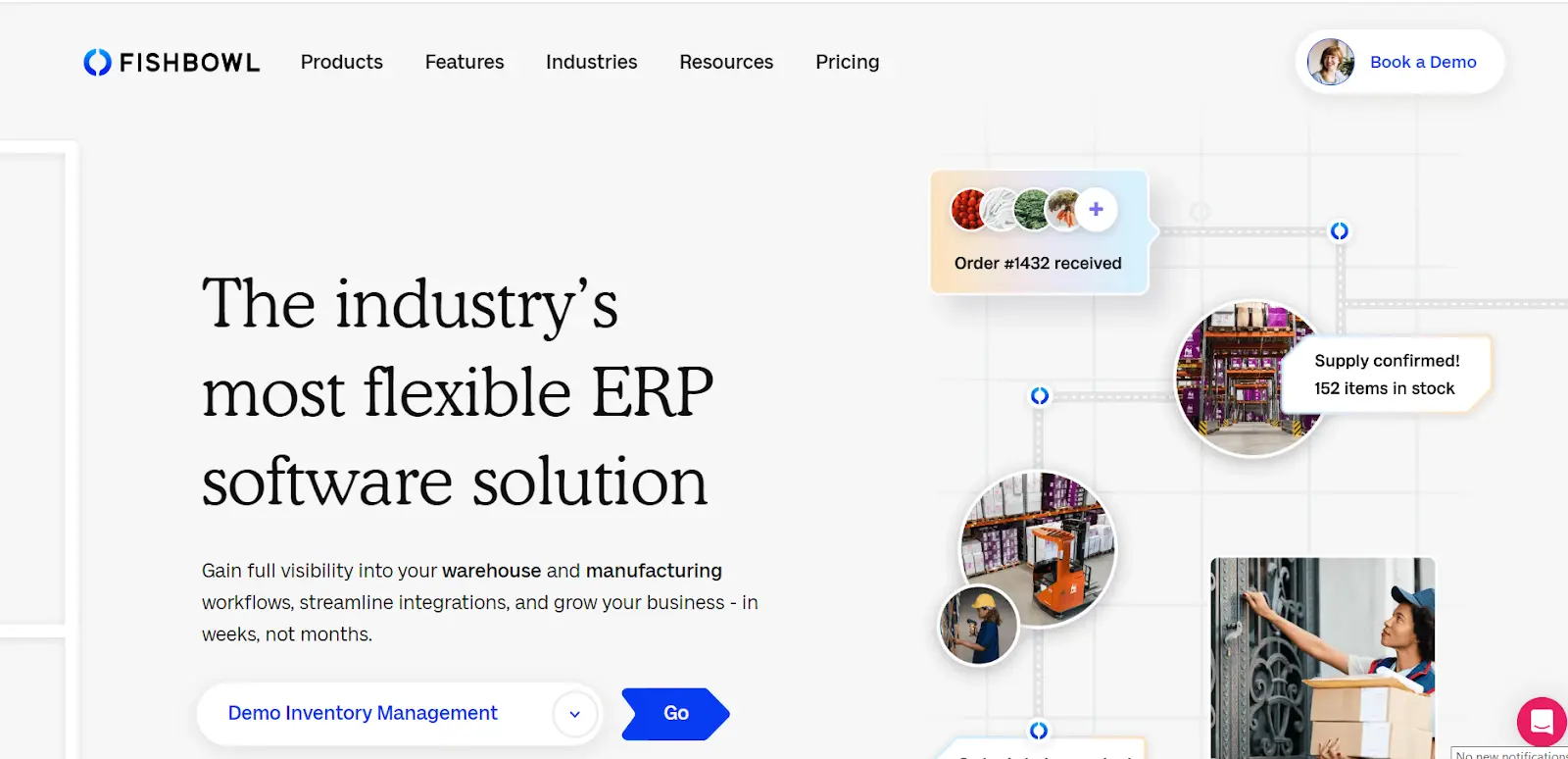 In terms of asset management, FIFO tools, and accounting systems, Fishbowl may not be as well-known as Zoho inventory or Quickbooks, but it is gradually gaining ground. Fishbowl can be what you need if you require an inventory management system that makes it easier for you to track inventory and evaluate your business needs.
Fishbowl is prepared to assist you with your company goals, covering everything from dropshipping tracking to inventory data, barcoding, and other cutting-edge capabilities. Furthermore, you can accomplish more because this robust software works in conjunction with some of the other top products available. For instance, you can combine ShipStation for shipping, Quickbooks for accounting software, and Salesforce CRM.
Fishbowl offers a wide range of services, including asset tracking, warehousing, and manufacturing tools with project tasks and asset management insights that are essential for small firms to flourish. You may receive real-time inventory updates, track your items using their lot numbers, and simultaneously keep an eye on the asset levels at several places.
Pricing
With a starting price of $43,95, Fishbowl inventory management may appear a bit expensive at first. Your license does not expire, therefore you do not need to renew it every month or year.
Pros
Combines with numerous industry-leading tools
Assists in the management of assets and job orders
Great for monitoring and reporting.
Instantaneous stock updates
Continuous subscription
Cons
Pricey initially
Not widely known
No additional languages besides English
Conclusion
It's essential to take your time while selecting the best inventory management system for your company. You must take into account the people who will be utilizing the program and their needs in addition to the pricing, feature availability, and benefits.
Fortunately, inventory management software is accessible in a wide range of forms and provides a variety of capabilities to make it appropriate for different organizations and industry sectors.