10 Best Streetwear Shopify Themes [Free & Paid]
In the dynamic realm of streetwear fashion, a captivating online presence is crucial. Let's explore our selection of the 10 best streetwear Shopify themes designed to amplify your streetwear brand's impact.  
Before diving in to the list of best streetwear Shopify themes, let's find out the elements of the best themes for your streetwear store.
What to Consider When Choosing The Best Streetwear Shopify Theme?
When choosing the best streetwear Shopify theme, you should keep the following factors in mind:
#1. Visual storytelling capabilities
A streetwear brand often relies on a strong visual identity and storytelling. Look for a theme that allows you to showcase your brand's aesthetics, lifestyle, and values through high-quality images and customizable layouts. Features like full-width image banners, image galleries, and video integration can help you create a compelling visual narrative.
#2. Extensive product options
Streetwear brands may offer a wide variety of products, from clothing and accessories to limited edition items. Ensure the theme supports multiple product variants, sizes, colors, and styles. Look for features like swatches and dropdown menus to make it easy for customers to select different options. Choose a theme that supports filtering and sorting options, such as by category, price range, and product attributes.
#3. High-quality imagery and visual appeal
Visuals play a significant role in streetwear branding. Choose a theme that allows you to showcase high-resolution images and videos, helping you present your products in the best possible light.
#4. Flexibility to match your brand identity
Your chosen theme should be customizable to match your brand's unique aesthetics and values. Look for themes that offer customization options for colors, fonts, layouts, and other design elements.
#5. Seamless UX/UI design
A smooth and intuitive user experience (UX) is essential for keeping visitors engaged. Opt for themes with user-friendly navigation, clear layouts, and intuitive interfaces that make it easy for customers to explore and make purchases.
#6. Conversion features
The ultimate goal of your Shopify store is to convert visitors into customers. Look for themes with prominent call-to-action buttons, strategically placed add-to-cart buttons, and a streamlined checkout process. User reviews, trust badges, and urgency timers can also help boost conversions.
#7. Fast loading speed
Slow-loading websites can lead to high bounce rates and lost sales. Opt for a theme that is designed for speed and performance optimization. Minimized code, optimized images, and responsive design are key elements that contribute to a fast-loading website.
#8 Mobile responsiveness
A significant portion of online shopping is done through mobile devices. Your chosen theme should be fully responsive, meaning it adjusts seamlessly to various screen sizes and devices. This ensures a consistent and user-friendly experience for all visitors.
#9. SEO friendliness
Search engine optimization (SEO) is crucial for driving organic traffic to your website. Look for themes that are designed with SEO best practices in mind, including clean code, structured data, and options for optimizing meta titles and descriptions.
Remember that while these factors are important, it's also essential to align the chosen theme with your brand's aesthetics and goals. Take your time to explore different themes, try out demos, and consider seeking feedback from potential customers or colleagues before making a final decision.
10 Best Streetwear Shopify Theme Free & Premium

#1. Origin
Pricing: Free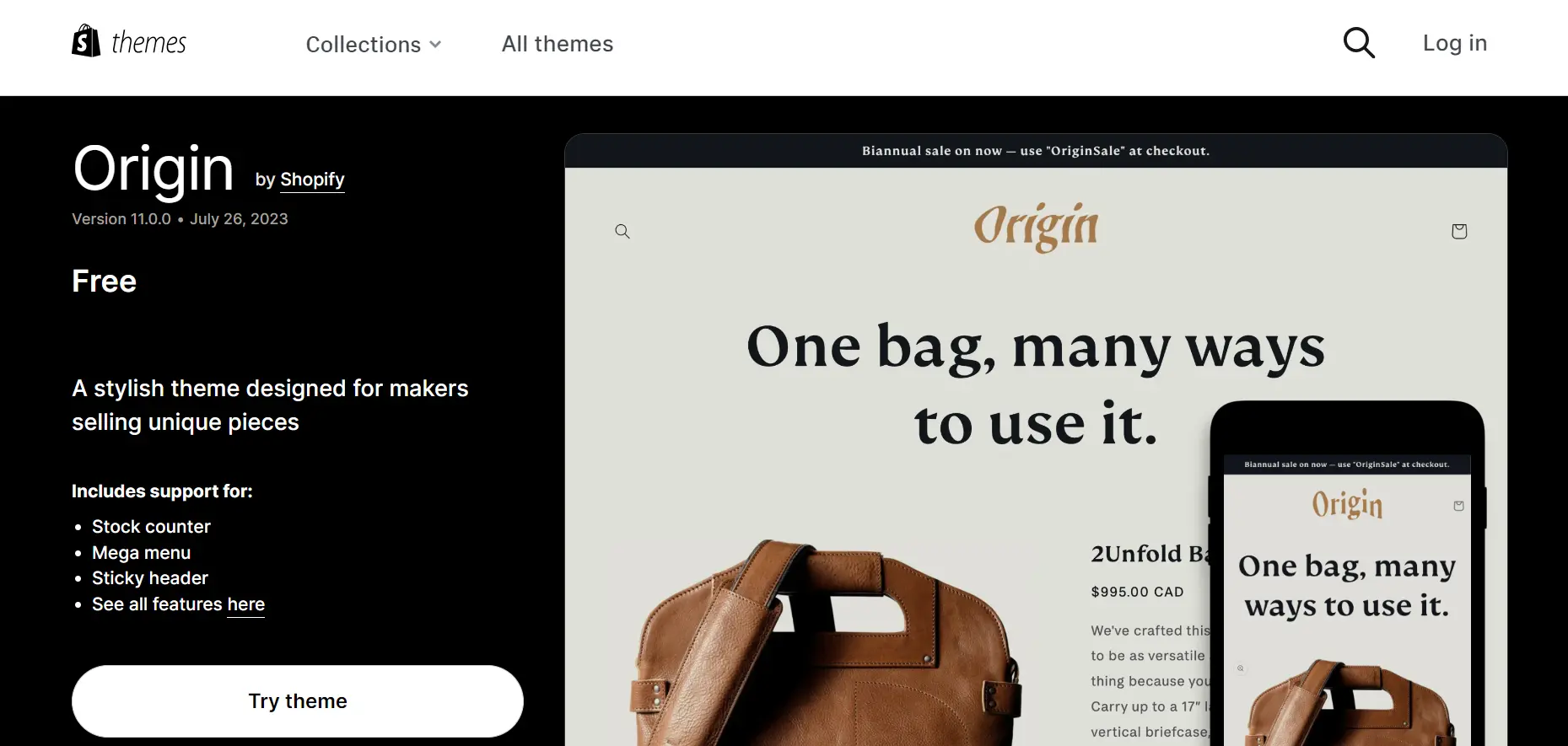 Origin proves that sophistication need not come at a cost, offering an impressive free streetwear Shopify theme.
While many free themes tend to be basic, Origin shatters expectations. Designed with style and minimalism in mind, it's tailored for brands with a curated selection of products. Its streamlined features ensure quick setup and launch, leaving no room for excuses—ideal for new brand launches.
Additional features:
Crystal-clear high-resolution imagery
Visual-rich lookbooks
Comprehensive FAQ page
Real-time stock tracking
Intelligent product recommendations
Choose Origin to manifest your brand's vision effortlessly, even on a limited budget.
Price: $290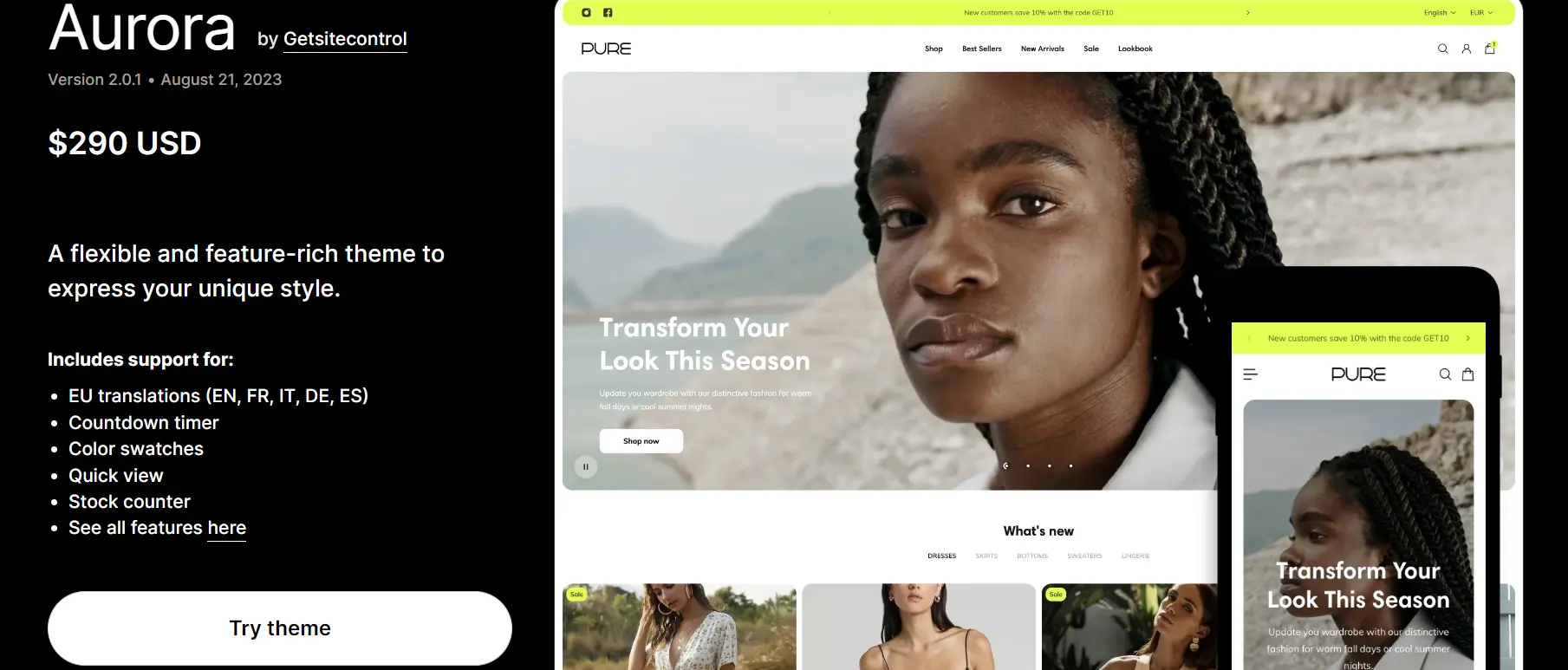 Crafted by Getsitecontrol, Aurora stands as a contemporary and versatile theme with a captivating visual allure.
Showcasing adaptability, Aurora comes replete with an array of sections and blocks designed to harmonize with your brand's essence. Notably, it boasts two presets: Pure, exuding a modern aesthetic, and Sheer, characterized by its sleek sophistication. A highlight is Aurora's enhanced menu, allowing effortless product presentation and promotion highlights.
Additional features:
A mega menu enriched with in-menu promotions
Dynamic video banners
Swift product viewing and purchasing options
A fashionable lookbook
Engaging product reviews
Thoughtful cross-selling suggestions
Real-time stock counters
Comprehensive FAQ pages
Price: $280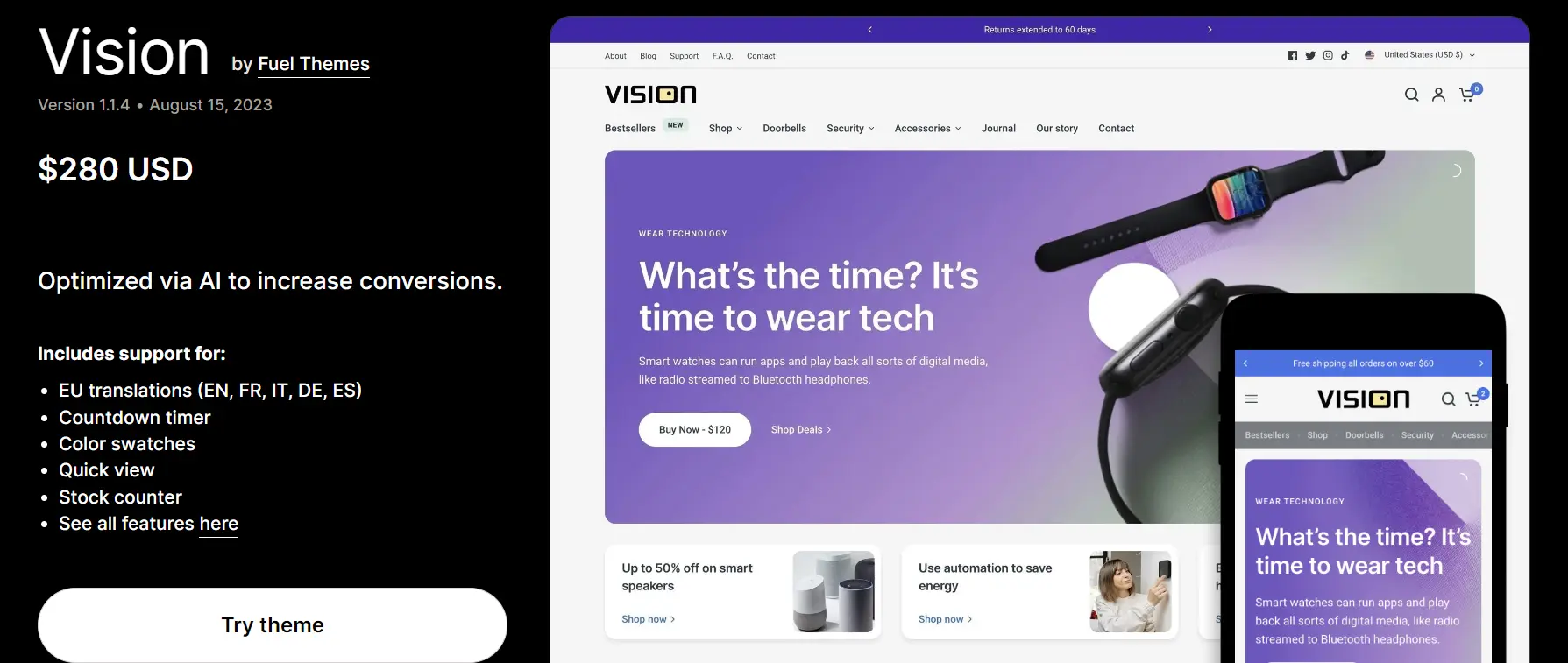 Vision sets itself apart as an AI-optimized Shopify theme tailored for streetwear enthusiasts.
Distinguished as one of Shopify's pioneering AI-enhanced themes, Vision elevates conversions through its thoughtful design.
With an expansive palette of 36 custom sections, Vision empowers you to tailor your store's layout to mirror your brand's identity. A range of product card variations enables diverse product showcases.
Additional features:
Seamless video integration
Eye-catching promotional banners
Comprehensive product FAQ details
Detailed shipping and delivery information
Price: $180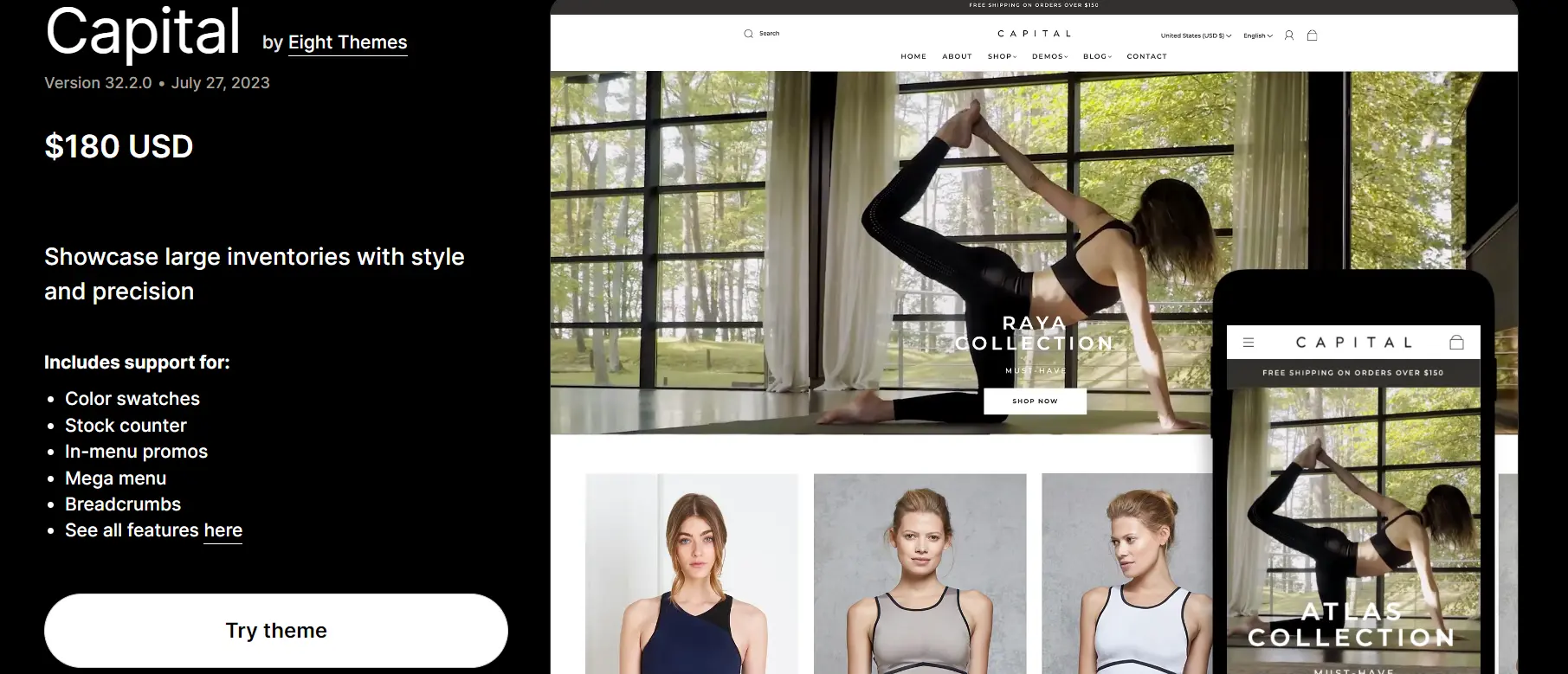 Capital is a savvy investment among streetwear Shopify themes, catering to brands boasting extensive product ranges and high sales volume.
Crafted with cost-effectiveness in mind, Capital proves its mettle for brands with vast inventory arrays. Unique layouts empower you to impart an editorial flair to your products, weaving stories and accentuating your value proposition.
This theme stands out not only for its functionality but also for its affordability and popularity, garnering 67 positive reviews.
Additional features:
Compelling image galleries
Thoughtful product recommendations
Customer-driven product reviews
Eye-catching product badges
Engaging pop-up functionalities
Price: $280

Ira emerges as a stellar choice among streetwear Shopify themes, particularly appealing to brands with a penchant for visual aesthetics.
Engineered by the esteemed Fluorescent Design, Ira captivates streetwear brands with its robust feature set. With an impressive 91% positive feedback derived from 105 reviews, Ira shines by virtue of its innovative design, reminiscent of the world's premier apparel brands.
Fusing visual allure with user-centric design and conversion-boosting elements, Ira serves as an exceptional platform for crafting an impactful and effective online storefront.
Additional features:
Striking product badges
Empowering customer reviews
Trust-building badges
Strategic product recommendations
Captivating lookbooks
Price: $300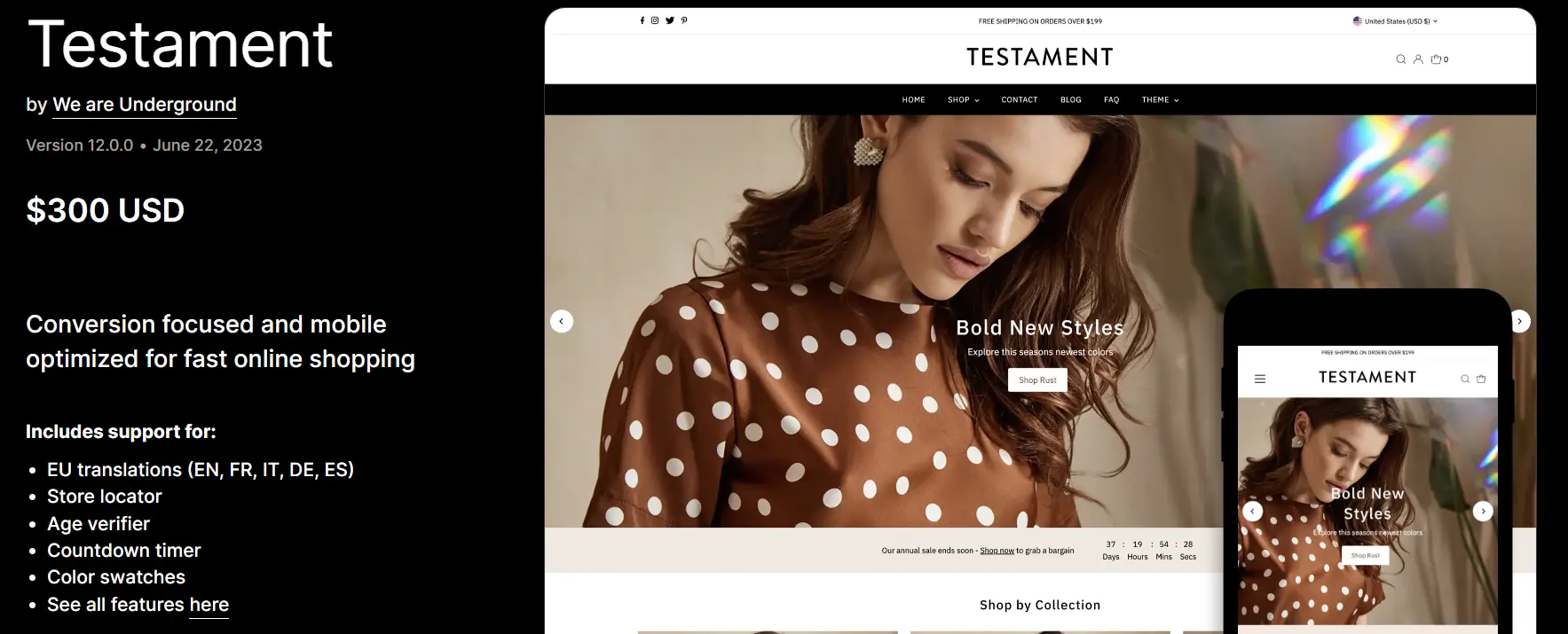 Testament epitomizes a conversion-focused gem among streetwear Shopify themes, available at an accessible sub-$300 price point.
Hailing from the studios of We Are Underground, Testament has earned its stripes by prioritizing conversions and optimal mobile performance.
This theme caters remarkably well to brick-and-mortar operations, harmonizing the power of visual storytelling with dynamic layouts and image-centric features.
Additional features:
Swift "Quick Buy" buttons
Seamless pre-order capabilities
Strategic cross-selling initiatives
Customer-centric FAQ pages
Alluring product badges
Easily accessible "Recently Viewed" tab
Price: $290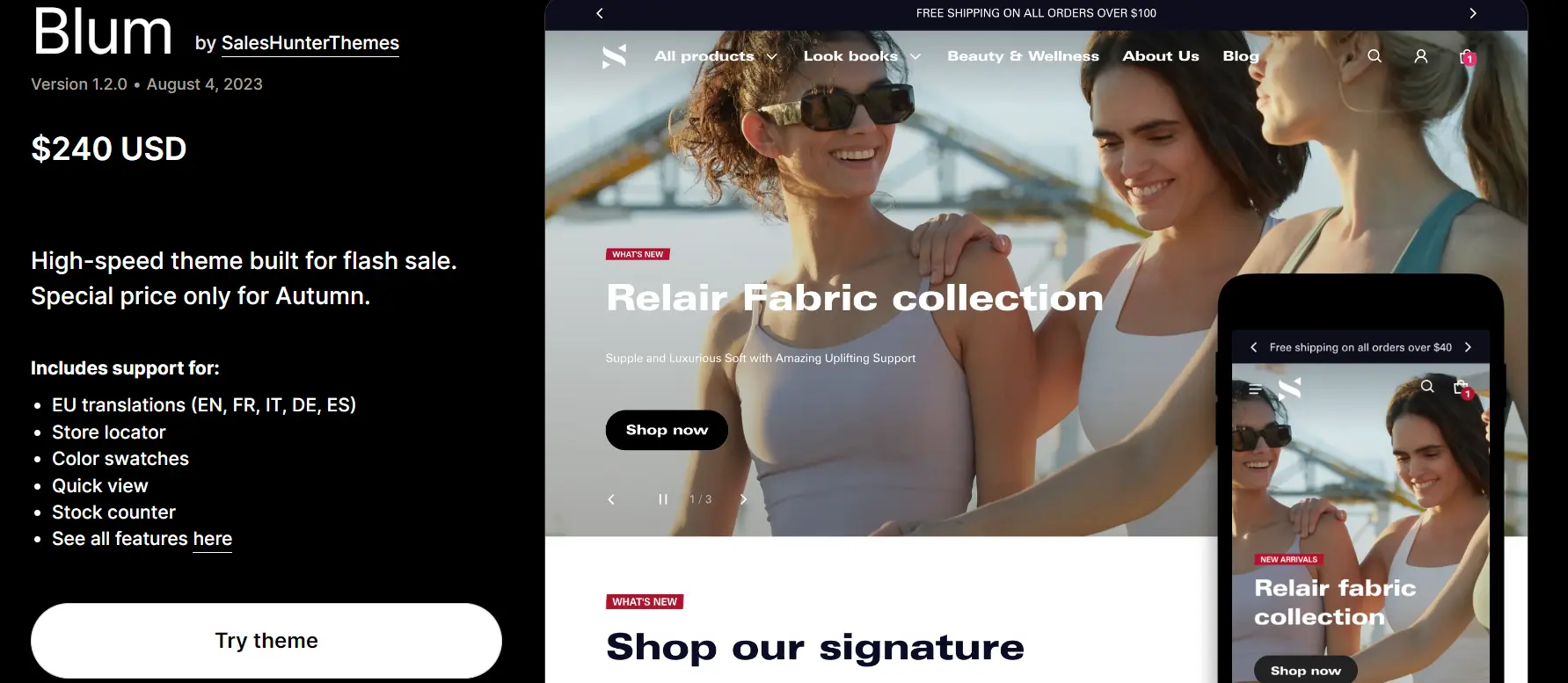 Blum emerges as a high-velocity contender among streetwear Shopify themes, defined by its efficient and lightning-fast page loading.
Engineered by SalesHunterThemes, Blum forges its path with bold typography and streamlined code optimized for rapid page rendering.
This theme provides an exceptional platform for streetwear brands seeking to captivate and engage customers while delivering a frictionless shopping experience. Scoring a stellar 80/100 on Google PageSpeed for mobile, Blum embodies swift setup and effective visual narrative.
Additional features:
Strategic cross-selling dynamics
Expedient "Quick Buy" functionality
Empowering customer reviews
Comprehensive mega menus
Trust-enhancing badges
Engaging pop-up mechanisms
Price: $280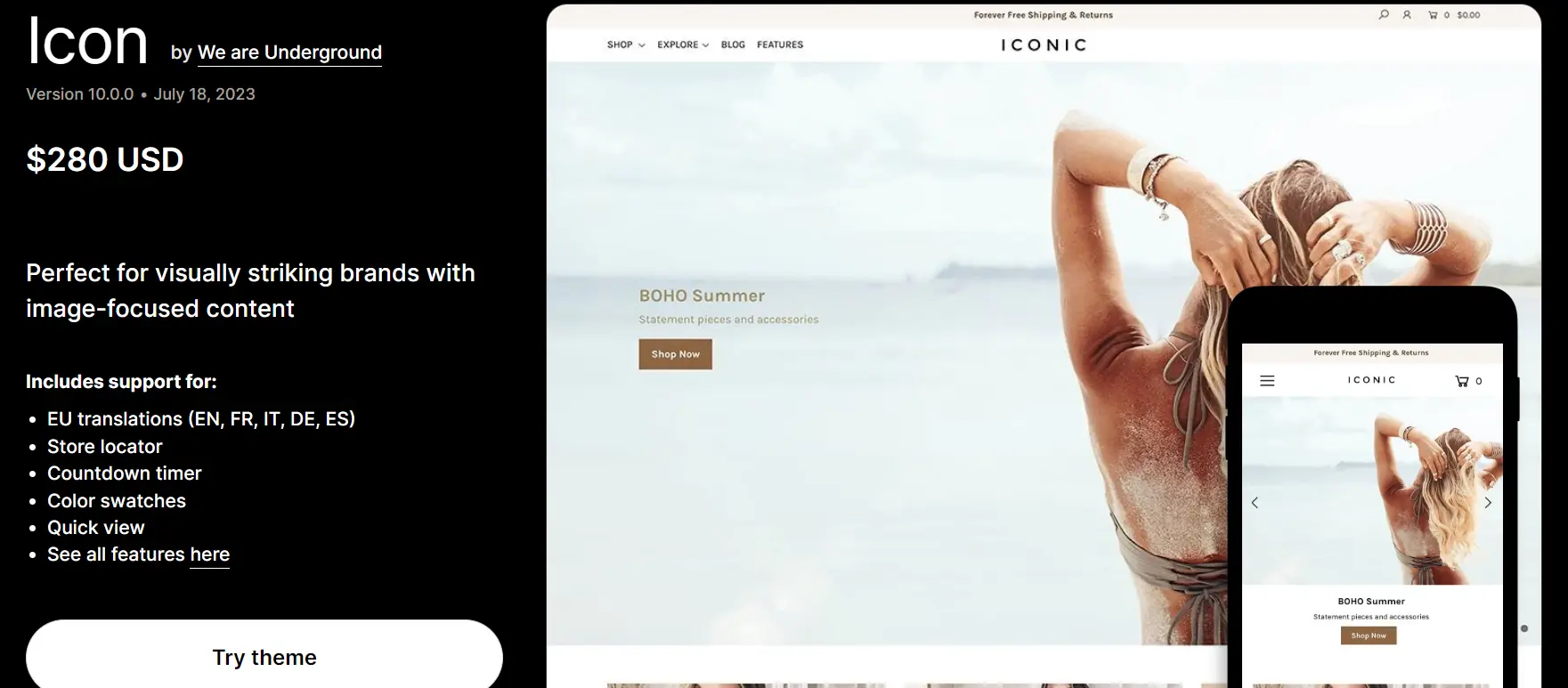 Icon reigns supreme as a visual storytelling haven among top streetwear Shopify themes.
Developed by We Are Underground, Icon's acclaim rests on an impressive 93% positive feedback garnered from 318 reviews.
Catering to visually impactful brands, Icon takes pride in its prowess for driving upsells and product visibility. Meta fields and integrated OS2 filtering with color swatches enhance the immersive experience.
Additional features:
Nifty "Back-in-Stock" alerts
Strategic in-menu promotions
Stunning high-resolution images
Captivating lookbooks
Dynamic product videos
Price: $320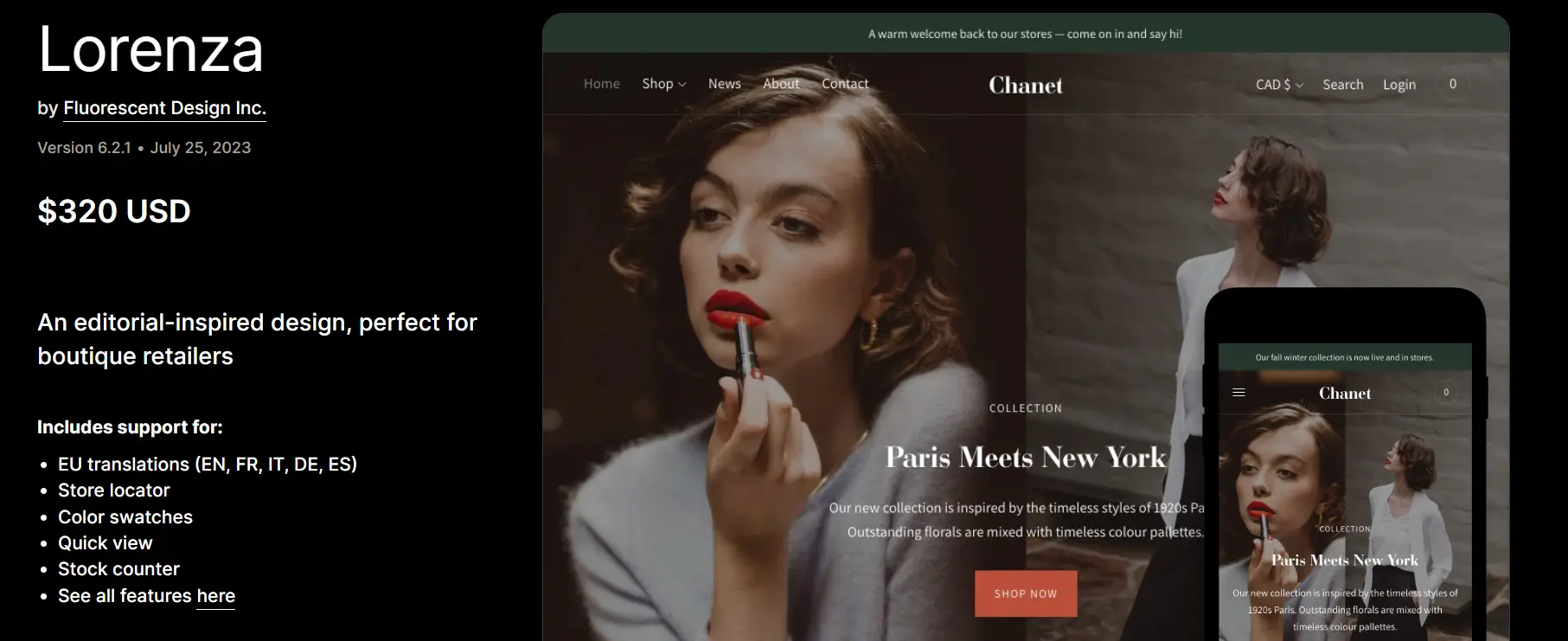 Lorenza emerges as a premier contender among streetwear Shopify themes, now seamlessly translated into EU languages.
Uplifting the e-commerce experience, Lorenza, a creation by Fluorescent Design, stands as an impeccable choice for streetwear retailers seeking to deliver a tailored and dynamic customer journey.
With a commendable 94% positive rating garnered from 53 reviews, Lorenza has solidified its position within the streetwear realm. Tailored for high-volume enterprises, Lorenza seamlessly marries sophisticated, editorial-inspired designs with intricate customization options.
Additional features:
Multilingual support for EU languages (EN, FR, IT, DE, ES)
Empowering product reviews
Trust-fostering badges
Thoughtful product recommendations
Crystal-clear high-resolution images
Price: $280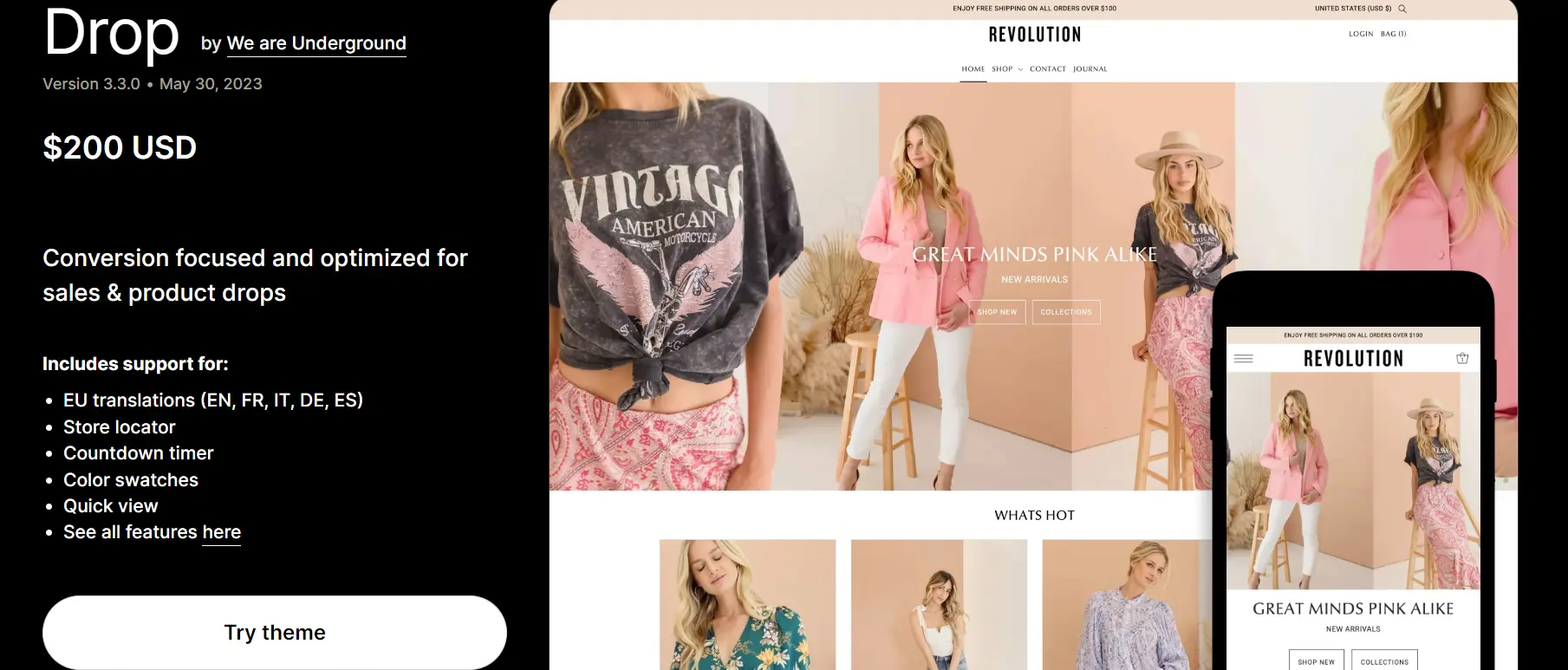 Drop emerges as a frontrunner among top streetwear Shopify themes, specifically designed to cultivate anticipation through time-sensitive promotions.
Tailored by We Are Underground, Drop caters to brands seeking to amplify excitement around their product launches—an essential facet for streetwear brands akin to Supreme.
A distinct embedded countdown feature ignites buyer urgency, while animated product grids and auto-play product videos elevate brand visual allure.
Additional features:
Dynamic "Back-in-Stock" alerts
Engaging countdown timers
Striking promotional banners
Captivating slideshows
Enhanced search functionality
FAQs:
What is the best free Shopify theme for fashion?
There are several great free Shopify themes for fashion, but one popular option is "Debut." Debut offers a clean and modern design that can work well for fashion brands. It provides customization options, supports large imagery, and is user-friendly.
What is the best Shopify theme 2023?
The best Shopify theme for 2023 can vary based on your specific needs and preferences. Shopify continually releases updates and new themes, so the "best" theme can change over time. It's recommended to explore Shopify's official theme store and read reviews to find a theme that aligns with your business and design requirements.
What Shopify theme is like Kylie Cosmetics?
Kylie Cosmetics uses a custom theme that's tailored to their brand. However, if you're looking for a Shopify theme with a similar aesthetic or features, you might want to consider themes with a focus on beauty and cosmetics. Some themes that could be a good starting point include "Vanity," "Cosmetic," or "Flourish."
What is the best Shopify theme for activewear?
For activewear brands, a theme that emphasizes fitness, movement, and dynamic visuals would be ideal. Consider looking into themes like "Motion," "Athlete," or "Fitwear." These themes often come with features that can showcase products effectively and cater to the active lifestyle niche.
Remember that the "best" theme depends on your brand's unique identity, products, and goals. It's recommended to explore different themes, preview their demos, and read user reviews to find the one that suits your business the most.
Conclusion,
In the vibrant world of streetwear, crafting an engaging online storefront is paramount. Delve into our curated collection of the top 10 Streetwear Shopify Themes that seamlessly fuse aesthetics and functionality.
As evident, the choice of a Shopify theme for your store is a nuanced decision influenced by factors like inventory size, business goals, brand identity, and budget constraints. There's no universal solution that fits all scenarios.
For instance, newcomers seeking budget-friendly options can turn to Origin. Its minimalist design and suitability for small product ranges make it an excellent choice, especially for beginners. The ease of setup and essential features make Origin an ideal starting point, particularly when launching a brand swiftly and economically.
For those with a more expansive budget and a medium-sized inventory, Aurora or Vision could be your answer. With versatile layouts and ample customization possibilities, these themes offer a canvas to craft a distinct online presence. Conversely, if you boast an extensive inventory and aim to leave a robust visual imprint, Capital or Lorenza beckon. These themes merge sophisticated aesthetics with diverse product options, catering aptly to high-volume retailers.
From immersive visuals to seamless functionality, these themes offer a tailored experience for modern brands. Discover the perfect fit to showcase your unique style and create an unforgettable shopping journey for your audience.
If you want to find other themes for clothing store, you can check out our collection.