How to Add Video to Shopify Homepage & Store Pages?
In the fast-paced realm of eCommerce, grabbing and holding your customers' attention is key to driving sales. By harnessing the power of dynamic video backgrounds, you can transform your online store into an immersive and unforgettable destination. Get ready to unlock the secrets of creating an awe-inspiring shopping experience that will leave your customers spellbound.
In this article, we delve into the comprehensive guide on how to add video to Shopify homepage and store pages like product pages, collection pages, etc., revolutionizing how you engage and convert visitors.

Are you ready to make a lasting impression? Let's dive in!
Benefits of Adding Video to Shopify
Adding a video background banner to a Shopify store offers many benefits that can contribute to higher conversion rates, increased sales, and an overall improved shopping experience for customers.
Enhanced visual appeal: A video background banner immediately grabs visitors' attention, creating a visually stunning and immersive environment. The moving images and dynamic content add a touch of excitement and sophistication to the store, making it more visually appealing.
Improved brand storytelling: Video backgrounds provide an excellent platform to showcase brand storytelling. By visually presenting the brand's mission, values, and unique selling points, you can effectively connect with their audience on an emotional level. This storytelling approach helps to differentiate the brand from competitors and creates a memorable impression.
Increased product engagement: Videos can demonstrate product features, usage, or benefits. By showcasing products in a video background banner, you can capture customers' interest and provide a more comprehensive understanding of the product. That can result in better conversion rates and sales.
Enhanced credibility: Video backgrounds are often associated with high-quality and modern websites. By incorporating a video banner, you can show professionalism and credibility, instilling trust in potential customers. This trust factor can positively influence the purchase decision-making process.
Longer visitor engagement: A captivating video background banner can keep visitors on the site longer. By holding their attention, it reduces bounce rates and encourages users to explore more of the store's content and offerings. This extended engagement increases the chances of visitors becoming customers and purchasing.
Mobile optimization: With the popular of mobile devices for online shopping, it's crucial to optimize the shopping experience for mobile users. Video backgrounds can be optimized for mobile devices, ensuring a seamless and visually appealing experience across different screen sizes.
6 Types of Videos to Add to Shopify Store
#1. Product showcase videos
Create videos that highlight the key features, functionality, and benefits of your products. These videos can demonstrate how the product is used, showcase its versatility, and provide a closer look at its details. By visually presenting your products in action, you can effectively engage potential customers and boost their confidence in purchasing.
#2. Brand storytelling videos
Craft compelling videos that tell the story behind your brand. Share your mission, values, and the inspiration behind your products. These videos help to build an emotional connection with your audience, creating a sense of authenticity and trust. By showcasing the people, processes, and values that drive your brand, you can differentiate yourself from competitors and foster a loyal customer base.
#3. Customer testimonial videos
Collect video testimonials from satisfied customers and feature them on your Shopify store. These testimonials provide social proof and demonstrate the positive experiences others have had with your products or services. Authentic and relatable customer stories can greatly influence potential customers' purchasing decisions, instilling confidence in your brand and increase conversions.
#4. How-to or tutorial videos
Create instructional videos that showcase how to use your products or provide valuable tips related to your industry. These videos serve as educational resources, helping customers understand the features of your products and guide how to make the most of them. It is also an ideal way to build trust with your audience.
#5. Behind-the-scenes videos
Take your customers behind the scenes of your business operations. Show the product creation process, introduce your team members, or give a sneak peek into upcoming launches. These videos provide a glimpse into the inner workings of your brand, creating transparency and fostering a deeper connection with your customers.
#6. Promotional videos
Use videos to promote special offers, sales, or seasonal campaigns. These videos can be short and impactful, enticing customers with exclusive deals or limited-time offers. By leveraging the power of visuals and storytelling, you can create a sense of urgency and drive immediate action from your audience.
Choose the video format that aligns with your goals and audience, and unleash the power of visual video to enhance your eCommerce experience.
Let's explore the power of video on Shopify now!
Make Your Video Ready
There are 2 ways to add video to Shopify, including directly uploading to Shopify and using a third-party platform to store your video before uploading to Shopify.
While you can upload your own MP4 files to Shopify, you should store your video on a third-party hosting services like YouTube or Vimeo. By leveraging such platforms, you can ensure that your videos are optimized for responsiveness, reduce the data stored in your Shopify site, enhance the user experience on different devices. Additionally, you can also take advantage of the marketing potential offered by these platforms.
As you may know YouTube is the most common video platform, so in this tutorial, I will use it as an example.
To ensure your video is ready for adding to your Shopify store, follow these steps:
Step 1: Copy the video URL
To have your video live on YouTube, you first need to upload it to YouTube and set your video public. For detailed steps, you can follow this guide.
When your video is live on YouTube, copy its URL.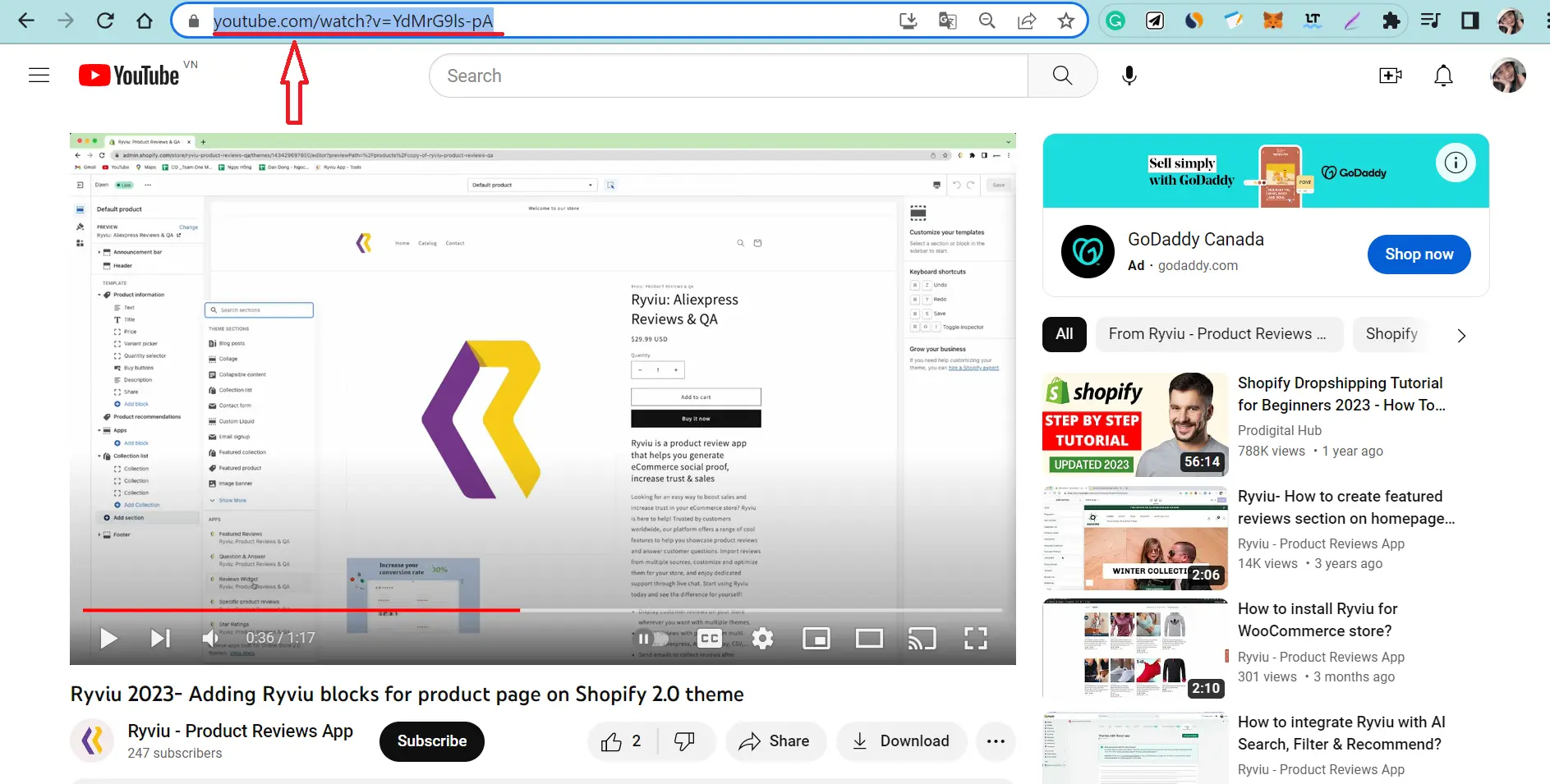 Step 2: Make your video responsive
While YouTube has an embed option under its sharing options, you should take it elsewhere to ensure the embed is mobile responsive.
Visit Embed Responsively to create a fully responsive embed snippet code.
Paste the video URL into the YouTube Page URL field on the website
Hit the Embed button. Then, the responsive embed code snippet will be generated and displayed at the bottom page.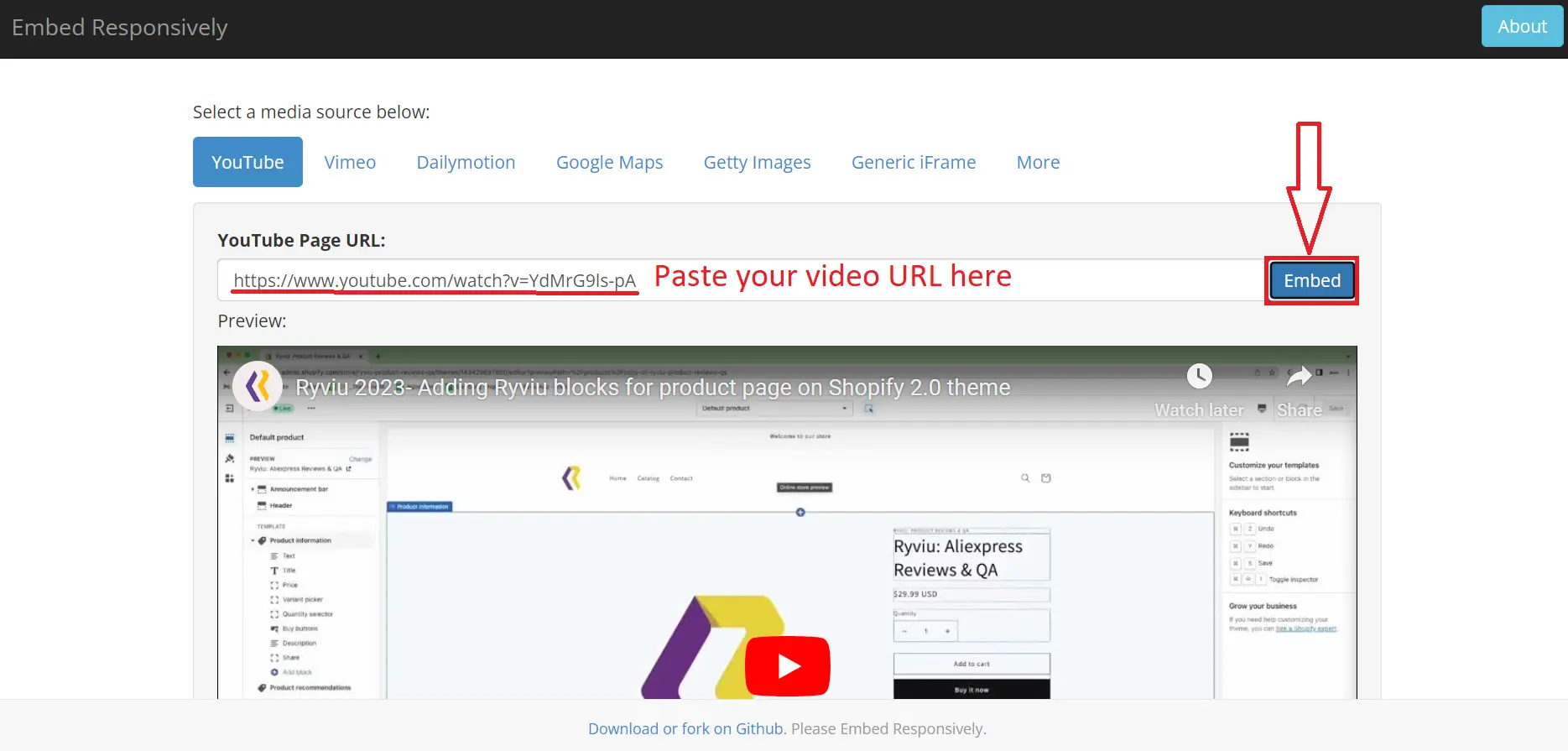 Step 3: Copy the Responsive Embed Code Snippet:
Once the embed code is generated, a video thumbnail will appear with the embed snippet below it. Copy the embed code, then you can start adding Shopify video section to your store.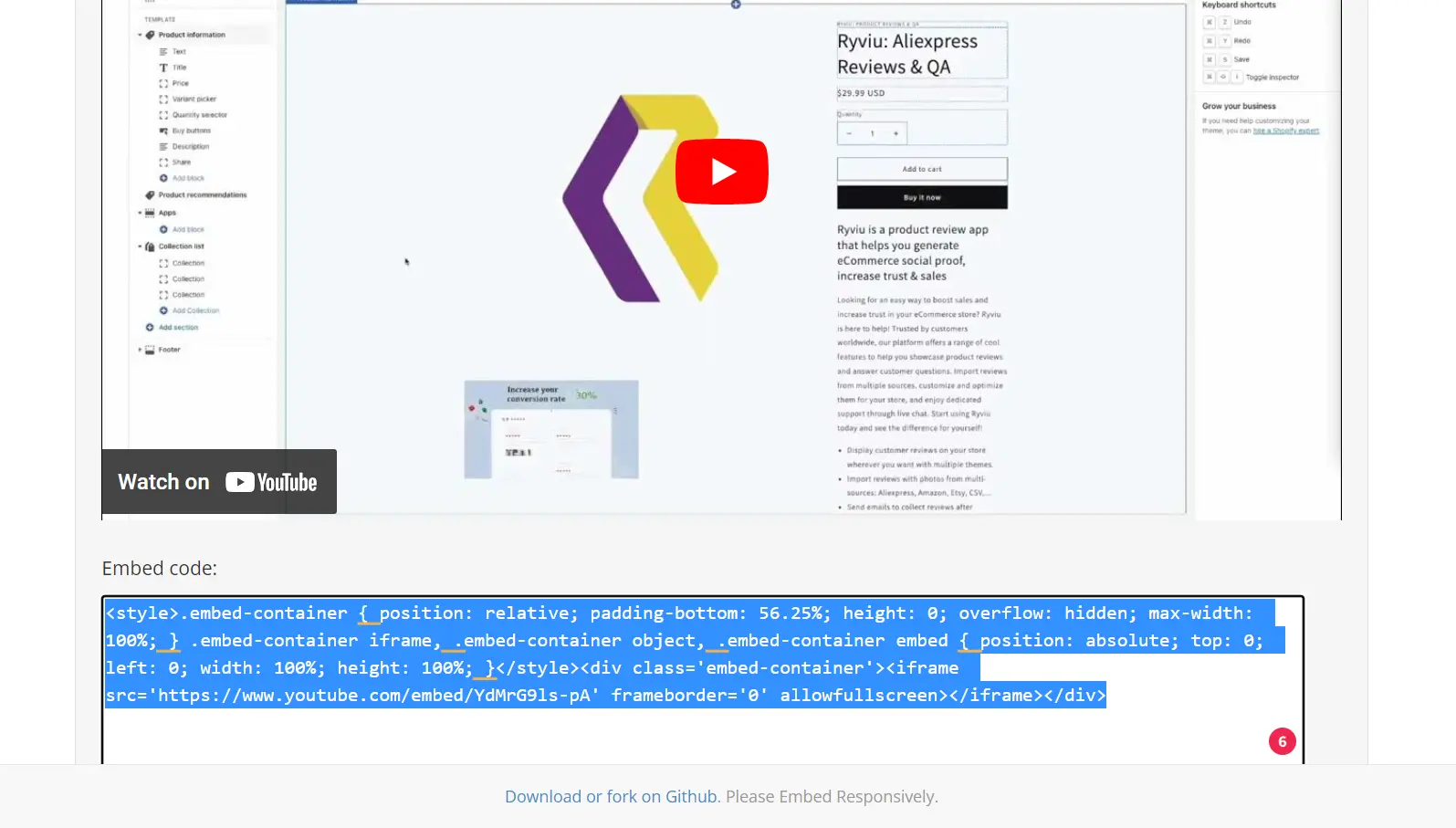 By following these steps, you ensure that your video will be mobile-responsive and adapt well to different devices. Now, it's time to add video to Shopify store!
How to Add Video to Shopify Store Pages?
Beside homepage, there are many places where you can add video to Shopify to grab customers attention, such as product pages, collection pages, landing pages, etc. To add video section to these pages, you should follow the step-by-step process below.
Step 1: Choose the place to add video
From your Shopify dashboard, go to Online Store > Pages.
Select the page where you want to add video.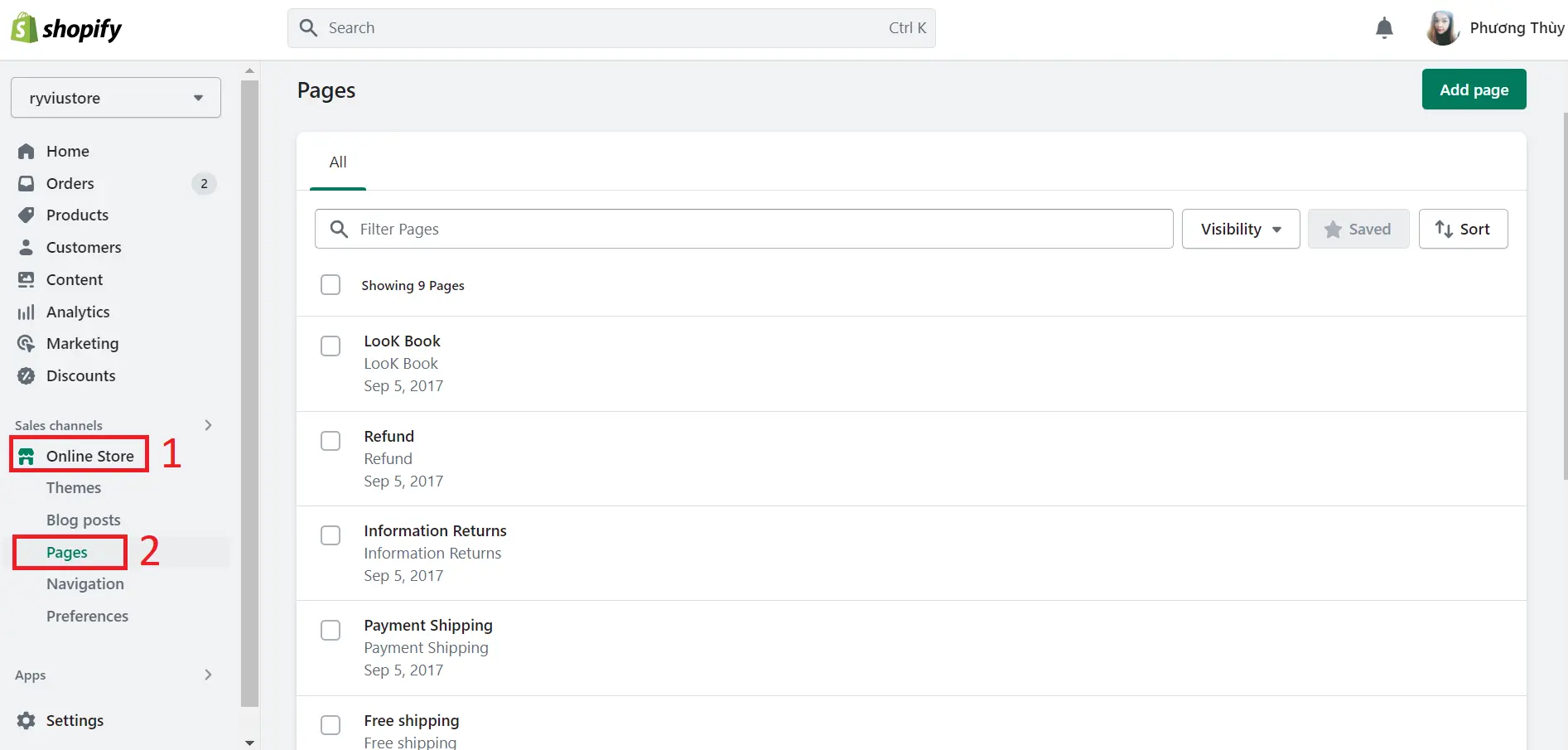 Step 2: Paste the video embed code
On the page you have chosen, you will see a lot of formatting icons. Just find the video camera icon and click on it.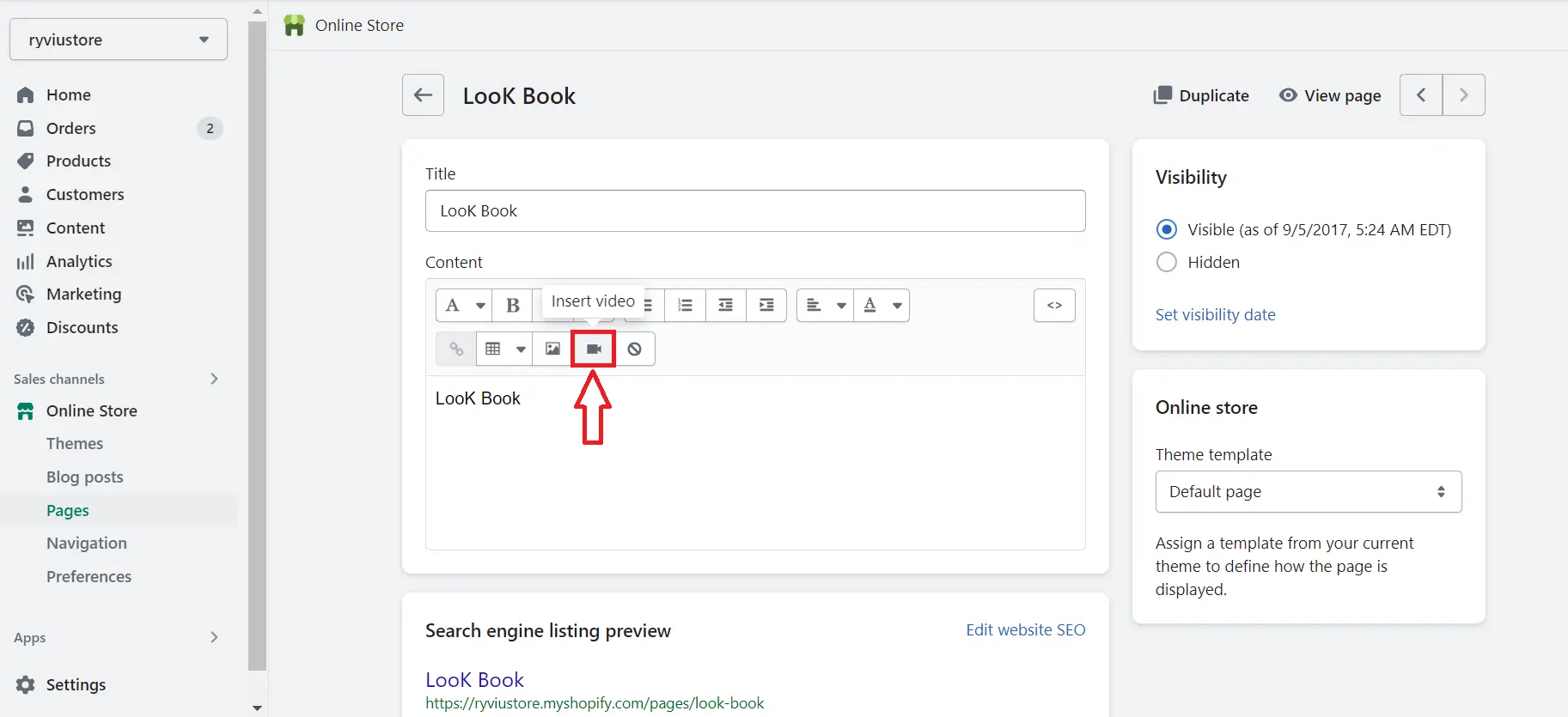 Then a new popup window appears. All you need to do now is paste the video embed code (that you have got above) in the Insert video section.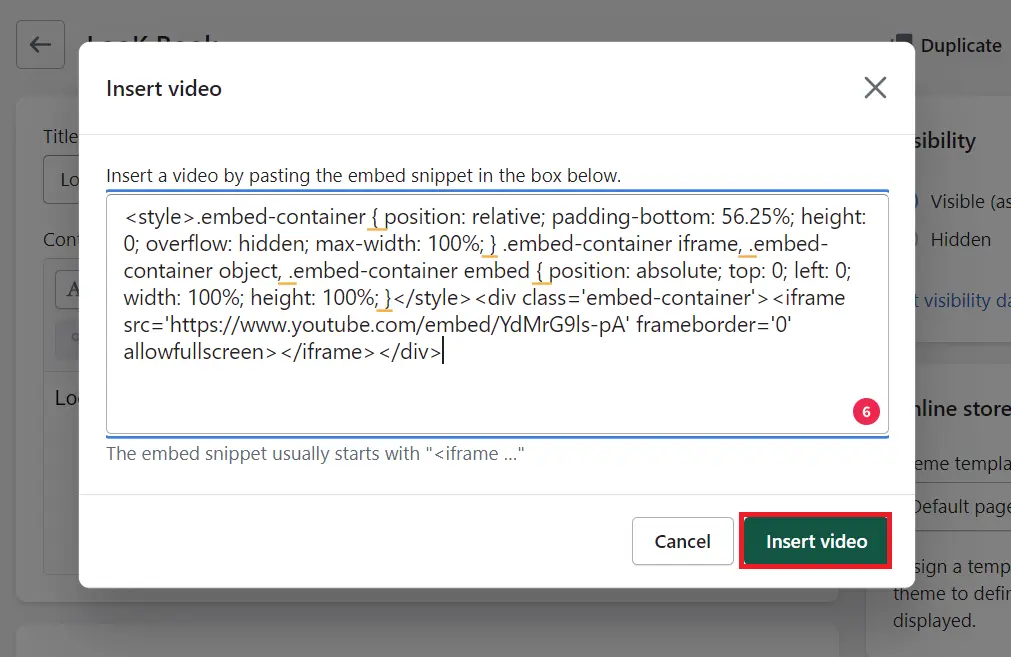 After that, hit the Insert video button. And finally, click Save to make your video live on your Shopify store pages.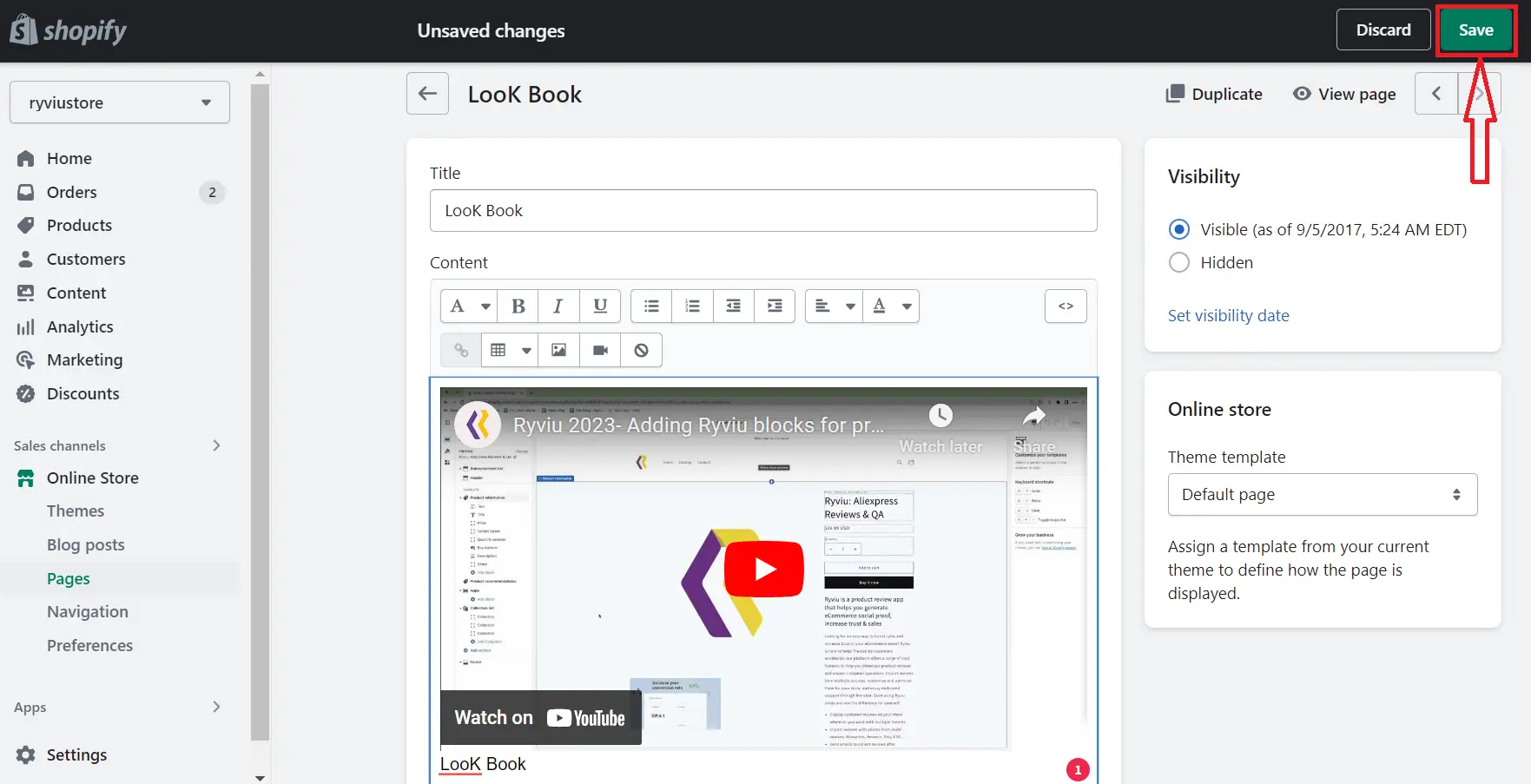 How to Add Video to Shopify Homepage?
Since Shopify homepage is a singular page, you can edit it using Theme Editor.
To do that, just follow the guide below.
Step 1: From your Shopify admin, navigate to Online Store > Themes, then choose your current theme. In this article, I will add Dawn theme video banner. Because it is the default theme in Shopify 2.0, this tutorial will be doable with other Shopify 2.0 themes.
Step 2: Click Customize button on Dawn theme or your current theme.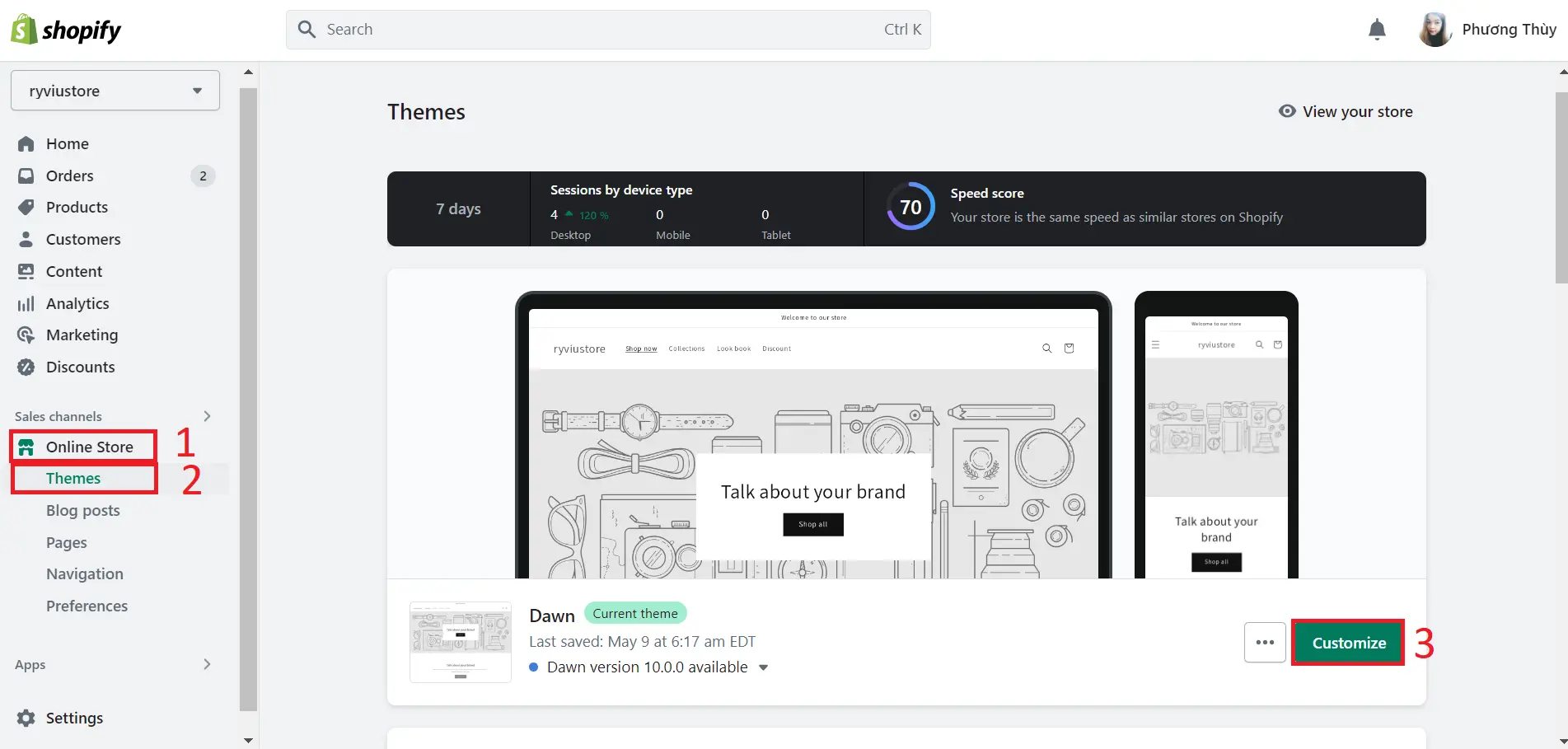 Step 3: From the left side menu of the theme editor, scroll down and click Add section. Then you will see a list of elements to add to your homepage; select Video.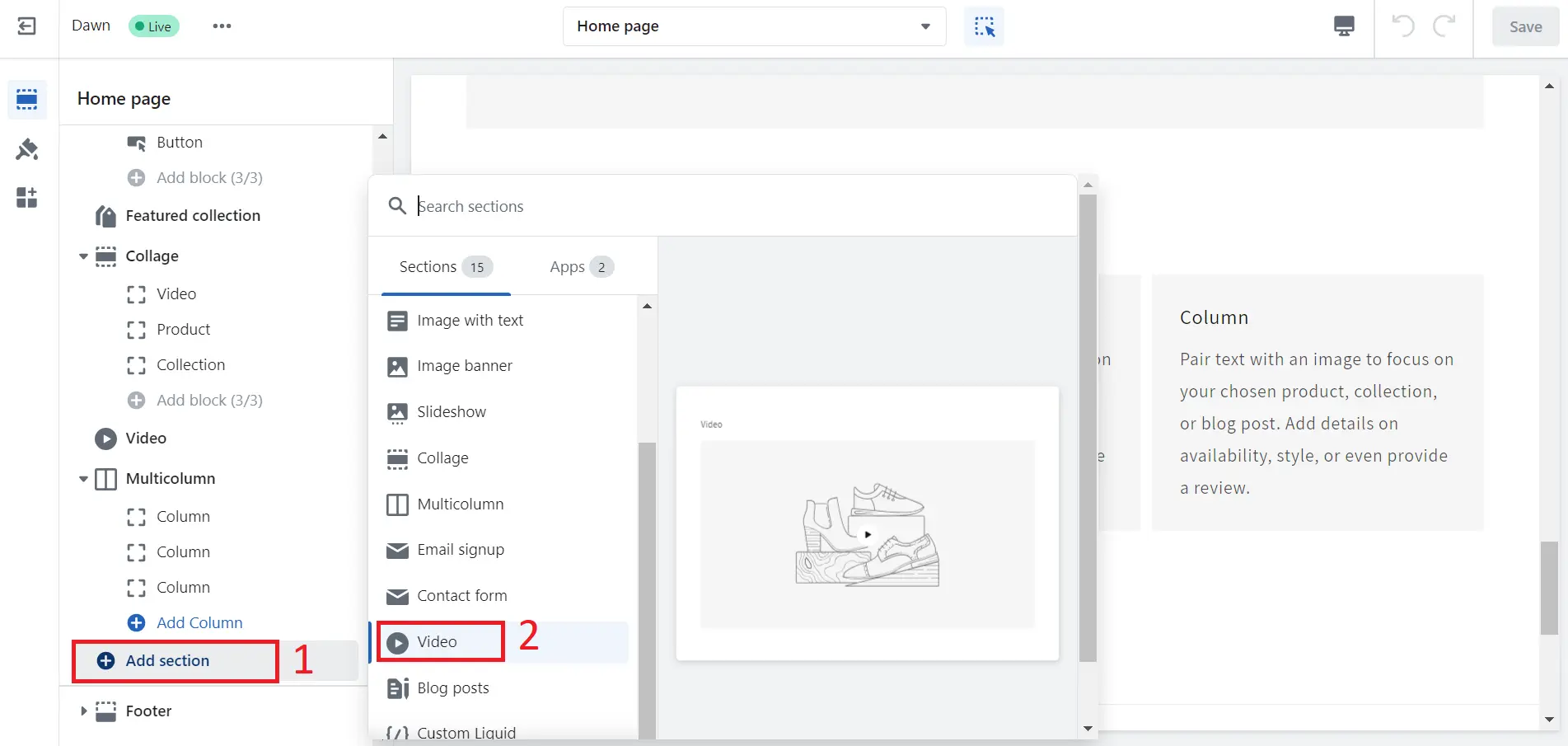 The Shopify video banner section will be automatically added to the bottom of the homepage. You can change its position by dragging and dropping it to your desired place.
Step 4: Now, you need to add and edit the input of your Shopify video banner section, such as Heading, Cover image, URL, Video alt text, Full width, and Custom CSS. Such information is located on the right side of the editing page: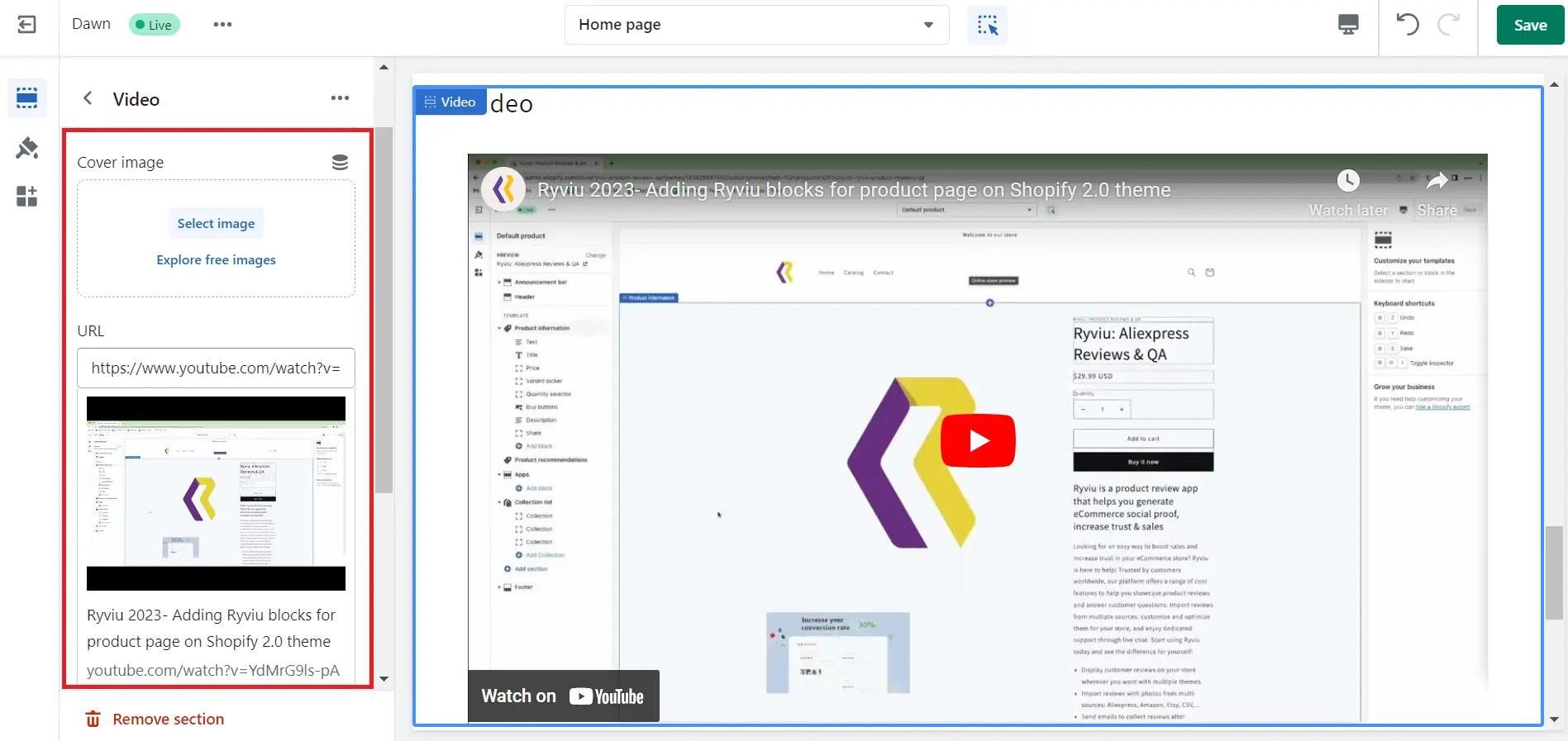 Step 5: Finally, click Save button to update your Dawn theme video banner on the homepage of your Shopify site.
How to Add Video to Shopify: FAQs
How do I embed a video in my Shopify home page?
To embed a video on your Shopify homepage, you can use the built-in video feature.
First, upload your video to a third-party hosting service like YouTube or Vimeo.
Then, go to your Shopify admin, navigate to Online Store > Themes > Customize.
From there, click on Add section and select the Video element.
Paste the URL of your video from the hosting service into the designated field.
Save your changes, and the video will be embedded on your Shopify homepage.
How do I add a video to my Shopify homepage without YouTube?
If you prefer not to use YouTube, you can still embed a video on your Shopify homepage using other third-party video hosting services like Vimeo. Follow the steps below:
Start by uploading your video to your Vimeo channel.
Once uploaded, copy the video URL.
In your Shopify admin, go to Online Store > Themes > Customize.
Click on Add section > Video.
Paste the Vimeo video URL into the provided field.
Click Save.
This method allows you to leverage Vimeo's video hosting capabilities while benefiting from its marketing potential.
Can you add videos to Shopify listings?
Shopify does not provide a built-in feature to add videos directly to product listings. However, you can include video links or embed codes in the product description section.
Use a third-party video hosting service to upload your video and obtain the shareable link or embed code.
Then, paste this link or code into the product description field for the respective product.
Customers can click on the video link or view the embedded video when browsing your product listings.
Bottom Lines,
In conclusion, adding video to your Shopify homepage and store pages can greatly enhance the visual appeal and engagement of your online store. Whether you use videos for product showcases, brand storytelling, or customer testimonials, incorporating videos into your Shopify store can create a more immersive and memorable shopping experience for your visitors, leading to increased conversions and customer satisfaction.