Shopify Subscription Box: An Ultimate Guide
Customers who shop online can purchase your products using a one-time payment or subscription approach. You need to include an eye-catching Shopify subscription box on your shopping sites if you're more interested in the latter or just want to encourage your consumers to purchase their favorite things on a subscription basis.
You can consistently sell your products to the desired market with the Shopify subscription box. Additionally, you can raise the probability of gaining the trust and loyalty of customers and converting newcomers into long-term customers.
Now, any questions about the Shopify subscription box will be addressed on this blog. It enables you to launch your eCommerce venture immediately and incorporates our definition of the Shopify subscription box.
What is a Shopify Subscription Box Business?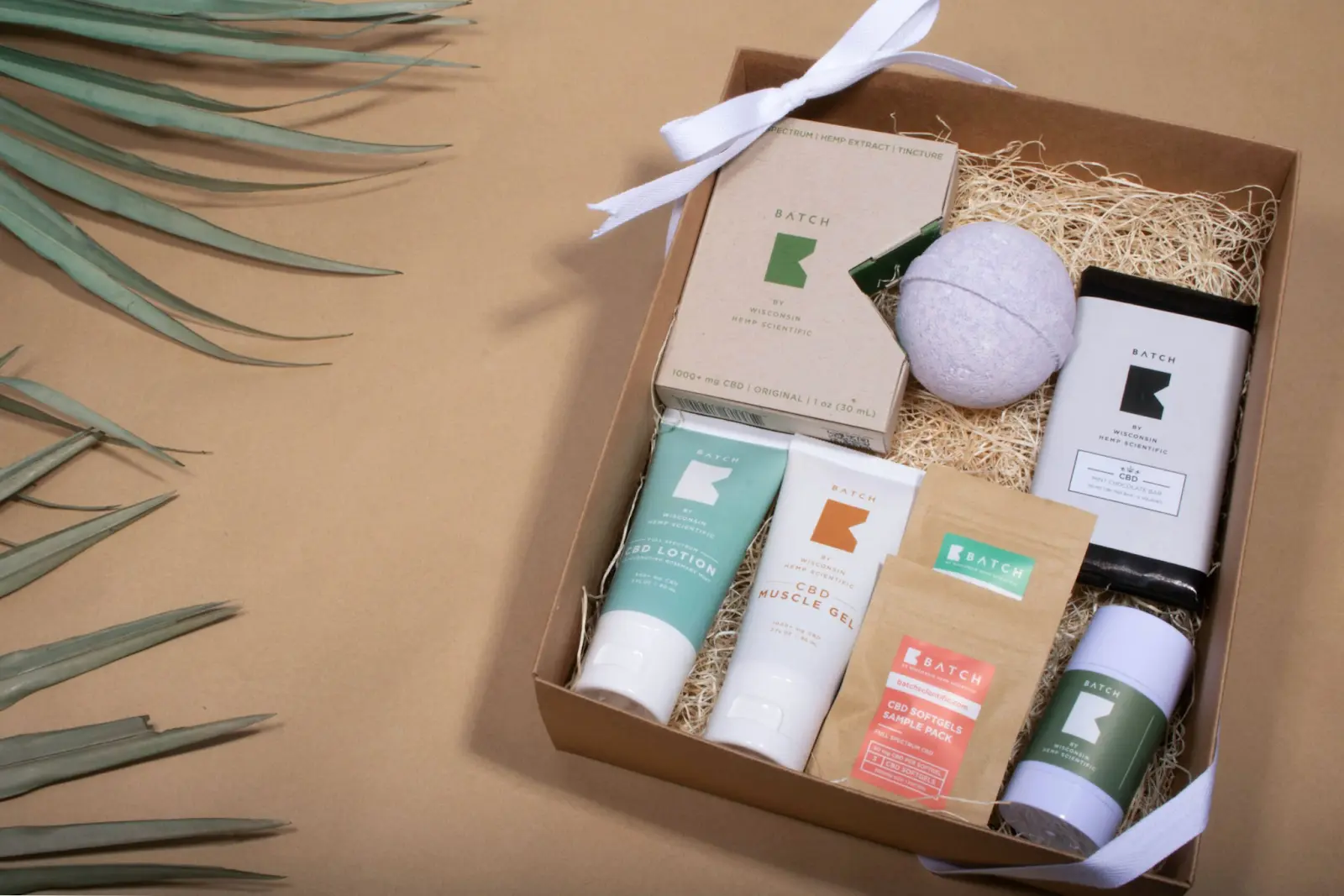 A subscription business model, in general, is selling items or services to clients on a periodic basis in exchange for recurring payments.
Until recently, the subscription business model was primarily employed by gyms, periodicals, software, and service providers. And I'm sure you're familiar with well-known brands such as Netflix and Spotify!
But afterward came the subscription box, a new player in the game.
A subscription box is a collection of products that are packaged together and delivered to a consumer on a regular, planned basis. Subscription boxes can be an effective marketing technique for eCommerce firms that sell subscriptions. This method streamlines and successfully distributes products, increasing consumer loyalty and sales.
Fortunately, businesses on Shopify have a variety of options for creating result-driven subscription boxes. You can implement a specific type, category, and schedule of subscriptions to fulfill your individual aims, whether you manage a Shopify beauty shop, a food delivery business, or a digital bookstore.
Pros and Cons of Shopify Subscription Boxes
Before launching any new business, you should weigh all of the benefits and drawbacks. Here are some of the positives and downsides of this business model.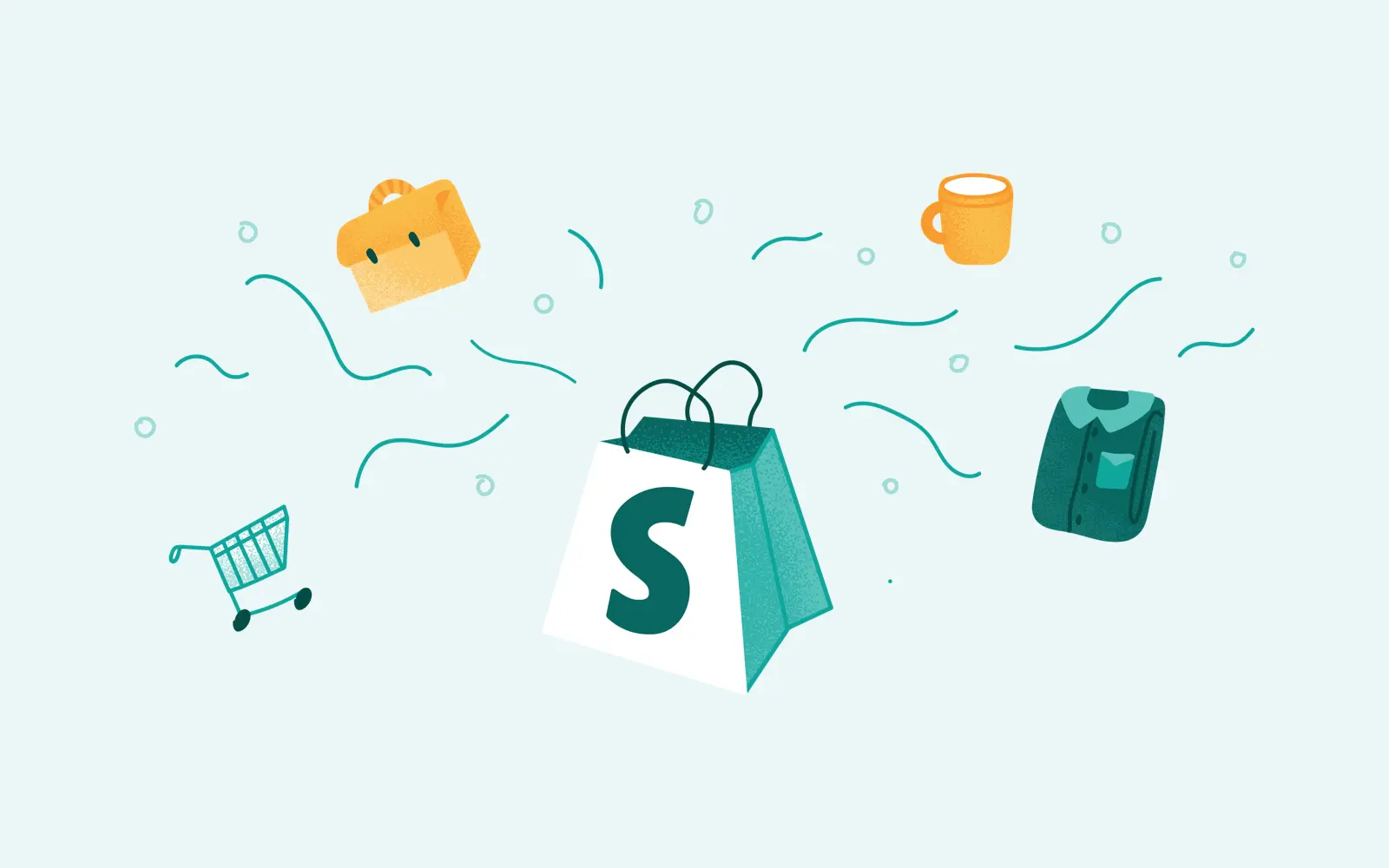 Pros of Shopify Subscription Boxes
Reduce Customer Acquisition Costs (CAC)
Did you understand that it costs 6 to 7 times more to acquire a new consumer than it does to retain an existing one? Because the subscription business model promotes individuals to keep purchasing from your company, it can help you lower the cost of acquiring new clients while increasing your earnings.
Customer loyalty
When clients buy things from you repeatedly, you obtain a greater understanding of their purchasing and consumption habits, allowing you to provide a customised experience that you know your clients will appreciate.
Clients will become loyal to your business as a result, and they will return to purchase other services or products from you in the future. Only these devoted consumers account for the majority of the company's revenue.
When utilizing the Shopify subscription box, the lifetime value of consumers increases, which helps the business flourish.
Overjoyed and Satisfied customers
Customers are frequently offered lower pricing in exchange for their long-term commitment and company. They can also enjoy the pleasure and convenience of having their favorite things delivered to their door without having to go through the inconveniences of shopping for them frequently.
Recurring Income
Customers who place regular orders on an item earn you recurring revenue. This is money that comes into your merchant bank account on a frequent basis. Having repeat business through subscriptions is the best approach to increasing your profit and building your store.
Recurring Billing Automation
If you're wondering how recurring transactions for subscription products are handled, the answer is a Shopify subscription app. The app will handle things like regular payments and automatically follow up with clients if a credit card charge fails.
Low Operating Expenses
Starting your Shopify subscription business with an online store where clients may purchase all of your items is a low-cost option. You can test a prototype and run some advertising to see if people are interested. Without paying rent at a physical location, you'll have more money to spend on sales and marketing.
Limited Range of Goods
Creating a subscription box for your own line of products is a terrific method to enhance sales. The benefit of having a limited product line is that you don't have to maintain track of a large inventory. Customers who place repeated orders on such specific items can benefit you.
Revenue Predictability
Knowing how much money you will make as an online shop next month is really significant. It provides you with peace of mind. Sales surges and drops can be quite stressful. Subscriptions take advantage of the power of recurring payments. This enables you to generate consistent and reliable money.
Cons of Shopify Subscription Boxes
A subscription business model can encounter difficulties much like any other business model.
Providing originality
To keep your customers interested in this competitive marketplace, you must be creative and always come up with new ideas. It can be related to your goods or services, but clients need a compelling reason to stick with you. And if you don't provide them with any, they'll probably cancel their plan.
Seasonal changes
Depending on the goods you sell, you might need to be aware of seasonal variations and their effects on product consumption. While this may be a hurdle to overcome, you can turn it into a chance to provide relevant products that satisfy your clients.
Flow Of Money
It can be challenging to have enough cash in the beginning to make sizable inventory orders. For the first few months, we advise promoting your subscription box idea to friends and family in order to generate revenue. Additionally, crowdfunding websites like Kickstarter allow you to generate money, which is wonderful for marketing and spreading the word.
Shipping
The USA offers excellent shipping rates, but what if you are conducting business outside of the US? Shipping expenses should be carefully calculated because they represent a significant overhead expense. Before settling on product pricing, estimate costs for things like packaging and labeling and include them in your total costs.
How To Start A Subscription Box with Shopify?
Step 1: Download the subscription box app
In this tutorial, we will use the ReCharge Subscription App. To begin, install the ReCharge Subscription from the Shopify App Store.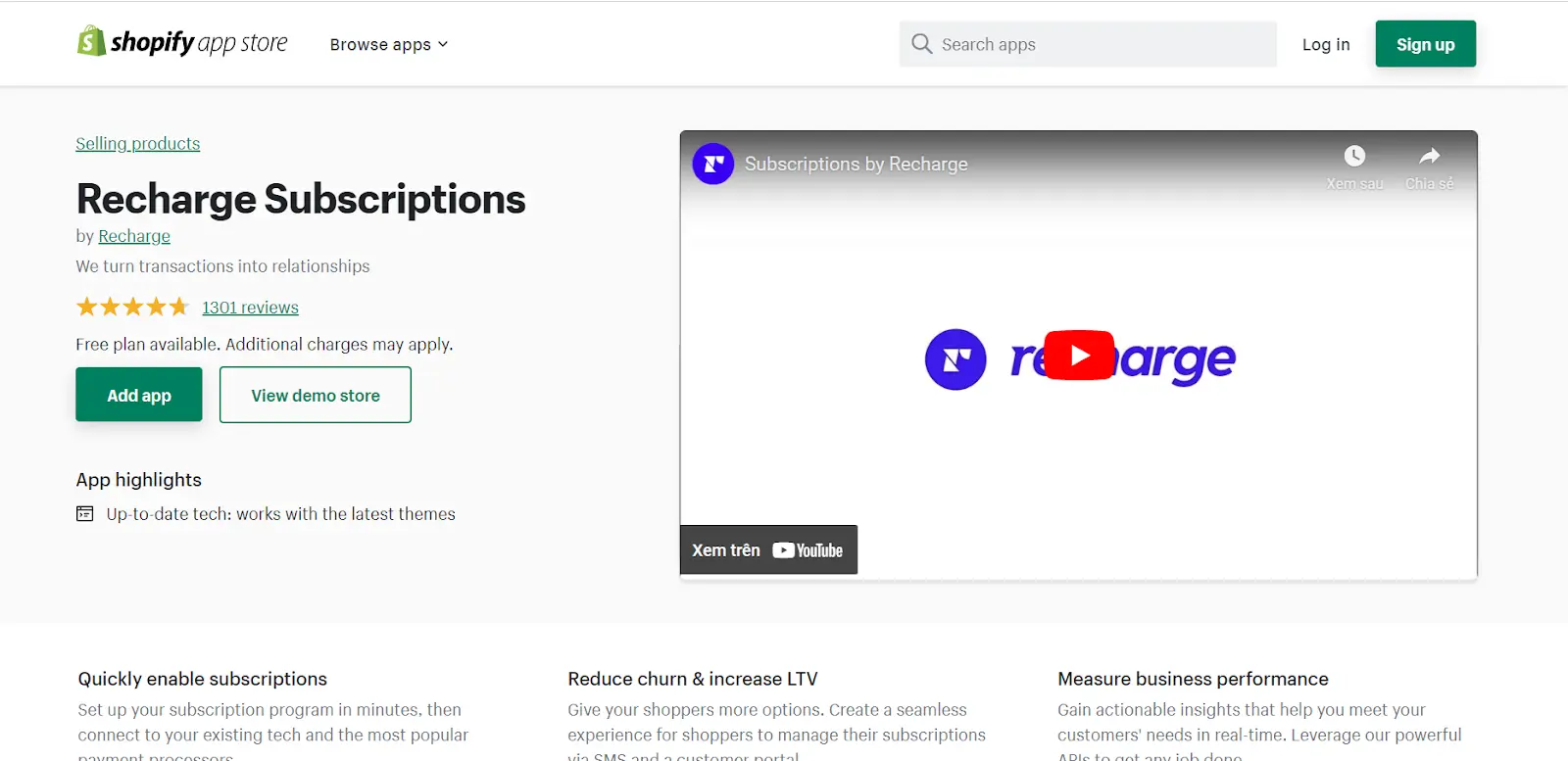 Step 2: Establish Subscription Products
You may check a product's subscription data on the webpage in your Shopify admin since we would utilize a subscription app to provide subscription products.
If a product or any of its variations has a subscription attached to it, the details of that subscription are displayed in the Subscriptions section of the web store.
You can choose to simply allow subscription purchases for your subscription products, or you can accept both types of purchases.
From your Shopify admin, select Products.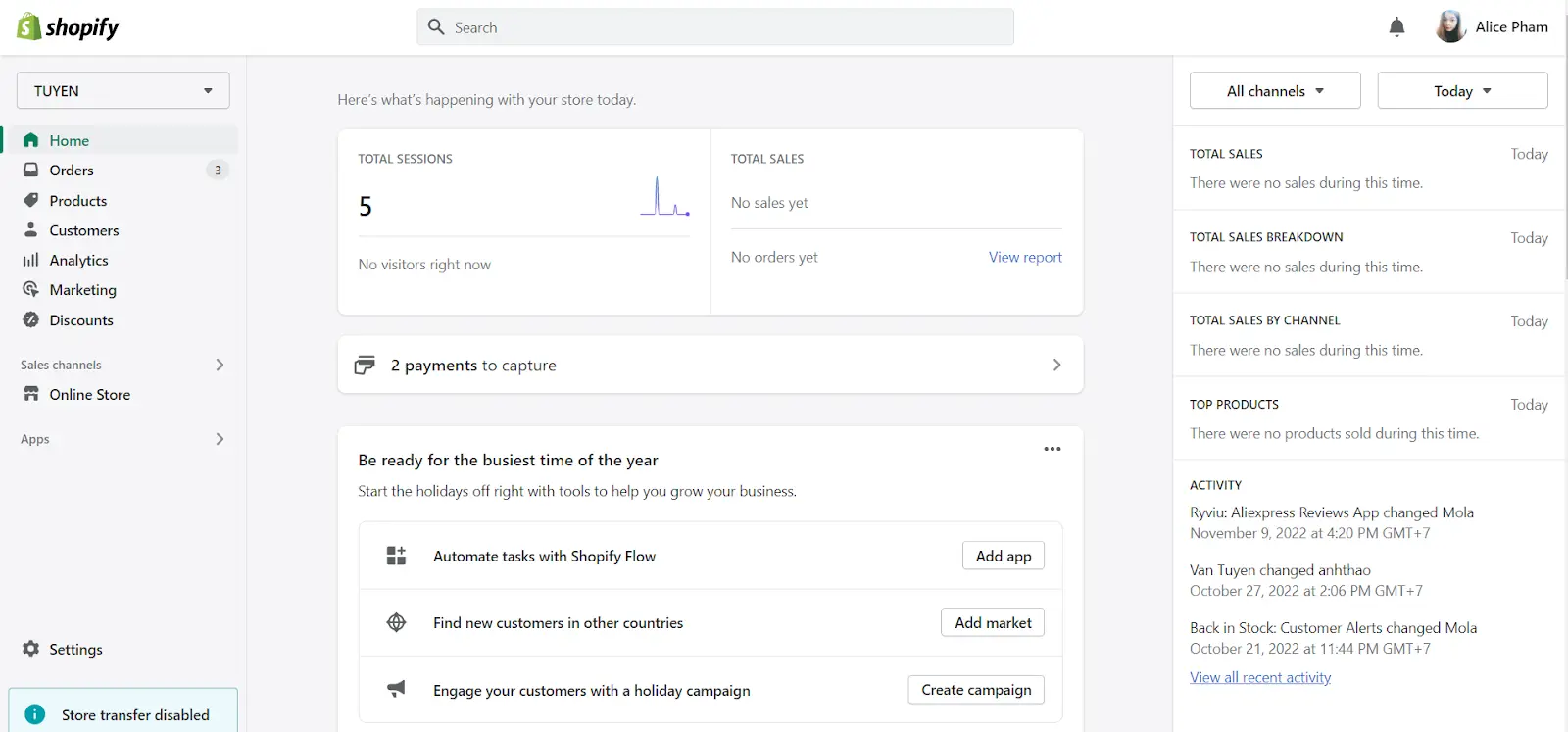 Select the product for which you want to manage your subscription.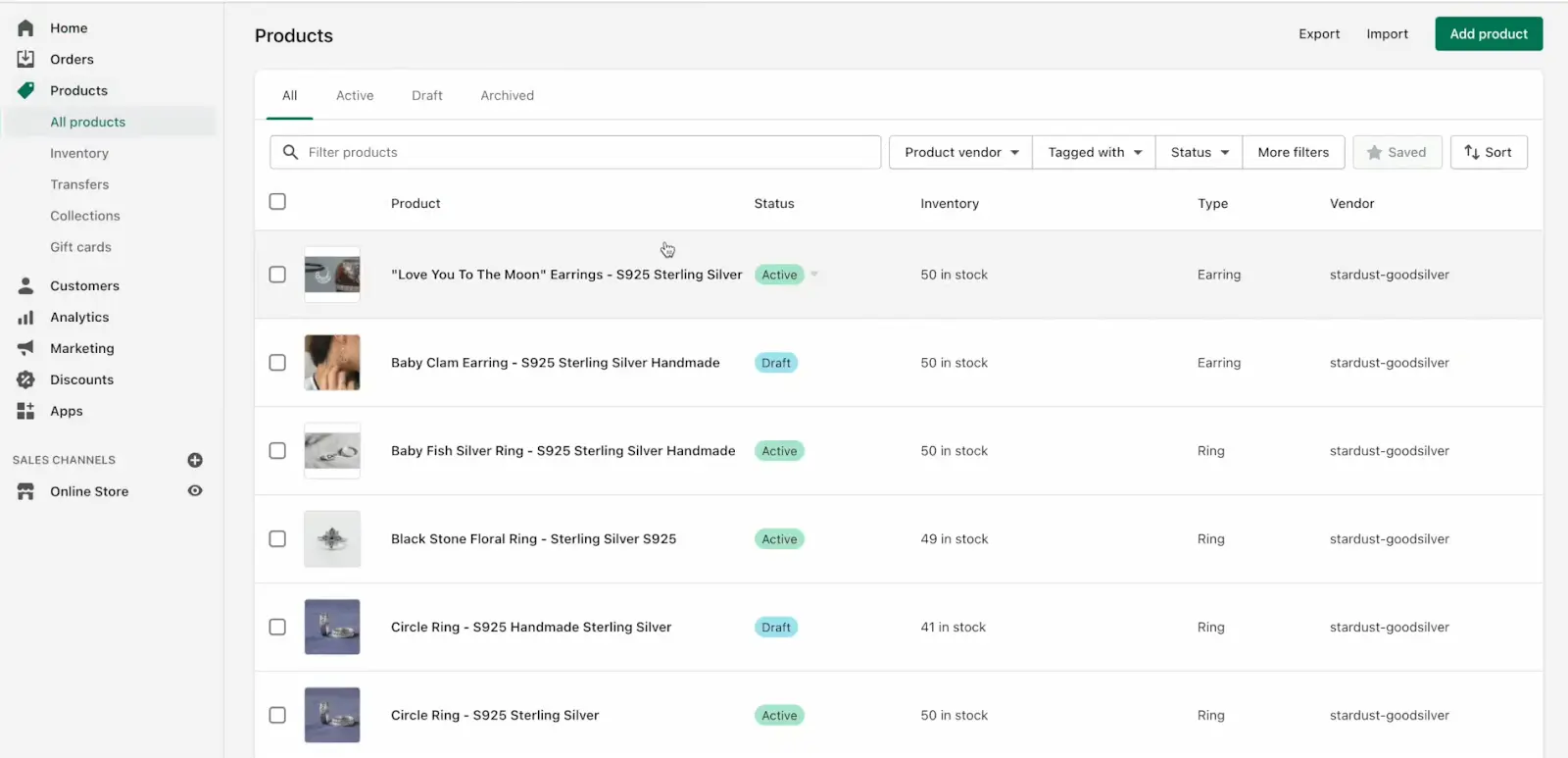 Choose whether to sell the product as a subscription-only service:
-When you want to sell the product as a subscription only, check Sell product as a subscription only.
-When you want to sell the product as one-time purchase as well as a subscription, uncheck Sell product as a subscription only.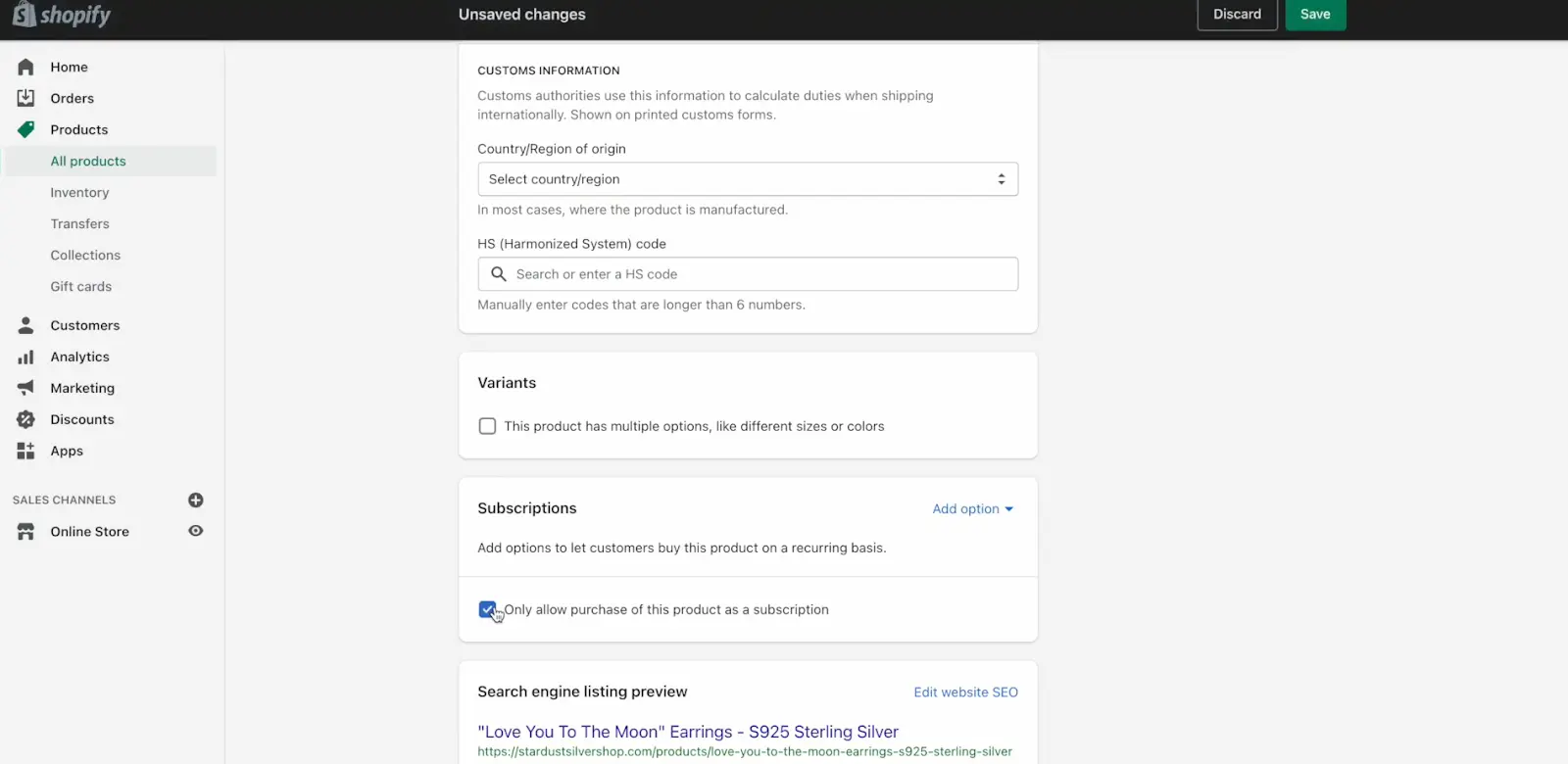 Step 3: Set Up Your Subscription Box
Once installed, you must go over the Subscription box app's basic settings. Here is where you make your decision:
How Do You Desire To Provide Subscription: You can use either One-time and Subscription or Subscription only.
-One-time Subscription: Your products will be sold for purchase as a one-time item or as a recurring item.)
-Subscription only: Your item will only be available as a recurring subscription product.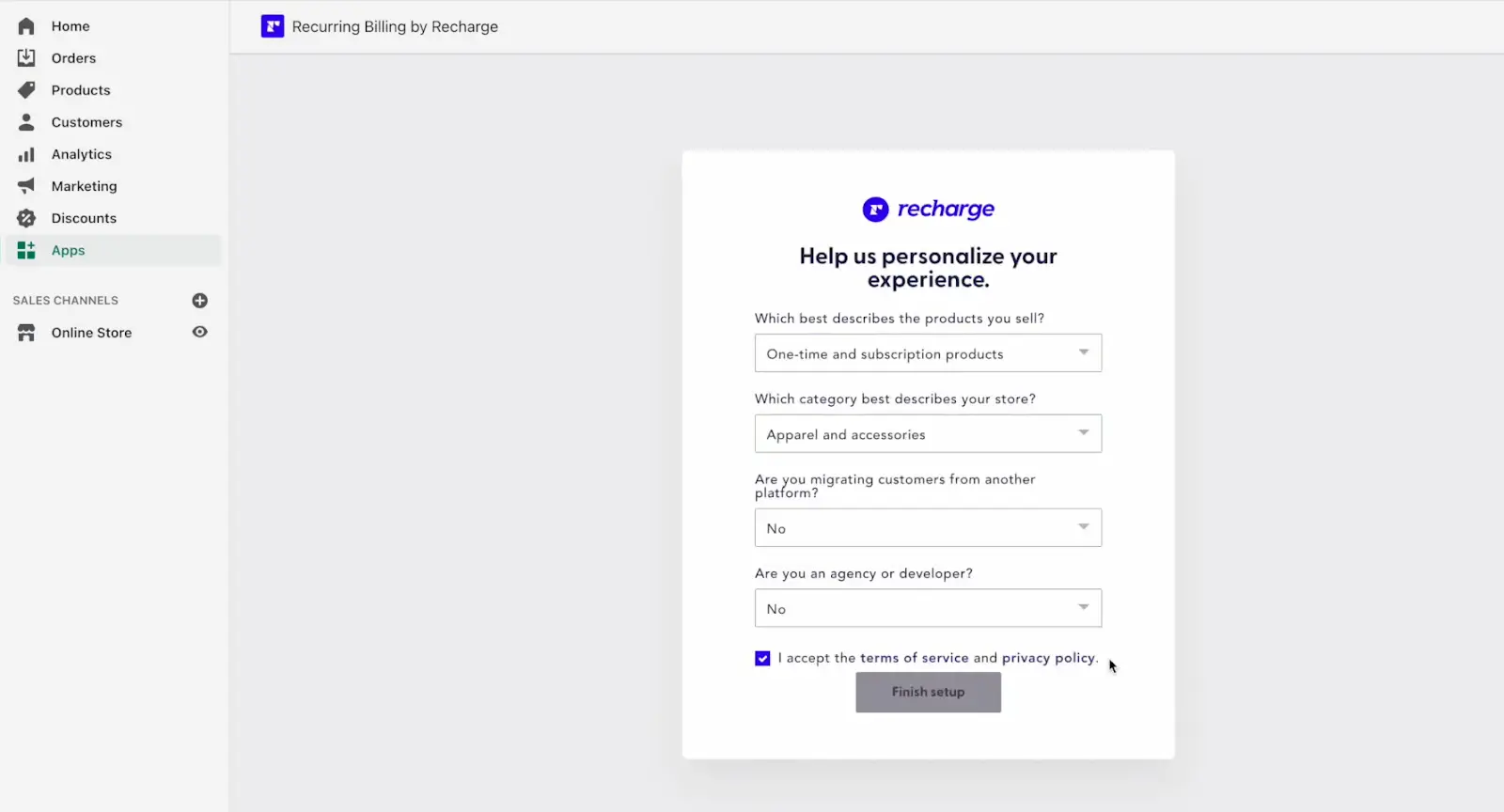 Choose Products for Your Subscription box.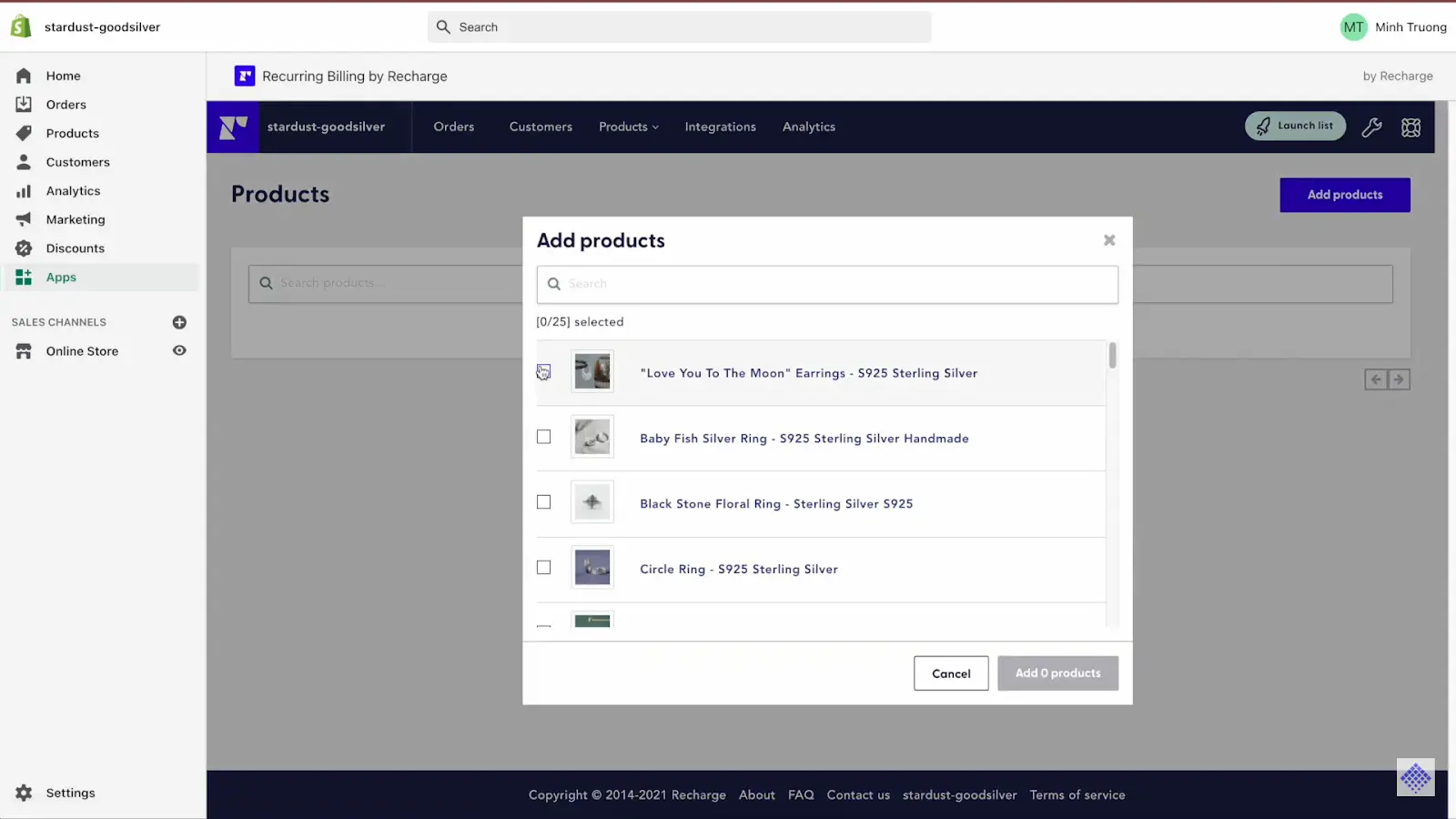 Provide discounts to customers
Frequency Options: Use + Add a frequency to add more options. Setting various subscription frequency options provides your consumers with a customized subscription that meets their specific demands. You can specify a time interval in days, weeks, or months.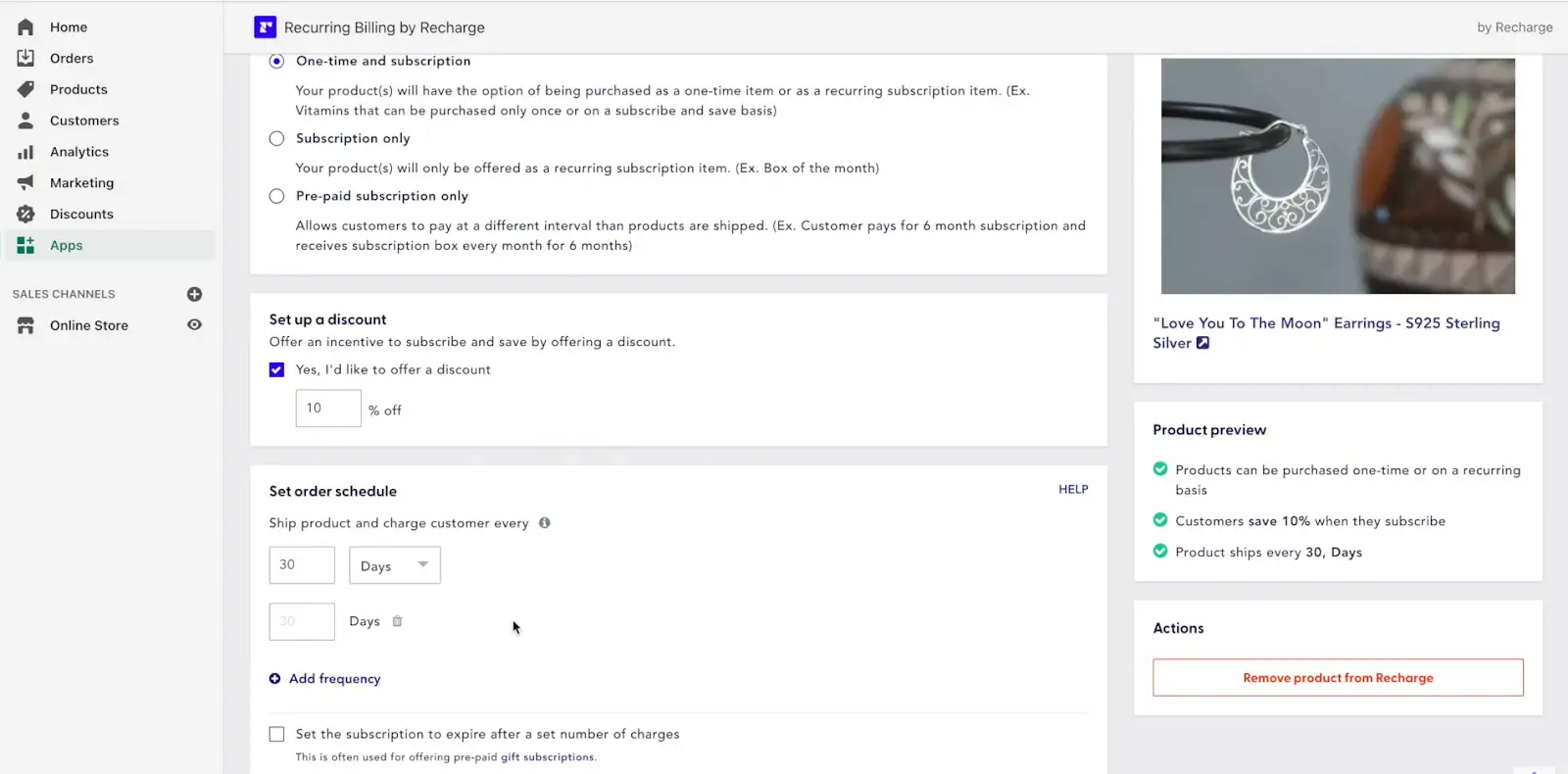 Step 4: Link a Payment Processor to Subscription Box
Through the ReCharge checkout, third-party payment processors manage all subscription payments. You have a choice of connecting to either:
- Stripe
- Braintree with Paypal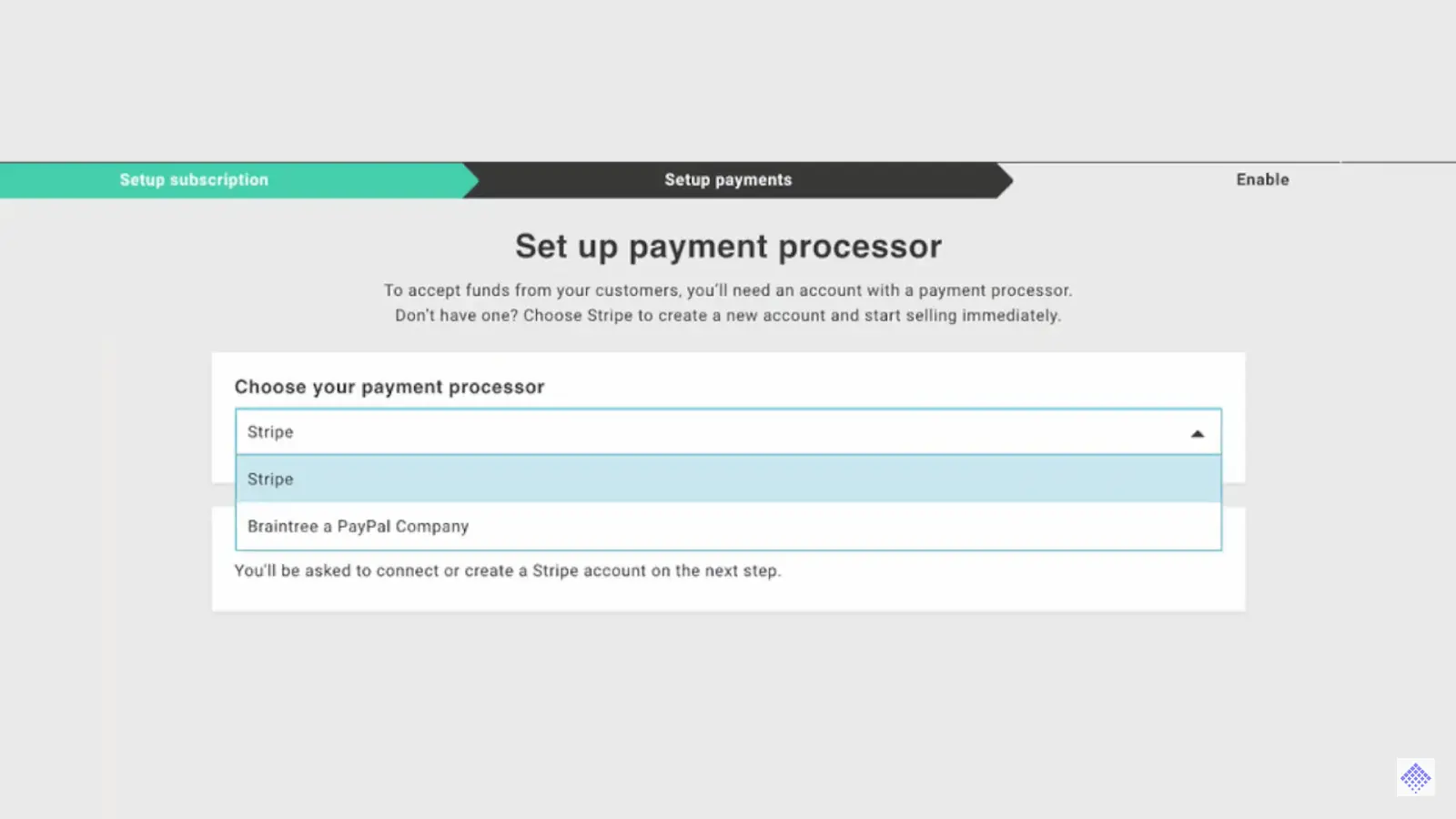 Step 5: Establish your subscription rules
Everything a subscription does is governed by its rules, such as:
The products you want to make available through subscription.
How frequently the client will be charged.
How frequently the merchandise will be delivered.
Discounts for subscribers.
Certain times for charges.
Windows that are blocked upon subscribing.
Automatic expiration following a predetermined period of time.
Step 6: Optimize your Shopify subscription page
Customers that purchase your subscription items will need extra time to explore their options because they will be subscribing to the service for an extended length of time.
Your prospective clients will need to conduct research, weigh their options, and compare your offers to those of competing businesses.
As a result, it is critical that your product page be as full, informative, and remarkable as possible.
Here are some samples to get you started:
Make eye-catching product illustrations.
Use eye-catching product videos to show how it appears in use.
Promote a sense of urgency and fulfillment in owning a scarce item.
Consider utilizing social proof and positive feedback to boost credibility.
Best Shopify app for subscription boxes

If you're trying to find the best Shopify app for subscription boxes Shopify for your store but the search is taking a long time, this section is for you. We included some of the most popular and dependable apps used by entrepreneurs to operate their subscription businesses in this article.
Let's begin with four subscription apps that can assist you in generating recurring revenue for your subscription business. They accomplish this by constantly bringing your consumers the things they want on time and by providing additional excellent customer services.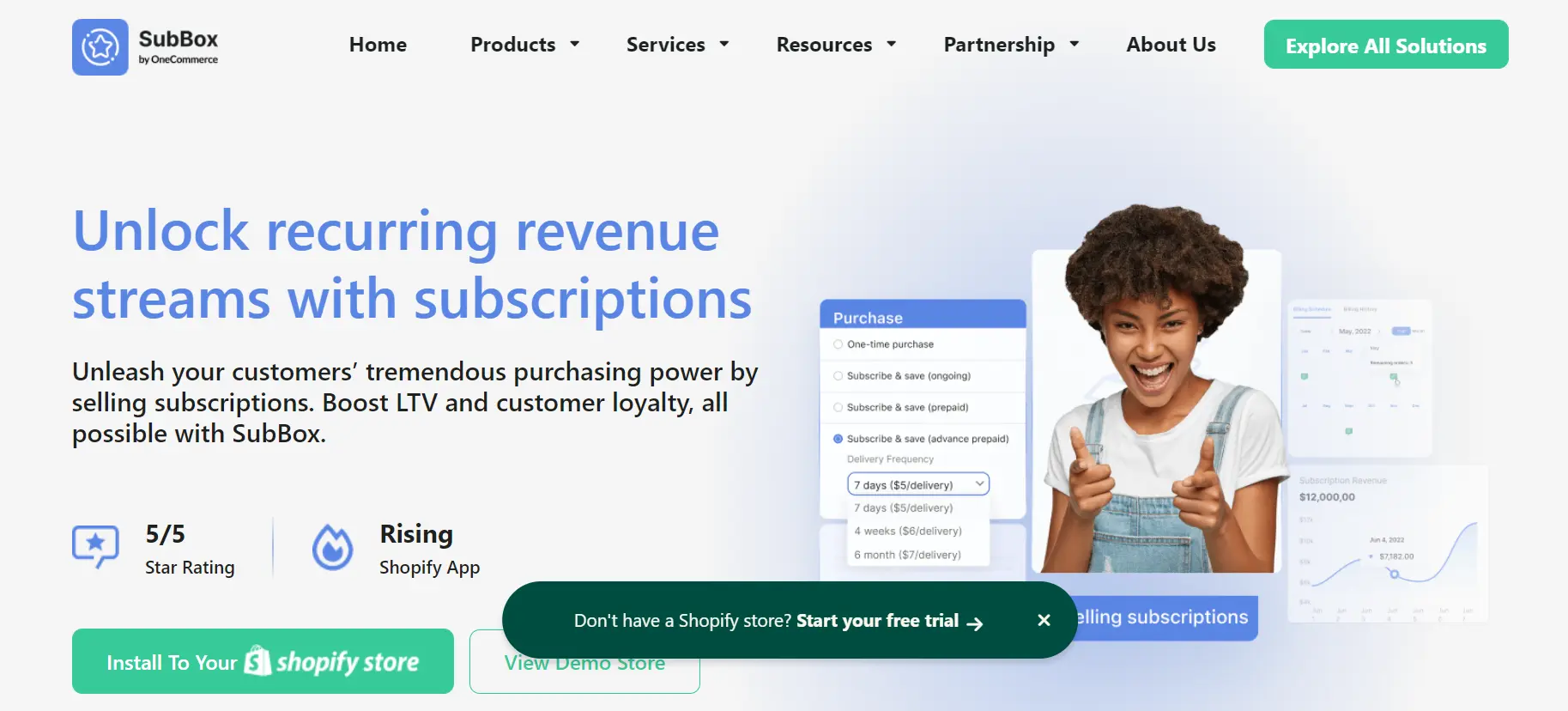 SubBox is one of the best Shopify subscription options. SubBox: Subscriptions by OneCommerce is the very first app on this listing that you can use to establish your Shopify subscription box.
This software offers all of the most recent and updated features you'll need to boost your subscription revenue. Because the app is completely linked with Shopify checkout, you can provide your clients with subscription discounts as well as one-time purchase products.
Furthermore, if you want to provide your customers with the most personalised experience possible, SubBox allows you to provide your subscribers with their own Customer Portal where they have absolute control over their subscriptions.
You may also enhance client retention and engagement by contacting them to keep them up to date on the status of their subscription.

Recharge Subscriptions has been included because of its simple and rapid operation. They also leverage strong APIs, customizable templates, and enterprise-level support.
Furthermore, the Recharge app assures that you will be able to set up the subscription program in minutes. You could then connect it to your present technology as well as your most common payment processors.
With a rich set of connectors, ReCharge Subscription can optimize and streamline the subscription model for any service.

Recurpay Subscription is unique due to its adaptability and linguistic potential. It also allows for easy subscription and regular payment setup.
To reduce support calls, Recurpay Subscription allows your clients to manage their subscriptions on their own through a customisable and multilingual customer site.
Furthermore, because Recurpay Subscription is bilingual, it is now available in a number of countries. Recurpay is now the preferred subscription service for thousands of shops in India, the United States, Germany, and more than 40 other countries.
Similarly, Recurpay is intended for merchants of all sizes. As a result, you can begin for free. Recurpay is completely free until you reach $100 in monthly subscription revenue.
There are many other choices of Shopify subscription apps that help you create a subscription business with Shopify. You should consider your need and requirements before selecting one that best fits you.
Final thoughts
In a nutshell, a Shopify subscription box provides numerous advantages. It aids in the simplification of your business process and encourages clients to make repeat purchases with ease and pleasure.
As a result, if you intend to continually build your brand and increase your consumers' trust and loyalty, you should seriously explore this form of eCommerce business.