Shopify WooCommerce Integration: An Ultimate Guide
If you're just getting started with your online store, Shopify is a great option. While a hosted solution may seem convenient at first, its limits may become apparent as your store expands. If you are thinking of expanding Shopify to another eCommerce platform, WooCommerce seems to be a great option.
When you use WooCommerce, you'll have full authority over your online shop. Everything, from taxes to the availability of additional shipping options, is up for grabs in terms of configuration. More importantly, there is no cost associated with publishing hundreds or even thousands of products.
This article will outline all you need to know to transfer Shopify to WooCommerce. We will help you step by step with Shopify Woocommerce integration with lightning speed.
Why You Should Consider The ​​Shopify WooCommerce Integration?
For these reasons, because WooCommerce is based on open-source software, it is a major improvement over Shopify. WooCommerce may be downloaded for nothing and is open-source.
That is to say, when you connect your Shopify to WooCommerce, you have complete control over its code and can make any adjustments necessary to make it work for your company. Since it's based on WordPress, you can use it with any web server you like to build your site.
Let's consider other advantages of Shopify WooCommerce Integration:
An infinite number of extensions
You may quickly enhance the functionality of the fundamental elements of your WooCommerce business by utilizing their vast library of plugins. The WooCommerce community and the WordPress plugin repository both have a plethora of solutions to any issue that may arise. It's up to you to choose the resource that best serves your needs while staying within your financial means.
Thousands of templates
WooCommerce's library of both free and paid themes takes into account a wide range of potential uses. Therefore, you might select a WooCommerce theme that more accurately reflects your company's ultimate goal.
Profits increase by WooCommerce Product Costs
Since WooCommerce does not require its users to pay a subscription fee, you can keep your online shop open for as long as you like.
Therefore, rather than worrying about how much money you have to pay your eCommerce platform, you can put more effort into promoting your WooCommerce store and expanding your business.
When compared to other shopping cart solutions, WooCommerce offers more flexible pricing. It's up to you to decide where your cash goes and what you're willing to do without. You can use this to your advantage and design a budget that is reasonable.
WooCommerce does not have a paid tier like Shopify's. In addition, there will be no transaction costs associated with selling items.
However, using WordPress and WooCommerce together still requires you to pay for hosting. The good news is that you are not restricted to using any one particular system. This means you can go with whichever hosting service best suits your requirements.
How to set up the Shopify WooCommerce integration?
Before doing the Shopify WooCommerce integration, you need to find a web hosting provider tailored to the Content Management System (CMS), That process involves migrating all of your store's products and recreating its layout and design in WooCommerce. After completing that, let's start with our simple 4-step guide to Shopify WooCommerce Integration:
Step 1: Set Up WordPress
WordPress provides a number of different installation options, each optimized for a certain kind of web host. When you build a new website with a managed WordPress server, for instance, the content management system (CMS) is generally automatically set up for you.
We suggest checking your hosting control panel if your site host does not provide an automatic WordPress installation. Here, you may use a program installer like Softaculous to have WordPress up in a matter of minutes.
You can access the WordPress dashboard after you've installed the software. Everything about your website, including its appearance, functionality, and content, is under your entire command.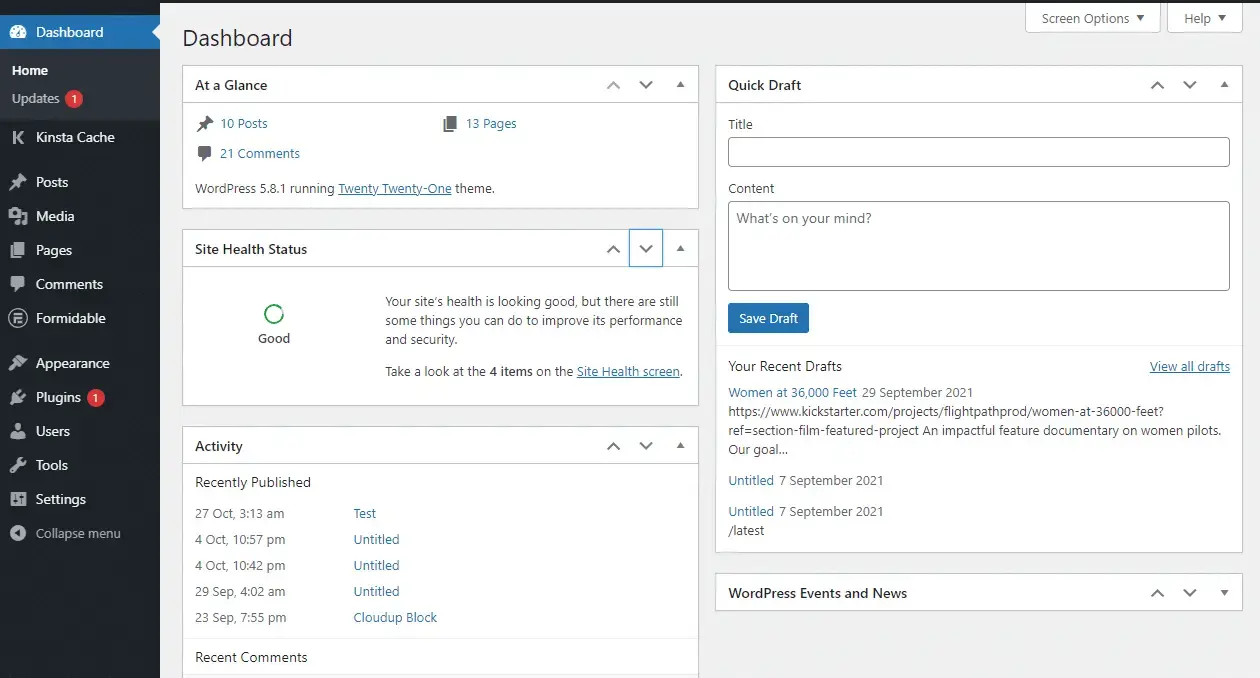 Step 2: Install WooCommerce
Installing WooCommerce is a necessary first step toward opening an online store. To install WooCommerce, select Plugins > Add New and then enter "WooCommerce" in the search bar.
You should notice WooCommerce as one of the top results: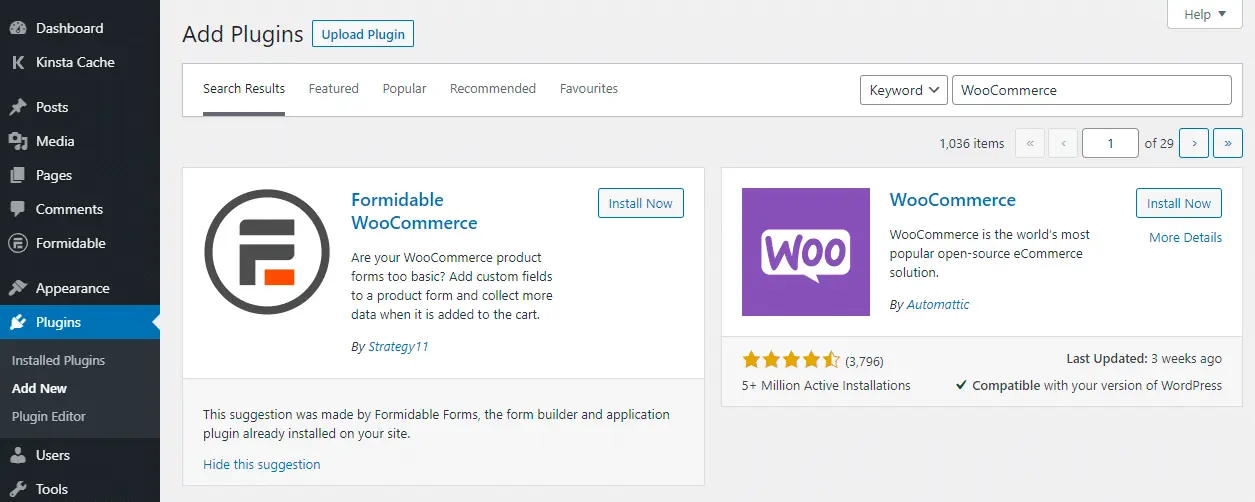 Simply select WooCommerce and then click the "Install Now" button. Now you just need to sit tight as WordPress fetches and installs the plugin. Don't navigate away from this page until you see the Activate button appear next to WooCommerce; else, this operation will fail.
WooCommerce is now activated and ready for business. You are now free to begin publishing and selling your products. However, you already have a complete catalog of products at Shopify, so let's transfer everything to WooCommerce.
Step 3: Export Products From Shopify
Shopify, as we've already established, lets you export your whole product catalog to a comma-separated values (CSV) file. Your migrated products' titles, slugs, tags, variations, and prices are all included in this file.
Shopify makes it easy to export your product information by simply navigating to Product > All Products within your account. All of your store's inventory will be displayed here. The data import/export features are also included.
After clicking the Export tab at the top of the screen, Shopify will inquire as to which items you wish to export. Select "All Products" and under it, choose "CSV for Excel, Numbers, or Other Spreadsheet Programs".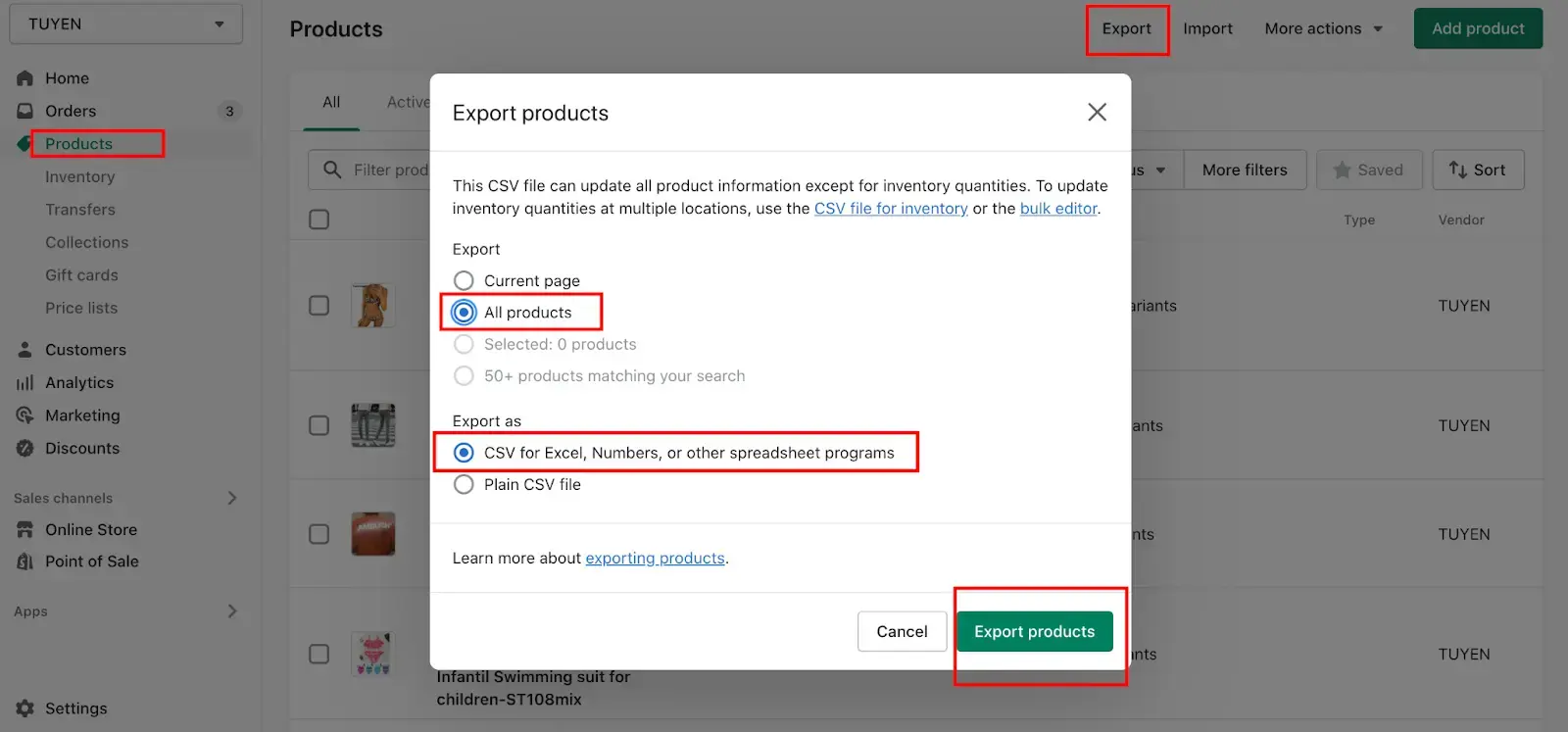 Shopify will give you a CSV file containing all of your product data once you click the Export products button. Depending on the size of your inventory, that email could take a long to come. After that, you'll need to have that file on hand for the next phase of the process, so save it to your hard drive.
Step 4: Import Your Shopify Products Into WordPress
There are 2 ways you can import the Shopify exported data to WooCommerce: manually or via a third-party app. The manual approach is the adaptation from the already built-in function of WooCommerce. Therefore, it is fast and convenient. However, it has some limitations that you may want to consider.
Let's go over both approaches, starting with the manual option.
Use the WooCommerce Product Importer
WooCommerce has a tool that lets you import product catalogs in CSV format. As you already have your whole Shopify catalog downloaded in one tidy CSV file from the previous step, this should be simple.
The only problem is that you have to import everything. Shopify will keep all of your store's information, including customers, orders, photos, and reviews. Using WooCommerce is like starting over, except with all of your products already in place and no preexisting structure for your online store.
If that is not an issue, then we may proceed with importing the Shopify CSV file into WooCommerce. Go to Tools > Import on your WordPress dashboard.

Click the Run importer button next to WooCommerce products (CSV).
WooCommerce will then direct you to a screen where you can select the file you'd want to import. Existing product information can also be refreshed using a CSV file. Leave that unchecked; we need a blank inventory to work from.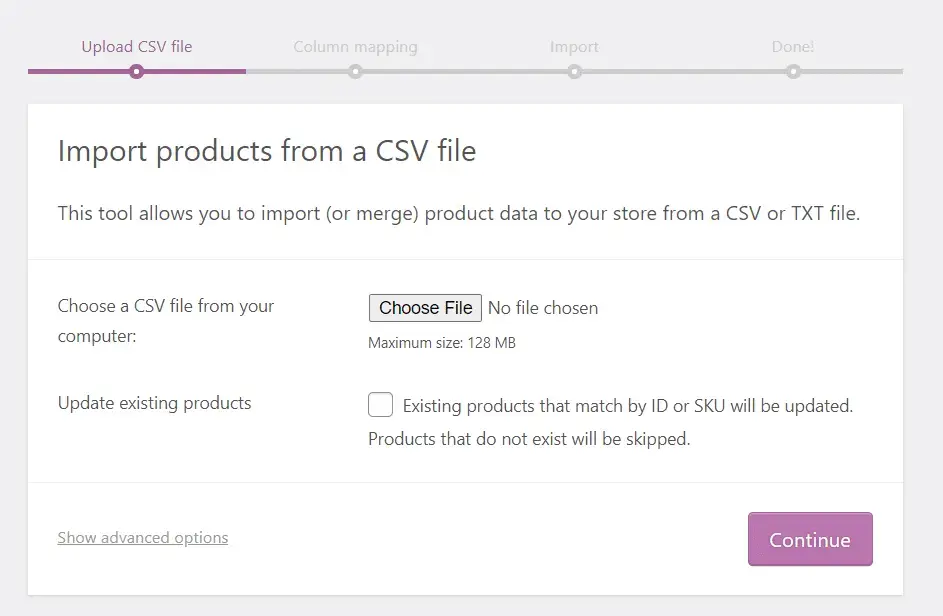 Click the Continue button after choosing the CSV file you downloaded in Step 3. On the following screen, you'll have a number of options for importing your CSV file's product information into WooCommerce fields. Check off the items on that list that you wish to import into WooCommerce and cross off the ones that you don't.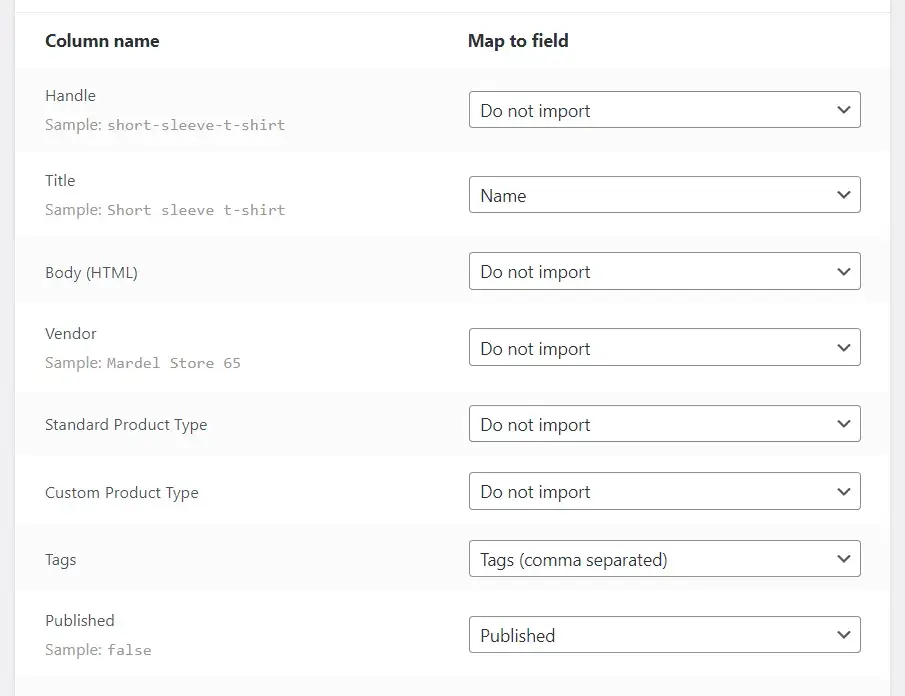 When you're ready to begin the import process, select the "Run The Importer" button. The process of Shopify WooCommerce Integration may take a few minutes. When it's finished, you'll get a notice like this: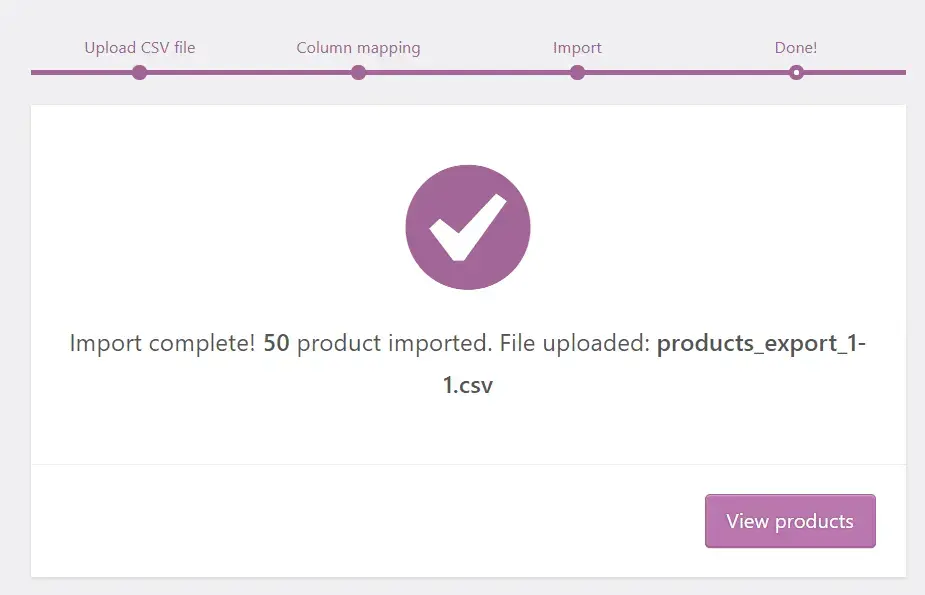 Keep in mind that WooCommerce does not automatically import product photos. Each item entry should be double-checked to make sure it has all the necessary details.
It is possible to redo the importer to ensure that the necessary fields are being sent to WooCommerce in the event that some product data is missing. In general, the manual importer is easy to use, but it does take some attention to detail.
Use a third-party plugin for ​​Shopify WooCommerce Integration
When compared to manually moving data or utilizing a CSV file, Shopify's migration tools streamline the process and allow you to transfer more information. Here are some of the services you may want to check out to integrate WooCommerce and Shopify effortlessly:
Shopify WooCommerce Integration: FAQs
Can I integrate WooCommerce with Shopify?
No, you cannot integrate WooCommerce with Shopify directly. Both are separate eCommerce platforms and do not offer native integration with each other. However, you can use third-party services like Zapier or Skyvia to connect the two platforms and transfer data between them.
How do I sync Shopify with WooCommerce?
You can use third-party plugins like WP Shopify or Shopify Connect for WooCommerce to sync data between Shopify and WooCommerce. These plugins allow you to import products from Shopify to WooCommerce, sync inventory levels, and update order status in real-time.
Is it worth moving from WooCommerce to Shopify?
It depends on your specific needs and preferences. WooCommerce is a powerful and flexible e-commerce platform that is highly customizable and offers a wide range of plugins and extensions. Shopify, on the other hand, is a hosted e-commerce solution that is easier to set up and use but offers less flexibility and customization options.
If you are looking for a simpler and more streamlined solution, Shopify might be a better option for you. However, if you need more control over your eCommerce store, WooCommerce might be the better choice.
What plugin to import products from Shopify to WooCommerce?
There are several plugins available to import products from Shopify to WooCommerce, such as WP Shopify, Shopify Connect for WooCommerce, and Cart2Cart. These plugins allow you to import products, categories, images, and other data from Shopify to WooCommerce with ease. It's best to research and compare different plugins to find the one that best meets your needs.
Conclusion
Nowadays, it is common for online businesses to spread their scopes over numerous platforms, including Shopify WooCommerce integration, as it may help earn more revenue while also getting the benefits of all eCommerce sites.
We hope you find this guide useful in successfully integrating your Shopify store with WooCommerce. If you appreciate reading Updimes's step-by-step tutorials, sign up for our email list to stay updated on Shopify store tips.