Woostify Theme Review: A Free WooCommerce Theme for Online Stores
You want to find a fantastic theme that can help set up an amazing shop layout for your online store. Of all the WooCommerce themes out there, Woostify still stands out and attracts more and more users thanks to its outstanding features. The theme is designed entirely for WooCommerce stores, particularly those selling physical goods.
Woostify Overview
Woostify is a powerful WooCommerce theme that helps you create WordPress eCommerce websites with the goal of increasing conversion and sales. The theme is compatible with nearly all popular page builders, browsers, Woocommerce hosting, or other functional add-ons such as payment plugins, review plugins, and so on. This theme is also listed first in our top WooCommerce themes for dropshipping.
Woostify offers full of useful features for any online store, including Quick View, Elementor Add-ons, Sale Notification, Mega Menu, Size Guide, AJAX Search, AJAX Add to Cart, etc. Besides, Woostify's template system is highly appreciated since these templates are optimized for diverse business fields.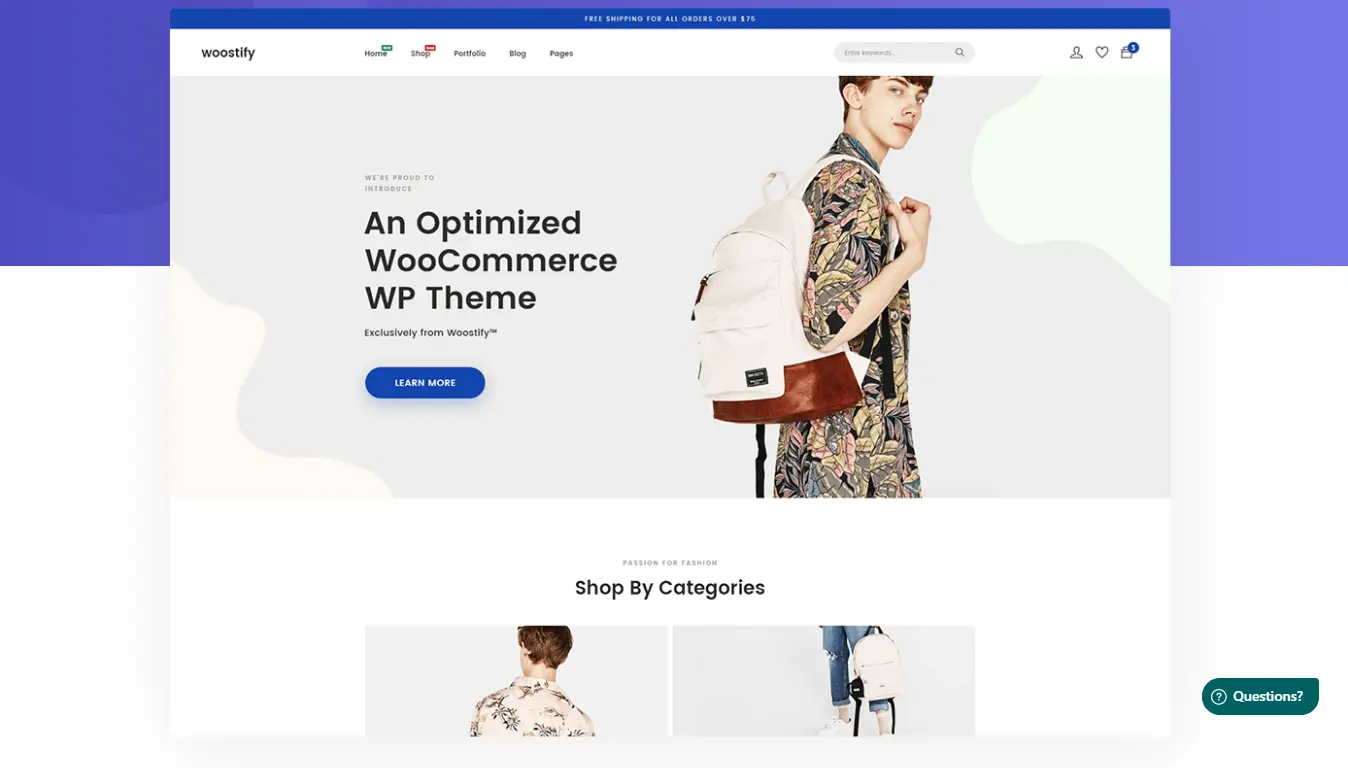 Woostify gives you complete control over your online store and enables you to easily apply changes to your store. The good news here is that Woostify comes in both premium and free versions. The free version provides basic features that are good enough for small businesses. Meanwhile, the premium one will help optimize the success of your shops.
Outstanding Features of Woostify
Woostify provides essential features for free. You can obtain it from Woostify's official website or the WordPress theme repository. You can get basic e-commerce site-building features with Woostify free version.
Smart Product Filter Addon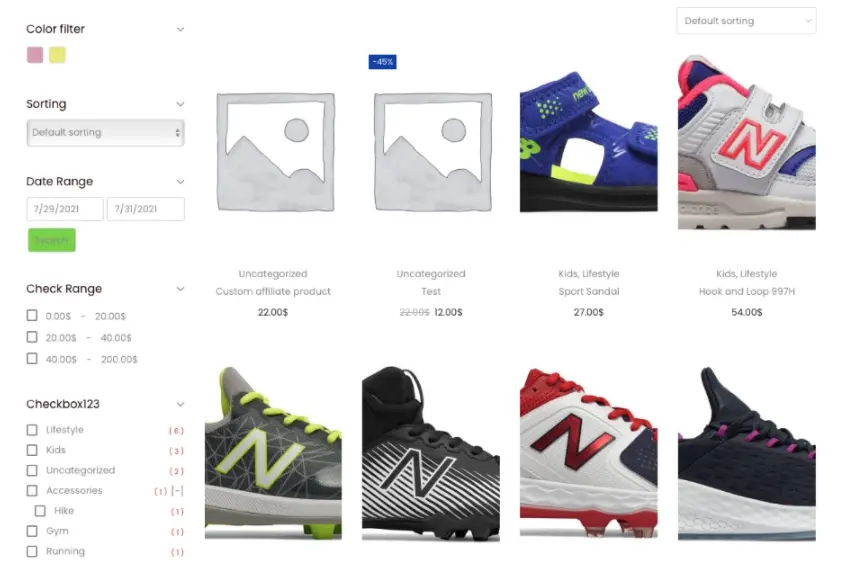 Smart Product Filter is a new helpful plugin from Woostify. This WooCommerce product filter has a number of cool features that make the process of searching for items really fast and easy. This add-on can help create a better shopping experience which leads to a better conversion rate. Here are 6 features of this add-on:
Filters products based on any criteria, characteristics, pricing, taxonomies, or any other product data.
Support for both vertical and horizontal layouts
Product data is automatically adopted, and the remaining filter words are displayed.
Use WooCommerce shortcodes to work in both the default and custom shop pages.
Ajax loading so refreshing the page is unnecessary
Mobile-optimized
Customizer
Woostify gives you a lot of flexibility when it comes to customizing your WooCommerce store and product layout. They are separated into groups so that you can quickly find and utilize them in your store.
With a single click after installing Woostify, you can access the theme customizer, which includes several useful options. Within the customizer, you can modify the site title, logo, layout, speed settings, color palettes, add additional CSS, customize your header and navigation menu, and much more.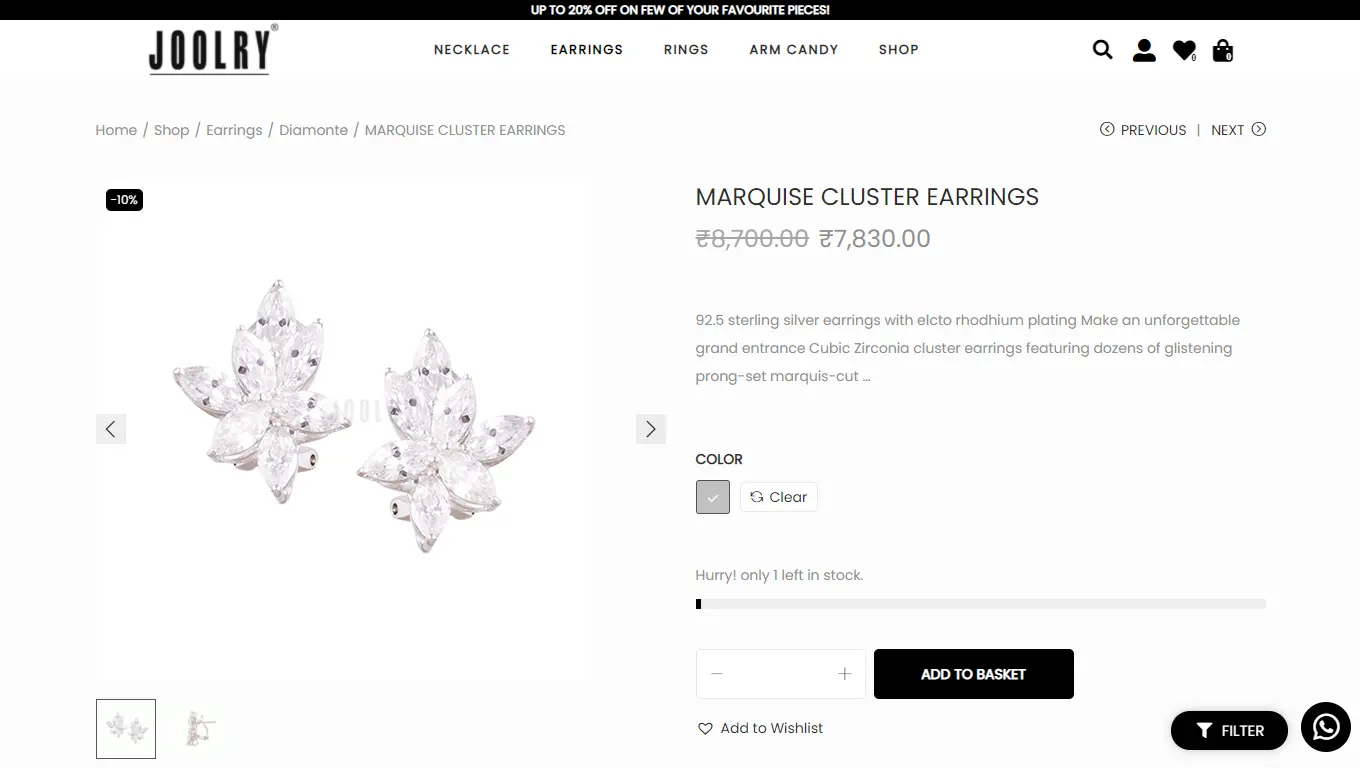 WooCommerce Templates
Woostify theme includes 15 stunning Elementor WooCommerce templates that are suitable for almost any industry or niche, particularly furniture, pet, shoes, food, fashion, glasses, cosmetics, and so on. They are all perfectly set up for e-commerce websites, responsive with all the features available.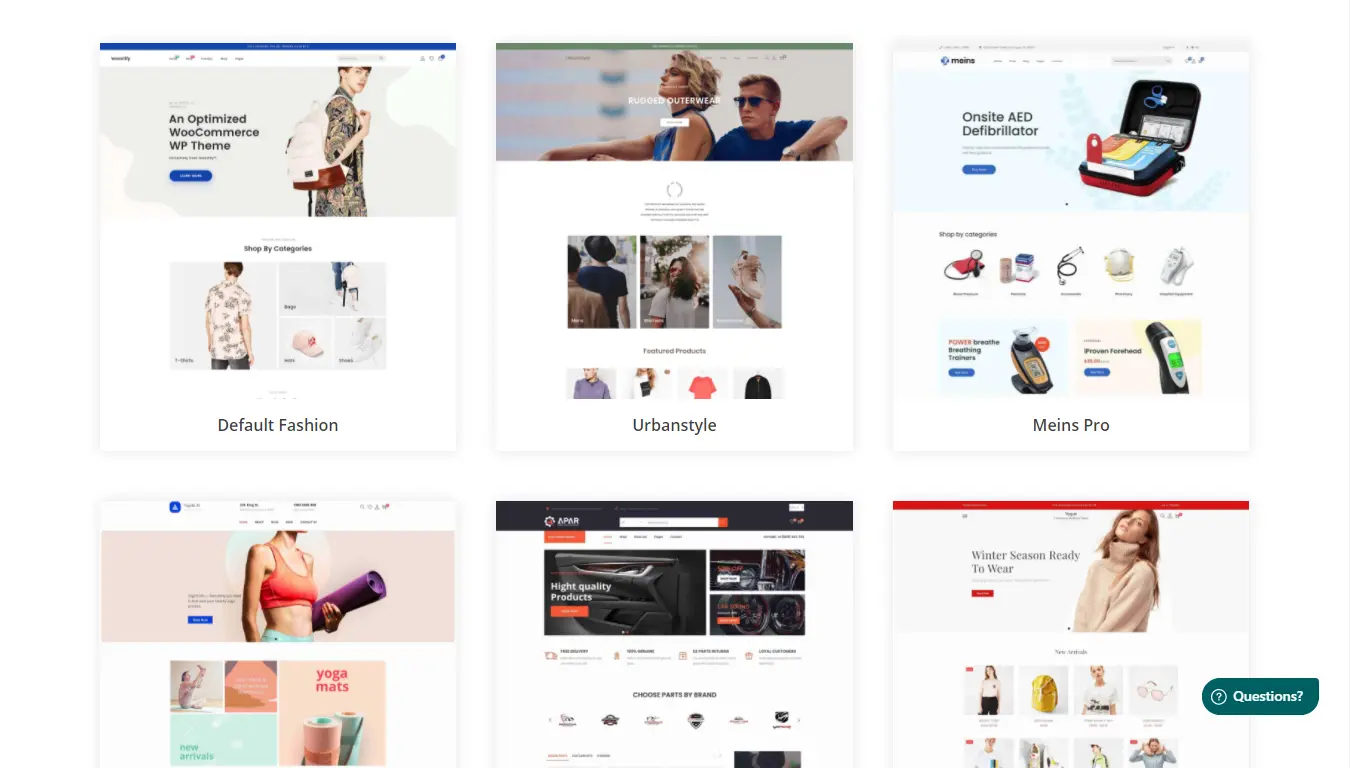 With such fabulous starter sites, you can quickly create appealing e-commerce websites with no difficulty. You can also modify the theme and create your own impressive online shop with no coding knowledge required.
AJAX Shopping Cart
With this feature, customers may add products to their shopping carts and view them immediately without having to reload the website. Here's how it works in the front.
Multi-step Checkout
Woostify assists store owners in streamlining the checkout process by providing a well-optimized checkout page devoid of the header, footer, and sidebars. The payment details form is the only primary focus of the checkout. This helpful feature could support you in enhancing conversions and sales.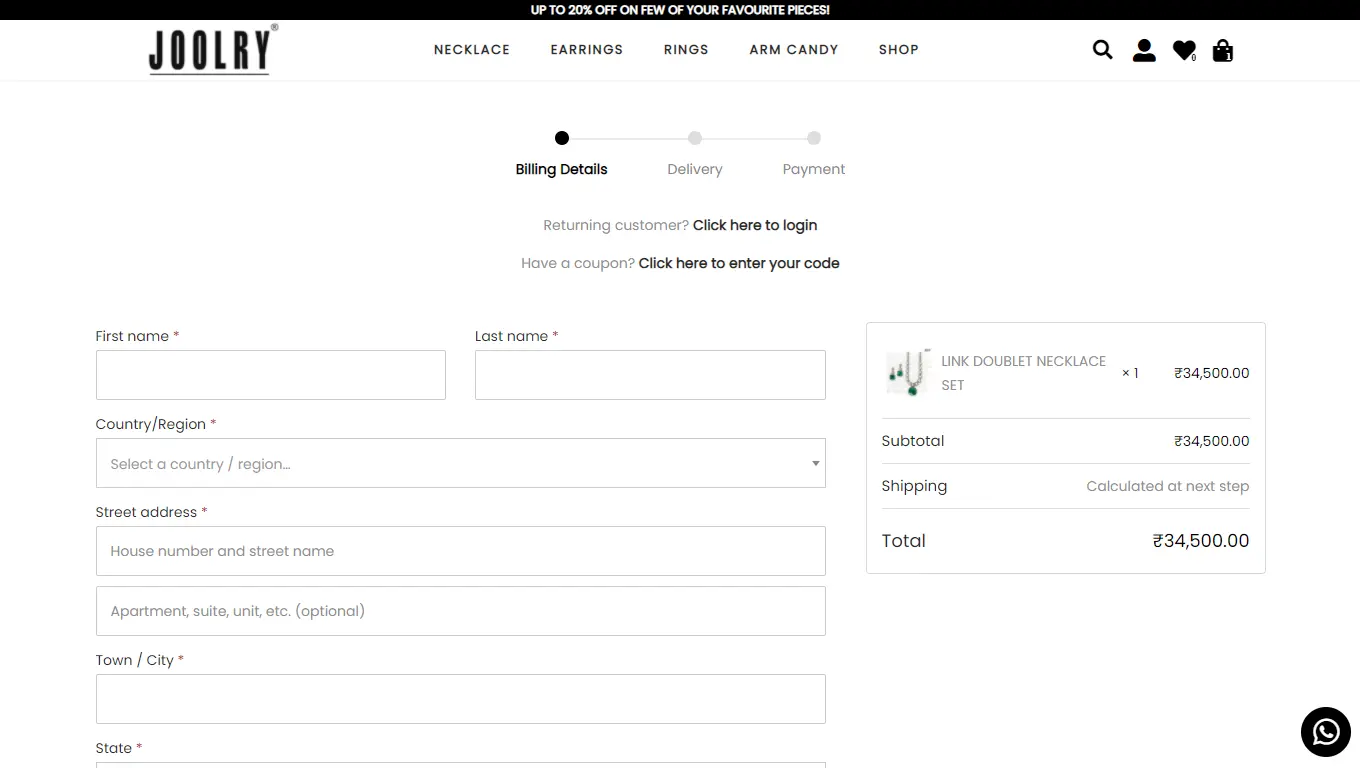 Lightweight and Optimized
Page load speed is always regarded as one of the most critical components of a successful e-commerce store. You may not know that a one-second delay can easily make you lose sales and revenue.
The theme is designed for maximum performance, with clean code, customizable CSS, a small file size, and the use of vanilla JavaScript rather than JQuery for fast loading speed. Furthermore, the theme is search engine optimized, so your site will be easily found on the Internet.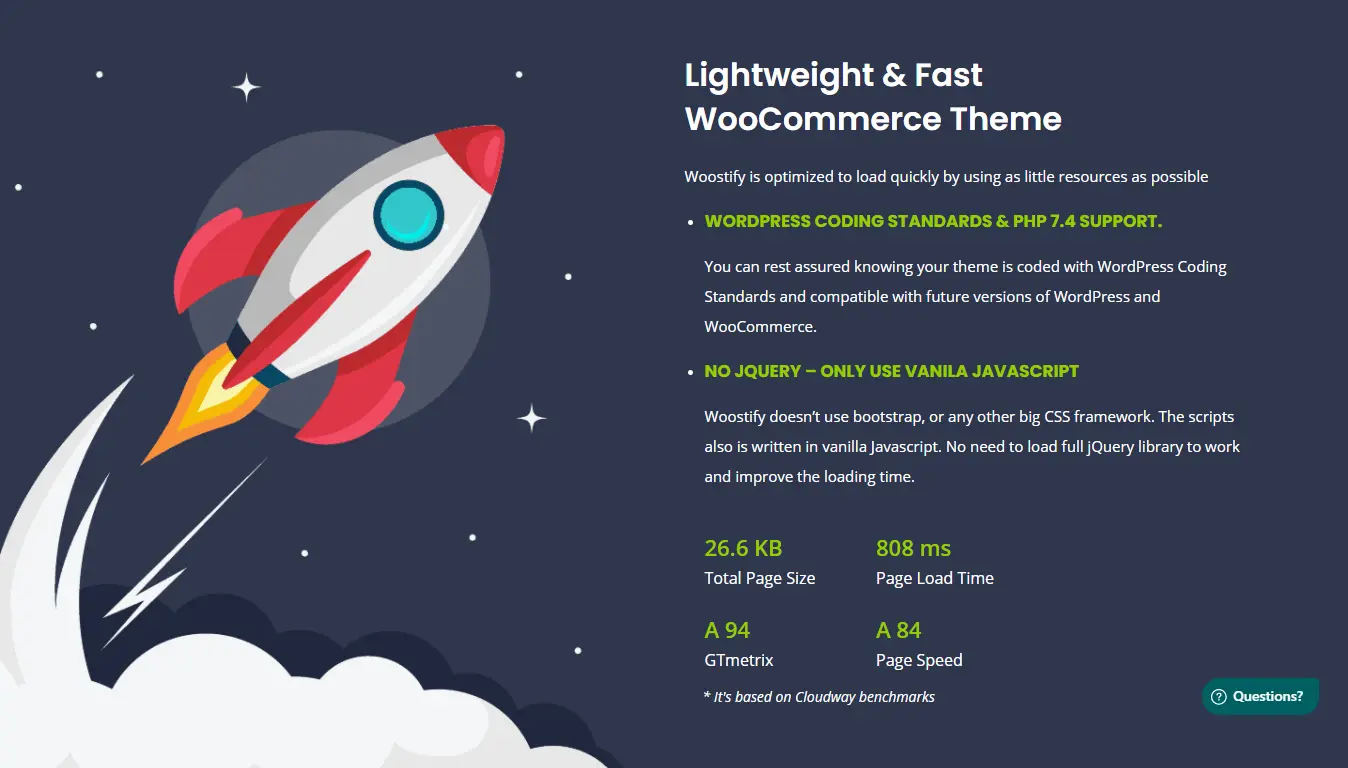 Woobuilder
One of the best features of Woostify is the one-of-a-kind and helpful WooBuilder add-on. It functions as a standalone plugin, yet it is still a part of the theme. This feature provides customers with complete control over the customization of WooCommerce store pages such as the WooCommerce account page, product page, single product page, cart page, and checkout page. With this feature, shop owners can flexibly construct, update, and modify their WooCommerce store.
Users may simply design and edit the WooCommerce Elementor cart page, check out page, single product page, and store page without having to use Elementor Pro.
FOMOs Included
FOMO is a wonderful way to engage your visitors and entice them to buy from you. As a result, it would be fantastic if you could apply FOMO in driving more visitors and potential customers to your shop.
Shop owners may simply generate FOMOs in their stores by employing add-ons such as Sale Notification and Countdown Urgency while using the Woostify Elementor WooCommerce theme.
The Woostify Countdown timer creates a sense of urgency, encouraging hesitant shoppers to grab this opportunity before it's too late.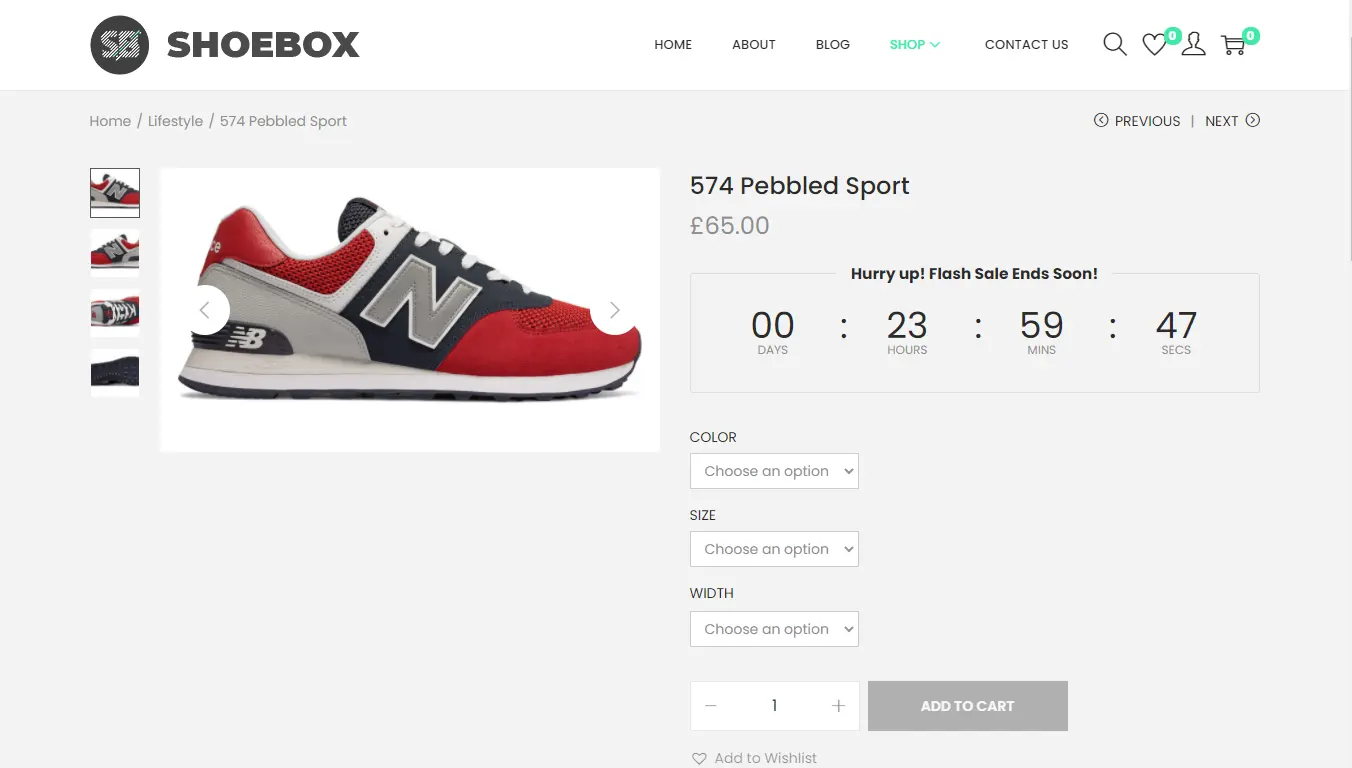 Another approach to bring FOMOs into your business is to utilize the Sale Notification add-on. It will assist you in creating social proof by displaying recent orders pop-ups with information about the customer's name, address, purchasing time, and product image. This add-on will likely encourage customers to make rapid purchases.
AJAX Live Search
User experience is an essential aspect that directly influences customers' purchasing decisions; nevertheless, not many shops excel at it. Loading speed, ease of navigation, and rapid search are all examples of UX. Do you want to improve the user experience when clients look for your store?
Woostify simply tackles that issue with AJAX live search, which will enrich your user experience through a user-friendly AJAX live search bar. The category and tags are used to quickly filter the results. This feature also offers keyword recommendations to help you locate the products you're looking for instantly.
Integration With Elementor
Another outstanding advantage of Woostify is that it integrates extensively with Elementor while still being compatible with other page builders. In short, Woostify allows your store to have smooth integration with WooCommerce and Elementor. This can give users complete control of the site and infinite modifications in your online store without having to code.
Woostify possesses a strong built-in Elementor theme builder, but you won't be limited to using only one builder. Woostify is fully compatible with almost all popular page builders out there Site Origin, King Composer, Beaver Builder, Visual Composer, Brizy, Divi, but some fundamental Woostify pro add-ons, such as the ones listed below, work only with Elementor.
Elementor Add-ons
Since Woostify is integrated with Elementor, it provides a wide library of customizable creative widgets such as Slider Widget, Product Slider Widget, Post Widget, Product Category Widget, and so on. These widgets are there to help shop owners put their ideas into action easily.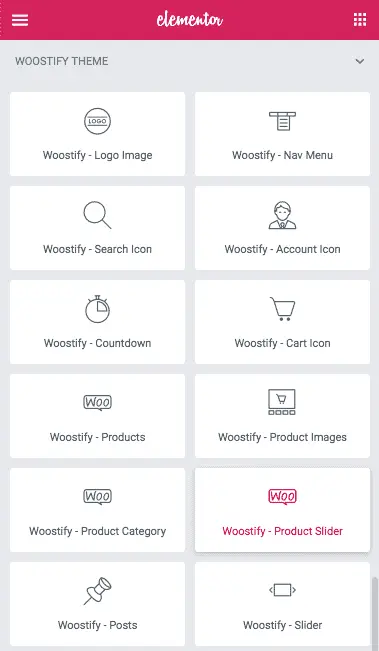 You may build anything you want with these widgets, including your shop's layout, presenting more goods, creating and customizing Product Categories, and designing your own slider for your eCommerce website. This is obviously superior to utilizing a standalone Elementor Pro.
Unlimited header and footer layouts
Woostify gives you access to a variety of header and footer templates. They are all optimized to work with any online store. Furthermore, owing to the smooth access of Elementor, customers may utilize the Header & Footer builder extension to freely design headers and footers for their websites.
As previously stated, Woostify provides shop owners with total control over their shop pages, including single product pages, product pages, cart pages, and checkout pages, without the use of Elementor Pro. This may be Woostify's most unique feature because it cannot be seen anywhere else.
Other Useful Features
Aside from the main features listed above, Woostify has a variety of fascinating functionality that you may require in your business.
Variation Swatches
Variable products show different variations on a WooCommerce product. Store owners can create various attributes for each product, such as color, size, weight, and control over pricing, availability, as well as image. They may be implemented for any product that has numerous variants, such as shoes, clothing, glasses, watches, etc.
Built-in Size Chart
The size chart plugin enables you to build customized size charts and apply them to product categories. It enables you to provide a better purchasing experience to your consumers.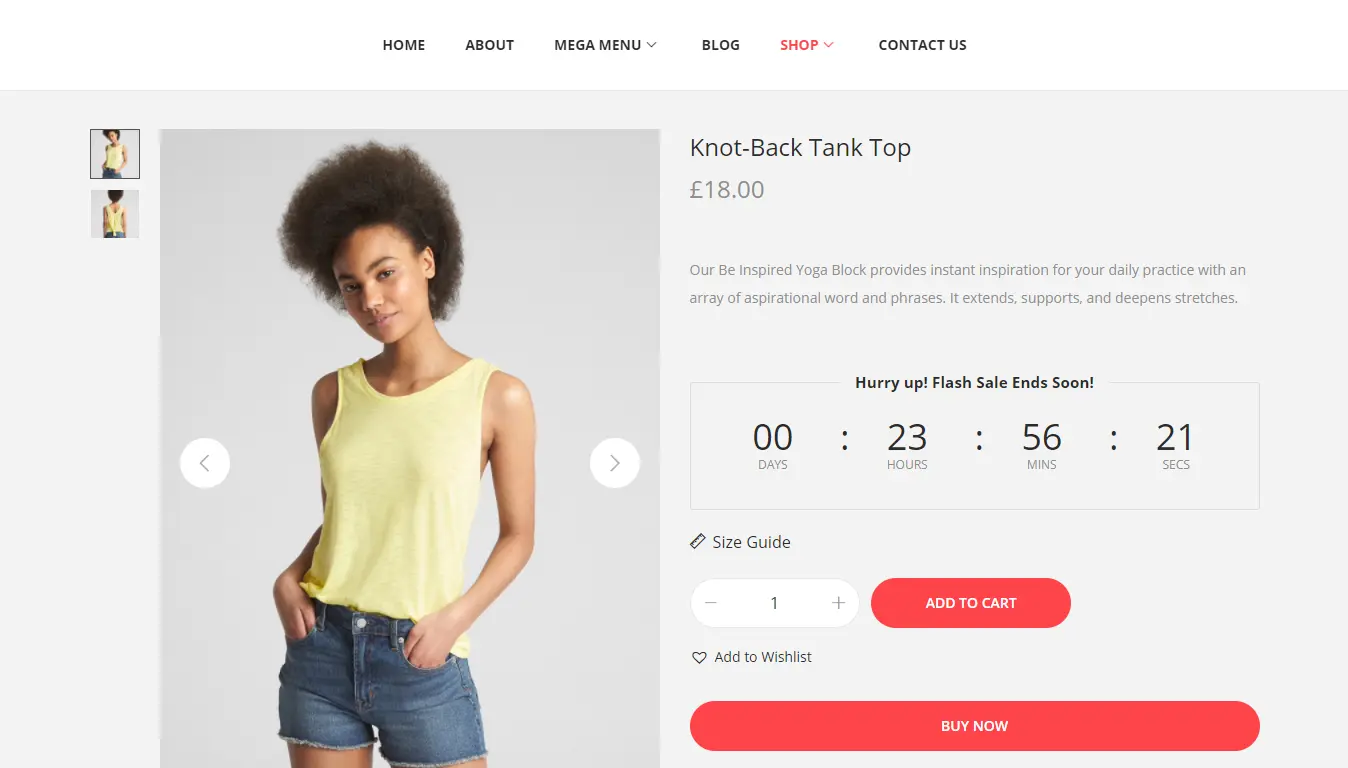 Buy Now Button
Woostify has implemented the Buy Now Button feature to help customers make a faster purchasing process. This function allows the buyer to move directly to the checkout page while skipping the shopping cart page.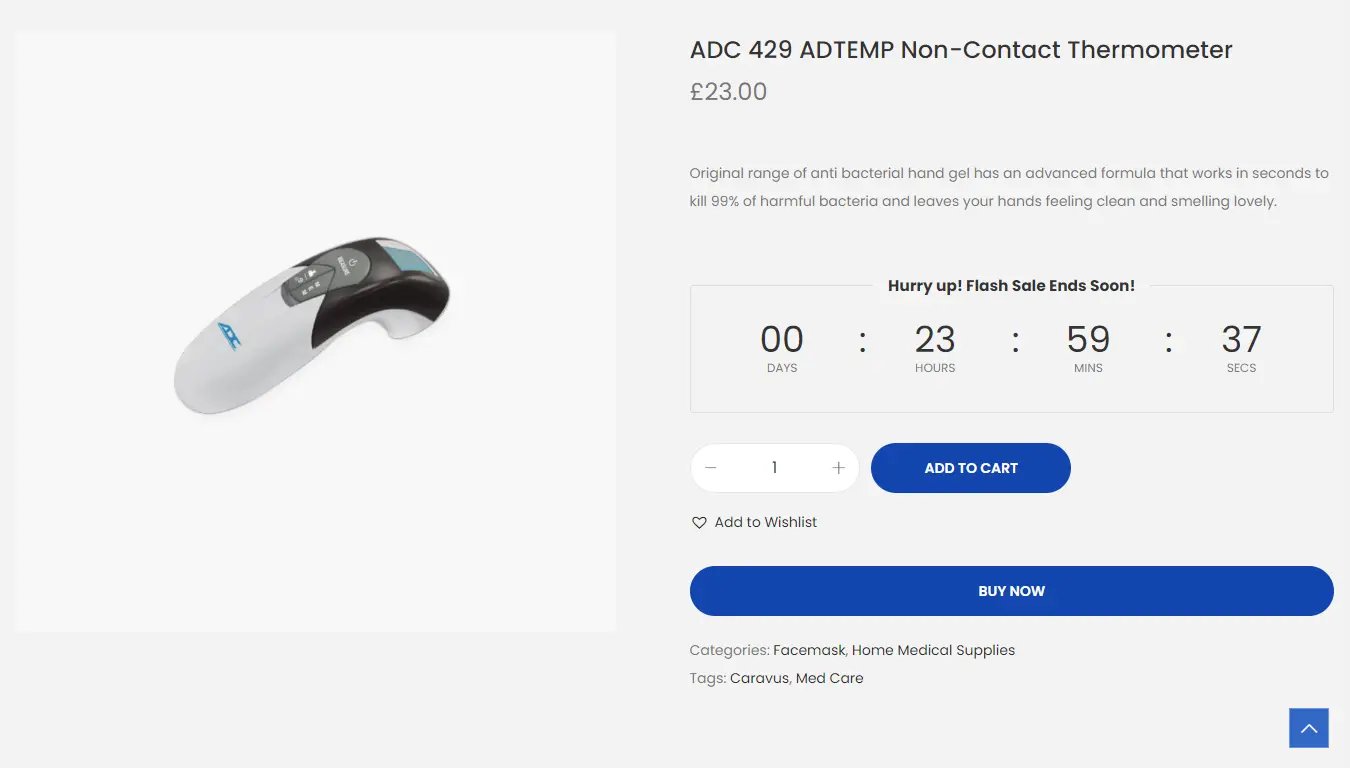 One-Click Demo
Woostify provides a one-click sample installation option. Therefore, after activating the theme, you can simply click "install Demo" to transfer all content in the starter site including home page, contact, about us, store pages, FAQs, etc. to your WooCommerce site. All of the procedures are immediately installed and enabled for you.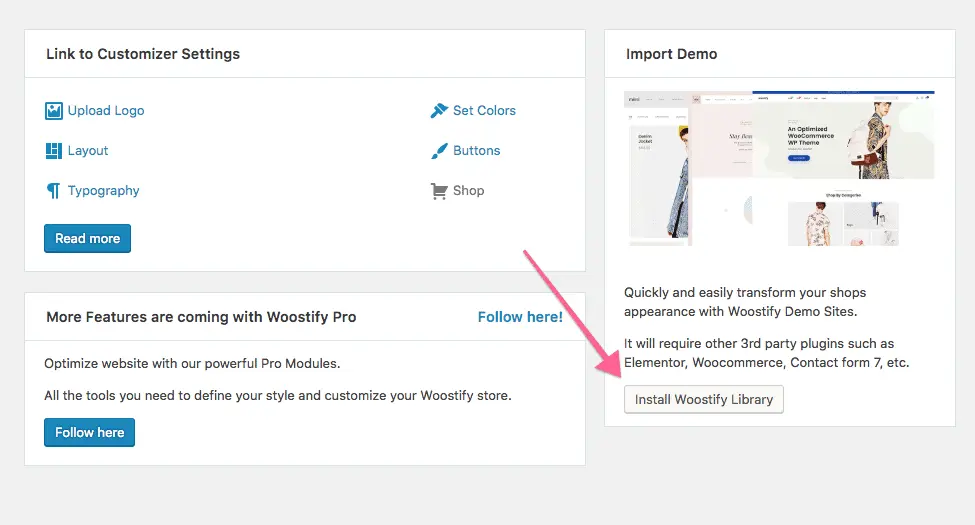 You may edit and adjust the content and style after importing the theme demo without having to start from scratch. This means you can simply launch a WooCommerce store with minimum technical knowledge and coding skills.
In addition to the outstanding features listed above, Woostify has released a lot of useful addons like: Smart Product Filter,
Pricing and Support
Currently, Woostify has both free and paid versions. For shop owners having a small online business, the basic Woostify features are able to solve their problems. But if you are planning to expand your business, advanced features are indeed necessary to increase the conversion rate and improve the user experience.
Woostify Personal – 1 site – $49 with one year of support and updates.
Woostify Professional – 3 sites – $79 with one year of support and updates.
Woostify Agency – Unlimited sites – $129 with one year of support and updates.
In addition to the features listed above, most Woostify customers feedback that their support team provides personalized and professional support via various means (live chat, ticket, and community) to all users, even free ones. This is really something for people who want to try the Woostify theme for their shops.
Woostify theme: FAQs
Is Woostify a good theme?
Woostify was created from the ground up to support WooCommerce, which accounts for its fast speed, responsiveness, incredible flexibility, and more. Its Pro version includes more than 15 smart add-ons that tackle various important problems.
What features does Woostify have?
Woostify includes a variety of useful features for any online store, including AJAX Add to Cart, AJAX Search, Mega Menu, Sale Notification, Size Guide, Elementor add-ons, Quick View, and much more.
Final thoughts
If you're searching for a WooCommerce WordPress theme that focuses solely on improving conversion rates and converting sales for your online store, Woostify should be your first choice.
The theme is created with the smooth integration of Elementor and WooCommerce, giving you complete control over the shop pages and the ability to make any changes you want. With Woostify's almighty features, you are now able to effortlessly create an online store powered by WooCommerce from the ground up without any programming skills.