Top 10 Best WordPress Testimonial Plugins
Are you finding the best testimonial plugins for your online store? Then you have come to the right place!
Testimonials and reviews are great ways to add social proof to your website and build trust among your users.
We have selected the top 10 best WordPress testimonial plugins that you should use on your website in this article.
Why Should You Use Testimonial Plugins for your WordPress sites?
WordPress review plugins allow you to easily add client and customer testimonials, feedbacks, and reviews to your WordPress sites. These plugins add social proof to your website and help you win new customers and increase sales.
You can add customers' feedbacks manually by copying them to your posts or pages. But, review plugins allow you to manage and display them beautifully in grids, sliders, carousels, and other beautiful layouts.
Based on the plugin you choose, you can even display photo testimonials, a short introduction, reviewer name, title, business, or star rating.
Top 10 Best WordPress Testimonial Plugins
Get your audiences' attention with real reviews submitted by customers who made purchases on your store.
Don't have reviews to show as testimonials yet? Do not worry! These are the top best WordPress Testimonial plugins that help you increase trust on your site.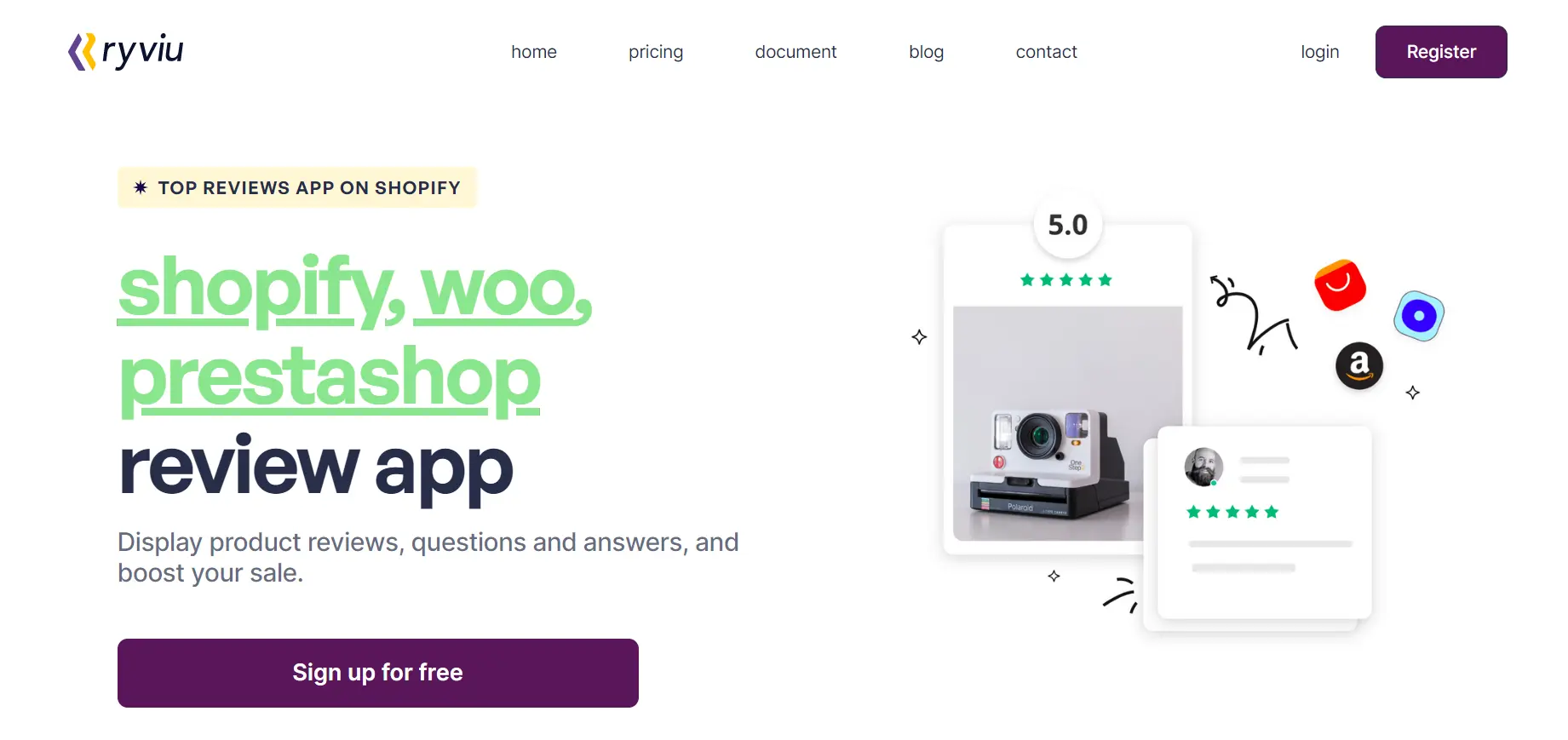 The first option in the list is Ryviu review plugin that allows you to generate, import, and manage all reviews on your WordPress eCommerce store. With Ryviu, you can import reviews from AliExpress or Amazon. The plugin allows you to import an unlimited number of product reviews with photos.
Once you have reviews on your website, you can recommend them as a testimonial anywhere on your website using the WordPress testimonials widget. As a result, your conversion rate can increase up to 30%.
Suppose you want to see how your testimonial campaigns are going. In that case, there is a lovely dashboard admin area that can provide you with up-to-date profiles of the success of campaigns.
Last but not least, Last but not least, you can write request review emails to send to the customer to collect testimonials. And the emails can be customized to suit your branding and requirements and will be delivered to those who purchased from you to ask for reviews.
Used by over three million users, WPForms is the best WordPress form plugin on the market. It can also be used to collect customer testimonials. Using this plugin, you get all your customers' reviews in one place and one format.
The unique Forms Template Pack Addon of WPForms includes the Testimonial Form Template, which allows you to get started quickly. You can adjust the form and any form fields that you need.
You can also add the option of uploading files to your testimonial form. In other words, your customers can upload files, such as their photos with your products or even a short video clip.
Site Reviews is a free WordPress testimonial plugin that allows visitors to submit reviews with ratings from 1 to 5 stars. Additionally, you can pin your most helpful reviews or testimonials so that they show up first.
You can also moderate new review submissions, approve them before they appear on your website. This feature helps protect you from unfair bad reviews. Alternatively, you can ask users to log in to your website for a review.
This WordPress review plugin allows you to respond to reviews, display summaries, etc., quickly. Lastly, the developers provide active support through the WordPress.org support forum.
Easy Testimonials allows you to import product reviews from your WordPress admin area. You can include a star rating, the role of the person, and the product/service they have used, as well as the review itself.
If you type in their email address, this plugin will automatically use their Gravatar image if they have one. The pro version also allows you to add a customer feedback form on your site.
Easy Testimonials includes five blocks for the Gutenberg editor. You can display testimonials using a simple shortcode, too.
Strong Testimonials is probably one of the most customizable WordPress testimonial plugins. It comes with many layout options, including endorsement sliders, grid layout, masonry layout, single-column layout.
It also provides a form for your customers to add their reviews and testimonials easily.
Suppose you have already received customer reviews on social media. In that case, the pro version can also embed reviews from Facebook, Yelp, Google My Business, etc.
Testimonial Basics is a comprehensive reviews management solution for your WordPress site. It includes a variety of sidebar widgets, display styles, and response forms for collecting user feedbacks.
If a user submits a review, this plugin will use Gravatar to retrieve their avatar. However, you can upload your photos manually from the WordPress admin area.
The WP Testimonial plugin is simple but highly customizable. It allows you to add customers' reviews and organize them into tags and categories easily.
After generating testimonials, you can present them with a shortcode. The shortcode comes with some parameters that allow you to customize the look of testimonials.
This WordPress review plugin includes a widget that has the same options as the shortcode, too.
BNE Testimonials is another easy-to-use alternative for adding customers' feedbacks to your WordPress website. It comes with a sidebar widget and a shortcode for you to display testimonials easily.
It has a slider and simple list layout for testimonials, inheriting your theme's style to display.
Testimonial Builder is a simplistic WordPress testimonial plugin. It has mere options and the ability to pick your own colors.
It also has draggable box items and lets you choose from different fonts, text colors, font sizes, and featured pictures.
The plugin has no slider or testimonial rotator, which means testimonials will be displayed in a list or grid style.
The Testimonial Slider plugin gives you a modern WordPress review slider with an enriched user experience. It comes with a slider as well as options for a simple list layout. Also, a front-end contact form can be added to get customer testimonials.
You can insert product reviews anyplace using a shortcode or sidebar widget. The testimonial slider is mobile-friendly and works well in any screen size.
WordPress Testimonial Plugins: FAQs
What is the best way to add testimonials to WordPress?
The best way to add testimonials to WordPress is by using a testimonial plugin. These plugins provide a user-friendly interface and customizable templates to effectively manage and display testimonials on your website.
How do I add testimonials to my WordPress plugin?
To add testimonials to your WordPress plugin, you need to incorporate testimonial management and display functionality within your plugin. This involves creating an interface in the WordPress admin area and designing the front-end display of testimonials.
What is the testimonial section in a WordPress plugin?
The testimonial section in a WordPress plugin refers to a specific component or feature that allows users to manage testimonials. It typically includes an interface for adding, editing, and deleting testimonials, as well as customizing the display settings.
What is a testimonial plugin?
A testimonial plugin is an extension or add-on for WordPress that facilitates the management and display of customer testimonials. It simplifies the process by providing features like submission forms, moderation tools, customizable templates, and flexible display options.
Final words
We hope this article can help you find the best WordPress testimonial plugins that suit your needs for your online store.
All plugins above have their strengths and weaknesses. However, Ryviu stands out for me, mainly because of its ease of use and comprehensive features, especially you are running a dropshipping store.