10 Best WordPress Community Plugins
WordPress offers a multitude of plugins designed to enhance community engagement and interaction. From discussion forums that spark lively conversations to social networking extensions that seamlessly connect members, the world of WordPress community plugins is both vast and impactful.
In this article, we'll explore the top 10 WordPress community plugins meticulously crafted to nurture and amplify your website's sense of community.
What are Community Plugins for WordPress?
Community plugins for WordPress are specialized add-ons that empower website owners to cultivate and nurture interactive online communities within their platforms. These plugins expand the core functionalities of WordPress by integrating features like discussion forums, social networking tools, user profiles, activity feeds, and more. With the ability to create spaces for meaningful conversations, seamless member interactions, and content sharing, these plugins enhance user engagement and foster a sense of belonging.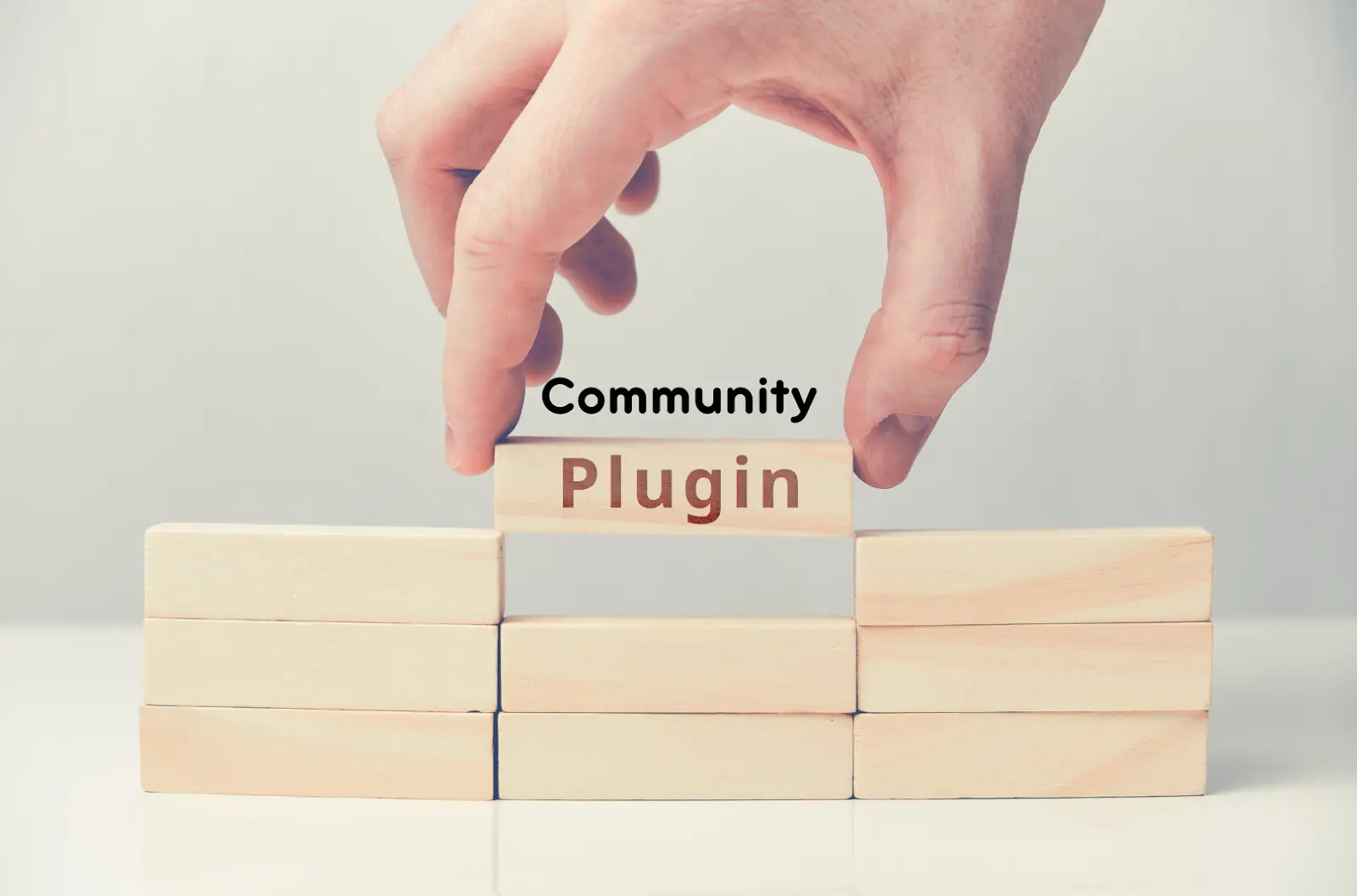 Whether building a niche forum, a membership site, or a collaborative network, WordPress community plugins provide the essential tools to create vibrant online spaces where individuals can connect, collaborate, and contribute.
How Do I Choose the Best WordPress Community Plugin?
Based on my experience, to choose the most suitable WordPress community plugin, you should consider the following important factors:
Features
Look for a plugin that provides a variety of community features such as joining groups, private messages, the ability to like, comment, follow/unfollow, and so on.
Filter functionality
Also known as search functionality, this allows users to filter members, pages, and groups by name, keyword, age, category, and interest, among other things.
Submission
The plugin should allow users of your community website to contribute posts, articles, and blogs without requiring them to log in to the WordPress admin.
Google Maps
A community plugin should provide a map integration option that allows users to share and browse locations, as well as find and engage with users based on location.
Monetization
The most significant element of a community plugin is its monetization option. This will allow you to charge the membership fee, subscription fee, online course fee, and so on to the members.
Integrations
It should also include PayPal and Stripe integration options.
Other things to consider are its ratings, downloads, reviews, current installs, compatibility, and upkeep.
The Best Community Plugins for WordPress
BuddyPress stands as a cornerstone in the realm of WordPress community plugins. With its user-friendly interface, it empowers website owners to create social networks and online communities effortlessly.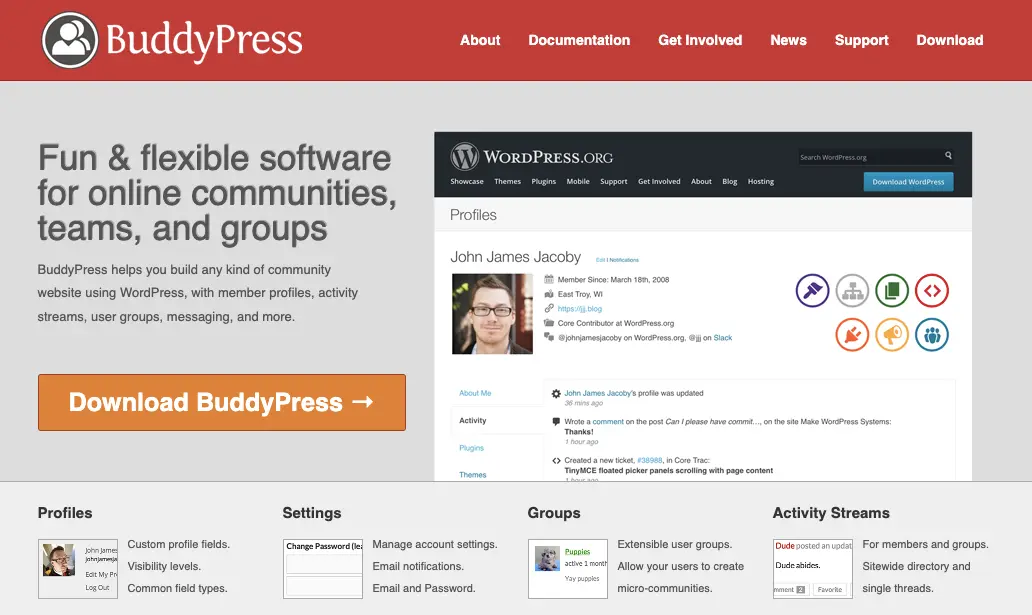 This plugin enables users to set up member profiles, create activity feeds, and establish group forums for discussions. From private messaging to friend connections, BuddyPress fosters meaningful interactions. Its open-source nature allows for extensive customization, ensuring the integration of unique features that align with specific community needs.
Key Features:
Member profiles with customizable fields
Activity feeds to track user interactions
Group creation and discussion forums
Private messaging and friend connections
Open-source framework for customization
Pricing: Starts at $179.5/year
MemberPress is a premium membership plugin that transforms your WordPress site into a thriving membership community. It allows you to restrict content access based on membership levels, granting exclusive content to your subscribed members.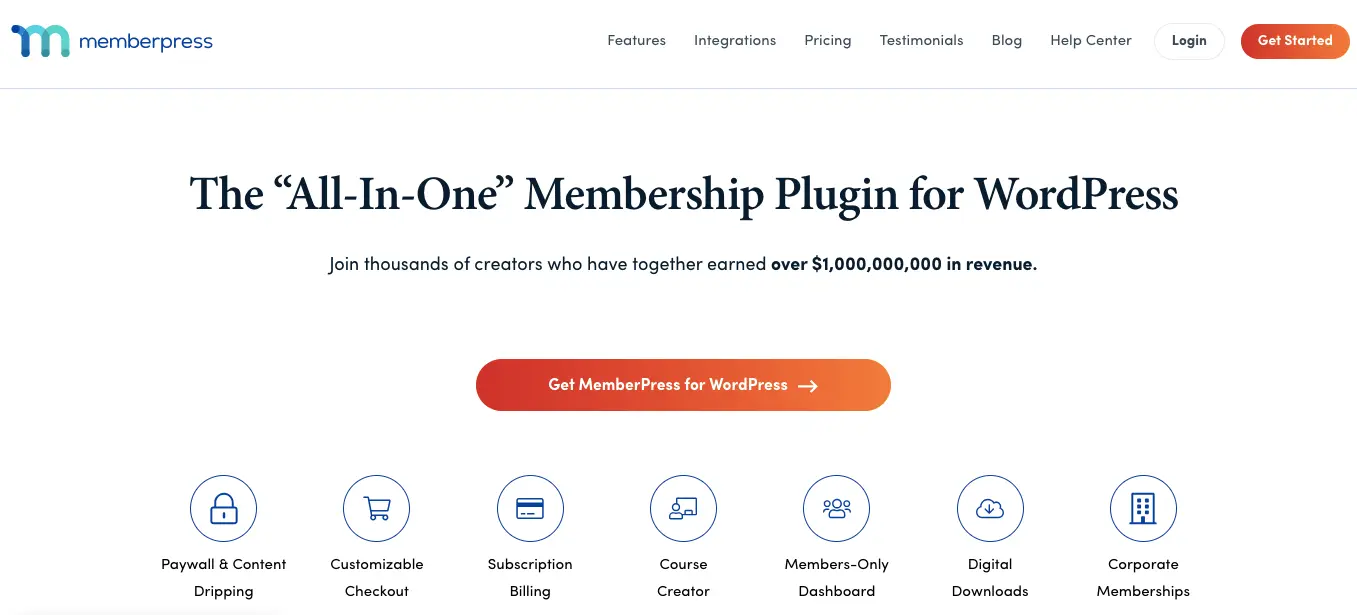 Besides, MemberPress provides robust content protection, making it an excellent choice for building premium content-driven communities.
Key Features:
Membership level management and content restriction
Integration with popular payment gateways
Flexible subscription options
Content protection and drip content feature
Detailed analytics and reporting
bbPress is another free, open source plugin that you can install on your WordPress site to turn it into a forum or community site.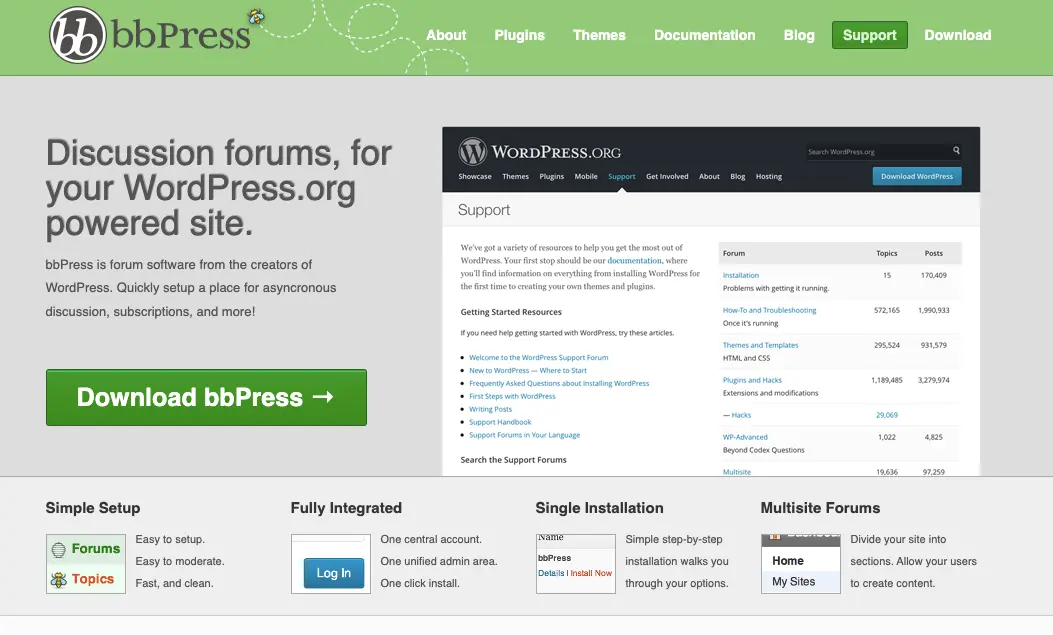 This plugin is well-supported and frequently combined with other themes and plugins for more complex forum capabilities.
Key Features:
Compatible with practically every WordPress theme
More than 12 languages are supported
Allow users to communicate privately
Customize notifications
Templates that can be customized
RSS feed spam protection
Pricing: Starts at $59 (one-time payment)
KLEO is a premium WordPress theme that doubles as a powerful community plugin. It offers a comprehensive set of features to create a community-driven website.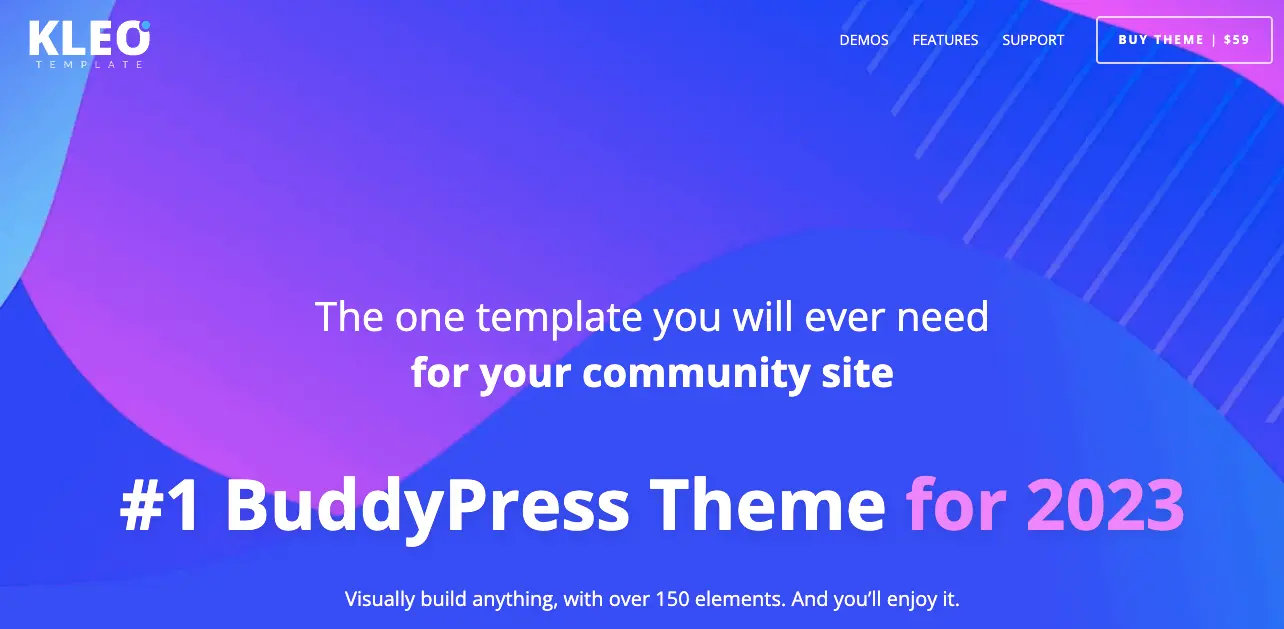 With its compatibility with BuddyPress and bbPress, KLEO provides user profiles, activity feeds, group forums, and more. Its customizable design options and pre-built demos make it an ideal choice for building community-based websites that are both functional and visually appealing.
Key Features:
Seamless integration with BuddyPress and bbPress
User profiles and activity feeds
Group forums and discussion boards
Customizable design options and pre-built demos
Responsive and mobile-friendly design
ProfileGrid is a versatile WordPress plugin that allows you to create comprehensive user profiles and member directories. It comes with a drag-and-drop interface that makes it easy to customize profile layouts.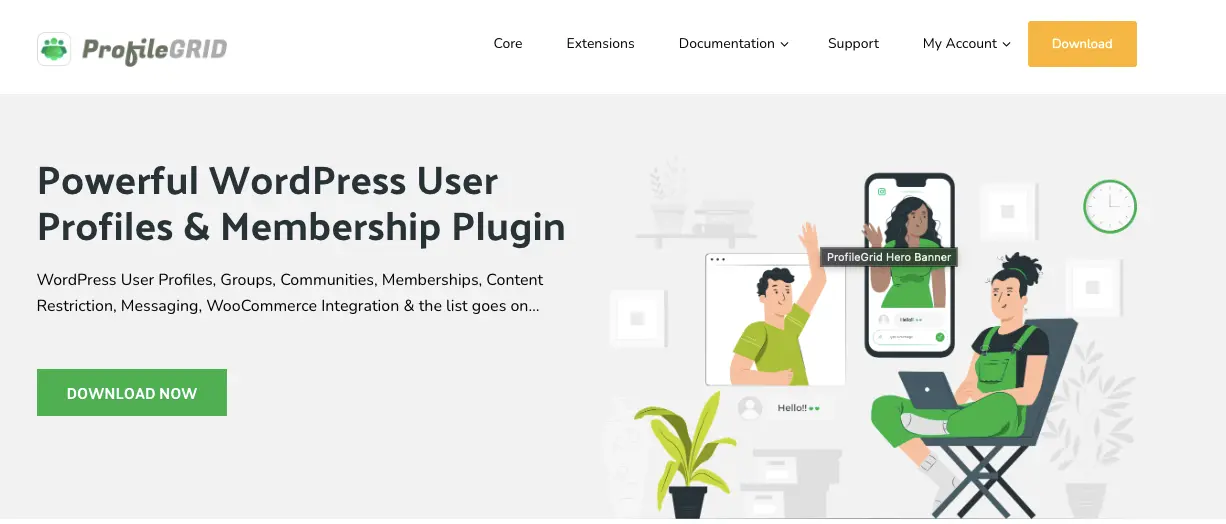 With ProfileGrid, you can build member directories, user groups, and custom registration forms. This plugin is suitable for a variety of community-driven websites, including social networks, professional directories, and niche communities.
Key Features:
Customizable user profiles and member directories
Drag-and-drop profile builder
User groups and member directories
Custom registration forms and login pages
Pricing: Starts at $39 (one-time payment)
UserPro is a feature-rich WordPress community plugin that enhances user profiles and interactions on your website.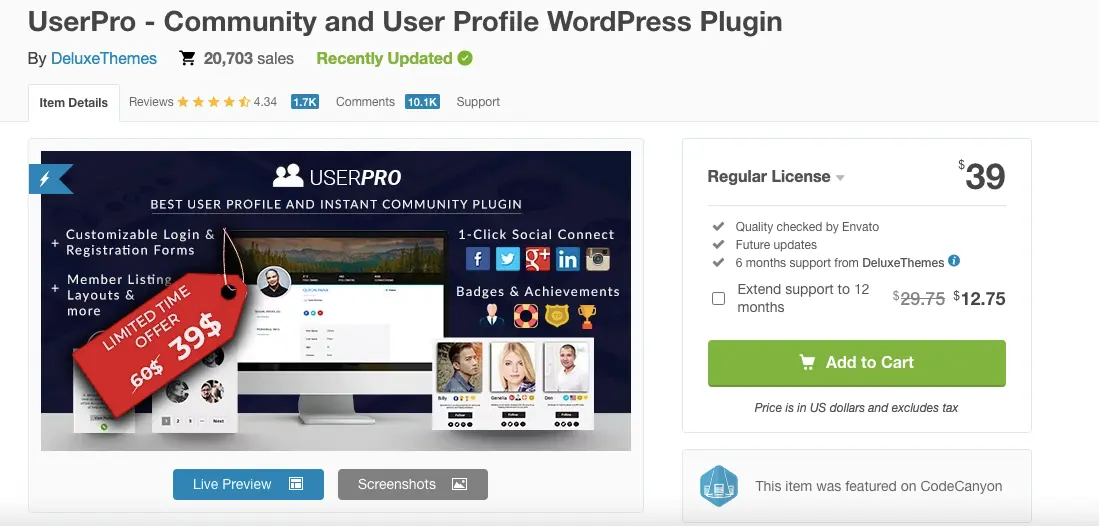 It offers a wide range of customizable options for creating attractive user profiles, member lists, and front-end registration forms. UserPro also includes a follow system, social media integration, and content restriction capabilities. With its extensive set of features, UserPro is suitable for building various types of online communities and membership sites.
Key Features:
Customizable user profiles and member lists
Front-end registration and login forms
Follow system and social media integration
Content restriction and private messaging
Pricing: Starts at $75 (one-time payment)
Woffice is a versatile intranet and community WordPress theme that transforms your website into a collaborative platform.

It offers features like project management, file sharing, event calendars, and more. Woffice focuses on facilitating communication and collaboration among members, making it ideal for organizations, teams, and educational institutions looking to create an interactive community space.
Key Features:
Project management and task tracking
File sharing and document management
Event calendars and announcements
Front-end editing and user profiles
Integration with BuddyPress and WooCommerce
Pricing: Free with premium add-ons available
wpForo is a powerful discussion board plugin for creating interactive forums and community-driven websites.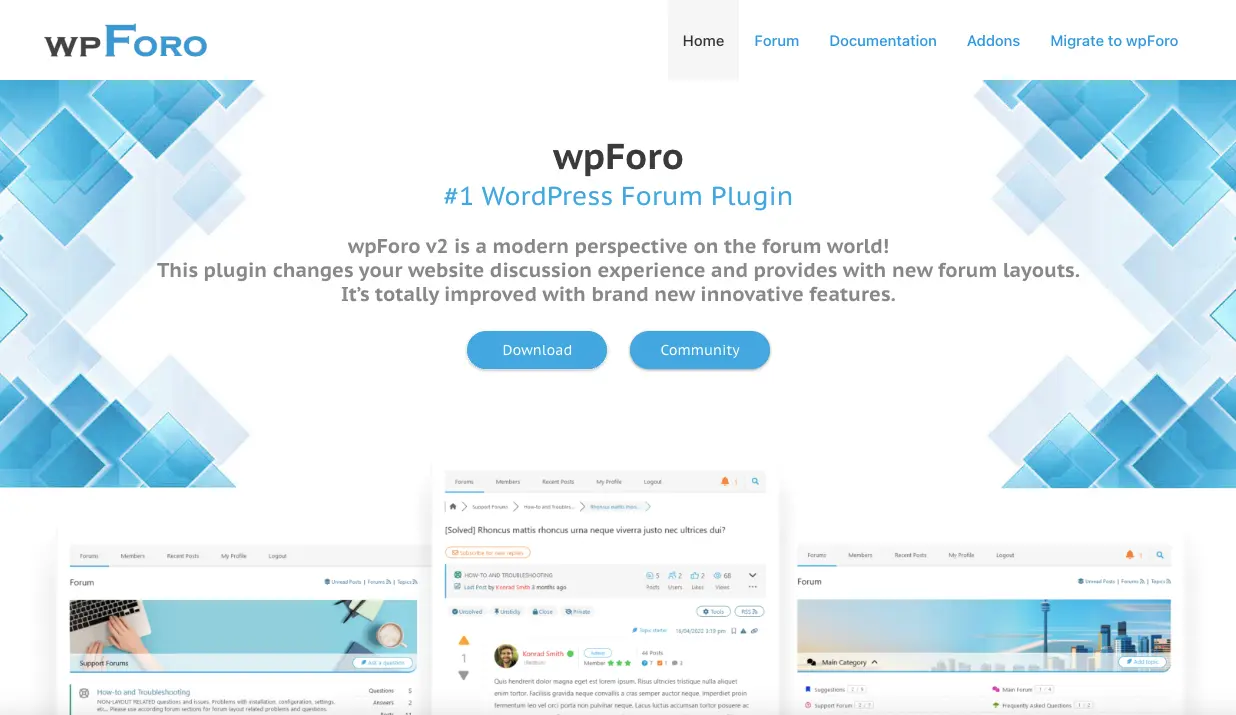 It offers a user-friendly interface with advanced features like topic subscriptions, private messaging, and user reputation systems. With its customizable design and layout options, wpForo allows you to create a unique forum experience that encourages meaningful discussions among community members.
Key Features:
Advanced discussion board features
Topic subscriptions and private messaging
User reputation and voting system
Customizable design and layout options
Ultimate Member is a comprehensive community plugin for WordPress that focuses on enhancing user profiles and interactions.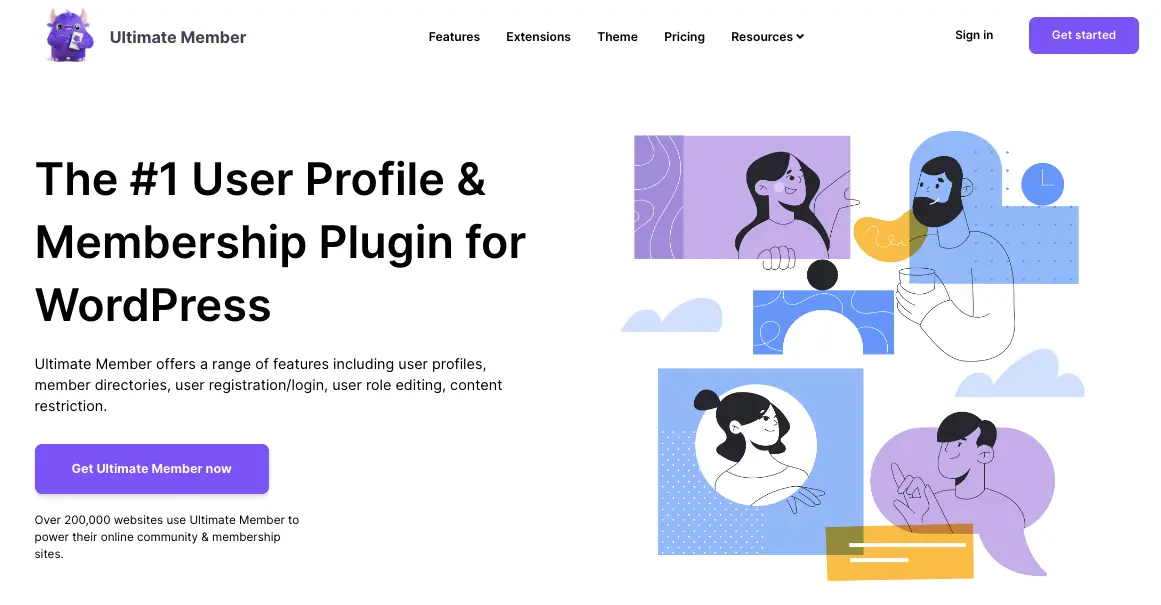 It offers customizable profile fields, front-end user registration, and social media integration. Additionally, Ultimate Member provides content restriction options, private messaging, and user directories. Whether you're building a social network, a membership site, or an online directory, this plugin provides the tools you need.
Key Features:
Customizable user profiles and profile fields
Front-end user registration and login forms
Content restriction and private messaging
Social media integration and user directories
Pricing: Starts at $19/month
Community by PeepSo is a premium social networking plugin that enables you to create a fully-fledged community platform.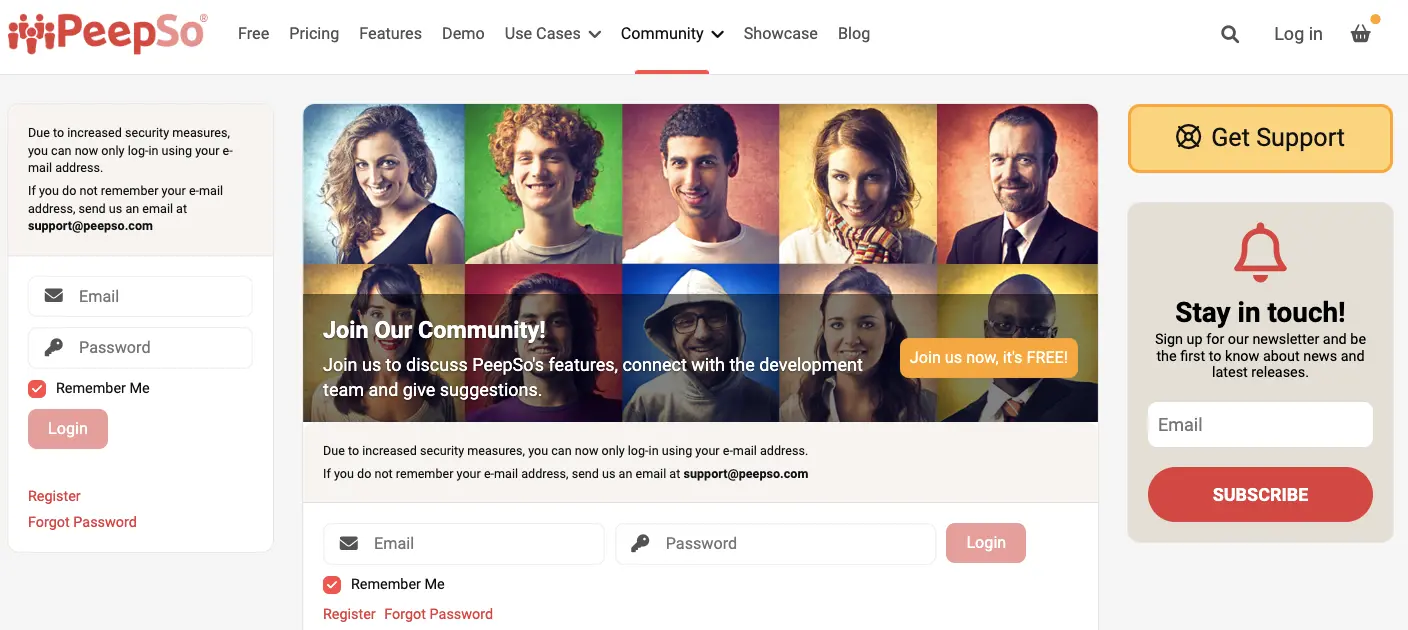 It offers features like user profiles, activity streams, private messaging, and group discussions. With its focus on user engagement, Community by PeepSo provides tools for gamification, file sharing, and media uploads, fostering a dynamic and interactive community experience.
Key Features:
User profiles and activity streams
Private messaging and group discussions
Gamification and badges system
Media uploads and file sharing
The world of WordPress community plugins is brimming with options that cater to various community-building needs. From enhancing user profiles and interactions to creating discussion forums and social networks, these plugins offer a diverse set of features to help you create engaging and vibrant online communities. Depending on your specific requirements and budget, you can choose from a range of free and premium plugins that align with your website's vision and goals.
WordPress Community Plugin: FAQs
What is community plugin?
Community plugins are WordPress plugins that add functionality to your site by allowing users to communicate and interact in a variety of ways with you or with each other. You might, for example, install a community plugin to add a forum to your website where people may upvote comments and earn points.
How big is WordPress community?
Real-time WordPress activity statistics shows that over 409 million individuals access over 20 billion WordPress pages each month, with over 70 million new posts and 77 million new comments.
Can you build a community on WordPress?
Creating a WordPress community forum is a terrific approach to establish a devoted, engaged audience and use the power of user-generated content. With WordPress plugins like bbPress, you can easily add a forum to your existing site or establish a totally new site entirely dedicated to your forum.
How do I add a community to WordPress?
How to create a community website or add one to your existing one (In 5 simple steps):
Step 1: Download and install the community plugin for WordPress.
Step 2: Create your own membership plans.
Step 3: Create a registration page for your community.
Step 4: Configure the rules and permissions for your site.
Step 5: Create a community login page.
Conclusion
Whether you aim to build a membership site, discussion forum, or social network, these plugins offer the tools to enrich user experiences and foster lasting connections.
The 10 best WordPress community plugins showcased here exemplify the platform's versatility in creating immersive, engaging, and user-centric spaces. From BuddyPress' seamless social networking to the advanced discussion forums of wpForo, each plugin brings unique functionalities to cater to diverse community needs. By harnessing the power of these plugins, you can transform your WordPress website into a thriving hub of collaboration, interaction, and belonging.