10 Best Chrome Extensions for Dropshipping with AliExpress
If you are going to do dropship with Aliexpress and using a browser that can install extensions from Chrome Web Store, then you have come to the right place!
In this article, you will find out the top 10 best AliExpress Chrome extensions that you should consider.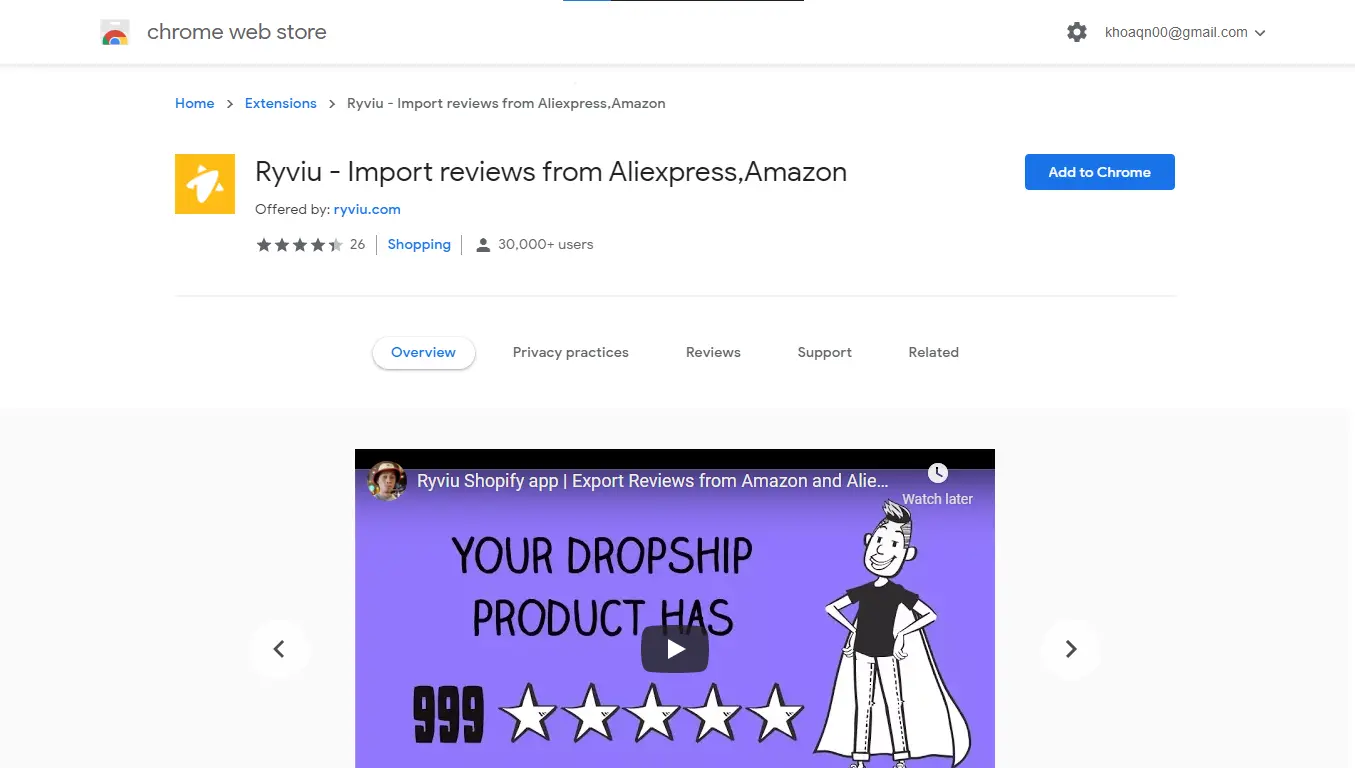 The Ryviu Chrome extension may be one of the most helpful tools you can use when dropshipping from AliExpress.
This extension helps you import product reviews from AliExpress with just a few clicks into the Ryviu Platform. This platform supports both Shopify and WooCommerce.
After installing it, open an AliExpress single product page for which you want to import the reviews. Then, click on the Ryviu Chrome extension on your browser. Paste the permalink of the product in your store in the field "Enter product handle manually". Finally, click the "Get Review" button, and you are done.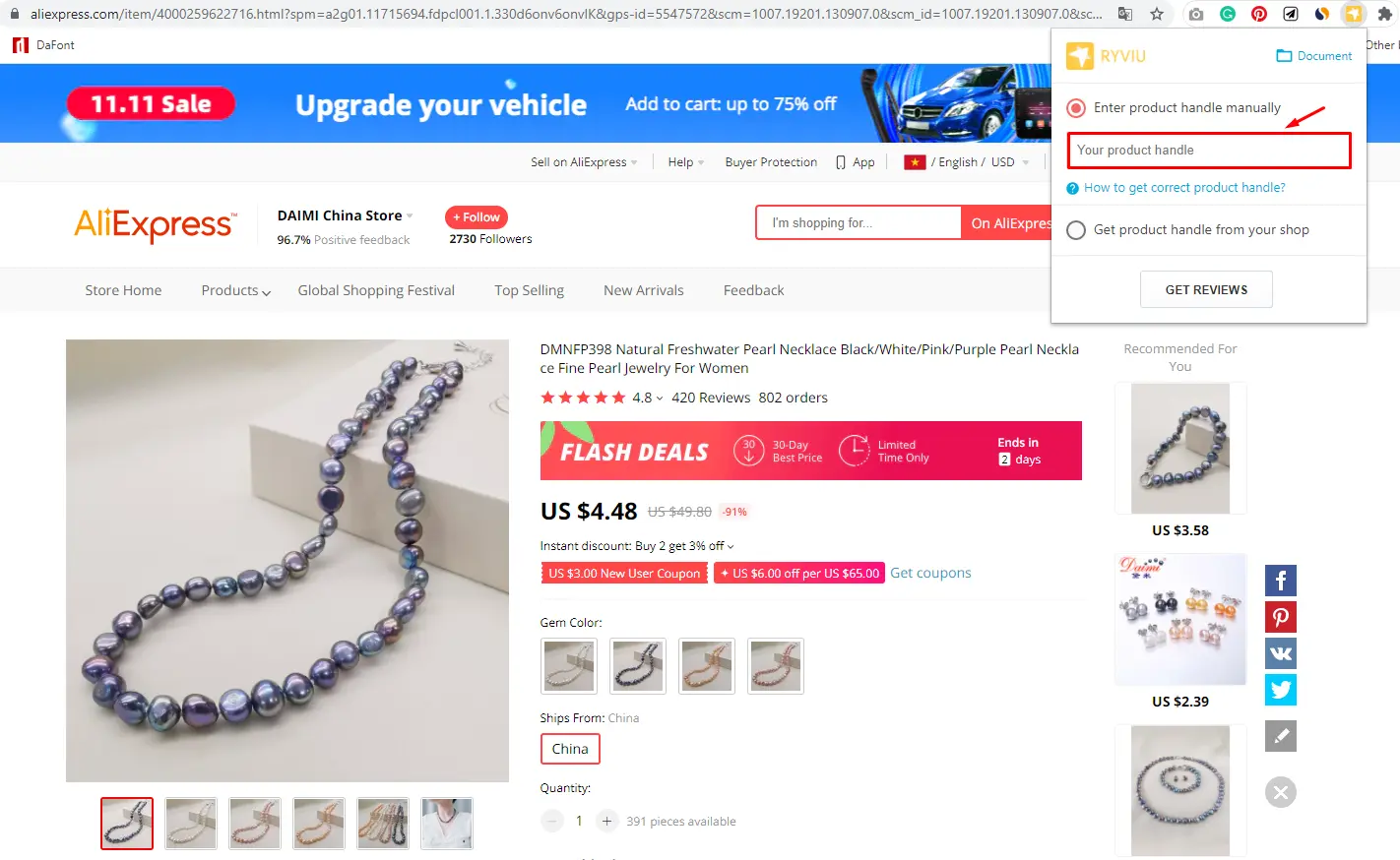 If you use Shopify, you can choose the "Get product handles from your store" option. After that, select the products you want to import reviews from AliExpress.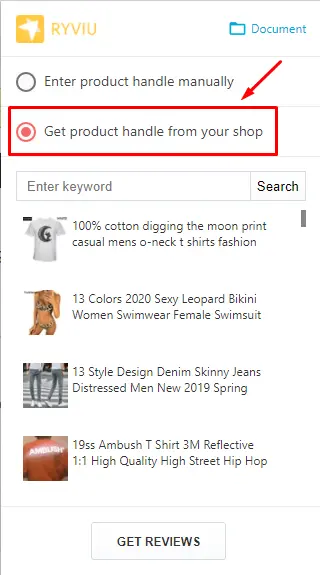 As you can see, this extension is fast and easy to use. With good reviews, your sales and conversions can be boosted up to 30%.
Some other valuable features are:
Import reviews by countries
Import photo reviews
Get reviews from many products
Disable empty reviews
Integration with Oberlo, Dropified, Expressfy, Zonify, Importify, Shopmaster Shop, etc.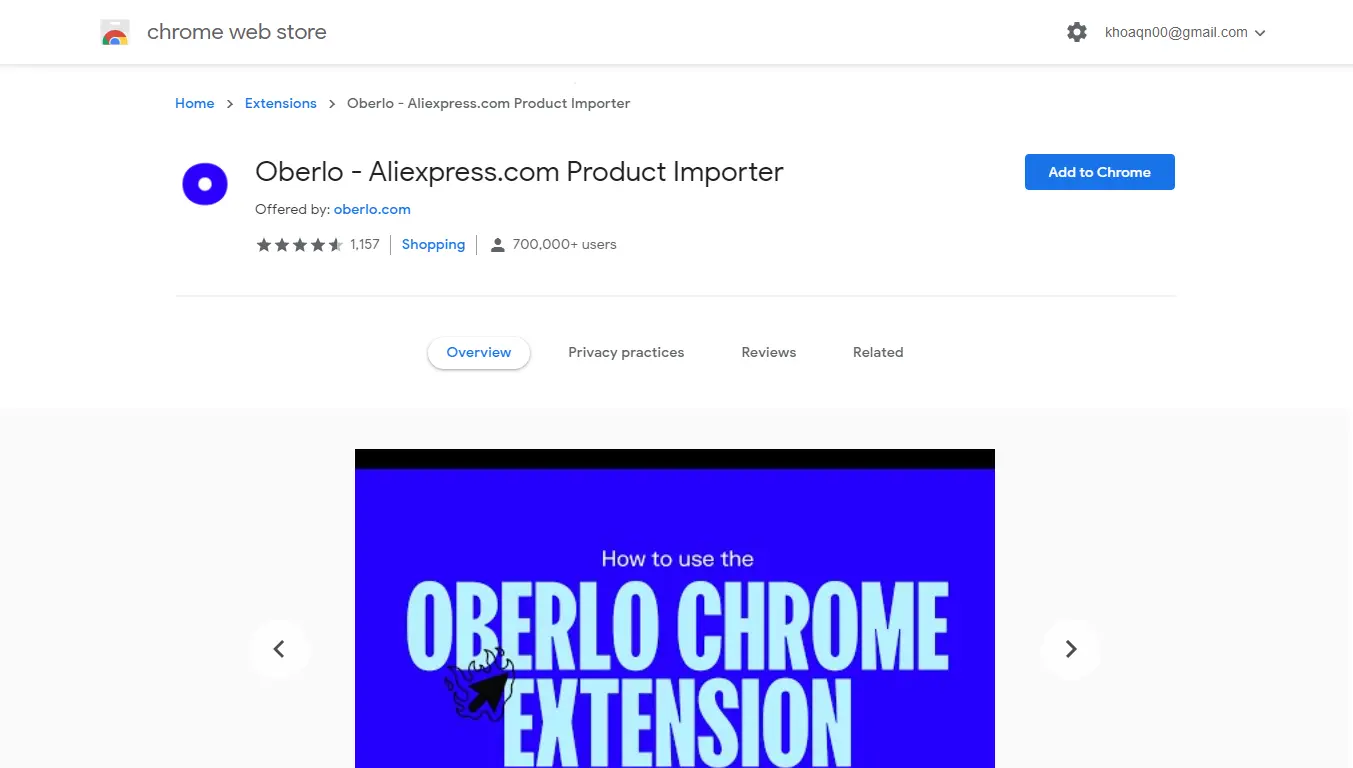 This is an excellent option if you are currently using Oberlo to add AliExpress products to your Shopify store.
After importing products, you can order them from AliExpress with an autofill payment form.
The Oberlo Chrome extension also makes it easy to see processing times and whether sellers have ePacket shipping available.
Lastly, the Oberlo extension also helps you link order details between your store and AliExpress to simplify bulk orders.
With the Oberlo AliExpress extension, you will not have to worry about packing and shipping. Instead, you can spend your energy on selling and growing your business.
Oberlo is not the only option to import AliExpress products, though. There are a lot of other product importer apps that are also really good. In case, you are creating a WooCommerce dropshipping store, you should go for other Oberlo alternatives for WooCommerce.
NOTE: Currently, Oberlo is not existing anymore. It is integrated with DSers to enables Shopify eCommerce merchants to enjoy an improved dropshipping experience with DSers in a matter of minutes.
So if you are running your dropshipping store with Oberlo, you have to migrate all data from Oberlo to DSers. If not, you need to choose other Oberlo alternatives.
The next option in the list of best dropshipping Chrome extensions is Spocket that has been created to make AliExpress dropshipping easier if you are using Spocket. It is called AliScraper.
Previously, their customers had to use another AliExpress Chrome extension to process their AliExpress orders. That is why they launched AliScraper, so their customers can easily import AliExpress products into their store while still using Spocket at the same time.
After that, the orders can be processed on the same dashboard as the Spocket orders.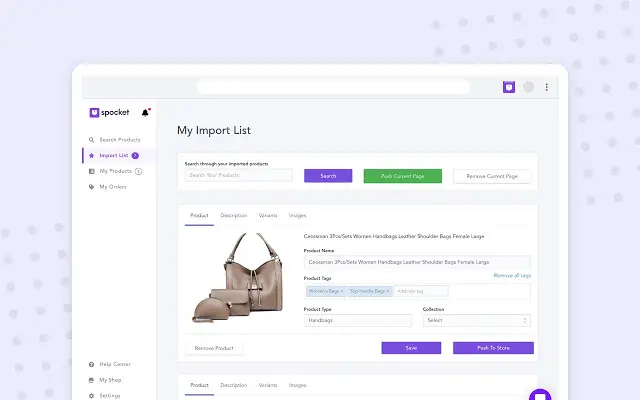 They also have a dedicated support team that works 24/7 to help you anytime with AliExpress dropshipping.
In short, if you are currently using Spocket and want to sell AliExpress products, this is the dropshipping Chrome extension for you!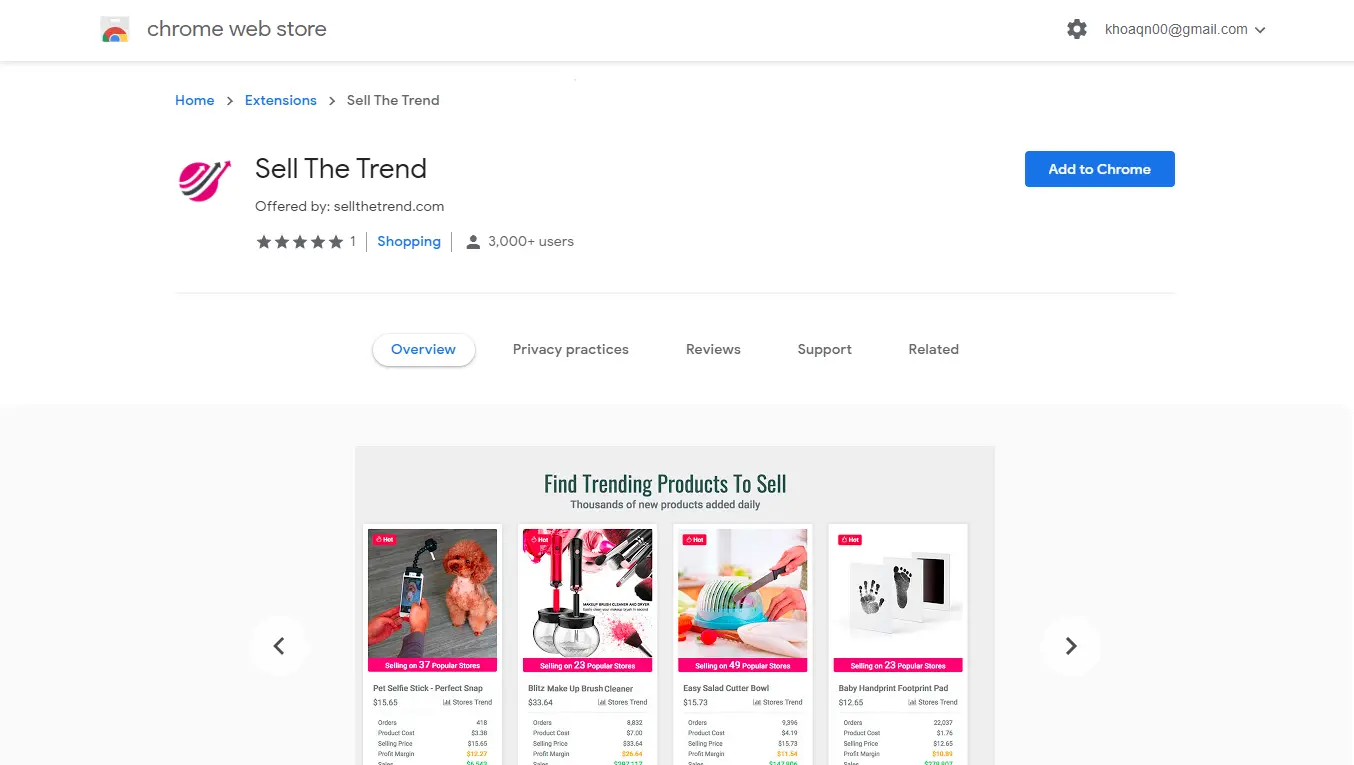 This is a great dropshipping Chrome extension that helps you import AliExpress products easily. After that, you can process the orders directly inside the Sell The Trend dashboard. Besides, they also offer 1-click order fulfillment.
You should use this if you already use Sell The Trend to research products, so everything is easily accessible in one place! (Similar to Spocket above)
In case you do not know, Sell The Trend is an app that helps you automate your entire dropshipping eCommerce business easily with their AI technology.
Whether you use Shopify or other platforms, they will connect you with vendors and show you actual trending products with complete descriptions and images.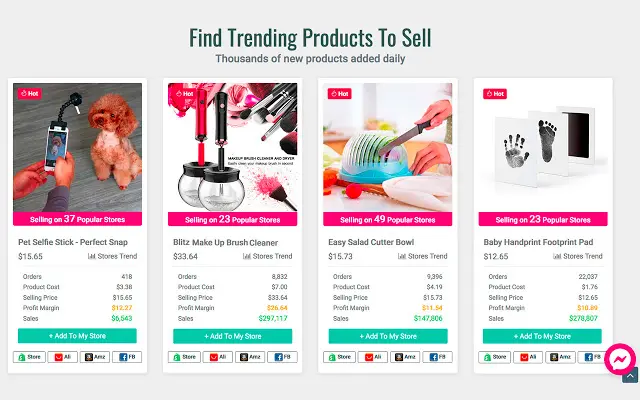 The great thing is that they keep adding new features to the extension. They started out supporting only Shopify, but recently they also support integrating with WooCommerce.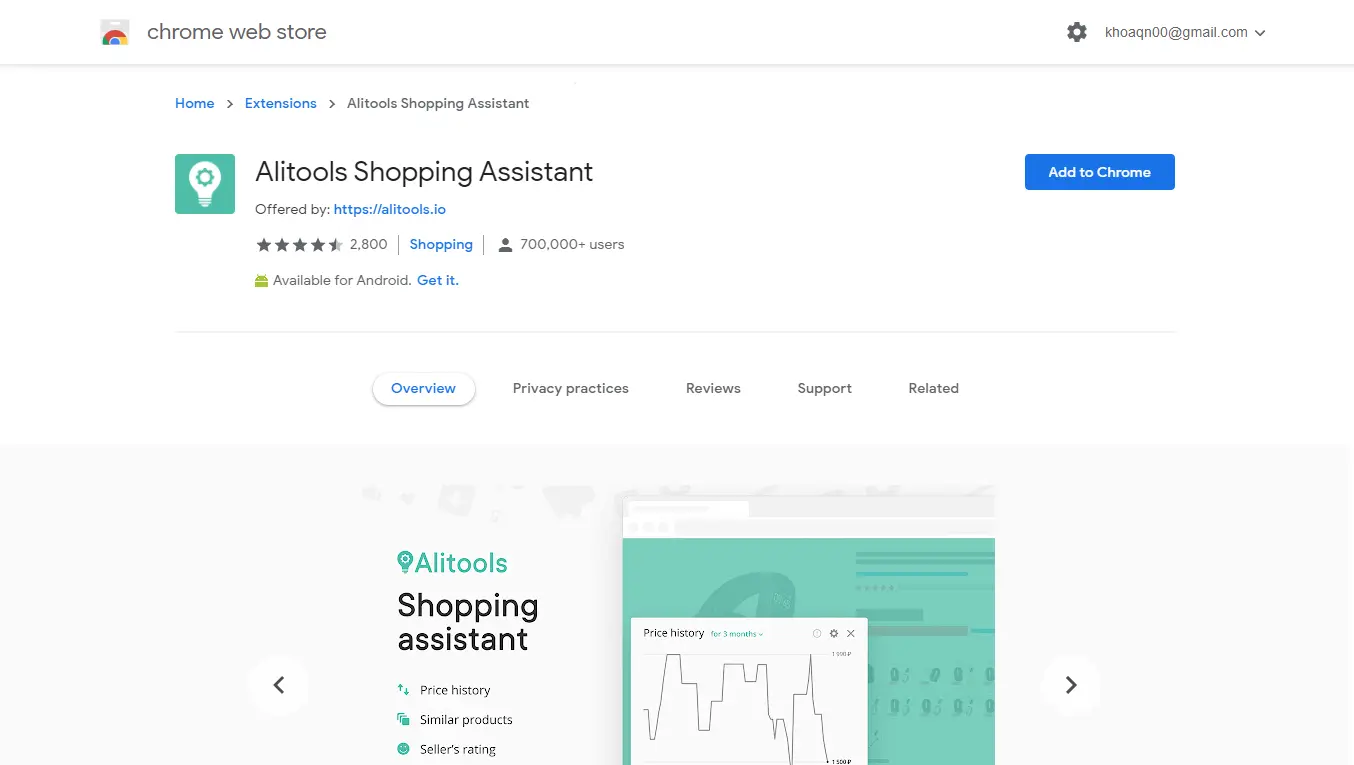 This dropshipping Chrome extension will not be the one to help you process orders. Instead, it assists you in choosing the appropriate AliExpress dropshipping suppliers.
With the Alitools extension, you can see a large amount of data about AliExpress sellers. For example, you can view the price history of their product.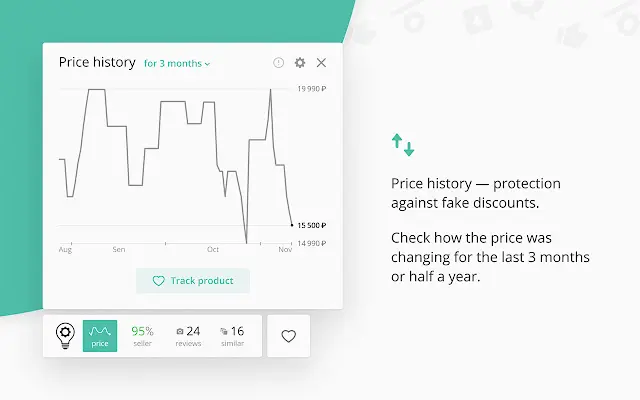 Another great feature of this Chrome AliExpress extension is that it can help you find sellers on AliExpress if you have a product picture.
Keep in mind that there may be better AliExpress suppliers selling that product. Still, it is an excellent tool if you cannot find it yourself and are guessing whether it is sold on AliExpress.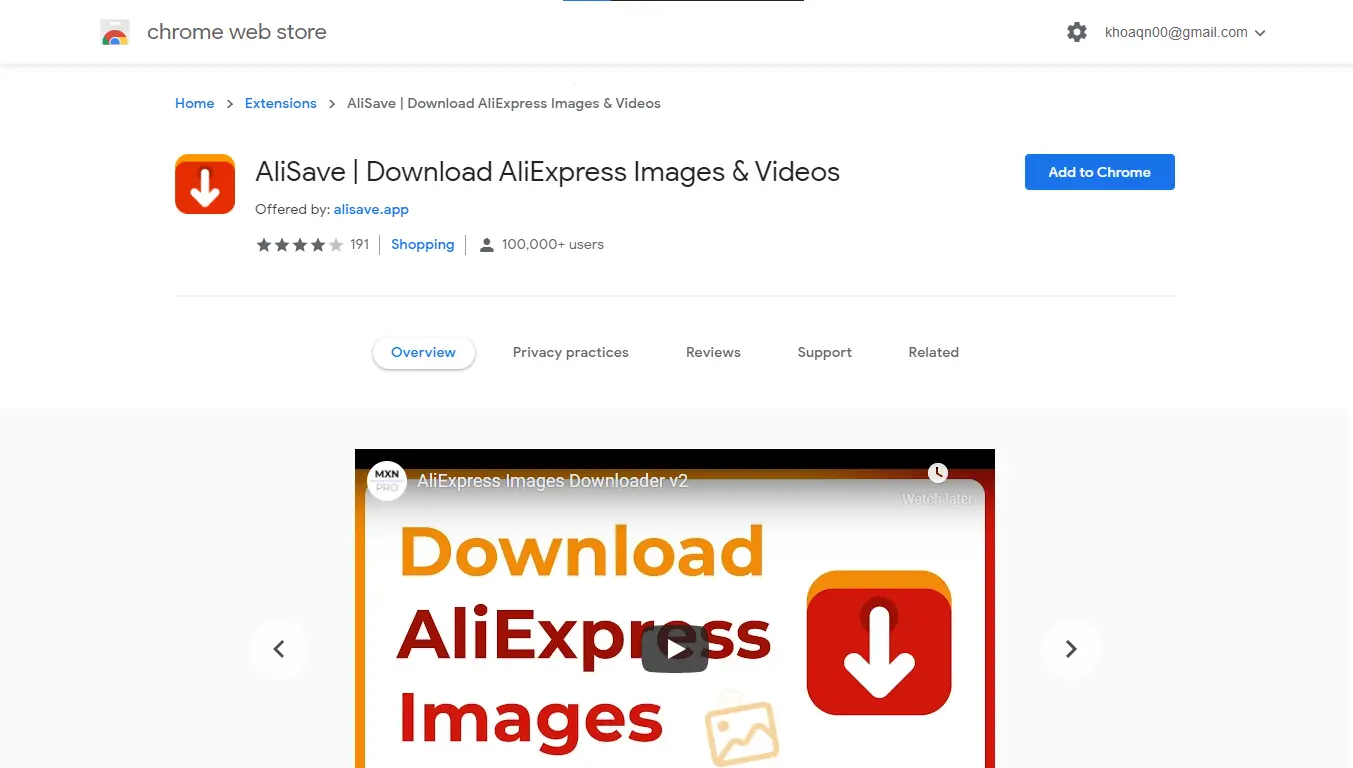 With this AliExpress Chrome extension, you can easily download AliExpress videos and photos in high resolution with just a few clicks.
Once activated, it will add small buttons to AliExpress product pages. You can quickly click one of them to select and download AliExpress product images or videos you want.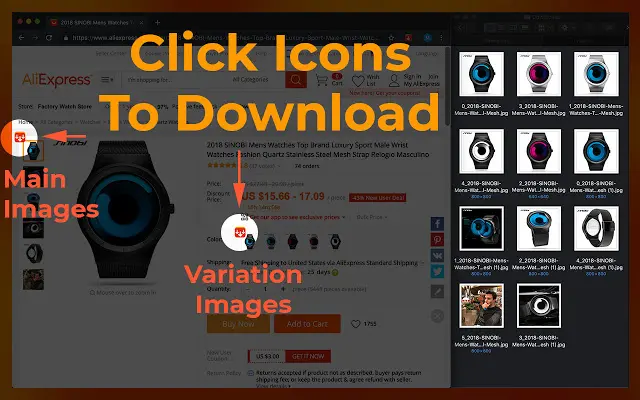 After downloading, you can use them on your Shopify and WooCommerce store.
This AliExpress image downloader extension also helps you organize downloads with subdirectories and remove image metadata if needed.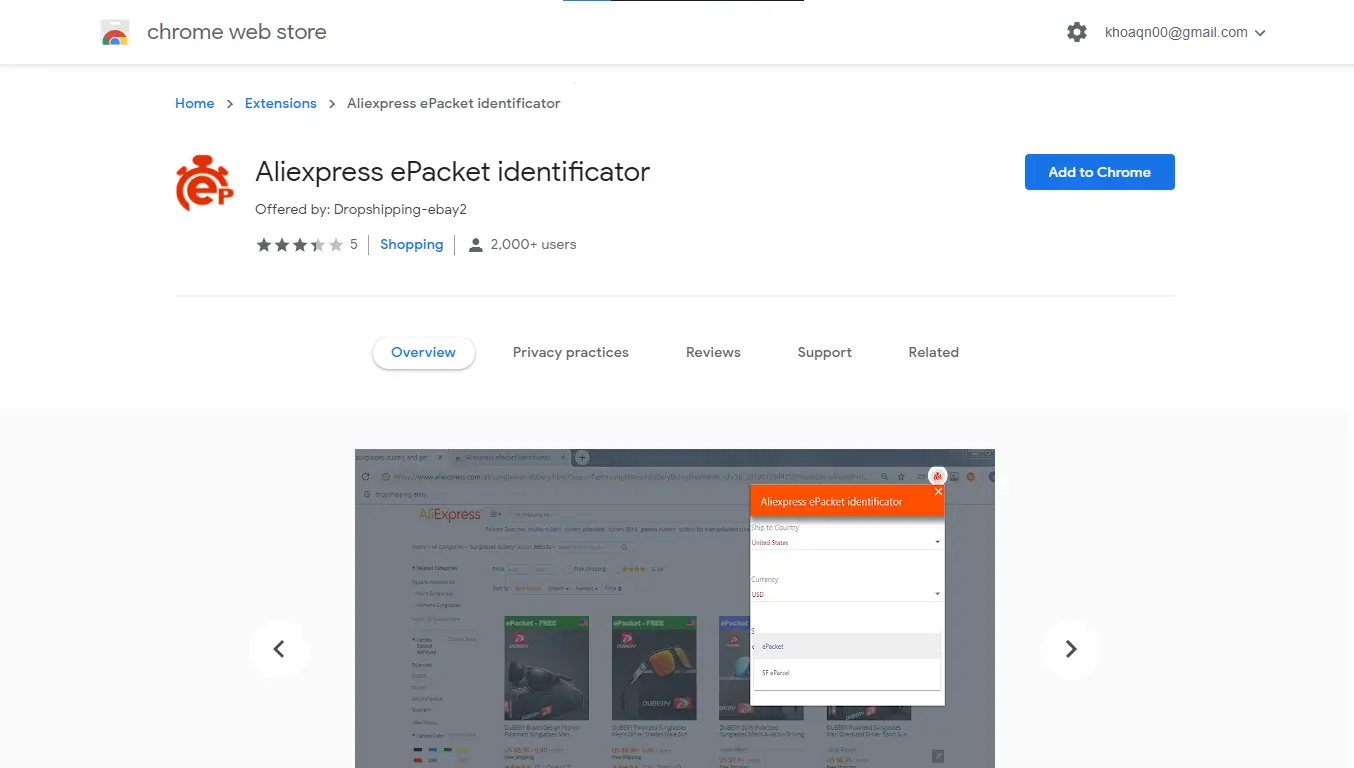 This AliExpress ePacket extension can help you determine if a product is eligible for the ePacket shipping method without opening the product's page.
With it, you can easily tell if a seller uses ePacket and if it is free because the extension categorizes them by colors.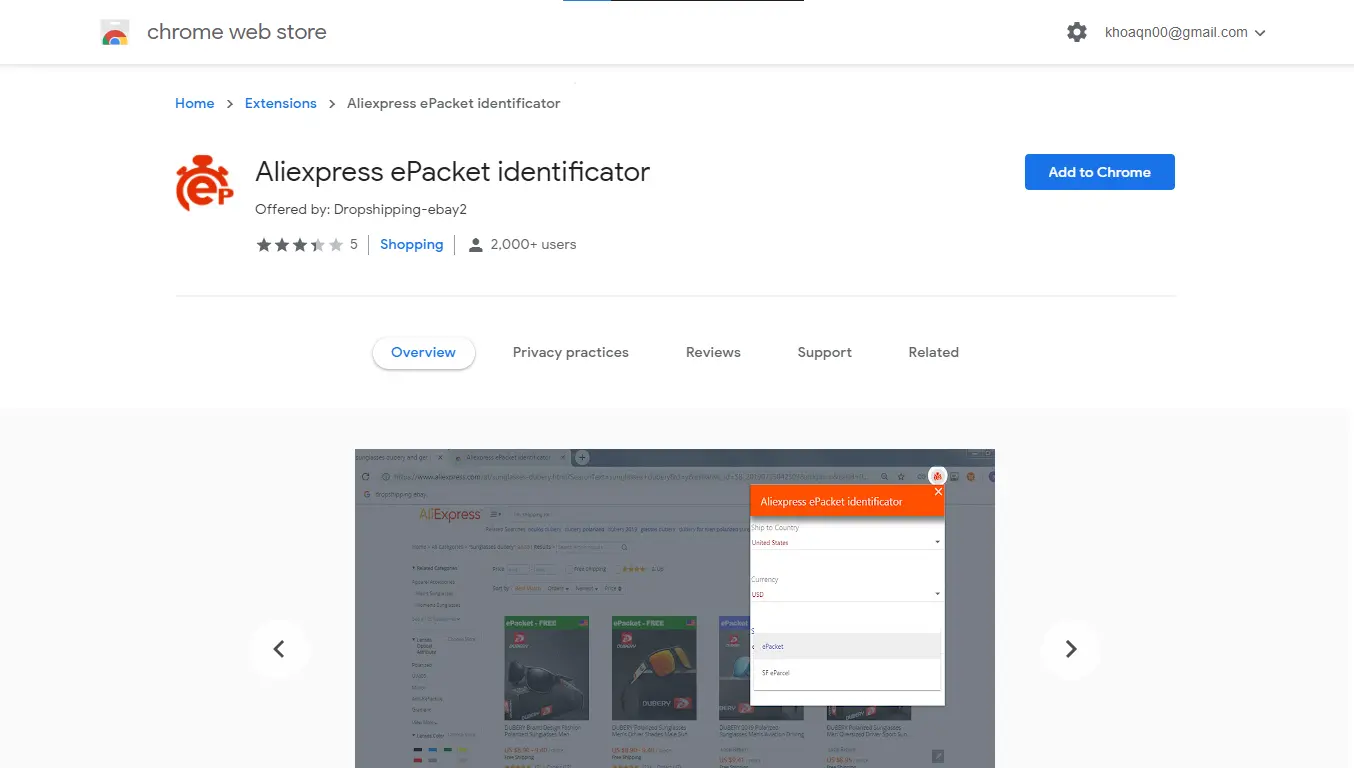 Free ePacket: Green color
Paid ePacket: Blue color
No ePacket: Red color
You can also determine if a product offers SF eParcel. This is also a fast and cheap shipping company for some countries.
We recommend you work with products that have ePacket or SF eParcel as the shipping methods.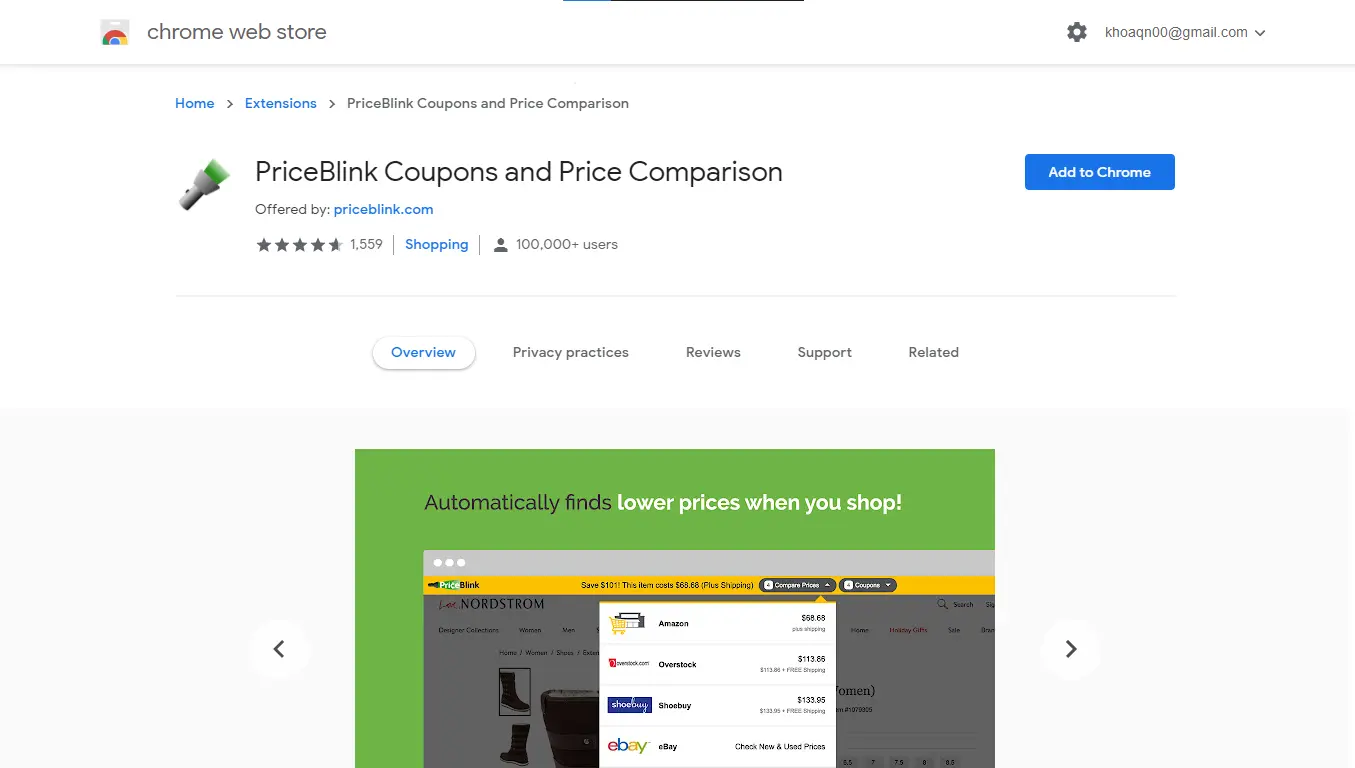 PriceBlink is an extension that will show you if there are any coupons available. You can use it on many eCommerce platforms, including AliExpress.
Using PriceBlink, you can get up to 40% off and sometimes more, depending on the coupon.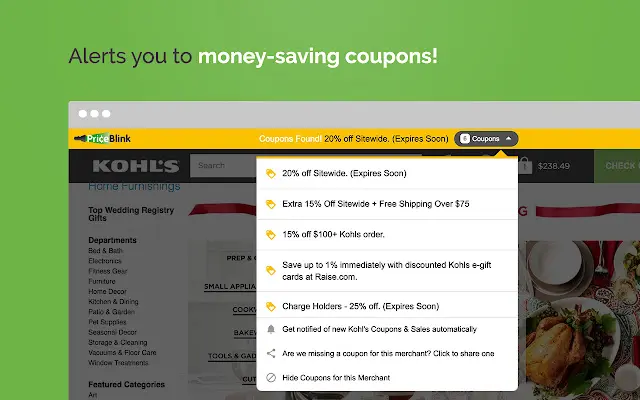 It also lets you know if you have found the lowest price on a product or if you can find a lower price at another retailer. And for many products, PriceBlink displays aggregate user ratings.
We recommend that you always use this to check if any sellers are selling for a lower price or any coupons are available before processing the order.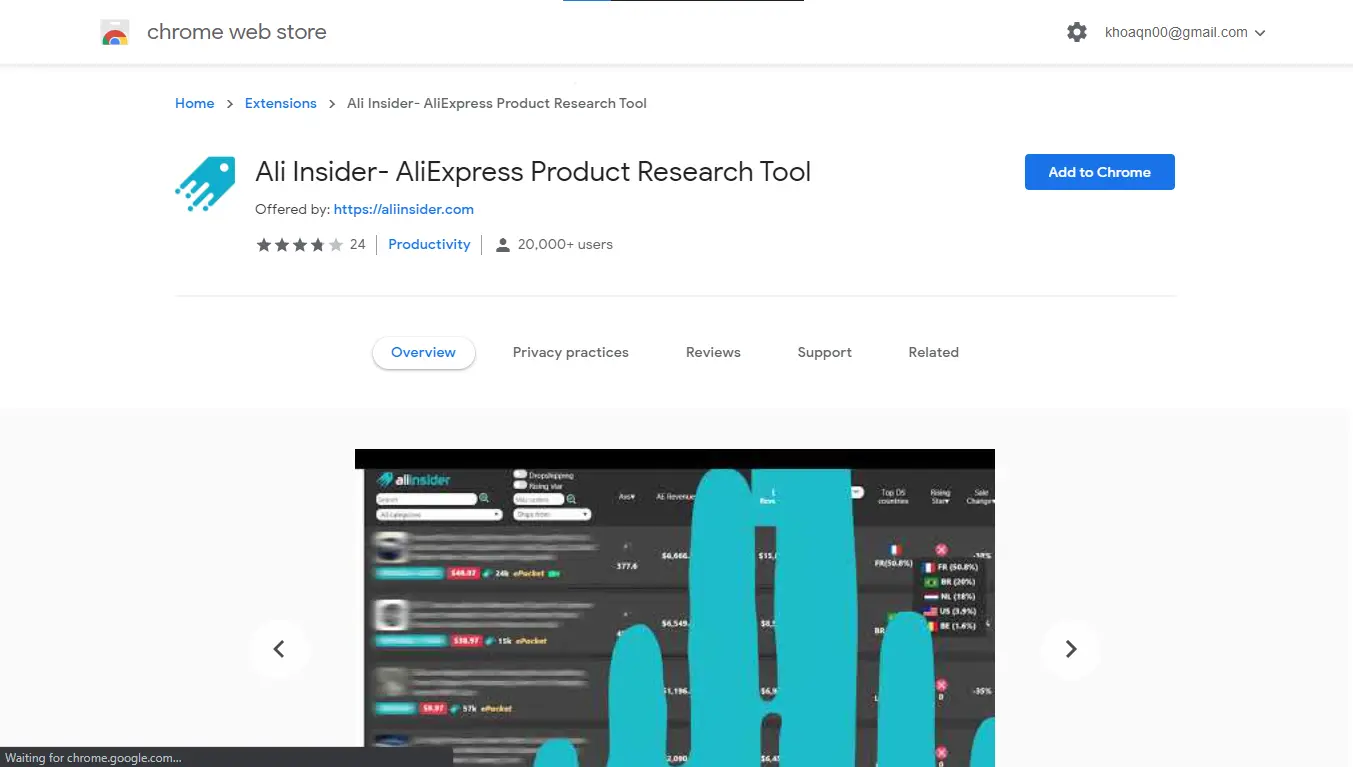 Ali Insider is another free yet powerful dropshipping Chrome extension.
This is one of the best dropshipping product research tools that helps you research and analyze any AliExpress products, including average daily sales, sales trends, price history, logistics, and suppliers.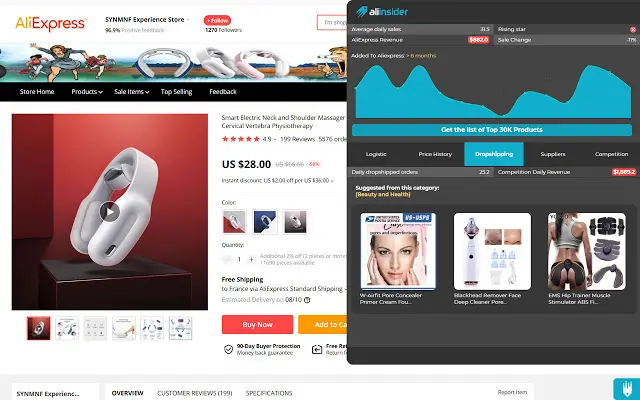 You also get a list of new trending products with few competitors to start dropshipping right away.
Furthermore, you get access to a list of your competitors on Shopify, Amazon, and eBay for any items.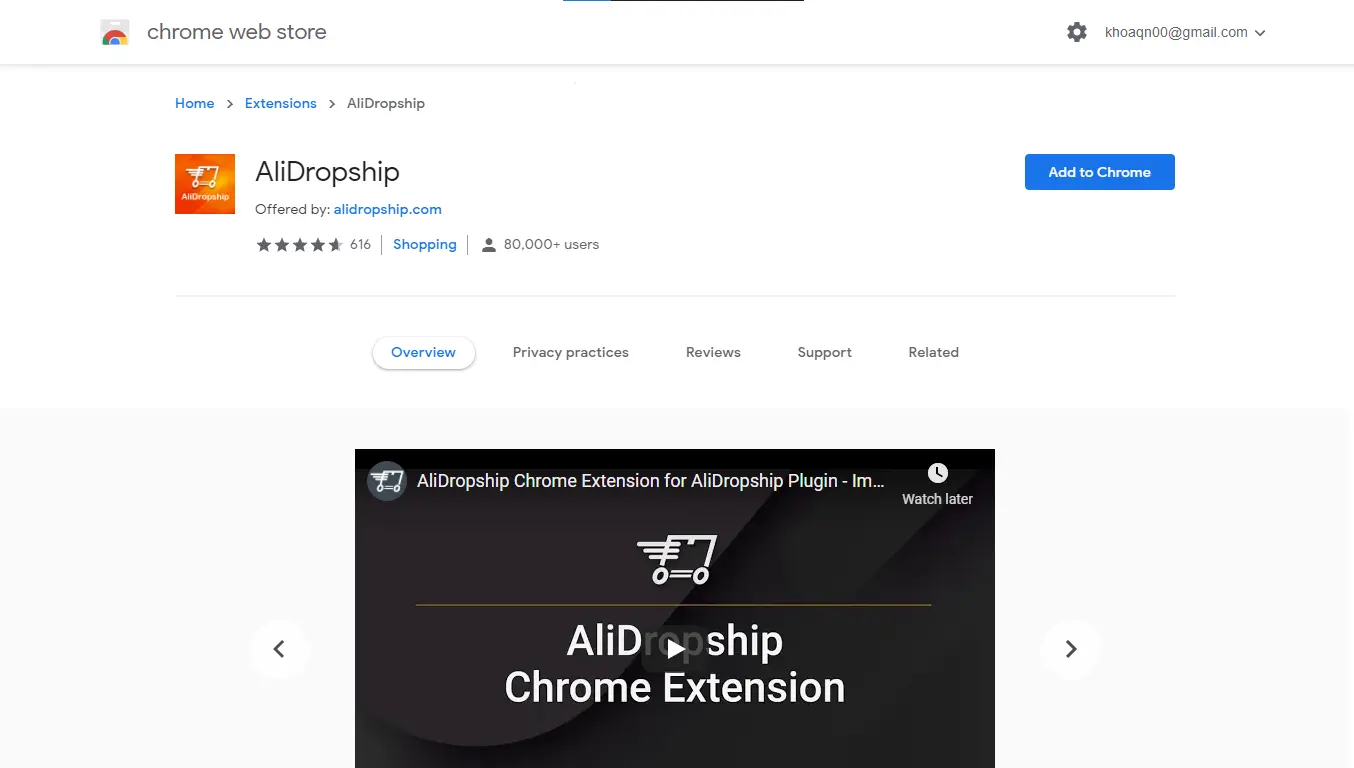 Besides Shopify and WooCommerce, AliDropship is another powerful tool you can use to create full-fledged dropshipping stores.
With the AliDropship Chrome extension, you can import AliExpress products directly into your online store.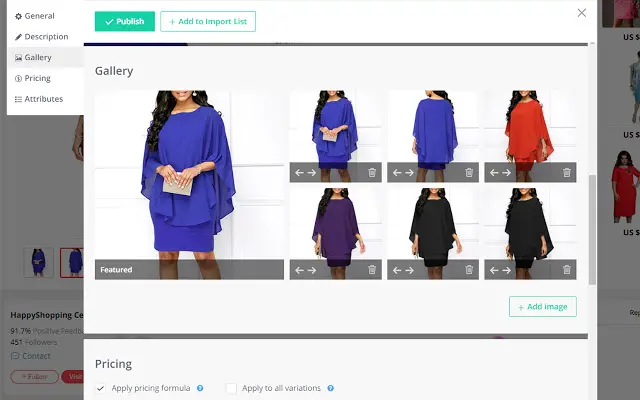 You can also use it to view product price history and search for similar items with lower prices for extra profit.
Additionally, the extension has a built-in store rating and photo review previewer for you to gauge sellers' credibility.
Lastly, you can filter for AliExpress products that have the ePacket shipping option.
Conclusion
From product import, product research to coupons, we have provided you with a relatively complete list of all the best AliExpress Chrome extensions.
With the help of these tools, you can gain huge advantages over your competitors and earn a lot of profits.