Dropified Review - All You Need to Know About Dropified
Dropshipping has been becoming a big industry in recent years. People have called it a get-rich-quick scheme, while others see it as an affordable way to start their own business.
Whatever the reason, many companies have sprung up to help you - a budding entrepreneur - start your own businesses. And one of the most popular solutions at the moment is Dropified.
In this Dropified review, let's find out what features you will get and know whether Dropified suits your requirements or not.
What is Dropified?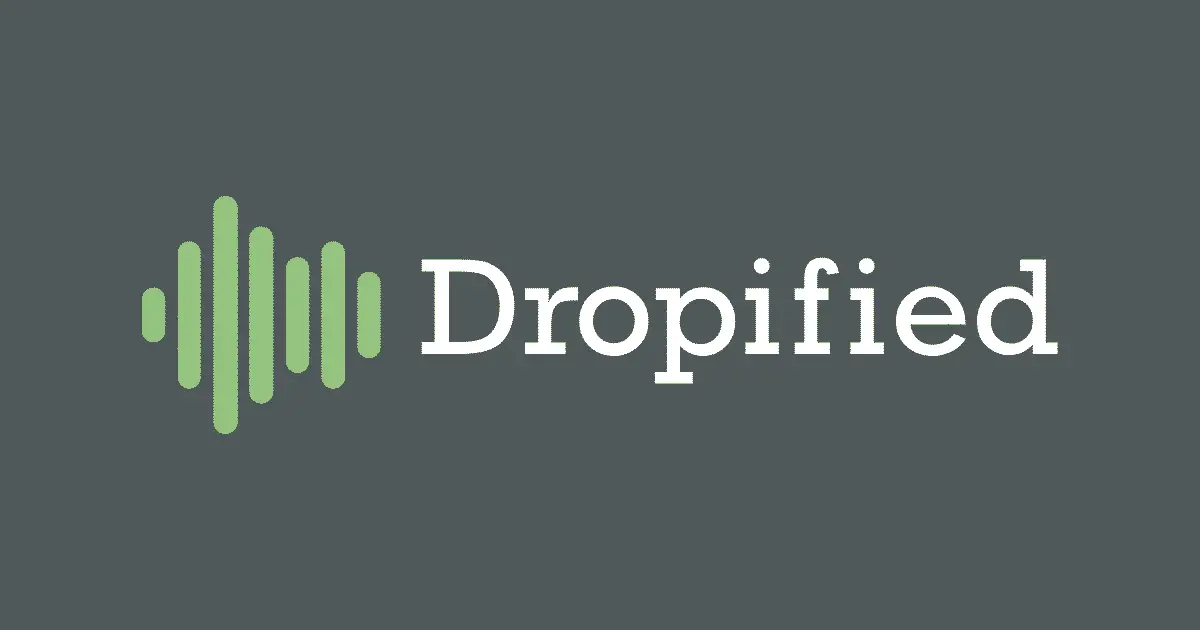 Dropified started operations in 2015. When it first opened, the company was named Shopified. They promise to streamline the product sourcing process and help eCommerce businesses complete their orders easier.
Although the company has changed its name, its purpose remains the same. Now, Dropified serves over 26,000 active users and offers a wide range of products and services to help entrepreneurs grow their businesses easily.
The company also boasts that over 15,800 stores use its service, and more than 6.2 million product orders have been fulfilled.
Dropified Review: Key Features
Dropified app connects sellers and Dropified suppliers. This is one of the fundamental features of any dropshipping app, allowing you to easily create a Shopify dropshipping store. However, Dropified also offers a host of other features.
In this Dropified review, we will look at some of the astounding features that make the Dropified app stand out.
Dropified Chrome Extension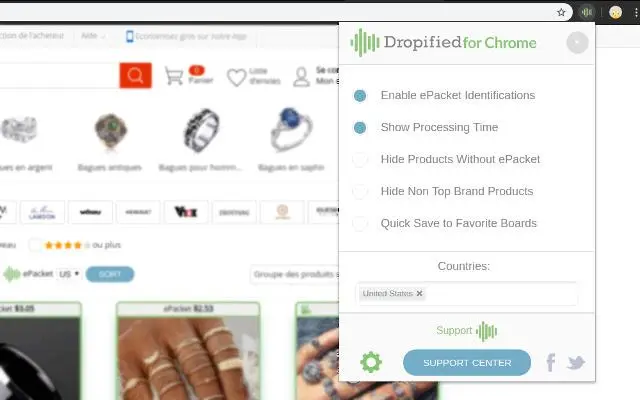 Dropified Google Chrome extension maybe one of its most valuable assets. The Dropified extension allows you to import products from many suppliers, including AliExpress, with just one click away.
Below is a list of sites that the Dropified Chrome extension can import products from.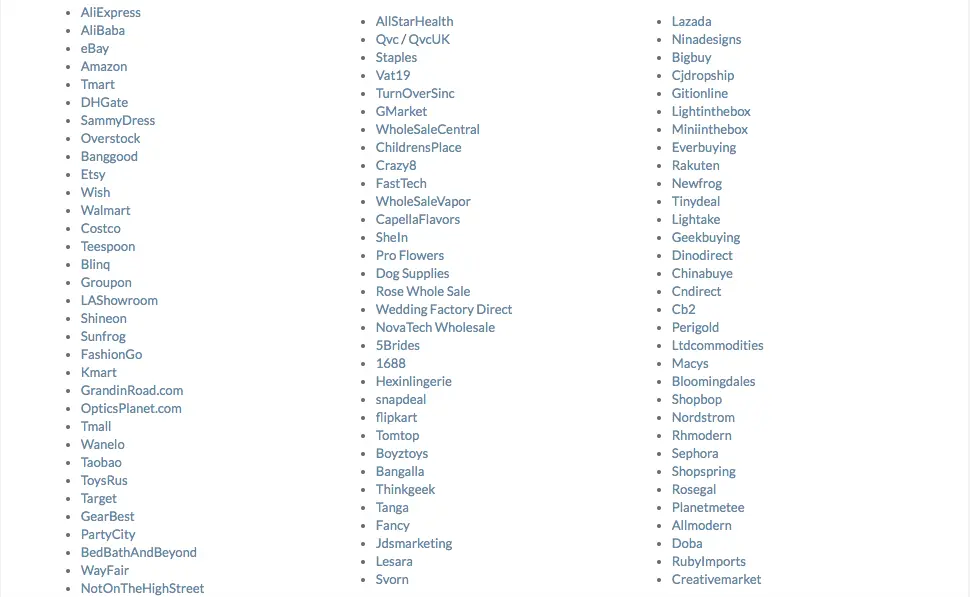 To install the Dropified Chrome Extension, go to the Chrome store and click "Add to Chrome" and then "Add Extension". Wait for a few seconds and you should see the Dropified icon on the Chrome bar.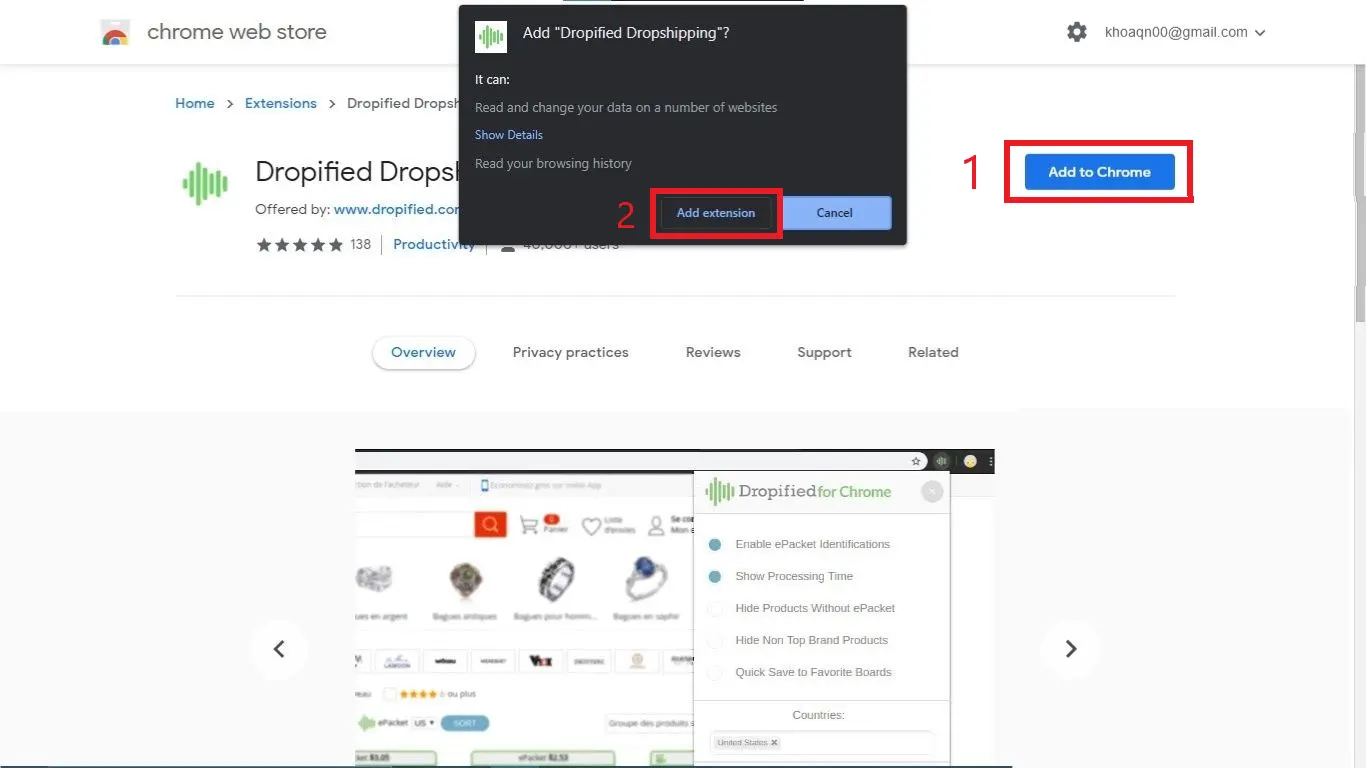 Right-click on the icon, then click "Options".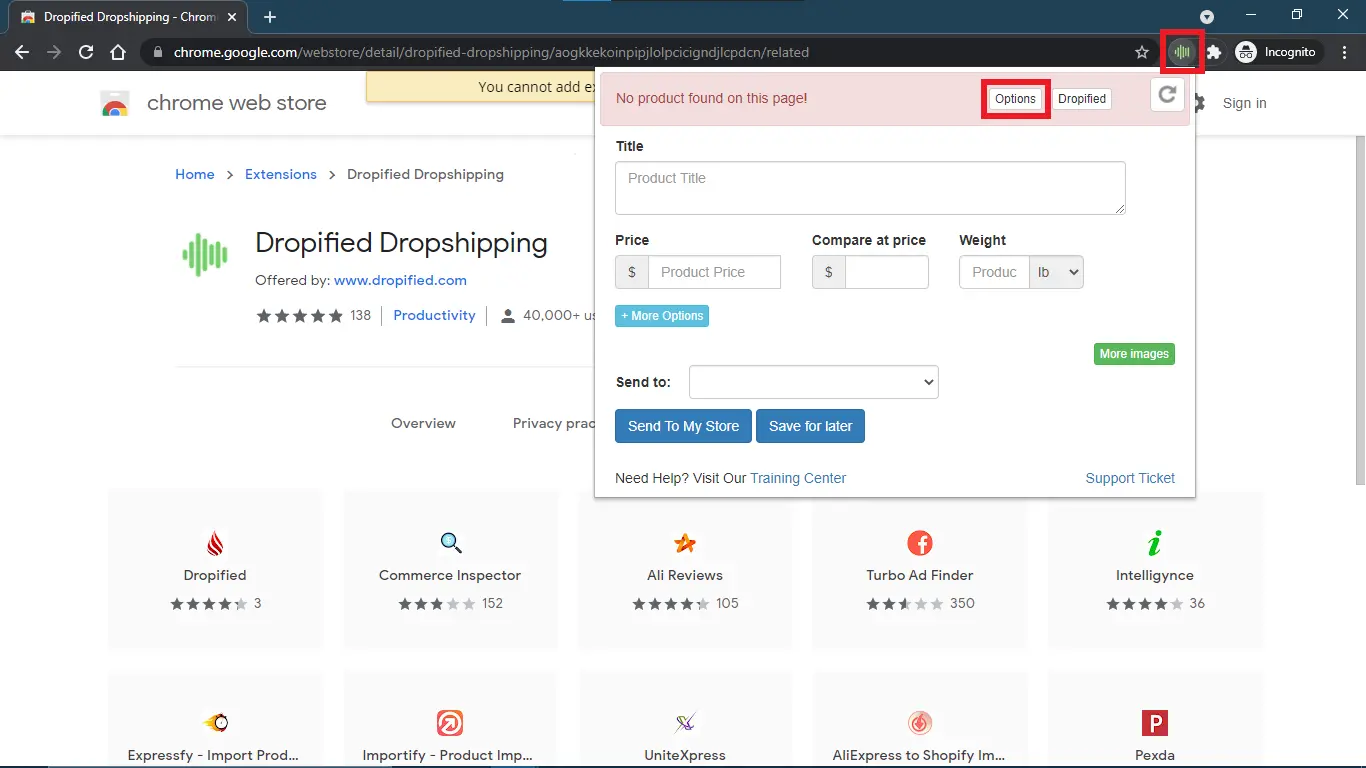 It will ask you to log in to the Dropified App with your username and password. And then you will have it!
One-click Product Importing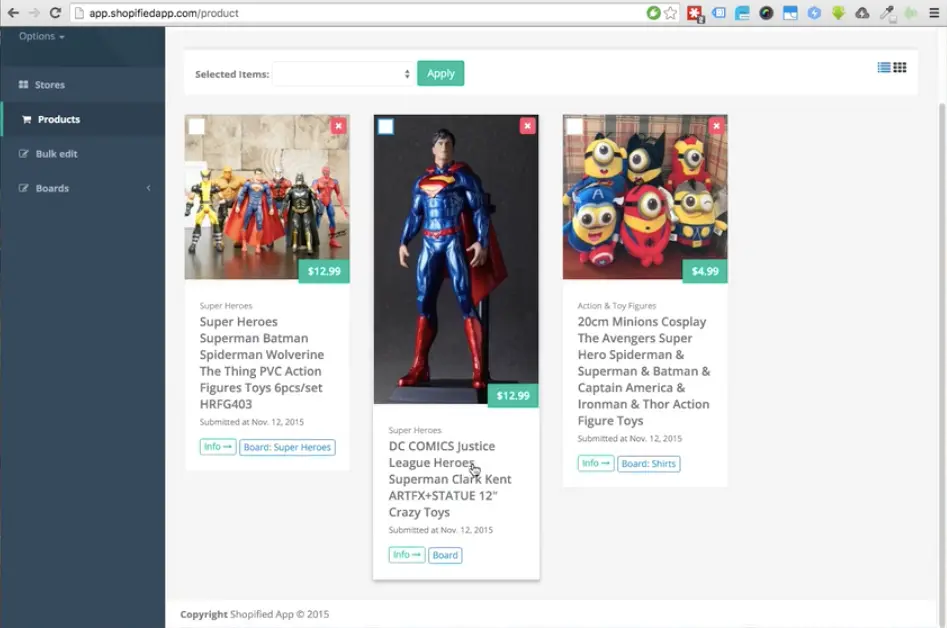 Once you have found the Dropified products you want to sell, you need to transfer their information to your store. Luckily, the One-Click Product Importing feature has made this process pretty simple.
With this feature, you can import product images and descriptions directly to the store with ease.
Without manually saving each image and description and then adding them to the product pages, you will save an enormous amount of time.
AliExpress Integration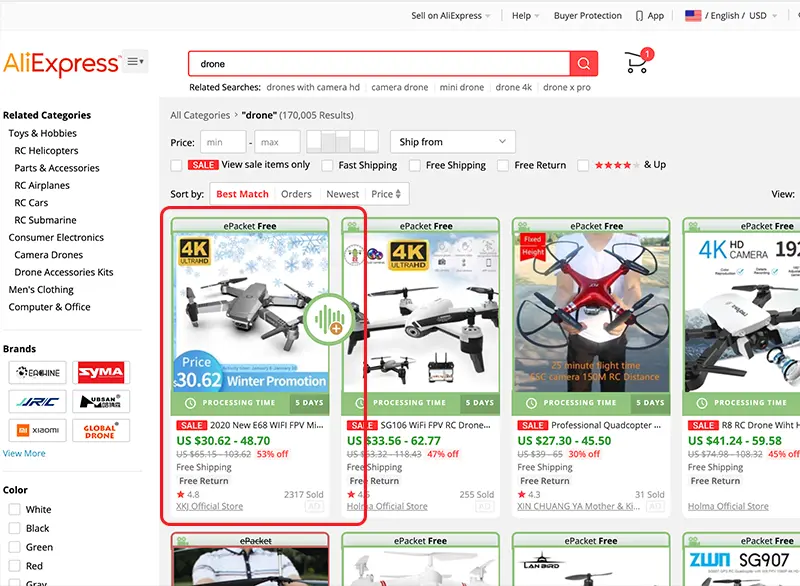 With the Dropified app, you can link your online store to AliExpress with just a few clicks. Then, you can select products and pass their details into your store. If you also want to import reviews, you can use the Ryviu app.
When someone purchases a product, this information will be forwarded to the AliExpress supplier, who then fulfills the order.
Nonetheless, it is necessary to know that this can extend shipping times as many products come from Asia.
Automatic Product Updates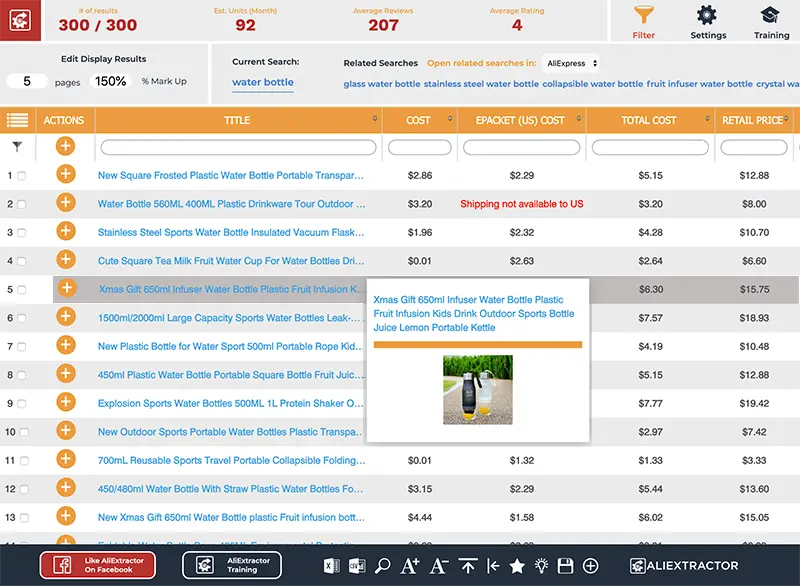 Keeping track of price and inventory changes is a tedious task, and this feature helps alleviate some of that pressure.
Dropified solves this problem by ensuring that any price changes from Dropified suppliers are reflected on your product pages. The same thing also applied to product availability.
If a supplier removes an item from their inventory, you will be informed with a notification. And the product will be hidden from your customers.
Built-in Image Editor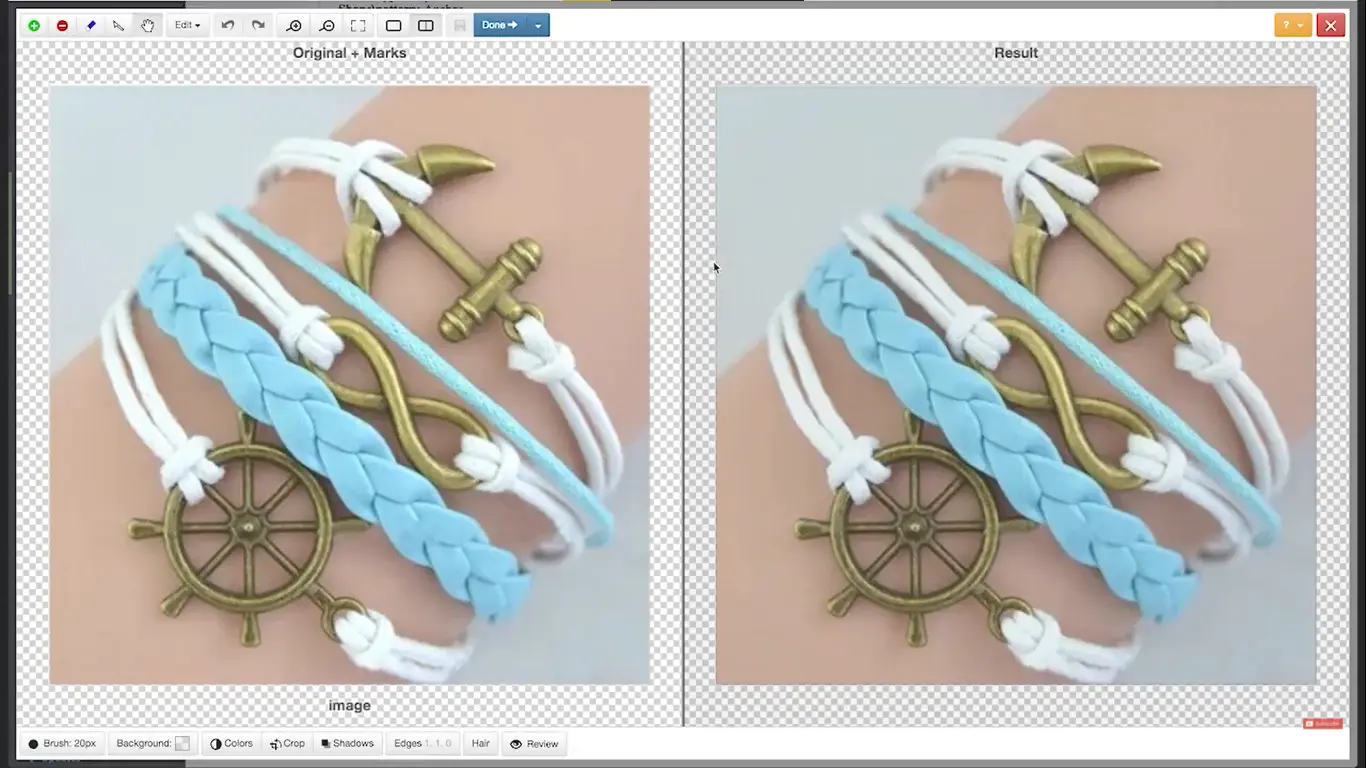 This tool helps you modify images. It is useful when removing logos or changing the color scheme to match your store's design. You can crop and resize images with this, too.
This feature helps you avoid using Photoshop, which is quite expensive for some people.
Dynamic Product Description Templates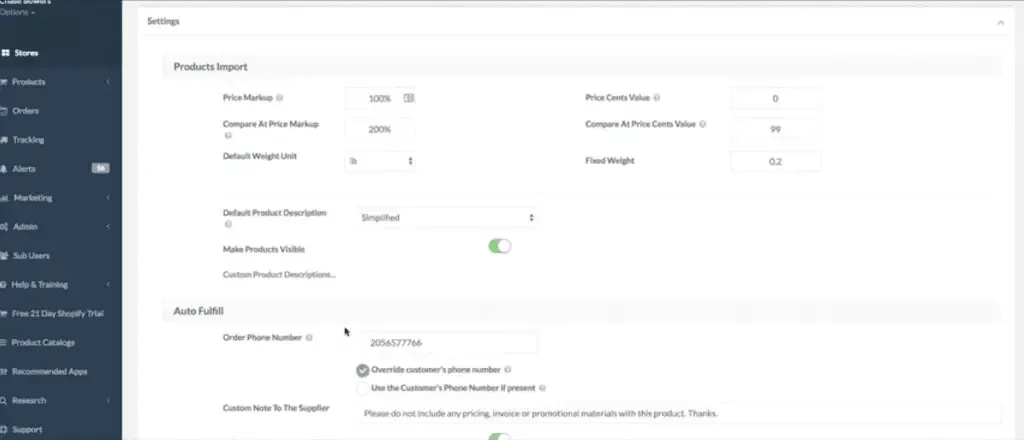 This feature helps you avoid manually entering the information of each product you are selling. It is perfect if you have general data for every product on your online store, such as guarantees and calls to action (CTA).
With this feature, you can create a template that will automatically add elements of your choice like price, product title, etc.
Zapier Integration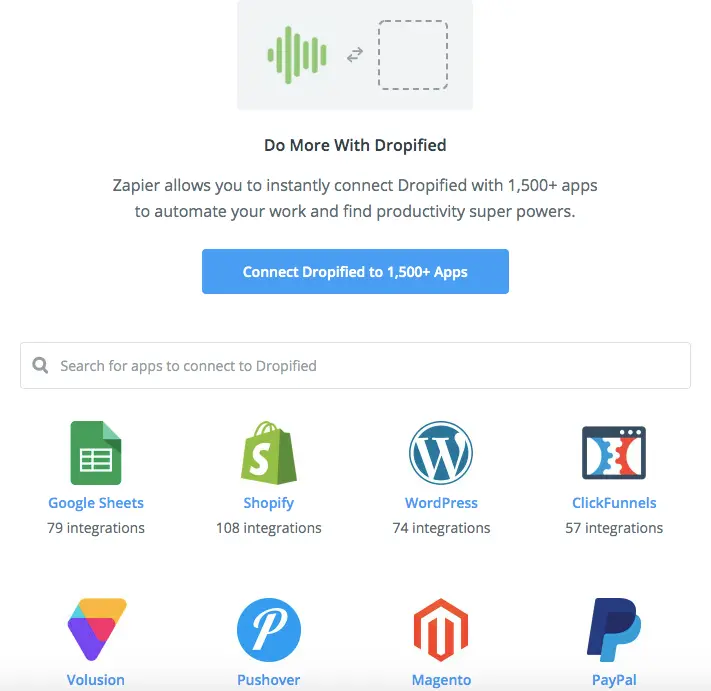 Zapier is an online app that connects many software, applications, and other tools that businesses commonly use for their daily tasks.
For example, you might want to connect customer service software to your online store or connect your blog to your social media networks. All of these can be done with Zapier.
Dropified offers easy integration with Zapier, creating several ways to improve your productivity and help you run your online store efficiently.
ePackets Focus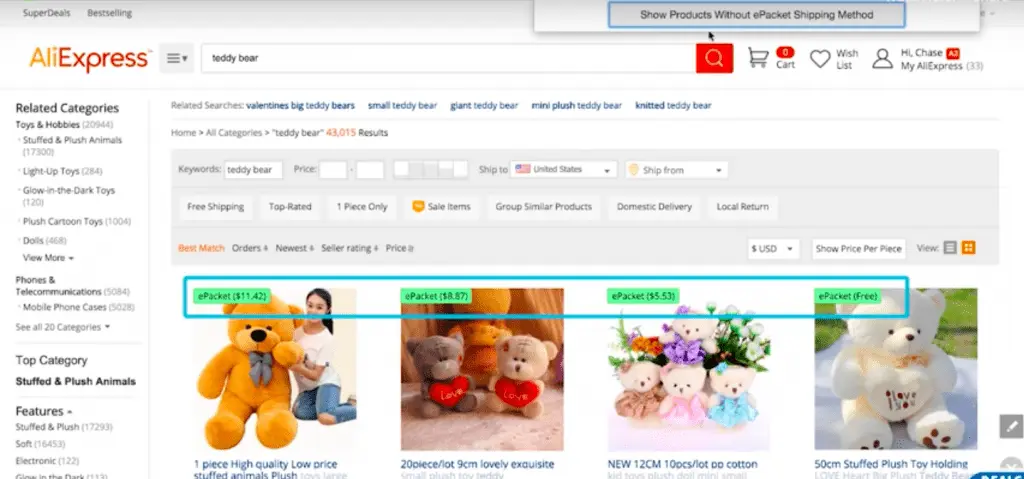 Suppose your products come from suppliers in China, and your customers are mainly from the U.S. In that case, the delivery will be pretty expensive and can have lengthy delays.
It can also be hard to track delivery information if you are going through a company like UPS.
ePackets helps lower these costs and makes international shipping a little faster. It also provides some more helpful delivery information.
Even though this technology is not perfect, it is still better than other international shipping services like FedEx and UPS.
Profit Dashboard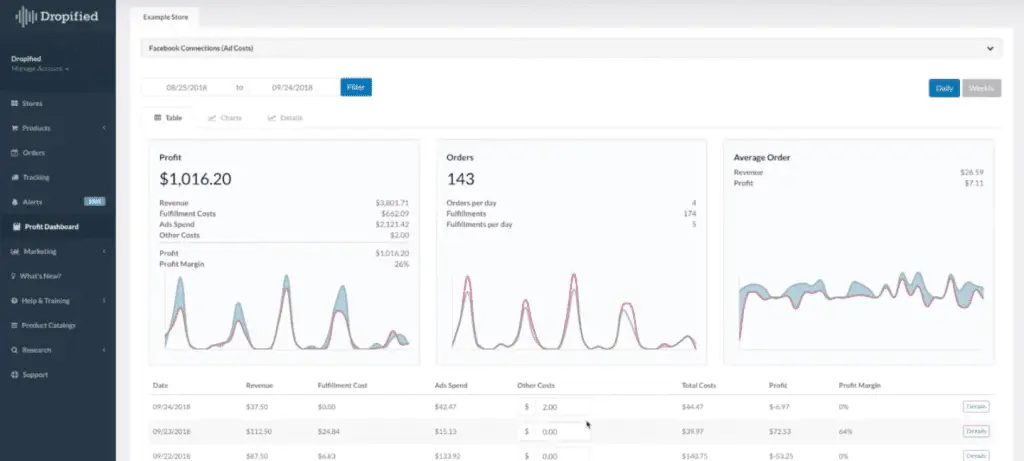 Many eCommerce platforms provide statistics and reports with varying levels of quality. This is an effective way to see your profits and understand how much you are making (or losing).
This feature is currently only available to those who are using the Build plan. But if your business is successful, it will be a powerful tool that you must have.
This feature will help you avoid promoting Dropified products that are not selling well and ensure that the ones being shipped are sold at the right price.
These summaries can be filtered by day or month to give you valuable data. So you do not need to collect and aggregate the numbers manually.
Dropified Pricing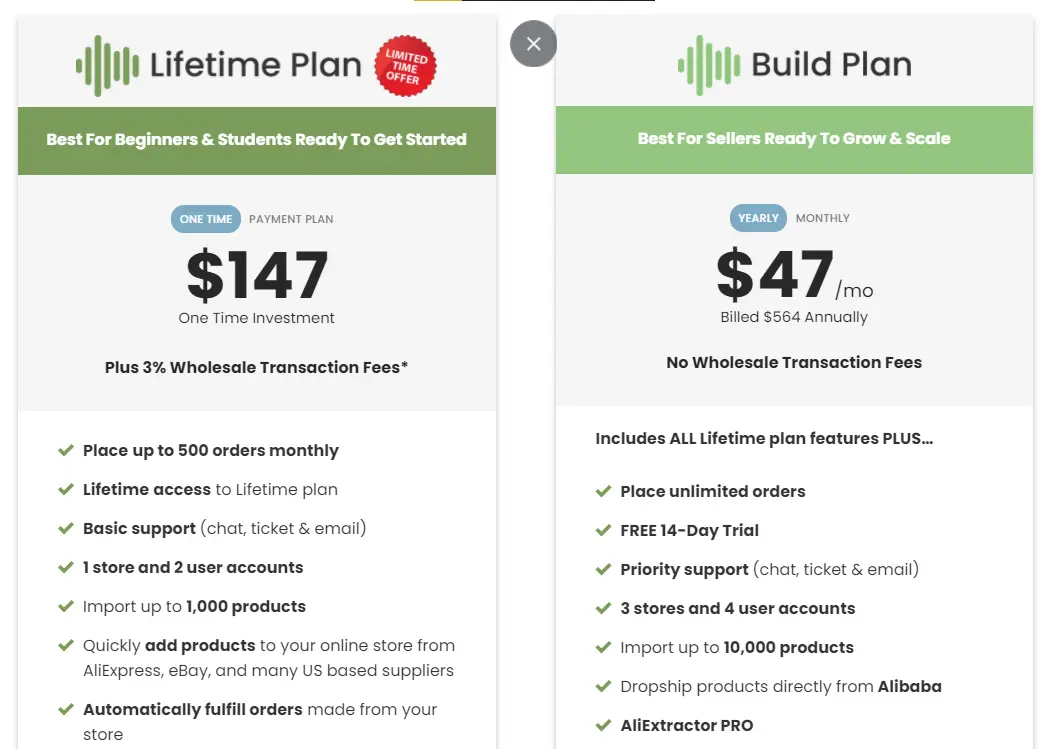 Dropified has two plans. For the more affordable one - the Lifetime plan, you can choose whether you want to pay one-time or annually. The one-time payment is cheaper in the long run.
It costs $147 or $24/month. With this, you get support for 500 orders/month, one online store, two users, 1000 items, along with all the main features.
The Build plan will cost you $67/month or $564/year. With this, you get support for unlimited orders, three online stores, four users, 10000 items. You can also use the Profit dashboard and some other advanced features.
This tier also offers a 14-day free trial, so you can try it and see if its features are valuable for your business.
To sign up for this, you still need to provide your credit card information. The payment will begin as soon as 14 days are up. If you are not satisfied with the service, Dropified also has a 30-day money-back guarantee.
The Lifetime plan is ideal for small and medium businesses with only a few employees. The Builder plan makes more sense for larger corporate organizations.
Top Dropified Alternatives
When analyzing a service like Dropified, you should also consider its competition. Many companies are competing for a larger share in the dropshipping market.
Each of these services offers its own set of features and pricing that contrasts with Dropified's offerings.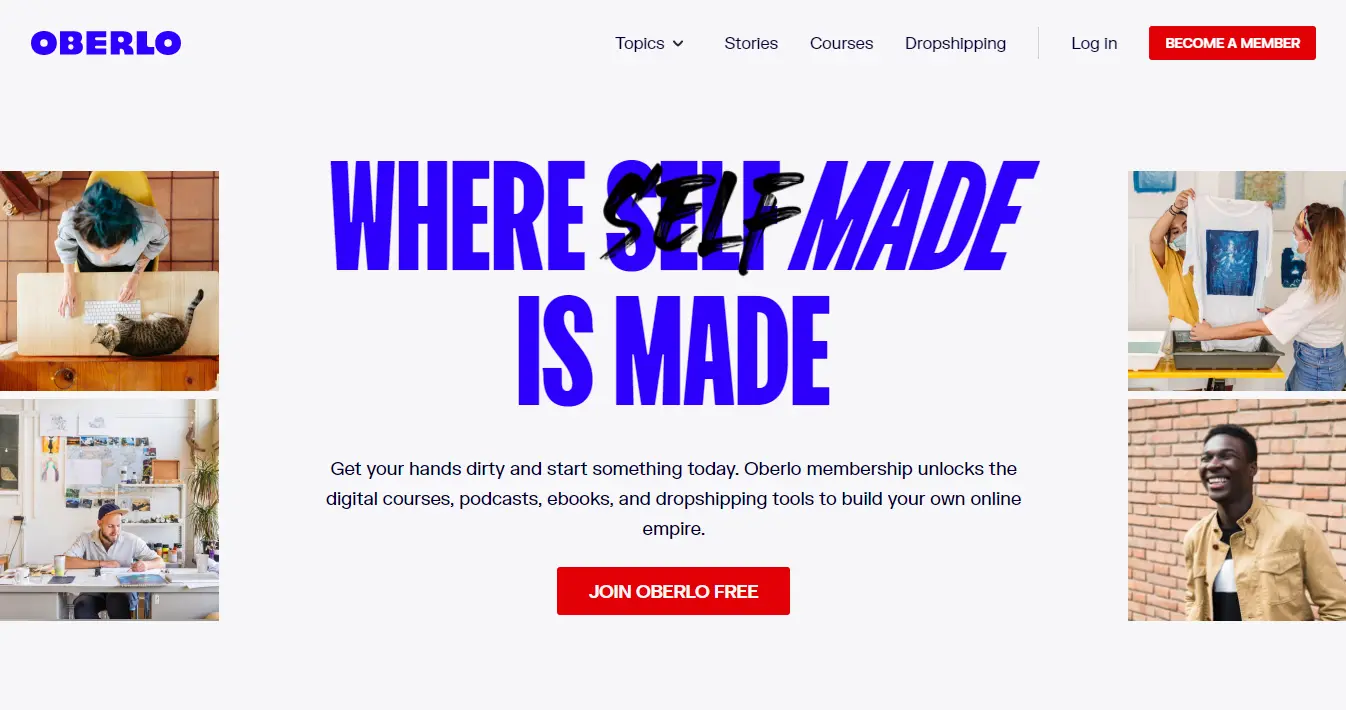 When researching this subject, maybe the name that came up the most compared to Dropified was Oberlo.
With its Shopify integration, Oberlo lets you peruse the Oberlo directory for products that you can use easily to fill the virtual shelves of your online store.
Update: Oberlo has migrated to Dsers and it now belongs to Dsers team. For further information, you can take a look at this article.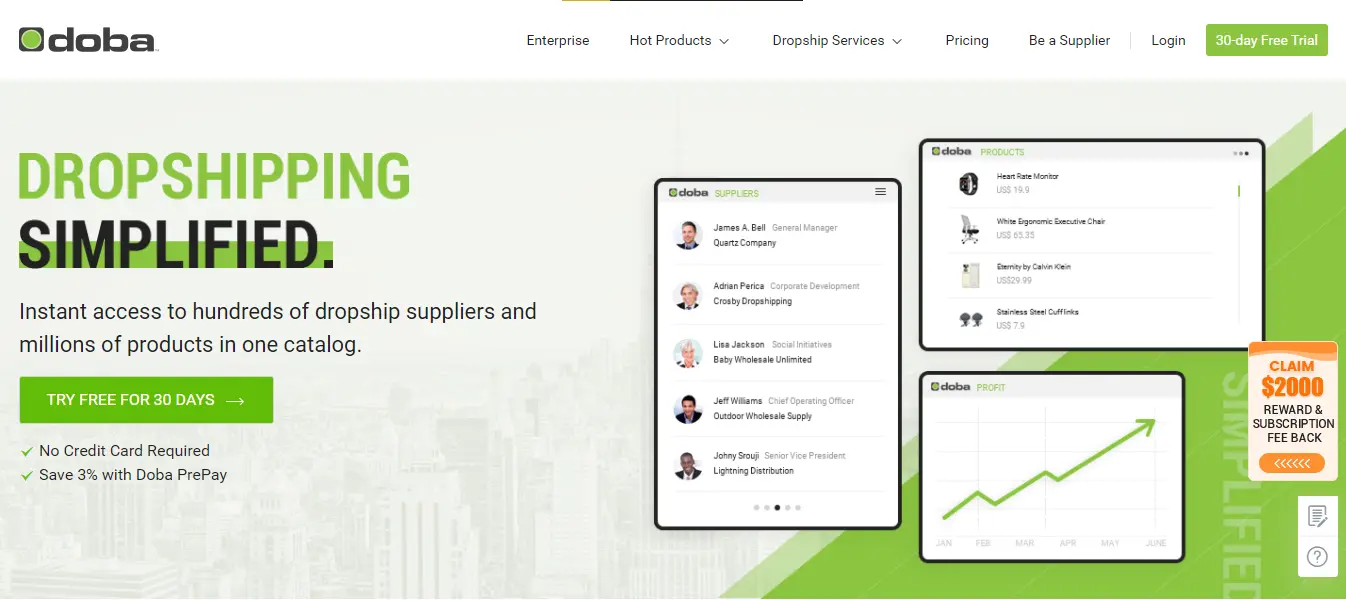 Doba has one of the most comprehensive product offerings you can find right now with over 2 million items from nearly 200 vendors aggregated into one listing.
Many users praise Doba's simple user interface, which is especially helpful for anyone who is not tech-savvy.
However, if you are looking for a cheap Dropified alternative, then Doba cannot be it. The Basic plan is more affordable, but the higher tiers are definitely designed for enterprise-grade eCommerce sites.

Dropified Review: Conclusion
If you just want to experiment with dropshipping and do not have a big budget to start with, you might want to look elsewhere (e.g., Oberlo).
Even for the cheapest plan ($24/month), it is clear that Dropified is looking to appeal to larger established companies. This makes it ideal for retail stores or other pre-existing eCommerce businesses.
That said, Dropified has proven itself to be one of the most advanced and comprehensive dropshipping solutions in the eCommerce industry.
It packs so many features that some have criticized it for having a tough learning curve. But anyone who has mastered Dropified said it saves them time and money in the long run.
Finally, you should know that Dropified works best when paired with AliExpress since some features are exclusive to this market.
For many people, this is not a problem. But if you already use a different eCommerce platform, it makes more sense to consider the alternatives listed above.
However, if you find yourself importing products primarily from AliExpress and selling them through Shopify or just want the best of the best, it is hard to beat Dropified as a solution.
We hope that our Dropified review would be useful to you. If you still have some questions, feel free to ask us in the comment section below.