An Ultimate Guide on Selling Digital Products on Shopify
Shopify is an excellent eCommerce platform. Anyone can start selling things on this platform, making it quite simple to set up. Shopify should be one of your first alternatives if you plan to sell digital products online.
In this post, we will discuss the advantages of selling digital products, and then show you how to sell digital products on Shopify in 5 steps.
What are digital products?
Digital products are an intangible asset or piece of media that may be sold and disseminated online frequently without the requirement for inventory replenishment. These items are frequently available as downloadable or streamable digital files, such as MP3s, Documents, movies, plugins, and templates.
Why Should You Sell Digital Products on Shopify?
A digital product is distinct from a physical product by definition. Digital products have various advantages or benefits over physical products when sold on Shopify. Let's take a look at some of these benefits.
Reduce Production Costs
Maintaining an eCommerce store that focuses on digital products is significantly less expensive. There is a lot that goes into the manufacture, distribution, and sale of physical items.
Raw material costs, production costs, packing costs, shipping costs, storage costs, employee costs, logistics team costs, and any other costs you may think of. Any of these have no place in a digital store.
You simply need to worry about the initial costs of generating the product and administering the website.
You are never out of inventory.
Until you decide to retire them, digital products are always accessible. A digital product can continue to sell without needing to be restocked or duplicated, unlike physical goods. There might need to be a few minor upgrades here and there.
Yet despite your modest work, the profits keep coming in years after it was first established. Customers and you don't need to be concerned about delivery or how long it will take. After payment, your consumers can nearly immediately view their order.
Restricted Entry Barriers
It is simple to create and sell digital things. Your knowledge is all that counts. Any creative talent you possess can be turned into a digital product and sold right immediately.
Starting a digital merchandise store doesn't need making a big commitment. Investment capital is also constrained. Simply set up a Shopify store and pay the monthly subscription fee will suffice. With or without outside assistance, you may manage your business using your computer or smartphone.
Sale Globally
The internet serves as a universal marketplace for everyone. By operating your business online, you can reach a wider target market. One of the major difficulties in selling physical goods online is logistics. Even if your products are excellent, you can't ship to every country.
On the other hand, digital goods can quickly be sold to anyone worldwide. As you use the internet, it's simpler to locate individuals who have similar interests. You could be surprised to learn that a skill that is unimportant in your area is in high demand elsewhere.
High Profit Margin
The big profit margin is the main advantage of selling digital products. You would concur with me that the key benefits ultimately boil down to cost-cutting and increased profit after carefully examining other advantages.
You stand a better chance of making more money once the expense of manufacturing physical goods and maintaining a real business is removed from the list.
Simple Customer Access
Digital products are frequently sold on websites that demand email subscription, since they are immaterial. Customers that join up for Shopify to purchase your digital goods have given you direct access. You can use this access to market additional goods and services you provide.
How to Sell Digital Products on Shopify?
Follow the steps below to start selling digital products on Shopify:
Step 1: Set up your Shopify store
The very first step is to build up a Shopify store. Go to Shopify, enter your email address, then hit the Start free trial button.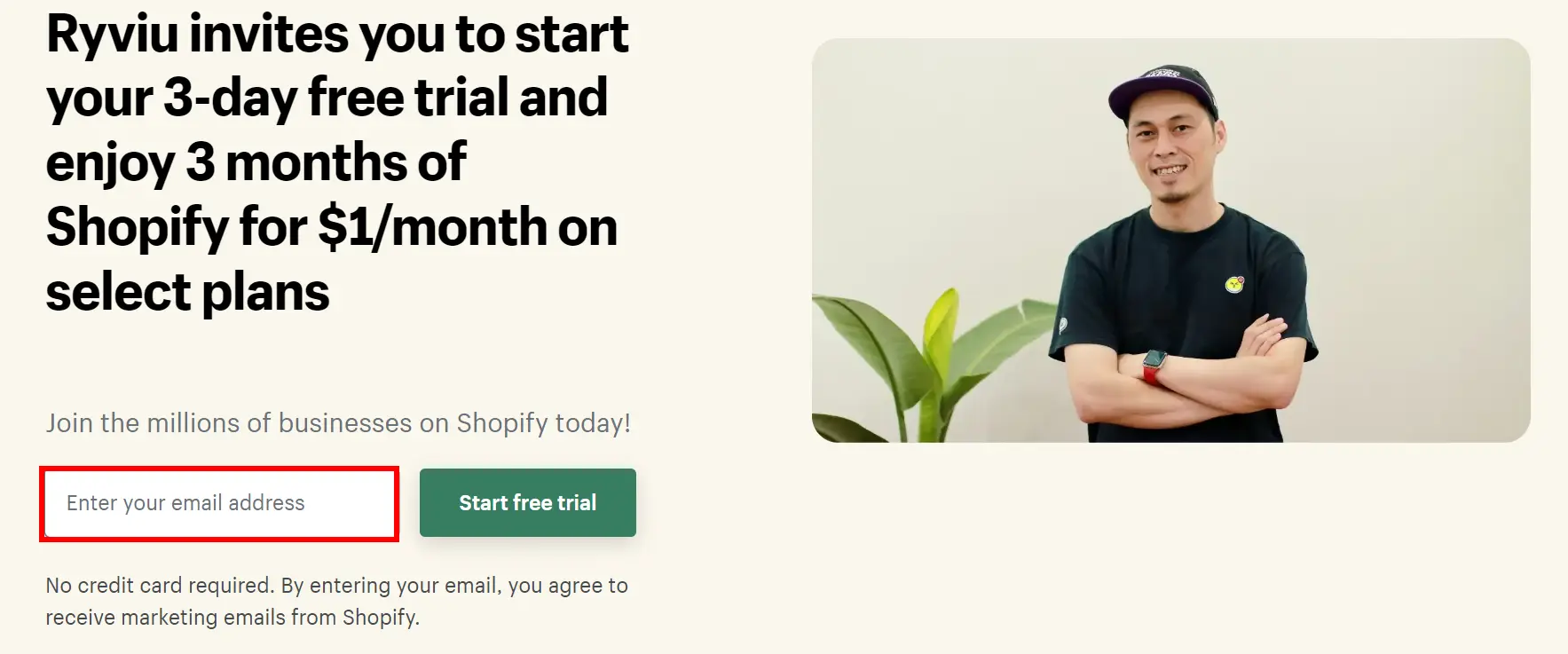 Enter your password and store name here. Don't worry about paying right away because Shopify offers a 3-day free trial. Provide a name for your store and click the Create your store button.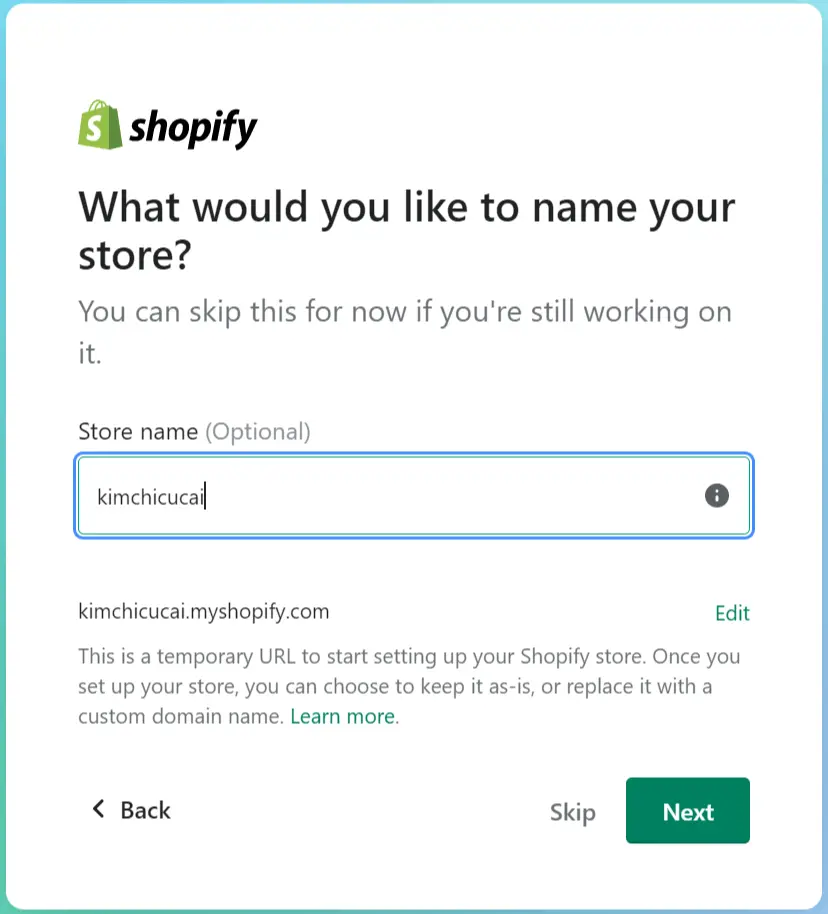 Respond to a series of optional onboarding questions when Shopify asks for your address, enter it, and you're done. You can also skip this and provide this information later.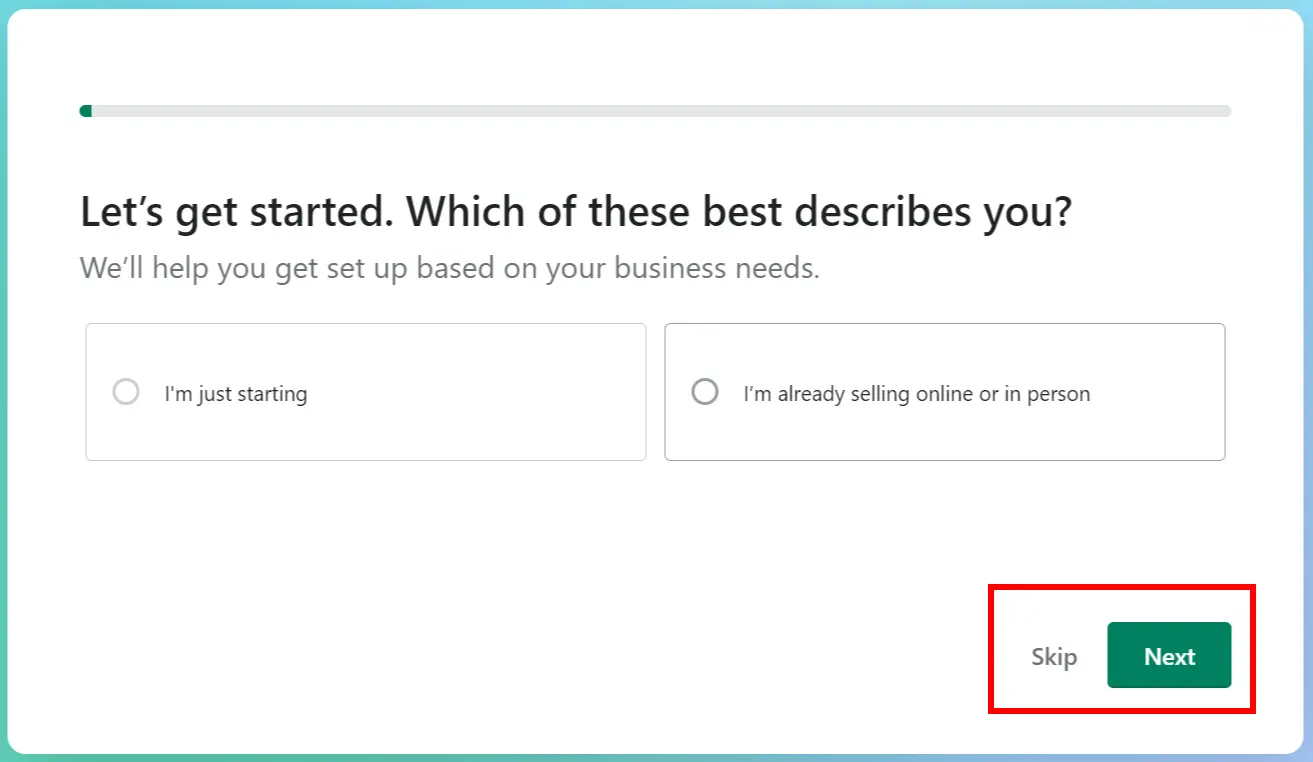 You may choose to complete a few more activities before proceeding to the next phase, such as configuring your domain, theme, payment methods, sales channels, and checkout procedure. Even if they are currently optional, it makes sense to understand more about them before launch.
For further details, you should take a look at our guide on how to start a dropshipping store on Shopify.
Step 2: Define your digital product
Shopify allows you to sell an unlimited number of digital products. Yet we can't list them all. Hence, in this article, we'll go through 4 digital products that you may sell on Shopify. They are profitable and simple to set up and operate.
Online courses
Individuals enjoy learning new things from the convenience of their own homes. It is frequently simpler, less stressful, and less expensive.
Online courses are often available in two formats: video courses and ebooks. Both alternatives are ideal for knowledge sharing. To design online courses, you don't need any formal training or to be a world-class writer. All that matters is your knowledge. Developing and marketing online courses is an excellent method to monetize your knowledge.
Surprisingly, there are no restrictions on the type of online course you can produce or offer. There are millions of people prepared to pay for everything you can think of.
If you can't select which online course to sell, here are several profitable options: Copywriting, Graphic designs, Workout preparation, Photography.
Search on the Internet, ask questions, discover what people want to learn, and provide it to them as an online course.
Software and Games
If you are a software engineer or programmer, you have a goldmine on your hands. Digital software and games, ranging from simple puzzle games to complicated 3D virtual games, have the potential to make you a lot of money.
A set of commands that operate on a code is referred to as software. Games, mobile apps, websites, and many other forms of software programs exist. You can learn to code in order to create games and software.
The software's complexity is determined by what you want to produce. The good news is that you don't have to master everything before you can make money. You can sell simple games and software that address specific needs on your Shopify website.
Music and Audio Record
As a musician, you have various options for monetizing your work. Selling them as digital items is at the top of the list.
Audio recordings are just as crucial in our daily lives. They are required by both artists and ordinary people. We hear audio in the movies, cartoons, and entertainment shows we watch, the podcasts we listen to, and the yoga training sessions we subscribe to.
You can produce demo sounds, ringtones, and audio guides based on your audience's requests. And sell them at an enticing price.
NFTs
Non-fungible tokens (NFTs) are a new type of cryptocurrency with certain important distinctions.
Regardless of how similar they appear, all NFTs are unique. As a result, you cannot exchange them. They have a great likeness, just like identical twins. Their fingerprints, however, are distinct. Consider them to be cryptocurrency-created digital art.
Selling NFTs on Shopify is a lucrative method to make money. The challenge is in developing the NFT and attracting buyers. There are numerous NFT designs available. Anyone can create something and call it an NFT.
If you want to sell your art, it must stand out or at the very least appeal to people.
Step 3: Prepare your digital product for sales
You need to upload your digital product into your Shopify store after creating it. It is as easy as:
Create a product page
Add the product description and the title as the way you add a physical product to Shopify.
Use an app to help you upload your files (digital downloads).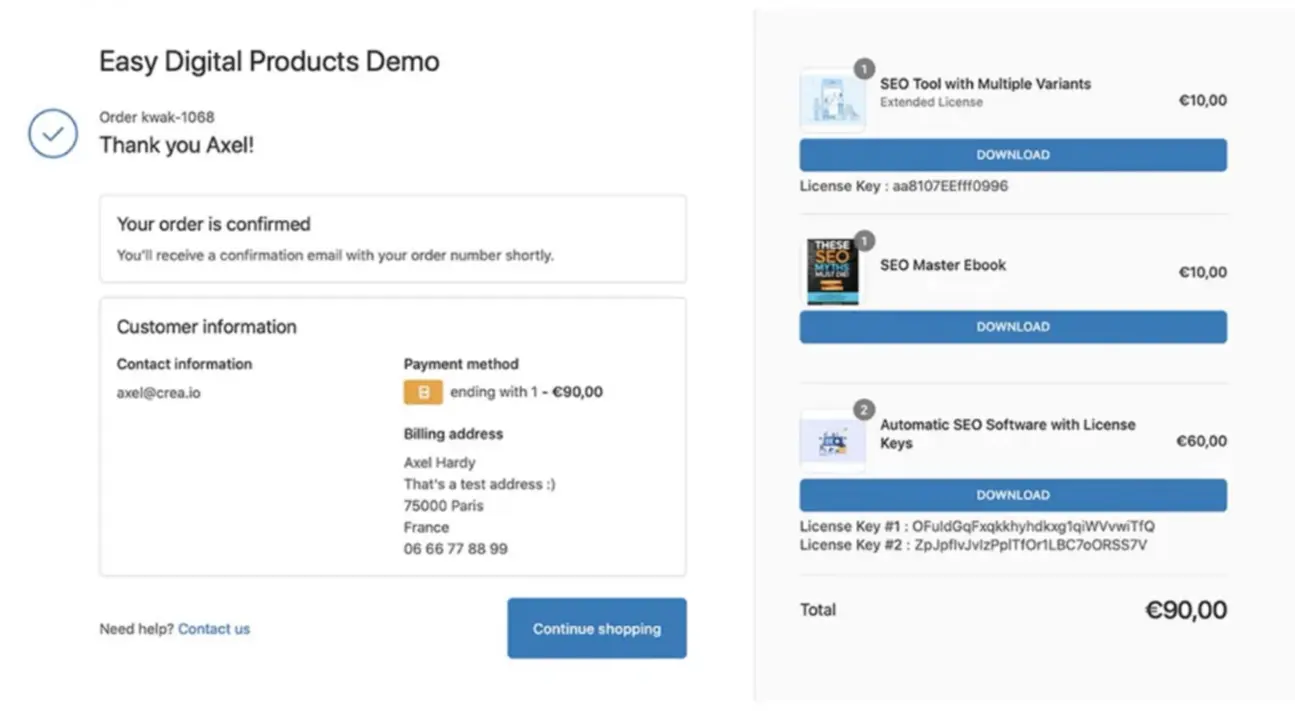 While Shopify is designed to sell tangible products, it lacks the ability to offer digital ones. But, an app like Easy Digital Products will enable you to sell your product smoothly by using license keys, creating download buttons, and automatically attaching your digital assets to your products.
Step 4: Launch your store and start selling
After your product is ready, and you have a small audience of eager buyers, it's time to open your store and start selling.
You may give a discount to entice clients to buy more rapidly. In any instance, include a link to your product page (or landing page) and explain the next actions.
Promote your launch on social media and wherever you have a following. You might ask any friends or business partners who have relevant audiences to join your affiliate or referral program.
Step 5: Promote your brand
Everything I mentioned previously about developing excitement before your launch still applies, that is, you need to continue to expand your business with email list, social media followers, and SEO authority.
Ultimately, you want to establish yourself (and your brand) as an expert in your subject. This is where content marketing, social media, and sponsored media come into play.
Selling Digital Products on Shopify: FAQs
Is it possible to sell digital products on Shopify?
Yes, it is possible to sell digital products on Shopify. Shopify offers a platform that supports the sale of various digital goods, such as ebooks, music, software, and online courses.
How do I fulfill digital products on Shopify?
To fulfill digital products on Shopify, you upload the digital files, set up product details, enable automatic fulfillment, and customize the download experience if desired. Customers receive email notifications with download links or access to the digital files after successful purchases.
Can you really make money selling digital products?
Yes, it is possible to make money selling digital products. With lower overhead costs and the ability to replicate and sell digital goods multiple times, selling digital products can be a lucrative business model if you offer valuable and in-demand products and implement effective marketing strategies.
Can I sell digital products on my own website?
Yes, you can sell digital products on your own website. Using e-commerce platforms or content management systems like WooCommerce, Magento, or custom-built websites with integrated e-commerce functionality, you can manage product listings, handle payments, and deliver digital products to customers through automatic downloads or secure access to digital files.
Final thoughts on selling digital products on Shopify,
Shopify is the best platform for selling digital products. Shopify was created to suit its users' needs on every level. It is quick, simple to use, secure, and reasonably priced.
This post has provided a comprehensive guide on selling digital products on Shopify. Hopefully, it helped you with your business journey.