Shopify for Restaurants: A Complete Guide
The restaurant business is going through a revolution due to the recent Covid-19 pandemic. You can easily order your favorite delicacies online and deliver them to your door in minutes.
According to a food industry report, restaurant delivery and online food ordering have maintained a growth rate of more than 20% over the past five years. Statista predicts that global online food delivery revenue is estimated at $339,257 million this year, equivalent to an annual growth rate of about 8.29% through 2026.
The food industry is also changing rapidly, and restaurants must keep up with all the changes in order to survive and thrive in the market.
With 42% of total food orders placed online today coupled with a reasonable 25.3% user penetration rate in online food delivery, bringing your restaurant business online to the line is becoming more and more necessary.
But is Shopify for restaurants any good? Here is a guide to selling food online using Shopify.
Why Should You Use Shopify for Restaurants?
With the booming eCommerce industry set to continue to grow at 12.7% this year, Shopify still stands out as an essential eCommerce solution for any business that wants to start selling its products online.
Shopify is now an important marketplace, allowing businesses to quickly create custom branded digital storefronts and retain essential customer data for better marketing in the future. It is an easy-to-use eCommerce platform that has many affordable DIY solutions for restaurant businesses to sell their delicacies, among other cuisines, online.
Since 90% of potential customers tend to research an online restaurant before dining, hosting your restaurant website on a great e-commerce platform like Shopify can help you attract many new customers from the very beginning.
Before we get into how to set up a Shopify restaurant website, here's a quick review of Shopify for restaurants.
Shopify Pricing Reviews for Restaurants
Using Shopify to create and run an online restaurant means you'll need access to sales channels and design flexibility, among many other website features—but all of that How much will this cost you?
For starters, running a Shopify store involves several factors that you can think of. These typically include the cost of registration, other initial costs for setting up your store, and payments for any additional features you may need.
If you wonder how much it costs to open and run an online restaurant on Shopify, here is a detailed breakdown to help you estimate the actual costs.
Initial Costs for Setting up the Website
Setting up a restaurant website on Shopify is expensive. You will need to pay for things like your store name, domain, brand, themes, essential apps, plugins, and more. Let's take a closer look at some of the up-front costs a restaurant may incur:
Domain
These Shopify terms are part and parcel of all of its plans, so you don't have to host or install your own terms. You are free to choose from a long list of available free myshopify.com domains.
But if you prefer to have a custom domain, this will cost you from $11/year to $81/year. If you may already have a registered domain name, Shopify will let you link it to your store for free. The whole process is fully automated, and you can purchase and register your preferred domain name for your Shopify restaurant website in minutes.
Themes
A good restaurant website design often goes a long way in attracting, converting and retaining customers. While choosing a premium theme is completely optional in Shopify, you must keep in mind that free themes often have limited functionality and may not help your restaurant stand out from thousands of online businesses others used the same freeware.
However, Shopify has a ton of premium themes. The best part is that they are all fully customizable, and you can tweak them however you want to fit your brand. Otherwise, you can spend from $0 to $350 on a high-quality Shopify theme for your restaurant.
You can take a look at the best converting Shopify themes to pick the most suitable one for your online restaurant.
Apps
Like many other software platforms today, Shopify needs various essential add-ons and integrations to fully cater to a wide variety of businesses with different needs. The platform is lacking, but you can easily find an app for all your needs with different app features.
Shopify's transaction fees
Another additional cost that can affect your total operating costs is Shopify transaction fees. This fee is typically charged on every transaction made through a third-party payment service. However, the proportion will vary depending on the subscription plan you pick. So expect a 2% transaction fee on the Basic plan, 1% on the Shopify plan, and 0.5% on the Advanced Shopify. But you can avoid all these unnecessary costs by choosing to use Shopify Payments from the start.
Shopify credit card rates
As part of your Shopify total costs, you must factor in other variables that will impact your margins, such as credit card rates. Shopify usually charges a small commission whenever a payment is made via credit card. Sadly, it is often higher than other payment methods due to the risk involved.
Credit card rates often depend on subscription plans. But you can expect average fees of 2.9% + $0.30 and 2.7%, respectively, for all credit card payments on Basic Shopify both online and offline; 2.6% + $0.30 and 2.5% on Shopify Plan; and 2.4% + $0.30 and 2.4% on Advanced Shopify.
Shopify Pros and Cons Review
Shopify is a leading e-commerce platform whose most important benefits revolve around providing the flexibility needed to grow an online business. Considered the easiest-to-use platform for small businesses and large businesses, Shopify offers all the tools you'll need to build a beautiful restaurant website.
While Shopify may not be the cheapest platform to use, they offer cost transparency, 100+ responsive themes, many Shopify app store extensions, support services, and more. Super responsive 24/7 customer and offline sales opportunity with Shopify POS.
Its other major downsides often include product limitations, customization restrictions, coding difficulties, and the need to constantly install apps to run critical functions. While its benefits seem to outweigh the cons, looking at each of them will help you determine if Shopify is the best fit for your restaurant project.
Best Shopify Methods for Restaurant Websites
When setting up your restaurant business on Shopify, it's important that your store meets the different requirements your consumers have. Here are Shopify store design best practices when setting up your restaurant website.
Provide more ordering options
Like any other business, your restaurant should focus on addressing the essential concerns of your customers. Ideally, your food business should offer your customers more ordering options—with takeout or delivery.
The Store Pickup and Delivery app can help you quickly create these options on your website. This will also give you a comprehensive understanding of which orders are due for local pickup or delivery. Navigating the dashboard is easy, and you don't have to worry about confusing your orders!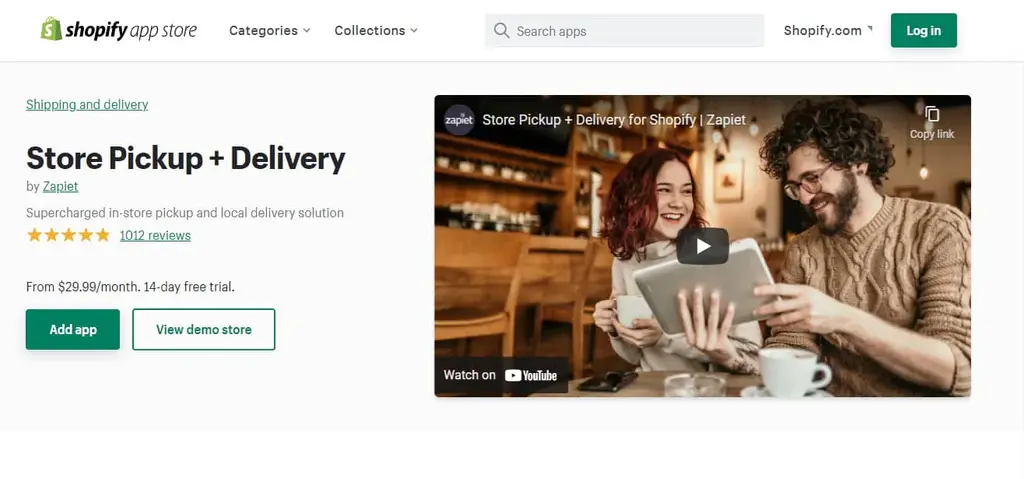 Provide Quality Customer Support
Customers often have questions, especially about your menu items. This can vary between whether some foods are vegan and some contain gluten. It helps if you make it easier for them to ask and get answers, and one of the best support channels to consider is setting up live chat. Live chat will essentially help you increase customer retention, as it works to give them availability and support information.
Shopify has apps like Tidio Live Chat & Chatbots that simplify the setup process. Once set up, you are free to add autoresponders so that the chatbot instantly answers all common questions if you are not available. Therefore, this means that you will only have to answer the unique questions not covered in the form.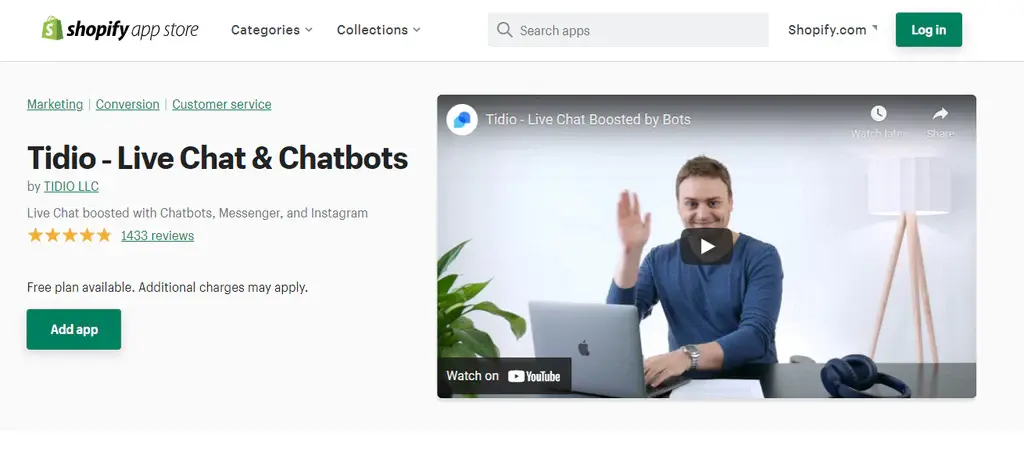 Prioritize Attracting customer's trust
When shopping online, many customers are often skeptical of adding their card to the bottom of the checkout page. This is one of the reasons most customers abandon a shopping cart. So make sure your restaurant doesn't lose potential customers just because they don't trust you.
You can add a trust badge on your Shopify restaurant to let your customers know that payment is safe. That helps to indicate that your Shopify site is secure and equipped with an encrypted payment gateway to prevent hacking and other frauds.
Automate Order Management
To manage orders and deliveries, you'll need a dashboard for restaurant management. For example, Foodee is a free Shopify app built solely to help restaurant owners better manage their food orders.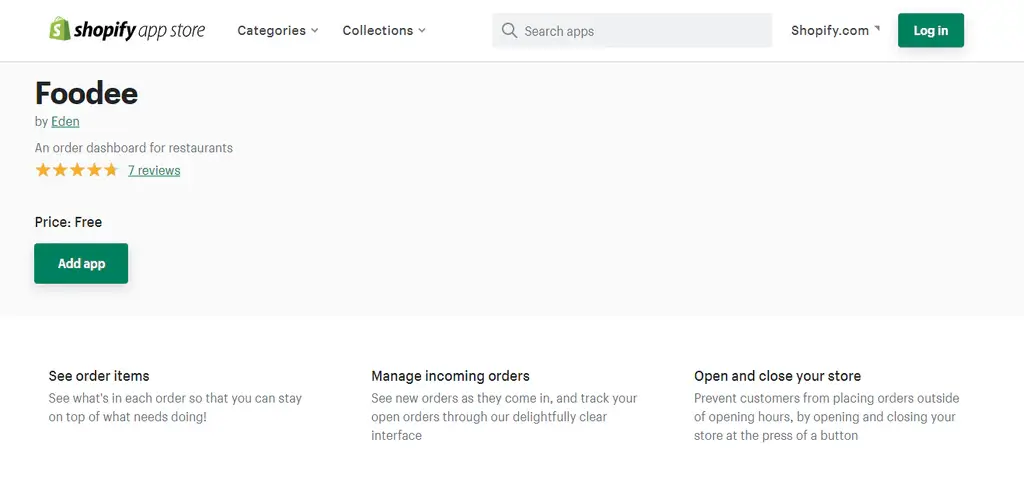 Its dashboard presents a clear list of current orders and highlights all incoming orders, including specific items in each order, for your team to manage and process effective management. It is explicitly created for restaurant businesses and is a must-have app for better management of restaurant orders.
Consider In-Place Optimization
When turning your restaurant into an online restaurant, it's a good idea to retain some management aspects from your physical storefront. One such feature is the tipping function. Some restaurants and food businesses are often tipped. If this is true for your brand, you should consider enabling this feature on your Shopify site using Tip Jar. Once activated, the app will display a tip jar on the page, prompting customers to leave a tip before paying.
Best Shopify themes for your restaurant
With just 50 milliseconds for you and your business to make an impression, designing the right online restaurant is crucial to maximizing online sales. Conversely, having a website layout doesn't always mean using visually appealing images and stylish color schemes.
Instead, ensuring that you maintain an exceptional user experience throughout your site for all visitors can help drive customer interest in your menu options and promote sales on your restaurant website.
You will need to have a good Shopify theme to make this happen, and here are some of the best Shopify themes for your online restaurant store.
Crave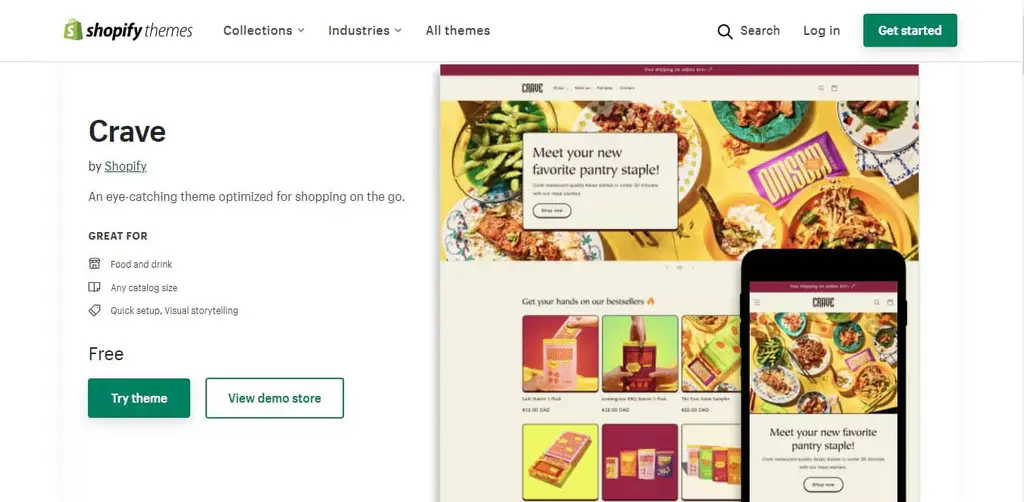 Crave is a vibrant, eye-catching and playful Shopify theme optimized for food ordering and on-the-go shopping. This is a sleek Shopify theme ideal for restaurants, fast food businesses, and food/beverage stores.
It is a stylish theme with a responsive and mobile ready design with dynamic payment options and online food ordering add-on for on-the-go shoppers. Its layout includes a mix of distinct shadows and bold colors that draw attention and promote visual brand storytelling.
You can already say that it is the best for any food and beverage business is the modern design. Using it will make your Shopify restaurant homepage neat, spacious, and visually pleasing to customers.
The best part is that it's free to review, try, and use on Shopify for restaurants.
Vantage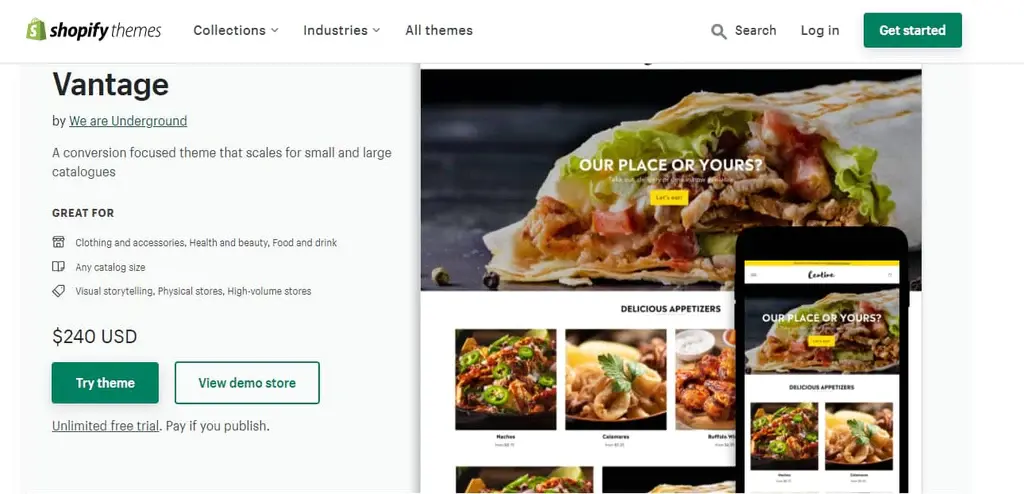 Vantage is a premium yet fully customizable Shopify theme to consider. It features a visual-first design that will help personalize your restaurant's online presence. It is a stylish solution that is completely adaptable to your unique demands.
Furthermore, its reservation options allow users to get their business online in minutes. But if you're interested in adding custom design to your restaurant website, consider working with design professionals to create an online restaurant presence that resonates with the brand of your choice.
Otherwise, it is a conversion-focused theme, perfect for restaurants with both small and large inventories.
Express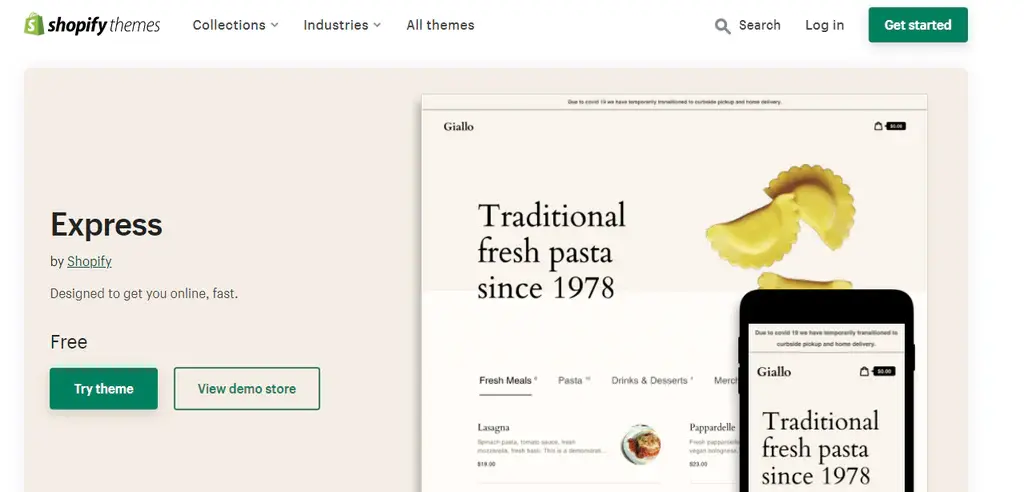 With over 62% of mobile users buying online using a mobile device, you must have a plan to take advantage of responsive mobile designs to get more sales online. Using a mobile-friendly theme can put you on par with other established brands.
Express is one of the best Shopify themes you can choose to use, as it is fully optimized for mobile devices. It has few product image features, but gives restaurants with light to medium inventories the best chance for a clean yet professional website presence.
Besides being mobile-ready, this Shopify theme also comes with product methods and a collapsible cart drawer as its key essential features. If you're wondering how much it costs, you can use the Express Shopify theme for restaurants for free.
Fresh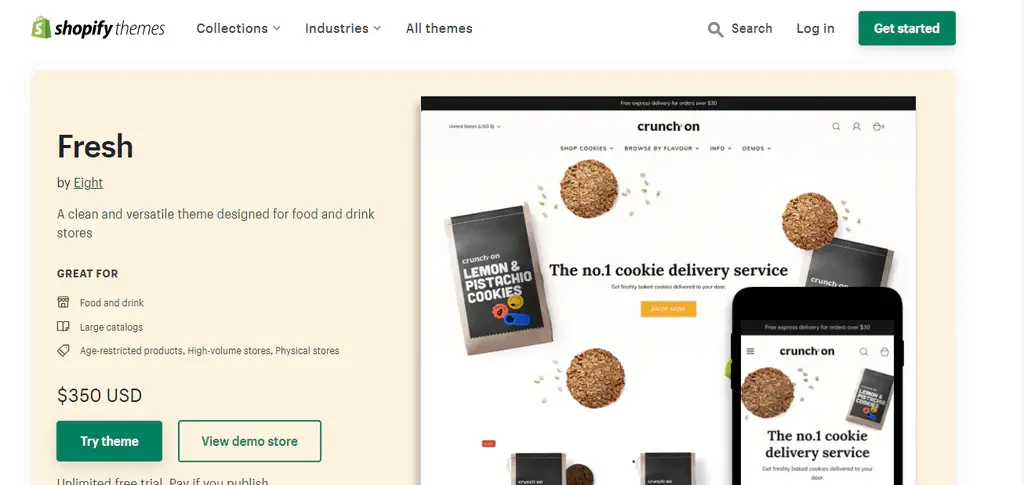 Fresh is a flexible option that provides a great starting point for cafeteria businesses to build an online presence. It's a simple design with up to three presets and unlimited possibilities.
It is one of the best premium themes for food startups with an extensive inventory. Its design is highly flexible and frequently includes cutting-edge technologies to restrict client searches.
Shopify for Restaurants: FAQs
Does Shopify work for a restaurant?
Yes, Shopify can be used for restaurants. While Shopify is primarily known as an e-commerce platform, it offers various features and functionalities that can be beneficial for running a restaurant business. With Shopify, you can create a professional website, manage online orders, accept payments, track inventory, and more.
Is Shopify POS good for restaurants?
Yes, Shopify POS (Point of Sale) can be a good option for restaurants. Shopify POS allows you to accept in-person payments, manage orders, track sales, and handle inventory from a central system. It offers features such as table management, split billing, and tipping options, which are useful for restaurant operations. Additionally, you can integrate Shopify POS with other systems like online ordering platforms or third-party apps to enhance functionality.
Can Shopify be used for food delivery?
Yes, Shopify can be used for food delivery. While Shopify itself doesn't have built-in food delivery features, you can integrate it with third-party apps or services that specialize in food delivery. There are various delivery apps available in the Shopify App Store, such as Zapiet, Local Delivery, or Postmates, which can help you manage food delivery orders efficiently.
How do I create a restaurant menu on Shopify?
To create a restaurant menu on Shopify, you can follow these steps:
Step 1: From the admin dashboard, navigate to Online Store > Navigation.
Step 2: Click on the Add menu item button to create a new menu.
Step 3: Name your menu (e.g., "Food Menu") and add a title to it.
Step 4: To add menu items, click on the "Add menu item" button within the menu.
Step 5: Enter the name, description, and price of each menu item. You can also add images if desired.
Step 6: Repeat Step 6 for each item on your restaurant menu.
Step 7: Once you have added all the menu items, click Save menu to apply the changes.
After creating your menu, you can customize the appearance and layout by editing your Shopify theme or using additional apps or plugins specifically designed for menu display.
Conclusion
Shopify for restaurants is a webspace that offers a lot of control over designing, creating, and managing a dining website. If done correctly, you can easily create a great first impression on the scores of your ready-to-buy customers and still use it as a tool to promote your restaurant online line.
Make sure your new Shopify for restaurants website draws in more customers and generates sales by using the advice provided above.
Now that you know about the best Shopify design practices for a restaurant website, remember to regularly review your business goals and apply what you've learned to your visitors. Enjoy your restaurant experience.