Shopify vs eBay: Which One is Better for Selling Online?
In the ever-evolving world of eCommerce, businesses are presented with numerous platforms to sell their products online. Two prominent players in this arena are Shopify and eBay. Both platforms offer robust features and a wide reach, but they cater to different selling strategies and target audiences. Choosing the right platform is crucial for maximizing sales and establishing a strong online presence.
In this article, we will delve into the comparison between Shopify vs eBay, weighing their pros and cons, functionality, customization options, and overall suitability for various types of online businesses.
You'll have a clearer understanding of which platform may be better suited for your unique selling needs.
What is Shopify?
Shopify is a comprehensive eCommerce platform that enables individuals and businesses to create their own online stores and sell products. It provides a user-friendly interface and a range of features to facilitate the entire process of setting up, managing, and scaling an online business.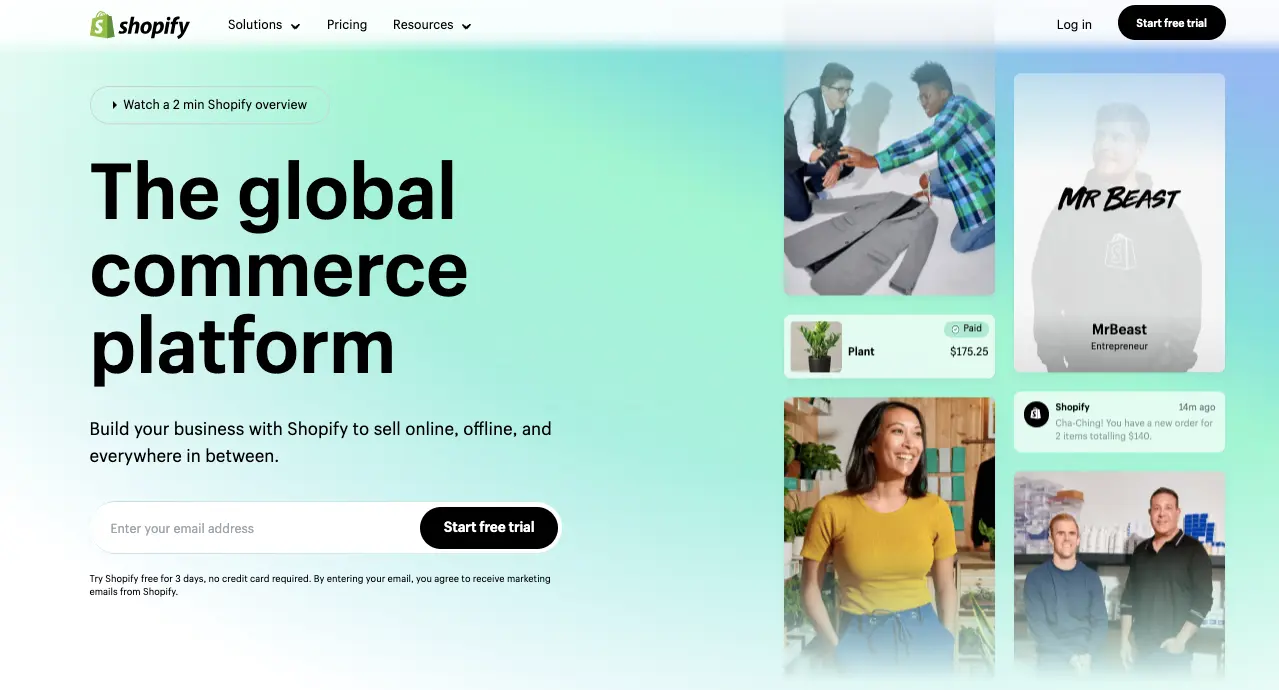 With Shopify, users can select from customizable templates, add products, set pricing and inventory, manage orders and payments, and utilize marketing tools to promote their store.
Additionally, Shopify offers secure hosting, reliable payment gateways, and integration with various third-party apps and services. Shopify essentially simplifies the process of selling online, empowering you to focus on growing your online business rather than dealing with technical complexities.
What is eBay?
eBay is an online marketplace that connects buyers and sellers from around the world. It operates as an auction-style platform where sellers list their products, and buyers can bid on or purchase them at a fixed price. Sellers have the flexibility to set their own pricing, choose auction or fixed-price formats, and specify shipping options. Buyers can search for items, place bids, or make immediate purchases.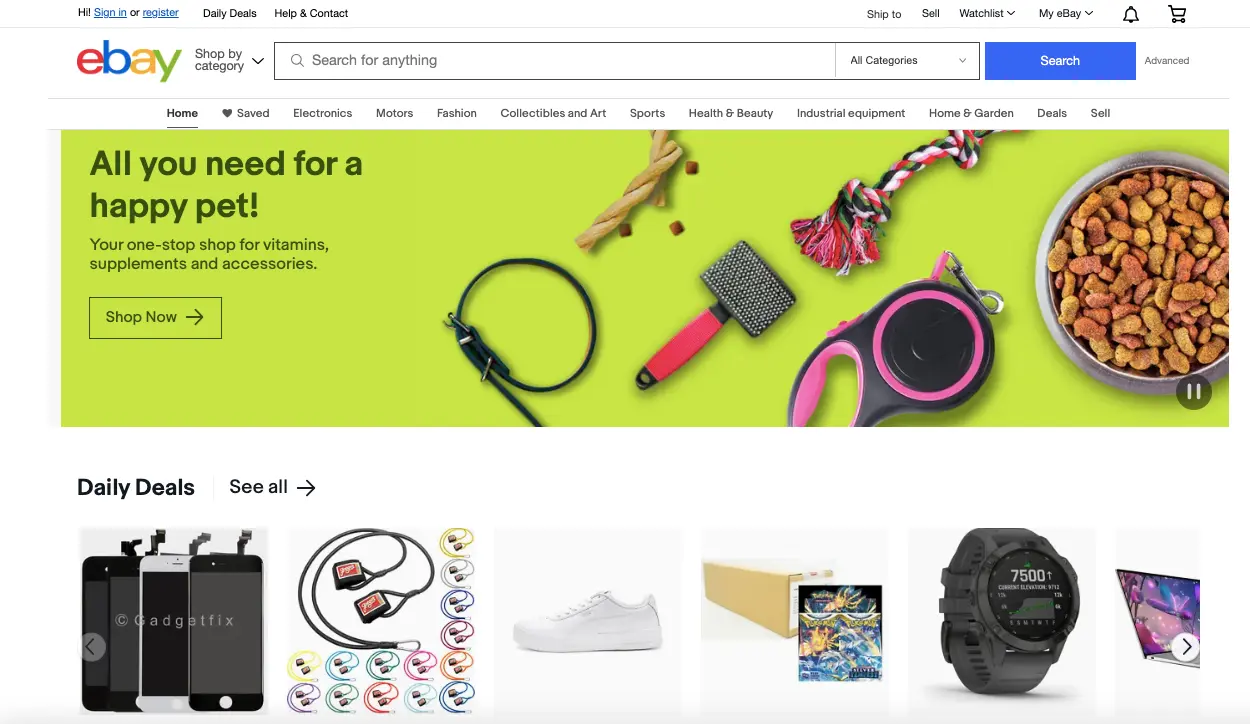 eBay provides a platform for a wide range of products, both new and used, across various categories. It facilitates secure transactions, offers buyer and seller protection policies, and provides communication tools for seamless interactions between buyers and sellers.
Shopify vs eBay: Pros and Cons
Shopify's pros and cons
Strengths:

Customization Options: Shopify provides a wide range of customizable templates and themes, allowing users to create unique and visually appealing storefronts that align with their brand image.
Robust Features: The platform offers a comprehensive set of features, including inventory management, secure hosting, payment gateways, marketing tools, and integration with third-party apps, empowering businesses to effectively manage and scale their online operations.
Scalability: Shopify accommodates businesses of all sizes, from small startups to large enterprises. It offers flexible pricing plans and can handle high levels of traffic and transactions without compromising performance.
Support: Shopify offers 24/7 customer support through various channels, including live chat, email, and phone, ensuring prompt assistance and resolution of issues.
Drawbacks:

Cost: While Shopify provides different pricing plans, it does involve monthly subscription fees, transaction fees (if not using Shopify Payments), and additional costs for premium themes and apps. This can add up, particularly for small businesses on tight budgets.
Learning Curve for Advanced Customizations: While Shopify offers customization options, advanced modifications may require knowledge of coding or the help of a developer, which can be a barrier for users without technical skills.
Limited Marketplace Functionality: Shopify primarily focuses on individual online stores, so if your business model relies heavily on a marketplace-style platform, Shopify may not provide the same level of functionality as eBay.
eBay's Pros and Cons:
Strengths:

Large User Base: eBay has a vast community of buyers and sellers, offering a wide customer reach and potential for higher visibility and sales.
Auction Format: eBay's auction-style listings allow sellers to potentially fetch higher prices for unique or rare items, attracting enthusiastic bidders.
Variety of Products: eBay hosts a diverse range of products, including new, used, and collectible items across numerous categories, appealing to a wide range of buyers.
Global Marketplace: eBay provides international shipping options, enabling sellers to reach customers worldwide and expand their business globally.
Mobile App: eBay offers a mobile app that allows users to buy and sell on the go, providing convenience and accessibility.
Drawbacks:

Listing and Transaction Fees: eBay charges fees for listing items and takes a percentage of the final sale price, which can eat into sellers' profits, particularly for higher-priced items.
Competition: Due to the large user base, eBay can be highly competitive, making it challenging to stand out and attract buyers in saturated product categories.
Limited Control over Branding: eBay's platform design and layout are standardized, offering limited customization options for sellers to showcase their unique brand identity compared to Shopify.
Reliance on Feedback: eBay relies heavily on buyer feedback, and negative ratings can impact a seller's reputation and credibility, potentially affecting future sales.
Shopify vs eBay: 10 Key Differences Comparison
#1. Shopify vs eBay: Pricing & Fees
Shopify Pricing & Fees
Shopify offers different pricing plans to cater to businesses of all sizes. The plans include Basic Shopify ($25/month), Shopify ($65/month), and Advanced Shopify ($399/month). These plans provide varying levels of features and functionality.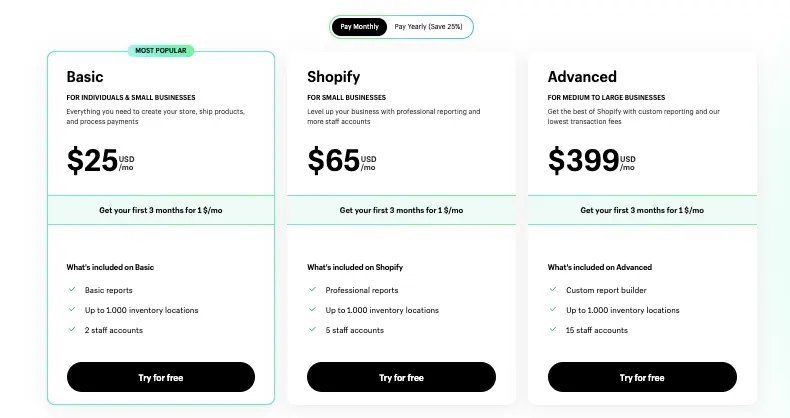 Additionally, Shopify charges transaction fees on each sale, ranging from 0.5% to 2%, depending on the plan. However, if you use Shopify Payments as your payment gateway, you can avoid transaction fees.
eBay Pricing & Fees
eBay operates on a fee structure that includes insertion fees listing fees, final value fees, and additional fees for optional features like adding extra photos or promoting listings.
Insertion fees: $0.35 per product listing (first 250 listings free per month)
Final value fees: A rate of the total amount of the sales, plus a flat fee of $0.30 per order. The percentage varies depending on your product category and subscription plan, typically 2% to 15%.
International sales fees: 1.65% of the total amount of the sales
Currency conversion fees: A 3% fee calculated based on the conversion rate at the time of the transaction.
Besides, eBay also offers different subscription levels, such as Basic, Premium, and Anchor stores, with varying monthly fees and fee discounts.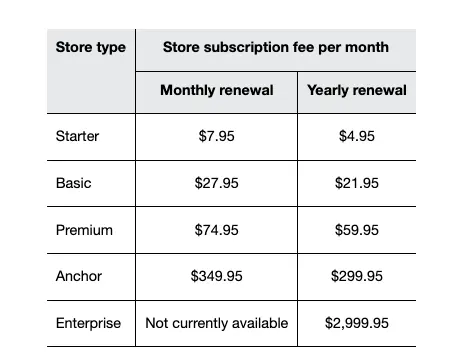 #2. Shopify vs eBay: Ease of Use
Shopify Ease of Use
Shopify is known for its user-friendly interface and intuitive tools. It provides a drag-and-drop store builder, making it easy to set up and customize your online store without technical expertise. Shopify offers a streamlined process for adding products, managing inventory, and processing orders. The platform's backend dashboard is well-organized and easy to navigate, allowing users to efficiently manage their store's operations.
eBay Ease of Use
While eBay is relatively easy to use, it does require some familiarity with its listing process and seller tools. Sellers need to create effective product listings, set pricing, manage shipping options, and handle customer inquiries. eBay provides resources and tutorials to guide users through the selling process. However, compared to Shopify, eBay may have a steeper learning curve, particularly for beginners or those unfamiliar with the platform.
#3. Shopify vs eBay: Design Templates
Shopify Templates
Shopify offers a wide range of professionally designed and customizable templates. These templates cover various industries and styles, allowing users to create visually appealing and unique storefronts. Users can customize elements such as colors, fonts, and layouts to align with their brand identity. Shopify's template selection ensures that businesses can find a design that suits their specific needs and aesthetics.
eBay Design Templates
eBay provides limited design customization options compared to Shopify. Sellers can customize their eBay store to some extent, but the overall design and layout follow a standardized format. eBay does offer basic templates and themes, allowing sellers to add their logo, create a header, and modify the color scheme. However, the design flexibility is more limited compared to the extensive customization options offered by Shopify.
#4. Shopify vs eBay: Support
Shopify Support
Shopify provides 24/7 customer support through various channels, including live chat, email, and phone. They also offer an extensive Help Center with articles, tutorials, and video guides.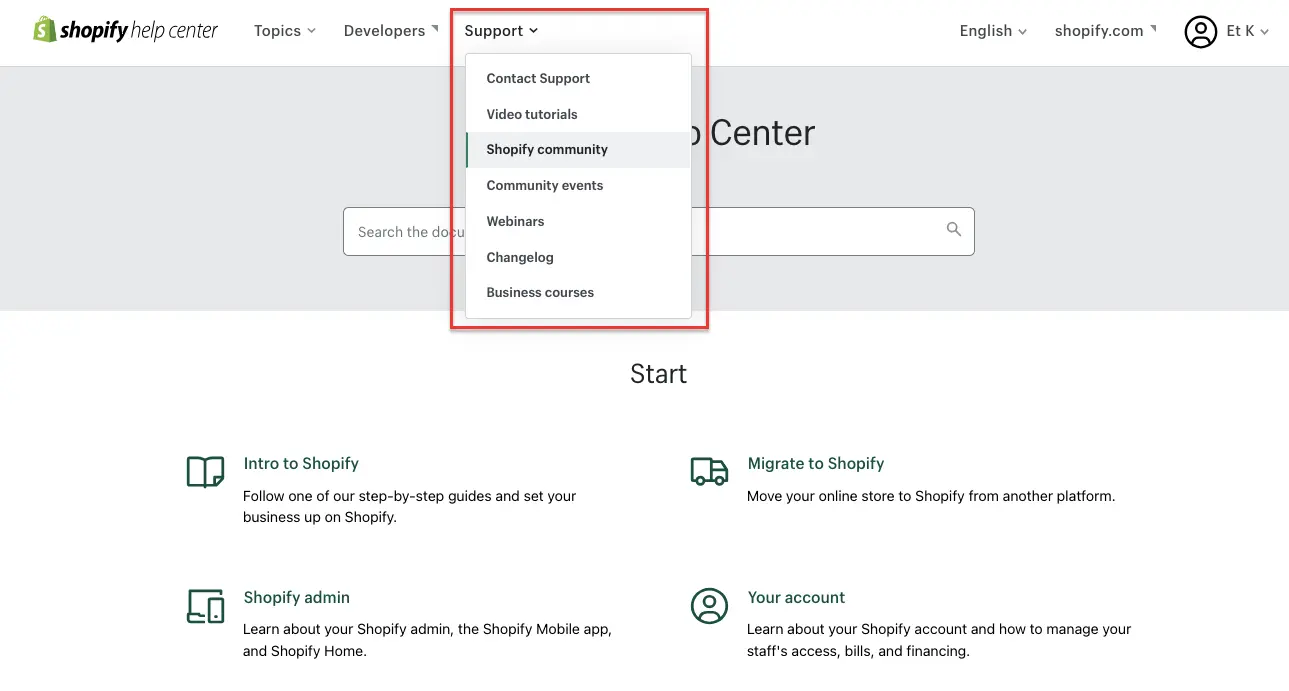 Shopify's support team is known for their prompt and helpful responses, assisting users with technical issues, account management, and general inquiries. Additionally, Shopify has a large community forum where users can seek advice and connect with other merchants.
eBay Support
eBay offers customer support through a dedicated Help Center, where users can find answers to frequently asked questions and access guides and tutorials.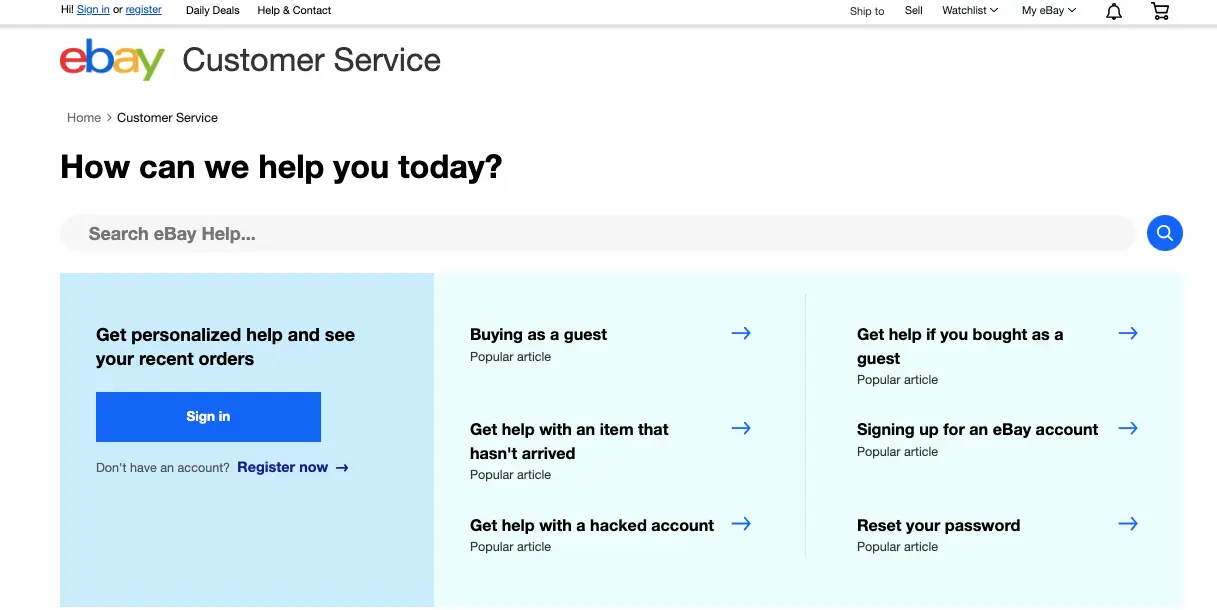 They also provide community forums where users can seek advice from other sellers. eBay offers limited phone support, primarily focusing on high-level sellers and critical issues. However, their response times may vary, and users may rely more on self-help resources or community support when facing challenges.
#5. Shopify vs eBay: Product Types
Shopify's Product Types
Shopify is suitable for a wide range of product types, including physical products, digital products, services, and even dropshipping. It allows users to easily manage inventory, variants (such as size or color), and pricing. With Shopify, users can sell both physical products that require shipping and digital products that can be downloaded by customers.
eBay's Product Types
eBay primarily focuses on physical products, both new and used. It offers a vast marketplace for various product categories, including electronics, fashion, home goods, collectibles, and more. While eBay allows the sale of digital products in certain categories, its primary strength lies in facilitating the trade of tangible goods.
#6. Shopify vs eBay: Shipping
Shopify Shipping
Shopify provides various shipping options and integrations to streamline the shipping process. Users can calculate shipping rates automatically based on carrier pricing or set their own rates. Shopify shipping integrates with popular shipping carriers like UPS, USPS, DHL, and FedEx, allowing businesses to generate shipping labels and track shipments directly within the platform.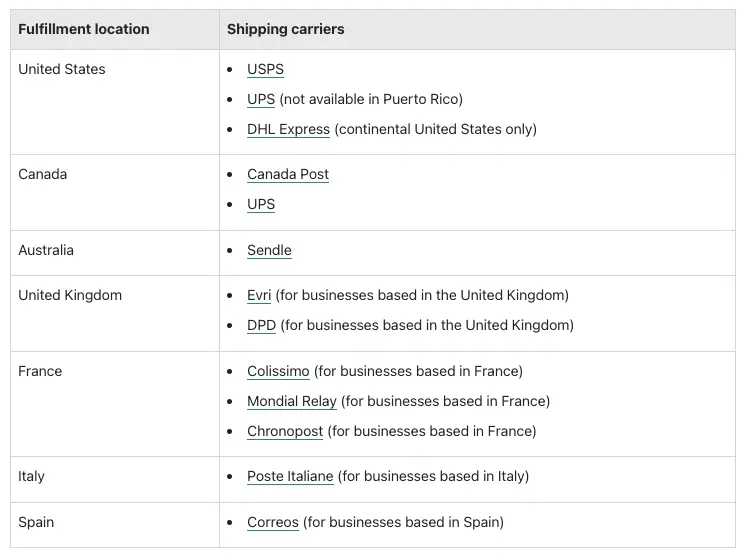 Shopify also offers features like order tracking notifications and real-time shipping rates to enhance the customer experience.
eBay Shipping
eBay offers shipping integration with major carriers and allows sellers to set their shipping preferences. Sellers can choose from different shipping services, such as USPS, UPS, and FedEx, and specify shipping costs and handling time. eBay provides shipping labels and tracking information for easy order fulfillment. Additionally, eBay offers programs like eBay International Shipping, which simplifies international shipping in over 200 countries for sellers.
#7. Shopify vs eBay: Dropshipping
Shopify Dropshipping
Shopify is a popular platform for dropshipping businesses. It offers integrations with various dropshipping apps and marketplaces, allowing users to source products from suppliers and automate order fulfillment. Shopify's inventory management tools and seamless third-party app integrations make it easy for dropshippers to handle product updates, inventory synchronization, and order processing.
eBay Dropshipping
eBay also supports dropshipping, but the platform's policies have specific guidelines for dropshipping sellers to follow. eBay requires sellers to ensure that items are delivered within the stated handling time, accurately represent the item's location, and maintain a high level of customer service. Dropshipping on eBay involves managing suppliers, handling customer inquiries, and ensuring timely order fulfillment.
#8. Shopify vs eBay: Point of Sale (POS)
Shopify Point of Sale (POS)
Shopify provides a robust Point of Sale (POS) system that allows users to sell products in physical retail stores, pop-up shops, or through mobile devices. Shopify's POS system integrates seamlessly with its online store, enabling users to sync inventory, manage sales, and process transactions from a unified platform. The POS system supports various payment methods, provides sales analytics, and offers features like barcode scanning and receipt printing.
eBay Point of Sale (POS)
eBay does not offer a built-in Point of Sale system like Shopify. eBay's primary focus is on facilitating online transactions and connecting buyers and sellers through its marketplace. While eBay does not have an integrated POS solution, sellers can utilize external POS systems and integrate them with eBay to manage their offline sales and inventory.

#9. Shopify vs eBay: SEO Tools
Shopify SEO Tools
Shopify provides built-in SEO features to help improve the visibility of online stores in search engine results. Users can optimize their store's metadata, URLs, and page titles to enhance search engine rankings. Shopify also offers customizable URL structures, canonical tags, and XML sitemaps. Additionally, Shopify provides advanced SEO tools through apps and integrations available in the Shopify App Store, allowing users to further optimize their store for search engines.
eBay SEO Tools
eBay offers limited control over SEO compared to Shopify. eBay's search rankings primarily rely on factors such as listing titles, item specifics, and seller performance metrics. eBay does provide guidance on optimizing listings and choosing relevant keywords. However, the level of control over SEO elements is more restricted on eBay compared to Shopify's comprehensive
#10. Shopify vs eBay: Apps & Integrations
Shopify offers a wide range of apps and integrations through Shopify App Store, allowing users to enhance your online store's functionality with tools for marketing, inventory management, customer support, and more. You can choose from popular apps to streamline their operations and optimize your sales.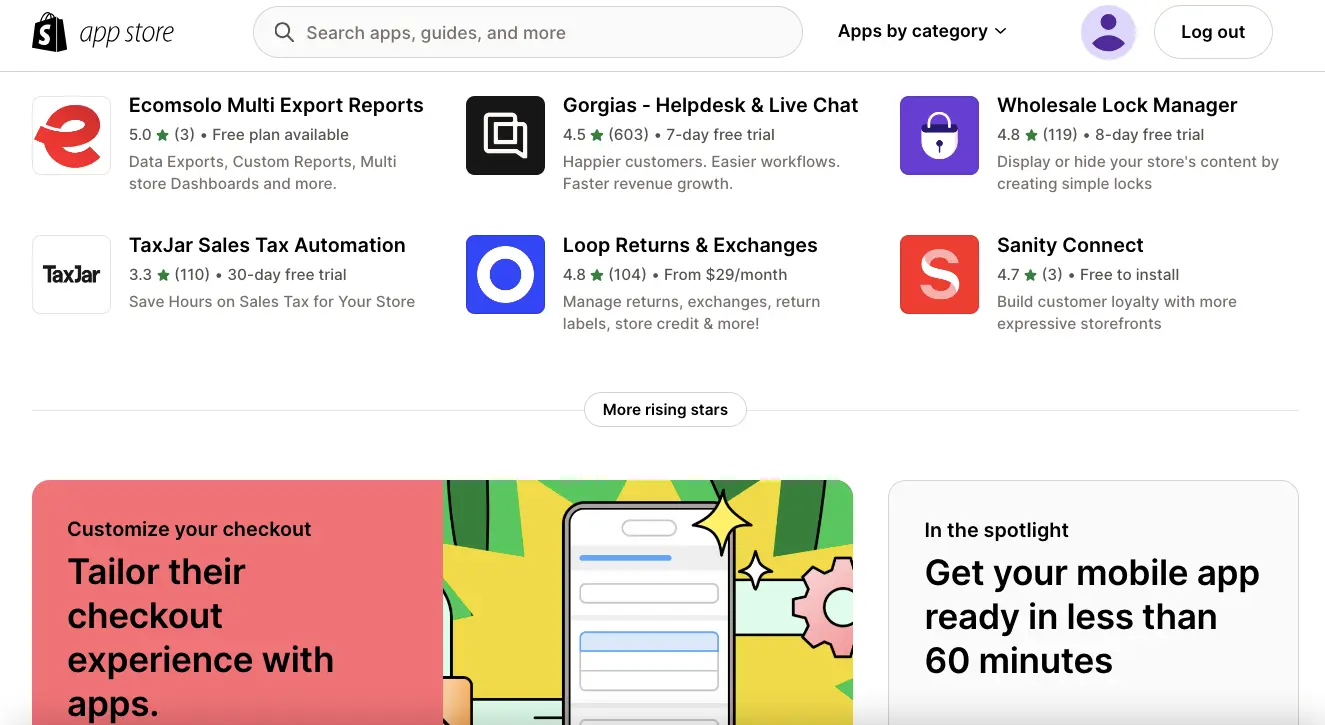 By contrast, eBay does not have an App Store. However, it's still possible to enhance your eBay via third-party software integrations. Currently, over 60 third-party integrations are available for eBay, covering a wide range of areas such as product listing, inventory management, order fulfillment, and shipping.
Final thoughts
In the comparison between Shopify vs eBay, it's clear that both platforms have their own strengths and cater to different selling strategies. Shopify excels in providing a comprehensive eCommerce solution with robust customization options, advanced features, and scalability for individual online stores. On the other hand, eBay offers a vast marketplace with a large user base, providing access to a wide range of product categories and potential visibility.
The choice between Shopify vs eBay ultimately depends on your specific business needs, target audience, product type, desired level of control, and budget. By considering these factors, you can make an informed decision and select the platform that best aligns with your online selling goals.