Shopify Side Hustle Ideas: How to Make Money with Shopify?
In the dynamic world of online commerce, Shopify shines as a platform teeming with potential for side hustlers. This article presents a spectrum of Shopify side hustle ideas designed to help entrepreneurs carve out an additional income stream. Whether you're a creative artisan, a marketing maven, or an aspiring eCommerce expert, this guide will showcase opportunities that can transform your passion into profit.
Let's dive into the world of Shopify and discover the side hustle that suits you best.
Shopify Side Hustles: Basic Understanding
Shopify side hustles involve setting up and managing e-commerce stores on the Shopify platform to generate extra income. It typically includes identifying a niche, sourcing products, designing the store, and marketing products to potential customers.
Side hustles on Shopify can take various forms, such as dropshipping, print-on-demand, affiliate marketing, or selling handmade items. Entrepreneurs often leverage Shopify's user-friendly interface, customizable themes, and extensive app ecosystem to create and operate these small online businesses.
The goal is to generate supplemental income or potentially transition into a full-time venture, making it a popular choice for those looking to start a side business. Entrepreneurs will need to familiarize themselves with aspects of self-employment. This may include new tax-related concepts such as an IRS 1099k form, or simply having to pay taxes instead of receiving a tax refund.
8 Shopify Side Hustle Ideas That Help You Make Money Quickly
Creating a successful side hustle on Shopify is an excellent way to make money quickly and potentially build a sustainable online business. In this comprehensive guide, we'll explore eight Shopify side hustle ideas in more detail, providing you with insights, strategies, and tips for each one. Whether you're looking to start a dropshipping business, sell digital products, or offer your expertise as a Shopify consultant, you'll find valuable information to kickstart your venture.
#1. Start a Shopify dropshipping store
Dropshipping, a popular eCommerce model, allows you to run a Shopify store without stocking inventory. Instead, when a customer places an order, it's forwarded to a supplier who handles product storage and shipping directly to the customer. This hassle-free approach enables you to concentrate on marketing and sales. You can sell various products, from clothing and electronics to home goods.
Key steps for dropshipping on Shopify:
Find suppliers: Connect with suppliers on platforms and dropshipping apps like AliExpress, Spocket, or Modalyst.
Import products: Integrate supplier catalogs into your Shopify store.
Customer orders: When an order is placed, your supplier fulfills it, saving you the hassle.
Profit margins: Set your product prices, offering flexibility and profit potential.
#2. Become a Shopify expert
If you have a deep understanding of the Shopify platform, you can leverage your expertise to make money by assisting others. Here's how to become a Shopify expert:
Master Shopify: Familiarize yourself with all aspects of Shopify, including store setup, design customization, app integration, and SEO optimization.
Create a beautiful portfolio: Build an incredible portfolio that showcases your Shopify projects. You can create sample stores, design themes, or optimize existing stores to demonstrate your skills.
Offer services: Start offering your services on platforms like Fiverr, Upwork, or directly on your Shopify store. Services can include store setup, theme customization, SEO optimization, and more.
Promote your expertise: Market yourself as a Shopify expert on social media, through content creation (blog posts, videos), or by attending industry events and networking.
#3. Become a Shopify partner
Shopify Partners are individuals or agencies who work closely with Shopify to refer clients, develop apps, themes, and offer various services. Becoming a Shopify Partner can be a lucrative side hustle. Here's how to get started: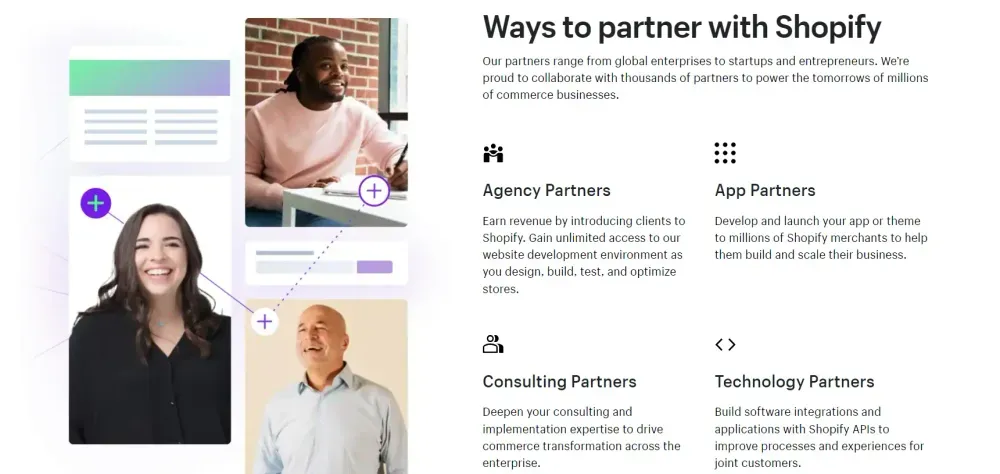 Join the Partner program: Sign up for the Shopify Partner Program on their website. This offers you access to resources, tools, and opportunities to earn commissions.
Referral program: Earn commissions by referring clients to Shopify. Suppose you have connections with businesses looking to start or improve their online presence. In that case, you can refer them to Shopify and earn a percentage of the revenue generated from your referrals.
App and theme development: If you have coding skills, you can develop Shopify apps or themes to sell on the Shopify App Store or Theme Store. This can be a long-term source of passive income.
Design services: Offer web design and development services specifically for Shopify stores. Many businesses are willing to pay for professional store setup and customization.
Content creation: Create content like tutorials, guides, or courses related to Shopify and eCommerce. You can monetize this content through ads, affiliate marketing, or selling directly to your audience.
Network: Connect with other Shopify Partners and industry professionals to explore collaboration opportunities and expand your reach.
#4. Start a print on demand business with Shopify
Print-on-Demand (POD) is an appealing side hustle on Shopify, enabling you to offer unique custom-designed products without the hassle of inventory. Here's a concise overview of how to get started with print-on-demand:
1. Design custom products: Begin by creating eye-catching designs for various products like t-shirts, mugs, or phone cases. You can use free tools like Canva for design without costly software.
2. Set up your Shopify store: Establish your Shopify store, creating an attractive, user-friendly layout and adding product listings for custom-designed items.
3. Choose a POD service: Connect your Shopify store to a reputable print-on-demand service using a Shopify print on demand app like Printful. These services will handle your products' printing, packaging, and shipping.
4. Order fulfillment: When a customer orders on your Shopify store, the POD service prints and ships the product directly to the customer's address.
5. Profit margins: You set the prices for your custom products, allowing you to determine your profit margins by calculating the difference between what you charge the customer and the cost of the printing service.
#5. Sell digital products on Shopify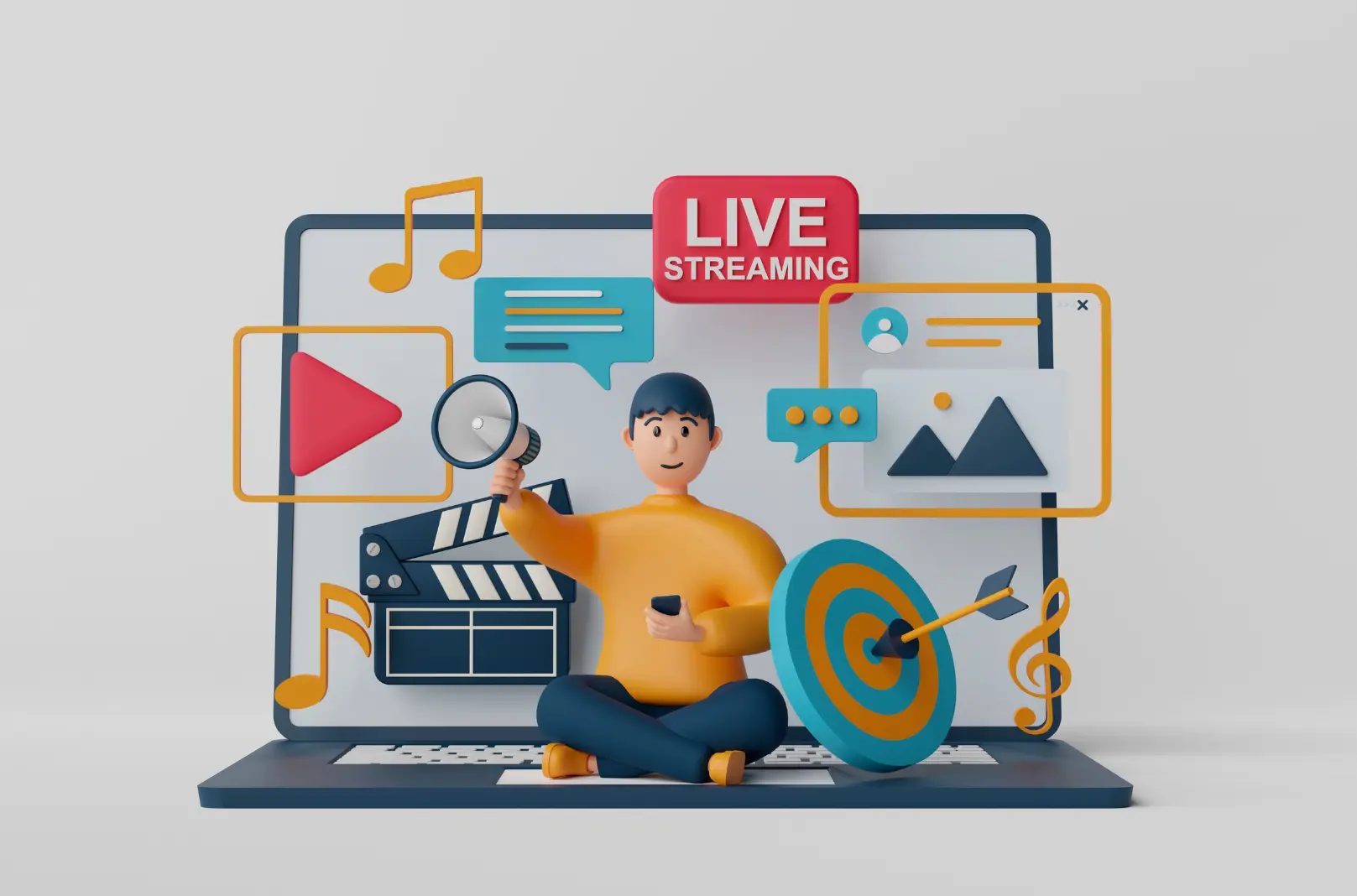 Selling digital products on Shopify can be a lucrative side hustle, as you don't have to deal with physical inventory or shipping. Here's how to get started:
Choose your digital products: Decide on the type of digital products you want to sell. This can include e-books, online courses, stock photos, software, templates, or digital art.
Create high-quality products: Make sure that your digital products are high quality and provide value to your customers.
Set up your Shopify store: Create a Shopify store and list your digital products.
Secure delivery: Implement a secure and efficient method for delivering digital products to customers after purchase. Shopify offers tools and apps for this purpose.
Marketing: Promote your digital products through content marketing, email marketing, social media, and online advertising. Highlight the value and benefits of your products.
Customer support: Support customers with questions or issues related to your digital products.
#6. Start a subscription box business with Shopify
Creating a subscription box service is an attractive Shopify side hustle idea. Here's a concise guide to get started:
1. Conceptualize your box: Think about what you want to offer in your subscription box, such as beauty products, books, snacks, or any niche you're passionate about.
2. Product selection: Curate products that fit your chosen theme. Seek unique and appealing items to entice subscribers.
3. Set pp your Shopify store: Create a Shopify store, design it to align with your brand, and add product listings for your subscription box.
4. Subscription apps: Utilize Shopify subscription apps like Recharge or Bold to set up a customized checkout flow that automatically bills customers regularly.
5. Marketing and Promotion: Promote your subscription box through social media, email marketing, and content creation to attract subscribers and build brand awareness.
#7. Sell niche products
Selling niche market products through your Shopify store can be a profitable venture. Here's a concise guide:
1. Identify a niche market: Focus on a specific subset of customers with unique interests or needs not adequately addressed by mainstream products. This niche should be defined and accessible.
2. Product selection: Identify products that cater to your chosen niche's demands. These can range from eco-friendly goods to pet accessories or fitness equipment. Choose products that align with your niche's values and preferences.
3. Create your Shopify store: Establish your Shopify store, ensuring it reflects the identity of your niche and products. Tailor the design and content to resonate with your target audience.
4. Targeted marketing: Utilize marketing strategies that specifically appeal to your niche market. Since niche markets often have tight-knit communities, you can target your marketing efforts more efficiently.
#8. Sell handmade or unique products
Selling handmade or unique products through your Shopify store is a rewarding side hustle. Starting a Shopify store to sell your handmade or unique products like candles allows you to turn your creative skills into a profitable side hustle while sharing your craftsmanship with a broader audience.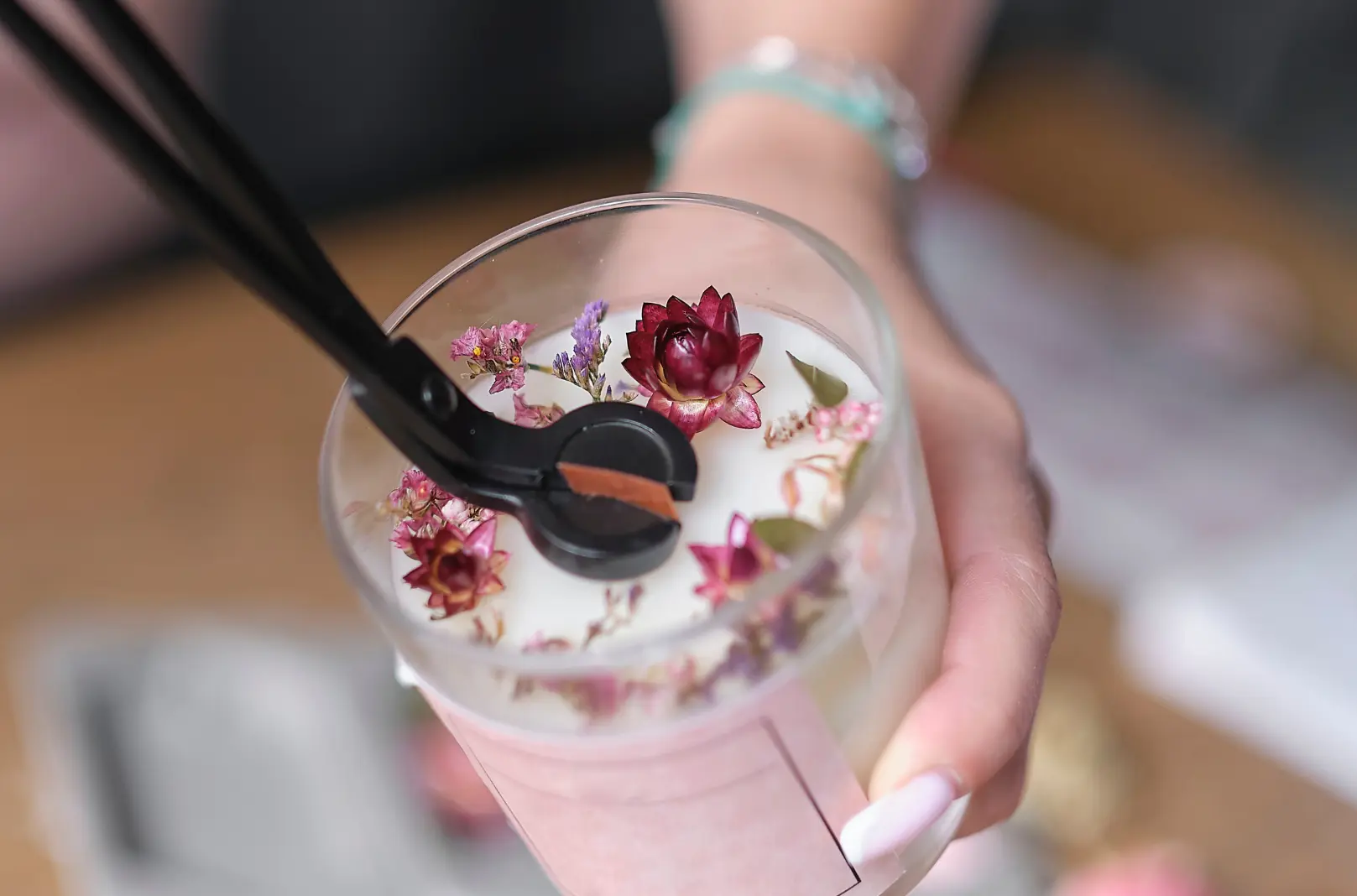 Here's a brief guide to get started:
1. Craft your unique products: Utilize your crafting skills to create handmade or unique items like jewelry, artwork, candles, or skincare products. These products offer a personal touch that distinguishes them from mass-produced items.
2. Build your Shopify store: Set up your Shopify store, showcasing your creations with an emphasis on their unique and artisanal qualities. The design and layout should reflect your brand identity.
3. Inventory and product listings: Create a small inventory of your products, take high-quality images, and craft engaging product descriptions for your Shopify store.
4. Marketing: Promote your handmade products through social media, word-of-mouth, and other marketing channels. Highlight the individuality and craftsmanship of your items to attract potential customers.
5. Expansion: As you gain traction, consider expanding your product line, experimenting with different designs, or exploring strategies to boost sales.
Conclusion
As we draw the curtains on our journey through Shopify side hustle possibilities, let it be known that the world of eCommerce is ripe with opportunities. Whichever path you choose, Shopify empowers your entrepreneurial spirit. Fuel your dreams, channel your passion, and transform it into a thriving side hustle. So, whatever idea you choose, launching your Shopify store is necessary and let the world see the impact of your creativity, drive, and determination.